Photo: Jan Coomans
As far as living goes,
some days are better than others. But any day which hosts a Porsche Festival is likely to be a good one.
And Saturday May 23rd was no exception. On this day, Moscow Raceway was swamped by hundreds of Porsches and many thousands of people who love them.
Knowing how popular Porsche cars are in Russia, this was always going to be a big event, so the choice of Moscow Raceway was a good one. It has plenty of space, and the facilities are all new and modern. From the center of Moscow it's a pretty decent drive at 100 kilometers — but as the track sits right next to the M9 highway it doesn't take that long to get there. Personally I was happy to get out of the center for once and let my car stretch its legs a little.
Once we arrived at the track, the huge scale of the event became clear. Not only had hundreds of Porsche owners turned up in their own pride and joy, Porsche themselves had brought in a huge number of cars to decorate the place with. For a car enthusiast, this was Christmas morning. Which is a bit unusual in May perhaps, but there you go.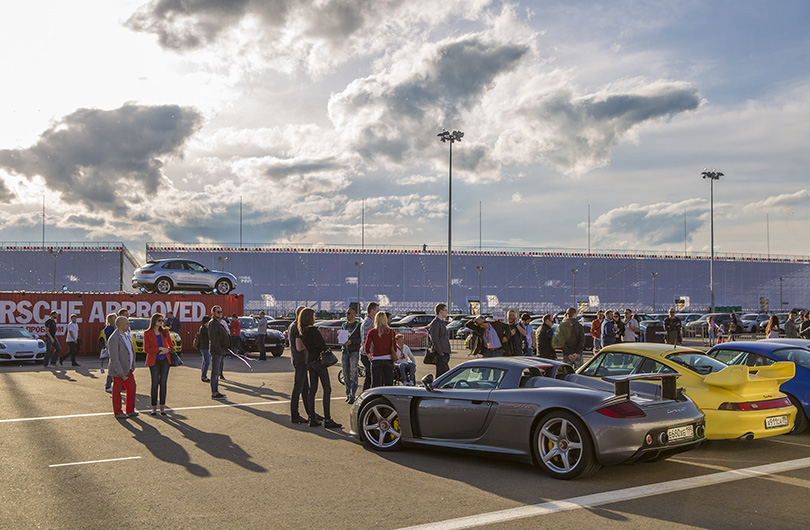 Porsche's GTS line took center stage with each and every model from the Cayman to the Cayenne on display in «Carmine Red» — a colour option exclusive to the GTS range. And what an awesome colour it is too, particularly when you have someone clean it with a special cloth every 3 and a half minutes. I don't believe this service is on Porsche's list of options, which is a shame really.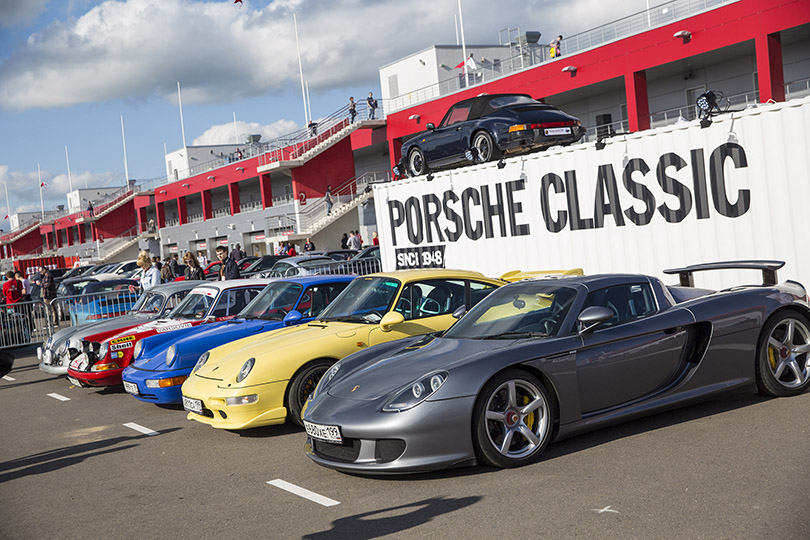 A very rich history, indeed
The Cayenne GTS, by the way, had been hoisted by crane high on top of some stacked containers. I suppose choosing the biggest and heaviest car for this stunt was true to the Porsche spirit. And my personal preference for Porsche's sports car line is so enormous that I didn't mind the big SUV being out of the way — so it all worked out nicely.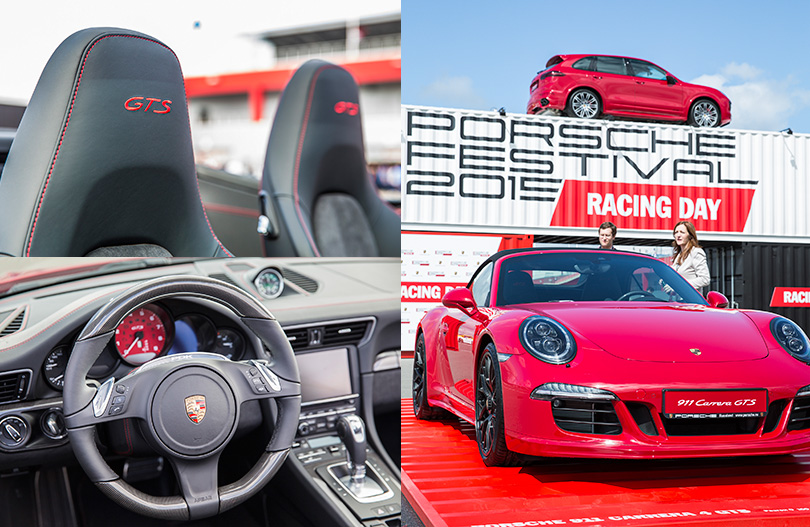 So let's get to those sports cars. Test drives of the 981 platform — Cayman and Boxster — were available on a specially created slalom track. A bunch of orange cones in a parking lot. The classic illustration of how it doesn't take much to make a motorhead's heart beat faster. These kind of improvised «tracks» are so narrow that you can't really get up to any great speed — which is a good thing from a safety perspective — but they do give you an impression of speed. Each driver got 2 laps which for me felt a bit short, I could've done 200 of these laps with a smile on my face, but I understand that everyone wanted to have a go.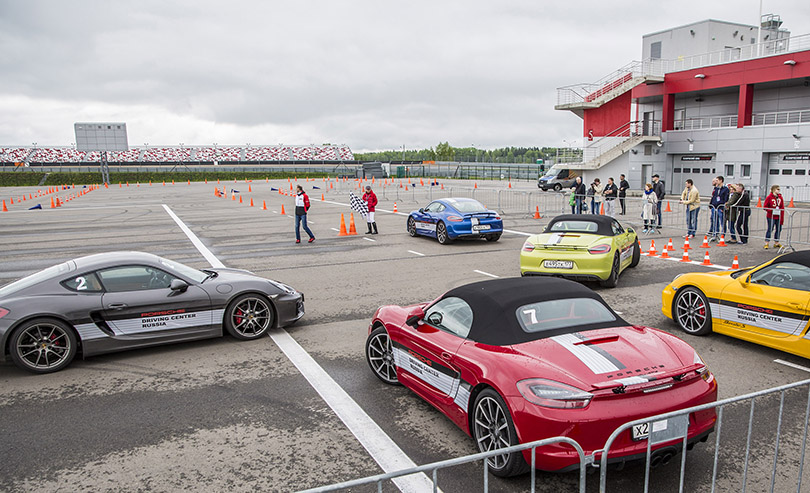 A great recipe for having fun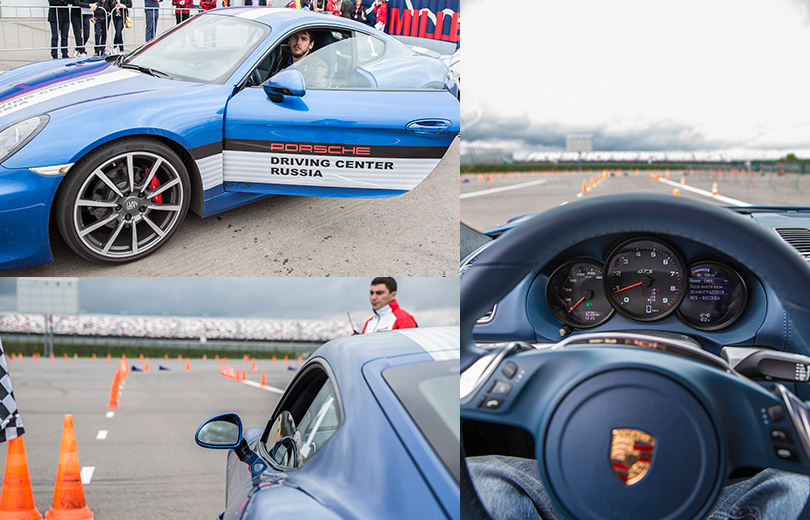 And it was the perfect test for these cars. I got into a Cayman GTS and was once again amazed by how nimble these cars are. It would have been difficult to recreate this sensation on a public road so the slalom test was perfectly chosen. Of course, all these cars had the Porsche Sports Exhaust switched to «on» which created considerable aural pleasure for everyone involved. Seriously though, these sports exhausts are superb. As far as I'm concerned, any Porsche with the flat 6 engine and the PSE option does not need a radio. Just remove it and consider it weight savings. Why would you listen to Pavarotti when your car can provide the same thing only better? Roll down your windows, press that button, and convert some gasoline into music. I've actually been rather disappointed when browsing Auto.ru that most 911 or Cayman/Boxster for sale do not have the optional sports exhaust. For God's sake people, if there is one thing you should do, it's to tick that box on the option list. Do it for me.
What I had really been waiting for, of course, was to take a 911 onto Moscow Raceway's GP track layout. I still only got to do one lap, but it was a good way to wet my appetite for attending a day at Porsche's driving center as soon as possible. Luck of the draw put me in a bright green Carrera 4 GTS. If I had been able to choose freely I probably would have gone for a rear wheel drive model, but Porsche's all wheel drive system is so good even on a racetrack that it doesn't matter that much.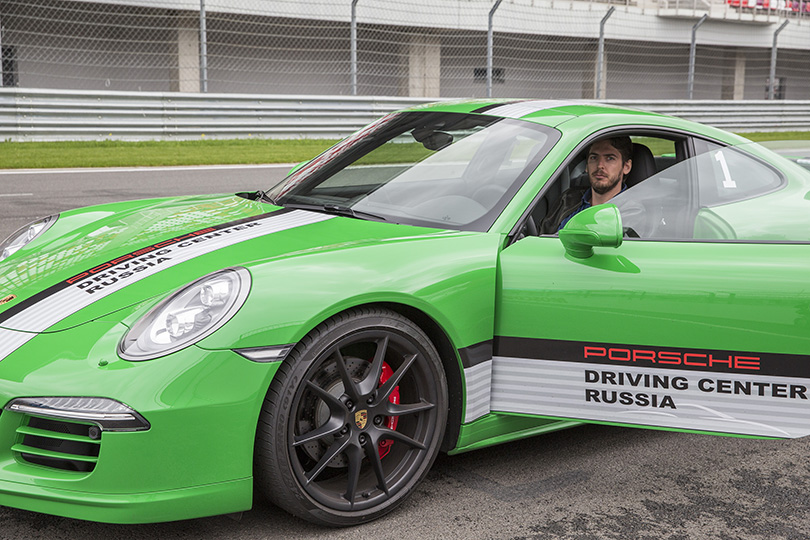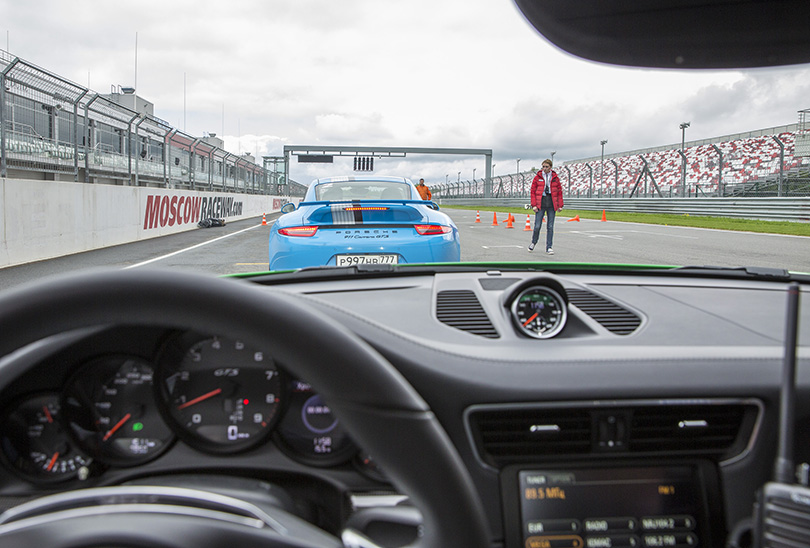 My favourite view of the world
An unknown car, an unknown track, and only one lap. So what do you do? Floor the gas pedal from the start, naturally. Blue cones marked the «advised» braking points before corners so that certainly helped avoid any embarrassing mistakes. Within 2 or 3 corners I realized just how much I had missed driving on track. A general lack of time has kept me off track for years now. So to make my «triumphant return» in a 911 GTS was a pretty good experience. There was no time to learn the track or the car, but it didn't matter. The car behaved so intuitive that within a few moments it felt like I had never driven anything else. Blast down the straight, hard on the brakes into the ABS, point it into the corner and floor the throttle almost before the apex of the corner. The car wanted nothing more than to go fast, and neither did I.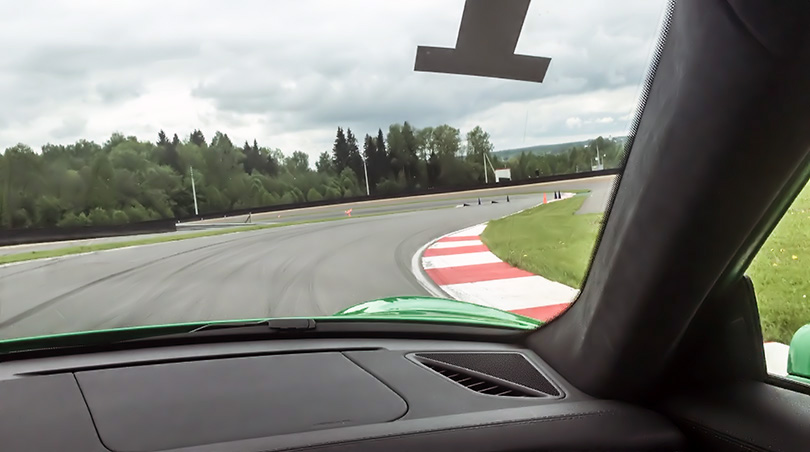 Of course the lap ended sooner than I would have wanted it to. And the car in front was going so slowly that I had to stop several times to create more space. But if no-one had stopped me and the fuel tank never went empty I'd probably still be going round Moscow Raceway as we speak. Once the repressed racing driver in you wakes up, it's difficult to put him to sleep again. So I'll be back, no doubt.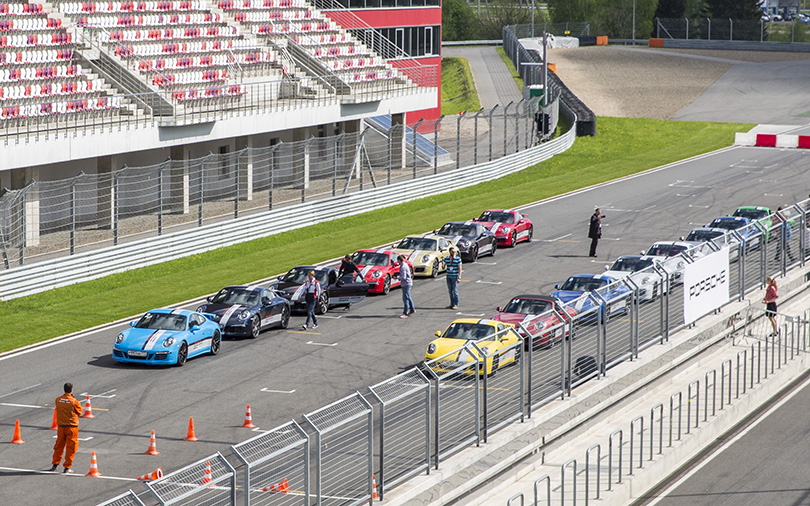 More than 6 000 horsepower about to be unleashed
The end of the day featured an actual race of enthusiast Porsche owners, the vast majority entering with their 911 GT3 of the latest generation. There were some other interesting models too, like the previous model 997 GT3 RS and even a 997 Turbo. It was my understanding that you could enter with a variety of Porsche models, but most people simply went for the fastest possible track car available which was the 991 GT3. The upcoming 991 GT3 RS not yet being available.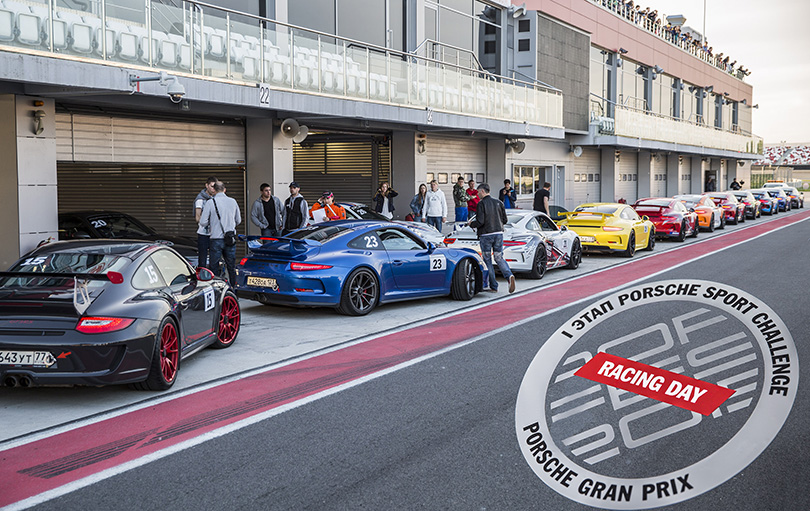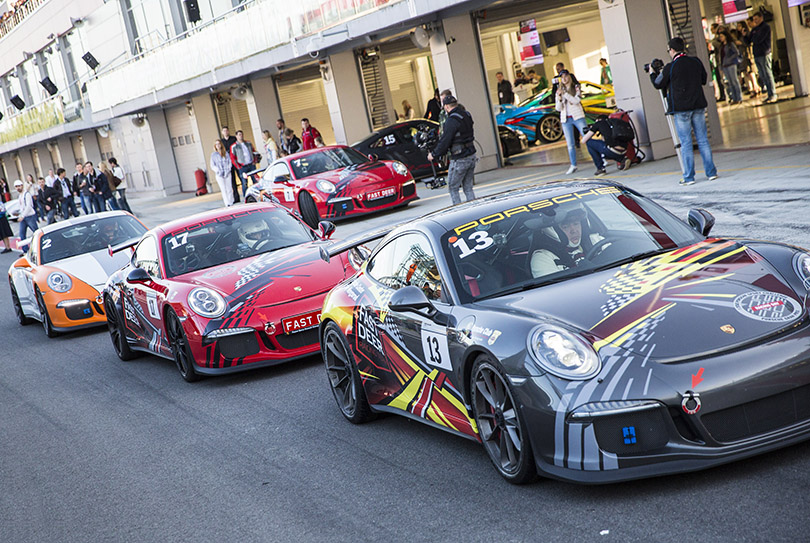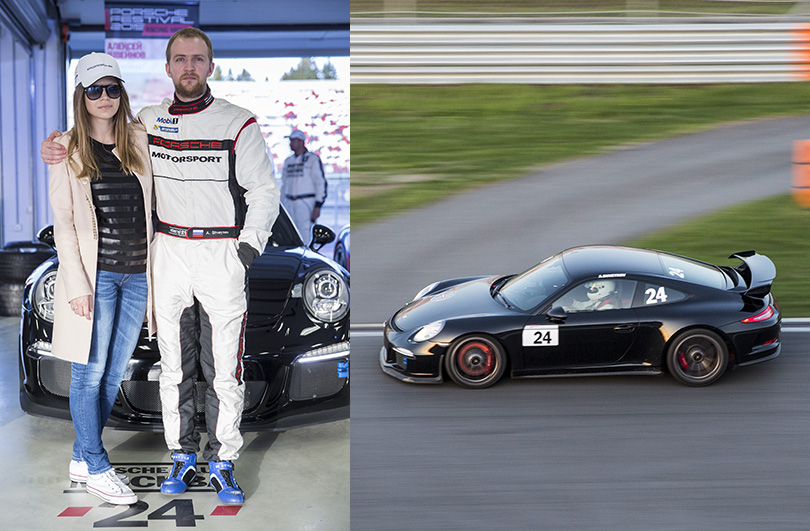 Generally speaking, watching a car race is more interesting if you can personally relate to the cars or the drivers, and this made the race a pleasure to watch. These were regular Porsche owners who love driving their cars fast. Most of the cars were almost completely standard as well, except for things like the brakes and fire extinguisher system necessary for official races. Screw Formula One, this race was a lot more fun to watch. And to hear. The GT3's 3,8 liter flat 6 engine revs to 9000 RPM. Nine thousand. So when 20 of those are going full chat on the pit straight, it's quite a symphony. As night was quickly approaching, the fading light only made the cars look better as the glow of the brake discs became more visible.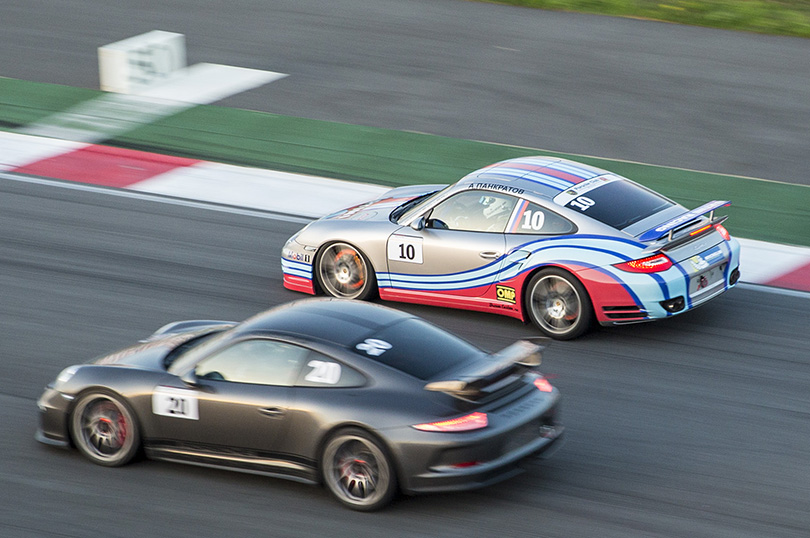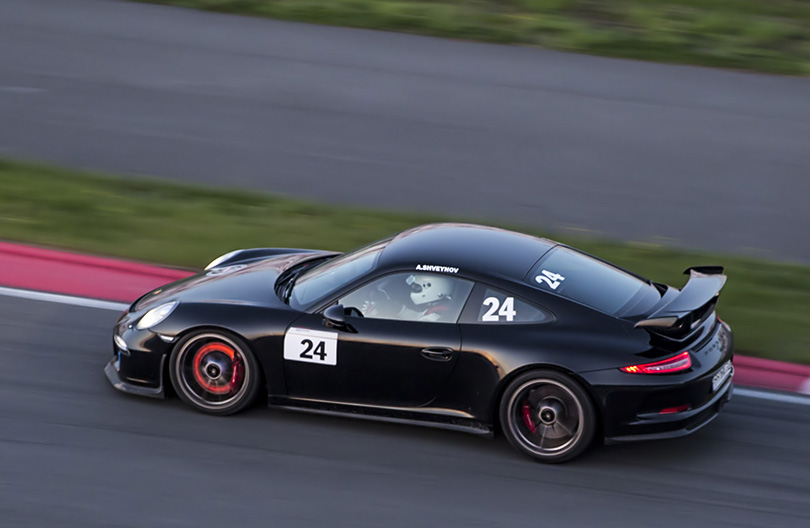 It didn't even matter who won. Well, not for me anyway. Between the guys who were racing it was obviously very competitive. I would be, too, if I was racing. But the biggest winners were the people who got the watch the show. A fitting end to a great day's worth of car appreciation. The only thing left is for me to thank Porsche for making it all happen, and for making me feel about 12 years old again for a few hours. On that, you really cannot put a price.