As far as good days go, getting to drive the new Porsche 911 Speedster across Sardinia is definitely up there with the very best. But is the Speedster a whole new thing or simply yet another slightly tweaked version of the immensely successful 911 recipe?
A quick reminder of the history behind the Speedster is probably in order before we jump into things properly. The very first Speedster was a special version of the Porsche 356 back in 1948. Since then, there have actually been a number of 911 Speedsters across many generations but they haven't really been consistent in terms of general philosophy. The whole 911 product line is famous for its predictability, with Porsche introducing well known variants like the Carrera, Turbo or GT3 like clockwork. The Speedster isn't like that, as it comes along in irregular intervals and they've produced them in numbers as low as two and as high as 1,948 for this latest one. There are no prizes for guessing why they chose this particular number, by the way. The main thing that all Speedsters have in common is the manual folding roof, used in a quest to make the lightest possible convertible out of a Porsche 911.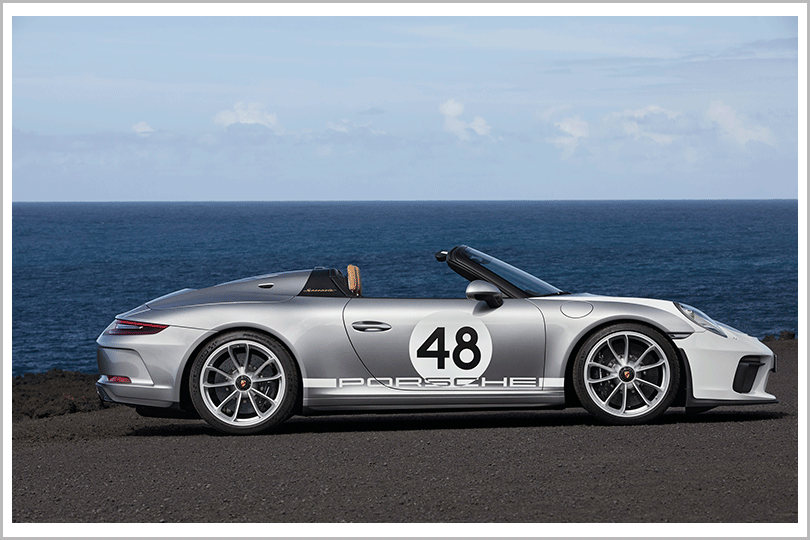 But there are a couple of things which make the newest Speedster even more interesting than usual. This car is the swan song for the 991 generation of the 911, the very last hurrah and a rather late one at that as 992 production is well underway and the first cars of the new generation have already arrived at dealerships. It is also in fact the first time that Porsche's GT division has made a convertible. If you're familiar with the kind of cars the GT department turns out, you'll quickly figure out that this is indeed a rather big deal. There is a reason, you see, why convertibles are often shunned when it comes to building high performance cars. Removing a car's roof isn't that hard in itself, anyone with the right power tools could do that, but then you'd quickly find out that a car with a chopped off roof doesn't drive terrible well. For handling purposes, you want the most rigid chassis possible and that's a lot easier to achieve when you have not only a floor but also a roof to add stiffness. No roof means you'll need a much stronger floor which means adding material and weight. And even then it's not that easy — just drive any convertible car built 20 or more years ago and you'll see what I mean. I'd recommend driving a Saab Cabriolet if you want to know what it feels like when a car has a rigidity that is comparable to a piece of overcooked spaghetti. Just make sure that, if you're prone to sea sickness, you take your pills first.
In modern times, and with Porsche's know-how, this is of course much less of a concern. But as nobody has yet found a way to cheat physics, for ultimate performance you'd still want to use the coupe body shape. Which is what Andreas Preuninger's merry men at the GT department had been doing for decades before they got around to turning what is essentially a 911 GT3 Touring into the Speedster as part of Porsche celebrating its 70-year anniversary. To make this car as light as they possibly could after strengthening the chassis, the Speedster gets lots of carbon fiber body panels and does not come with a radio/infotainment system or even parking sensors as standard. People who will actually want to use their Speedster regularly will probably take Porsche up on their offer to add these items back in at no extra monetary cost. Even after going on a significant and fairly expensive diet, the new Speedster is still a little heavier than the car it is based on, but the difference isn't huge and therefore unlikely to be felt in the real world.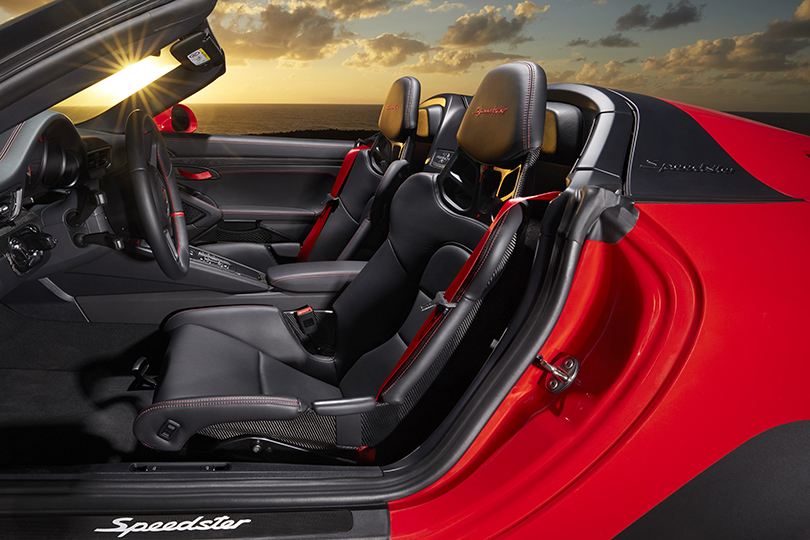 To be perfectly honest, just by looking at the spec sheet I could tell that driving this car was going to be awesome but at the same time I wasn't sure how to square the Speedster's hardcore sports car DNA with the way that the people who buy it will actually drive it. It's a limited edition Porsche which costs nearly twice as much as the regular GT3 and it comes with a roof that is meant only to keep you separated from the elements in case a sunny day turns unexpectedly bad. It's not unreasonable to assume that these will most likely be spotted in affluent areas of California or perhaps the South of France. Very few of them will ever set foot on a racetrack, yet the track focused (and therefore really rather stiff) suspension from the GT3 is carried over pretty much unchanged and the 4 liter naturally aspirated flat six sings all the way to nine thousand RPM. You're not really supposed to do nine thousand RPM on your average sun kissed boulevard, I mean, even I wouldn't. But that is where this glorious power plant comes into its stride — at engine speeds that are well in excess of what your average "normal" car redlines at. And when it does, it howls like a Hyena who's just found out that his mother-in-law has decided to move in.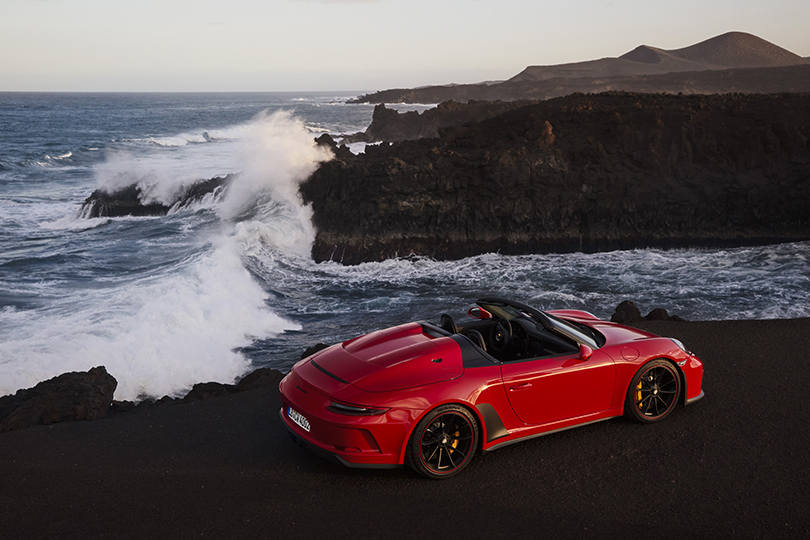 I thought that this was a worrying bunch of ingredients to try and turn into a gourmet dish, frankly. But then, that's exactly what happens when you find yourself dining on the Michelin starred cookings of a famous chef isn't it? Some things on the menu can look positively inedible but when they turn up at your table the individual ingredients are not only unrecognizable, they whole thing seems to have been touched by the gods. Predictably, I suppose, the 911 Speedster falls into the same category. I'm not sure if, as a car journalist, I should be happy or frustrated that Porsche keeps building cars that are utterly brilliant. On the one hand, it means I don't need to step on any toes pointing out the car's flaws. On the other hand, articles that read like adverts aren't necessarily entertaining to digest either. But it is what it is and I promise I'll try and make the best of it.
So you get into the 911 Speedster and the first thing that stands out is the shifter for the manual gearbox. So used are we these days to various kinds of automatic transmissions that we've almost forgotten that there was a time when we had to do manual labor to get the right cogs to engage. As this manual gearbox is connected to an engine that is more valuable on its own than the average German car, this does add some pressure. You wouldn't want to accidentally shift into second rather than fourth while the engine was racing towards the rev limiter in third gear, is all I'm saying. It would be ugly. But that forgotten mechanical connection adds so much to the driving experience in a car like this. Especially because, well, this 6-speed manual gearbox is the best one I've ever come across. It's so quick, so direct and so pleasing to use that you find yourself changing gears simply for the sake of it. If you choose to press the "auto blip" button, the car will itself rev match on downshifts with a short but very satisfying bark from the exhaust. That's actually not a new system, it's been around for a while on Porsche's manual cars with the Sports Chrono option, but this is the first time that they've named the button after the function that it actually has. So that's nice.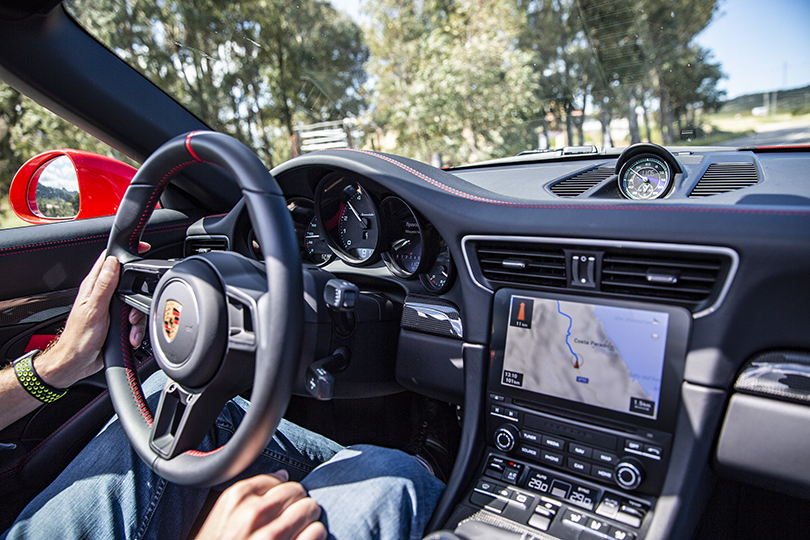 Of course, the centerpiece of this car is that 4 liter naturally aspirated flat six. It was first introduced in the 991.2 generation GT3 and GT3 RS and it has now found its way into the Speedster, with some updates and modifications. It now uses individual throttle bodies for even quicker throttle response times and for a better tumbling effect as the air goes into the engine. They've also raised the fuel pressure for the direct injection even higher, from 200 to 250 bar. Also worth keeping in mind is that, aside from things like the exhaust system, it's the same engine that Porsche uses in its racing cars. It's that strong. It is also quite simply one of the best engines ever made. For a high revving 4-liter unit it is incredibly torque-y at low RPMs and though the midrange but from there it just builds and builds until the peak number of 510 horsepower is reached at 8,400 RPM. The rev limiter is set at nine. Thousand. But beyond the numbers, this engine just make you smile all the way. In the olden days, before we had things like continuously adjustable camshafts and intake flaps, you would have had to choose whether your engine was at its best at low RPM, in the middle of the rev range or at the very top. Now though, we have engines like these which are just a peach throughout. And each step of the way, its sound changes ever so slightly from a powerful growl to a howling wail that clatters off the side of the mountain with a ferocity that scares the wildlife away for miles around. And every time you let it run to that sky-high rev limiter, it eggs you on to keep going. It wants to do nothing else. And for the driver, it never gets boring. Scratch that, it never gets any less ****** awesome.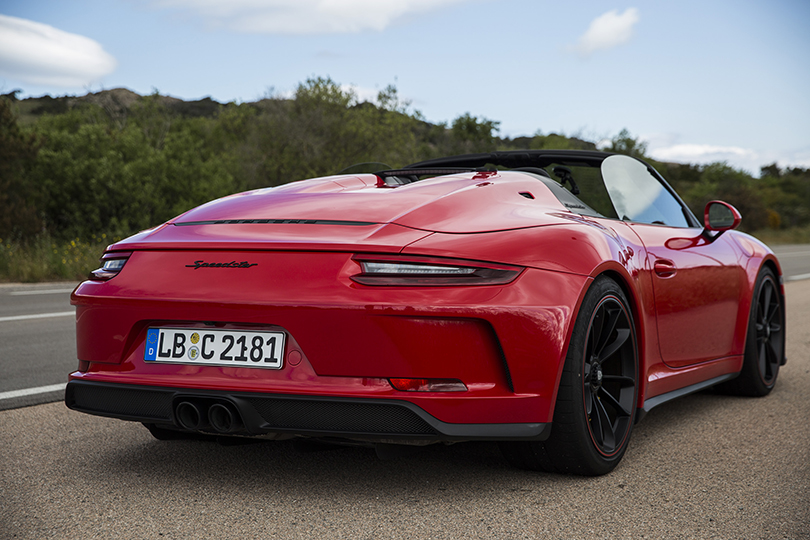 Which can be a problem, of sorts. Because this isn't a car that is really meant to go on racetracks. Even if it was, you probably wouldn't find many owners to take it there anyway. The kind of person who would want to track a car like this probably already has a closed top car with this same engine on the other side of their garage. But because of the 510 horsepower, and the addictive revving behavior, and the fact that at the redline in FIRST gear you're already doing something like 80 kilometers per hour, obeying the speed limit in this car requires a monumental level of self-control. Either that or a get-out-of-jail-free card. "It wasn't my fault officer, the car made me do it…". Mind you, that excuse might actually work in Italy, where the police are known to be sometimes quite lenient towards people in exotic cars so long as you don't mind showing them around it. Still, driving the Speedster the way that it wants to be driven could be problematic in many places.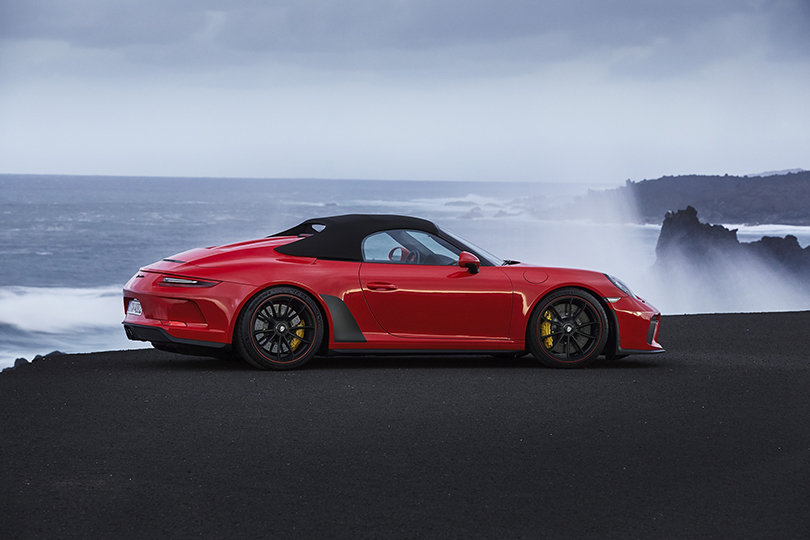 I was actually rather surprised to find that this engine has lost none of its raw and exciting character, as this is the first naturally aspirated Porsche to have particulate filters in its exhaust system. These have become mandatory in the EU for direct injected cars and have been something of a headache for manufacturers all around. They are quite restrictive and kill a lot of sound, so what Porsche has done is to use the filters themselves as silencers. It wasn't an easy job to be sure, but thanks to not needing typically heavy silencers and a novel way of soldering the whole exhaust together they have actually saved 10 kilograms of weight. Which is a lot. And all the sound is still there, so high fives all around. I'm sure it all cost a fortune to engineer, and Porsche wouldn't go through all this trouble just to sell 1,948 cars, so expect to see this engine and exhaust carried over to the 992 GT3 line next year.
On the inside, you'll find the trusty 991 interior that we all loved. Yes it's starting to look a bit simple and analog when compared to 992 especially, but it still feels like home. And to drive home the point of how special the Speedster is, we get the green instrument dials and white needles in the dashboard. Plus of course the obligatory Speedster logo inside the rev counter. The rest only differs from your typical daily 991 in that only the lightweight carbon bucket seats are available, there are no rear seats, and the previously mentioned lack of an infotainment system as the default configuration. One extra benefit of not having the PCM, by the way, is that the storage that is created by its absence is perfect for putting your mobile phone into. So that makes it the first 991 that I've ever driven that actually had a decent place where I could put my rather large smartphone. Which is actually a fair enough tradeoff, especially as you won't need to listen to any music in this car anyway. Your right foot conducts the orchestra after all.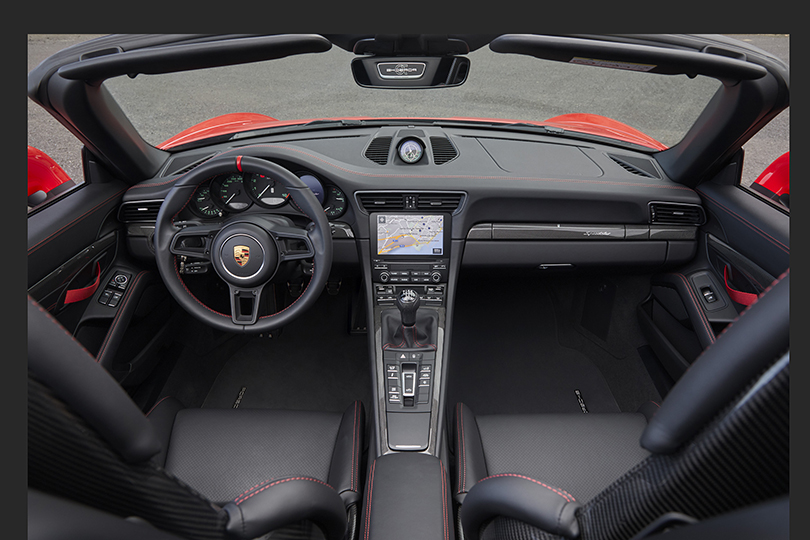 Ride quality wise, it's not exactly super smooth. It has GT3 suspension, so that fact should hardly come as a surprise. I personally get along very well with stiffly sprung cars, but your mileage may vary. If your passenger is used to riding in something like a Maybach they might find it uncomfortable. But for a suspension that is this incredibly capable in corners, I would say the damping is incredibly… bearable for normal driving. Going slowly over a very bad road surface you will get shaken around a bit, but I found that the faster you go the smoother the ride seems to get. The suspension just starts absorbing the fast bumps in a way that only the very best track-focused dampers are capable of. So here's a top tip for the 1,948 lucky people who are lucky enough to get the Speedster: if the road is bad just drive faster. That's when this car feels the most alive anyway. The limits of lateral grip and traction are so, so far away from what any of us would need to drive quickly on a decent road. There's superhero levels of cornering performance on tap, and there's no need to turn off any of the safety systems to make the most of it. You can push the Speedster into a corner as fast as you dare and it rewards you with hugely satisfying amounts of lateral acceleration. Its next trick is that it allows you to bury the throttle pedal into the carpet incredibly early out of corners, as all 911s do due to the strong rear weight bias. It's actually hard enough for your own brain to keep up with the Speedster, never mind for any other car trying to keep up with you. This is a GT3, basically. But because of the open roof, the whole experience is turned up to 11 and the flat six wail gets piped straight into your ear canal. Ooff.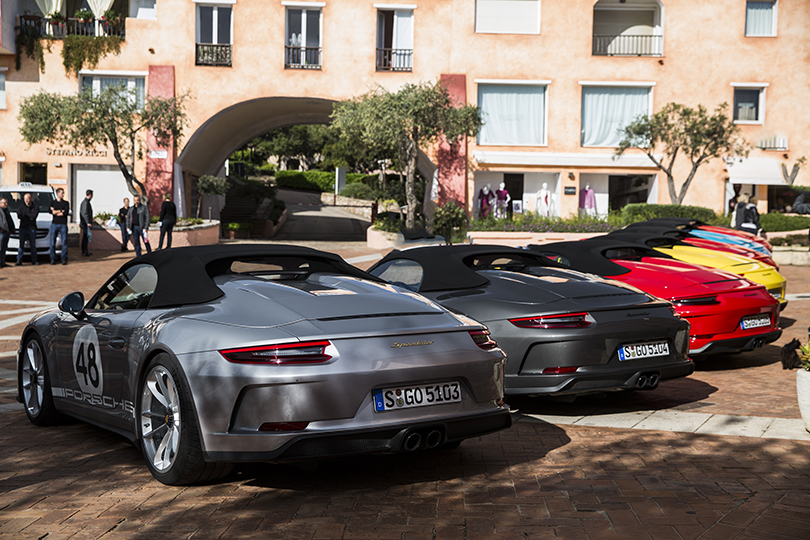 Does that mean you can't find anything to complain about at all then, Coomans? Well it's not easy, let me tell you. I guess the price is one sticking point. At nearly three hundred thousand US Dollars it's definitely priced into a very exclusive part of the market. Porsche calls the Speedster a present to itself for its recent 70th Birthday, and from a financial point of view it does look like precisely that. Being a limited edition of 1,948 cars means that you'd be paying a lot for the numbered badge that is placed prominently between the seats. How many more of these cars could they build anyway? For the GT department, this is not a small number of cars and at any rate even non-limited GT cars are inherently limited by production capacity. A lot of people would want to buy a GT3 but simply can't get one because there aren't enough being built to satisfy demand. By making the Speedster an officially limited edition Porsche is sticking to its previous history for this model, but at the same time this is inviting speculators and collectors to snap up these cars which will then be rarely used. Which gives the whole thing a slightly Shakespearean undertone, I suppose. Tragedy is never far away in a good love story.
But then the 911 Speedster is a showcase for what Porsche can do when it feels like having a bit of fun. Else there would be no point to even let us journalists drive it, as they certainly don't need the publicity to sell these exceptional machines. It's all about the brand, and the fact that they asked the GT department to make their first convertible car ever speaks volumes about how serious they were. Because the GT department does not screw up. They are Porsche's crown jewel and they simply do not fail. They gave us the new Speedster, and, as usual, they left us in awe. Whether that's fair or not I don't know, but I am left hoping that the phone will ring again if they ever make another one.