This past weekend,
only the second ever Russian Formula One Grand Prix took place in Sochi. It seemed just weeks ago that the Sochi Autodrome hosted the first ever race on Russian soil, lending credence to the idea that time does indeed fly.
In this very short time, a little more than a year, the Russian Grand Prix has already come a long way to being universally appreciated. It's a genuinely nice place to be unlike some of the other races on the calendar which are basically somewhere in a desert with nothing else to do. Sochi's Autodrome sits in the middle of the winter Olympic grounds which gives the place a special kind of atmosphere of historical significance. The track itself is pretty good as well, even though it won't challenge Spa or Suzuka for outright brilliance there are some properly challenging corners and the facilities are excellent. It also doesn't hurt that there's a theme park for the kids in case part of your family isn't as interested are you are in loud things going in circles.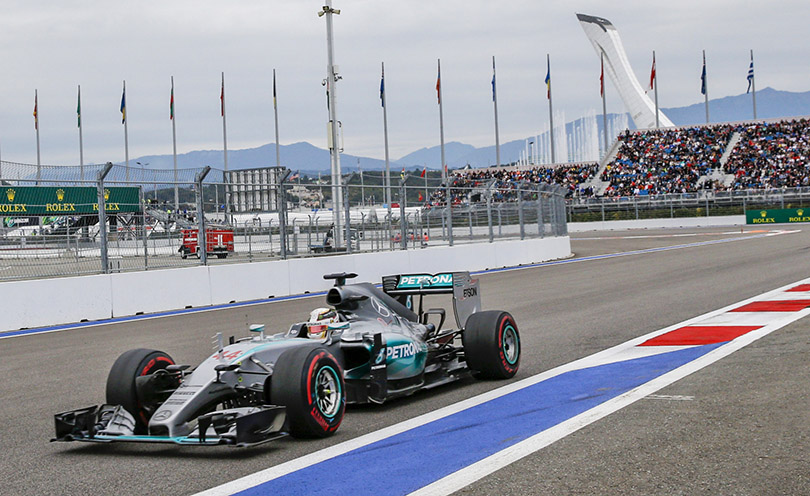 Formula 1 in this day and age might not be as loud as it once was, but it's hardly a quiet affair. The best engines, made by Mercedes-AMG and Ferrari, make well over 600 horsepower with another 150 or so worth of electric power available to be deployed. Getting nearly 800 horsepower out of a 1,5 litre engine while using no more than 100 kilograms of fuel during a race requires the kind of technology you would expect from a space program rather than a racing team.
A look behind the scenes in the Mercedes AMG Petronas team showed an incredible level of technology even beyond what I had imagined it to be. Very few outsiders are allowed into a Formula One garage, so I was incredibly fortunate to be invited. Unfortunately, but for good reasons, taking pictures wasn't allowed so I'll have to talk you through it. Formula 1 teams are in a constant state of war in terms of technological development so naturally they like to keep their cards close to their chest. We do know that the Mercedes team has had by far the fastest car of the past two seasons, so they must be doing a lot of things right. They are also the best dressed team, as their sponsor IWC Schaffhausen has supplied each and every member of the team with a wrist watch from the rather suitable Ingenieur collection. Some people don't get half lucky with their job!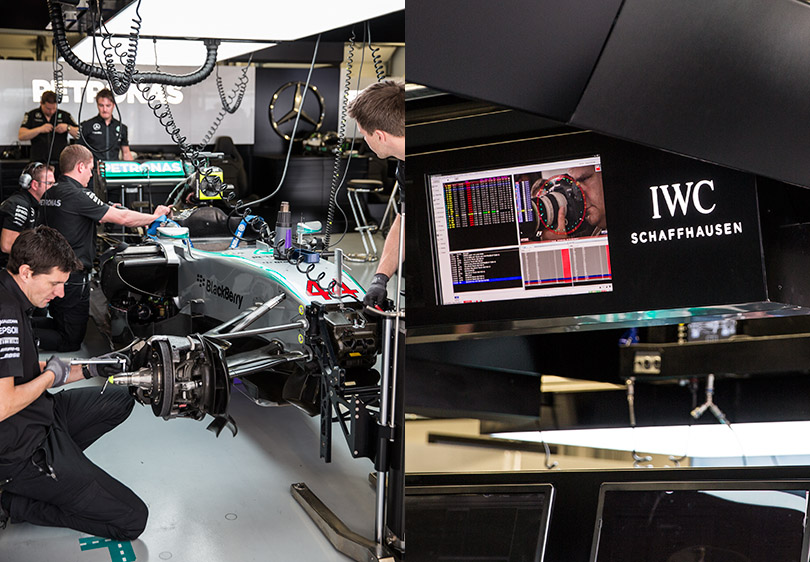 An F1 car is mostly made from carbon fibre, as it's ultra-light as well as strong. You can easily pick up the floor of an F1 car with one hand, the only thing that has any real weight to it is the wooden plank screwed to the bottom of it — a regulation all teams must follow. Metal parts are most often titanium or magnesium, you won't find much traditional metals on these cars.
Capturing and analysing all the data from the countless sensors on each car requires some huge computer server racks that could probably run the Google search page for an entire country. Personally I was most impressed seeing the 8-speed gearbox though. It's basically the size of a shoe box and the input shaft was no thicker than one of my middle fingers. How this tiny little thing manages to handle nearly 800 horsepower and immense torque is well beyond my understanding. It has to last for several races, too, otherwise you get a penalty. Some very exotic — and very expensive — materials are required to make any of it possible. I also got to handle an actual steering wheel, but was told to be careful as it costs 60 000 dollars to make. Gives you an idea what the rest of the car might cost.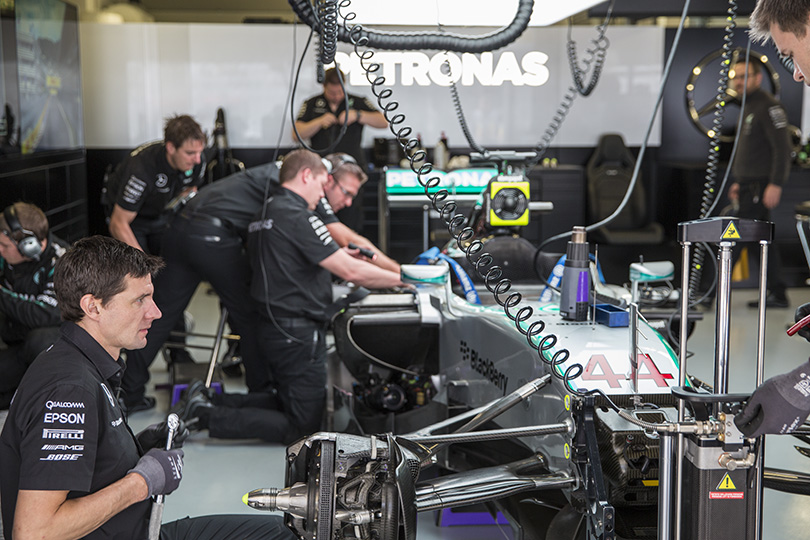 What we see in Formula One is what happens when you give some of the best engineers in the world a huge budget and tell to make a car faster than what their colleagues next door are building with an equally large budget. It must be said however that this earth-bound space race has not always produced the best racing on track. A modern F1 car is very sensitive to the conditions and the air disturbance created by the car and its wings reduces the cornering performance of another F1 car which is aiming to overtake the first. For this reason certain overtaking aids have been introduced, but it's still quite difficult for a faster car to overtake a slower one.
Unless you have a really fast car of course, which is exactly what the Mercedes team has built. They've dominated the past two seasons due to a combination of a vastly superior engine and a very well designed car. The fact that other teams have been unable to catch up to Mercedes has effectively made the championship, and most races, a two-way battle between team mates at Mercedes. You didn't even need to watch the races to know that, most probably, either Lewis Hamilton or Nico Rosberg won it. This has caused a certain level of despair in other teams and boredom among some fans. To Mercedes' credit, they have done their best to spice things up by letting their two drivers race each other with no team orders other than to not crash. Predictably, letting two competitive drivers fight it out has created some drama every now and then, but it hasn't stopped them from winning everything.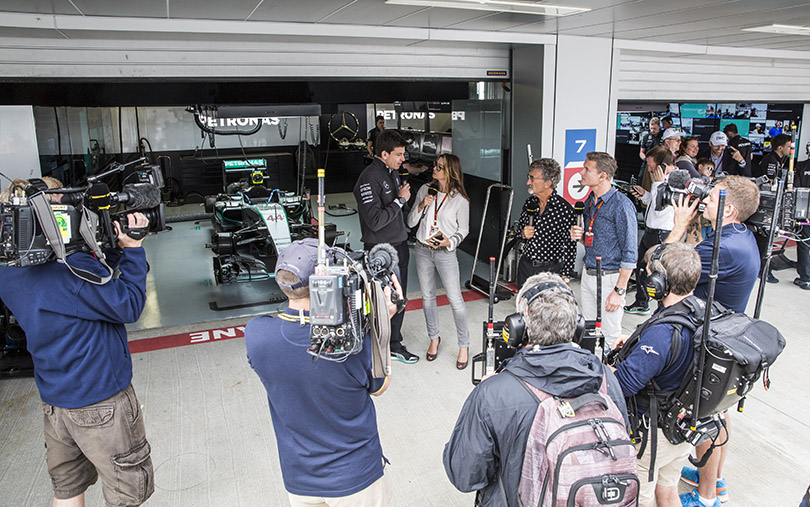 The BBC does not travel light
In fact, the Mercedes AMG Petronas team actually won the constructor's championship in Sochi with several races to spare, underlining the dominance which shows little sign of slowing down. A technical problem of a rather mundane component — the throttle pedal — led to Nico Rosberg's retirement only a few laps into the race which he was leading after qualifying first and holding onto the lead after the start. It just goes to show that luck and reliability are still a big factor in F1, even though it has become relatively rare to see cars fail. His retirement means Lewis Hamilton will almost certainly hold onto the world championship crown which he won last year.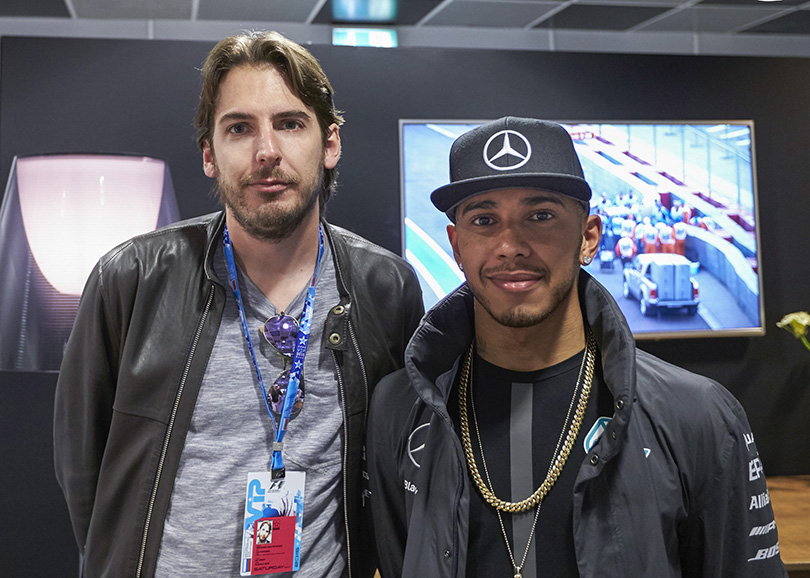 His necklace wins
Speaking of Lewis Hamilton, a tidbit of useless information: the man has a very firm handshake. We were fortunate to meet the world champion in the paddock Mercedes hospitality lounge after qualifying. Of course, this is a part of Formula One which most of the drivers would rather skip altogether, but they understand the reality that the team needs them to socialise a little. They aren't paid millions of dollars a year just to drive the car — they have considerable marketing value. As such I was surprised that Lewis was not only very professional but also seemed in a pretty good mood considering he had only managed second place on the grid moments before.
I probably wouldn't be in as good a mood as he was if I couldn't eat the things he can't eat. All F1 drivers are on a strict diet — as being overweight would directly influence the performance of the car they are driving. It's not as simple as turning up on Friday morning and drive the car, these guys have to live their job pretty much every single day of the year and having a big steak and fries is out of the question. Gaining a kilogram in weight could mean the difference for them between beating their team-mate or losing, and the last thing any of them want to do is lose. They'd all shave their heads completely if it meant gaining 0,05s a lap.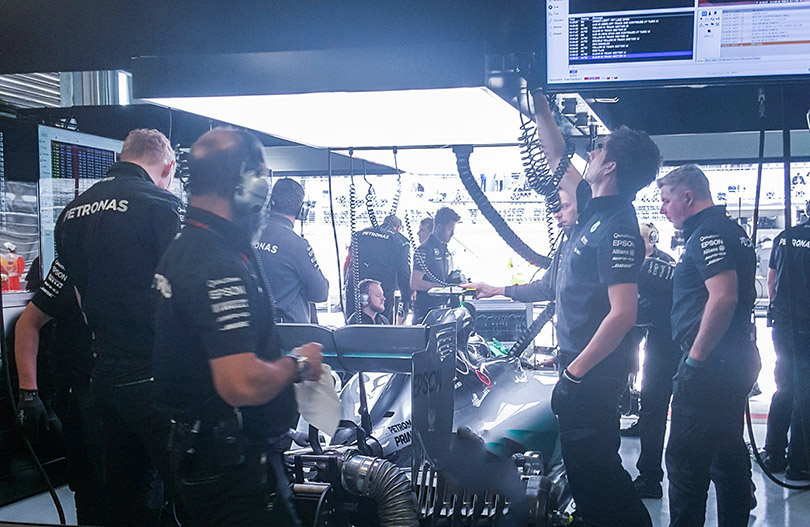 Watching from the back of the garage, you feel part of the action
I also got to sit in the actual Mercedes garage during practice and qualifying, where a headset allowed us to listen in on all the radio traffic between the drivers and engineers. This was a fantastic experience, and really made me appreciate how complicated it is to run a Formula One car competitively. The drivers need to know a huge amount of technical information to get the best out of their cars, from tire pressures to differential settings or wing flap angles. After each run, the data is analysed and adjusted. During the qualifying session I did notice a lot more talk between Rosberg and his engineer compared to Hamilton. Hamilton seemed more content to just drive the car as long as it was OK whereas Rosberg was taking a more technical approach to get the last ounce of performance out of the car to try and best his very talented team-mate. Of course it might be the other way around on other occasions.
Taking the past two years as evidence, Lewis Hamilton does appear to have a slight speed advantage over Nico Rosberg, but it isn't huge and Rosberg is working very hard to make up for it. Even whilst being very busy with the car itself, Rosberg had enough spare brain capacity to think ahead and suggest to the engineers that perhaps both himself and Hamilton should use less powerful engine settings because the other teams were so far off the speed of the Mercedes cars. This would save his engine somewhat, as each engine has a limited life span before it breaks and an engine failure in a previous race has left Rosberg quite tight on available mileage. Like I said, it was fascinating to hear all of the talk going on as opposed to a few soundbites which are broadcast on TV. Another surprising thing which you don't get on TV is the smell. An F1 garage mostly smells like new tires. Rubber. And whichever oil they use in F1 engines really does not smell like regular engine oil when it's burnt. When the engines are started there is a rather large puff of blue smoke but it really didn't smell like anything I know. Interesting info, I know.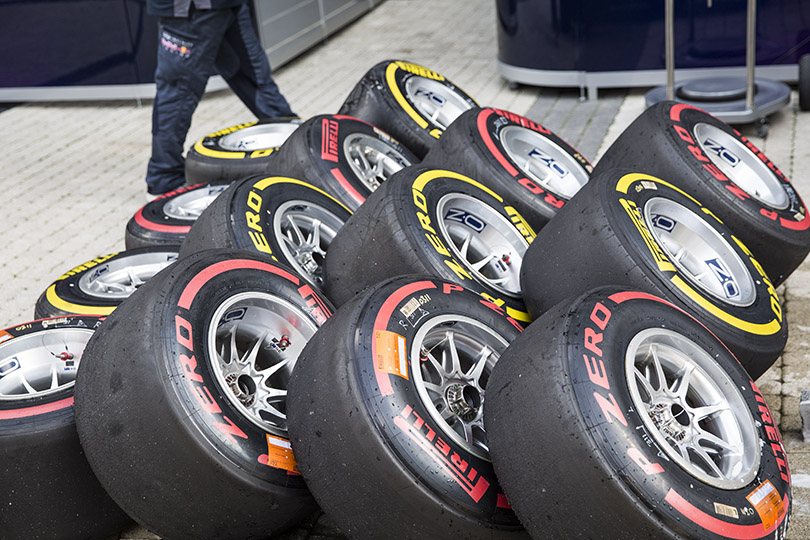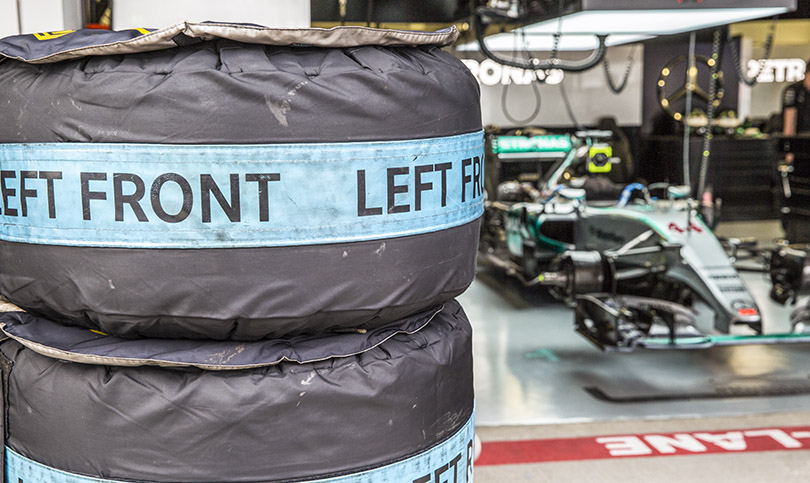 Tires. Tires everywhere
I must admit that although I'm not really big on celebrities or famous people in general, I hugely enjoyed running into some Formula One legends of the past. Above all, 3-time world champion Niki Lauda who is currently non-executive chairman of the Mercedes AMG Petronas F1 team. A man who nearly died on the Nurburgring Nordschleife, immortalised by various documentaries and even a recent Hollywood movie about his rivalry with James hunt. F1 is full of people who just do what they do because they like doing it. They are long beyond any need to work for money, but racing is in their blood and they'd rather be in the pit lane than on a golf course. If we ignore Nigel Mansell for a minute, anyway.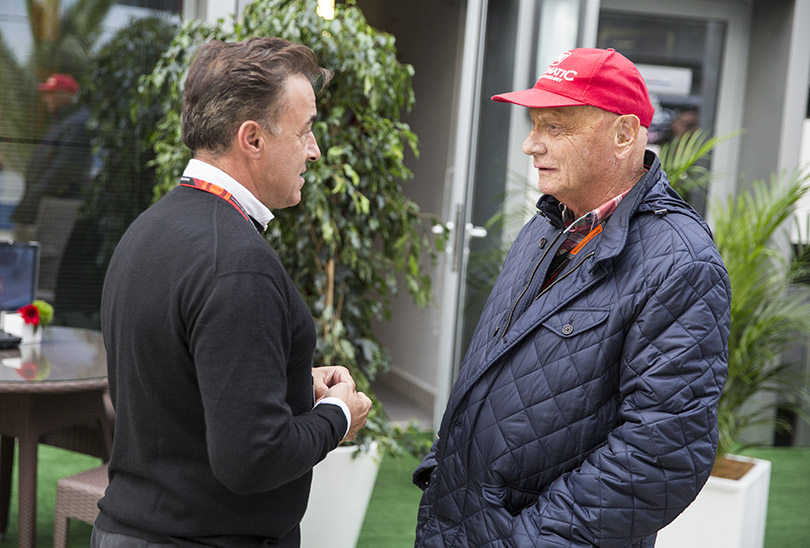 3-time world champion Niki Lauda having a chat with former driver Jean Alesi
The F1 paddock as a whole felt like one big family, albeit a very competitive one. The youngest kids do the actual driving, the parents are managing the teams, and the grandparents are there to tell the stories from back when they were driving race cars all those years ago. And that's what really makes attending a Formula One race from behind the scenes special. You get to be part of it, for a short time. And whatever happens on track doesn't matter as much as you would imagine at first. Win or lose, there is always the next race. In the process of racing however, you meet a lot of people who have the same passion. And that experience lasts forever.