The future of small SUVs
Regardless of whether we call the new Audi Q2 an SUV or a crossover, it represents a new design direction for the brand. It's a decidedly youthful looking car, with slightly funky lines and bright paint colours. I guess it's one of those cars where you can already tell it's going to be a big success even before the first buyer has actually received one.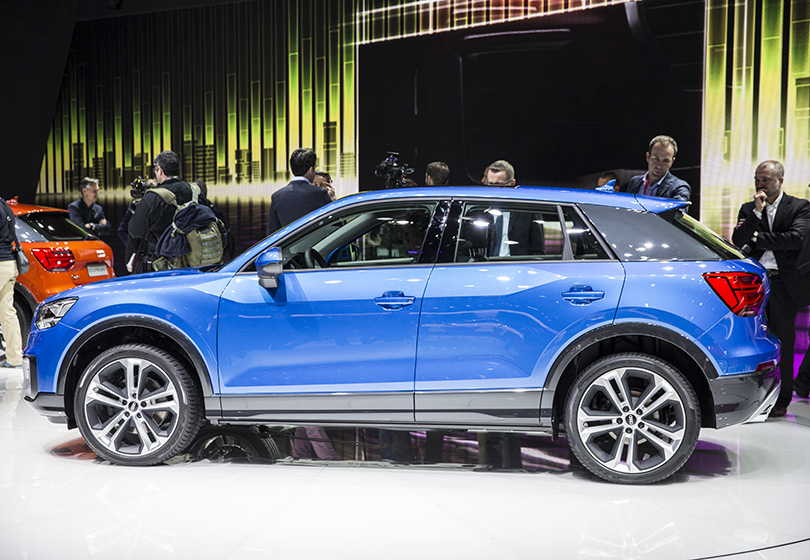 The Q2 is the most compact SUV in Audi's range, and it's the first car overseen by new design boss Marc Lichte who joined Audi in 2014. It's solidly aimed at a young clientele, as you can tell, but it's surprisingly practical at the same time. The 5-door Q2 offers a good amount of seating space in the back, where even the taller people among us can fit nicely. The front of the cabin is pretty similar to the new A3 and A4, which is to say very modern, but the Q2 also has a new ambient lighting system which uses LEDs to shine light through the panel gaps in different ways depending on the time of day. We won't even get any Q2s in Russia until next year, but knowing how SUV-minded the market is around here I have no doubt that we'll be seeing them everywhere soon enough.
Another noticeable novelty in the small SUV market is the Range Rover Evoque convertible. I think it's fair to say that design took a slight preference over practicality in this case. It's also an obvious shoe-in for the car-most-bought-by-It-girls competition, if there is such a thing. Assuming you've read some of my articles before, you can probably guess that I don't really «get» cars like these. But even so, I will admit that the Evoque Convertible is actually pretty good looking. And that's really all that matters in this case.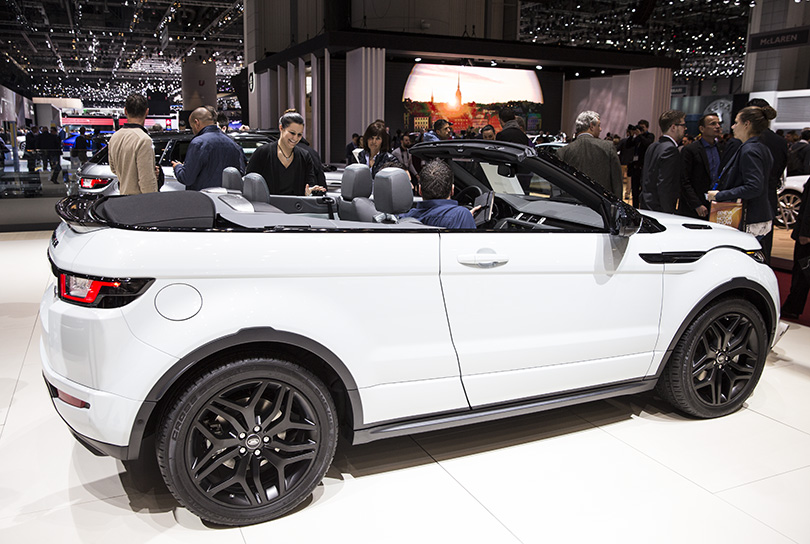 The future of convertible sports cars
Now this is more like it. The Jaguar F-Type convertible. I'm actually susprised it took Jaguar this long to make it, as the F-Type is such an obvious choice for open top driving. I would say the two biggest features of an F-Type are simply being pretty and having a massive exhaust sound. Both are excellent features to have if you're going to make a convertible. It's not difficult to imagine driving this car on the Cote d'Azur with the wind in your hair. Of course, if you happened to be driving this particular car with a supercharged V8 engine, odds are your hairdo will need a bit of attention afterwards.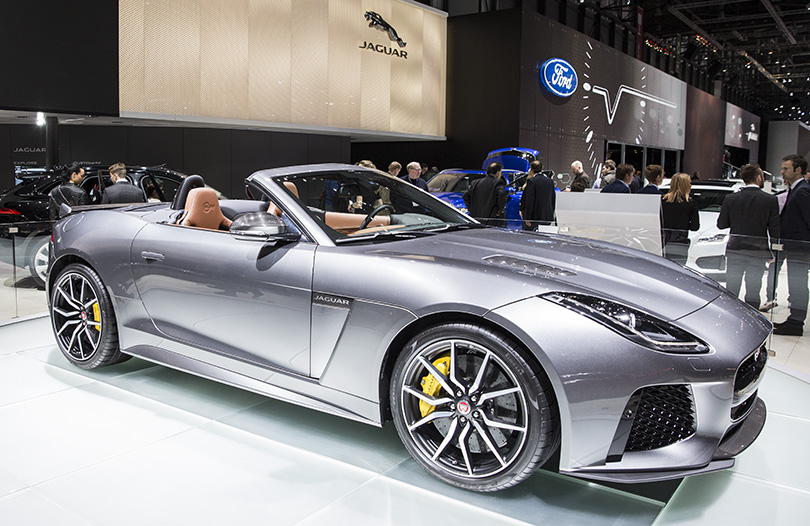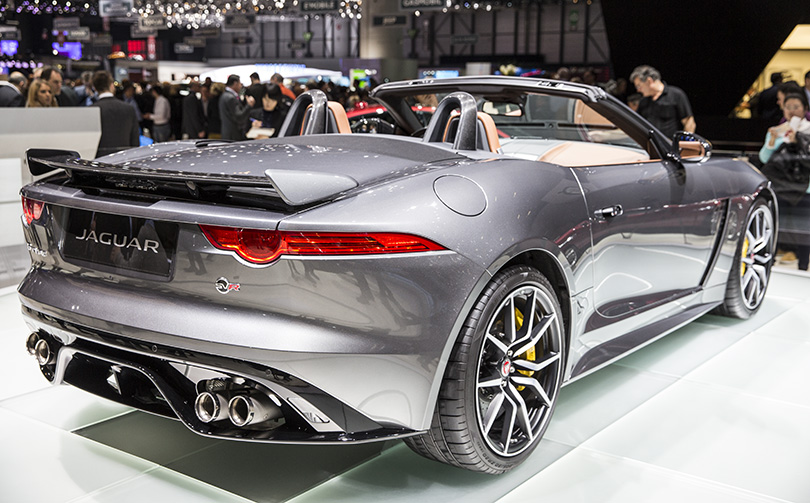 That's because SVR, which stands for Jaguar Land Rover's special vehicle operations, has upgraded a few things that really didn't need to be upgraded to end up with 575 horsepower and enough torque to pull an entire forest worth of trees out of the ground. Of course there have been some aerodynamic tweaks as well as a sportier suspension setup, but most importantly it also comes with all-wheel-drive to put all that brute force to the ground. The F-Type Coupe SVR boasts a top speed of more than 320 Km/h, but the Convertible is somewhat lower at a mere 300 Km/h. In a car this pretty, I suppose going slower and give people more time to look at it is the moral thing to do.
Another convertible sports car of a smaller, more nimble variery, is the new Porsche 718 Boxster. I think it looks nice, and you'll probably agree with me on that. Maybe even better looking than the old Boxster, but the visual differences certainly aren't huge. What is a huge difference is the engine, as it now has a 4-cylinder turbocharged engine. It's quite a bit faster than the old Boxster, but it's having a bit of a hard time getting accepted by Porsche purists and self proclaimed experts of the internet because the old flat-6 engines were so good.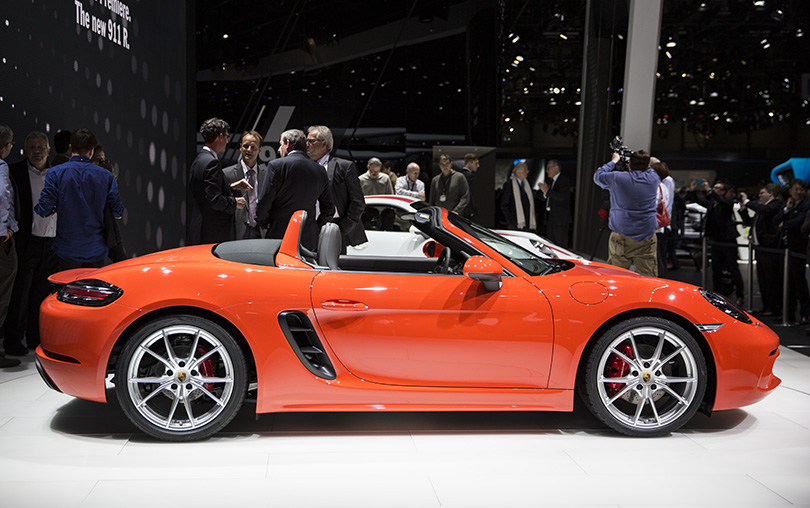 Now, it must be said that the average Porsche purist is pretty adverse to change to the point that any change is bad. They were proclaiming the end of the world when the 911 became water cooled rather than air cooled, the GT3 with PDK only was another apocalypse and now they're doing it all over again with the 911 Carrera getting turbos. Of course Porsche Purists don't tend to care all that much about the smaller mid-engined platform that is the Boxster and Cayman, but dropping a naturally aspirated flat-6 engine for a 4-cylinder turbo smacks of heresy no matter what car it's in. Whilst I wouldn't want to exaggerate, I do think may have a point this time. Porsche has made the 718 better than the 981 ever was on paper, but some of the character has undeniably been lost in the process. If you care about engine charactre and sound above all else, now's the time to snap up some of the last remaining 981s. Or if you want a newer, faster car and don't mind that it sounds different…the 718 will not disappoint.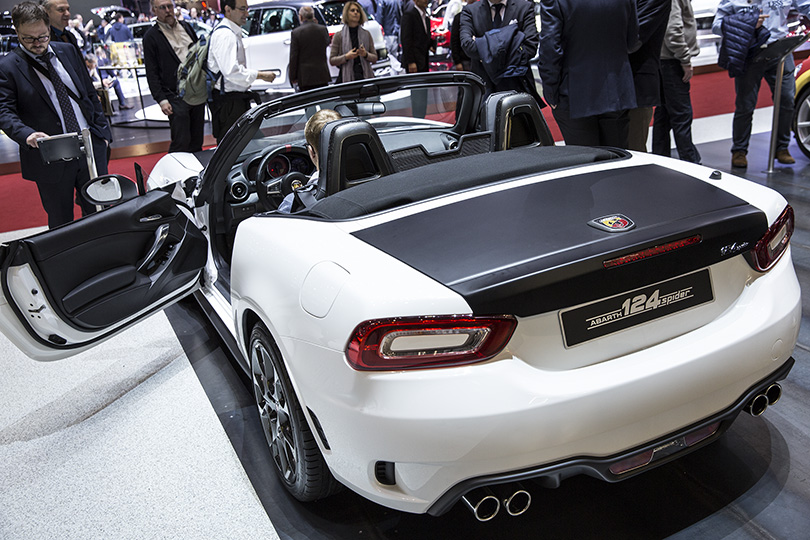 Going to an even smaller sports car, meet the Fiat 124 Spider Abarth. Now, just in case you think this looks quite a bit like a Mazda MX-5, there is a good reason for that. It kind of is an MX-5 underneath. It does have different engines compared to the MX-5, all 1,4 liters and turbocharged as opposed to small naturally aspirated engines in the Mazda, but really this is a Fiat-branded MX-5 more than anything. As much as I tend to hate rebranding cars, I might make an exception here for a couple of reasons. It looks good, it keeps all the best features of the MX-5, and it's available with more powerful engines. The MX-5 has such a great chassis that you can feel yourself wishing for more power and torque, which is what you get with this Fiat. I'm not saying it's a perfect solution, but it seems to be a very good car in its own right. As long as Mazda's famous reliability has been maintained with this car, this little Fiat looks like a lot of fun for not that much money.

The Future according to Japan
Speaking of Mazda, they appear to be seeing the future in one colour only: Soul Red Metallic. With the exception of a white MX-5 which they had half hidden at the back of the stand, every single car they had on display was in this colour. Hey, it's a nice colour, what can I say. It also made it even easier to find the Mazda stand when looking from a distance.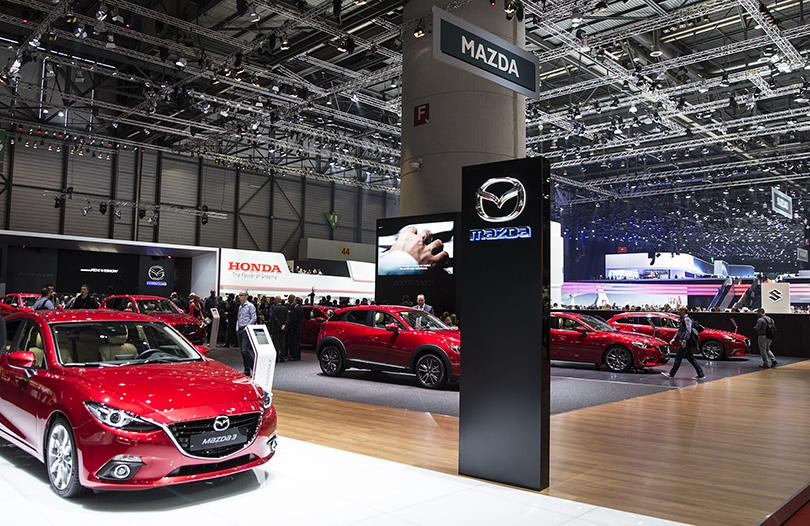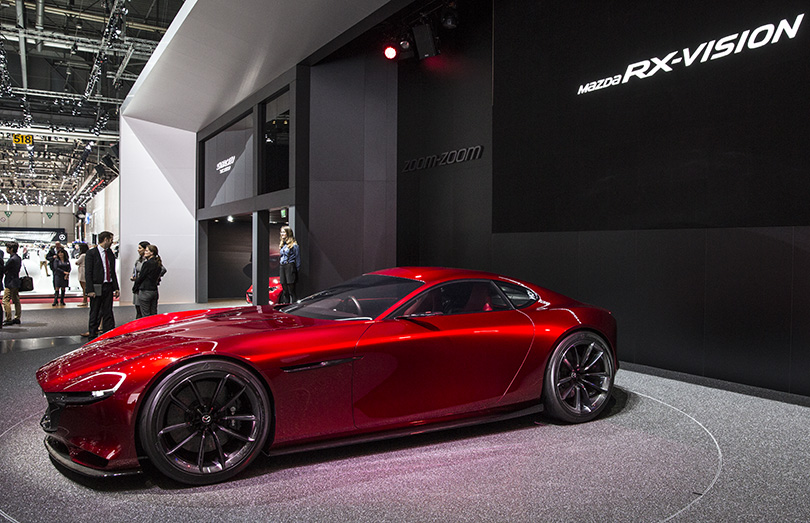 The RX Concept car they had on display was a beautiful thing to behold, particularly if you remember the old RX-7 you can see quite a few visual cues going back to that car. Unfortunately not that much is known about this concept, which is very far from turning into a real car by all accounts. Because it's an RX, it has a rotary engine which is very different from a regular combustion engine. The reason they never became popular is that they have too many drawbacks in terms of efficiency and reliability — and Mazda has been the only company brave enough to sell any cars with a rotary engine in recent memory. If they can claim a breakthrough in technology, who knows it might well make a comeback.
Lexus, meanwhile, showed off its LC500h — a car which' specification sheet is capable of automatically raising your left eyebrow. The car's technology looks both outdated and futuristic at the same time. There's an old 3.5 liter V6 engine and a 4-speed automatic gearbox. But then it also has batteries, electric motors and a second continuously variable transmission that works in tandem with the 4-speed automatic. The result is 10 forward gears, some of them real some of them virtual.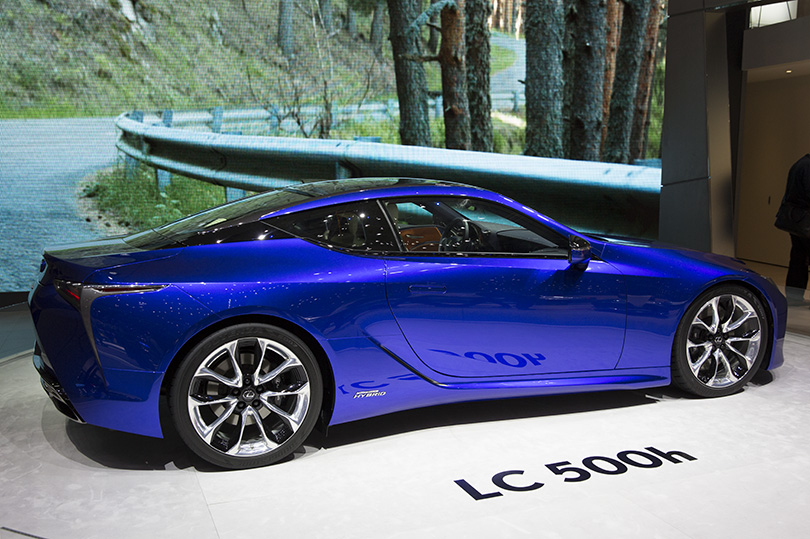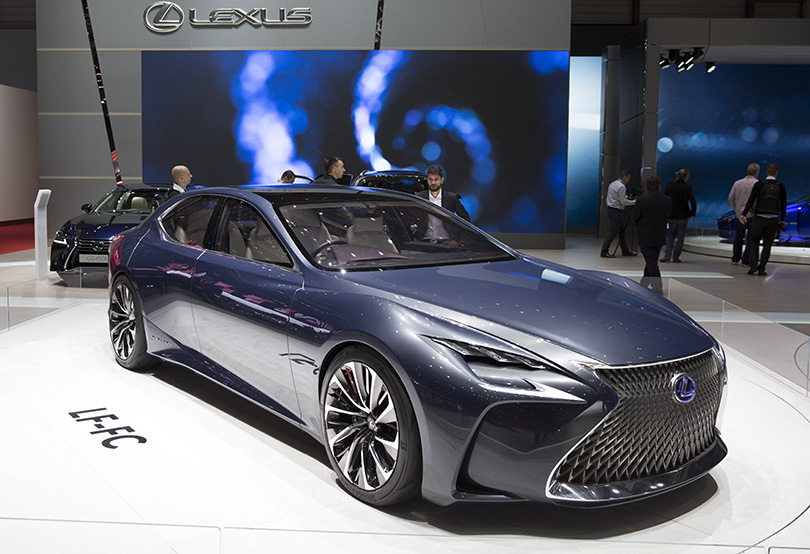 Lexus also had a more traditional concept car on display, the LF-FC. While this concept is powered only by electric motors inside all four wheels, and a hydrogen fuel cell, it's really about the styling. Future Lexus models are almost certain to borrow elements off this rather ambitious looking concept. Let's hope they take only the good bits.

Meanwhile, back in Europe
Did you ever sit down in the back of your Bentley Mulsanne and think to yourself «I wish I had more legroon»? If so, your prayers have been answered as Bentley has freshened up the Mulsanne with a Bentayga-style front and has also introduced the EWB version. That stands for extended wheel base and it adds 25 centimeters of rear leg room. I suppose that's a bit like going from business into first. Anyway, the Mulsanne now comes in three flavours: regular, extra fast (aptly named «Speed») and the bigger than usual EWB. All jokes aside, it's difficult to imagine a more comfortable place to be stuck in traffic in. And that's worth more than something.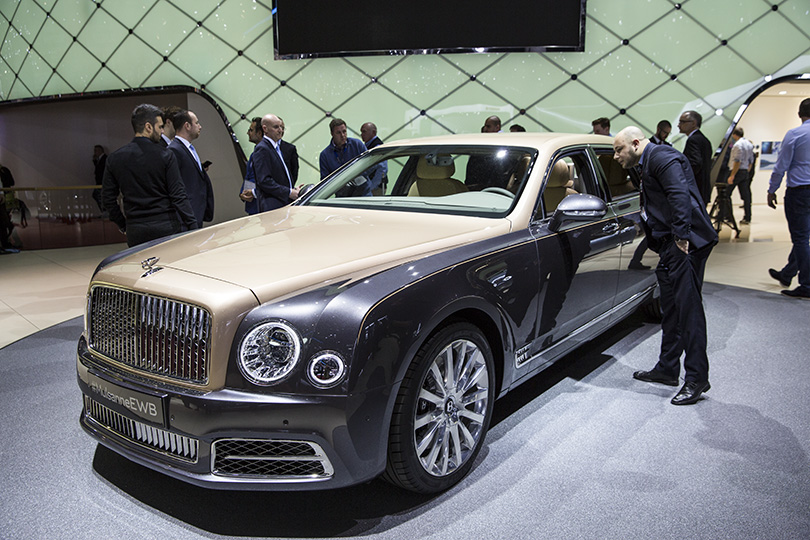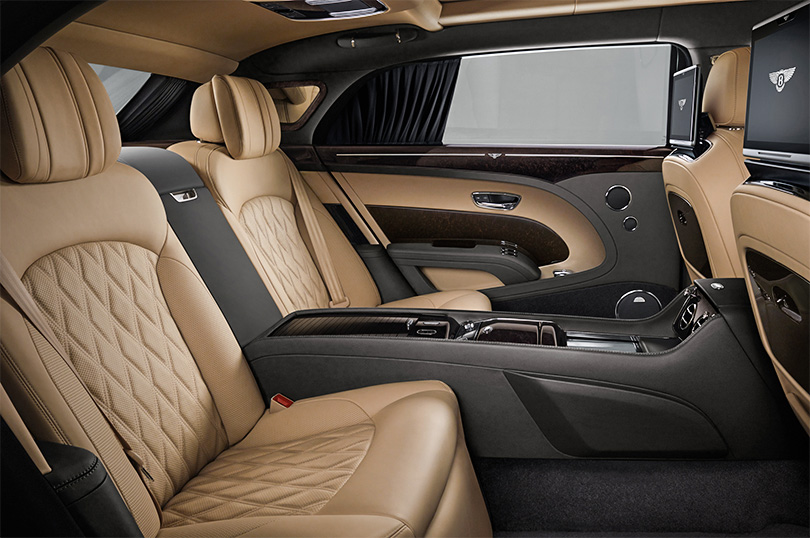 BMW had several of its new M2 on display, and they do look quite gorgious. We should applaud BMW for making an M car which' primary purpose is just to be enjoyable rather than break any records. It's the right size, too, now that the 3 series is almost as large as the 5 series used to be. Once again people are talking about the M2 possibly being a spiritual successor to the fabled E30 M3, which I think is largely nonsense. The things that make the oldest M3 so much fun from a modern perspective are exactly the things which modern cars have gotten rid of in order to become better cars. Sure, yet another BMW M with the 3-liter inline six and turbochargers is beyond predictable at this point. But would that bother you when you drive it? Not hardly. And you can actually get optional M performance brake pads on this car that are meant for track use. Best option ever.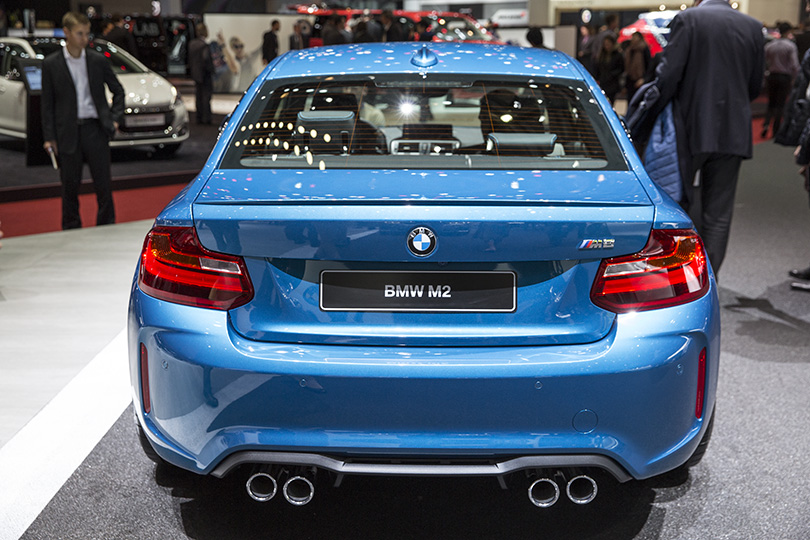 The most interesting Ford on display was of course the baby blue Focus RS. Not since the days of the Escort RS Cosworth has Ford produced an all-wheel-drive RS model, so there has understandably been much rejoicing over this car. Brilliant chassis, a more than decent engine with 350 horsepower, a manual gearbox and all wheel drive. What's not to like? Well, if you're looking for a car with a nice interior I'm afraid you better skip this one. Also, even more worryingly, it comes with a «drift» button. Push the button and you can pretend to be Ken Block in one of his YouTube Gymkhana videos. While the button absolutely does work, and makes the car ridiculously easy to powerslide until you either run out of fuel or burst a tire, it does give the car a bit of a video game character. Even so, the complete lack of understeer and massive straight line performance will have you smiling anyway. A truly wonderful machine, if you're into rally cars in particular.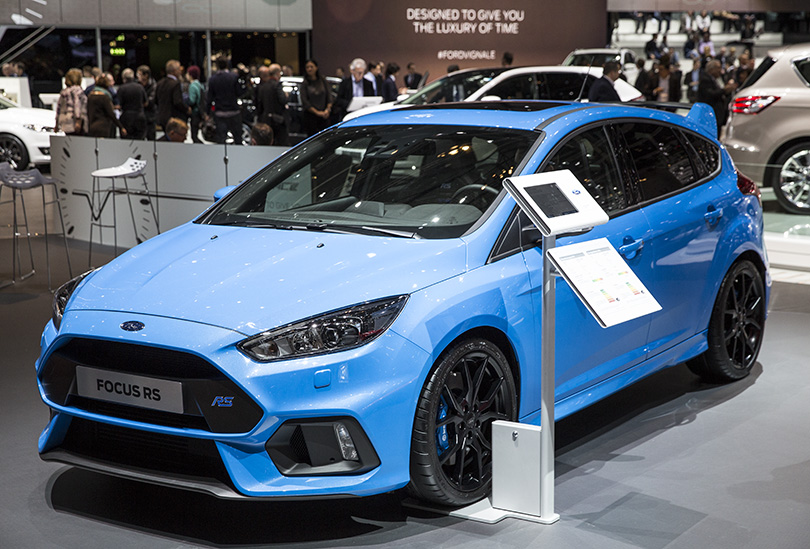 What would a car inspired by Monty Python look like?
Actually, we're in luck. I believe you can find just what you're looking for at the Morgan stand. This latest prototype was electric, but you can still get this three-wheeled beauty with a regular old combustion engine if you wish.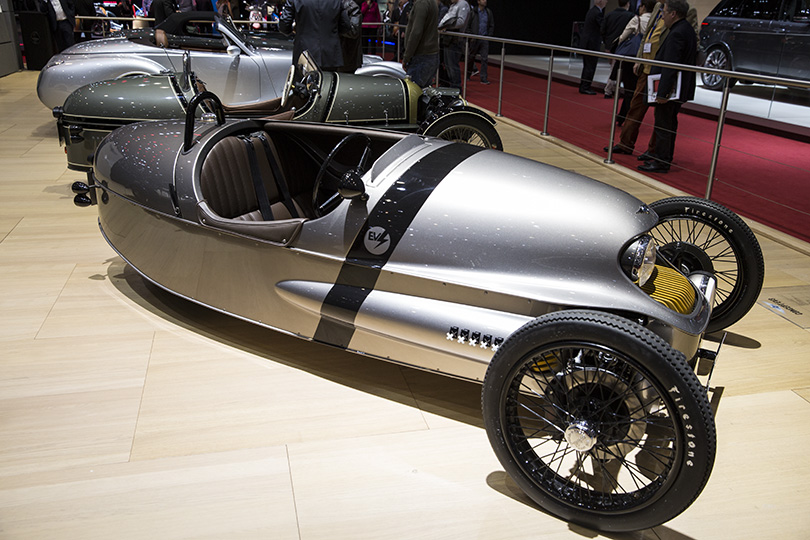 I certainly can't wait to see what they come up with for next year.