The last few years,
smartphones have steadily become the most important piece of technology in our lives. Not counting cars, obviously. Much like desktop computers in the 80s and 90s, smartphones have been evolving so quickly that you'd be hopelessly behind the curve if you skipped upgrading for a year.
But then, personal computers eventually got so fast and reliable that even 5 or 10 year-old units can still do pretty much anything you want. The curve of technological improvement has to level off eventually. Likewise, the smartphone has now reached a level where any improvements are incremental at best, and revolutionary leaps in productivity or user-friendliness appear to be a thing of the past. Even so, whenever there's a new version of a phone that was already excellent, we all look forward to seeing what it can do.
If you remember my Samsung Galaxy S6 Edge review from last year, you know that I focused heavily on the performance of the camera and screen in particular. Because even though a modern smartphone is hundreds of times more powerful than the computers that landed mankind on the moon, most of the time they're really just used for Facebook* (*Meta Platforms Inc. (Facebook, Instagram* (*Meta Platforms Inc. (Facebook, Instagram) — организация, деятельность которой признана экстремистской, запрещена на территории Российской Федерации)) — организация, деятельность которой признана экстремистской, запрещена на территории Российской Федерации), Instagram* (*Meta Platforms Inc. (Facebook, Instagram) — организация, деятельность которой признана экстремистской, запрещена на территории Российской Федерации) and instant messaging. You want pictures and websites to look beautiful on your phone, and you want the pictures you take to look good too. I'm going to stick to the same kind of testing for the new Galaxy S7 Edge, as people haven't really changed their habits since last year as far as I can tell.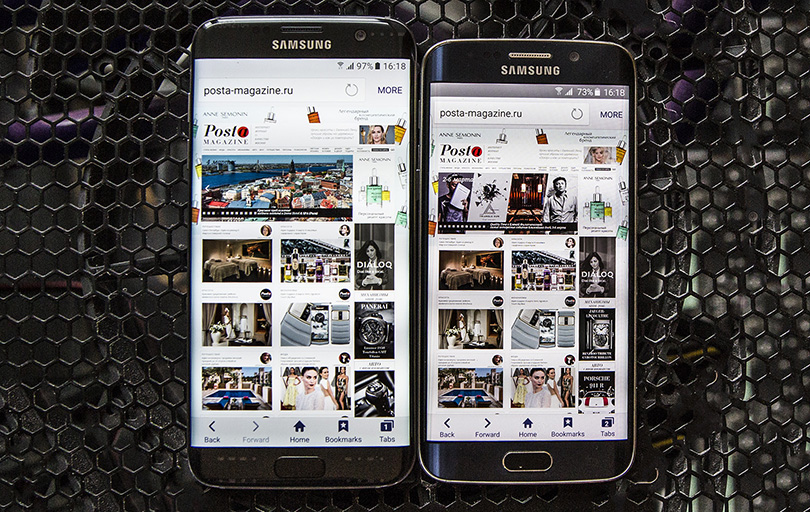 New S7 Edge on the left, old S6 Edge on the right
Most people would also be hard pressed to see the difference between the Galaxy S6 and S7 edge, because they really do look rather similar. Think iPhone 6 versus the 6S. That's not a bad thing, necessarily, because as far as phones go I do think the Galaxy Edge phones are quite pretty. While the S6 was a very big step for Samsung in a new direction towards a high quality finish and feel, the S7 is really just a small evolution of the (now) classic recipe. The biggest difference between old and new is that the screen size has increased from 5,1 to 5,5 inches. So the phone is a little bigger, in fact it's the same size now as the Galaxy S6 Edge+ was. The screen's resolution remains the same at 2560 by 1440 pixels, which still makes for a huge dots-per-inch number for those who care about numbers. The bottom line is that you get a bigger screen which is still very sharp and unless they have the eyes of a hawk, I can't imagine anyone being able to see the individual pixels. Colour accuracy and brightness are just as good as the S6 models too. You could look at that as a lack of progress, but I'd prefer to say that it's just as great as it was before.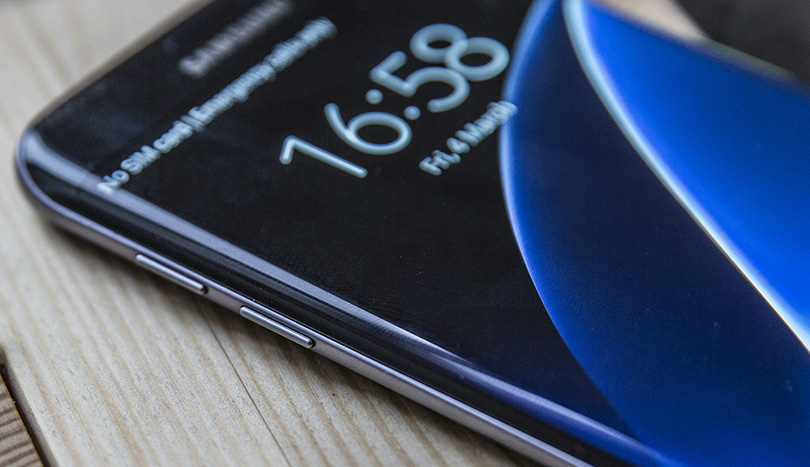 While a 5,5 inch screen diameter certainly sounds big, the screen is packaged so tightly that the actual phone itself isn't really that large. It's considerably smaller than the iPhone «plus» even though the screen is the same size. Having such a slim design means it still looks more like a regular smartphone than a «phablet». Samsung has also rounded the edges of the phone more, making it much more comfortable to hold than the S6 Edge. There are also some improvements to the curved screen edges' functionality, mostly in terms of the software which now gives you more options to configure what you want to do with them.
The Samsung Galaxy series still uses an AMOLED type screen, so the pixels themselves are light emitting. The advantage of this technology is that black areas of the screen don't use any power to be black, they're simply turned off. So as there is no backlight, you get a much more true black rather than the dark grey you usually get on a backlit LCD screen and the higher contrast this produces makes even rather usual pictures look stunning. It has also allowed Samsung to invent a nifty new trick with the display, keeping the display always «on» and showing some useful info like a clock fo example. But because only very few pixels on the screen are active, it uses very little power so battery life isn't affected much. It's not the most useful feature in the world, but it does look nice and it makes the phone stand out as something a bit special.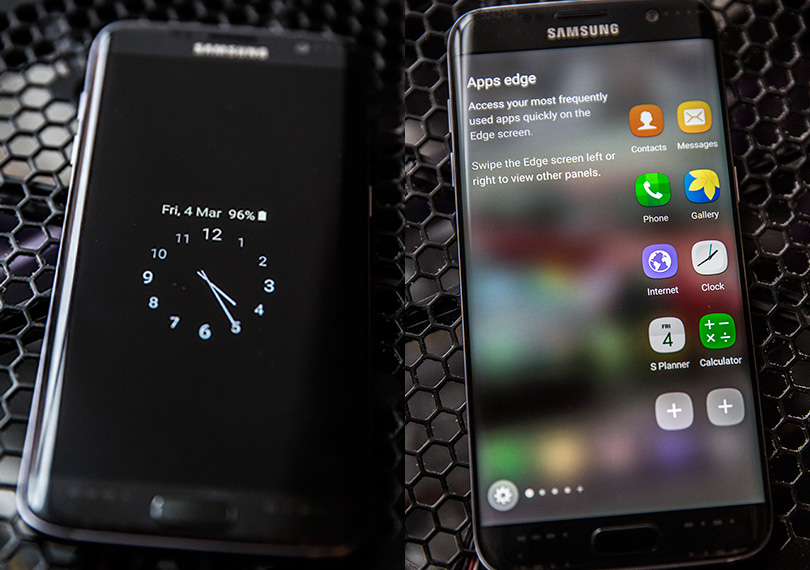 Surprisingly, considering how good the camera on the Galaxy S6 Edge was, Samsung has actually made big changes to it. Obvious improvements are in the lens, which now has an aperture of F/1,7 rather than F/1,9 before. This means it's capable of letting in more light to the camera's sensor, and F/1,7 is an absolute record for a smartphone lens at the moment. The lens is also more flush with the backside of the phone, which looks better and is nicer to hold. However, when it comes to the camera's sensor Samsung has actually reduced the megapixel count from 16 down to 12. That's still quite a lot of pixels, but it's unusual to see a manufacturer go backwards in terms of resolution. So why have they done it? Well, one of the biggest technological hurdles for smartphone makers is to design a camera that takes decent pictures in low light conditions. Pictures are often taken in the evening when you're all dressed up for a party, you know how it goes. In order to boost image quality when there isn't much light available, Samsung has fitted a sensor with dual pixel technology which can focus a lot faster in difficult conditions. The individual pixels are also larger, reducing the «noise» you generally see in pictures taken in dark situations.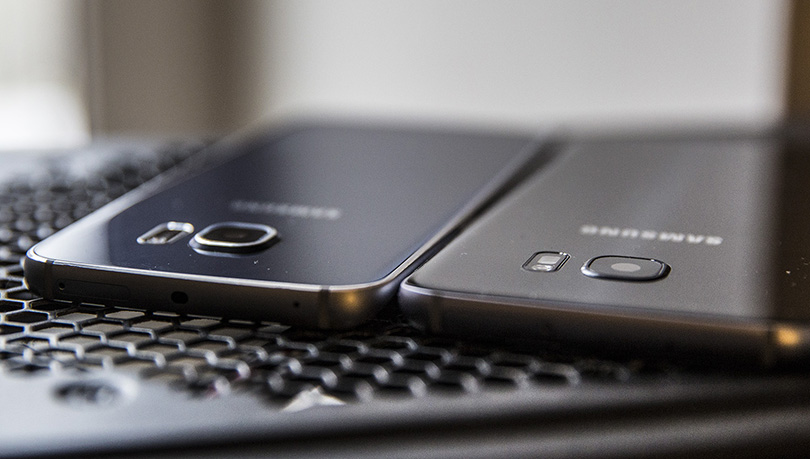 The camera on the Galaxy S7 Edge (on the right) protrudes a lot less than on the S6
While I haven't had that much time to play around with the camera on the S7 Edge, my testing suggests that during daytime when the sun is out, the S7 camera is pretty much the same as the S6 was. That is to say, it's still class leading. The effective focal distance with the new sensor is a bit shorter than the S6 however, meaning the viewing angle is slightly wider than before. The aspect ratio of the sensor is also different, with 12 megapixel shots only being possible at an aspect ratio of 4:3 instead of the widescreen 16:9 which the S6 had. This is a bad thing if you want to shoot images to use as a desktop background on your PC, but 4:3 is a lot closer to Instagram* (*Meta Platforms Inc. (Facebook, Instagram) — организация, деятельность которой признана экстремистской, запрещена на территории Российской Федерации) size, so it's easy to understand the change. You can still shoot pictures at 16:9 but you will lose a bit of resolution if you do. For the image quality comparison below, both the S6 and S7 were in 12MP 4:3 mode.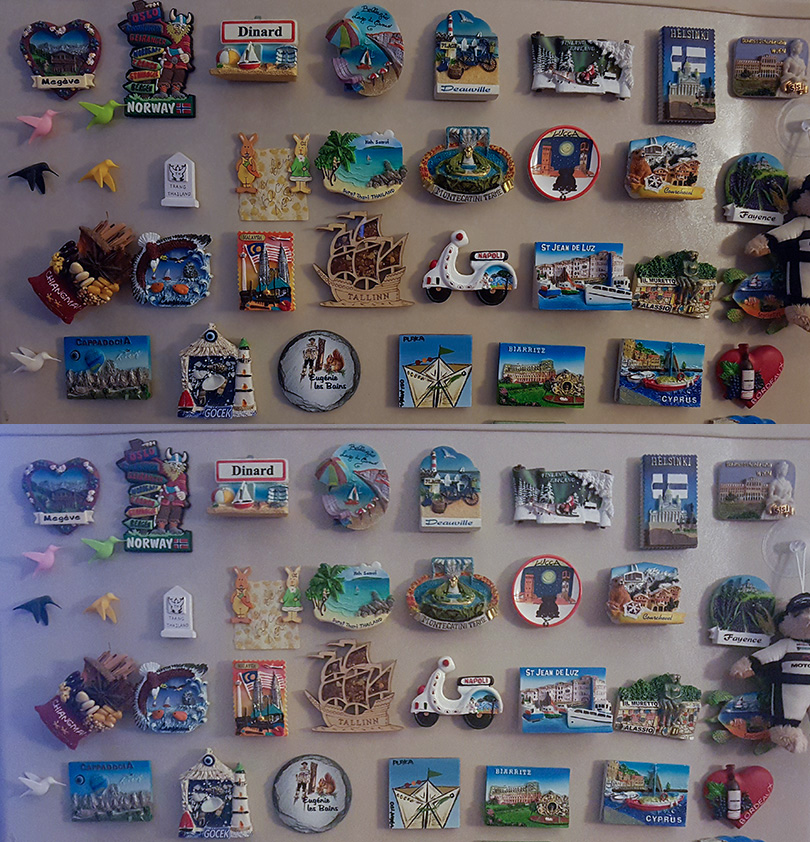 A low light picture, new S7 camera on top, old S6 camera at the bottom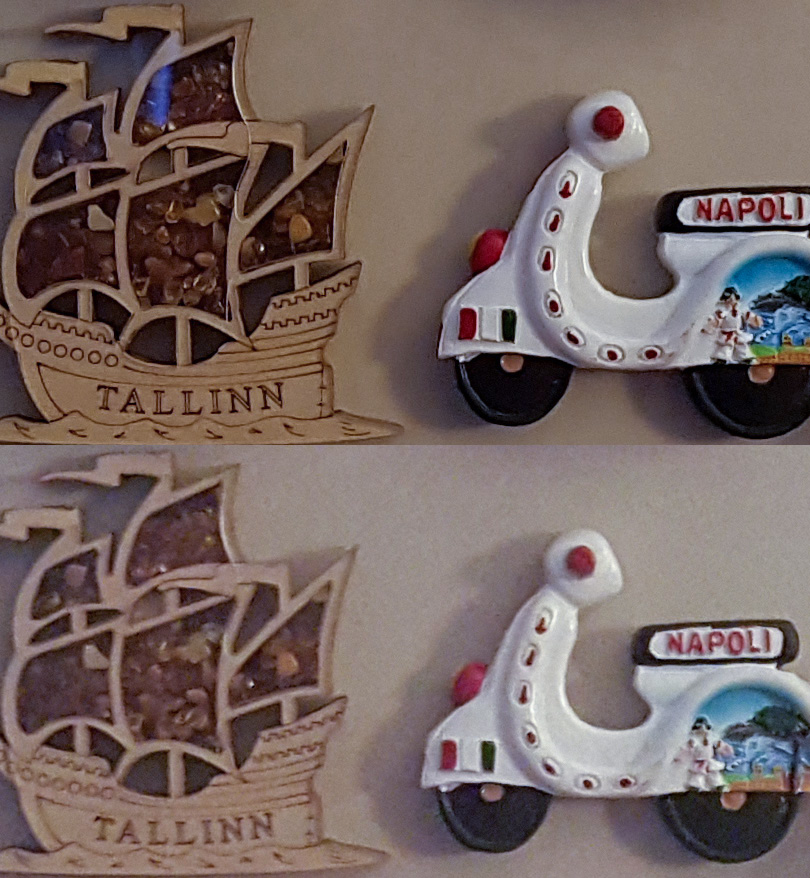 A 100% magnification of the same picture
As you can see, the S7 Edge makes good use of its better lens and larger pixels in very low light conditions. And it really was pretty dark in my kitchen when I shot part of the fridge. You simply get much more detail and better contrast in these extreme conditions than you did before. On the whole I would say the extent of the improvement is quite big. Samsung has not only maintained its lead over the competition in this area, it has actually increased it by the look of things. If you want the best possible camera on a smartphone, you're looking at it here. And you can take quite a lot of pictures, because the battery has also seen a huge increase in capacity to 3600 mAh. The old S6 Edge had a 2600 mAh battery which was OK but not great, so the S7 should be a big improvement on that. For reference, the iPhone 6S Plus has a 2750 mAh battery — but difference in technology and operating system means you can't compare those one to one exactly. Either way, bigger batteries are good, I'd rather have a huge battery and a slightly bigger phone than chase the thinnest possible format.
Other notable features the S7 Edge has gained are IP68 water and dust resistance and expandable storage in the form of a microSD card slot. It seems phone manufacturers like removing things and then add them back to their phones later on. Customers (well, mostly just reviewers) complained about the lack of expandable storage so it came back. Up to 200 GB can be added, which should be enough for everyone. And the best thing is, you don't need to pay the insane mark-ups which phone manufacturers charge for extra storage. Don't be surprised if this option disappears again in the next phone, and then comes back, and so on and so forth. Being water proof is also something the Galaxy S5 was before, but the S7 is slightly more water proof at IP68 versus IP67 for the older phone. Useful? Well not really I guess, but now you don't need to worry about dropping your phone in the bath tub or spilling a glass of wine over it. These things do happen, ask me how I know.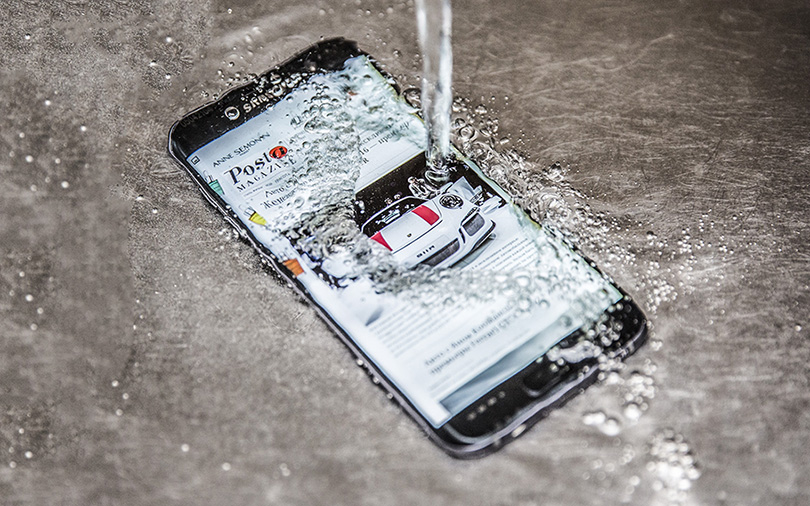 The Galaxy S7 Edge did not mind getting baptised
As it is still a phone, you can use it for calling people or sending SMS messages. Not the most popular functions these days, obviously, but it's good to see that you can still use a phone in a conventional fashion. The finger print reader is also still there and slightly better than it used to be, and the GPS chip still locks on to satellites just as quickly as before. It's amazing how quickly technology becomes ordinary isn't it? Built a time machine and show a smartphone to someone in the 90s and they might bring back the witch burning laws, because it will look like magic. These days, I guess we're not as easily impressed anymore.
If you've used a Samsung phone before, the software that runs on it should feel very familiar to you. TouchWiz isn't the most popular Android skin, but it does a decent job and Samsung has reduced the amount of «bloatware» significantly compared to a few years ago. Basically it's fine — you'll have no problem finding the functions you need. So should you run out to buy one straight away when the S7 goes on sale in a few days? That probably all depends on what you have currently. Owners of a Galaxy S6 Edge would notice some improvements over their old phones, but not a night and day type of deal. The incremental improvements are nice and welcome, but unless you really want the bigger screen, you're not getting a radically different phone to what you already have. If you do have a slightly older phone however, I think you'd definitely enjoy Samsung's latest piece of electronic wizardry. It's simply the best that contemporary technology can achieve.