Gennady Josefavichus and Jan Coomans
It's not too often,
living in a big city, that I get to drive just for the sake of driving. So when I got asked to drive the new Panamera from Stuttgart to Torino and back, I pretty much agreed before they finished the sentence.
It wouldn't just be the new Panamera though, as there was only one example available — the 4S version. To get our small group of intrepid journalists across the Alps, we needed some more cars and they arrived in the form of several Porsche Cayennes. If you've read some of my articles before, you could probably guess that the Porsche Cayenne would not be on the top of my list of Porsches to pick for a nice drive over twisty roads. But in an unexpected wave of open-mindedness, and after seeing the Turbo S letters on the back of one of them, I figured I should give the Cayenne a fair shot at convincing me of its qualities. It's hard work, but someone has to do it.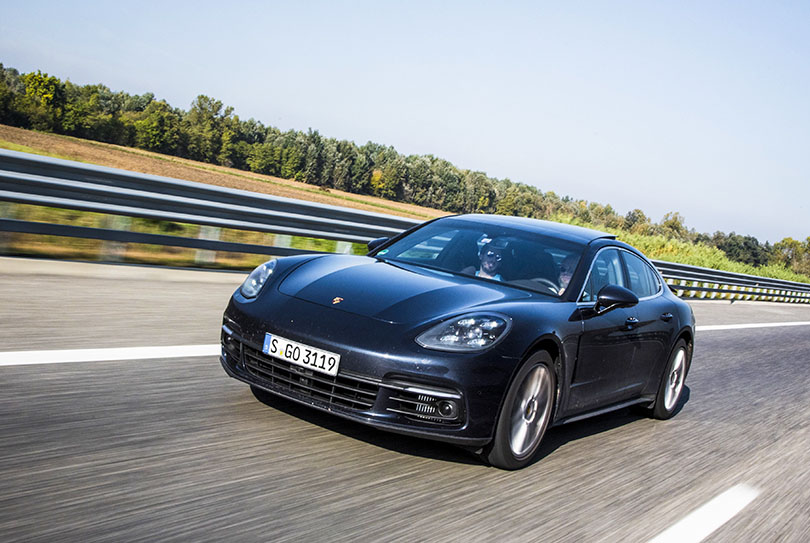 Upon landing in Stuttgart, we immediately broke with Russian tradition and had a nice solid lunch before the driving started. The first leg of our trip would take us to Andermatt, Switzerland where a rather stunning hotel named The Chedi provided us with ample food and a soft bed for the night. Getting there meant spending quite a lot of time on a Swiss highway, in the dark. Even in bright sunny daylight this would be about as entertaining as watching dry paint get even drier, once it gets dark you can no longer see the pretty scenery and it just seems to go on forever. Luckily we were all driving exceptionally nice cars, and my exceptionally nice driving partner Gennady Jozefavichus proved to be a more than capable DJ as well. So we ate up the miles of Swiss highway as if they were chocolate, humming along to a long list of Bond movie songs. I guess you had to be there to understand.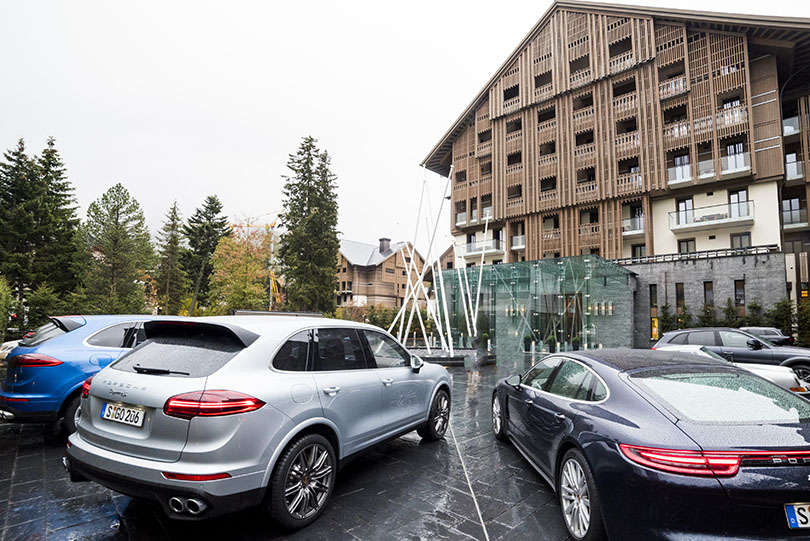 The next morning, we swapped into the new Panamera and aimed it vaguely towards Torino. The monotonous highways of the previous evening were erased from our memories as we set off on some of the best switchback roads you could find anywhere in the world. It may have been cold, wet and foggy but this is what I came all this way for. These were proper roads for a drive-a-holic to enjoy. And then there was the car of course. The new Panamera 4S comes with a 2,9 liter turbocharged engine which is good for 440 horsepower. As it was the «4» S we had all-wheel-drive to put the power to the ground, and it proved extremely effective at that. Not even on the wettest or coldest bits of road did the car break traction, and not for a lack of trying either. Above all though, the new Panamera feels much more nimble than it looks. It feels more nimble than the numbers suggest, also. Anyone who drives the old and new Panameras back to back would swear that the new one weighs a lot less. On paper, though, the new car weighs just as much. I found that extremely surprising when I looked it up.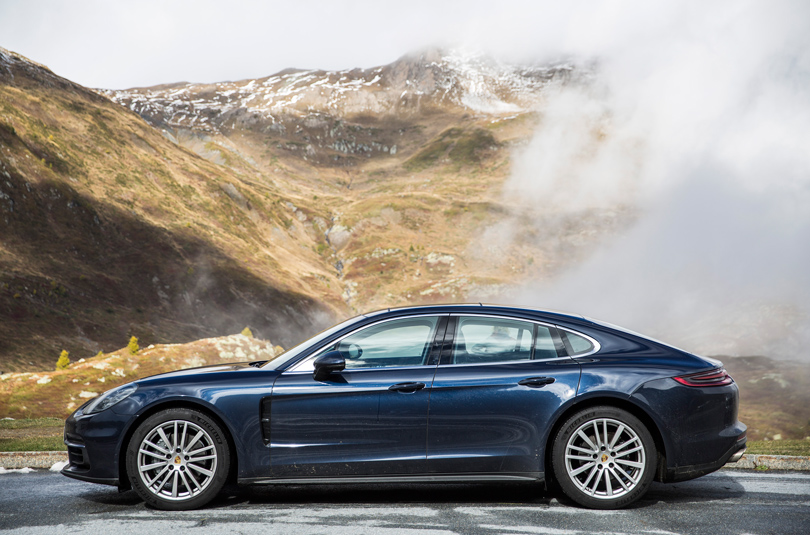 You only really notice that you're driving a somewhat weighty car when you try to brake pretty hard and late for a hairpin corner. But that's not what you're supposed to do, anyway, in a comfortable luxury car. And at the end of the day, very few cars could keep up with it when pushed. Its 440 horsepower engine is as powerful as you need. It never, ever feels like the car needs more power. Not that this should come as a surprise in a car that will reach 100 km/h in 4,2 seconds from a dead stop. I was particularly curious about the new 8-speed PDK gearbox, as the old 7-speed has been the gold standard for dual-clutch transmissions for many years now. The funny thing is, I didn't really notice that much difference aside from having the extra gear. It's just that PDK was already so good and so fast that there isn't really much room to make it any better. The closer you get to perfection the less there is you can improve on. What I will say is that, with 8 gears, it makes more sense than ever to leave the gearbox in automatic mode. Let's say that you want to get from 8th gear into 3rd to prepare for an overtake, you would be pulling the downshift paddle five times. If you just leave it in automatic and press the «Sport Response» button on the steering wheel, it will do the same thing faster than you can blink your eyes. Of course I happily used the paddles while I was being a bit of a hooligan on the tight and twisty roads, but again that's not how these cars are usually driven.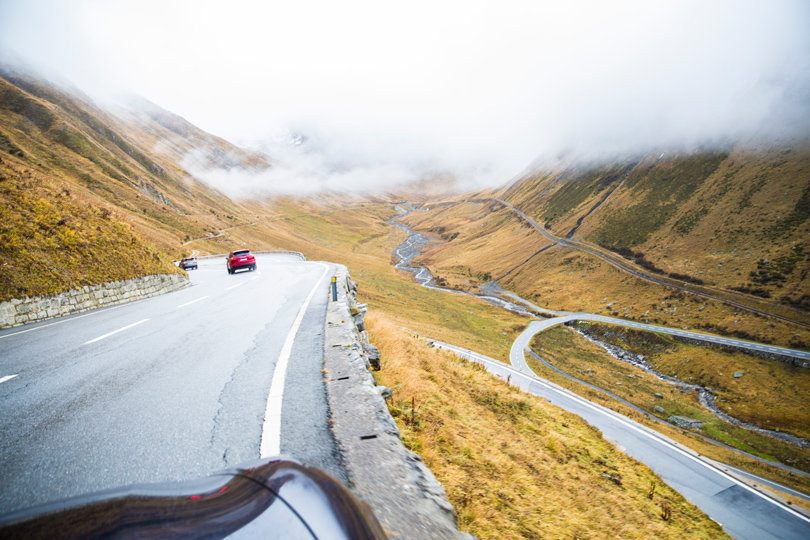 While driving in automatic mode, I do find that putting the car into Sport mode is a must. Standard mode on cars these days is all about getting the lowest possible fuel consumption numbers, with upshifts occurring at only 1500 rpm or less. Sport mode feels a lot more like what «normal» mode should be like, but isn't. So I just leave it in Sport and am happier for it. It's the same thing with the suspension settings, Sport mode feels spot on to me. If the road surface is particularly crappy I'm sure it makes sense to use the softest settings, but otherwise Sport feels like the golden middle. Even Sport Plus remains plenty comfortable for me.
Inside the car, the brand new design for the dashboard and center console takes a few moments to get used to. Some buttons are still there, but many functions have been moved to the huge touchscreen display. I'm very happy that the rev counter is still an analog gauge, and don't mind that everything else has been moved to LCD panels. There is an awful lot of information to look at, though, particularly if you try to look at it while you're driving (you shouldn't) it takes a while to find what you're looking for. It does look great in my opinion, and it feels very very premium. I wish the black glossy surface on the center console wasn't such a fingerprint magnet, but that's hardly a huge issue. It just starts to look a bit like the surface of a black smartphone after you've pressed a few of the buttons. The seats? Great. After many hours of non-stop driving my backside was still happy.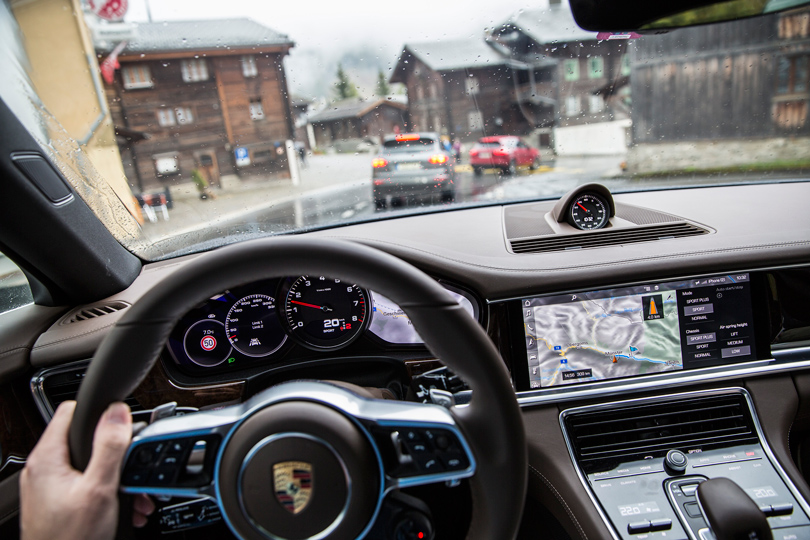 To sum up the new Panamera accurately probably requires the use of more superlatives than I'd be comfortable using. Porsche essentially started building the new Panamera from scratch and ended up re-creating the original Panamera minus its downsides. They kept all that was good and fixed the things people weren't too crazy about the first time around. Oh, and they made the car faster while they were at it. Well, why not. The end result is a new Panamera that looks like a facelift of the old car, even though it really is a completely different car underneath. I'm not sure it has a real competitor in its segment, given the mix of performance and comfort that it offers, and they will undoubtedly sell like hot cakes around here. Again.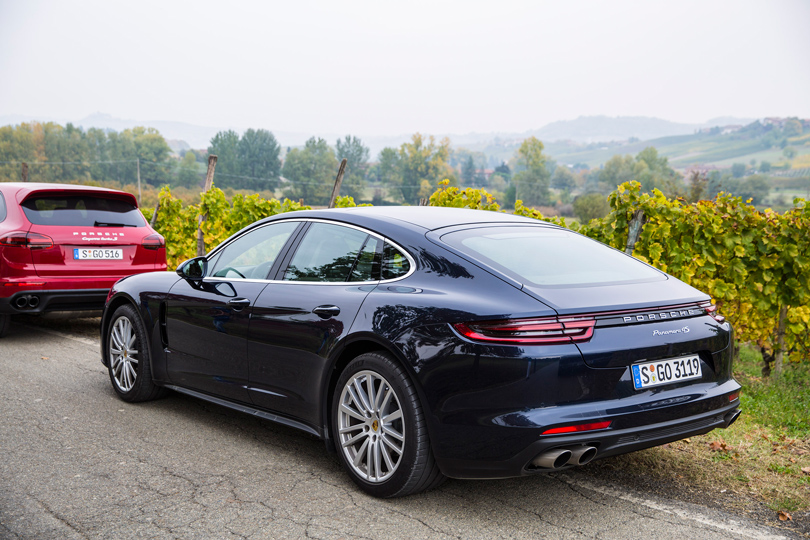 Near Torino, everyone was temporarily suspended from driving due to a visit to the Casa Martini. During this after-hours visit we got to see the factory at work, and of course tasted plenty of its products including some that had not yet gone to market. By far the most exciting thing inside a glass though, for me anyway, wasn't a beverage but rather an old Group A rally Lancia Delta Integrale they had sitting in their courtyard. It was one of Italian rally legend Miki Biasion's old cars, and we were told that not only does the old car still run very well, Miki himself is a frequent visitor to the Casa. Italians really do know how to treat their legends. But a Lancia isn't a Porsche, so I shall stop going off-topic.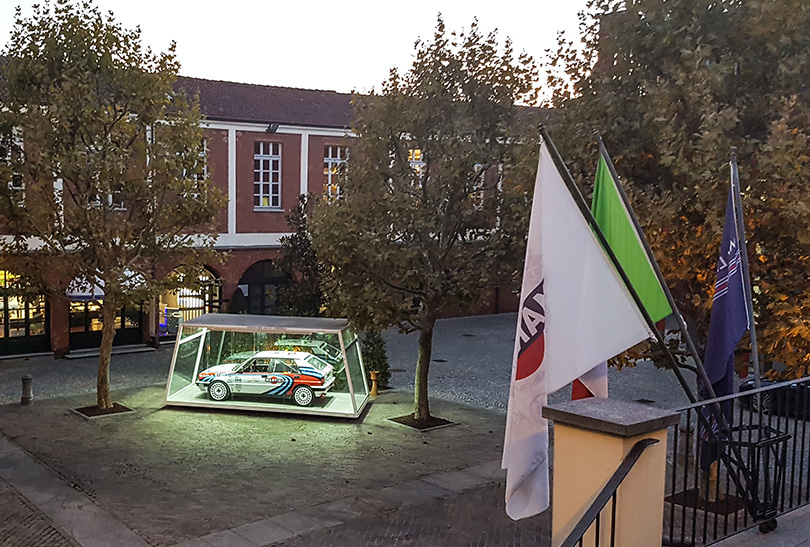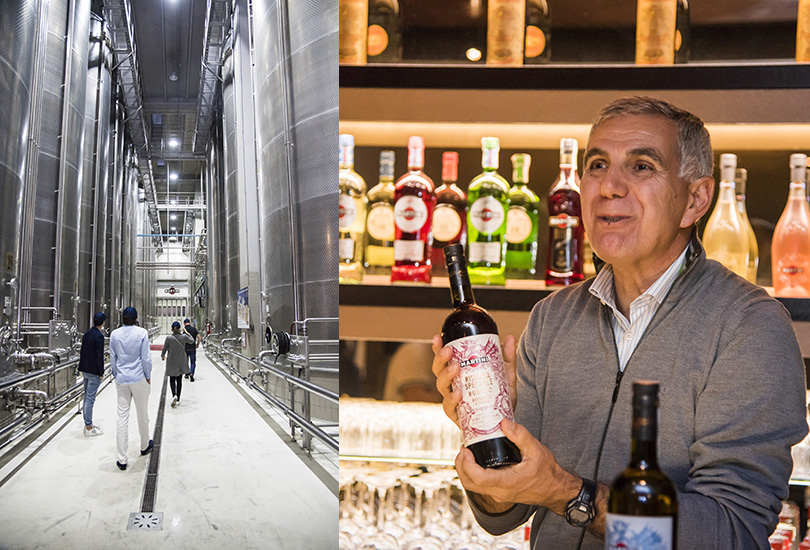 Waking up on the final day, the headache considerably less than expected, we were faced with the enviable task of getting the cars all the way back to Stuttgart. The «quick but boring» route option was quickly discarded for the «long but fun» one. There would be plenty of driving fun to be had going over the mountains rather than through them, and the cherry on the cake would be the final stretch of no-speed-limit German Autobahn late at night. This is where I got to meet Porsche's biggest and baddest SUV, the Porsche Cayenne Turbo S. A machine that never made much sense to me, but once inside it didn't take very long for me to realize that the Cayenne doesn't really drive the way it looks. Aside from the fact that you definitely notice sitting quite high off the ground, it drives a lot like a regular car. A lot like a Panamera, even, albeit the previous model.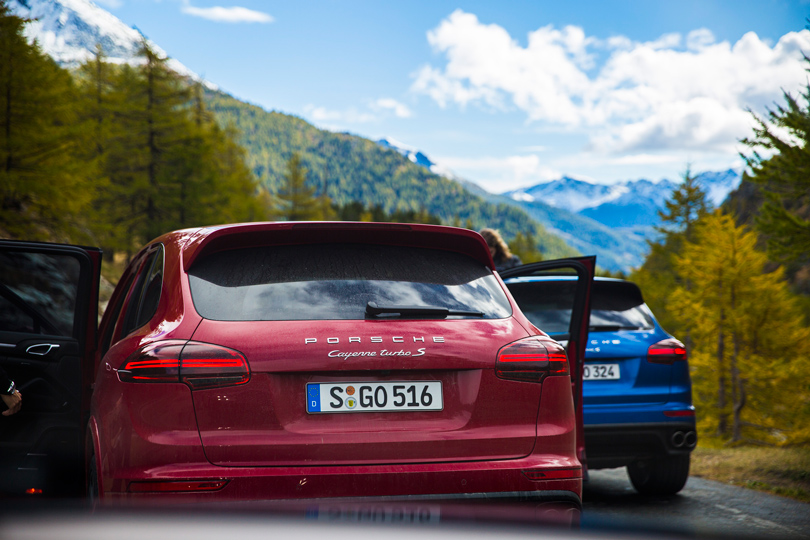 Of course it cannot hide its weight entirely, but with its gigantic carbon ceramic brakes and wide tires the Cayenne genuinely bullies a twisty road. It straightens corners through pure stubbornness, refusing to obey the laws of physics as we know them. I tried a lot of things, including turning off the traction control completely and unleashing all 570 horsepower and 800 Newton-meters of torque out of a tight second gear corner. The Cayenne just put its nails into the asfalt and clawed its way forward, its 8-speed automatic transmission banging in one gear after another. The V8 burble coming out of the sport exhaust is plain rude, particularly in a quiet Swiss mountain village, but the Cayenne doesn't care. It is what it is: a monster. And a hungry one at that, as the Turbo Cayennes were the only cars to need a refueling stop on the way. The Cayenne still doesn't make complete sense to me, but enjoy driving it I did. Quite the plot twist, actually.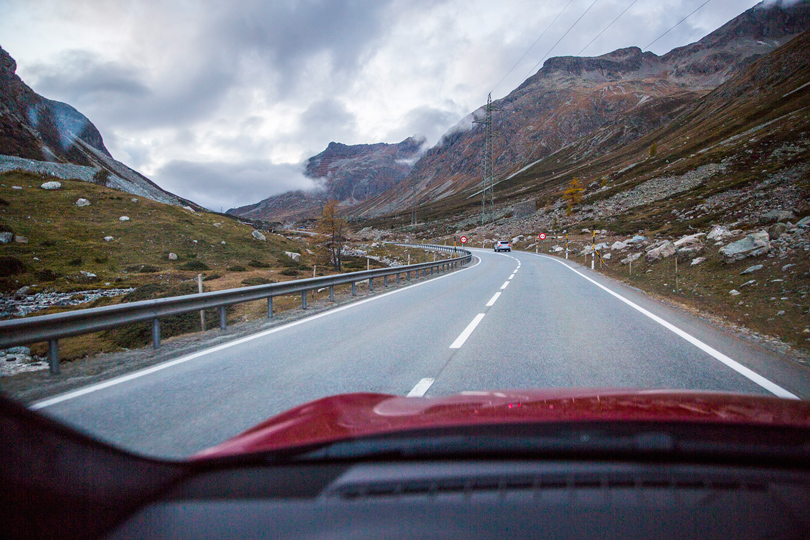 Something like 11 hours after setting off from the hotel, having eaten nothing but a (great) Pizza with truffle back in Sankt-Moritz, we finally crossed the border into Germany and into the automotive holy land that is the derestricted Autobahn. While we weren't technically supposed to pass our German guide at the front of the convoy, nobody had told us that we couldn't go slow for a while and then catch back up at high speed. With most powerful SUVs, you would expect to get to 200 km/h pretty quickly but then aerodynamics become an issue and progress slows down. In the Cayenne Turbo S, not so much. The acceleration keeps going to such an extent that I have no doubt it could reach 300 km/h indicated if you really wanted to. I had not quite left a big enough gap to test that theory, but we did reach some unspeakable speeds while the car did not seem to break a sweat.
The trip itself is now nothing more than a very pleasant memory, but it did manage to convince me of the immense qualities that the «other» Porsches have. Which is annoying, actually, because bashing the Cayenne and Panamera at least made me look a bit less of a Porsche nut while singing the praises of the 911 and Cayman. I'm not quite sure what to do now. Well played, Porsche.