Before I start this review
of the latest Mercedes-Benz E-class, let's take a moment to reflect on just how good cars in general have become. At this moment early in the 21st century, just about every car you can buy now is incredibly reliable, will keep you cool in summer and is made in such a way that you can crash into some pretty solid objects and live to tell the tale.
Anyone who's over 30 years old today will probably remember that it didn't used to be this way. It's easy to take for granted how much cars have improved over the past few decades, and therefore it's easy to overlook how hard a luxury car manufacturer need to work to stay one step in front of the competition.
Of course, when it comes to the new E-class, there's no point in trying to keep the reader in suspense. There's no point in wondering if it's actually going to be any good. It would be like asking whether or not the Titanic will actually hit the iceberg before watching the movie. Of course the new E-class is good, it's even brilliant. There's literally no way that I could hide that fact for half an article, so I'm not going to try. This is a serious automotive review (keep the laughter to a minimum please) so let's get on with it.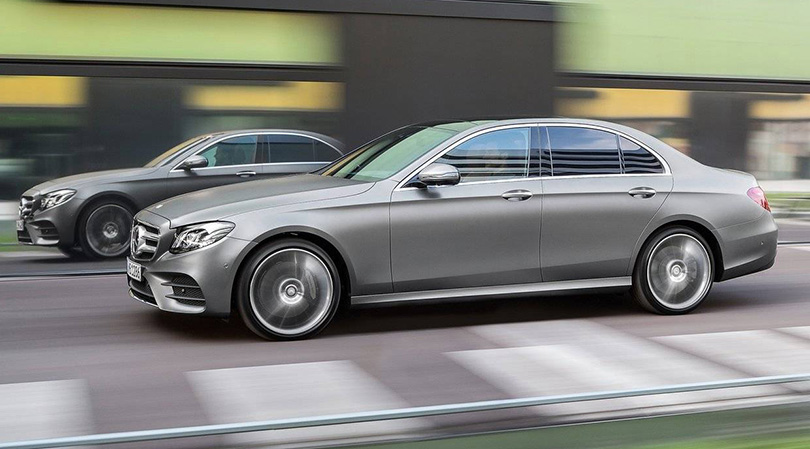 The first thing you notice when you see the new E-class, is probably your own confusion of whether this is the E-class or the C-class or maybe the S-class. I think Mercedes have done an excellent job styling the latest generation of their sedans, but my word it's not half difficult to tell them apart in passing. The main difference seems to be the actual size of the car, so you need to take a pretty close look to understand which model you're looking at. The E-class simply appears to be, depending on your point of view, either a 110% scale C-class or a 90% scale S-class. In fairness, this is not something that is particularly unique to Mercedes at the moment, many brands seem to be going in the same direction. This is not really a complaint as I do prefer one good design to 3 sloppy ones. Plus, with a car like the new E-class you're probably going to care more about the interior than the exterior anyway.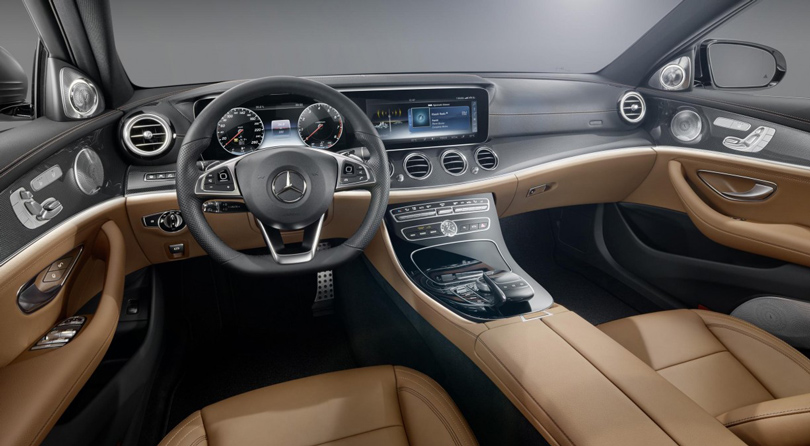 Inside the car, life is very good indeed. I won't to go on with these comparisons forever, but it's really very S-class inside the new E. Particularly in terms of the quality of the materials used, the E-class punches well above its price tag. The car's new dashboard is a fantastic piece of design, swooping from left to right with a kind of effortless elegance that befits the car and makes others look rather plain. The most impressive part of the new «glass cockpit» design is the successful marriage of classic shapes with cutting edge LCD displays. It's a bit like smoking an electronic cigarette in an fancy cigar room, but it all kind of works somehow. It's so much better than the «iPad glued to the dashboard» design we saw in many Mercedes models previously. In fact, I half suspect that the embarrassment from that poor effort made the designers and engineers work extra hard to come up with this stunning design for the sake of redemption.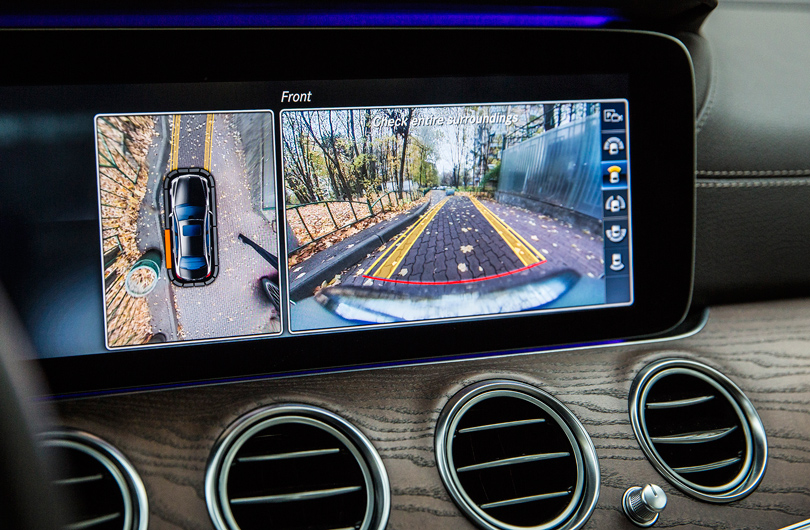 The dashboard displays themselves are of very high resolution and with great contrast, so they look absolutely pin sharp. For an instant, I thought about using the word futuristic, before realising that the future is actually now. This kind of dashboard would have been futuristic a few years ago, but now we probably ought to just stop living in the past and call it contemporary. Using LCD displays is nothing new obviously, it's just that they look so good and natural in the new E-class. For those of us who have an irrational love of analog gauges however, it's worth pointing out that you can get the car without the optional glass cockpit. In which case the dashboard has 2 large analog gauges and looks just as nice. At least to my eyes it does, but I appear to be getting a tad old fashioned. There will still be plenty of LCD screens even when you want to keep it analog, they just won't be quite as large and dominant.
The E-class does not merely look technologically advanced inside, it actually is filled to the brim with technology that could seem like witchcraft to our immediate ancestors. Maybe not all of it is useful all the time, but almost everything can come in handy at least some of the time. One of the things the car does for example is to monitor your attention level. Apparently, I was far too well awake and alert while driving the car for this system to actually do anything, but even if it only triggers once during your entire ownership of the car it could save lives. I'm just curious whether or not a German woman, possibly named Helga, will loudly shout at you the moment you start dozing off. Even after reading the instruction manual, the answer to that remains inconclusive. The lane assist feature also monitors your driving and sends a vibration through the steering wheel if it thinks you're going off course, a method I certainly do prefer to annoying loud beeping. The fact that the system isn't annoying means you probably won't turn it off.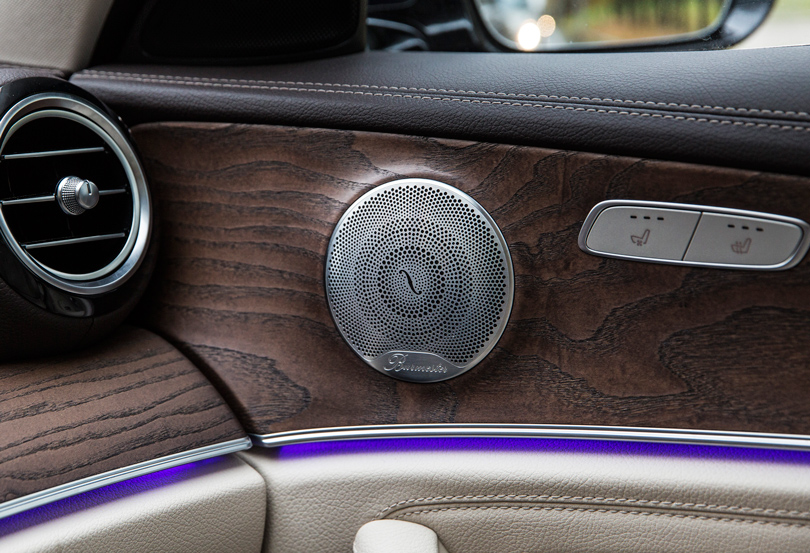 Anyway, given the comfort of the seats and the quietness of the cabin, I can see that the system could be useful. On the topic of interior sound levels, the car I tested came with the optional Burmester sound upgrade. As the fairly steep price for this audio system suggests, it promises a proper high end sound experience. I'm not an audiophile per se, so I'm probably not the most qualified person to judge it. I can say that, unsurprisingly, it sounds really good. But in order to get your money's worth of awesome music experience, you do need to turn up the volume quite high. If you only ever listen to the radio at a volume that still allows you to have a conversation with your passenger, you might as well pass on spending this much money on something you won't notice. If you like to sing/shout along and play air guitar while you're stuck in traffic however, it's a pretty awesome piece of kit. Once the music gets loud, you start to hear all kinds of things that appear to get lost in regular sound systems. All of a sudden you can hear individual instruments that you never heard before, even though you've heard the song a thousand times. It's that good. It just requires high quality files and sufficient volume before it can shine.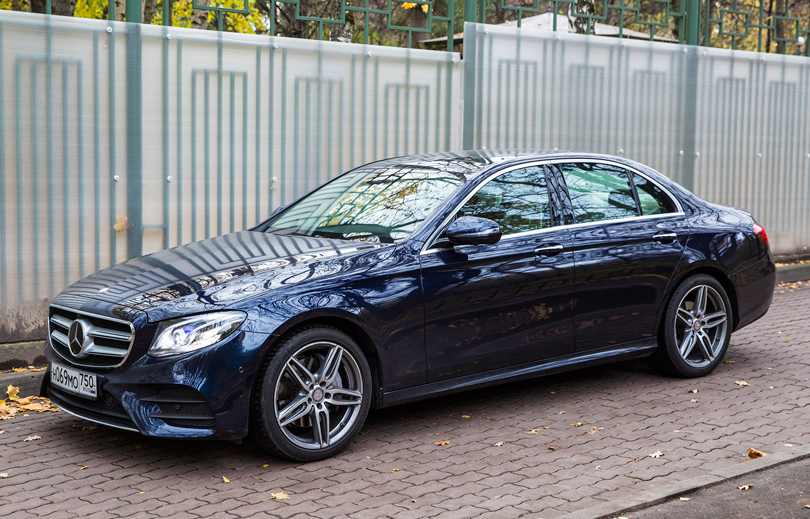 The driving experience. The car I drove was the E220d, which comes with a 2-litre turbocharged diesel engine. It's not particularly exciting, but it is very good. It's quiet, refined and convincingly restrained in its fuel drinking habits. It's sufficiently powerful for a car of this size, with about 190 horsepower and a lot of torque. At no point will you be fooled into thinking you're driving an E63 AMG, but that's not the point either is it. For the comfortable and luxurious car that the E-class is, the engine is a good match and excellent value for money. Even in 2016, a car that does 0 to 100 km/h in 7,3 seconds and hits 240 km/h is pretty quick. The gearbox is a new 9-speed automatic which works well and, again, suits the nature of the car to the T. If you put the car into sports mode, it will start shifting more quickly but it's never harsh as smoothness is the name of its game. It's the same story with suspension and steering, every part of the car seems to be in perfect harmony with its overall concept. Moving the driving mode into sports or sport plus, everything does firm up a bit but at no point is there a risk of it feeling actually sporty, thus preserving the passenger's comfort at all times. But it will go plenty fast around a corner if you really want to.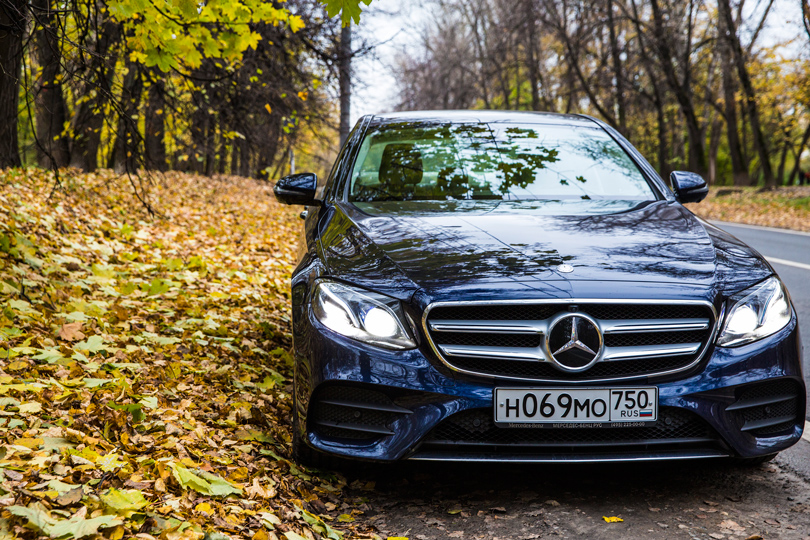 The Mercedes E-class has always been the benchmark car in its segment, but with the latest one, I believe its position may be as strong as it's ever been. You get the feeling that it moves the game forward, and that its competitors will have to have a long hard look at it. While the E220d isn't the most high performing model of the range by any stretch of the imagination, it feels extremely capable while using very little fuel in the process. And then there is that new interior. I have no doubt that, when the AMG models come around, it will move into that role as effortlessly as one might change from a pair of slippers into running shoes. In the meantime, the new car does not really leave us wanting for much. While I don't really want to end with a sentence as sappy as «the best keeps getting better», it's kind of hard not to. I did warn you at the beginning.