It's easy to drive by the building
and not realize there's a gourmet restaurant up there, in fact I must have done exactly that hundreds of times.
Inside, it's very spacious indeed, unlike your average brasserie in Paris, so there's a welcome level of privacy between the tables. The appetizer soon arrived in the form of a lovely plate with 3 pieces on it: red king crab, pink shrimp and pickled sardine. Now I personally really like king crab, possibly because I've watched too many shows on the Discovery channel showing the extraordinary conditions in which they are caught. Anyway, as good as these little teasers looked, they tasted even better. They were delicious with a subtlety I had not encountered except in a few places in France with Michelin stars to their name. And here I was, not in Paris but in Moscow watching the perpetual traffic jam on Noviy Arbat. As an opening salvo, it was a direct hit.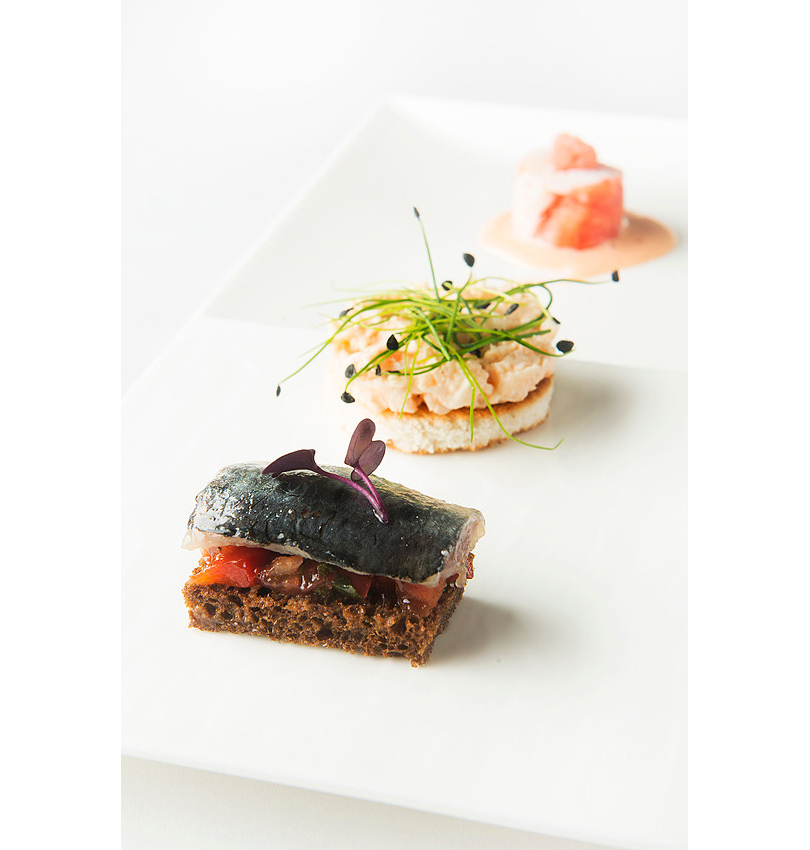 It was quickly followed by a cep and truffle appetizer which was equally good. For me, any truffle dish tends to be a hit or miss, and if I'm honest I'm really bad at eating mushrooms. Very rarely do I find them enjoyable, which no doubt is a hole in my taste pallet. I've had a serious conversation with my taste buds about it, but my handicap persists to this day. So when I say that this is the best mushroom I've ever tasted, something I would go back for an order again, you understand that it has to be pretty good. It's probably quite fantastic, actually.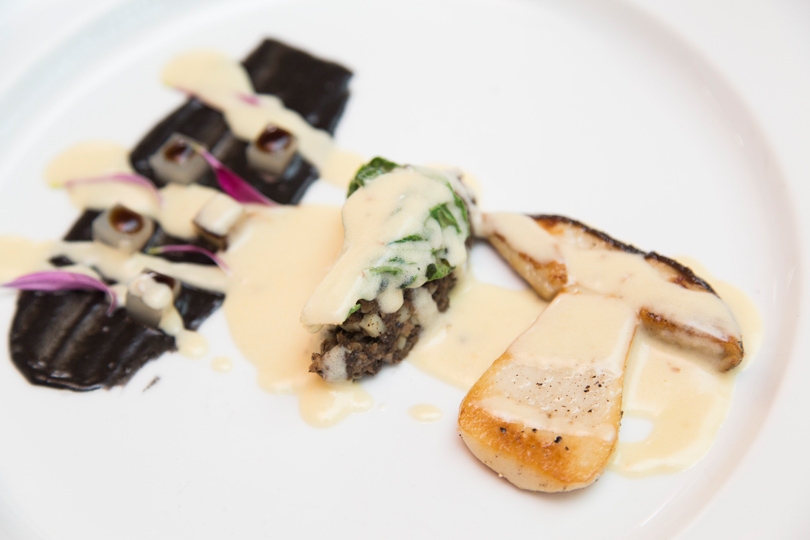 After the standing mushroom ovation I was getting really curious about the Cod dish which was going to be next. Komm has created quite a few Cod dishes which I enjoyed in the past, this time it's a starter with the Cod wrapped in Brussels sprout leaves and served with a vegetable sauce and crab bisque cappuccino. When it arrives, all you really see is 2 things that look suspiciously like regular Brussels sprouts. I'm from Belgium, and I don't like Brussels sprouts. I'm just being honest here. Thankfully Anatoly Komm's delicious Codfish was inside, making this a very enjoyable starter.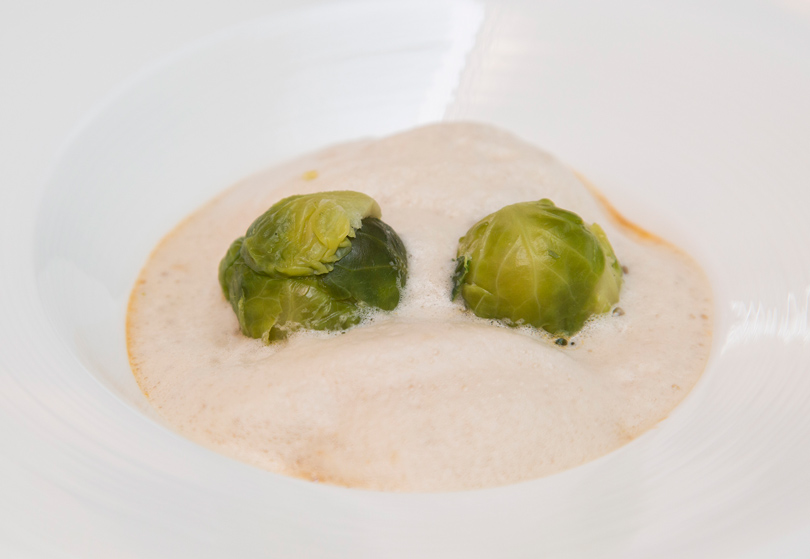 What followed was an elegantly served soup: a croquette of green peas with Parma ham and greens was drowned by the soup which arrived separately. The result was quite good, perhaps not entirely my taste (at this point you've probably clued into the fact that my taste is rather «difficult») but it's certainly a hearty dish that screams «autumn».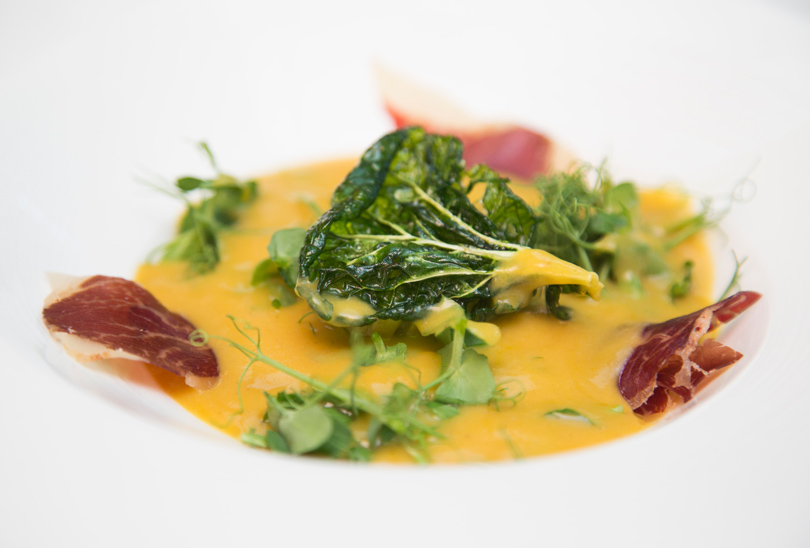 The main course, veal sweetbreads with vegetables cooked 4 ways, was very colourful and delicious looking. It's a perfect fit for this autumn menu and delivered a delicate taste without leaving you out of space for the dessert.
The first sweet, a rum ball with citrus sauce and butter cream, arrived in a lovely curved spoon and was positively delicious as well.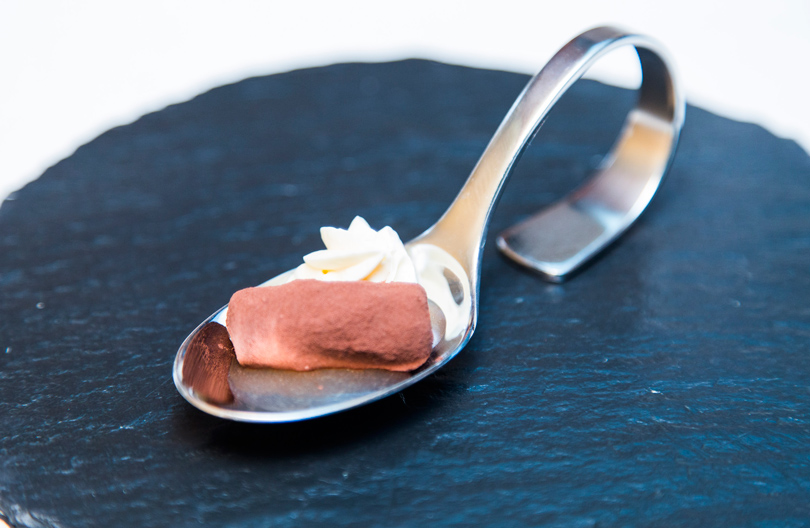 The main dessert is a warm cake with white chocolate and rose petals. Once you dig into the cake there is no going back, you'll end up finishing it. And after you finish it, you have to restrain yourself to not lick the plate. Stay classy.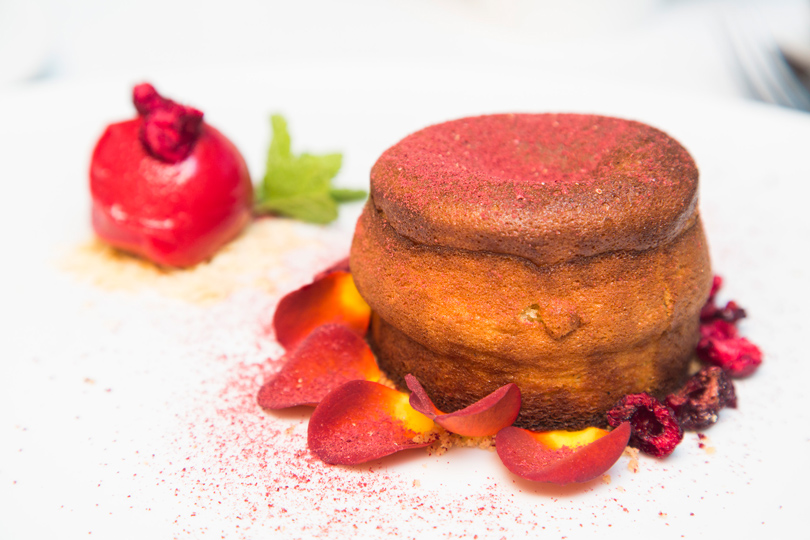 When all is said and done, you get up and find that you're well satisfied but your stomach doesn't feel like it suddenly weighs a million tons. As impressive as the dishes were, I have to applaud Mr. Komm on the balance he achieved in this 7-course meal. When you stand up after a stunning gourmet meal and feel just fine, you know that it's a great success. As such, I can only recommend to everyone that they get out of the traffic jam and into Brasserie Gastronom.
Details from Posta-Magazine:
36 Novy Arbat str., building 3
Tel.: +7 (495) 690 7373
http://www.#f/BrasserieGastronom