As far as jobs go, having to travel to Corsica in order to drive Jaguar's latest offering certainly isn't bad. Even if it was still January and local sea temperatures could only be described as sufficiently cold to make your toes fall off. Admittedly, I hadn't really done my homework on the E-Pace beforehand, figuring that it was simply yet another compact SUV. Not the kind of car that would be likely to gets my blood flowing faster. But as it turned out, the newborn Jaguar would have the last laugh.
Jaguar has always been good at producing pretty looking cars, and the new E-Pace is no exception. Walking out of the airport terminal and walking into a small parking lot which was essentially full of them was a bit like accidentally walking into the miss universe competition. There were quite a few different colours, but they all looked good. The front of the car is purposefully reminding us of the F-type while the view at the back is very much F-pace except for being a little more compact but also more muscular and with an extra dash of elegance. That's not to say that E-Pace is a mix-and-match car design by any means, it stands on its own exceptionally well. The design works so well, in fact, that I think it may well be the best looking Jaguar if not for the F-type. Come to think of it, the E-Pace looks AND feels more like an F-type that has been SUV'd (inventing a useful new verb right there) and less like an F-pace that has been shrunk slightly.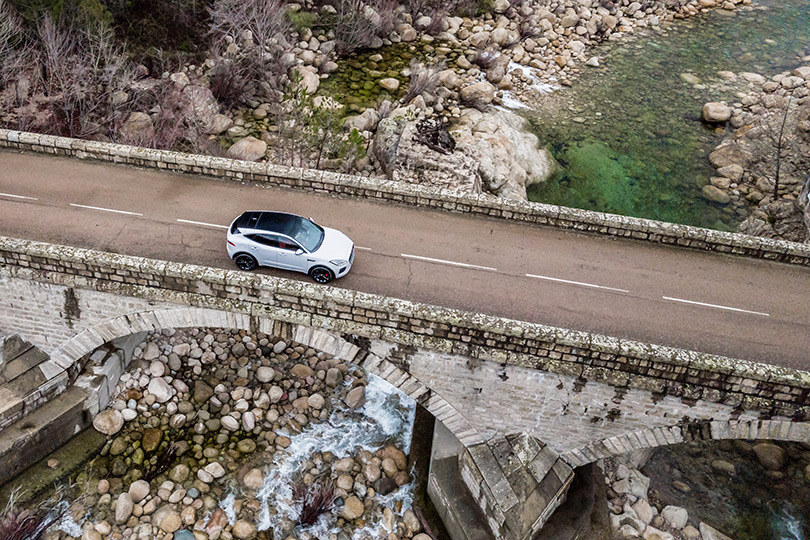 Just in case you're not really into motorsports, let me quickly explain that the roads in Corsica are legendary. It's also been hosting the world rally championship since 1956 and for good reason. Often dubbed the rally of 10 thousand corners, it's almost as if the road network has been purposefully built for your driving pleasure. There's hardly any straight lines once you get onto the mountain roads, just an endless supply of turns which frequently combine into gloriously flowing sections that could rival any racetrack on the planet. The speed limit outside of built up areas is 90 kilometers per hour, which may not sound like much but reaching that speed was more often than not a challenge given the radius of the corners. So as you can imagine, Corsica is a pretty popular place to do all kinds of car launches and driving events. Jaguar opting to let the car journalists of the world get a first taste of the E-Pace in this setting seemed like a bold choice as SUVs don't usually enjoy the twisty bits all that much. Of course, they knew exactly what they were doing. The E-Pace simply thrived in this demanding environment. More than that, it put a smile on our face while we were at it. Who would have thought?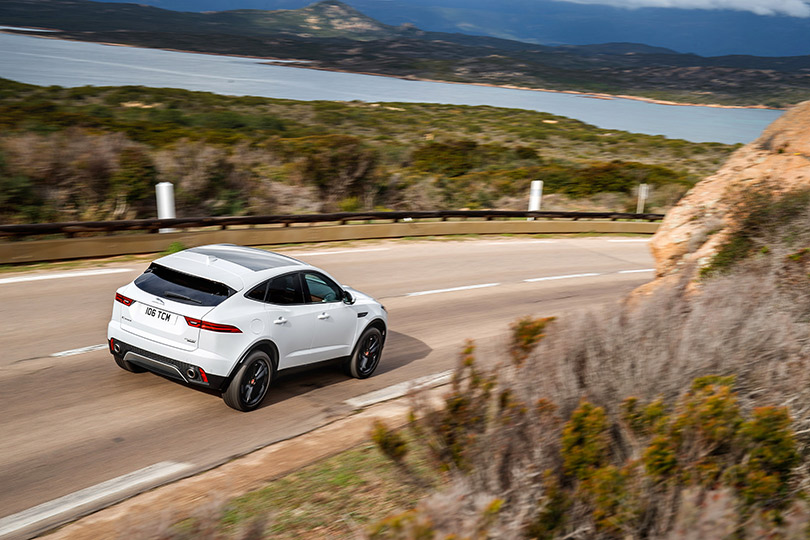 Pretty much as soon as we drove the E-Pace out of the parking lot, the car felt alive and direct. It invites you to have a bit of fun, and you have to push it really quite far to get anywhere near the limit of what it can do. It's predictable and secure but never boring. The front end is almost nailed into the ground, to the point that even when you get greedy with the throttle pedal and apply all available power very early coming out of a 180 degree hairpin there is very little understeer. It's pretty obvious that Jaguar has set the car up to be pretty much the most dynamic car in its segment and it has succeeded. The E-Pace inspires supreme confidence going into corners and there is hardly any body roll to speak of. While it is quite obviously not a sports car, the E-Pace was such good fun on the tight and twisty roads that it was easy to get a bit carried away while doing one's best at imitating a rally driver. While I did get the front brakes to smoke a little at one point, the brake pedal remained firm and confidence inspiring. No matter how hard we drove it, the E-Pace took it all in its stride and even appeared to be enjoying itself a little, too.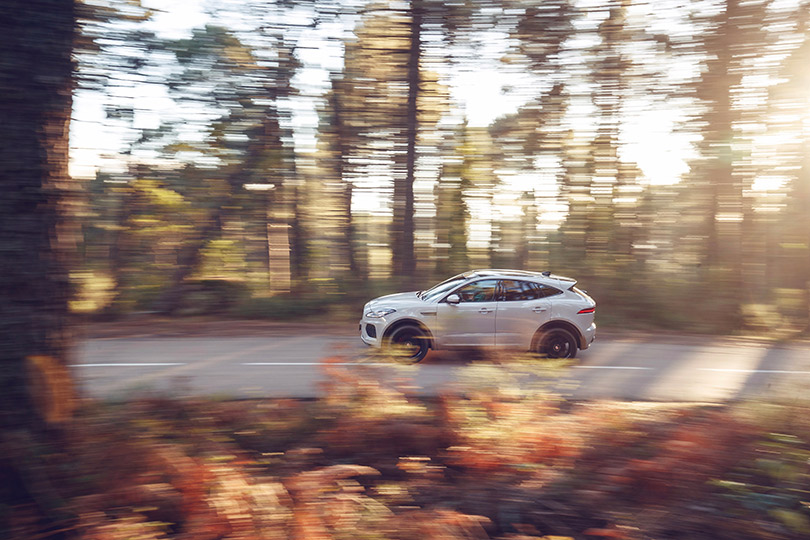 Because there is no such thing as a free lunch (except if you're a journalist, perhaps) there is a slight price to pay for this class-leading handling and it comes in the form of a somewhat firm ride when the road gets bumpy. While the E-Pace always remains comfortably damped on any half decent road, the suspension is most definitely tilted to the sporty side. Which I personally enjoy, but it's worth pointing out. It was especially noticeable when we (and the car) were subjected to some short off-road special stages. Driving over large rocks and bumps at low speed was a pretty shaky affair, so much so that anyone with fake teeth would probably have struggled to keep them in. With Jaguar and Land Rover being under a single roof, and its engineers sharing ideas and knowledge, I understand why Jaguar wanted to show off the E-Pace's admirable off-road capabilities but they are hardly the point of this car. In fact I think they are utterly irrelevant to everyone who will ever buy one, but I suppose it's good to know that the car can do these things should you ever find yourself in a tricky spot. Like when using Google maps and being sent into a road that really isn't a road by any stretch of the imagination.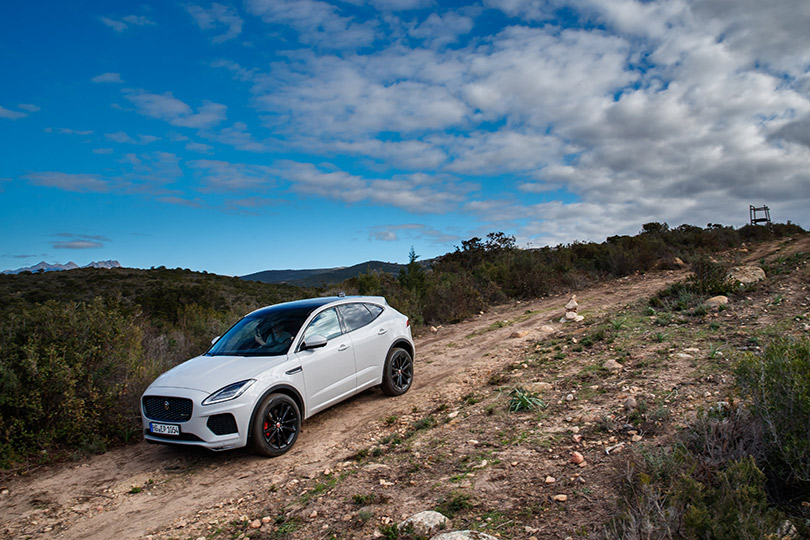 Petrol and diesel powered E-Paces were available for this test, both employing a 4-cylinder turbocharged engine. Only the highest engine specifications were available, which meant 240 horsepower for the diesel motor and 300 for the petrol unit. Both engines were really good to drive, the petrol one obviously sounding a bit livelier than the diesel although the first does get a bit of helpful assistance from the car's speakers when you put the car in dynamic mode. I suppose you could call it cheating but then so many brands are doing it these days. It does seem a bit unnecessary in this case given that neither of these 4-cylinder engines produce a particularly inspiring sound to begin with. Fortunately, both engines are nice and quiet when you want them to be.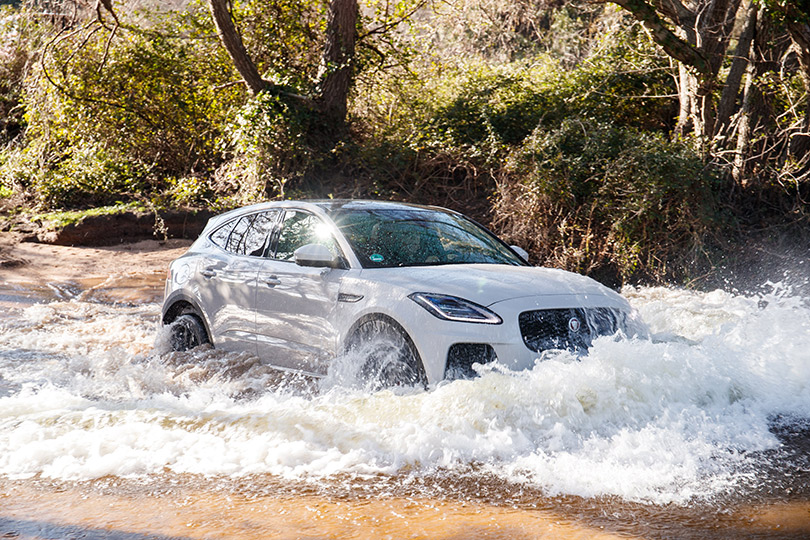 In terms of performance, the extra low RPM torque in the diesel makes it the easier and more comfortable car to extract performance from on regular roads and with lower fuel consumption to boot. On balance, while the 300 horsepower petrol engine will appeal to those who simply want the most powerful one, for regular people driving in a regular fashion the diesel engine is probably the more interesting of the two in terms of cost to benefit ratio. The fastest diesel only needs a little more than 7 seconds to reach 100 km/h, which is a second slower than the fastest petrol version but this is a worst case scenario. Top speeds are 224 and 243 respectively, but that's not a statistic that will be particularly relevant to anyone outside of Germany. These top of the line engines are always mated to a 9-speed automatic gearbox, which I found to be very smooth and responsive to use. It even reacts pretty quickly to using the shift paddles on the steering wheel.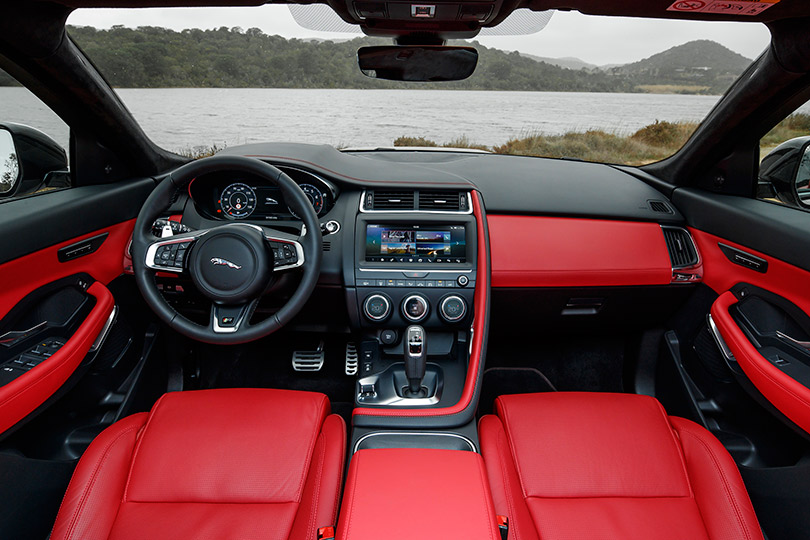 If sporty handling was the biggest surprise, the interior of the E-Pace is certainly a close second. The expectation was to find an interior more or less identical to cars like the F-Pace and XE, but in fact the E-Pace interior is generally a step above those minus one or two spots where a slightly unflattering plastic is used. On the whole this may well be the best interior out of any Jaguar I've driven. It feels cleverly designed and well put together and the quality materials are strategically placed in the spots where you're most likely to touch them. The infotainment system has a familiar layout but now feels a bit more sharp and modern. The Meridian sound system performed admirably, and it was definitely put through its paces as my driving partner and I shared a preference for rather loud rock music. It's a practical car as well with plenty of storage space between the front seats, inside the doors and the trunk is still pretty sizeable as well considering the sloping roof line at the back.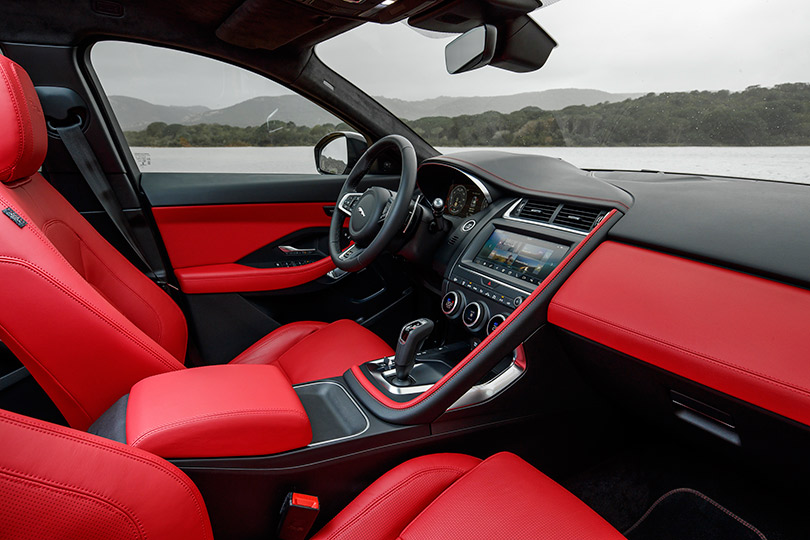 On paper, the E-Pace doesn't really stand out much in Jaguar's range. The F-Type is sportier, the F-Pace is bigger and all the X-prefixed sedans are, well, sedans. So it's a little difficult to put into words why exactly the E-Pace feels like the best Jaguar of them all. I know that putting car things into words and sentences that are pleasant to read and easy to understand is kind of my job, but this is a difficult one. The E-Pace looks right, drives right, and simply acts as a very cohesive team of individual parts. They all click together in a way that suggests a lot of research, development and calibration effort has gone into it. We were told a story that the E-Pace was conceived in a slightly unusual way. What usually happens is that new designs are commissioned from above after extensive market analysis and much bean counting shows that a case exists to produce a car according to specs X and Y. With the E-Pace, though, the design department simply had a moment of sheer inspiration and when their concept was shown to the relevant brass the enthusiasm was such that it got green lighted for development and, eventually, production. In a way, then, you could say that the E-Pace was simply meant to be. And then, it all starts to make sense.