Photo: Jan Coomans
Either out of journalistic honesty or sheer stubborn-mindedness, I've never quite managed to hide my natural aversion to SUVs. Today, I'm taking up the difficult task to review the car which, in the dying moments of the 20th century, almost single-handedly started the SUV revolution: the BMW X5.
Late in the year 1999, around the same time that you couldn't turn on a radio without Prince's hit song of the same name blaring out of it, BMW launched the X5. Even to a then 19-year old sports car enthusiast, it was immediately obvious that this car was a big thing. Looking back, it's difficult to overstate just how big of a thing it was. Based on the BMW E39 5-series, it used a unibody chassis rather than a light truck platform which SUVs had been using until then. The result was a machine that drove and handled quite a lot like a regular road car, and BMW cleverly branded the X5 a Sport Activity Vehicle, or SAV. We pretty much take it for granted now that SUVs and crossovers don't drive all that different from regular cars, except for the higher seating position, but back then it seemed more like witchcraft than clever engineering.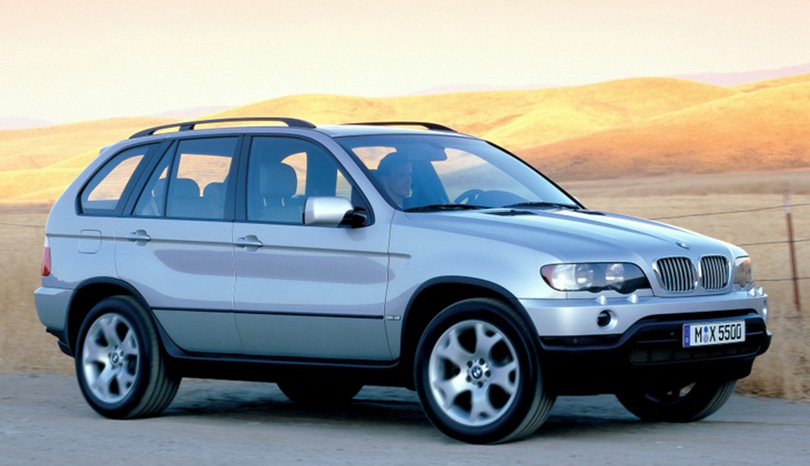 From there, it only got stranger. To celebrate BMW's victory in the 1999 Le Mans 24 hour race (not with an SUV, obviously) they created a one-off special X5 that used the same engine as its endurance racing car, a screaming 700 horsepower naturally aspirated V12. This X5 "Le Mans" remains the most awesomely insane and best sounding SUV that has ever turned a wheel on this planet, this fact is simply not even up for discussion. The only problem is that they decided to make only one of them. But then one was enough to give to racing driver Hans Joachim Stuck and set a 7 minute 50 second Nurburgring time. That's still a fast time today, never mind 17 years ago. All this goes to prove the point that the X5 is, undeniably, the daddy of German SUVs as we know them today.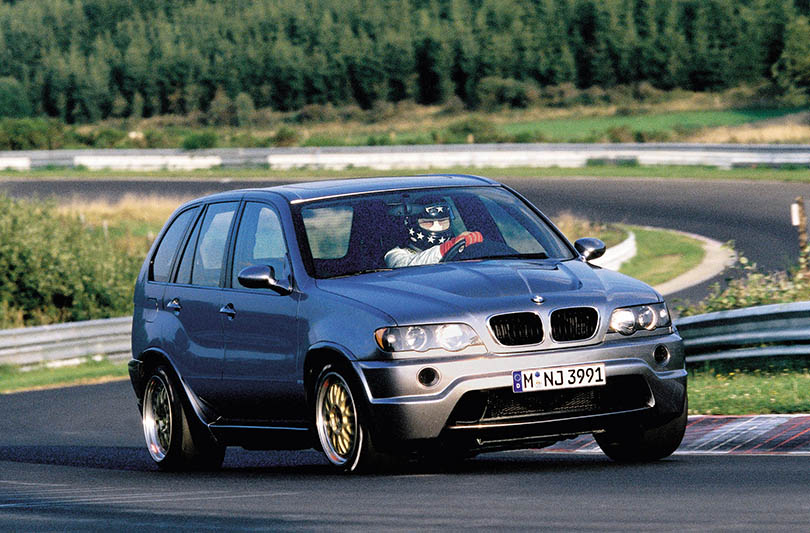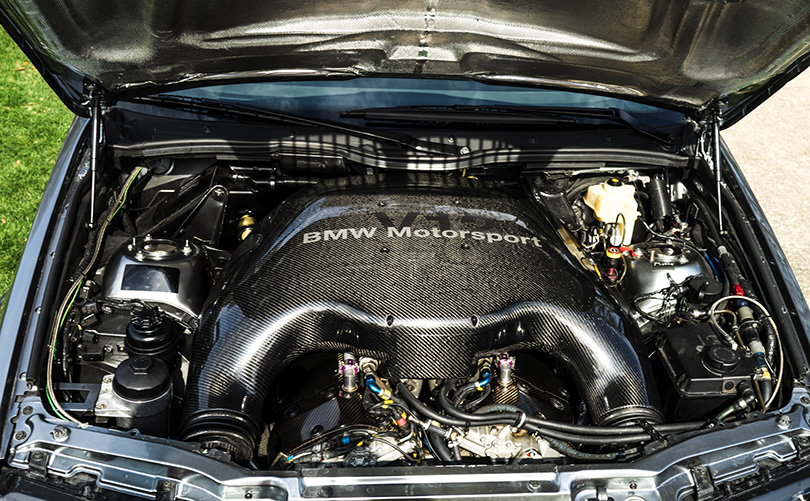 That time BMW fit a V12 racing engine, and a racing driver, to their new X5
Perhaps because of all that, I've always found the BMW X5 surprisingly bearable for an SUV. Or SAV, whatever. Some of that early-2000s badassery is engrained in its DNA. The X5 was simply a great idea which has only gotten better with time. It's a mix of worlds which works, unlike its ugly sister the X6 which rubs me the wrong way entirely. The X5 has a purity and straight-forwardness about it which even I find rather appealing. The basic design has aged extremely well, too, becoming more attractive looking with each generation and face lift. And its superbly flat cornering ability, meaning very little body roll in corners, has remained a strong feature of the car throughout its life. It does mean the car feels a bit stiffer than you would expect at first, but it's never uncomfortable. And it does end up making this fairly large SUV feel like a genuine BMW.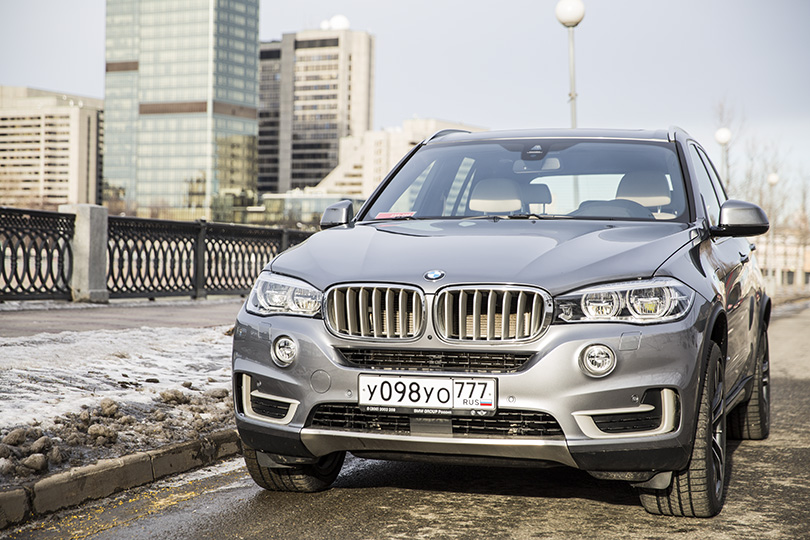 So, onto the latest and most high tech X5 BMW has ever made, the 40e. It's a plug-in hybrid SUV which basically means it comes with a downsized regular combustion engine, an electric motor, a bunch of batteries and a power socket for charging. Though the number 40 typically suggests a fairly large engine, it actually comes with a 2-litre 4 cylinder turbocharged engine which is good for 242 horsepower all on its own. Added to that, the 40e gets a reworked version of the electric motor out of the BMW i8, which adds another 116 horsepower for a total of well over 300. That doesn't mean this X5 40e is fast, but it can move swiftly if you want it to. Peculiar how a car that will go from nothing to 100 kilometers per hour in under 7 seconds (when its batteries are well charged) doesn't seem particularly fast anymore these days. Still, ignoring the unlikely scenario of getting into a car chase for a moment, you probably won't want to drive this X5 fast anyway. It's simply way too good at being a quiet and effortless cruiser for that. Driving it fast would defeat the whole point, much like having a foie gras speed eating contest would.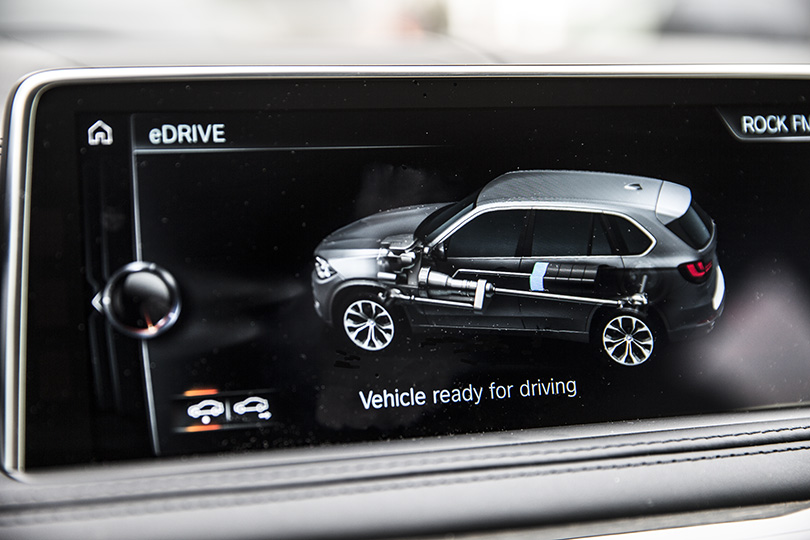 Having driven a couple of hybrid cars already, I feel that where the X5 40e does particularly well is the way its computers and software handle the transitions between the electric motor and regular engine. It's as close to seamless as I've experienced, and when it is working the little 2-liter engine is remarkably quiet and vibration free. The car feels extraordinarily well suited to life here in Moscow, which tends to consist of annoying stop-and-go traffic. The electric motor, with its maximum torque available from zero revolutions per minute, moves the X5 forward in a way that makes it feel a lot lighter than it actually is. More often than not, the gasoline engine doesn't even have to come on before you get to a standstill again. BMW says that the 40e can do around 30 kilometers on electric power only, and reach full highway speeds, when the batteries are fully charged. So if you're able to plug it in at work or at home, this hybrid X5 starts to make a lot of sense very quickly. If you depend purely on recovering electric energy during coasting and braking though, don't expect the batteries to collect that much energy. Cars like these absolutely depend on plugging them in whenever possible, if you want to save relevant amounts of fuel, emissions and money. Then, the car can use its batteries whenever it is not efficient to run the gasoline engine. Like when you're standing still. I know that nearly all cars have "start/stop" systems now, but those tend to be so annoying that the first thing you do when you get into the car is turn them off. The magnificent smoothness and immediacy of electric propulsion is in a different world.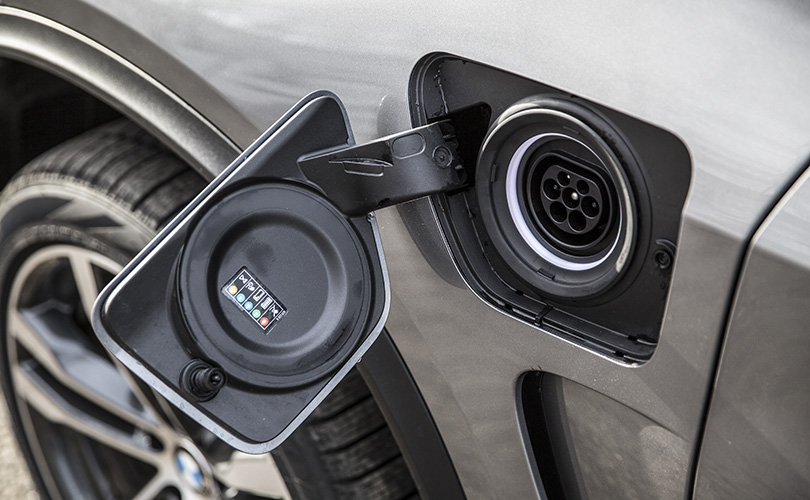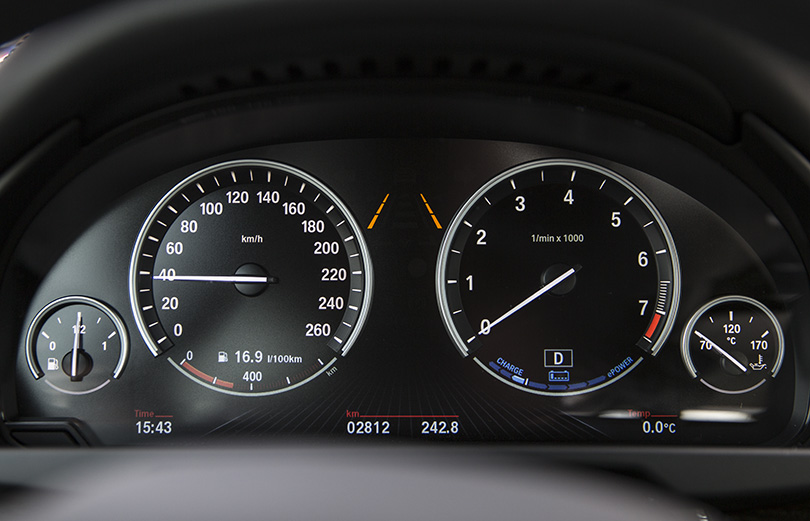 Driving on electric power only is possible for up to 30 kilometers
BMW has absolutely succeeded in making their Hybrid X5 as good as it could possibly be given the constraints of contemporary technology and affordability. The only real problem, as far as I can tell, is that you can get an X5 with a bunch of other engines which are nicer to drive than the 2 liter 4-cylinder unit in the 40e, though they obviously won't be nearly as efficient. I'm not even talking about the decidedly overkill X5 M, but rather the 3 liter turbocharged straight-6 gasoline or diesel engines which BMW offers in the 35i or 40d. The 40e's price tag is fairly steep, and Russia's modest fuel prices plus the lack of electric charging infrastructure for cars do not make the 40e hybrid an obvious buy over a more conventionally engined X5. Only when you really care about the complete silence of the electric motor, flying carpet mode as I like to call it, and if you have the facilities to charge the car regularly, does the 40e begin to rise above its slightly less advanced siblings.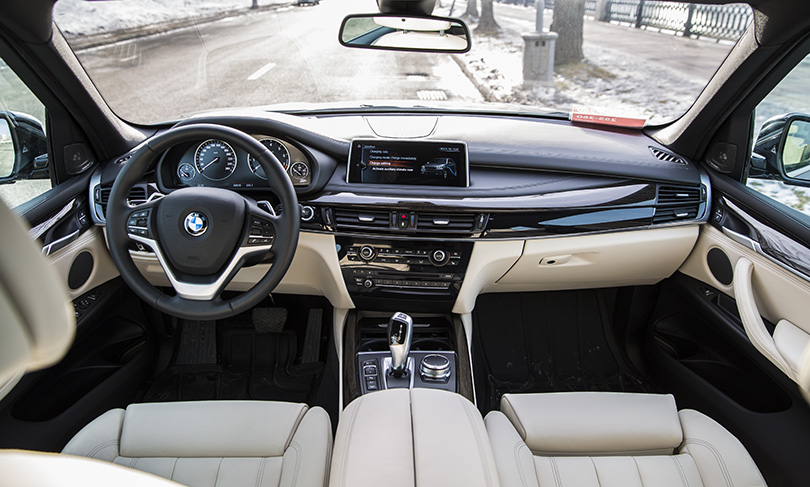 Inside the X5 40e is a very comfortable place to be
Of course, BMW knows that as well as anyone else. Whilst I'm not privy to their sales projections, I can't imagine that they are expecting this plug-in hybrid version to put a large dent in overall X5 sales. Think of it as i8 technology going undercover, quietly trickling down into cars that don't look like space ships. It's a proof of concept, a showcase for BMW's technological prowess and talent for making hybrids which are certainly going to become an ever bigger part of the pie in the years ahead. And looking at it that way, it's reassuring to see that we can confidently sleep well at night as BMW still know what they are doing.