A couple of weeks ago, Volkswagen offered journalists a glimpse of the future by inviting us to a sunny and warm Dresden in Eastern Germany. There, Volkswagen has its "glass factory" which is, you've guessed it, mostly see-through as its walls are made out of glass for the most part. Currently, the Dresden plant produces the e-Golf in modest numbers but also serves as something like a living museum at the same time.
The most striking thing about the glass factory, aside from the fact that it doesn't really look like a car factory, is the pace at which things move along. The average car plant aims to push out as many cars in one day as they possibly can, but in Dresden they take a more low volume and almost holistic approach to car assembly. The lights aren't shining onto the work floor directly, because apparently you get a more pleasant lighting result when you point them upwards and bounce the light off some reflectors in the ceiling. The floor itself is actually made out of wood, which is softer and thus easier for our human legs to stand and walk on all day long. And so forth. As far as car manufacturing goes, it's probably fair to say that the employees of VW's transparent factory have hit a jackpot of sorts. I don't imagine they have any difficulty finding applicants whenever there's a job opening.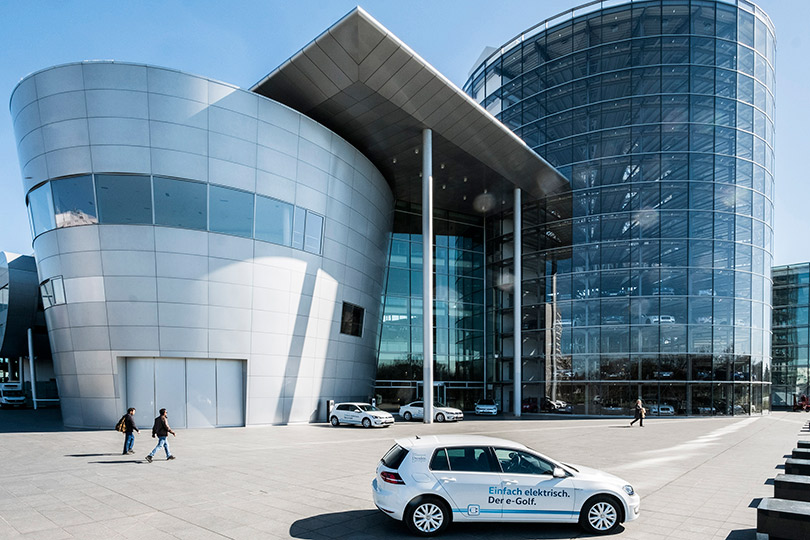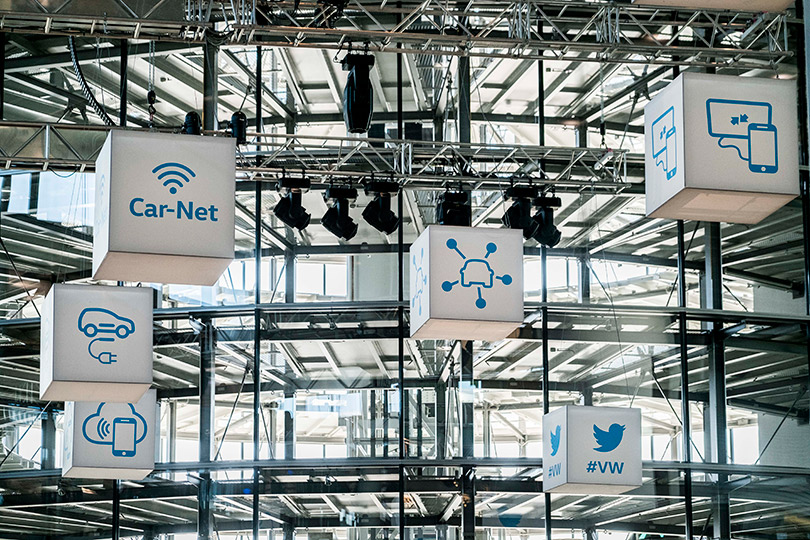 In the past, this factory was the one which produced the VW Phaeton, certainly one of the most underrated (as well as under-the-radar) cars of all time as it was for the most part a Bentley with a VW badge on it. There was even a short time that they built the actual Bentleys here, too. Now, what they put together in Dresden is the e-Golf. There's no prizes for guessing what an e-Golf is I'm afraid, as it's simply a regular Golf fitted with an electric drivetrain. As far as Volkswagen getting into the electric market goes, it is a baby step. But those are still important no matter how small they are. The e-Golf has a range of over 200 kilometres in ideal conditions, and drives much like a regular car, but the fact that the batteries and electric motors have been fitted to a chassis that was designed to use a regular combustion engine means that there are plenty of compromises. The battery setup, for one thing, is massively complicated. The engineers have tried to use every bit of available space in and around the transmission tunnel to get as much battery capacity as possible but the result of trying of fit a square peg into a round hole isn't always pretty. A huge amount of wires and connectors are necessary to make it all work, and still it can't nearly carry as much energy storage as a car that was designed from scratch to be electric only.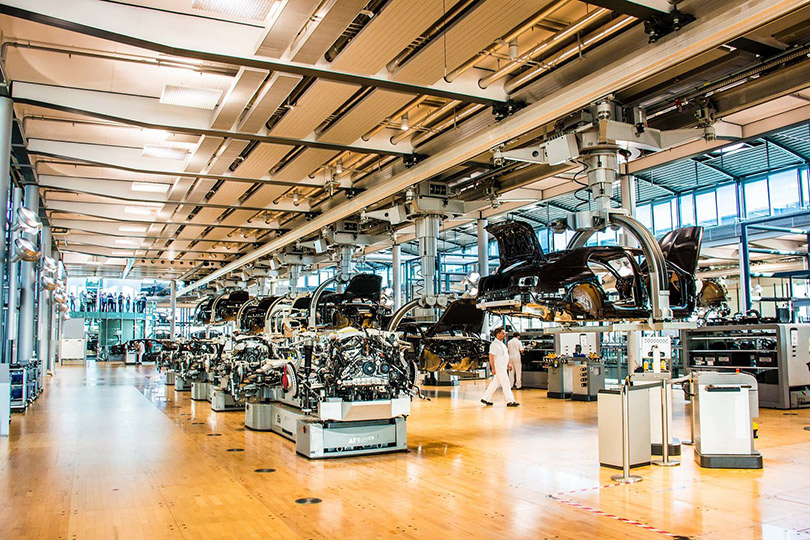 That's where VW's all new MEB platform comes in, MEB being an acronym for modular electric platform in German. It starts from a clean slate, and it will underpin more than two dozen electric cars across the Volkswagen group in four year's time. To underscore just how big of a deal MEB is, VW continually brings up the original Beetle and Golf, its two cars that literally changed the world. Volkswagen made car ownership possible for regular people, and it sees the transition to the electric MEB platform in much the same way as going from the original Beetle to the Golf. It's a new world. VW's own cars on this platform will go under the I. D. branding, of which we've already seen several examples in the form of concept cars in recent years. All I. D. cars will feature fast charging, needing no more than half an hour to charge an empty battery to 80 percent of its capacity. The battery pack itself is also of a modular design, meaning that it's built up out of several blocks of batteries and the amount of blocks used will determine its capacity. It's this kind of flexibility that will be necessary to mass produce electric cars efficiently and also offer customers an upgrade path down the line.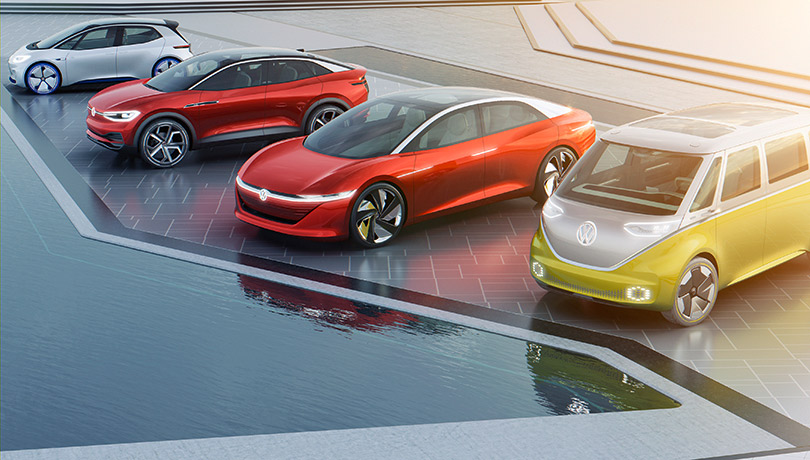 When you see the MEB platform, whether as a drawing or standing next to a half-finished car in real life, the simplicity is striking. The huge battery pack is central to the car, making up most of the car's floor and being a structural part of it. Only some very compact electronics and a couple of thick orange power cables are needed to send the energy where it needs to go. It drives home the point that, in theory, electric cars have a couple of gigantic advantages over cars with regular combustion engines when it comes to things like a low centre of gravity and weight distribution. Those advantages also allow the MEB platform to be rear-wheel-drive, which is great news for how the cars are going to handle and a big change to the traditional front wheel drive layout in this part of the car market. All-wheel-drive will naturally become available as well, in time.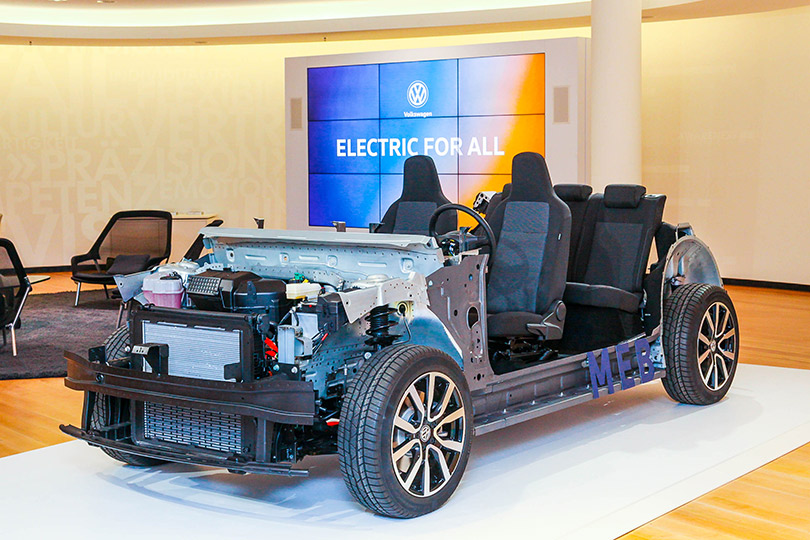 The only real downside to EVs which remains is that humanity has not yet stumbled onto the holy grail of battery chemistry. Fitting a car with sufficient batteries to allow it to travel several hundred kilometres without recharging, and making it go sufficiently fast while doing it, requires a hugely heavy and expensive battery. The best contemporary lithium-ion batteries have an energy density of 650 Watt-hours per litre of volume, or 280 Watt-hours per kilogram of weight. By the year 2025, the projections are that the battery chemistry will improve those numbers to 800 Wh/land 350 Wh/kg — welcome progress but not giant leaps. It appears that, as of yet, no silver bullet has been found to make batteries an order of magnitude more energy dense than they are right now. Which means that the kind of range that fossil fuel powered cars have right now will remain out of reach for the foreseeable future. People will have to slightly adjust their habits when it comes to filling up their car with energy.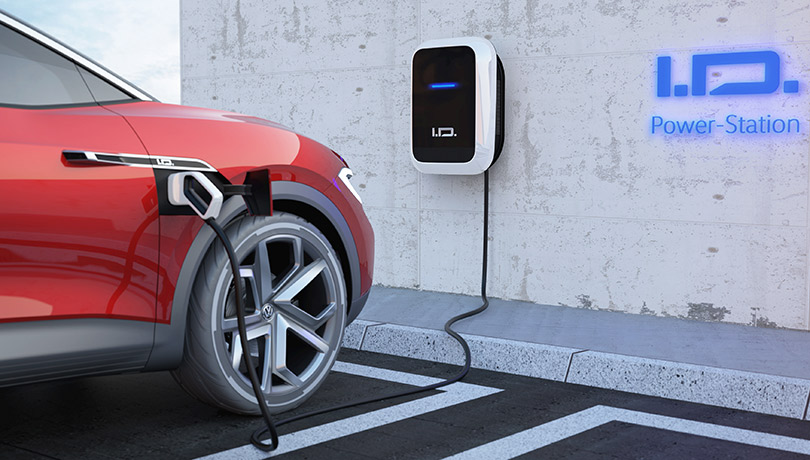 But then someone from VW made a pretty good point: who actually likes visiting a petrol station, anyway? It's not the most exhilarating thing in the world by any stretch of the imagination. The fuel that goes into your tank isn't particularly lovely smelling stuff, especially when it gets onto your hands, and usually when you go inside to pay you find yourself in a queue of people who need all the time in the world just to pay their bill. If you had an electric car which just needs to be plugged in while you go inside and have a coffee, would that make your life worse or better? Food for thought. In any case, the prediction is that many people who start to drive electric cars will simply never visit a refuelling station, or anything like it, again. It will make more sense to simply have it plugged it in while you're at home and asleep, and have enough juice in the batteries for your commute the next day. The distance which most people cover in an average day means they could go days without recharging their car. Or, if the commute is a little bigger, charging it while parked at the workplace is another option. Only in rare cases of long distance travel, about for about 5 percent of all driving do VW and its parters expect fast charging on the highway to be used. The amount of public fast charging stations will thus remain manageable.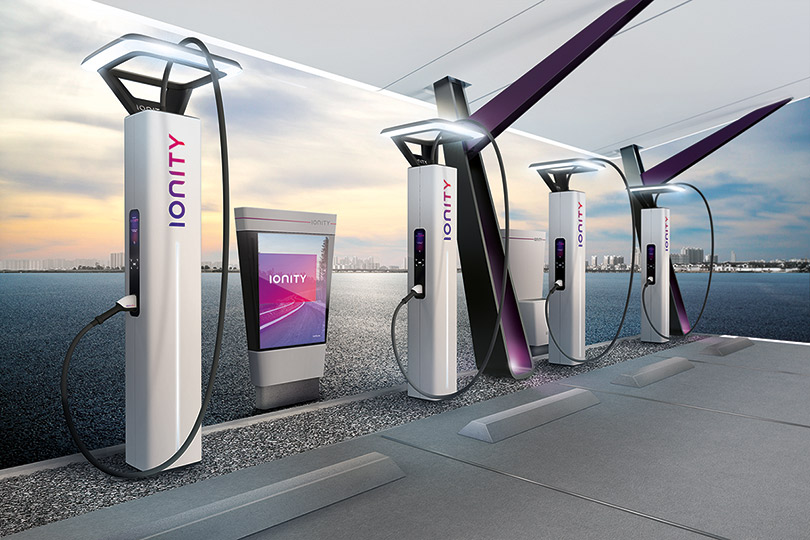 To make sure that at least some public fast charging infrastructure will be available for the first mass produced EVs, Volkswagen has partnered up with other manufacturers such as Mercedes, BMW and Ford in a company named Ionity. This company will install fast charging stations across Europe, 400 by 2020, and payment will be more seamless than it ever was for traditional refuelling. A payment card will be used first, but the long time goal is to have smart charging stations that recognise which car is plugged into it, and billing the appropriate account automatically.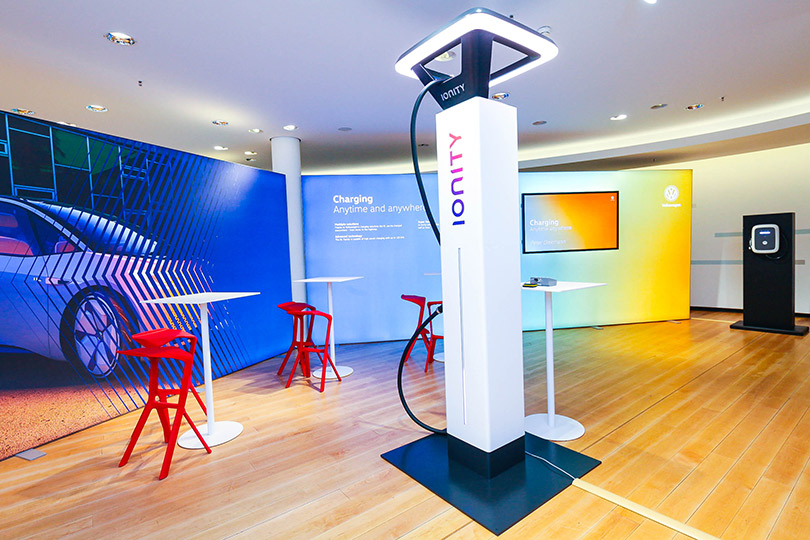 Having watched several of their presentations, Volkswagen's plans are bold and ambitious. The decision for electric cars has been taken, there is no going back, it's just a matter now of converting factories and bringing ever more electric products on stream. Seven years from now, a quarter of new vehicles by the VW Group will be fully electric, and additional to that there will be a a whole bunch of Hybrid electric vehicles as well. Another five years after that, we're looking at more than three hundred electric models. They're calling it the most extensive e-offensive in the automotive sector, and it'd be hard to argue otherwise. VW has already transformed the car world at least once in its lifetime, they're now aiming to do it again.