The Tokyo Motor Show, held biannually, opened its doors to the public last week to give us a glimpse of the occasionally strange world of car making in the land of the rising sun — and beyond.
Unsurprisingly, the show is dominated by concepts and launches by Asian car manufacturers. It's their back yard after all, the same way that Frankfurt is the German car industry's platform to show of their latest and greatest. It also gives us a great look at a rather different car culture than we're used to, with a plethora of amazing concept cars and models that we've never seen on our side of the planet. It's like a Japanese garden minus the plants, weird and beautiful in equal parts.
Lexus
The LS+ concept car at the Lexus stand represents their latest design ideas and aims to take some of the high tech initiative away from European car makers when it comes to driver aids and autonomous driving. The collection of new technologies is called Highway Teammate — perhaps not the catchiest of names but probably a lot more accurate in terms of describing its capabilities than Tesla's "autopilot". The LS+ is "semi-autonomous" which means that, while it can do a lot of things on its own, the driver is still very much the ultimate authority.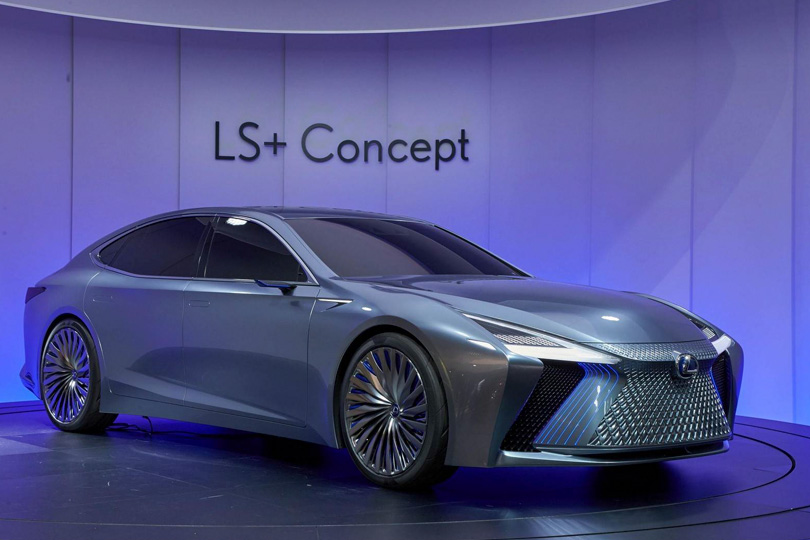 Examples of the many things it can do, though, include automatic lane keeping, overtaking and merging into traffic. It can also tell when you're joining or leaving a highway and uses car-to-car communication to predict traffic and prevent dangerous situations before they have a chance to occur. If it's half as clever as it looks, with its laser headlights and active cooling grille at the front, the future looks good at Lexus.
Mazda
Plenty of Concepts at Mazda, but one in particular which looks like it's very close to making it into production: the Kai concept. Most likely destined to be the next generation of Mazda 3, it looks like a winner long before it's even released. But there's more to the Kai than a great design, it features Mazda's new Skyactiv-X engine which promises a big leap in efficiency for its 2 litre 4-cylinder engine. Using a new technology called Spark Controlled Compression Ignition it is doing something that nobody else can do yet: using the engine's compression stroke and the heat it generates to let the air/fuel mixture self ignite much like a diesel engine does. Letting the fuel self ignite releases more energy, but the much temperatures of this method made it impossible to use in petrol engines until now. Mazda's clever new technology allows the engine switch between this highly efficient mode of combustion and regular combustion depending on the demands placed on the engine at any given time.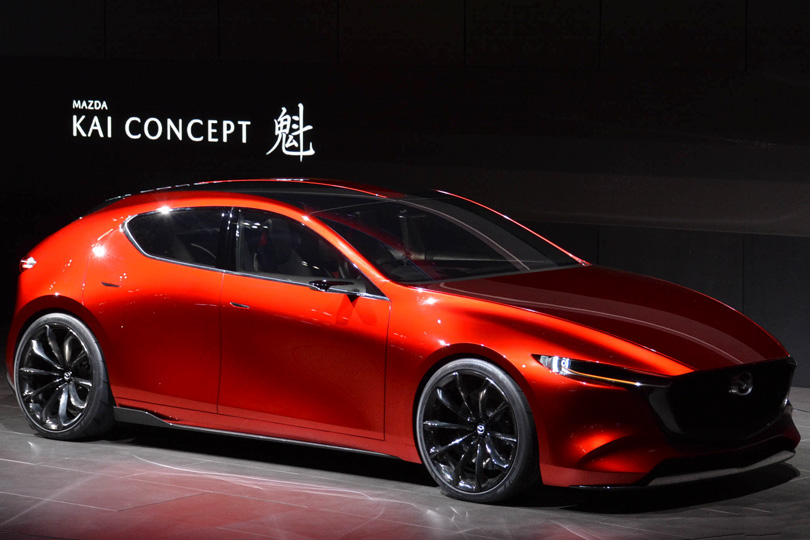 A more futuristic Mazda concept is their Vision Coupe, displaying the brand's design prowess and line of visual thinking which will be the basis for future new models. I'm quite a fan of Mazda's designs in general, which manages to be both sporty and elegant. The Vision Coupe is a celebration of that more than anything, as no technical data about the car and it was presented in Tokyo's National Museum. Design boss Ikuo Maeda is credited personally for the whole design which is a little unusual — keep up the good work, Ikuo!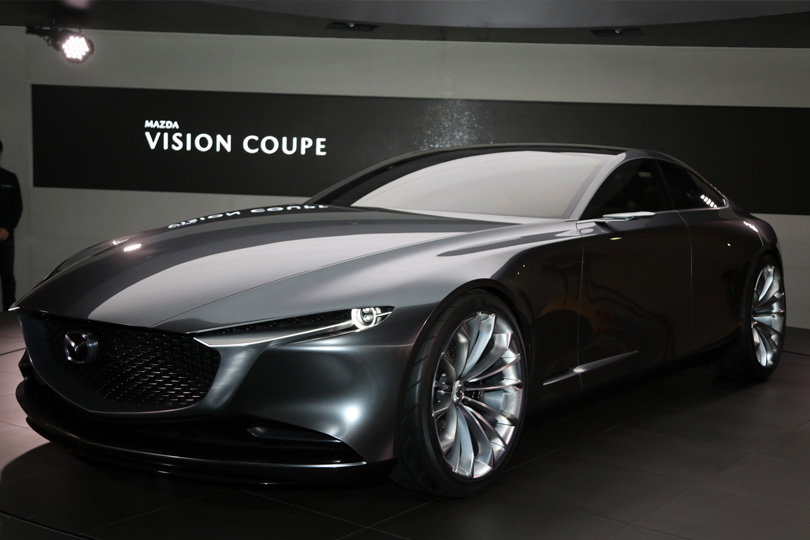 Infiniti
The Infiniti Q50 will be getting a slight facelift for the 2018 model year, but more importantly it will be the first model to feature the new ProPilot autonomous driving system. Well, I say autonomous, much like competing systems ProPilot will be a very advanced driver help system that can take over the dullest parts of driving should you want it to while greatly adding to overall safety. It's the future — which I don't mind at all as long as they still give us great and powerful engines like the turbocharged 3 litre V6 found in the Infiniti Q50 3.0t.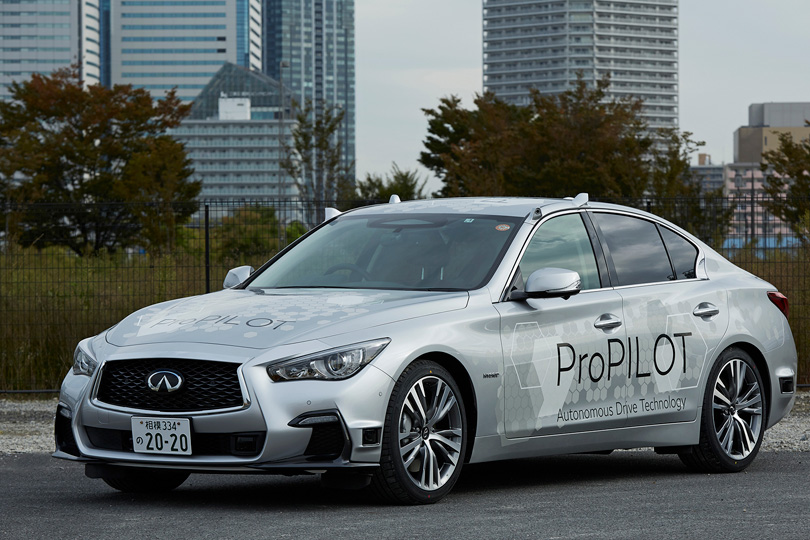 Toyota
As a company, Toyota was right at the forefront of Hybrid technology when it launched its Prius oh so many moons ago, so there's no doubting their expertise in developing these kind of systems and have them operate reliably as well. Their GR HV concept sports car gives us a good idea of what a hybrid electric GT86-style Toyota could be like, although the GR HV is a little longer and wider than Toyota's current 2-seater sports car. We're told that the car incorporates some technology from the TS050 Hybrid LMP1 race car — a car which will sadly be remembered for the sheer bad luck that has haunted it at the Le Mans 24 hour race. But even the GR HV never makes it into production, it still represents Toyota's move to use hybrid technology for sportier purposes, and we can only be happy about that.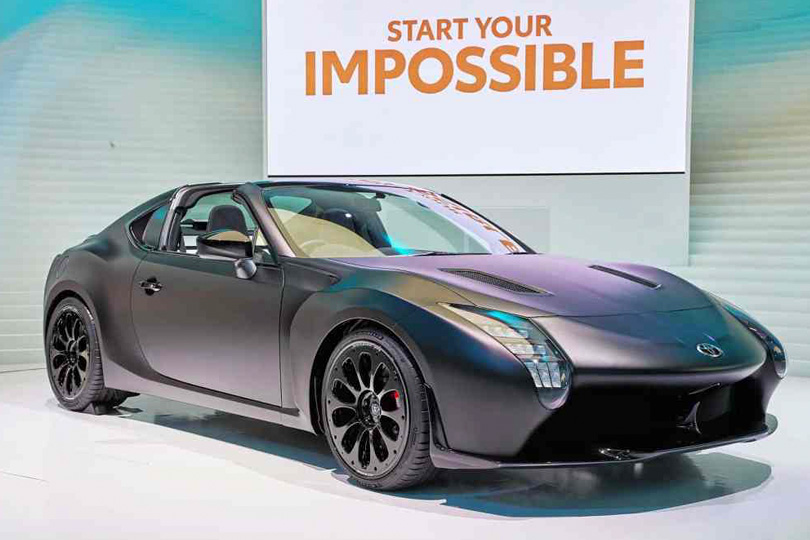 At the slightly more bizarre end of the scale, from our perspective anyway, we have the Toyota Century. It's (almost) aptly named, as each generation of the Century seems to go on forever. The first one was produced for thirty years, the second for nearly twenty. Now there's a new one. Not going to be for sale in our markets, which should be obvious just be looking at it I suppose. Actually I'm having trouble trying to stop looking at it. If I ever become rich and famous I'll find a way to import one of these and show up in it everywhere for the comedy factor alone. It's awesome.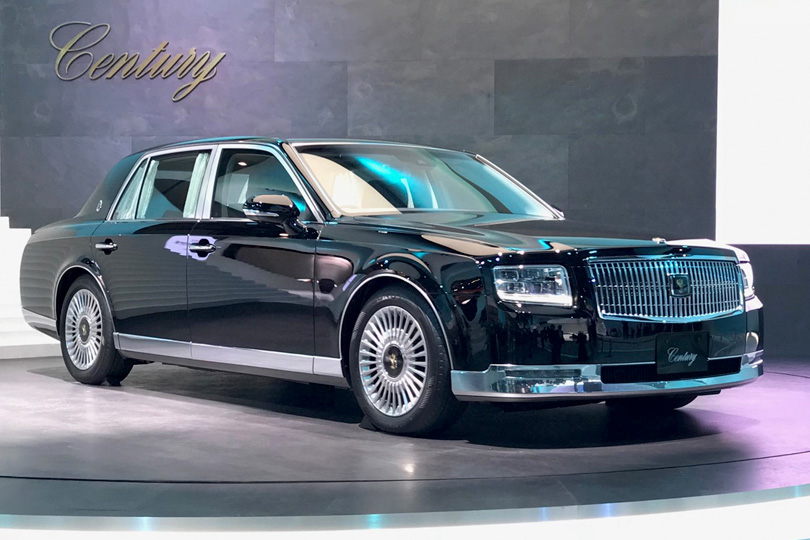 Nissan
It's impossible to say "Nissan" and "performance" in the same sentence and not think about a GT-R, or the older and infinitely cooler Skyline GT-R, but in this case I'm afraid the news is about a Leaf. A very popular car in the electric market, the Nissan Leaf has now had some go-faster pixie dust sprinkled all over it by Nissan's performance devision Nismo. It's difficult to tell exactly what it's going to be like as Nissan hasn't disclosed too many numbers about it, but it's again encouraging to see the performance angle being explored for electric cars.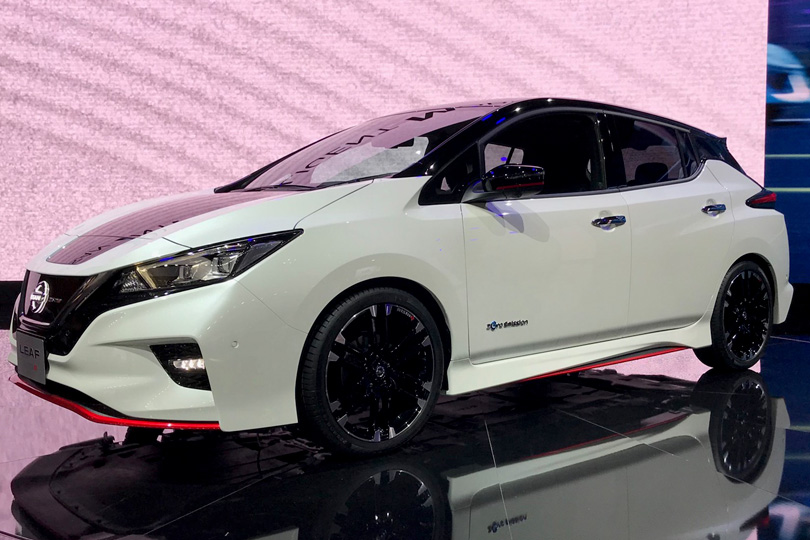 If a faster Leaf is too boring for you, how about Nissan's IMx concept? Looking like a futuristic interpretation of a crossover, this fully electric car is full of intriguing features although one of them stands out in particular. A pedestrian warning system called "Canto" (meaning "I sing" in Italian) which emits sounds so that you can hear this otherwise nearly silent electric car coming when you're crossing the road on foot. I think it would be great if they let you choose the sounds that the car puts out — how about some loud death metal to speed up those pesky pedestrians on the zebra crossings?
Subaru
Perhaps the boutique Japanese car brand, Subaru isn't about selling huge numbers of cars nor do they feel like changing them very often. Their Viziv Performance Concept is a styling exercise which gives an idea of what will be next, even though next isn't going to be tomorrow exactly. It's a little bigger than the Impreza but smaller than the Legacy but still powered by the most Subaru-y of engines, a flat four "Boxer" motor. Any concept worth its salt these days must also be packed with intelligent driver assist technology, so it has the EyeSight system which has largely the same aims as those I discussed earlier.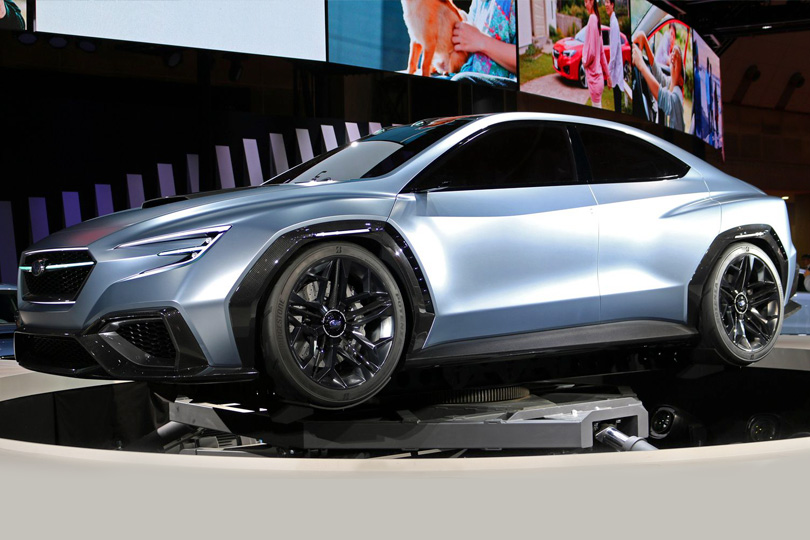 Probably due to not having actually new cars to show off very often, Subaru are also the masters of introducing ever so slightly different "special" versions of their most popular rally-inspired Impreza WRX STi. This time, they've come up with a highly limited edition called the S208 — rather non-descriptive but at least it's not as long as some of the names they've come up with before. It has 325 horsepower from the turbocharged flat four, a quicker steering rack, a carbon roof and a bunch of other goodies. It's for the Japanese market only though, so that's a bit of a bummer.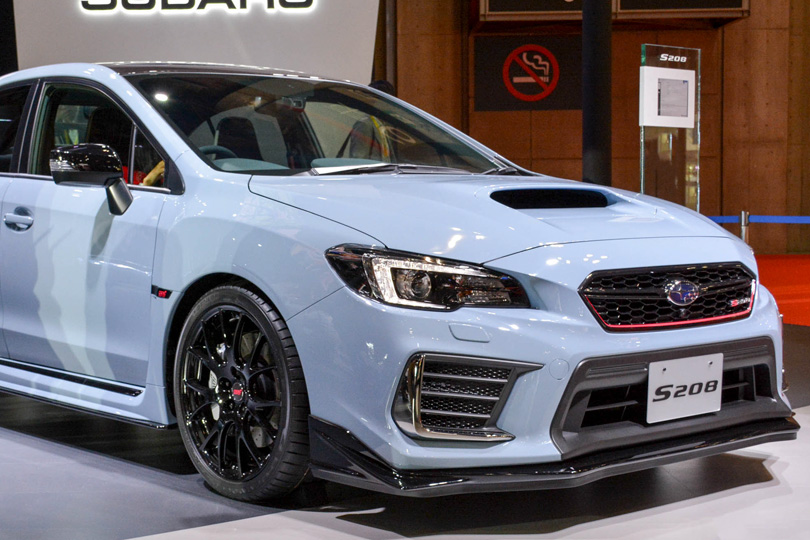 Honda
When I think about Honda, I think about small naturally aspirated engines which rev to about a bazillion RPM. Because Vtec kicked in, yo. While we're all still waiting to see whether a new version of the glorious S2000 will ever see the light of day, Honda is presenting us with their Sports EV Concept. I guess you get the idea by now, and this concept is exactly what you think it is. Looks stunning, though!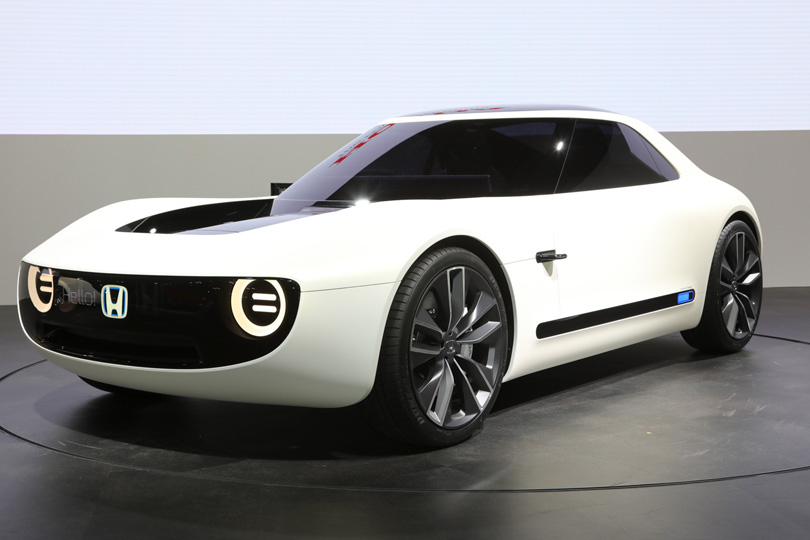 Iso Rivolta
Wait, what? That doesn't sound very Japanese to me — probably because it isn't. Some Italians have gone and stole the show with this ludicrous car destined be driven by millions of people — but only virtually in the Sony PlayStation game Gran Turismo Sport. Hence the name Vision Gran Turismo. Built by Italian design firm Zagato, it's based on the Chevrolet Corvette, has a 1000 horsepower turbocharged V8 and has a 10-speed gearbox. Apparently. They could just be making this up as they go along, because we'll never actually drive it. Though they may produce and sell five of them, they say. Brilliant.