You just know Tesla, and its CEO Elon Musk in particular, have made an announcement of some sort when every non-car related website you go to suddenly has electric car news on it. This time, I'll follow suit — but not without analyzing what it actually means first.
Electric motors are the future, that much we already know. There's still some debate about how and when, but nearly all car manufacturers are planning to have their lineup at least partially electric by the end of this decade. There are obvious advantages to electric motors: they are powerful, quiet and do not directly pollute the environment that surrounds them. The only issue is how do you keep feeding them with electricity while you're driving, as it would be slightly inconvenient to travel very far if they had to be plugged into a power socket to work. That's where batteries come in, and they represent the flip side of the coin.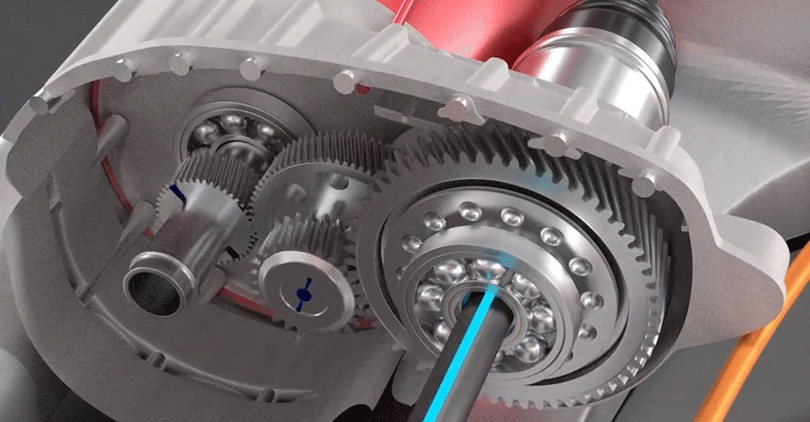 Batteries are the necessary evil which all eletric cars still have to deal with. Except those with experimental hydrogen power cells of course, but that's a different story with a different set of problems. Batteries, even those of the very advanced kind, still add a lot of weight to a car they also create a lot of pollution during the production process. So much so, that there are fossil fuel powered cars on the market which are actually less polluting over their projected lifespan than a fully electric car. The pollution is simply happening in a difference place, a fact which is strangely absent from marketing materials for electric cars. On the upside, batteries are capable of delivering huge currents very quickly which is good news for performance, as evidenced by the many videos of Tesla model S cars decimating supercars in drag races. Of course they can only supply so much current for a limited amount of time due to quickly rising temperatures, which is why you haven't seen any Teslas set lap records on the Nurburgring yet. But for short bursts of ferocious acceleration, electric motors are most definitely superior to combustion engines. Those are simply the facts.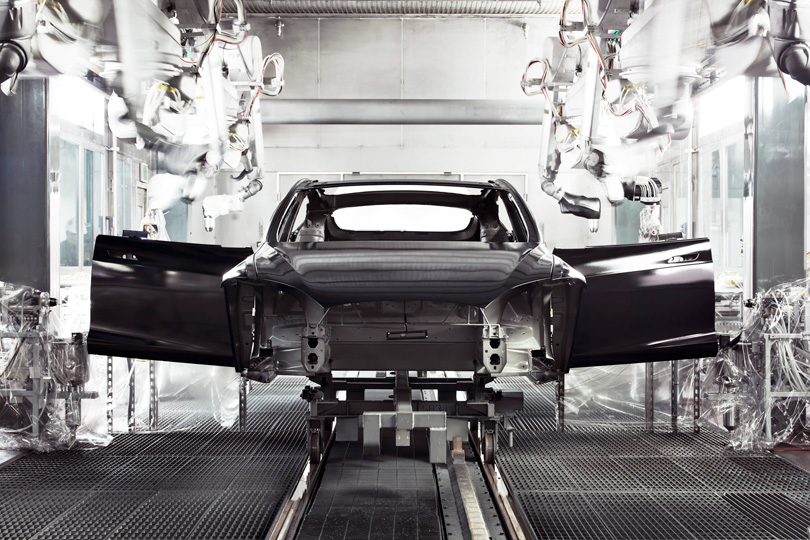 So let's move on to Tesla and their introduction of both an electric truck, and a new Roadster sports car. On the face of it, electric trucks make a lot of sense. Current trucks use fairly gigantic diesel engines combined with short gear ratios to create the massive amounts of torque required to get a very heavy thing to actually move even when the road is uphill. Electric motors could deliver much more torque much more easily than a diesel engine can, and from zero RPM onwards which would be perfect for this application. As trucks, and their loads, are intrinsically heavy to begin with the added weight of batteries will also not be as big of a deal as a percentage of the total mass. Finally, because truck drivers have legally defined resting periods anyway, it should be fairly straight forward to let the resting periods coincide with the charging of the batteries and not lose time overall. Electric trucks make sense, check. Tesla says their truck will do 500 miles on a charge — that's 800 kilometers — and accelerate fairly rapidly reaching 100 kilometers per hour in 20 seconds even when fully loaded.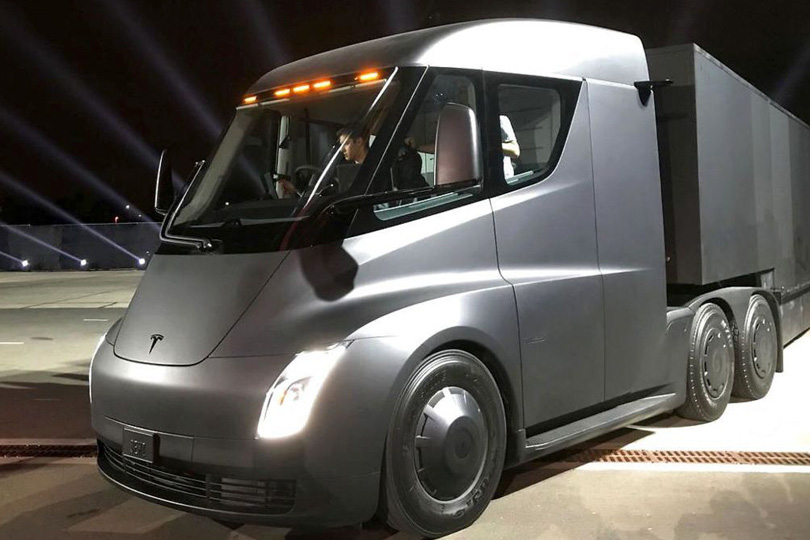 Abut are freight companies going to flock en masse to Tesla trucks in the near future? Colour me skeptical on that one. This is an industry which runs on very narrow margins between profitability or loss. They will buy whatever keeps them competitive in this cutthroat market, and people who have done the math on the batteries required for a truck have figured that they alone would already cost significantly more than an entire diesel powered truck as it exists today. That an electric truck is faster and less polluting will not be a huge concern to accountants. Tesla is also an unproven company in this field, to put it mildly. People still insist we cut Tesla cars extra slack for production and quality issues because they are such a young company, but freight companies who depend on this type of machinery for their business will not likely be eager to take on extra costs and risk having to deal with the product not live up to the hype. If and when battery technology advances to a point when they make commercial sense to use in trucks, the established big players in the truck market will certainly start using them and their existing customer base will follow. The professional market works slightly differently from the consumer market when it comes to things like this. Tesla might be paving the way here, showing us a glimpse of the future, but that's about the extent of it.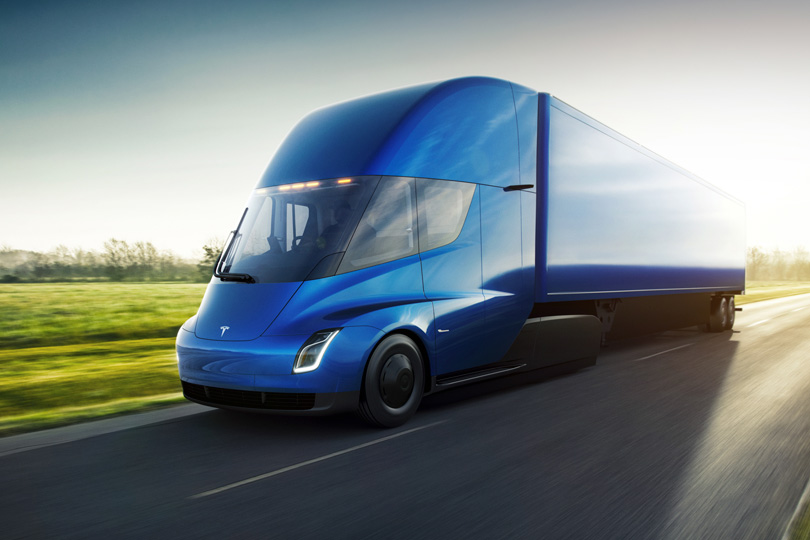 Perhaps more relevant to you and me, they also presented a new Tesla Roadster and proudly proclaimed that it will be the fastest production car ever, reaching 60 miles per hour/96 kilometers per hour in 1.9 seconds from a dead stop. The exact acceleration numbers hardly matter actually, I actually feel a little bit dirty quoting the marketing speak about a car that doesn't even nearly exist yet, as they are aiming to produce it in 2020. It would be easier to take Elon seriously on this estimated date had Tesla not just spectacularly failed to start producing their entry-level Model 3 at normal volumes. If there are any constants that we have observed with Tesla thus far, it is that of delays and relatively poor quality control during the production process. So when Tesla shows me a prototype of what they think would be the fastest car ever in 3 years plus however many years it takes to actually produce it, I'm inclined to call that click bait. Or Wall Street bait if you prefer. Hype is a useful tool for a company that is racking up spectacularly large losses when you have a stock price to worry about. Perhaps if the next major shareholder meeting goes badly they'll be announcing a car that needs to be charged only once a year and goes 1000 kilometers per hour and it should be ready by 2021. Sure.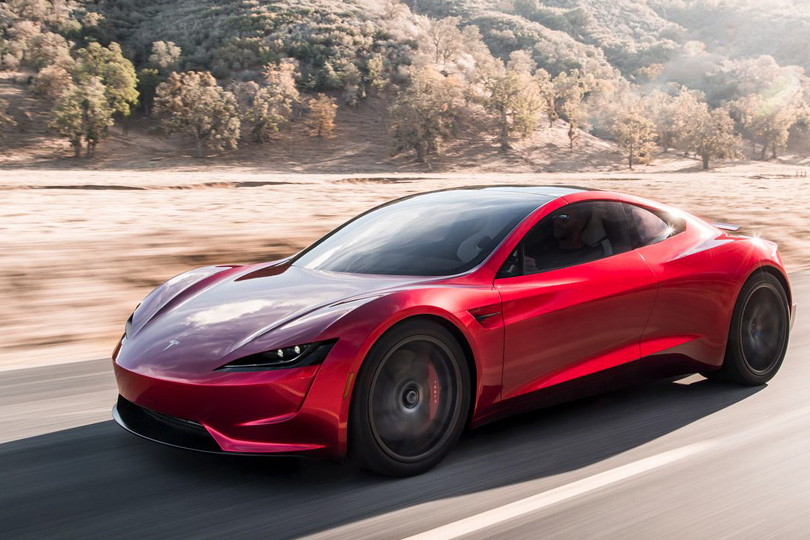 But the world needs people like Elon Musk, to be sure. You need people with a vision and drive to move things forward faster than they can actually go. The inner drive to run before you can walk is responsible for some of the greatest inventions in the history of the world. But that doesn't change the facts, which are that neither the Tesla truck or the new Tesla roadster actually exist right now or in the near future. Heck, they probably can't even be built to specification right now as prototypes because their claimed performance is based on materials that are predicted to exist only in a few years' time.
This is what Tesla's entire strategy hinges on: selling the future. That also means pre-selling cars, as they have racked up a waiting list of half a million customers for the Model 3 that they have so far managed to make a few hundred examples of. Each customer laid down a thousand dollars to get in line and hopefully get one of these cars eventually, but nobody knows quite how long it will take. No prices were mentioned for Tesla's electric truck, but they did stick a price tag on the new Roadster. Two hundred thousand dollars to be exact. Oh, and another 50 thousand on top of that to get in line right now and be one of the first thousand or so people to get one. Hopefully. Some time in the future.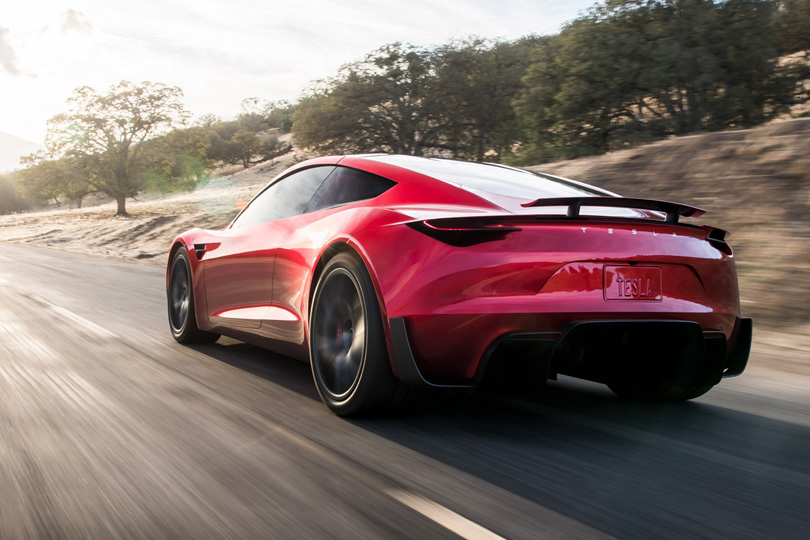 The constant pressure to be at the very cutting edge of technology has also meant that the standards they maintain before a product is considered ready for production and delivery to consumers are considerably more lax and optimistic than those of established car makers. Especially those who want to make sure their cars aren't going to self-drive them into an immovable obstacle to name one thing. That's not to say that those car makers with long histories have not been complacent, Tesla has certainly caught them with their pants down in several areas. But financial and engineering resources are on the side of the automotive giants, as is time. Right now, infrastructure for electric cars is still lacking or completely absent in many countries. By the time it catches up and takes away the range anxiety of potential electric vehicle customers, odds are they will have figured out how to use batteries and electric motors as well as anyone else. Tesla will need to figure how to mass produce their cars in a hurry and to a better standard of quality by that time or they may well be in trouble. As far as future history books go, though, places for Mr. Musk and Tesla have already been reserved.