When most of us hear the word racing we probably don't really have a sporting event in mind that takes a full twenty-four hours to complete. But the aptly named 24 hours of Spa is a battle of attrition with three drivers rotating in and out of a racing car around the clock with a sleep deprived crew putting on new tires and adding fuel every hour or so. This year, Bentley brought its brand new Continental GT racing car to take on the challenge.
Life has a habit of working out in unexpected and vaguely ironic ways every so often. Despite being Belgian and having lived no more than an hour and a half from the iconic Spa-Francorchamps racetrack for the first thirty years of my life, I had never gone to watch the 24 hour race there. All it took was moving to Russia and waiting a couple of years for Bentley's invitation to roll in, apparently. In any case, I wasn't going to say no. A rather early flight to Brussels followed by a supremely comfortable transfer to the track in the back of a Mulsanne had me there well before the start of the race.
Of course, once there I headed straight into the M-sport garage to marvel at the two squeaky clean Bentley race cars that were still being prepared for battle. Standing there with an open bonnet, by far the most striking thing is how small the actual engine is. For performance reasons it's mounted as low and as far back as it will possibly go, which leaves most of the engine buy looking like a rather large and empty hole. The engine is actually the one part that hasn't changed from the old car. The twin-turbocharged V8 hasn't lost any of its bark either, which makes it easy to tell when one of these Bentleys is approaching.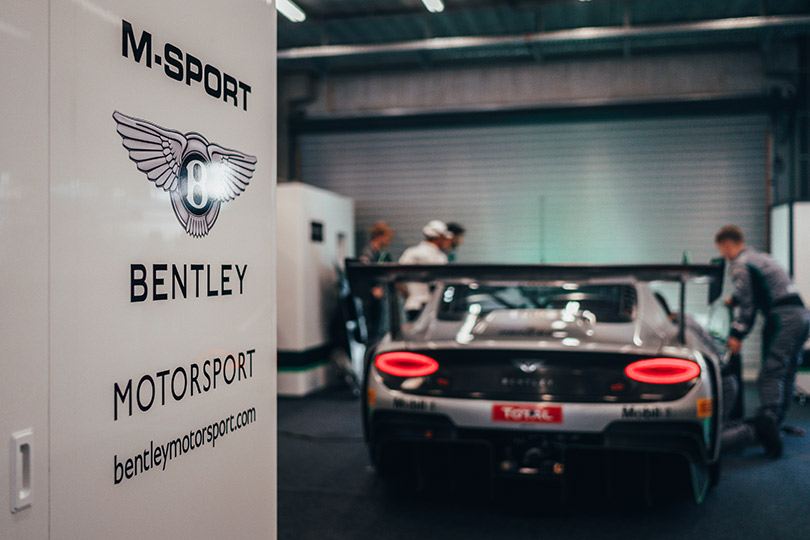 When the Bentley Continental GT first went racing in the GT3 class back in 2013, it will have appeared somewhat out of place to casual observers. Visually, at least. Racing wheel to wheel with exotic cars built by the likes of Porsche, Ferrari and Lamborghini it just looked massive. It turned out to be a very successful race car regardless. But now there's a new Continental GT for the road, so a new race car as well. Whilst it certainly remains a pretty beefy looking car out on track, the new model's shape is considerably more sleek and in line with the classic ideas of what a race car should look like. Because it's brand new for this season, only the factory-backed racing team could make use of them which meant just two of these new Bentley GT3s would be competing — making them stand out from the pack even more.
To better understand the specifics of the new car, I was lucky to be able to have a chat with Nick Burns, head of motorsport at Bentley, during a brief interlude where he could step away from managing the race for a moment and well before the toll of staying awake for 30-odd hours straight could impair his cognitive abilities too much.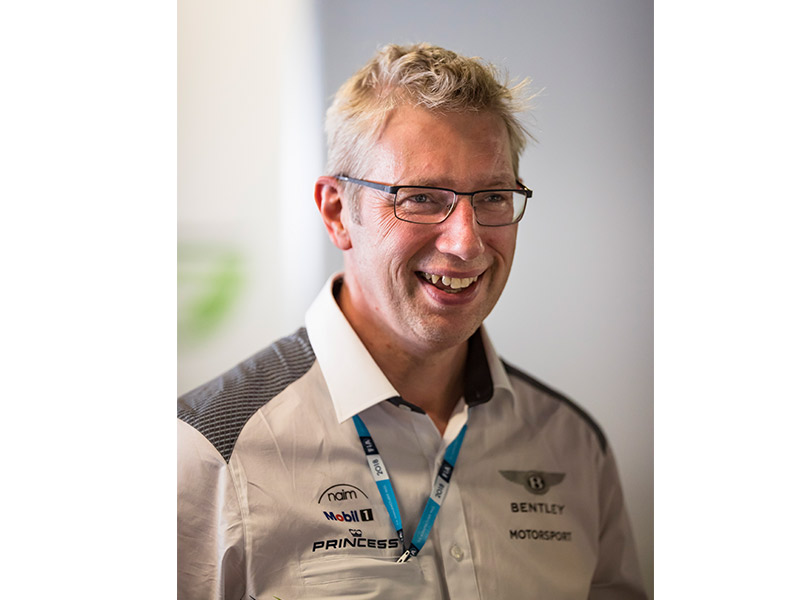 Jan Coomans: The new Bentley Continental GT3 is visually a lot sleeker looking than the old car, so it looks a bit more like it actually belongs on the racetrack now, but how much has the new car changed over the old in terms of driving dynamics?
Nick Burns: A huge amount actually. When we went racing with the first Continental GT, the road car had already been in production for 10 years or so. We managed to adapt it into becoming a successful GT3 car but obviously it was always a little bit of a compromise. Now with the new car, we've been involved in its development from the start so we've had the opportunity influenced the design to make it more suitable as a race car. One example of that would be the size of the intercoolers for the turbochargers, which we have increased considerably over the old car as it struggled a bit for engine performance in warmer temperatures. And of course, being built on the Porsche platform is already a much better starting point than the VW Phaeton that underpinned the old Continental.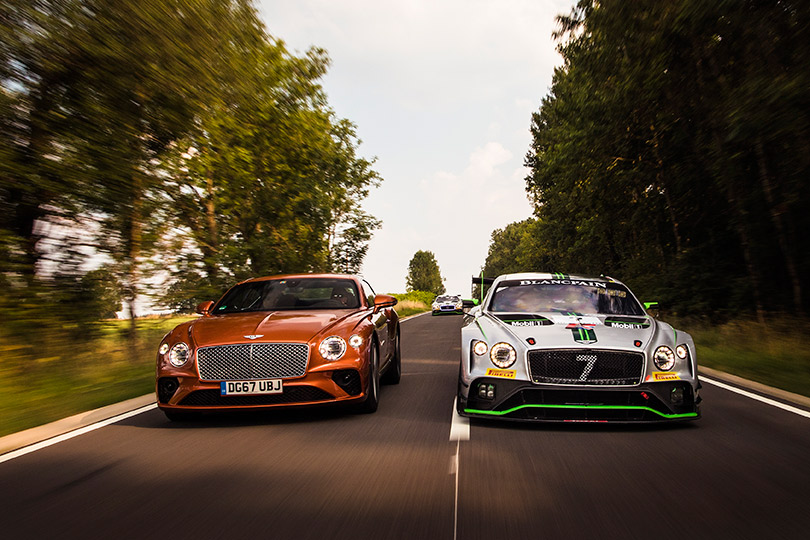 —
Does it take you a long time to understand how an all-new car like this behaves on track, and how to get the best performance out of it, or is it a fairly straight forward affair?
—
It's taken us a long time actually. It first went onto the racetrack in November, and for a long time we were just fixing problems and not doing any real set-up work. So it wasn't really until the first race that we could work on set-up and start to understand the car. But I feel that we're now at the point where we understand really well how the car responds to changes and we've honed in on a setup that we feel is really good for the long race itself. It's a 24 hour race so we're not really too bothered about qualifying. Of course we want to start as high up on the grid as possible but really it's about staying out of trouble and running as consistently fast as possible.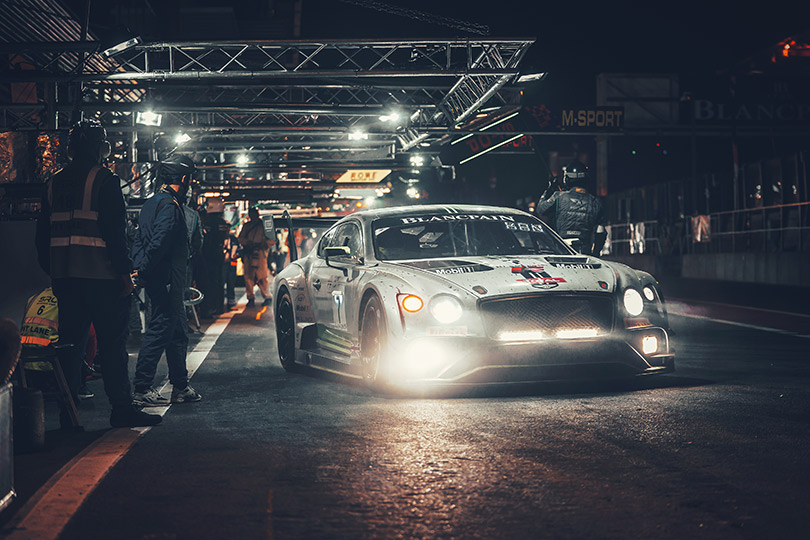 —
For you and the team, how much harder is a 24-hour race compared to the regular 6 hour endurance races?
—
It's hugely difficult, for the whole team. I mean, we all woke up this morning around 8 o'clock or so, and we probably won't get any sleep until 8 or 9 PM tomorrow. The drivers probably have the easy bit! They do a couple of hours in the car and then can have a little sleep in between. Of course it's still a really hard job! But for the pit crew and the guys on the pit wall especially, they have to stay alert for the whole race.
—
Thank you very much Nick, and good luck!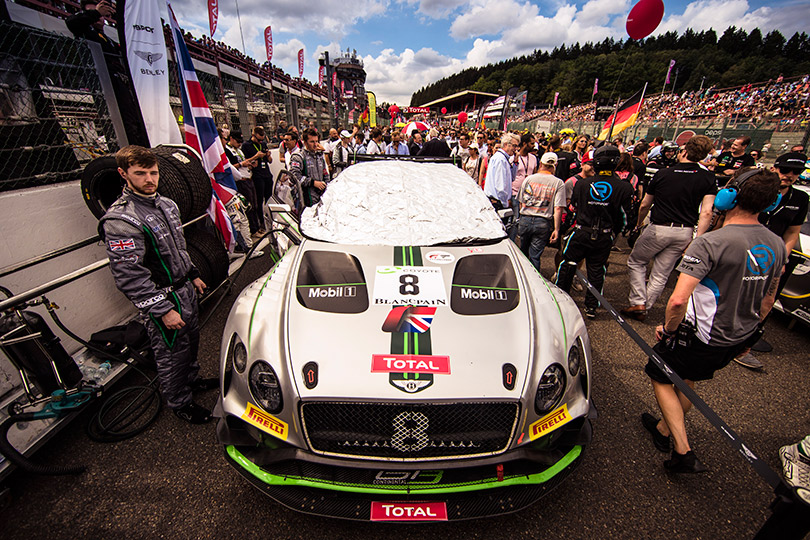 Before the race got underway at 16:30 local time, I was fortunate to be able to participate in the parade laps — just a couple of slow laps of the track in regular Bentley road cars — which reminded me just how glorious the Spa-Francorchamps track really is. It just flows, and it's very much built into the existing landscape and topography. The corners feel natural, like they've been there for millions of years, long before humans came around and invent the wheel, internal combustion engines and asphalt.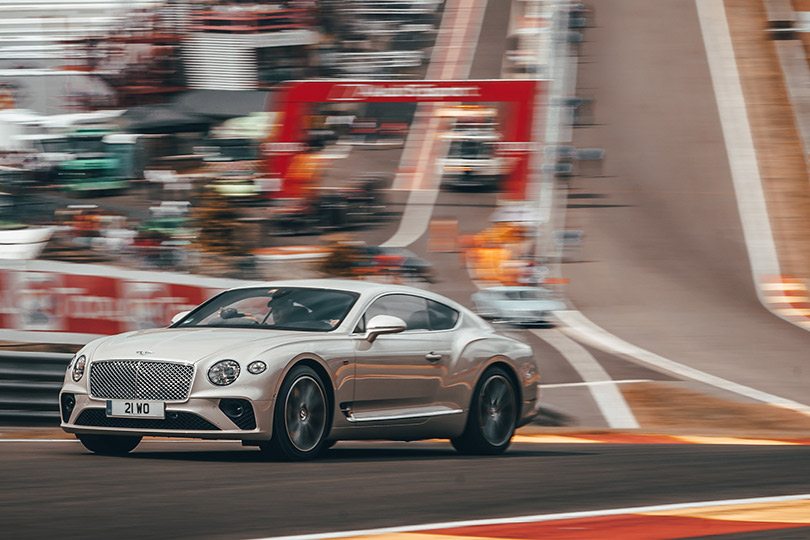 It also made me really, really want to drive this track with my own car which unfortunately would never pass the strict noise limits which are in place during track days here. That's not to say being in a new Continental GT and waving to the crowds which were already gathered next to the track wasn't special, but I guess I'll always be a wannabe racing driver at heart. And never more so than when I walked the starting grid, a challenging affair to be sure as the track here is quite narrow and there seemed to be about a million people there who were all trying to do the same thing. Get a taste of the atmosphere and snap a few selfies while we were at it.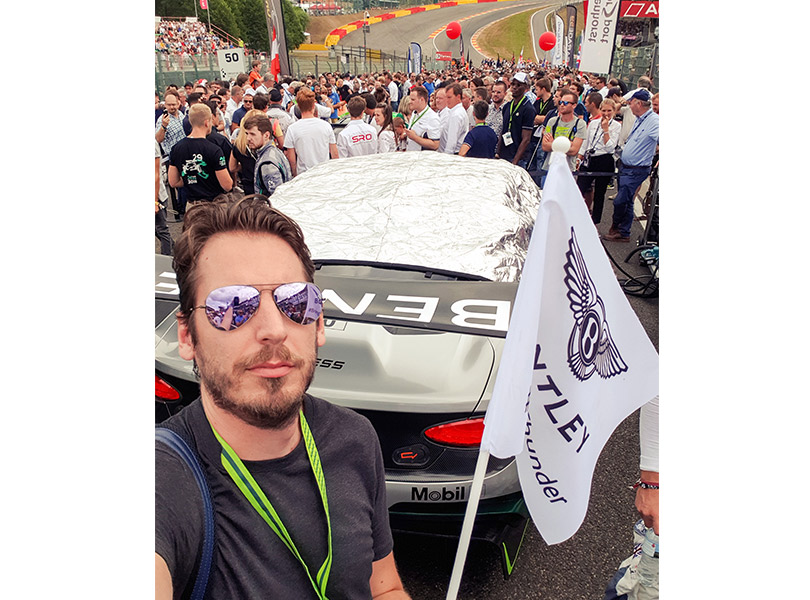 Of course, the great thing about 24 hour races is that they are a proper social event. You can hang out near a conveniently placed beer stand with your friends all night, or you can bring the family to the track in the afternoon. It's all good, and there is no rush because, well, this thing goes on for 24 hours. Not that the action on track was particularly relaxed. All the cars were being driven flat out, with frequent incidents causing slow down periods and safety cars which add an element of chance to the race. Depending on where your car was on the track when a safety car period was called, you could either gain or lose time in the pit stop cycles.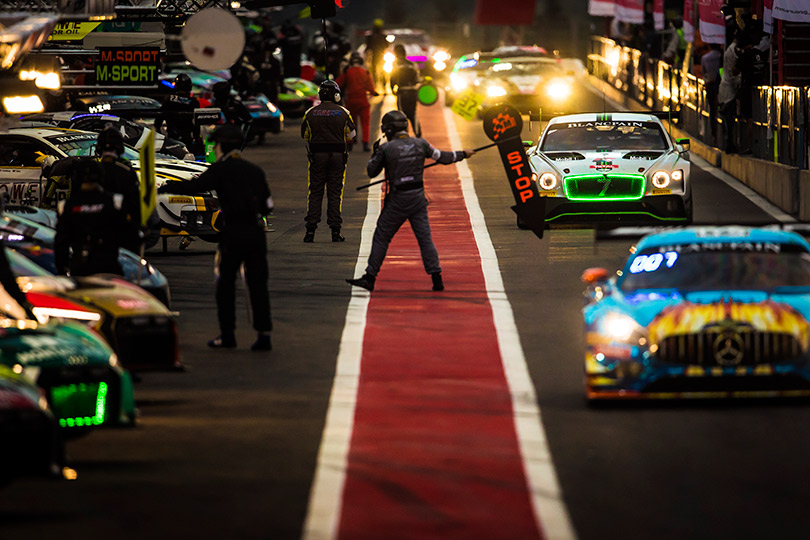 By the time I decided to call it a day, about 9 hours into the race on Saturday night, the number 8 Bentley was actually leading the race thanks to a combination of strong pace and good fortune. It would not be in that position when I woke up the next morning, unfortunately. During the night a bunch more incidents had occurred, one of them serious enough that the race was red flagged and stopped for an hour or two while repairs were made to the infrastructure.
When I flipped open my laptop first thing in the morning and had a look at the live stream one of the first things I saw was the number 8 Bentley flying through the air and landing somewhat on top of an Audi R8 which had failed to get out of the way far enough when it was being lapped by a Porsche 911 and subsequently spun causing a serious collision with both the Porsche and the Bentley. Even more than being in the right place at the right time, the trick to endurance racing victory is somehow not being in the wrong place at the wrong time. This unfortunate incident damaged the Bentley to such an extent that it had to retire from the race shortly afterwards which left only the number 7 Continental GT3 to salvage a good result. That car actually got very close to the sharp end of the race until an unfortunate mechanical failure in the form of a broken radiator caused it to drop out of contention.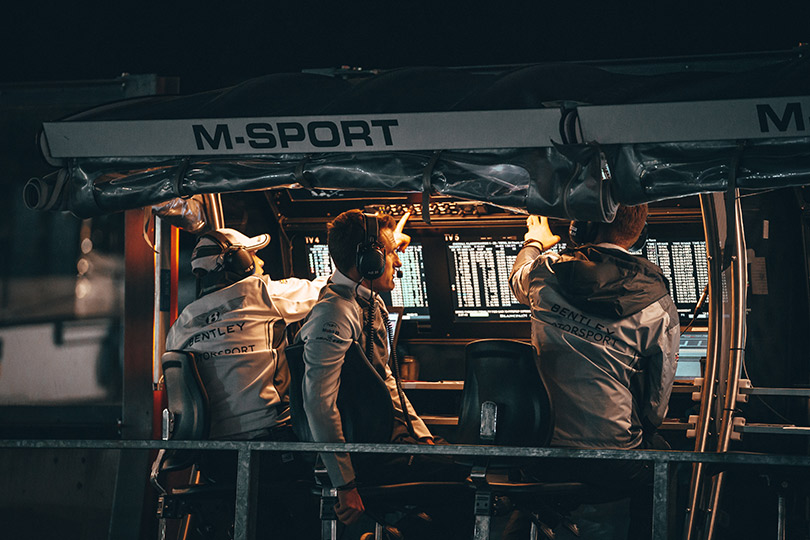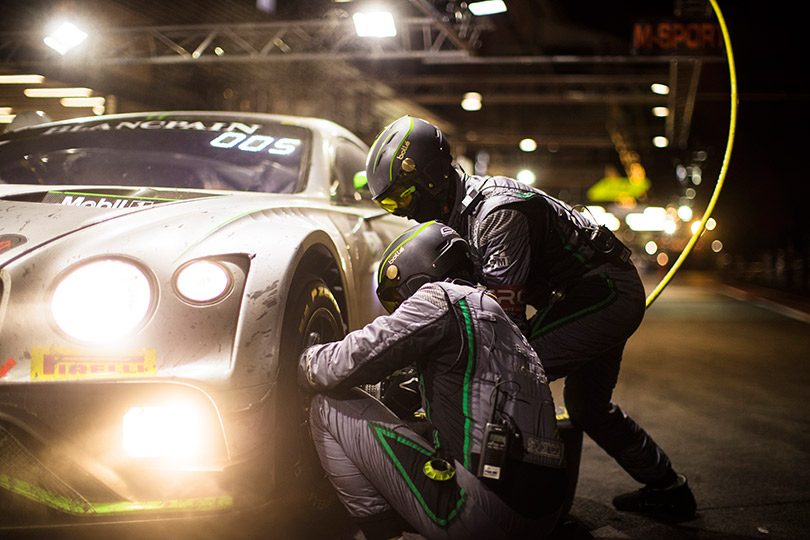 That's just how endurance racing goes, you can run the same race ten times in a row and you might get a different winner each time. Things have to go your way, and they often don't. But the fact that the brand new Bentleys, which made their track debut only a couple of months ago, were consistently fast and very much capable of winning had things gone their way still made for plenty of smiles around the garage and hospitality lounge. The future for the Continental GT3 is clearly very bright. As bright as the sky over Spa-Francorchamps was, perhaps, as it — most unusually — did not even rain once during this 24 hour race.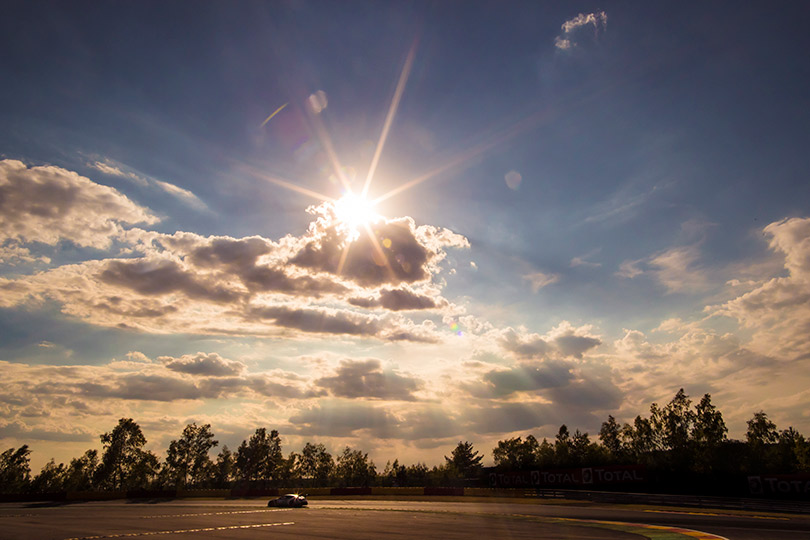 Bentley also had a couple of the new Continental GT road cars on site, and generously lent me one to get to the hotel and back the next day which meant an hour or two of driving through the Belgian Ardennes. I never considered the old Conti a bad handling car, but sharing a platform with the Porsche Panamera is still a huge leap forward for the driving dynamics. It doesn't exactly invite you to throw it into a corner as if it was a rally car, but it doesn't exactly mind it very much either. Which does surprise you when you've just spent 40 minutes admiring the ride quality and creature comfort that the car offers.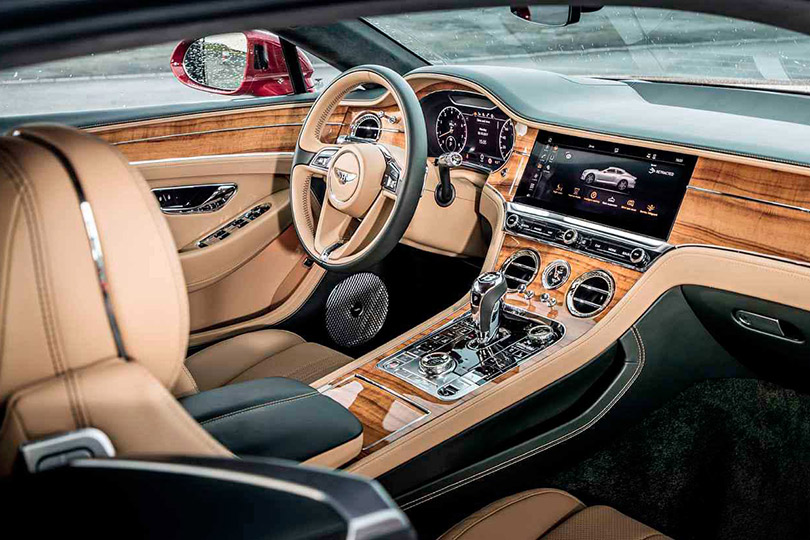 The 625 horsepower turbocharged W12 engine, meanwhile, means it is a genuinely fast car as well. There are some very long uphill sections on the highway that runs between Liege and Spa, and when I put my right foot to the floor on one of the steeper bits it just laughed at the mountain and gained speed in a way that made you wonder if gravity had any effect on this car at all. Afterwards, out on the smaller roads, using all the power in second or third gear always made the next corner come up very, very quickly. I don't use the term rocket ship lightly, but the Continental GT certainly qualifies. Overtaking a slower car, or a number of slow cars in a row, is ridiculously easy with this much power on tap. Which is probably the number one reason why I love powerful cars to begin with, I just hate being stuck behind a slow car when there's not enough open space to overtake. But if anything, the new Conti GT feels even faster than the huge horsepower number suggests.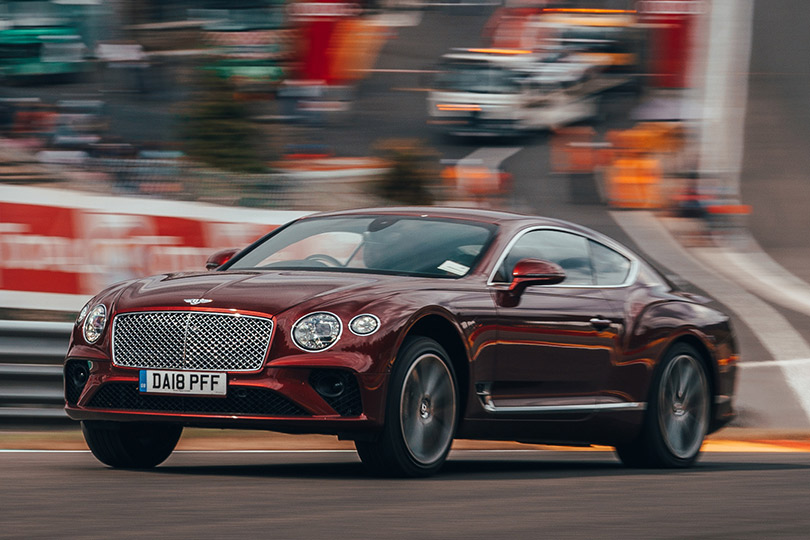 The new car has a much improved transmission, borrowing the 8-speed dual-clutch gearbox from its Stuttgart-born sister car. You can manually select gears with the steering-mounted paddles, which are now of a normal size and attached to the wheel rather than the gigantic metal flappers that were on the steering column of the old car. They're much more usable now, though I preferred just leaving the gearbox in automatic with sport mode enabled most of the time. The Continental GT is still the perfect long distance cruiser, but there is definitely a shaper edge to the car when you feel like having a little bit of fun on a lovely piece of road. It's not hard to see why it makes for a better race car than the first model.
It's almost impossible to overstate just how big of an upgrade the new Continental GT is over the old car, in every single aspect from the 21st-century electronics in the cockpit right down to the drivetrain and suspension. And that's before we even touch on the vastly improved looks of the car. If you currently own a Continental GT and want to use it for a few years longer, I suggest you avoid finding out just how much better the new car is. It would be very difficult to go back.