Would I mind flying to Sochi for a day to drive just about every car Porsche makes? No. I would not mind that at all. In fact, I'm pretty confident that nobody has been more enthusiastic about doing a particular job since the concept of paid labour was invented. So I grabbed my suitcase and set off for the Porsche World Roadshow.
I'm not a big fan of lists, they seem so lazy from a grammatical perspective, but just to paint an accurate picture of the event I'll tell you each and every Porsche that we got to drive. This will probably take up the better part of the paragraph, so now's the time if you want to get yourself a cup of tea. Porsche Cayenne, Cayenne S and Cayenne Turbo. Panamera E-Hybrid, Panamera S and Panamera Turbo — all of the Sport Turismo variety. There was a Macan GTS, as well as a 718 Cayman and Boxster both GTS. Then the 911s: Carrera S, Targa 4 GTS, Turbo, Turbo S, and finally the daddy of all daddies… 911 GT3. I think you'll agree that's plenty of Porsches to drive in a single afternoon.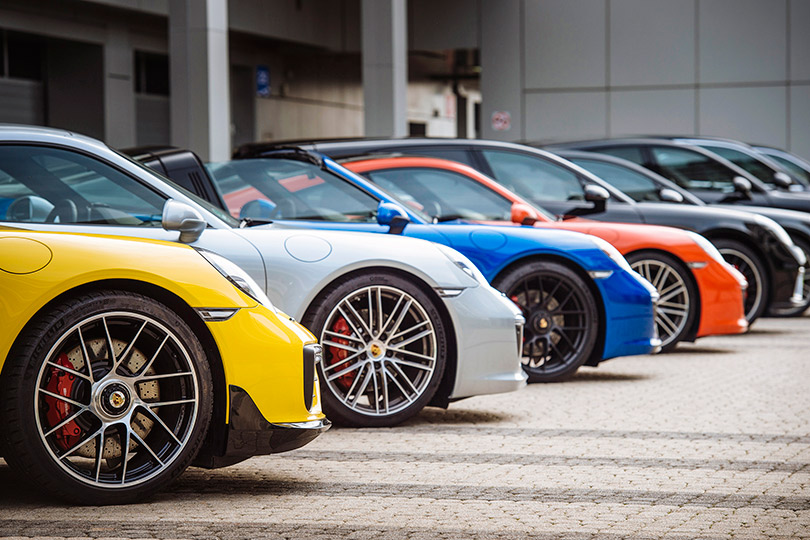 So it's fair to say that it's quite a busy program. Which inevitably means that there isn't a whole lot of time to spend in each car. The benefit of this, though, is that you can immediately compare the very different characteristics of each model before it has a chance to get blurred into a distant memory. To the casual observer it may seem like Porsche is selling the 911 in half a million slightly different flavours, but in reality they all have very distinct characters. The Sochi Autodrome turned out to be a pretty good place for this kind of thing, too. It's plenty long and offers a decent mix of corners, and the facilities are excellent. The fact that it generally gets a lot better weather than, say, Moscow, doesn't hurt either.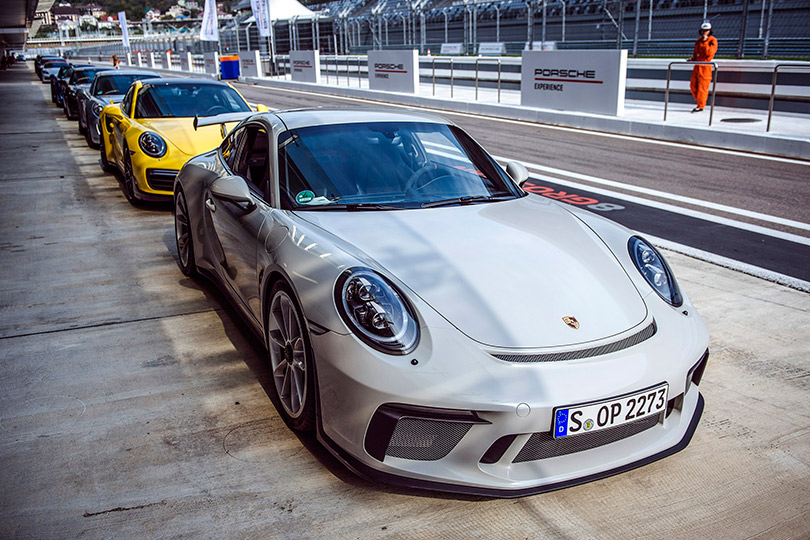 The driving instructors are an international team which travels around the globe with the Roadshow, but through some kind of coincidence a full 50 percent of the 4 group instructors were Belgian. I'm not used to meeting compatriots this far from home, probably because there aren't that many Belgians in the world anyway and even fewer are from my native Flanders. So to go to a Russian racetrack and meet two fellow Flemish speakers, Stef and Wim, was quite a surprise. Fun fact: between us three Belgians we only needed an average of 3.33 letters to spell our first names. How's that for efficiency. But there were also Germans, a lone Finn and of course quite a few Russians helping out as well. As such it's a very international event, created to make participants want to own a Porsche if they don't already. Supposedly the best way to sell a Porsche is to let people drive it, and I certainly can't argue with that.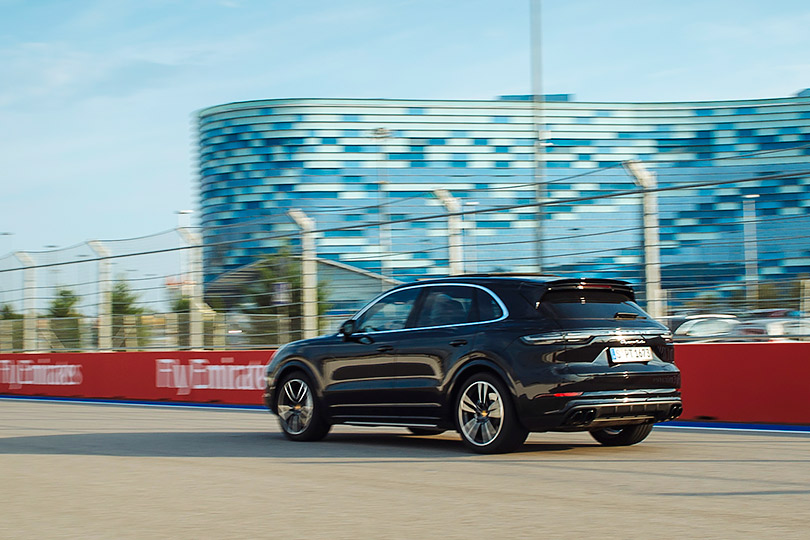 First off, our group had a go in the "big boys". That would be the SUVs and Panamera. Cars that are really not going to be used on track in the real world, but if you're going to push a car to see what it can really do you kind of need open space and no speed limits so… a racetrack, basically. I already knew that the Panamera is a properly fast car in its own right, so its admirable handling characteristics and truckloads of lateral grip didn't come as much of a surprise. What was surprising is just how close the new Cayenne runs the Panamera in what can only be described as the opposite of its intended element. Of course the increase in ride height makes it slightly less eager to change direction when you compare them back to back, but for a large SUV the Cayenne has mind boggling handling. It feels faster and more nimble even than the much smaller and lighter Macan GTS. The new Cayenne will happily brake late into a corner and hit every apex, to the point that you can't help but smile. Which is the least likely of all facial expressions when driving an SUV on a Formula One track, generally.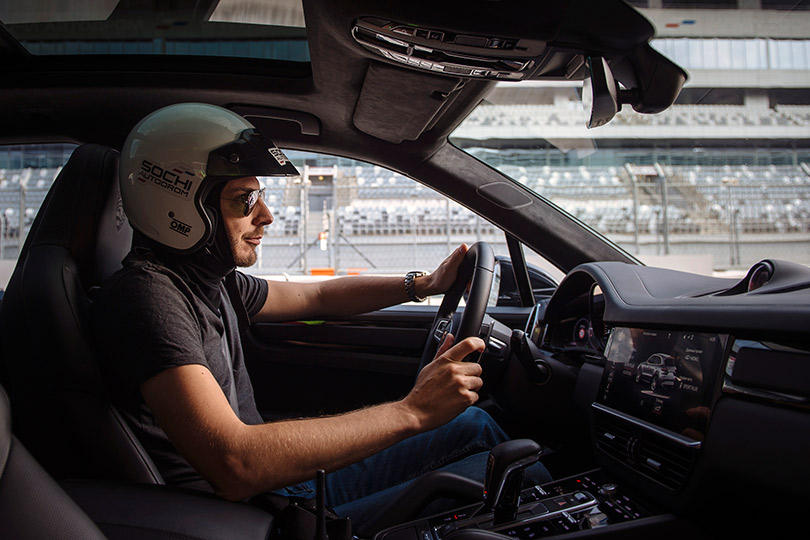 The next activity was obviously geared towards normal people, not journalists eager to burn rubber. It was a nice little drive in the new Cayennes on the regular roads, strictly obeying the speed limits but seeing some of the amazing nature that surrounds Sochi. If you're in the market for one of these cars then obviously this is going to be the most relevant part of the whole day. As surprisingly competent as the Cayenne is on track, the comfort and confidence it offers in real life conditions is still more impressive. But it doesn't make for a very gripping story so by I'll move on to the juicier bits post haste.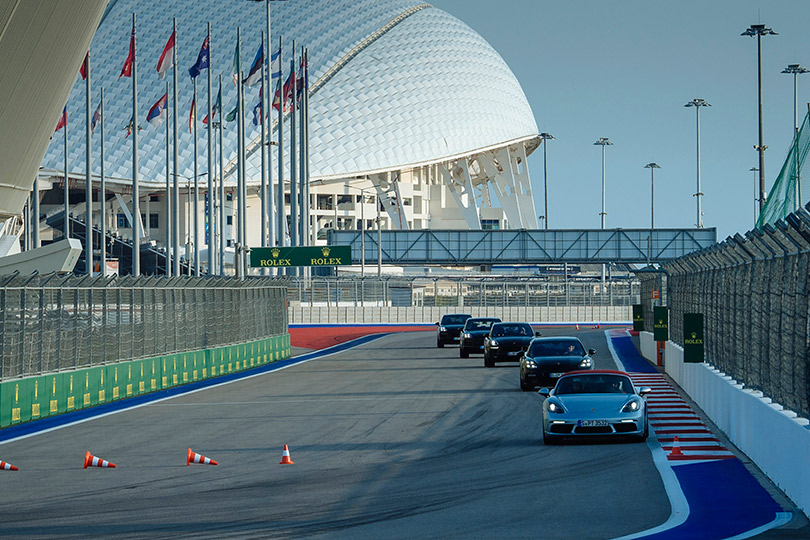 The sports cars. Finally. And what a line-up it was. The GT3, Turbo and a pair of Carreras plus a single 718 Cayman GTS at the back. I wasn't in the biggest of hurries to get into the fastest 911s right away but I had last choice and ended up taking the Turbo out first. A 911 Turbo has always been about offering supercar performance in a modest and understated package. But for all its extraordinary capabilities, it has never been a particularly emotional 911. It's a numbers car, which is probably why it appeals to people like bankers, with comfort and everyday usability being its next most important qualities. But that having been said, these 991 generation of the 911 Turbo come alive when you push them in a way that the previous ones simply didn't. It murders the straights, predictably, but then you get to a corner and some actual magic happens. OK, things like rear wheel steering and a super clever all-wheel-drive do go some way towards explaining why it can do what it does, but it's still borderline miraculous how seamlessly all the car's many electronic control units work together and give you a car that feels remarkably analog given the amount of processing power that is used to make it do what it does. It's absolute fun, particularly when driven at 9.5 tenths or above.
From there, it was only a few steps to get to the place in the world where I most want to be. The drivers' seat of a GT3. This one was slightly unusual in that it had the comfort seats, not the regular sport bucket seats that you'll find in the vast majority of these track focused cars. The GT3, in contrast to the Turbo, does not need to be driven at or close to the limit to make the hairs on your arms stand up. To be perfectly honest it does that to me even when it isn't moving at all. But at any speed the 4 litre naturally aspirated flat six is just a masterpiece that you can't stop listening to. Porsche have made more than their fair share of great sounding engines over the years, and many of us are still slightly nostalgic about the old "Mezger" engines that were in the back of the top 996 and 997 generation cars, but this engine feels as motorsport as any ever has. There's a mechanical purity to it, and ever few hundred RPM that you go higher adds another dimension to the symphony. With the rev limit all the way up at 9000 RPM that gives you a lot to listen to. I suppose it's inevitable that we'll get ever more lyrical in our praises of naturally aspirated engines now that they are well on their way to extinction. But this engine is extra special. The closest competitor that I can think of is the V10 that powers the Audi R8 and Lamborghini Huracan, but that still feels a bit more like a street car engine than this 4 litre race-inspired lunatic.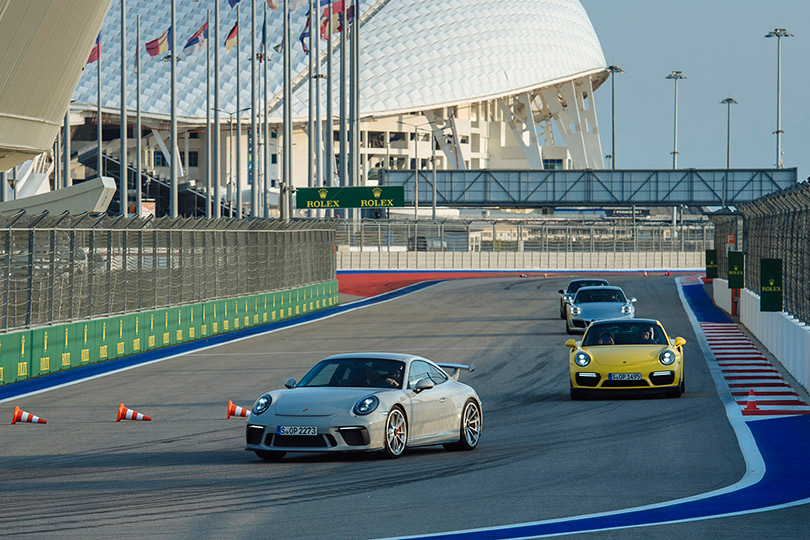 The only trouble with this kind of controlled event is that safety is a big thing and the instructors need to cater to a wide range of skill levels of the participants. As such, the lead car never really went fast enough for me to explore the GT3's potential more than one corner and half a straight at a time before I had to brake and create a bit of a gap again. But even while having one hand tied behind its back, the GT3 makes you feel alive. It will come as no surprise that it's by far the lightest feeling 911, the most direct, and the loudest inside. I bonded with the car even before I got halfway through the first turn, it lets you know right away exactly how much speed you can carry. With the rear weight bias due to the engine being in the back, you can get on the power incredibly early and fire it out of corners in a way that could make many all-wheel-drive cars look lazy. It just feels so easy to do incredible lap times in this car. Stable on the brakes, planted on turn in and then that engine to send you on your way towards the horizon. Argh. A car like this can ruin you by making everything you drive afterwards feel just a little bit mediocre.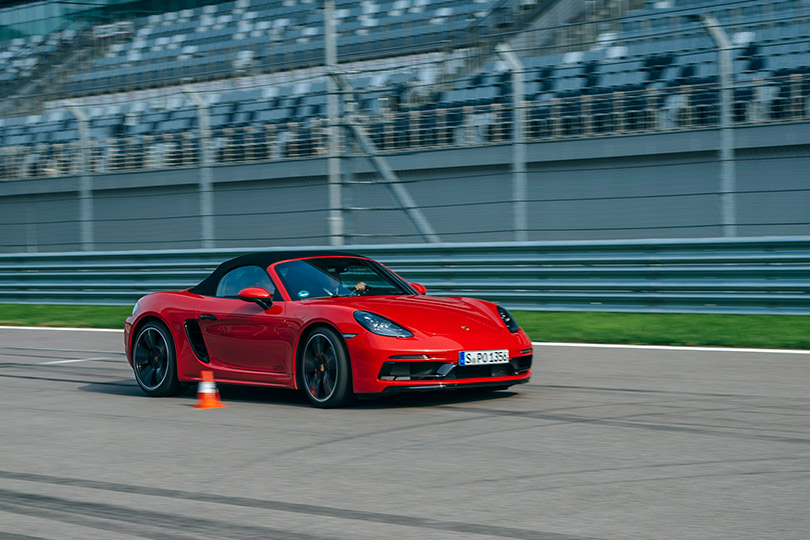 Not that the Carrera S or Targa 4 GTS are in any way that. Driving any Porsche 911 around a racetrack is an experience and a half. Which is of course why Porsche Driving Experience events like this exist in the first place. To finish of the day there would be a little friendly slalom competition using a 718 Boxster GTS, a launch control start or two in a 911 Turbo S and finally a "race taxi" where the professionals would take us for a lap and show how it's supposed to be done. The slalom course was very short but difficult to get right. But, surprisingly, I didn't lose for once. So that was good. The Turbo S launch control start, immediately followed by a braking test, is something I've done before but it's always fun to experience the feeling of being shot into orbit by catapult. But even more amazing than the sub-2.9 second to 100 acceleration is the fact that this absolutely brutal test is repeated by the car again and again and again… and it doesn't mind it one bit. Nothing overheats, nothing breaks. Anecdotally, a 911 Turbo S did several hundred launches in a single day during a promotional event and casually drove back to base afterwards. I don't know what else could do that, certainly not a Nissan GT-R and not a Tesla either. The Turbo S is the probably most bullet proof acceleration machine that money can buy.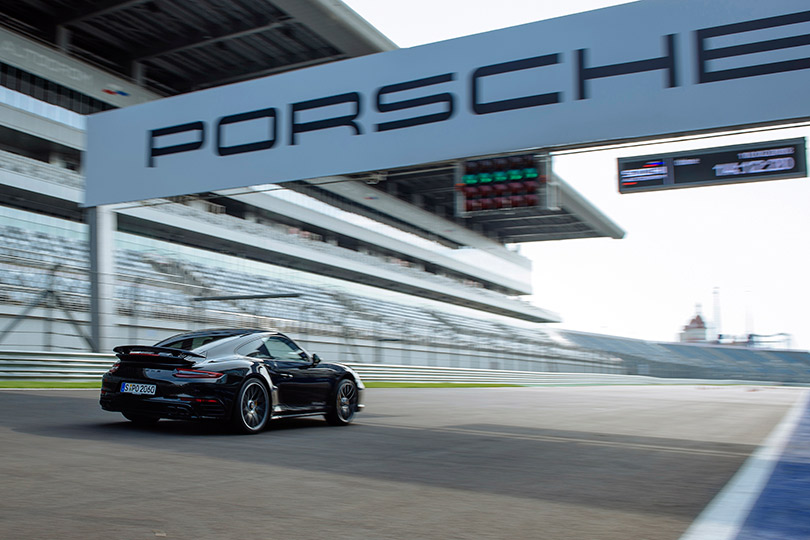 The race taxi, meanwhile, was perhaps slightly mislabeled. It probably should've been called drift taxi as each and every corner was pretty much taken in a way that meant you were looking at the track through the side windows. Still, it was remarkable how easily and happily the Panamera Turbo Sport Turismo would go sideways and shred its tires whilst simultaneously eating some stray plastic cones that had been knocked over by the instructors-turned-hooligans ahead in their 911s. Apparently Michelin brought two hundred tires to this 8 day event, and it was easy to see why they'd be needed.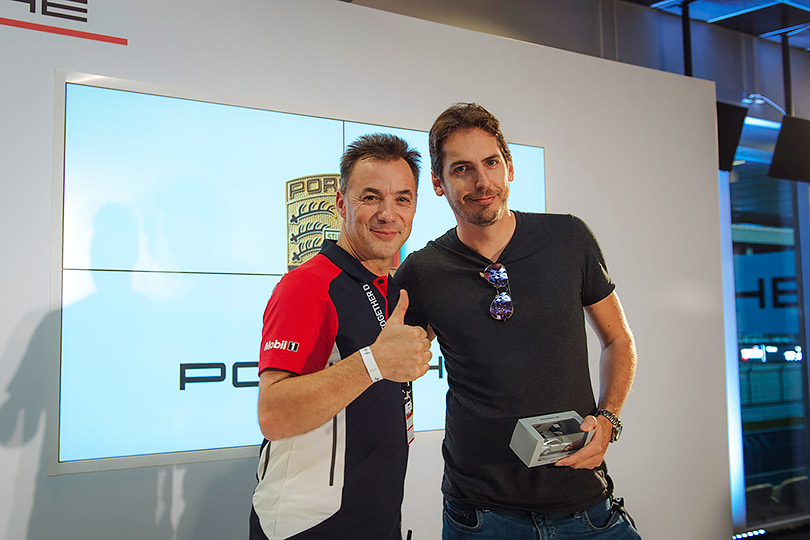 At the start of the Porsche World Roadshow we were told that this event was all about infecting people with the Porsche virus. I already would have tested positive for that before I got there, but I came away with my condition seriously deteriorated into a full blown case of GT3-itis. Well, that, a bit more vitamin D in my blood stream, and a couple of air miles. C'est la vie.