Photo: Jan Coomans, Gustavo Figueiredo
The Porsche Panamera used to be a very straightforward affair — love or hate. And truthfully, it was pretty easy to hate if you really wanted to, and never actually drove one. The better half of a decade later, Porsche went and made a second generation that was really, really hard to hate. Well played Porsche, what else can you say. Except for, well, it turns out that they weren't quite finished just yet.
Sport Turismo. That's what Porsche have named the latest variation on the Panamera theme. The crudest and least imaginative way to describe the car would be to say that it's an estate version of the 4-door Panamera we already knew. Or family station wagon. I'm sorry for that, especially if you're reading this during lunch and I've just spoiled your. Don't worry, I promise you'll get it back if you keep reading. Although to be perfectly honest, just scrolling and looking at the pictures will do the trick as well. I wouldn't blame you.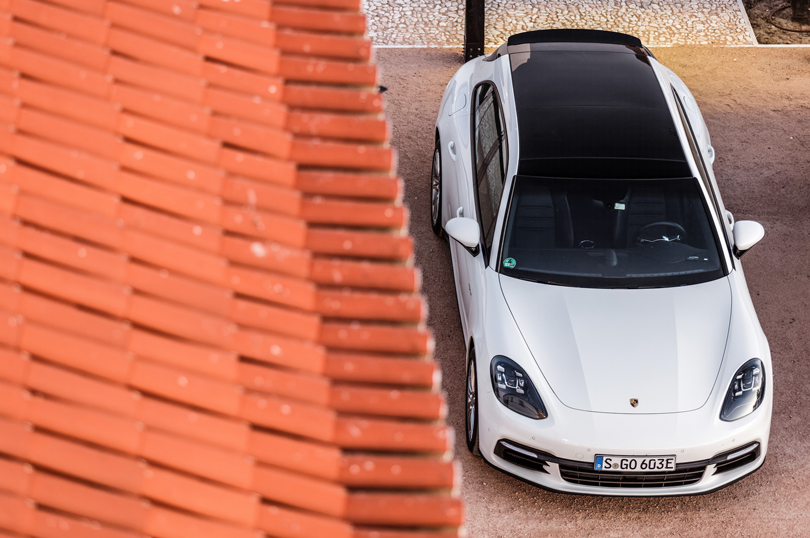 Admittedly, I did grow up in a place in Europe where estate cars are very popular. At least they're popular there to a degree that they simply aren't here in Russia or even the US. Fast estate cars in particular have always had a certain appeal to car enthusiasts, but even if you've never liked a single one of them cars, I think the Panamera Sport Turismo would be a very good reason to make an exception. In fact, I personally see no reason why anyone would ever buy a regular Panamera again, but then when you look up "voice of reason" in the dictionary you won't find my picture there. Tastes do differ, sweet smelling roses have silly names, and so on and so forth. The thing with Porsche is, they always find a way to get things right. And the Sport Turismo is the rightest of all Panameras so far, at least to my eye.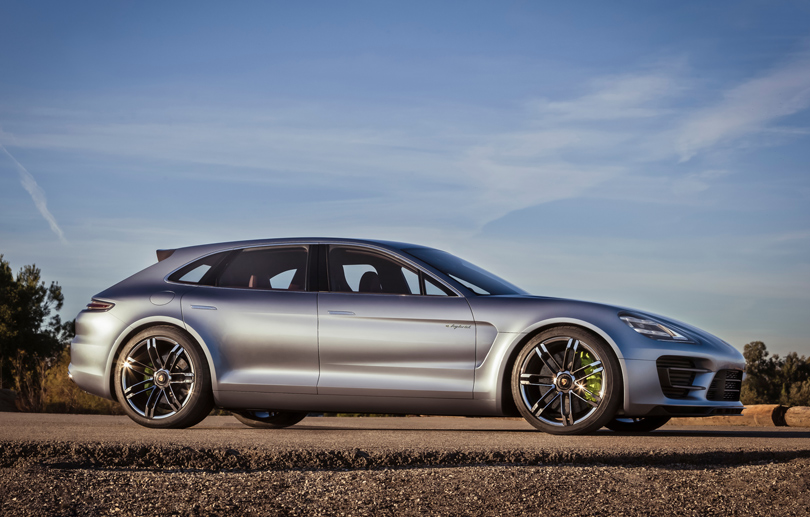 The most observant among you may be noticing at this point that I'm giving the exterior of the Sport Turismo an unusual amount of attention. The reason for that is that, truthfully, it's the single biggest reason to get one over the regular model aside from a slight increase in practicality. In a blind taste test, from behind the steering wheel it's pretty much impossible to say which variant of the Panamera you're driving. Only when you look in the rear view mirror you'll notice that the rear window is a little further away than usual. In terms of driving dynamics, for all intents and purposes the Sport Turismo feel identical to the Panamera we already knew. Of course, it's worth going over once again. It's what car journalists do, tell the same story over and over again with a slight twist in the plot. It's a hard job I'm telling you.
I spent two days driving the Panamera Sport Turismo Turbo and E-hybrid in Portugal, where Porsche kindly brought a small group of us so we could get a proper taste of what the car is all about on some of the nicest roads you'll find anywhere. It's also a lot warmer there than Moscow in November, but that goes without saying. I got into an E-Hybrid model first, which may not sound too exciting but with its 330 horsepower turbocharged V6 engine and 136 horsepower electric motor it hardly drives like a Prius. In fact, I submit that by most metrics the E-Hybrid is a more interesting car to test drive than the straight-forward and brutish Panamera Turbo. E-Hybrid is the future, more technically complicated and therefore a showcase for Porsche's engineering prowess. Also, while I'm sure that we'll get used to this sooner rather than later, setting off in fully electric mode very much remains a novel experience.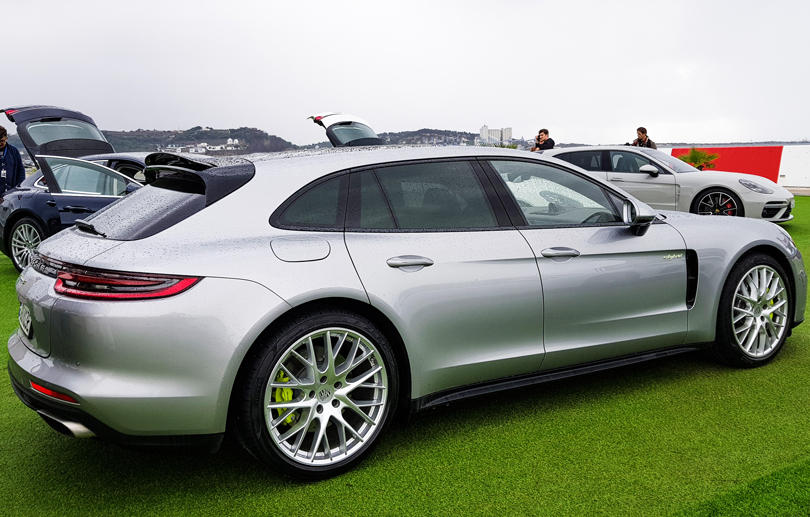 Of course, I'm never able to drive a Porsche for very long before switching to Sport mode. In Sport, the regular V6 engine is on all the time and the electrics are there to increase performance as well as efficiency. As with pretty much any new car these days, the "normal" driving mode's sole purpose is to turn in the lowest possible fuel consumption and emissions. That means the gearshifts coming in thick and fast every time the engine exceeds 1500 rpm and the combustion engine switching off completely whenever possible. I realize that many people drive their cars in normal mode, but it never feels right to me no matter what car I'm in. They might as well call it buzz kill mode, it's not there for your entertainment. Sport mode is pretty much what normal mode would be if I designed it. The car still drives very normally, comfortably, but it doesn't lug the engine and shifts at a more sensible 2500 to 3000 RPM depending on the load you're putting on the engine. The throttle is also more sensitive, so the car feels like it actually likes going forwards. Press the accelerator pedal down a bit further and the sublime 8-speed dual-clutch "PDK" gearbox will drop a few gears nearly instantly and the combined 460 or so horsepower starts to push you along very nicely indeed.
That's not to say that the Panamera 4 E-Hybrid ever feels particularly quick. It may have a good 20 horsepower more on paper than the 440 horsepower 4S but in reality I remember that one feeling quite a bit friskier. Batteries and motors do add weight, and depending on the level of charge I guess you may not get the maximum rated power from the electric system at all times. On the other hand, I suppose you can call the E-Hybrid Panamera deceptively quick as it does get up to very big numbers sooner than you'd expect. It just does everything so smoothly that it doesn't blow you away. It would probably be easy for engineers to just let the electric motors give you a big shove in the back before the single turbo on the V6 engine has fully spooled up, but that would be too primitive a way to do things. Instead, they must have spent thousands upon thousands of man hours on calibrating all the onboard systems, resulting in a delicate dance between the V6 and the electrics. You can't tell what the ingredients are when you drive it, you just get the unique taste of a finished product. I don't think anyone has done it better thus far. At the end of the day, the car will do 0 to 100 kilometers per hour in 4.6 seconds which is still very very fast even in the year 2017.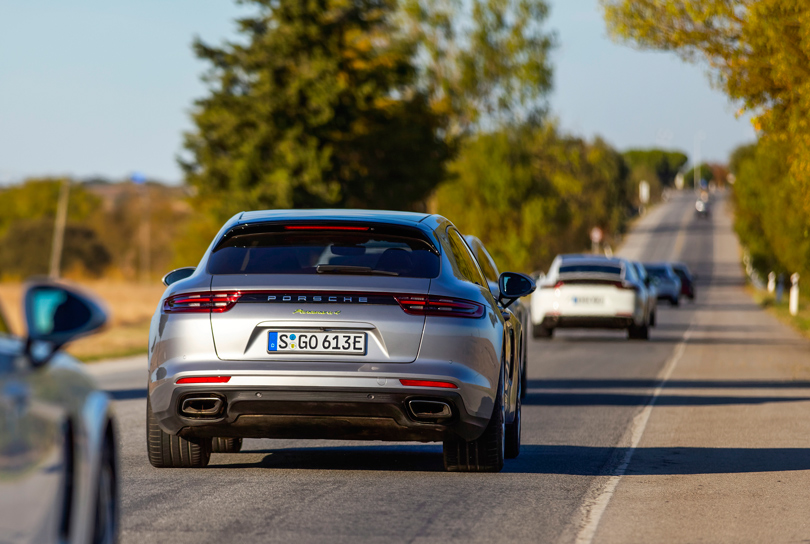 If you want silly fast, of course Porsche is happy to oblige you with the Panamera Sport Turismo Turbo which will reach 100 km/h in a scarcely believable 3.6 seconds. A spacious, almost statesmanlike car like the Sport Turismo putting down these kind of acceleration numbers is ludicrous, but you have to love it. A 4 liter twin-turbocharged V8 engine producing 550 horsepower is the party responsible for all this ferocity, but even so it goes about doing its job in a decidedly more calculated way than the old 4.8 V8 in the old Panamera Turbo. The new engine's exhaust note is pretty sporty, but does sound slightly manufactured. It sometimes seems like the car is a little bit shy about the sounds coming out of its four generously sized exhaust outlets. I'm sure going for the optional sports exhaust would go a long way towards making the car a little more extraverted, if your mental age is low enough to want that kind of thing of course.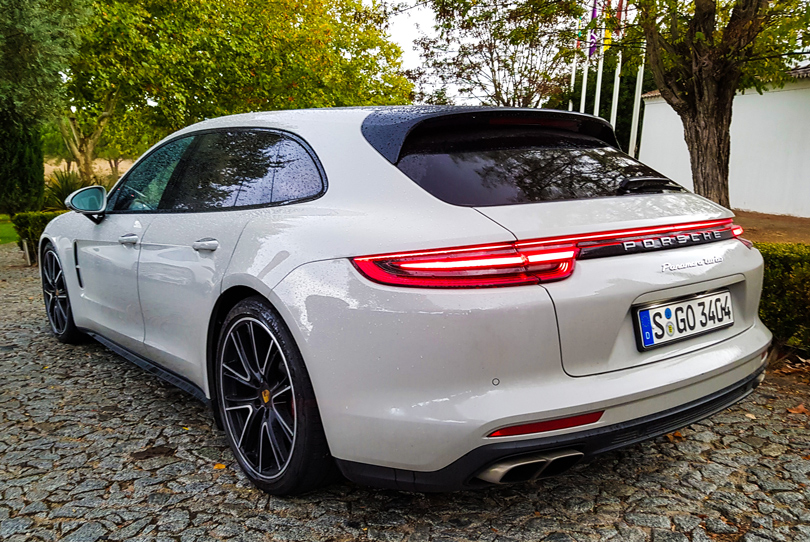 While the Turbo is not, in fact, the most powerful Panamera, I think it's the one you should be getting if you want to go fast. Yes, there is a 680 horsepower Turbo E-Hybrid, but the extra power comes purely from the same electric motor as we found in the 4 E-Hybrid. And it is a full three hundred and fifteen kilograms heavier than the non-hybrid Turbo. That's like the difference between driving the car alone or with three other passengers in it. Believe me, you'll feel the difference. It also explains why the 680 horsepower Turbo S E-Hybrid is barely 2 tenths of a second faster to 100 kilometers per hour than the 550 horsepower Turbo , but the weight penalty will be felt even harder should you want to chuck the car into a corner. It may not give you the same bragging factor as the top model, but in my opinion the cleverest buyers will go for the Turbo as it's simply a more dynamic car. That having been said, with my own money I'd find it harder to resist the even lower spec'd 4S. The 440 horsepower V6 in that has a lovely engine note to it, and a real urgency as it goes through the gears at full throttle. It really doesn't feel that much slower than the Turbo, and it's even lighter still by another 125 kilograms. And less weight equals more fun, just ask a 911 GT3 RS.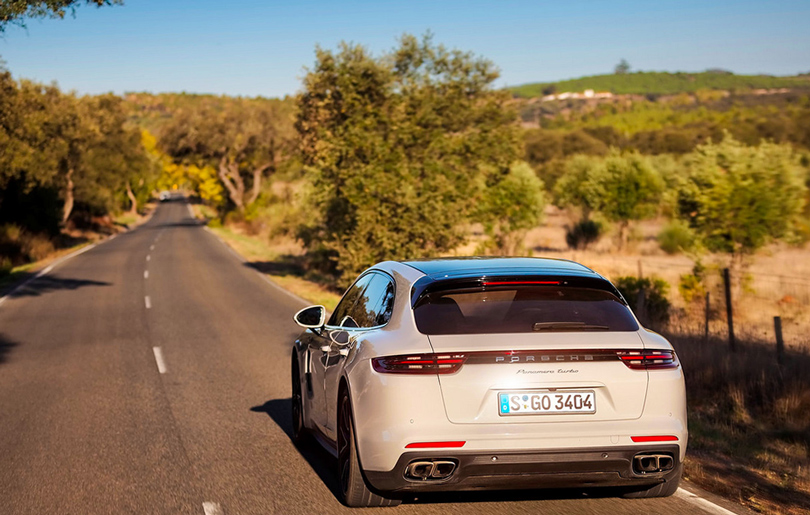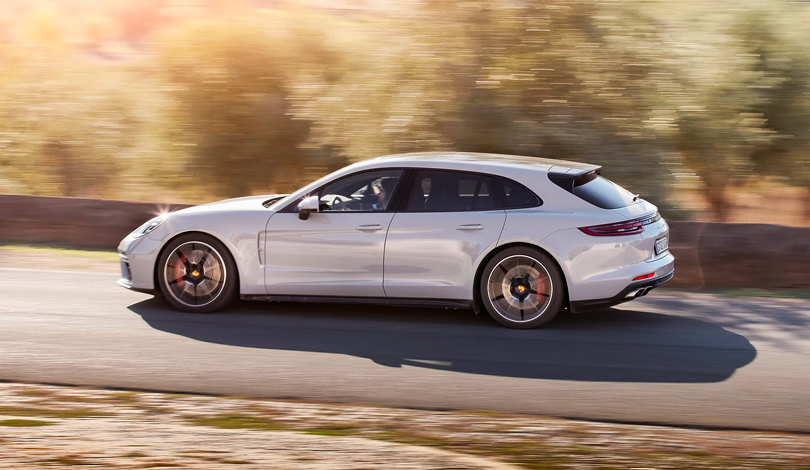 Sitting inside the Panamera Sport Turismo, it's hard to think of something I'd like to change. Well, perhaps the new and very shiny touch panel on the center console. You just can't touch it without leaving greasy fingerprints, and I still struggle to find the right buttons quickly while driving. But it looks fabulous, so there's that. The infotainment screen is brilliant and intuitive, and it almost feels like a living creature due to the fact it detects when you're about to touch the screen and pops out a small menu right before you finger actually makes contact. Everything is put together solidly, and the materials feel expensive. The seats are sufficiently soft while also being supportive, which is a good thing because a Panamera can produce very significant G forces if you decide to try and find out how much grip the front end of the car has. Spoiler: it has a lot. We're used to large cars having a front axle that likes to push wide in corners, especially those primarily designed for long distance comfort, but the Panamera actually behaves much more like a sports car on the road if you treat it like one. The front end follows every steering input and has total authority over the rear of the car. It may be the only car on the planet that weighs two tons but still puts a large grin on your face on tiny twisty roads.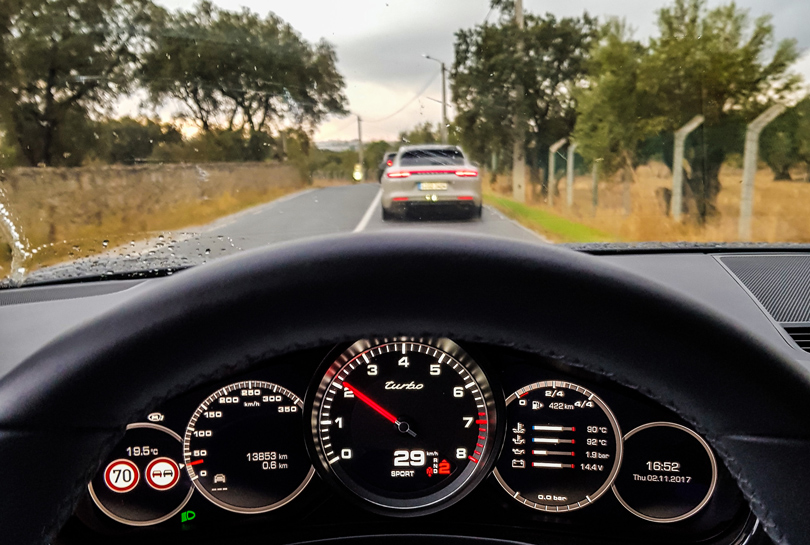 And therein lies the car's true brilliance, for me at least. We already realized this last year, but somehow the Panamera manages to be entirely comfortable and yet devastatingly capable at going fast both around corners or in a straight line. There just doesn't seem to be a big tradeoff anywhere. If there is an ounce of sporty driver in you, you'd want your "normal" road car to feel like the Panamera does. That the Sport Turismo looks gorgeous is the icing on the top. Genuinely the hardest thing about reviewing a car like this is finding a few little flaws so at least it doesn't seem like you're writing an advert. With that, I probably failed. The Panamera Sport Turismo is essentially in a class of one, mocking anyone who used to bring up the old Panamera as proof that not everything Porsche touches turns into gold. Damned if I know what to use next.