In this day and age,
being different can be a real challenge. Particularly if you're a car manufacturer aiming for some of the market space dominated by German firms. Enter Sweden, the country which gave us ABBA, meatballs, and furniture which arrives in the form of a giant puzzle.
Sweden used to be famous for two car brands of course, Volvo and Saab, but unfortunately the latter has gone the way of the Dodo bird. My very first car was a Saab. My second a Volvo. The Saab I rolled into a ditch, the Volvo I didn't. It would seem that my own car history is strangely aligned with Sweden's automotive success. Still, everyone who loves cars is still pretty sad about what happened to Saab. They made such wonderfully weird cars until they were completely ruined, in humiliating fashion, by General Motors. It's a fact of life that smaller car manufacturers simply cannot compete against giants, but clearly to be successful you need to be owned by the right giant. One which understands the need to retain the individual character of the daughter brands.
Если помните, другой американский гигант под названием Ford выкупил в 1999-м примерно за 6 с половиной миллиардов долларов Volvo. И хотя это было не так , как в случае с General Motors и Saab, проблемы тоже возникали. Новые модели Volvo стали выпускать на платформе Ford. Некоторые из них — с фордовскими моторами. Все начали использовать фордовские детали… где только возможно. Когда и этого показалось мало, то Ford взял лучший вольвовский мотор и поставил его на свой Focus RS. Корпоративная Америка, похоже, так и не поняла, что привлекательность и характер бренда определяются не только бейджиком и парой дизайнерских черт. Ford в итоге продал Volvo китайскому гиганту Geely с большими убытками. Поначалу фанаты Volvo чуть ли не паниковали — это звучало не особо престижно — попасть в собственность китайской компании. Но на деле получилось, что это было супер правильное решение. Теперь Volvo имеет доступ к огромным капиталам на исследования и разработки и вновь занимается своим делом — строит настоящие (!) шведские машины.
Volvo, the larger Swedish automaker, was initially bought by that other American giant, Ford, in 1999 for about 6 and a half billion dollars. While they weren't quite as bad as General Motors had been for Saab, some of the same problems ensued. New Volvo models were built on Ford platforms. Some of them got Ford engines. All of them were starting to use Ford parts whenever possible. To add insult to injury, Ford actually took Volvo's best engine and used it in its own Focus RS. What corporate America never really seemed to grasp was that a brand's appeal and character are determined by more than just a badge and a few design features. Although Volvo was at least spared the humiliation of selling American cars with a Swedish badge, Ford eventually sold Volvo to Chinese giant Geely at a huge loss. While it might not sound particularly fashionable to be owned by a Chinese company, it seems to be a great match so far. Volvo now has access to huge capital for R&D, and is doing its own thing again which is making genuinely Swedish cars. Except you don't need to build them yourself on your living room floor, which is a plus.
The new 2015 model year XC90 was the first fully new car by Volvo post-Ford, and it was universally applauded for its outstanding design and practicality. I personally think it's rather pretty as well, but it's still an SUV so you can't really expect me to say much about it. The newly introduced Volvo S90 however, is a different matter. A large family sedan intends to compete, modestly, with the likes of Mercedes' E-class and BMW's 5 series. For people who are looking for something a bit more niche, the new S90 and upcoming V90 models could be looking mighty attractive.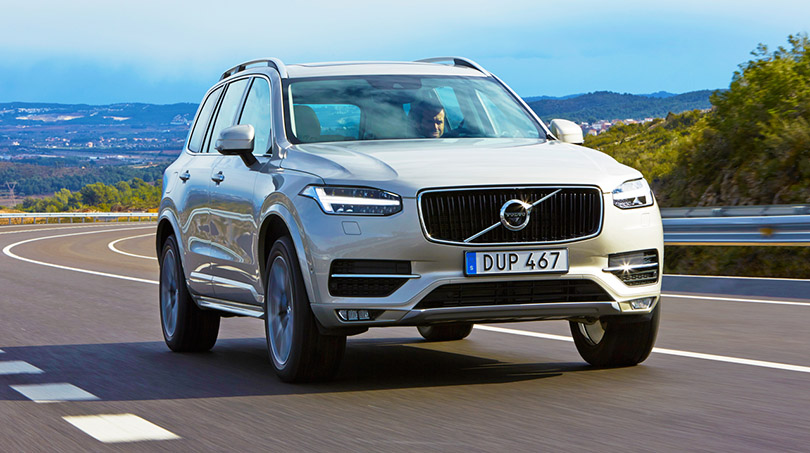 The new XC90 introduced earlier this year marks the start of a new era for Volvo
Like the rest of the car market, downsizing engines and aiming for higher efficiency is the order of the day here. Volvo has been at the forefront of building more environmentally friendly cars for a long time, since long before it became popular actually, and you can clearly see the results of that in the S90. The top model will be the plug-in hybrid T8 which combines a turbocharged 4-cylinder engine with an electric motor to deliver around 400 horsepower and very low emissions. As a plug-in Hybrid, you can charge the batteries while the car is standing in your garage to reduce regular fuel consumption and emissions. It has the usual benefits of using electric motors for performance, huge torque and instant response, to compensate for any small delay in the turbocharged engine. It's not going to set a racetrack on fire, but for daily use in the real world it's a wonderful powertrain. Below the T8 there will be a number of 4-cylinder turbocharged engine variants, both diesel and gasoline, depending on how much power or how little fuel consumption you'd like to have. These are all brand new and developed in house by Volvo themselves which is great to see.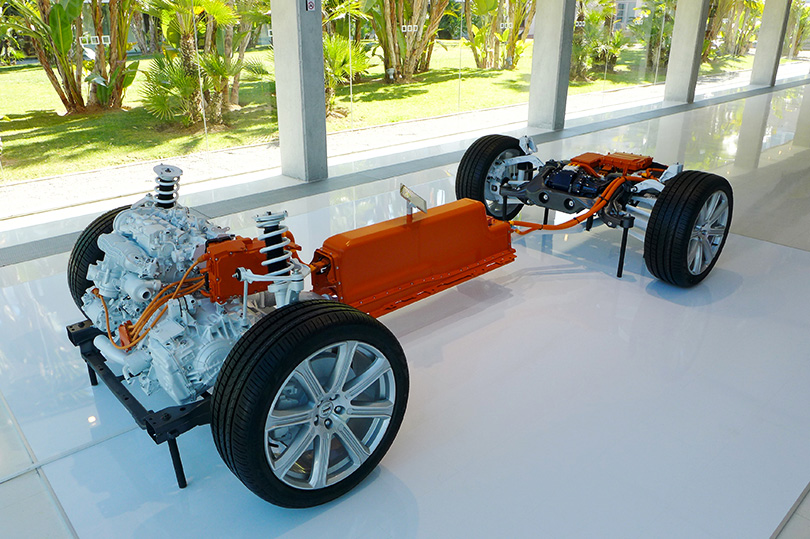 The T8 hybrid powertrain as it is found in the XC90 and S90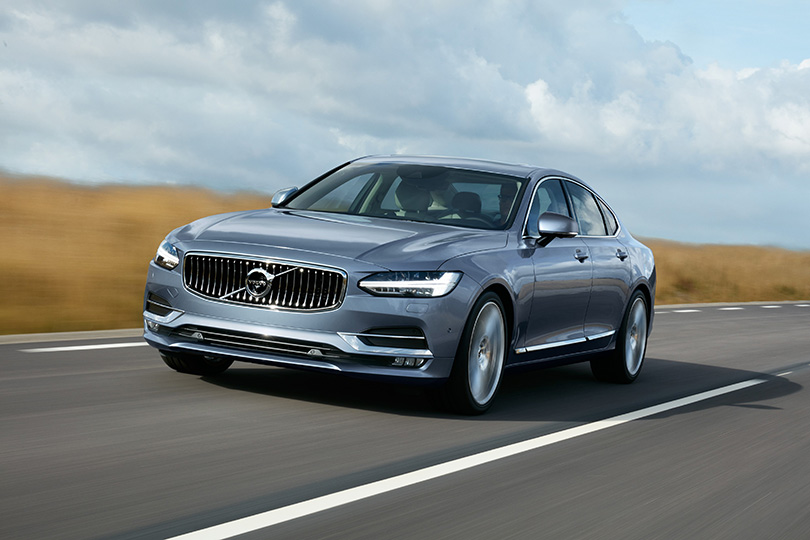 Official pictures of the new Volvo S90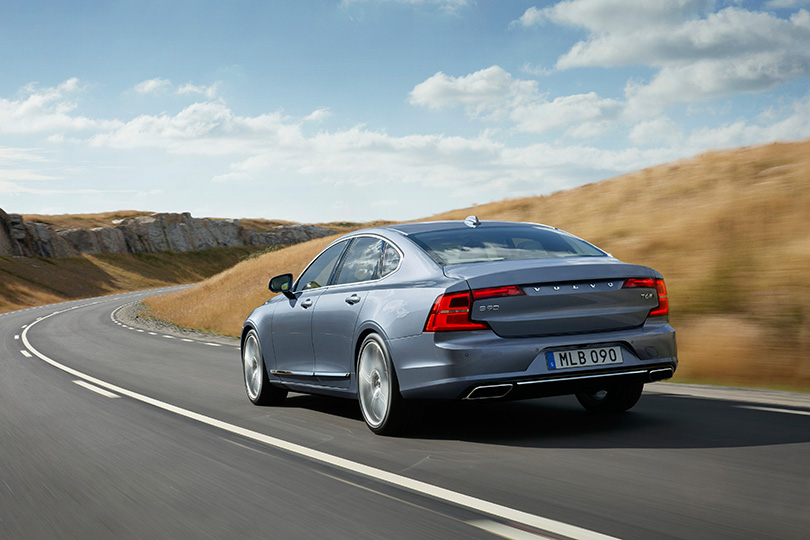 It's not yet certain whether there will be a hotter «Polestar» version of the S90, but all signs point to yes. Polestar used to be a racing team which ran Volvos in the Swedish Touring Car Championship, but it later built some special upgrades versions for Volvo and was eventually bought and now serves as Volvo's performance devision. Some of you will probably remember seeing the very bright blue Volvo S60 Polestar featured in automotive publications. The only problem I ever had with that car is that it went on a world tour to wow journalists but it was never built. The «Polestar» version which made it into production was a mostly standard car with slightly better brakes and suspension and a modest power upgrade. Not the 500 horsepower monster which the press got everyone excited about.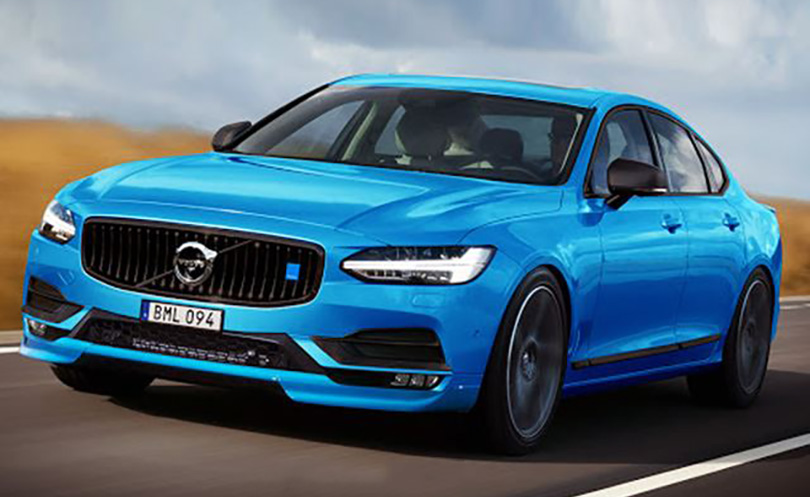 Rendered image of what a possible S90 polestar will probably look like
I have very fond memories of my own Volvo 850 T-5R, many years ago when 240 horsepower was still a lot of power and a milky yellow coloured Volvo was an awesome sight. Of course my old T-5R's 240 horsepower soon turned into 300 and eventually reached nearly 450. Things got a little silly in the end with roll cages and slick tires, but it remains the most fun I've ever had with a car on a racetrack. So I get a little sad when Volvo refuses to build a properly insane performance version of its cars. The way I see it, it's good marketing to have unnecessarily fast models even if hardly anyone actually buys them. And take them racing like Volvo did in the mid-1990s in the British Touring cars. Even twenty years later everybody still remembers 850 estate cars going through corners on two wheels.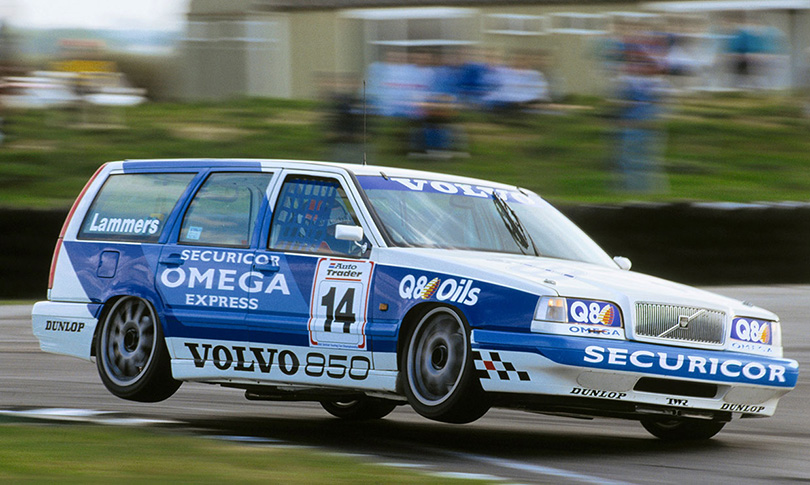 The golden age
At this point you could accuse me of missing the point somewhat, and you'd be right of course. Only an idiot could look at a new Volvo, designed for your wife to drive the kids to soccer practice in total safety and comfort, and think «let's paint it in an offensive colour and make it go fast!». Guilty as charged, my mind just tends to wonder in that direction all by itself. I'll dig deep to get to my sensible side which is usually neglected. One thing which Volvo has always excelled at is making cars which are ergonomically brilliant. The Swedes really like to think about how you're going to use a particular feature rather than just stick it on and leave you to figure it out. Human intuition is an important part of Volvo's design philosophy. It has to be pretty and easy to use, not one or the other. I guess that's what makes IKEA stuff as popular as it is, too.
And Volvo has always made some of the most comfortable car seats I've ever sat in. Which is something that is too often overlooked really. The car seat is where you sit all the time, if your backside is telling you to get out after an hour that's no good. Volvo was also the first to design the seat's head rest in such a way that it prevents whiplash in the event of a car hitting you in the back. The solution to this problem, naturally, was perfectly simple. But it took someone to think about it and actually put into production. In fact, many safety features which are now standard in every car were pioneered by Volvo — even things as simple as seat belts. Let's face it, people do like to get home alive after driving a car and the Swedes put a massive amount of research into making it happen.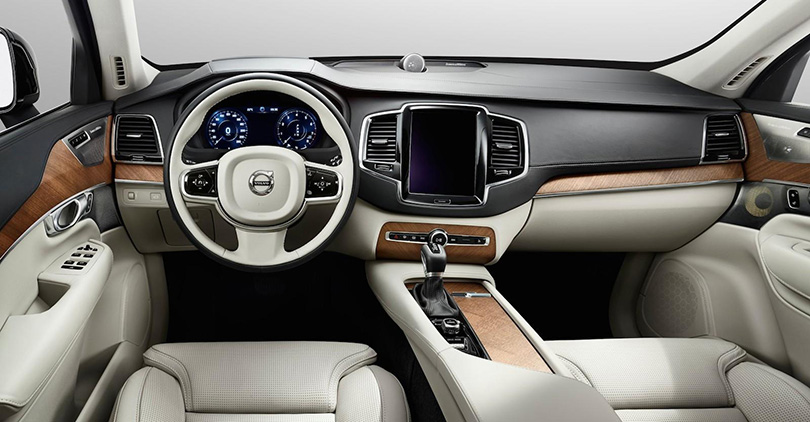 On the interior side, the newest Volvos all get a touchscreen interface and Apple's CarPlay software is running in the background. The multi-functional nature of touch screens has helped designers to clean up the interiors cars which were previously littered with all kinds of buttons and knobs, but it has been difficult to make it as user friendly and intuitive as people would like. It can be quite infuriating when you get into a new car and can't figure out how to manually change the radio frequency or enter an address into the GPS. Using the Apple software should really help in that regard, and I'm looking forward to trying it myself. Another development is the change from analog instrument gauges and dials to LCD screens. We've seen this a lot lately in other brands and it's not something that I'm too fond of but I'm sure we'll all get used to it sooner or later. We'll call it progress. On the whole the S90s interior, like the XC90, is a celebration of Scandinavian design. So it should do a pretty good job of keeping you calm when you're stuck in yet another traffic jam.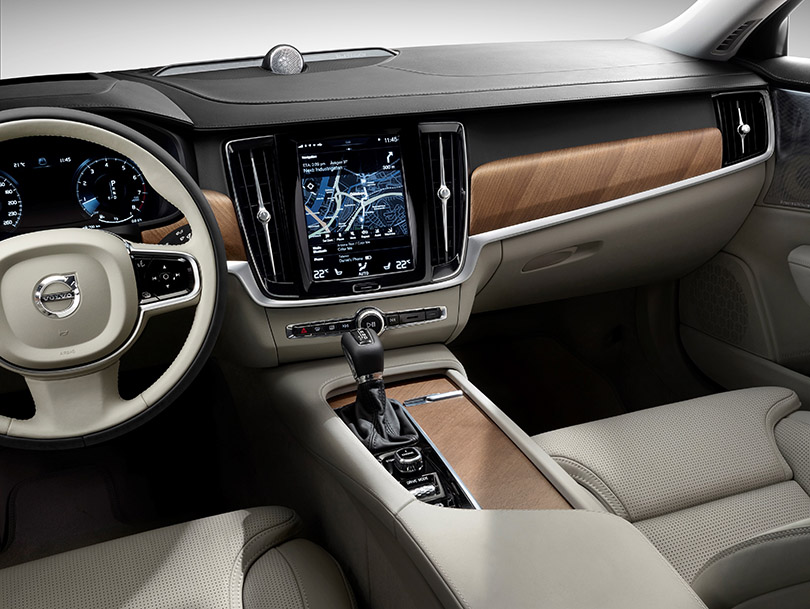 Pretty soon an estate version of the S90 will be introduced as well and it will predictable be called the V90. While I'm not completely sold yet on the design of the rear lights in the S90, I think the V90 pictures which I've seen all look great. There's something about a Volvo estate that just makes sense, particularly if you're not yet of retirement age. In any case, I think it's clear that Volvo has presented buyers with a clear alternative to large German cars with its latest introductions. And I believe in the merits of having more things to choose from. Except maybe for the fact that, when the «alternative» choice is this good, choosing becomes rather difficult. There are certainly worse ways to stand out from the crowd, that's for sure.