The greatness of a car's design
is difficult to measure, except perhaps in terms of longevity. Using that metric, the Mini has to be one of the best automotive designs in history. It appears to be impossible to improve upon.
In terms of appearance, the original Mini barely changed from its inception in 1959 until it was re-invented by new owners BMW in the year 2000. Even then, all they really had to do was make everything bigger. The overall look remained unmistakable for anything but a Mini. Even the New Mini, as we now know it, has seen very little change in the last 15 years compared to pretty much any other car. Even half a century after it was drawn it still appears to have eternal youth. If there is an ageing Mini somewhere, it's probably inside a painting hanging in an attic somewhere in Northern England.
It's safe to assume that nobody expected the Mini to become quite as iconic as it has when they first put it into production. They were simply building an affordable small car that had enough space for family use, its biggest innovation being the use of front wheel drive to save space inside the cabin. Anyone who has seen an original mini up close, never mind tried to sit in one, must surely wonder if everyone was midget-sized in the 1950s. I suppose that the perception of «minimum comfort» has changed somewhat since then. But even back then, the Mini was hardly an exciting car. That changed, however, when the Cooper Car Company became involved.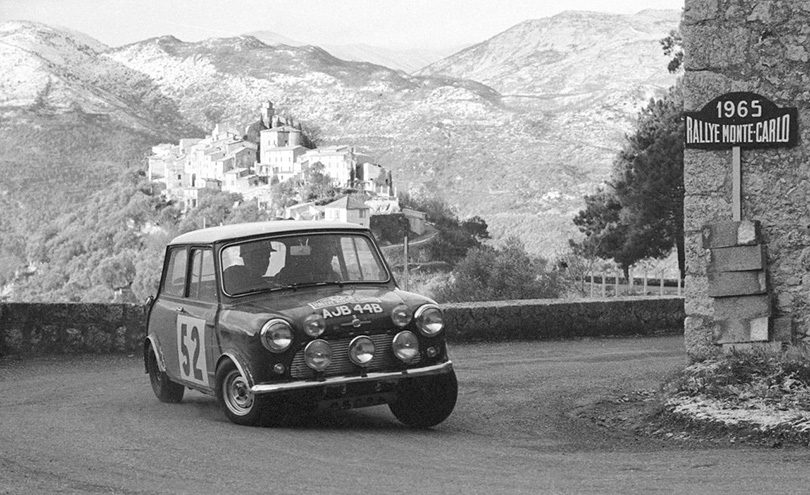 The Cooper family ran a small garage that specialised in building racing cars. Son John Cooper entered the family business after the war and the company built single seater racing cars, often using retired military hardware. The Cooper Car Company was responsible for creating a high performance version of the Mini, thus creating the Mini Cooper and Cooper «S». The cars were loved by everyone from rally drivers to track racers and they won just about every competition that it could enter at the time, including the Rally of Monte Carlo three times. It would have been four wins, but when Minis finished first, second and third in 1966 they were controversially disqualified on a technicality concerning the headlight bulbs. The dominance which the Mini enjoyed in the 1960s probably went a long way towards cementing its place in history as one of the greatest cars ever built.
It's easy to understand then, why BMW also licensed the Cooper name when it took over Mini. John Cooper and his son also had advisory roles during the development of the New Mini — which certainly adds authenticity to the New Mini Coopers. It also explains the «JCW» part of the car I am reviewing today — it stands for John Cooper Works. A homage of sorts to the original creator of fast Minis, a badge which is only stuck on the fastest model of all. At this point in time, that means the Mini JCW gets a 2-liter turbocharged engine which produces 230 horsepower. This would have seemed quite a lot of power back in 1961 when the first Mini Cooper was introduced, packing a while 55 horsepower. But that was a time when the regular Minis had to make do with only 34 horsepower. These days, of course, 230 horsepower doesn't sound quite as impressive — but you need to keep in mind that the Mini remains a small car by modern standards. It doesn't weigh that much, so the performance numbers are rather impressive. It'll reach 100 km/h in 6 and a bit seconds — not that long ago this would have been super car territory.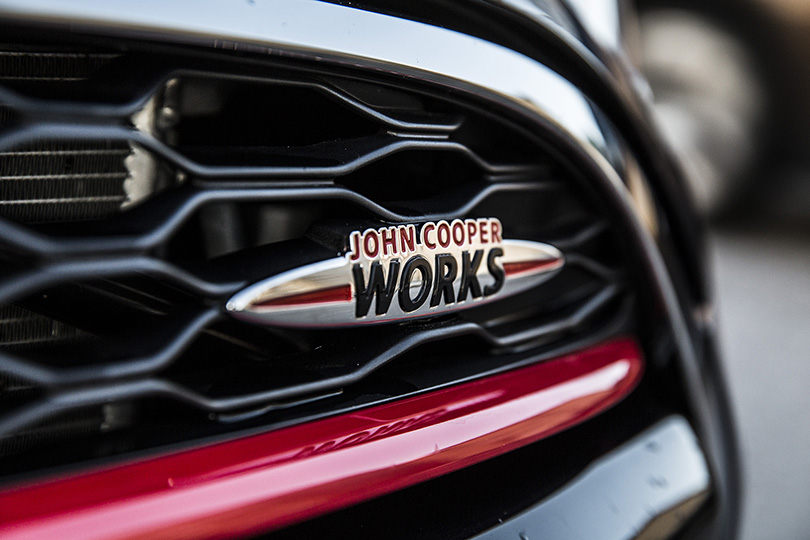 I drove the car with an automatic transmission, which is faster and more suitable to Moscow-like cities than the manual gearbox but probably not as much fun. The turbocharged motor responds very quickly to your right foot and the gearbox shifts quickly and crisply. But I still wished for a manual gearbox at the end of the day, so I'd get that. Driving the Mini JCW feels like a bit like riding a huge bumble bee which has recently ingested copious amounts of Red Bull. It's just a really energetic experience, but I feel an automatic gearbox does add a small element of laziness to it. So give your left leg something to do and buy the manual version. Otherwise it probably makes more sense for you to just get one the less powerful and more sedate models.
The Mini JCW does not come with particularly wide or sticky tires from the factory, but I still felt it handled like a long haired cat on a velcro carpet. It's very difficult to unstick. But having driven older versions of the Mini in the past, I do feel that there is now an added level of comfort to the cars and the steering feels less hyperactive. That's not a negative, it just feels more accomplished and balanced to me. The older cars were also great fun on a tiny road full of hair pin corners, but were rather tiring to use on the highway. This latest incarnation seems to have kept all the fun but taken some off the rough edges off. When you put the car in sport mode, the exhaust comes alive and starts popping and banging when you take your foot off the accelerator. It's mean in a cute kind of way.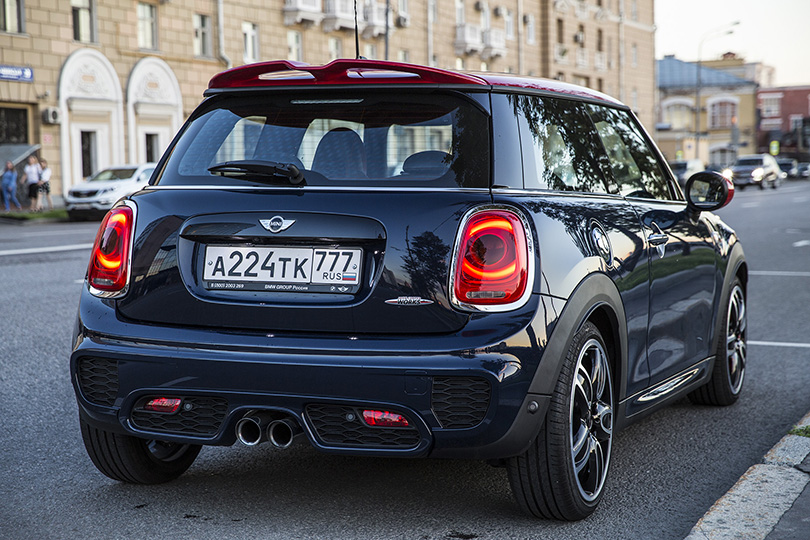 The interior is very much the same story except for one big change: the New Mini had traditionally featured a rather hip central speedometer that was set in the centre console next to the steering wheel. It was a nice design feature, but it did occupy all the space that modern cars usually use for the navigation and entertainment screen. So for practical reasons, the gauge cluster which shows speed, RPM and fuel level has been moved into the traditional position behind the steering wheel. The huge round display in the centre console remains a key interior design feature of the car, but it's now used for the above mentioned infotainment and navigation systems. It also has a jukebox-y ring of light around it that changes colours based on all kinds of variables. It' a nice touch.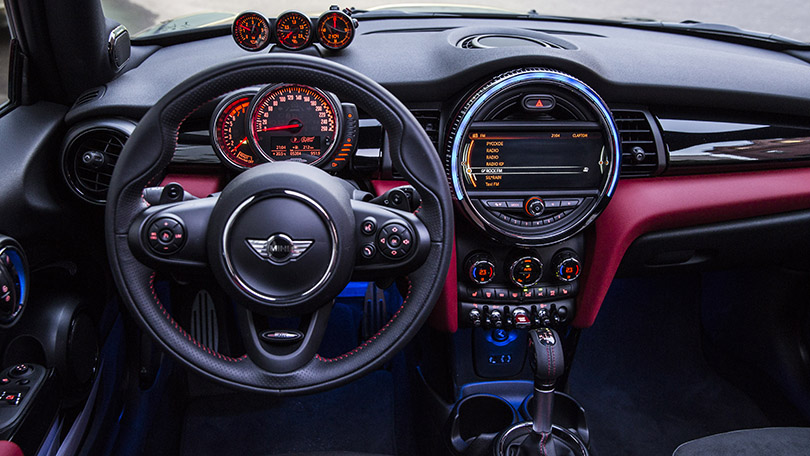 I do wish they had found a way to keep the RPM counter a bit more visible than it currently is. I found it nearly impossible to keep an eye on during full acceleration, which obviously isn't an issue with an automatic gearbox but with a manual I would have been going by engine sound alone to judge when to shift gears. Speaking of engine sound, it's pretty good for a 4-cylinder engine. Most importantly, the BMW 2-litre engine still sounds very much like the Cooper S engines we've been used to. Very distinct and very naughty, too. Perhaps I miss the wail of the old supercharged engines a bit, but the new one is still better in every other aspect.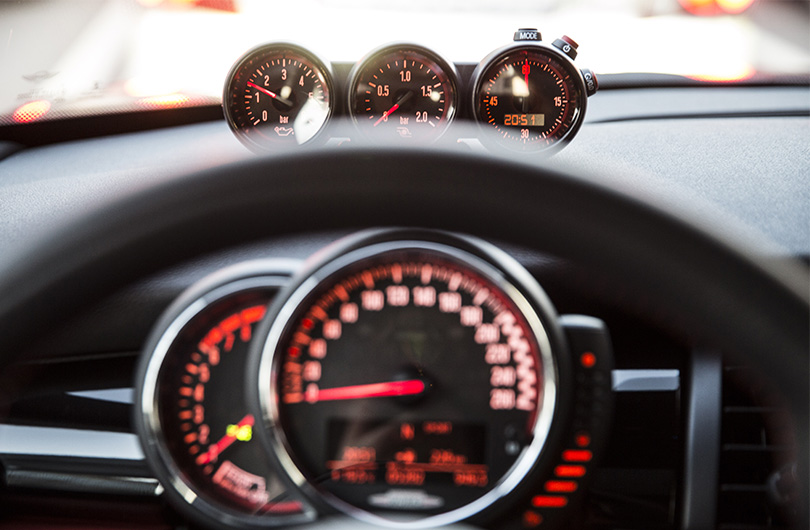 On top of the dashboard and right in front of the driver the Mini JCW also has 3 extra sporty gauges showing the turbo boost pressure, oil pressure and a stopwatch presumably for your lap timing. I can't imagine anyone boiling an egg inside the car so it's probably not for that and I couldn't think of anything else. As much as I liked the fact that these gauges were there, adding a great sporty touch, they did turn out to be completely useless. I couldn't even reach the buttons on the stopwatch while driving, but then I do have long legs so I sit quite far back. The Turbo boost gauge goes all the way up to 2 bar, which seems ambitious, but never really exceeded 0,8 bar so the scale made it look like the turbo couldn't really be bothered to do much. Weird. I still liked them though, because I'm just a kid trapped in a man's body.
The interior as a whole though is simply exceptionally nice for a car of this size. It all feels premium, sporty and above all special. The sporty JCW seats are supportive, comfortable and look cool. Everything you touch in the interior feels premium, and I love the switches which are excessively analog. In an era full of touch screens and futile attempts to interact via voice recognition with the stubborn electronic woman who lives in your car's dashboard, I just love flipping a huge toggle switch.
Doing things differently, and being successful at it, is very difficult. But it's what the Mini has been doing since forever, and it's still doing it today. It's not about being trendy or hip, those things are superficial and change like the wind. It's about offering a unique approach that works, allowing you to rise above the grey mass without sacrificing your own comfort or safety. Of course, you'll still get stuck in traffic like the rest of us, so don't take the rising part too literally. It's different, it's happy, it's a Mini. A Mini with 230 horsepower, in fact. Particularly for those who have lived by the «bigger is better» mantra until now: I suggest you give size M a try. It's XS size but XL fun.