It's not like I was ever going to turn down an invitation to drive several new 510 horsepower Mercedes-AMG C 63 S on the famously technical Bilster Berg racetrack in Germany, not even when the timing of the two Lufthansa flights required to get there meant enduring some considerable sleep deprivation. Journalistic duty and all that. But I came away from the event with more than a couple of fun memories — the C 63 changed my mind on quite a number of things.
First things first, what we are looking at here is a mid-cycle refresh or "facelift" of the Mercedes-Benz W205 C-class. Many car manufacturers traditionally update a car's platform halfway through its expected lifecycle, because designing an all new platform takes gigantic amounts of time and money. As technological progress keeps racing ahead, there is an understandable need to update a platform with the latest technology before an completely new car is ready to take over. Anyway, facelifts like these range from merely a couple minor cosmetic updates to a complete overhaul of the car with a ton of new parts. The new C-class falls firmly in the latter category as roughly half the parts it is made of (many thousands) are completely new.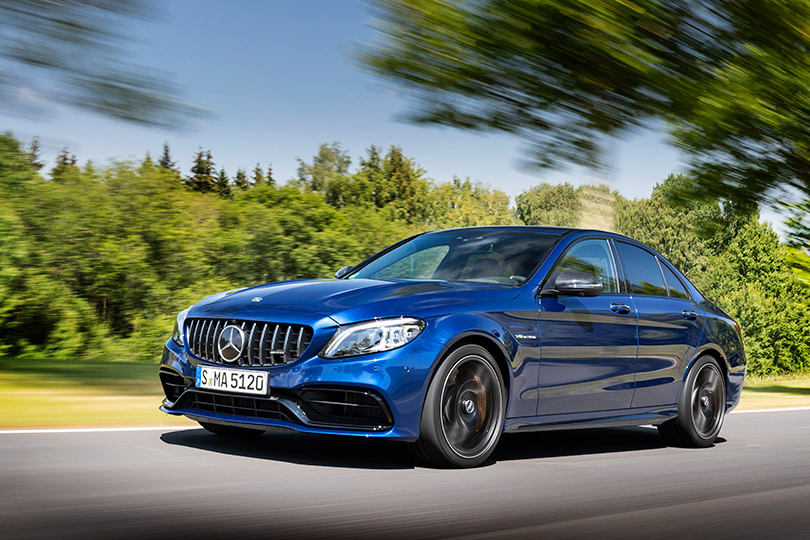 There are some new engines with mild hybridization and the power plants which we already know from the original W205 have received a power upgrade. For the new C 200 all the way to the C 300, there are 4-cylinder turbocharged petrol and diesel engines. The C 43 AMG keeps the 3 liter turbocharged V6 but this time with 390 horsepower and Mercedes' 4Matic all-wheel-drive system as standard. Then, at the top of the range, we have the C 63 AMG with 476 horsepower. Or if that doesn't sound like quite enough poke, Mercedes-AMG will also happily sell you a C 63 S with the full 510 horsepower version of the twin-turbocharged 4 liter V8 which we know quite well from various AMG models already.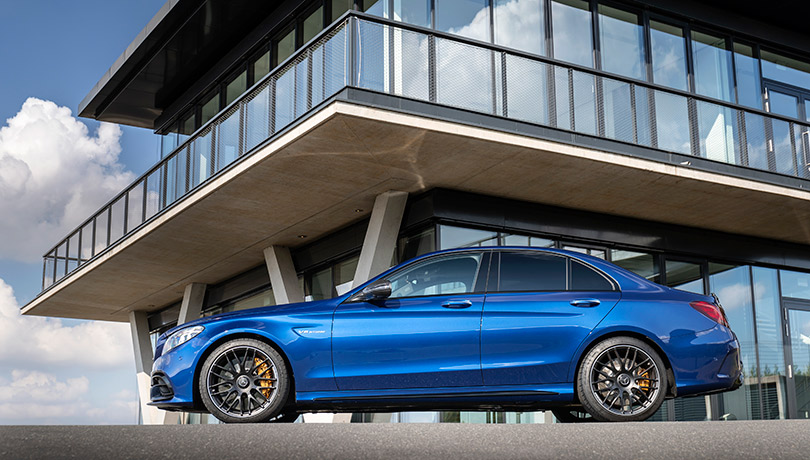 The C 63 has always been something of a favorite of mine in the wide range of cars that AMG is involved with. Back in the day when it had a massive 6.2 litre naturally aspirated V8 especially, it was just a mental engine to put into a mid-size family car like the C-class. Ever stricter environmental regulations meant downsizing the engine a little and force feeding it air via two exhaust-driven turbochargers, but when looking at its most direct European rivals it still has the biggest and baddest engine by some margin. Both BMW's M3/M4 and the RS4/RS5 from Audi have to make do with turbocharged 6-cylinder engines of roughly 3 liters in capacity. Which means that the C 63 immediately leaps ahead on the spec sheets with an extra two cylinders and an extra liter of displacement.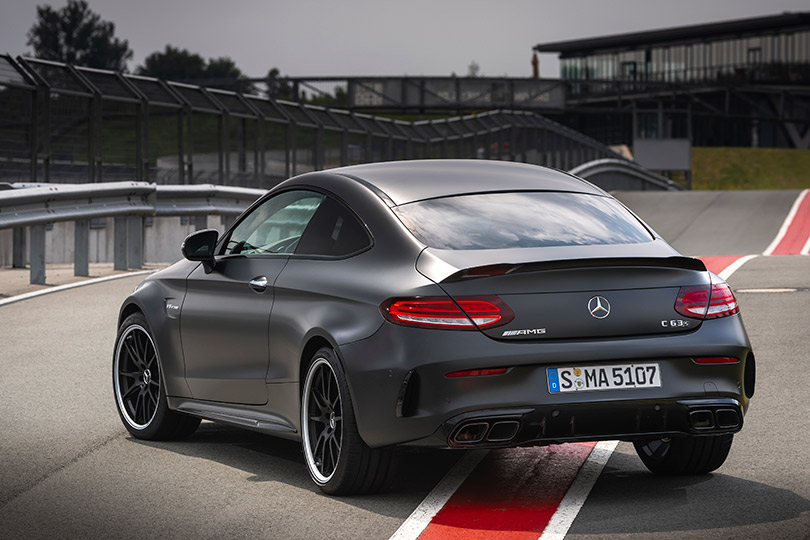 And the one thing where these specs make a real difference is the sound. Where its 6-cylinder rivals manage to sound "not bad" or "pretty good" the C 63 produces a thundering bark on a completely different scale. If sound was the single most important quality that a car should have for you, then you would need to look no further than this V8-powered Mercedes-AMG . And, best of all, it offers you a pretty wide range of sound levels to suit every situation. I like loud cars as much as the next guy, but your neighbors could get a little miffed when you fire up your car at 6 in the morning and it produces a sound which suggest that, if world war three has not yet started, it's certainly about to. The C 63 has no such issue. If you want it to sound powerful but restrained, then only the best trained enthusiast ears will pick up the underlying V8 sound. Put the exhaust in its most aggressive mode, and some people may well head for the bomb shelters. Thankfully, there are several settings in between these two extremes to play with.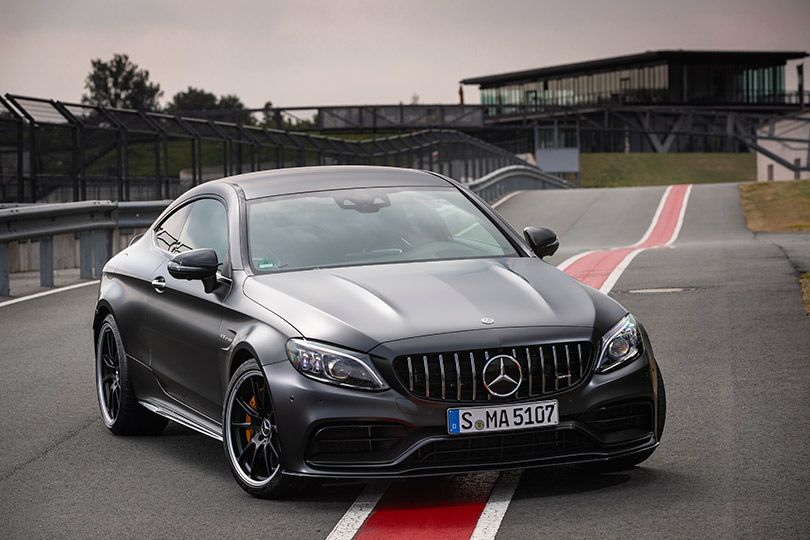 Out on the open road, the hand-built AMG engine is a peach as well. With your right foot pinned to the floor and the revs approaching redline, the sheer power combined with several tonal changes is just sublime. It's also very responsive with nary a hint of turbo lag, certainly the extra displacement and thus lower specific power are helping a lot in this area. But gently passing through a sleepy German village with everything in quiet mode, you're still aware of the beast which lurks under the bonnet. At no point are you ever fooled into thinking that you're driving a car with a normal engine. It's always there, and it makes you feel good.
The rest of the car only amplifies the specialness. The optional sport bucket seats are extremely supportive but still more than comfortable enough for driving very long distances. The flat bottom steering wheel is nice and thick and is a pleasure to hold, though one little critique might be justified regarding the plastic shift paddles. They're made of very good plastic, but metal would really drive home the premium feel. I do apologize for my shift paddle fetish, by the way, I assure you that I'm not actively trying to mention them in each and every car review I write but somehow we always end up here. I suppose this minor gripe is offset anyway by the fact that the rotary dial on the wheel for selecting drive modes and the traction control has a small round LCD screen in the middle of it which is awesome. The rest of the interior is all around great quality and with a sporty but modern edge and the large LCD screens for dashboard and infotainment look as good as ever. A small tidbit that I loved on the dashboard is that it displays both the tire pressure and temperature inside the tire. Which is quite important once you start hammering the tires around corners.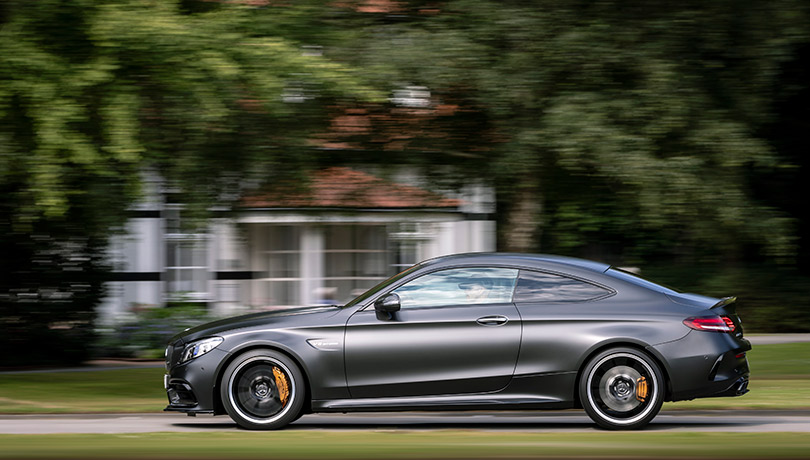 As you would expect, the performance figures are well up there. 0 to 100 km/h takes 4 seconds flat for the C 63 S, with the regular C 63 only a tenth of a second behind. It's a bit funny perhaps that in this day and age a four second 0-100 time doesn't seem exactly earth shattering, but the fact of the matter is that these are rear wheel drive cars and in first gear there is simply no hope to put all that power onto the road without traction control intervention. On the road, where you're more likely to floor the throttle from a certain speed where traction is no longer a limitation, the C 63 feels very, very fast. Top speed hardly matters I suppose, but it's a lot. Both the C 63 sedan and coupe are electronically limited to 290 km/h. Apparently, these electronic speed limitations can even be increased if you ask nicely. And pay some money, most likely.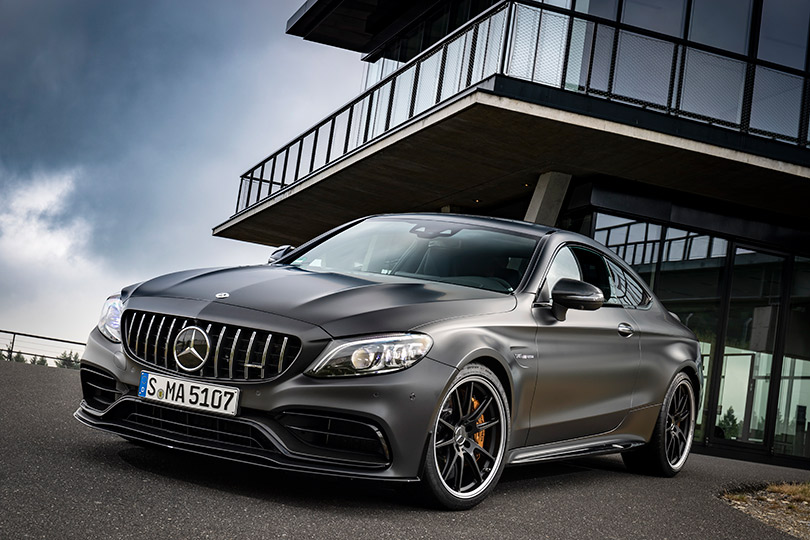 The new 9-speed automatic gearbox, artistically dubbed AMG Speedshift MCT 9G, is also worthy of at least half a paragraph and a couple of adjectives. It doesn't use an old fashioned torque converter anymore, but rather a more clever wet clutch system which is not entirely unlike what Porsche uses in its PDK transmissions. The result is a gearbox that is lighter but also gives a more direct response to the driver, which I personally find really important to get a sporty vibe from a car. It's definitely a big step forward, and one of the best transmissions in the world full stop. On top of this new gearbox, there is also a new electronically controlled rear differential which sends power to whichever wheel has the most grip. Coupled with a nifty new AMG traction control which can be set in 9 different steps from on to fully off, Mercedes-AMG have really pulled out all the stops to give the C 63 the best possible chance of putting its power down.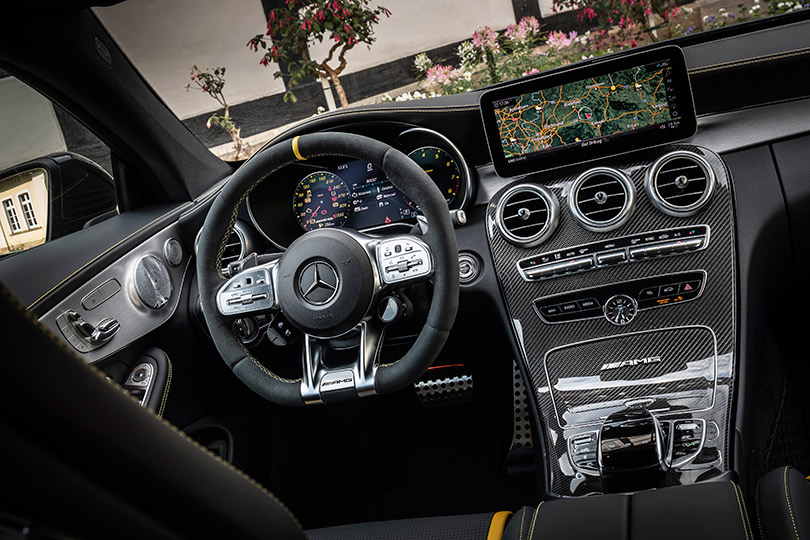 Of course, physics dictate that there is still a limit and especially out of tight second gear corners you need a little bit of finesse and patience to get the best exit speed. Or, what is actually more fun, you put the car's ESP system in SPORT handling mode which allows for a reasonable slip angle before it decides you need a bit of help. Then, you'll find yourself coming out of corners ever so slightly sideways and leaving a bit more rubber behind. There are so many different modes now for the driving assist programs that I'm not going to sum them all up. But some of them have names like "Pro" and "Master" and they can make you feel like a bit of a driving god even if you really aren't.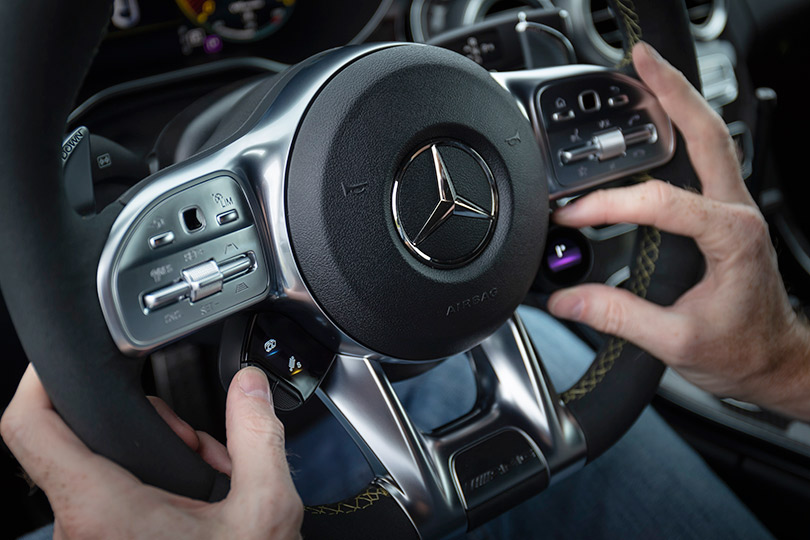 Out on some of Germany's finest flowing back roads, the C 63 S does feel like the king of the road. The suspension is compliant over bumps but stiff and confidence inspiring when you feel like nailing the throttle through some faster corners. I don't think I could have more fun driving regular roads in any other car of this class, to tell you the truth. The brakes are great too and easy to modulate, and you'd certainly not expect them to ever fade in real life. Only when you deploy two dozen automotive journalists and have them drive around a very technical racetrack on a hot summer's day will the brake pedal start to feel a little softer.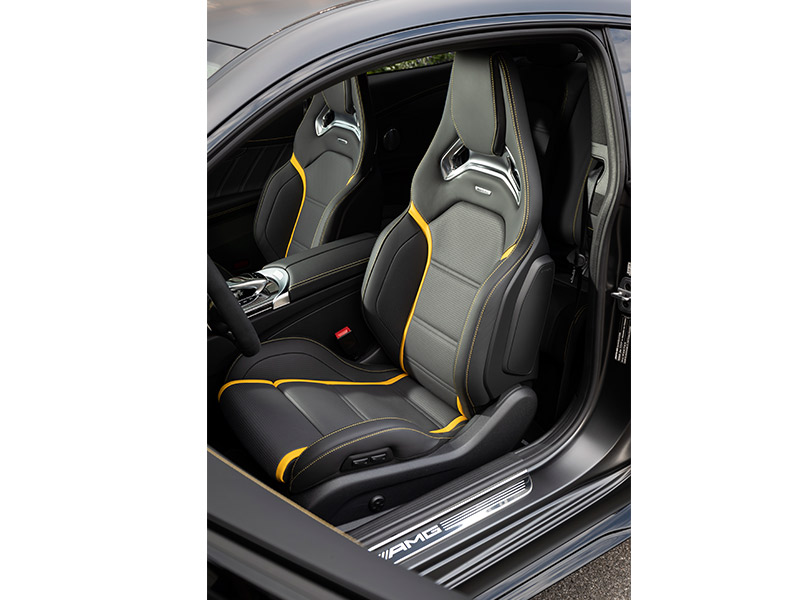 That was fun, by the way. The Bilster Berg track is a succession of slow to medium corners, many of them unsighted over some pretty high hills. The only flat piece of track is the main straight past the pit lane, and even that has a good bend in it before you get to turn one. It feels like it was designed to test any car's suspension and brake setup to the limit, so the fact that it was chosen to let journalists test the new C 63 S AMG here speaks volumes about Mercedes-AMG's confidence in the car. We got to drive C 63 S in both 4-door sedan and coupe shape, and when switching between the two cars it was definitely noticeable that the coupe was, predictably, the sharper driving car of the two. The difference wasn't massive, but if the sedan was a 9/10 for sportiness on track, the coupe was definitely a 9.5/10.
Of course, these are obviously not track focused cars and very few buyers will ever subject them to the kind of abuse they received in this day. But the fact that they are capable, very capable in fact, is a statement of intent and part of Mercedes-AMG's direction in recent years towards cars that are ever mode dynamic as opposed to merely being fast in a straight line. It's all there now. Steering precision, feedback, change of direction, balance, you name it. Unfortunately I had forgotten to pack my own GoPro cameras, so the only footage I have was made with my smartphone jammed under one of the rear head rests.
The new C 63 S AMG is one of those rare cars where it is a genuine struggle to try and not sound like an advert. Before I drove it, I had never really considered myself an AMG man. I came of age as a car enthusiast in an era where AMG did not compare to BMW M and Audi RS in the same way as it does today, and perceptions need some time to adjust. After two days with the C63 though, I don't think I would need anything else as a daily car. Not an E 63 either, as the C class is the right size for my taste and its rear-wheel drive layout with the new clever differential is just so much fun. That's a plot twist that I definitely did not see coming.