The thing that excites me the least about car shows, generally, are concept cars. The wild looking ones, especially. I can never really see the point of them, because they don't have to face the same realities that production cars do. So if I'm never going to drive that car, why get excited about it. That said, I've always wondered about what it would be like if a concept car was plucked off its rotating stand and dropped into real life with no obvious changes. As it turns out, Lexus have done pretty much exactly that with their LC 500.
To be fair, it has taken them a little while. The LF-LC concept was first shown way back in 2012, so if you think the LC 500 looks futuristic now, imagine how we felt about it more than six years ago. This is the most concept-looking car we've seen on sale since BMW did the i8, a car which unfortunately never made it very far past gimmick status. The Lexus LC 500, I think, will not suffer the same fate. While its looks could easily land it an exotic car role in a sci-fi movie, the center piece of the LC 500 is its gloriously old fashioned 471 horsepower 5 liter V8 engine. There is no hybrid electric system, nor are there any turbochargers. Far from being a computer on wheels, the LC 500 feels old school. Blessed mother of internal combustion be praised!
Even when we go beyond the question of whether or not it looks pretty, it's difficult to stop talking about the looks of this car altogether. Which is why I'm still going on about it for the third paragraph in a row now. People who could not care less about cars in general will stop in their tracks and gaze at this thing. It would struggle to draw more attention to itself if it were an actual space ship with actual extraterrestrials in it. It's clear that the design has been inspired at least in part by the legendary Lexus LFA supercar, but other than that they have been very successful at making it look like no other car that is on sale today. And for that alone we should all be thanking Lexus from the bottom of our hearts. Of course, unless you have a particularly large living room where an LC 500 could very well serve an ornamental purpose, a lot obviously depends on how this car drives.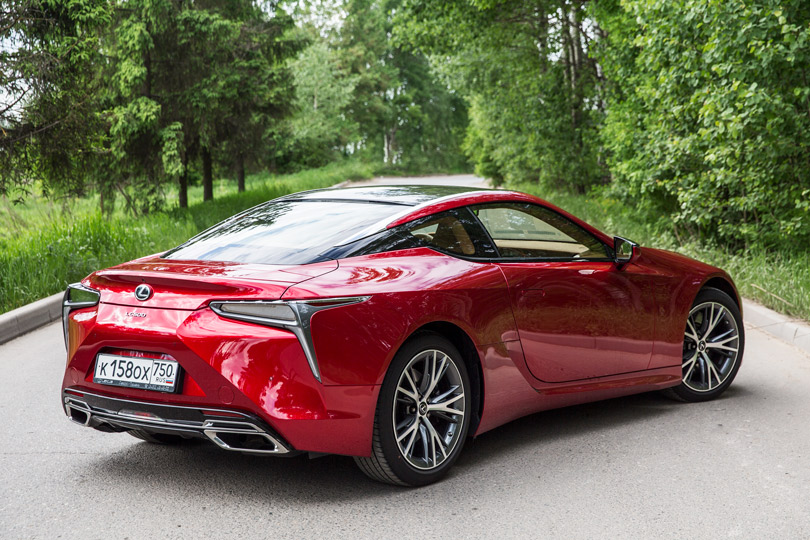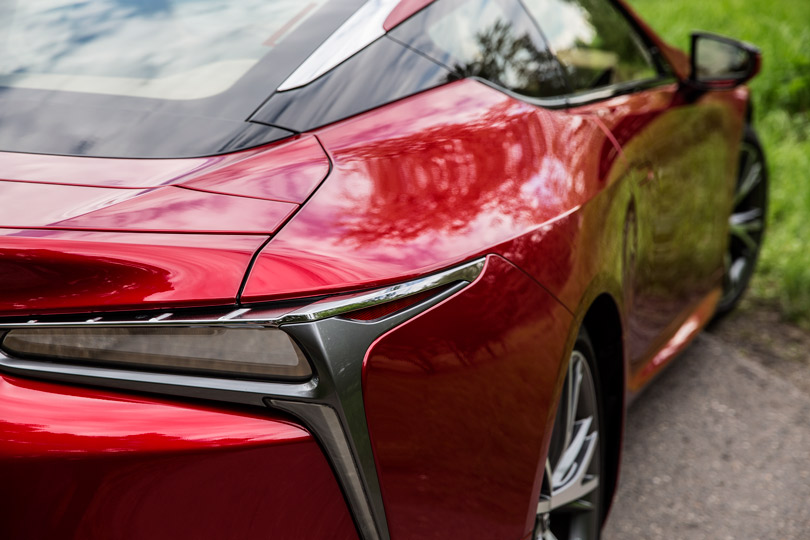 Which is another story and a half, at least. There's only a fine line between insanity and brilliance, and this car is pretty close to wherever that line actually is. The initial impressions are good. Very good. There aren't any keys that you can turn in this car, but when you press the button marked "start" the large V8 roars into life with contagious enthusiasm. Together with the unique start-up sequence of the fully digital dashboard it is a complete event just to turn this car on. Right from the get go I could feel that the people responsible for building this car have a mental age that is just as low as my own.
The leather wrapped steering wheel feels like a quality item, complete with solid metal shift paddles, and a pleasure to hold. The seats are soft enough but have considerable bolstering to keep you in your place should you want to explore the car's limits of lateral adhesion. The seat goes down nice and low and the steering wheel can be adjusted just perfect, too. As a rather tall person I often struggle to find a great driving position but not in this car. In terms of making the driver feel special, Lexus has knocked this one out of the park. Other manufacturers, even those from Germany, could learn a thing or two from this car.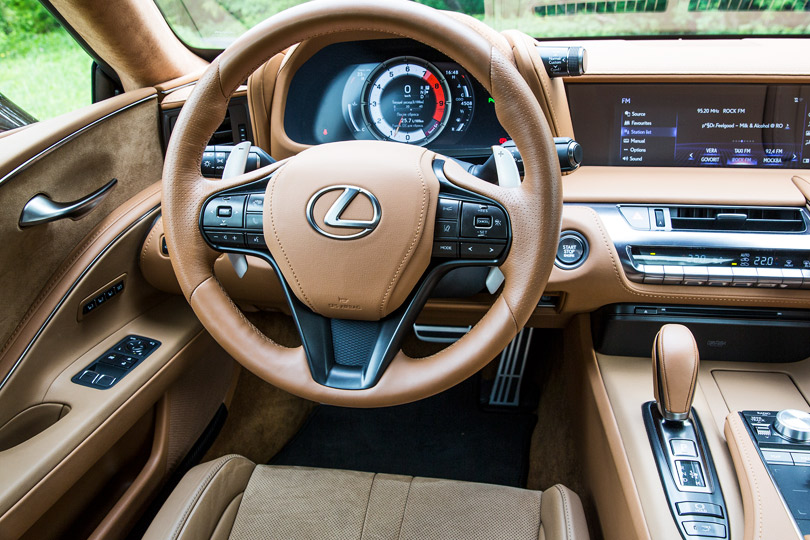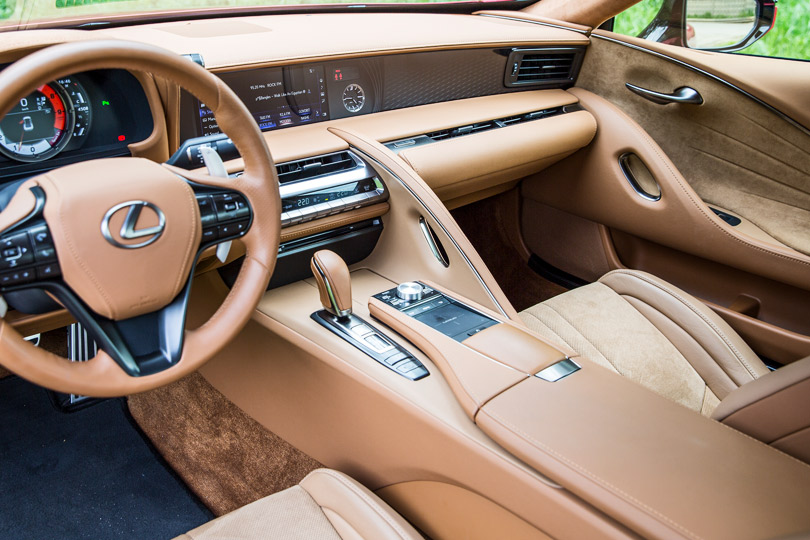 When you put the gearbox in drive and pull out onto the road, the good impressions continue to flow. The V8 makes a pleasant rumble which isn't overpowering and the gearbox nicely glides from one gear into the next. Put your right foot down a little deeper and as the RPM's climb past 5000 a flap opens in the engine's intake system and a growl worthy of King Kong start to fill the cabin. This is why we love naturally aspirated engines so much. The hammering V8 tune being played as the engine is sucking in all the air that it can get hold of is genuinely addictive. Just past 7000 RPM the car will decide that it wants another gear, which is served up very quickly and seamlessly by the 10-speed gearbox. Yes, there are ten gears. Not a typo. The steering is nicely weighted for me, not the most communicative perhaps but by the standards of most modern cars it ranks highly. At this point, one can start to wonder if there is anything that could be better about this car at all. Of course, the answer is yes. It's impossible for a car with this much attitude and character to not have some inexplicably weird traits.
Like that 10-speed gearbox. You would think that, having 10 gears to work with, a transmission such as this would have pretty short and closely spaced gear ratios to maximize acceleration and responsiveness. Use gears 8, 9 and 10 for fuel saving on the highway if you must, but let us have some fun with the first seven or so. The thing is, the LC 500 has what feels like ten long gears. They're not actually all that long, but they do feel like it. You see, this gearbox does very nicely on a gentle cruise or when you're hammering along doing redline shifts. It's everything in between those two extremes where it tends to feel a bit sluggish and not all that smooth. Putting the car in sport or sport+ mode helps a little bit, perhaps it injects some extra caffeine into the drinks of the little creatures that run around inside the gearbox to change gears, but it's still not going to win any prizes over the latest ZF automatic gearboxes to name just one example. Still, this 10-speed responds pretty quickly to manual shift requests and its character actually suits the large American-style engine rather well.
Speaking of Americans, Lexus appears to have calibrated the traction control system for people who can't drive too well. Which can be a source of some frustration when you want to get going in a hurry in first or second gear, with a little bit of steering angle going on, only to have nearly all the power reduced by the electronic nanny and the yellow light of doom flashing on the dashboard. I wish there was an in-between setting for the traction control like BMW has with its M Dynamic mode. As a result I liked to drive the LC 500 with the traction control fully off, something which took me a while to figure out how to do. Being a man, and naturally inclined not to suffer the indignation of having to resort to reading an actual instruction manual, I pressed the traction control button in many different ways and for varying amounts of time and nothing seemed to work.
I did stumble upon the solution eventually: the car had to be standing still and with the gearbox in manual mode. Then it took a full 10 seconds of holding the button pressed before the orange warning light illuminated, indicating that ultimate authority over power delivery was now with my right foot. And, as it turned out, even with all the systems off the LC 500 actually had plenty of traction even when going full throttle in first gear. Even on the not particularly grippy Bridgestone Turanza runflat tires that this press car came with. There's also a specific Bridgestone Potenza runflat tire available for the LC 500, which should be much grippier. Either way, once you turn everything off the car feels much more alive. It feels less heavy, more agile, more willing to play. For a car of this weight, it handles great actually. And it doesn't bite. If only the traction control didn't hide some of this car's best qualities so much.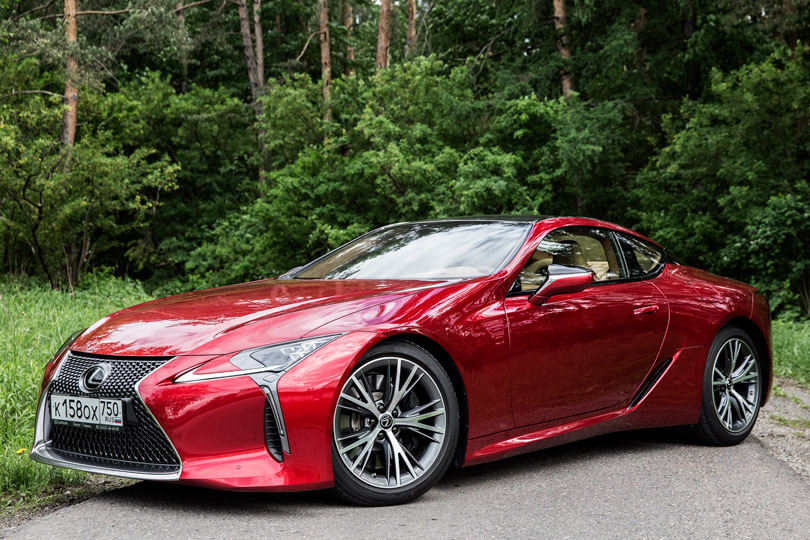 Lexus claim that the LC 500 will hit 100 kilometers per hour from a stop in 4.4 seconds, and I'm inclined to take their word on it. Because there are no turbos, or any other method of forced induction for that matter, you do need the engine's revs up to be quite high to extract the performance. And it never feels blisteringly fast. Ample fast, sure, but It doesn't come close to the performance of anything German with an AMG, ///M or RS badge. But the thing is, it's more fun. It makes you giggle in a way that many faster cars just don't. Because they're too serious, and this Lexus is a bit of a lunatic.
Which brings me neatly to my next point. Whoever designed the infotainment system controls belongs in an asylum. Lexus uses this hyper-sensitive touchpad that you can use to navigate everything from the radio to the seat heating and ventilation. It's hilariously difficult to use, to the point that you start to expect to get some kind of prize when you manage to click on the correct thing eventually. I do like the overall design of the cabin very much, it's just unique and the fact that some of the controls are laid out as if they were part of some kind of ancient Japanese riddle just adds to the experience. You'll figure it out eventually, anyway, should you own one of these cars. Being a 2+2, the LC 500 has a set of rear seats, which I would describe as semi usable. With my seat set to the correct position to accommodate my rather long legs, nobody would have been able to sit behind me unless their knees were only around three centimeters thick. On the passenger side though, with a bit of compromise, you could probably fit an adult in the back. As with most cars like this, though, the rear seats are generally most useful for storing things onto like a rucksack or shopping bag.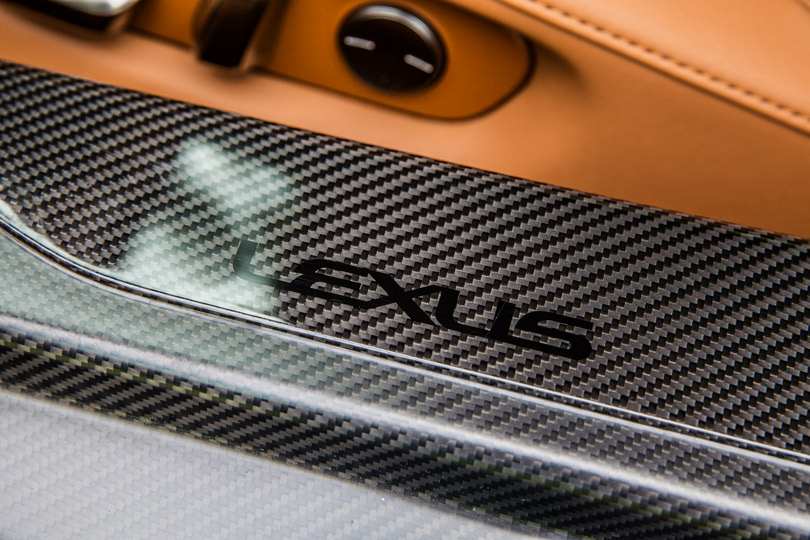 Figuring out what the LC 500 is and how it fits into the market isn't entirely straight forward. It's just so different from anything else. While some people might mistake it for a supercar based on its looks, we're really talking about a comfortable GT car here that is meant to be used every day and on longer distances. It doesn't easily compare to large German coupes in terms of performance, looks and pricing. Something like a Maserati GranTurismo is probably closer, but then that is more expensive and also getting a bit old. You're looking at around 7 million Rubles for an LC 500, which is obviously not cheap but the list of optional extras is rather small which means that when all is said and done, it can be had very well equipped for less than what a base Porsche 911 Carrera costs once you add a few necessary options to that. Lexus have made a car here that is a little eccentric but undeniably great. Most impressive of all, it is totally different from anything else. And for that, we can only say thank you.