When it comes to building great performance cars, Lexus has a bit of a spotty record. It once made one of the best supercars of all time with the LFA, but it hasn't always reached those highs with its powerful road cars. Will their most recent effort, the GS F, manage to hit the spot?
Even in the largest of parking lots, you won't struggle to locate your GS F. It's not just that Lexus is offering the car in some extremely loud and unusual colours, its design genuinely stands out from the crowd. I wouldn't say that it's necessarily a beautiful to behold, but its bold styling deserves respect in an era where so many cars look alike to a large extent. The GS F, to my eye, manages to pull off the difficult trick of looking special and aggressive but also dignified. If you ordered it in dark grey rather than a kind of hellish orange which requires eye protection to be directly observed, you could well show up in it to a serious business meeting and drive everyone to lunch afterwards.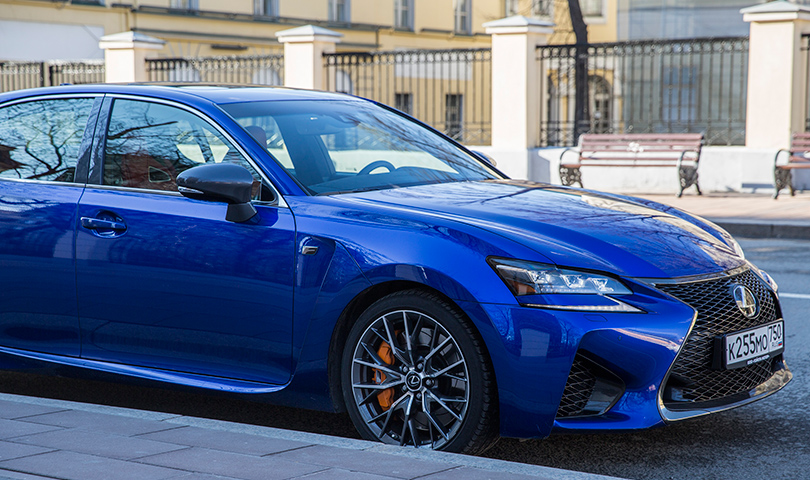 On the inside, things follow a very similar philosophy. If that's the right word, anyway, because the way buttons and switches are almost randomly scattered throughout the cabin does not suggest a great deal of logical thought. But somehow, inexplicably, it all feels right. It's as if this car was designed visually at first, with the functional aspect only being added later on.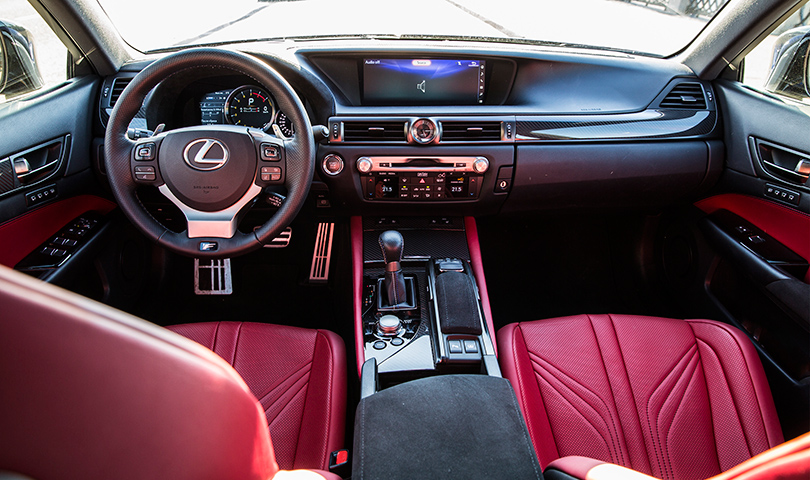 Some of it takes a bit of getting used to, like the hilariously weird joystick-like contraption on the centre console that serves to control the cursor on the multimedia interface. It's all a bit eccentric, in a loveable kind of way. The seats, meanwhile, are some of the best I've ever encountered in any car. They're simply a joy to sit in as well as a joy to look at when you're not. Getting to the perfect driving position tends to be a struggle for me in many cars, probably because I'm rather tall, but the seating position in this Lexus is simply terrific. The steering wheel adjustment range is perfect as well, making the GS F a pleasure to sit in and drive. The thick, leather-clad steering wheel feels nice and grippy in your hands and the gear selection lever feels like it's actually connected to something, a sensation which is entirely absent in most cars on sale today. I'd say we're off to a good start here.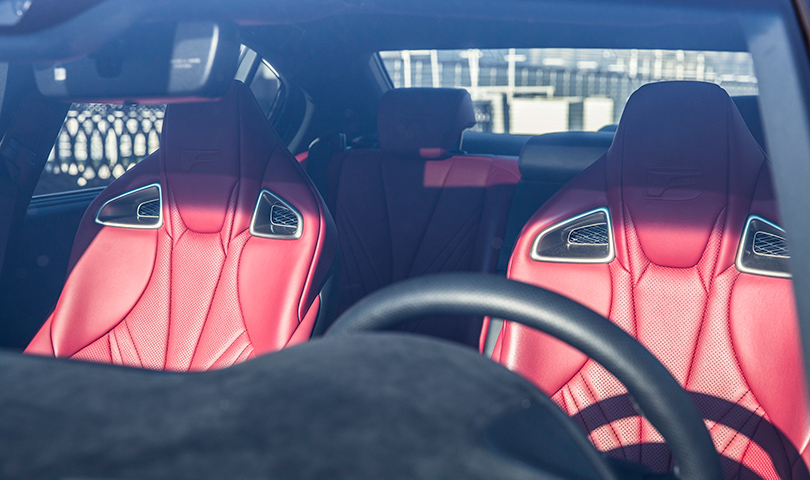 But the central theme of the GS F revolves around its engine, and just how much fun it is. The resident 5 liter V8 engine is naturally aspirated and produces a grin-inducing sound that just never gets old. It's a properly angry sounding motor once you get past 4000 RPM or so, when a secondary air intake opens up and the power starts to build, and keeps building, until the limiter cuts in well past 7000 RPM. It really does make an intoxicating noise, decidedly old school V8 at low revs but building to a crescendo at the top where it sounds like it's revving a lot higher than it really is. It kind of feels like you've just done something as ill advised, but equally exciting, as stepping a T-Re ex on its tail just as it was late for work on a Monday morning. It roars with a volume and clarity that we just aren't used to anymore in this era of turbocharged engines. It's an organic sound, too, even though Lexus are using a few tricks with the audio system to slightly amplify the best noises and cancel out the sounds they don't want coming through. But you'd never know it if nobody told you.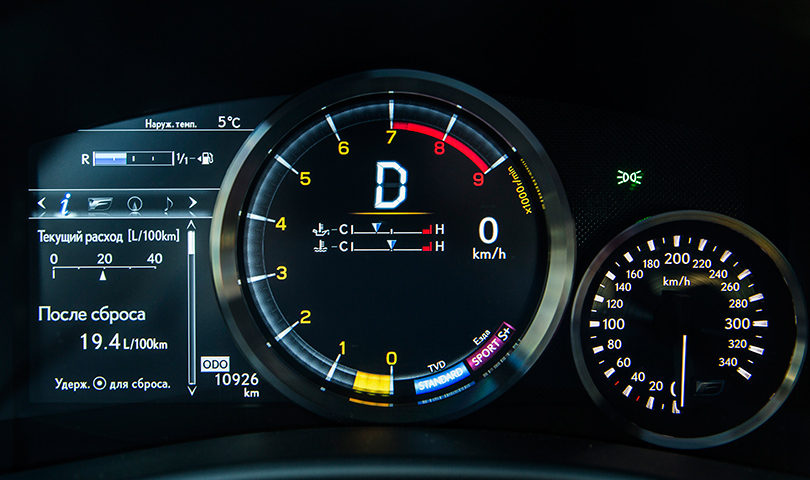 In a way, I suppose Lexus are in a better position for making an entertaining driver's car than the big German manufacturers because there's no pressure. They don't have any titles to defend or hype to live up to. For example, when BMW makes a new M car, it has to be more efficient and faster around a racetrack than the car it replaces. Those are the priorities, if they can make more fun to drive while they're at then that's a bonus. To be clear, cars like the BMW M3 or M5 are quite a lot faster than the GS F is in a straight line or on a racetrack. So if you're a numbers person who memorizes lap times and acceleration data to impress people with at the bar or, worse yet, the YouTube comment section, this car isn't going to suit you.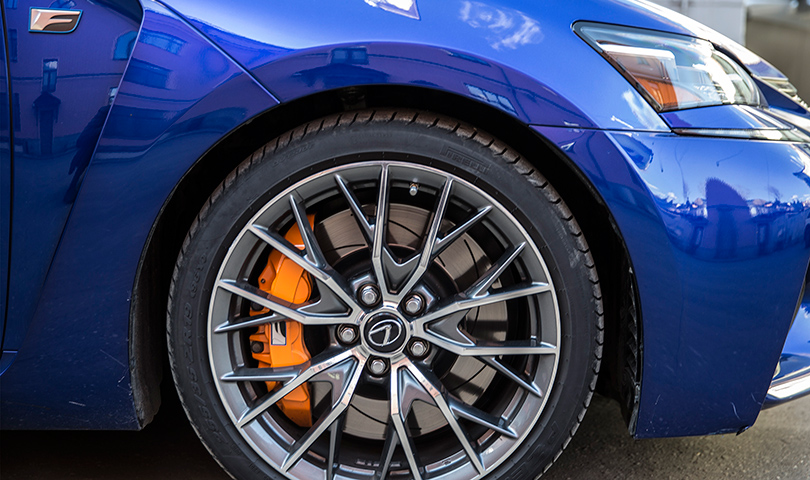 If fun and excitement is more important to you than cold hard numbers though, you may want to pay attention to this somewhat oddly shaped Lexus. It's still easily fast enough, anyway, because 470 horsepower is a good amount of horsepower. The GS F also deploys its power in a progressive fashion, which is easier for the rear wheels to handle than the sudden power surge which turbo engines typically deliver. If you've driven a powerful turbocharged car with rear wheel drive in anything but ideal conditions you'll be well familiar with the orange traction control light flashing away on the dashboard and the annoying feeling of power being reduced by the computers because there just isn't enough traction. The Lexus GS F isn't entirely immune to traction issues, but it's not nearly as big of an issue as it is on some other cars in this segment.
Throughout my week-long test I was surprised how successful Lexus has been in creating a lovely old school driving experience in spite of using plenty of advanced technology. It's got all the latest electronic wizardry that you'd expect, but it's in the background, there if you need it but not in your face all the time. If you'll excuse me for creating another far-fetched analogy, the GS F feels like a classic Italian food recipe prepared in a cutting edge kitchen. It may be ridiculously simple, but it just tastes good. No need to re-interpret it or double the number of ingredients, it was just right to begin with.
Of course, government regulation and the need for ever increasing efficiency isn't entirely lost on Lexus. They make plenty of hybrid cars already. They also gave the GS F an «ECO» mode, where the RPM counter in the dashboard changes to a fairly incomprehensible eco gauge. I can't tell if they were being serious or not with that, but it certainly is funny as hell to see a Prius-style eco display in a car with a naturally aspirated 5-litre V8 engine. I didn't use it for longer than about 5 seconds, which might explain why I went through a tank of fuel in less than 200 kilometers, come to think of it. But fun kilometers, they certainly were.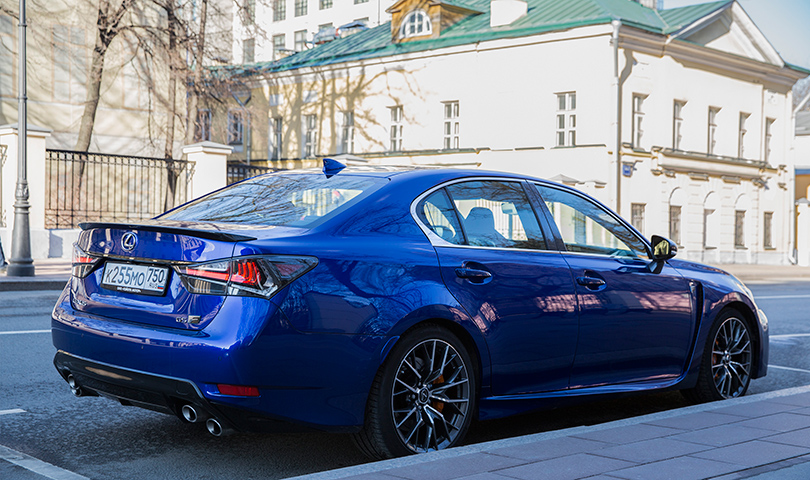 If the GS F has a weak spot, it's probably the gearbox. The Aisin 8-speed automatic transmission is smooth and refined when driving normally, and manages to be fast and crisp when doing full throttle gear changes at the redline, too. When you suddenly ask for more power, though, the gearbox takes a good long think before it decides to downshift a few gears. Particularly because the GS F's engine needs to be revved quite high before it delivers its best, you end up waiting what feels like a very long time before you finally get the power that your right foot asked for. The response time can only be described as postal pigeon like, when you're used to fast dual-clutch gearboxes, anyway. You could solve this by driving around in Sport S+ mode all the time, I suppose, because it makes the gearbox behave like it's just had half a case of Red Bull.
In many ways, the GS F seems to me like a modern interpretation of the legendary Mercedes C63 AMG, back when it still had the 6.2 liter V8. I'm not sure it's possible to give the Lexus a bigger compliment than that. But perhaps the strongest point of the GS F is one which is generally ignored in car reviews — reliability. Whilst it's obviously impossible for us to actually measure how reliable a car is going to be over a number of years, we can look at statistics. And the truth is, that Lexus is absolutely dominating its direct German competitors when it comes to not breaking. I speak from experience when I say that owning German sedans with huge engines in them tends to get very expensive very quickly once the warranty has expired.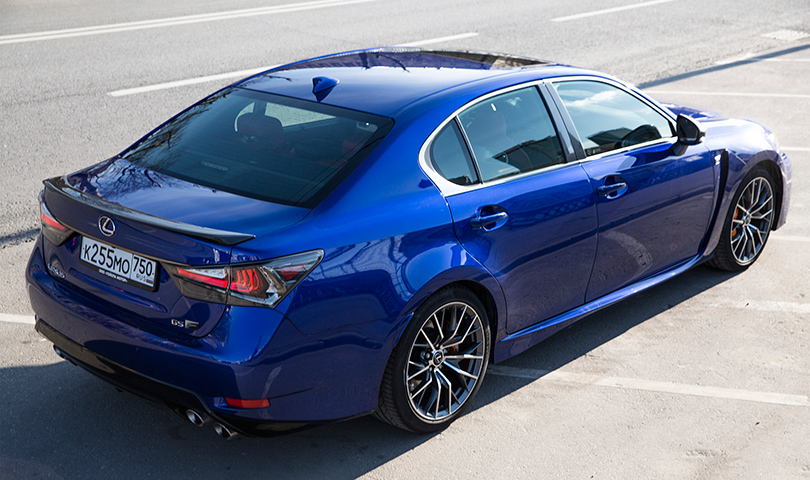 I think that the peace of mind provided by the historical reliability of Lexus, including the F cars with the big V8, is worth a lot not just financially but also in terms of simply enjoying the car. Especially when you consider that the GS F is a bit of a bargain to begin with. Clearly, it's a very expensive car which not many of us can afford, but its competition is a lot dearer still. Especially when you consider that the Lexus comes pretty much fully optioned as standard, there's no need to spend another 20,000 dollars on optional equipment. To be fair, with the exception of the amazing seats, the materials used in the GS F's interior don't feel quite as premium as what you get from the Germans these days. But it feels very well built, and there are no rattle. In all likelihood, there still won't be any after 10 years either.
Obviously, Lexus isn't expecting to sell very many of these cars. Realistically, they really aren't going to put a dent in this market, so they had the freedom to make a car that goes well off the beaten path. What they have made is a statement that they understand how to build cars, not just by the numbers but by the heart as well. And for that, I salute them. When I meet someone on the road driving a GS-F or, more likely, run into one at a petrol station, I'll salute them too.