It must have been about 25 years since I last operated an electric car. Now, admittedly, back then the cars I used were 1/10th scale and remote controlled but I think it still counts for something. Back in the present though, I've just driven Jaguar's first electric vehicle from Moscow all the way to St. Petersburg and got my first taste of what a full size EV is like to drive in the real world.
Just to get any confusion out of the way, yes it is indeed called the I-Pace. But no, I don't know why Jaguar went for this name and stuck the E-Pace badge on a different model with a regular combustion engine. Car brands, who can understand them. Not me, apparently, but let's not dwell on that lest I get fired before I get to the end of this review. I-Pace it is, and it would be difficult to overstate just how big of a deal this car is not for Jaguar but European car makers in general. Because the I-Pace can claim to be the first "proper" European EV to take on a market that has been completely dominated by Tesla up until now due to lack of competing products.
One issue with reviewing a fully electric vehicle at this point is that the process of electrifying people's personal modes of transport has only just begun. We just don't have much to compare these super rare cars with yet, except for regular old fashioned cars that constantly spit out harmful gases from their backsides. But because EVs operate on such a fundamentally different method of propulsion the terminology involved can sound a bit confusing. I think we can all imagine what a litre of fuel looks like, or what it costs, but a kilowatt-hour of electricity is invisible and who really understands how much of it you need to go anywhere? For reference, the battery in the I-Pace can hold 90 kilowatt-hours but without knowing the expected driving range that doesn't mean a whole lot.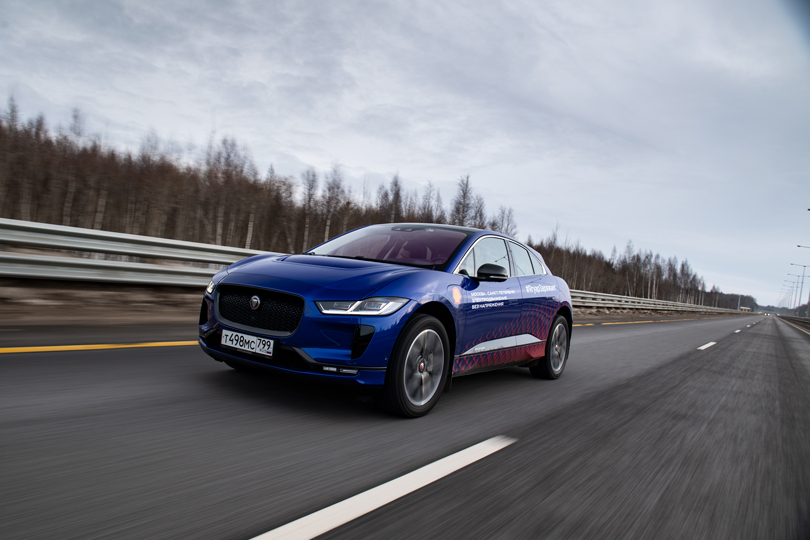 To complicate things even more, how far you can go on one charge depends on some things which did not traditionally make any difference at all in a regular car. Take the heating for example. In any car with a combustion engine the heating system is simply using waste heat from the engine that would otherwise just be lost through the engine's cooling system. So it doesn't "cost" you anything in terms of energy that you would actually be using. When you replace the combustion engine with an electric motor and hook it up to the gigantic battery that lives in the floor of the car, all energy has to be drawn from that battery. So the power that you use to keep warm in winter can not be used to make the car drive, and it's the same story when you turn on the radio or charge your phone from a USB port. It all reduces your potential driving range by either a little or a lot, that's physics for you. Sure, some of these things would have caused you to use a tiny bit more fuel in a regular car as well, but those generally have pretty sizeable fuel tanks so you'd hardly notice.
Anyway, Jaguar claims a possible range for the I-Pace well in excess of 400 kilometres on one charge, but just like the official fuel consumption numbers for regular cars, you'll probably struggle to achieve them yourself.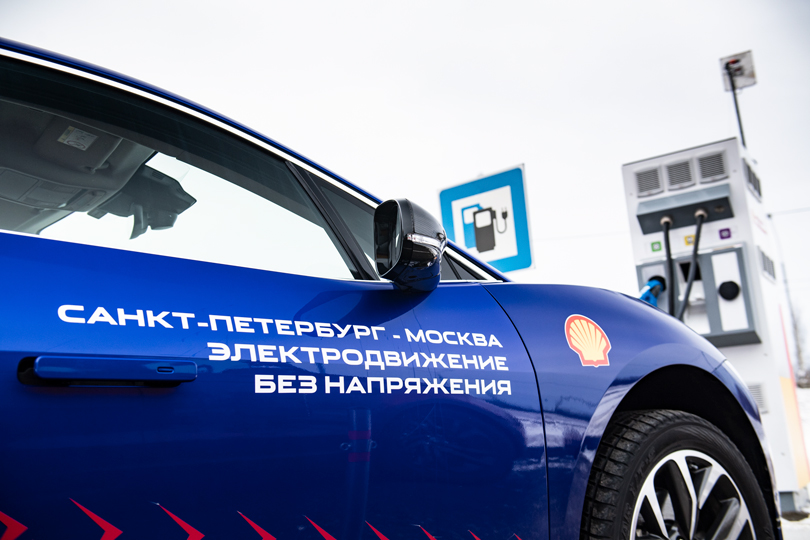 On our trip, we set off near Sheremetyevo airport in freezing temperatures and made out first stop at a Shell station in Tver for a full recharge of the batteries which were down to 10 percent or so at that point as the cold weather was doing us no favours. This was around lunch time anyway, so we popped into a conveniently located karting track nearby which had a nice canine for lunch and provided us with some driving entertainment afterwards while we still waited for our batteries to be fully charged. From there it was no problem to get to the Valday Eco Club, nearly 250 kilometres away, for an overnight stop. Of course you could do Moscow to St. Petersburg in a single day if you really wanted to, but we weren't in a hurry and this was a nice place to visit anyway. To get from there to our final destination was another 330 kilometres, which in these weather conditions did need a short partial charge session at another Shell station along the way. It was a welcome excuse for a short coffee break, anyway. But the secrets to happy EV long distance driving appear to be a combination of planning and not being in a huge hurry. At least until we see a big breakthrough in battery technology, this is the way it will be for all of them.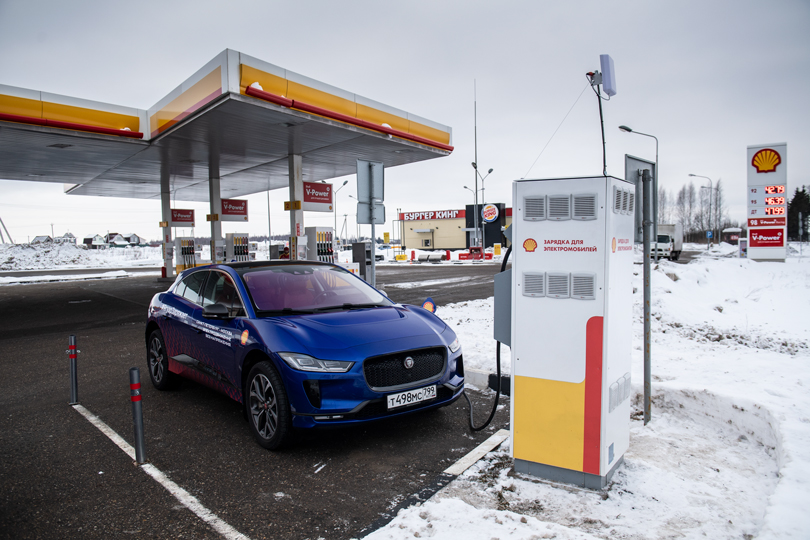 Mind you, the I-Pace is already pretty clever with how it uses and recuperates energy. One of the things that make an electric motor so great is that it works both ways. When you give it power, it will turn. When you make it turn, it will give you power that can be stored in the battery again. You use a bunch of energy to drive up the mountain, but when you coast on the way down you can get a lot of that back. Can't do that with a traditional car as that would just waste the energy on the downhill as heat out of its brakes. The I-Pace has two distinct modes for energy recovery in practice, with one giving only modest engine braking much like a regular car has always done but the other features much more aggressive energy harvesting which makes it feel like the brakes have been put on when you let go of the accelerator pedal. In the latter case, this allows you to effectively drive the car with only the throttle pedal, the only time you need to use the brake pedal would be to come to a complete stop or brake unusually hard. It's really rather nifty, and it's the best way to minimise energy consumption as very little power goes to waste. But this works best when you are actually speeding up and slowing down regularly, on long highway trips like the one we did you never really get to recover much energy so combined with the higher driving speeds it's a worst case scenario for driving range.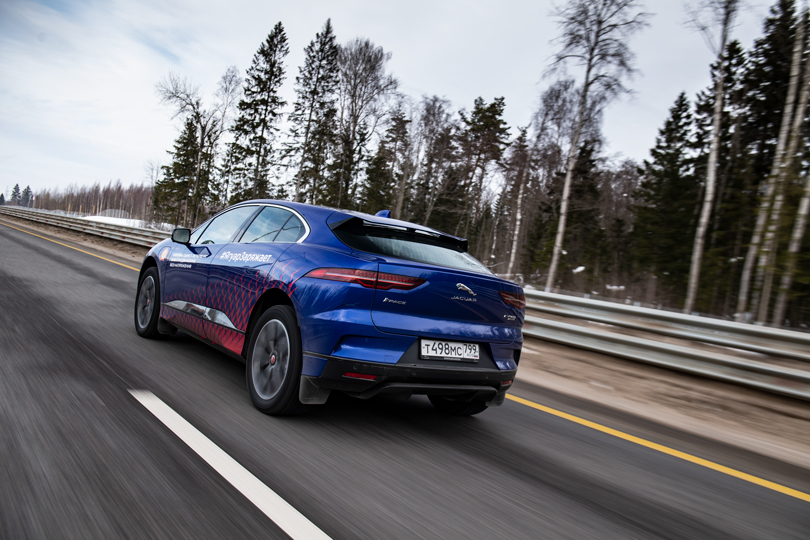 I imagine some of you are bored to tears at this point so let's talk about how much power it has. Four hundred horsepower, that's how much. But as with everything else on this car, you kind of need to put an asterisk next to that number because it doesn't perform exactly like a car with a 400 horsepower combustion engine. In fact, in most cases, the I-Pace actually performs better than your average 400 horsepower car of this size and weight does. At low speeds in particular the electric Jag jumps off its spot in a way that an actual big cat would struggle to replicate. Acceleration is immediate, ferocious and pretty much constant. It's also effortless, with nary a hint of struggle of the car's two electric motors. It all happens with zero fuss but very rapid. The zero to 100 kilometre per hour sprint takes 4.5 seconds, but in many situations the I-Pace feels even quicker than that. Because there's just never any delay like the kind you get with a regular that needs to spool up its turbochargers and make its gearbox shift to a different gear before you get the best of the acceleration.
The I-Pace is uncannily rapid up to 150 or 160 kilometres per hour or so, which is probably as fast as most people will ever go, but after that a traditional car with the same power level would very much leave it behind. This EV's top speed is limited to 200 kilometres per hour which is plenty quick but still a lot less than what we're used to seeing from traditional cars. All told, the car lives up to what you would expect from the "EV400" badge which sits on its rear end. Using all that power will of course mean your battery charge will go down a little quicker than would be optimal but, actually, it's not as bad as I had imagined. I'm used to seeing fuel consumption shoot up to massive heights in powerful petrol cars, but it seems that electric motors are somewhat less efficient when delivering maximum power. You still lose some range, but the difference in energy consumption between putting the pedal to the metal and doing it as gently as possible does not appear to be enormous. Which means you can enjoy yourself a little and not feel too guilty about it, especially as you're not making any noise while you're at it. Though you can get some interesting spaceship noises from the speakers when you turn on Active Sound Design and use a lot of throttle. The "fake" electric motor noise isn't overpowering and actually quite pleasing I thought, but if you don't like it then you don't have to turn it on.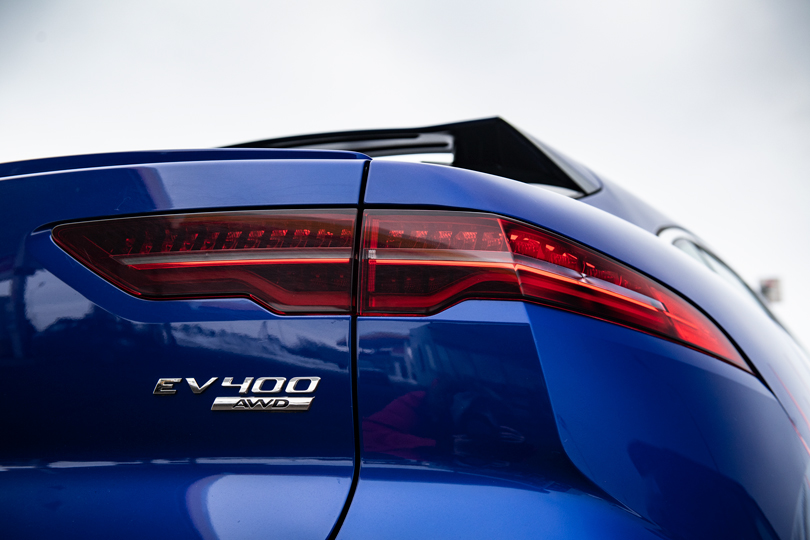 Inside the I-Pace, things are almost comfortingly familiar to anyone who's been in a Jaguar before. Sure, there are some touchscreens and the whole cabin has a nice modern design, but they haven't tried reinventing the wheel nor have they taken a science fiction approach to the whole thing. The drivetrain might be all new and futuristic, the rest of this car is just like the cars that you and I are used to aside perhaps from the fact that instead of a gear selector there are buttons that you need to get going, drive backwards or to put it in park. Easy peasy. On the whole I was very impressed with the interior of the I-Pace, and I think it's probably the best that Jaguar have done on any of their cars so far. It's certainly miles ahead of any Tesla in the quality department, though those are not even officially sold in Russia anyway. As a single bit of criticism, I wouldn't say that Jaguar's infotainment system is quite up there with the best yet, but it's a step forward from previous versions and it does its job reasonably well.
Overall, I had been looking forward to driving the I-Pace for quite a while and it more than lived up to my expectations. All the promises made by the theoretical advantages of an electric drivetrain were realised, to the point that I do believe that electric motors are superior to combustion engines overall. The only snag is that in order to make an electric motor run you need to drag around a huge weight in batteries who need rather frequent recharging if you want to go anywhere long distance. But very few people will drive more than 250 kilometres per day I imagine, in which case it really becomes a non issue. You can plug in your car every night as you do your smartphone, and in return you'll never have to visit those annoying petrol stations anymore unless you want to.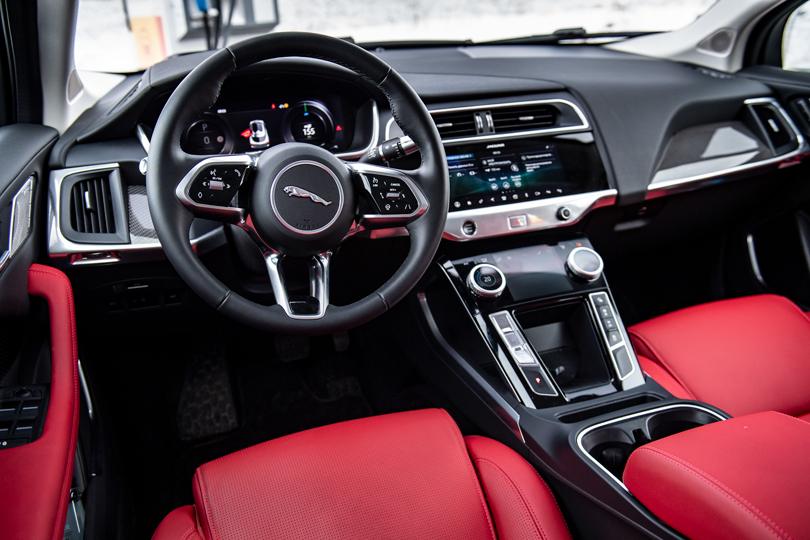 When you do want to put in the occasional long distance drive, as we did, you'll need to find some fast high powered chargers which fortunately Shell has started installing at its locations. A short stop for some coffee and perhaps a hot dog will be enough to top up your charge sufficiently to drive for another two or three hours. There's an app for your phone to find all public charging stations of course, and also an app from Jaguar which connects to your I-Pace and shows you things like the progress of charging and it also lets you do things like pre-warm the car on those cold days. Which brings me to another benefit of an electric car which I hadn't previously thought of: you don't need to wait for the engine to warm up for the heating system to work. No matter how cold inside, the car will use electric power to warm you up almost immediately. Ideally you'd use the app to let the car warm itself up while it is still plugged so you don't use battery power for this, but it works well either way.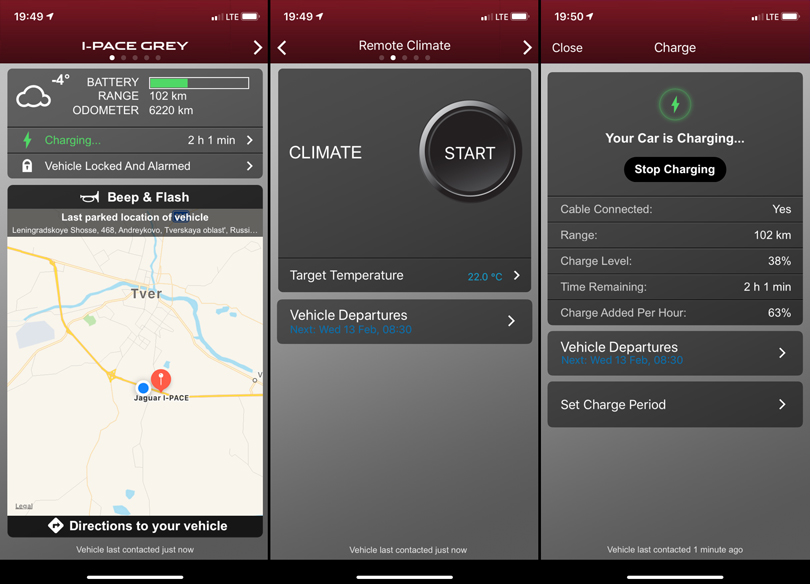 As you probably all know, I'm one of those guys who won't give up his combustion engines until they pry them from my cold dead hands. Electric motors may be brilliant, but they just don't make your spine tingle like, say, a naturally aspirated flat six engine with a 9000 RPM redline does. But even so, I wouldn't mind at all to have an electric car to go around my daily business. I'd love to have one, come to think of it. Especially one as good as the I-Pace which, while it is of course an expensive luxury car, is the first upscale EV that is actually available and a genuine alternative to similar priced traditional cars. Yet it never feels like they rushed this car out to be ahead of everyone else and had to cut corners in the process. Instead, it's the best-built and most luxurious electric car that you can go out and buy right now. Which is a huge achievement by Jaguar no matter how you look at it.