I'm not too ashamed to admit
that my Japanese isn't exactly fluent. So when I heard about Mazda's Jinba Ittai academy, I had no idea whatsoever what it would be about. Assuming that it would most likely not include any rock climbing or finger painting, I took a leap into the unknown and boarded a plane to Belgrade, Serbia.
What's in Belgrade, Serbia you may ask? Probably a lot of things, but the one we were interested in was the Navak test track. Once there, we would find out not only what Jinba Ittai means but also what it stands for as part of Mazda's design philosophy. In Japanese culture, Jinba Ittai is the «oneness» of horse and rider. The concept of the ideal driving experience where the car becomes an extension of yourself and your thoughts. A noble goal to be sure. Judging from what one sees on the roads these days, making the average driver less like the horse and more like a rider would be a good place to start.
Obviously, when I heard about things like driving pleasure, precision and so forth, I immediately imagined sitting in Mazda's best driver's car, the superb MX-5. Pointing it from apex to apex whilst gracefully maintaining the optimal slip angle, and heel-toe downshifting into a tight corner. Reality has a tendency to bring one's enthusiasm down a bit, and learning that our stallions for the day would be Mazda 3's and 6's equipped with automatic gearboxes certainly accomplished that. Surely using family cars, on winter tires no less, defeated the point of driving pleasure? As it turned out, not so much.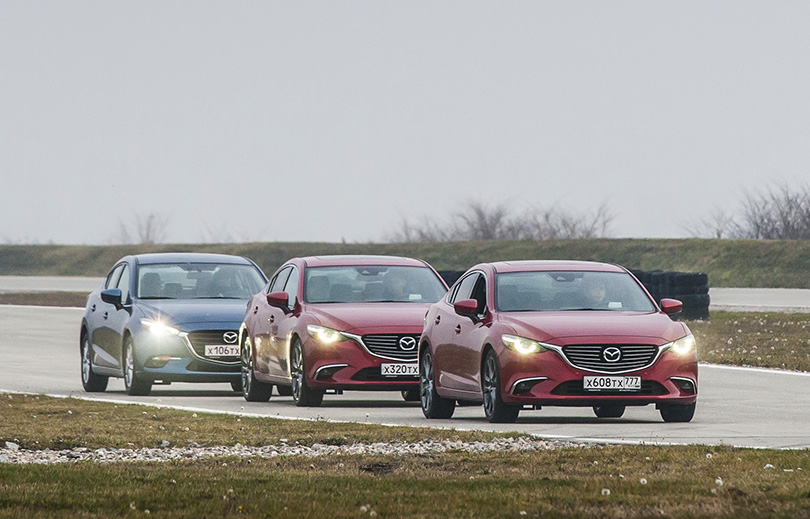 When you've done your share of driving academies, track experiences and whatnot, you do get tired of the whole thing being held back by a thick layer of health and safety stuff. Don't go too fast, follow the instructor, don't turn the stability control off, and so on. In Mazda's Jinba Ittai academy however, literally the first thing we did was turn the stability and traction control off. Suddenly, things were looking up! And the first driving test was something called a drift-slalom. Say what?!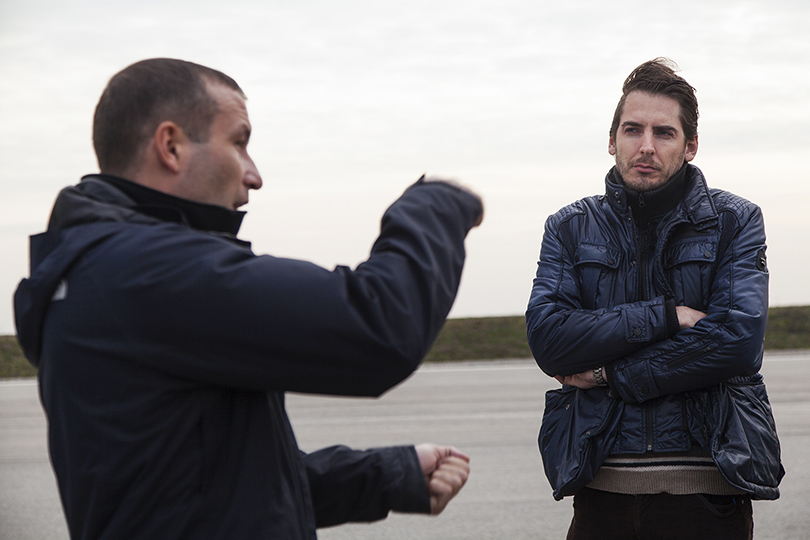 Clearly, front wheel drive cars cannot really «drift» as such. They can encounter oversteer, certainly, but drifting normally means maintaining a slide by using the engine to keep the rear wheels spinning faster than the fronts. But ignoring the slightly flawed nomenclature, the first test did present us with a proper challenge. There were a bunch of cones, set up in a straight line as for a slalom, that we would have to drive around. The tricky part was that we were supposed to drive around them sideways. After the bare minimum of verbal explanation («just go 70 km/h, lift off and turn in») and a live demonstration by the instructor, they simply handed us the keys and told us to give it a go. With all the safety systems off, obviously. Talk about being thrown into the deep end and being told to swim. Brilliant!
Getting a front wheel drive car to go sideways at speed means forcing a weight transfer to the front wheels and turning in sharply. Basically as you go into the corner you get of the throttle, wait a brief moment for the weight to transfer to the front and then give the steering wheel a good whack in whatever direction you plan to go. The car will turn in, but as it does so the car's backside will try to overtake the front as there is too little weight on the back tires to give them sufficient grip. At this point, you are expected to counter-steer and get the car back in line. This is what your intuition tells you to do, but because there are several more cones to drift around you need to purposefully wait a bit before counter steering, so the car does not straighten out but flips the other way just in time for the next cone. Fighting one's intuition is probably the most difficult part of the test.
Never having tried such a stunt before, it did take some practice. Whilst I managed to drift around the first few cones relatively convincingly, the sideways slipping scrubbed off a lot of speed and by the time I got to the last cone there simply wasn't enough speed left to get the car to over-steer. Adding sufficient throttle to keep going for longer was a difficult extra task to add to a situation that already required a lot of attention. It was a lot of fun, and undeniably educational because you can't really practice this kind of car control on the road. Even on most racetracks this kind of ham-fisted car ballet would get you banned.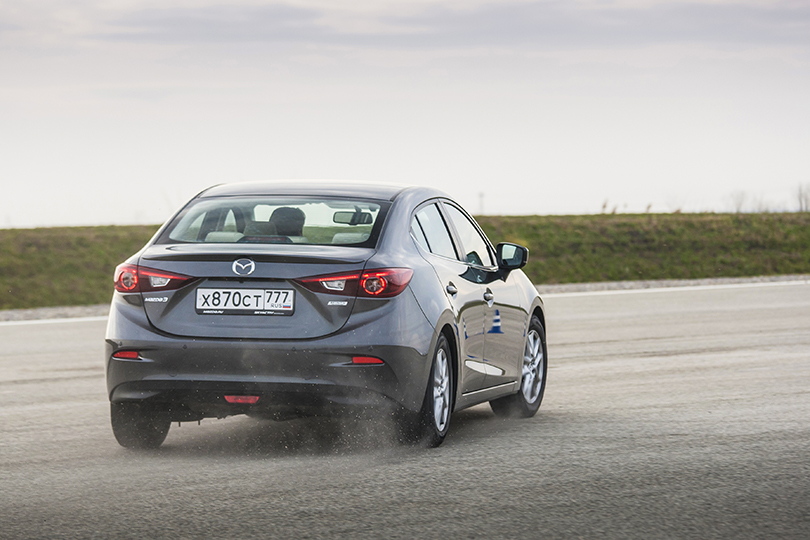 I do need to take a moment to talk about the car we used for this, a pretty standard Mazda 3. It would be easy to think you could do this with any other car, but I believe Mazdas are certainly better suited for this than most. The steering feels great for a start, and as a driver you need to feel what's going if you're going to have a chance to correct an upset car. The suspension also feels comfortable but behaves very well when you load it up into a corner and body roll is very well controlled. Lastly, there is a single button that turns the nanny systems off. You don't need to know any secret handshakes or stand on your head with your nose facing north east for nine and a half seconds. You simply press the button and you're on your own. Like any horse worth riding, the Mazda 6 trusts its rider to know what's best. Good horse, you'll get a carrot later.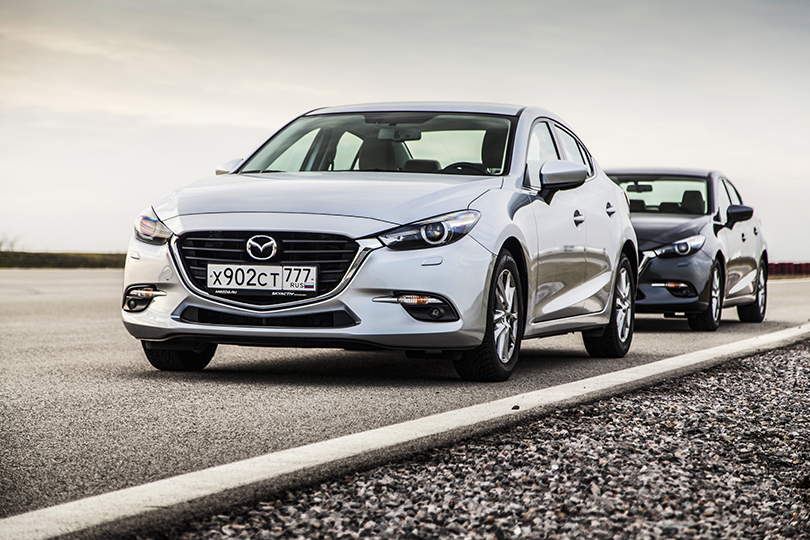 On to the next exercise, the first words out of the instructor's mouth were «has anyone done a handbrake turn before?». Not something I've heard asked before at a driving event, this Jinba Ittai stuff is clearly awesome. Long story short, we would be driving towards a cone, making a handbrake turn around it, then doing a handbrake turn around another cone, and back, and eventually «park» it using the handbrake in a parking space. Just turn the stability control off first. Check. I certainly had a lot of fun with this one. I haven't pulled a handbrake whilst traveling at speed since I was 18 years old or so. It's one of those things you're supposed to grow out of. I certainly didn't think I'd be politely invited to do it in a borrowed car at twice the age.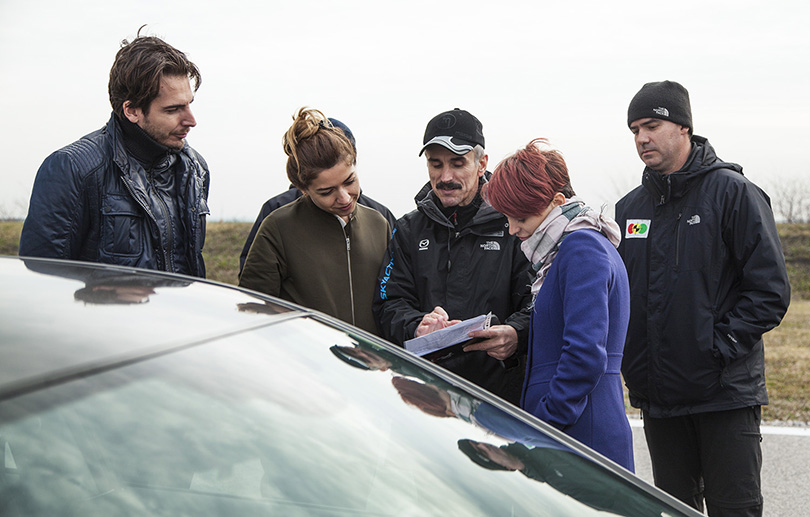 But pull the handbrake I did, and the Mazda 3 we used for this would happily slide its back end 180 degrees and then gallop off towards the next cone. Sliding the car into the fairly narrow parking space was tricky to accomplish elegantly, but I've seen people park worse in the city. I had so much fun, in fact, that I happily had a second go at it when there was a bit of time to spare. Forget low calorie diets and detoxing, a course of handbrake turns is what you need to feel younger.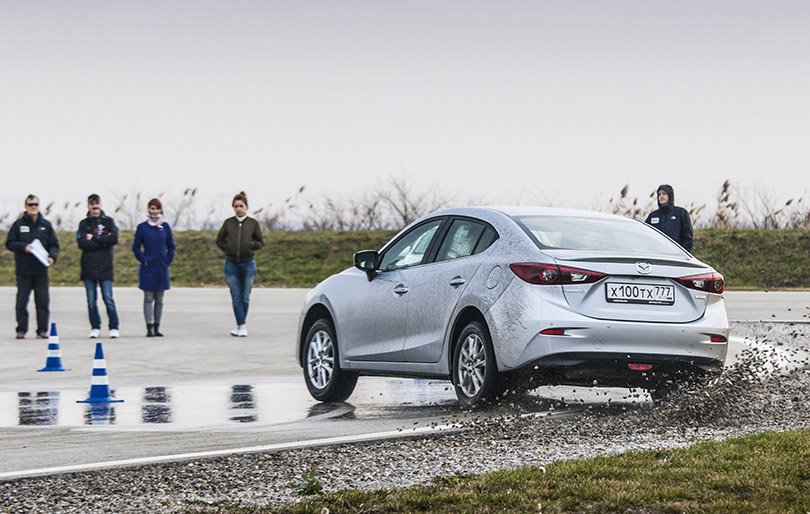 Incidentally, I must point out that these Mazdas are one of few cars left with actual mechanical handbrakes that you can use for this kind of shenanigans. Doesn't matter if you buy a luxury car or a sports car these days, in most of them all you have for a handbrake is a button somewhere that sends a signal to the electric handbrake. And those will not allow you to do this kind of stuff. Another very good reason to buy a Mazda, if you ask me. The driving position is also of the utmost importance and all the Mazdas I drove perfectly accommodated my not inconsiderable body length perfectly. The steering wheel could be adjusted to come far enough back and the seat could be adjusted sufficiently low, something I often struggle with in cars.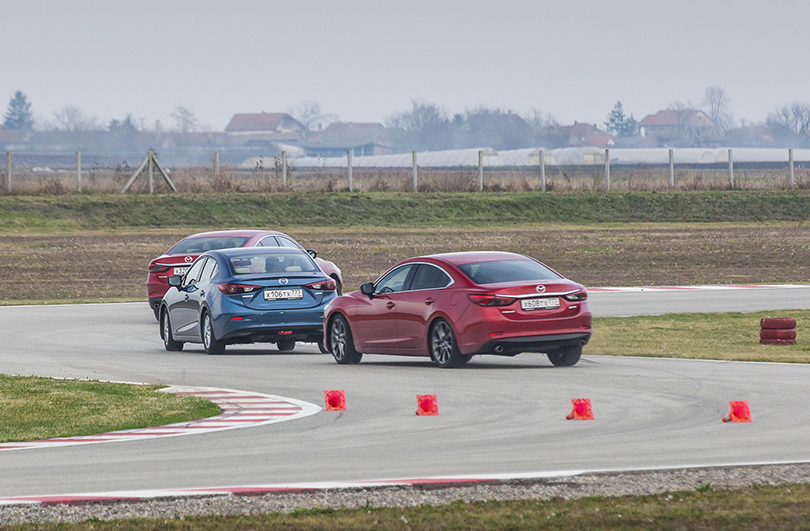 From here on, the driving got slightly more silly but equally entertaining. We dabbled into movie stunt type maneuvers like making a 180 degree turn driving in reverse, or chasing a car and pushing it into a spin by literally driving into the other car's rear end. Again, definitely a unique experience that you would not be able to experience in real life unless things would be going quite wrong indeed. Whilst not entirely relevant to understanding the cars better, they did involve driving outside the normal envelope and as such you did feel like you were learning something you didn't know before. The final driving tests involved car chases and paintballs being fired at us, not an experience that is likely to come in handy unless I make a drastic career change. I doubt I would be any good at it, anyway, as was so busy driving the car as fast as possible that I forgot about the tiny detail of actually stopping in the designated area to complete the challenge. Oh well.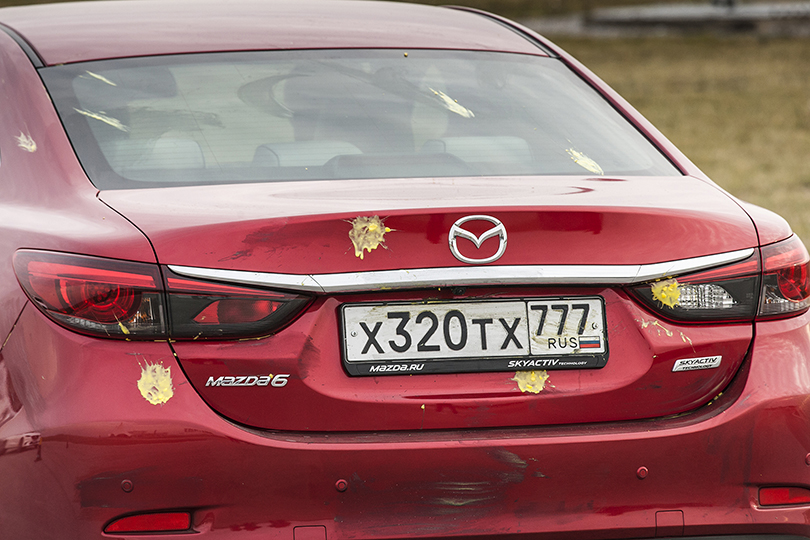 As the first taste of the Mazda Jinba Ittai academy, I came away impressed with how suitable even the most average Mazda car is to being driven unreasonably hard and ridiculously sideways. I experienced some genuinely new things, and came away definitely wanting for more. With a few less paintball guns and a couple more MX-5s it would be even better, but at the end of the day, experiencing your normal car in an abnormal situation makes you a better driver. And I didn't even need to learn Japanese for it.