And it doesn't take long
to notice that pretty much everyone has the same phones, too.
If it's not an iPhone then it's probably a Samsung Galaxy phone, or perhaps the odd Blackberry. These phones are pretty expensive pieces of kit, probably because they have really grown to become mini computers in recent years, but there is a distinct lack of exclusivity about them. As such, it's difficult to imagine a true luxury phone. Because the technology in these things has become so massively complicated and cutting edge, the development cost is enormeous. This leads to only a few massive players dominating the market because nobody else really has the money to develop a credible alternative.
In the car world, things are different. You have mass produced luxury cars particularly in Germany, but for those who want to escape predictability there are alternatives from a country where the sun shines a bit more often. Ferrari. Maserati. Lamborghini. Or even Pagani if you want to get some real attention. Perhaps it's no coincidence then that we've seen a couple of unusually expensive phones associated with hot car brands. Vertu made a Ferrari phone. Blackberry had its Z10 flagship re-designed by Porsche for a limited series.
Now, there's a Lamborghini phone. It's called Antares by Tonino Lamborghini, which is a completely separate company from Lamborghini cars — but there is a family connection. The company logo is also the same — a raging bull. Add some similar design cues and it certainly appears to be car-themed even though they are very different companies. We were kindly handed one of these phones for an evaluation, which we happily accepted to find out if there is any merit to this type of smartphone.
The first thing you notice is that quite a lot of money has gone into the packaging. It's not the small cardboard box you get with your average proletarian smartphone, oh no. What you get is a massive metal box which bears some ressemblance to the cylinder head covers on a car engine, a very nice touch. It takes a few moments to figure out how to open it, and when you do it gracefully slides open to reveal its high-tech contents. As far as presentation goes, it's definitely on another level.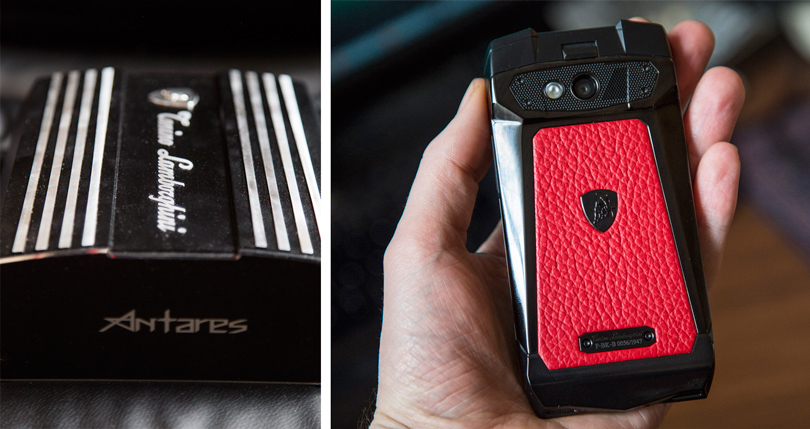 The styling of the phone itself takes cues from modern Lamborghinis like the Aventador, but it's quite bulky. It's unusually thick for a modern phone and has considerable weight to it. It definitely looks nothing like any other phone you're likely to encounter. In fact, if you put one of these on the table during a business meeting, it's quite likely the meeting will be postponed 15 minutes to allow everybody to have a look at your phone.
Unfortunately, things start to fall a bit upon closer inspection. While the phone looks different enough, taking it into your hands does not reveal the same feeling of quality you got with that delicious metal packaging. In fact, and there's no nice way to say this, it feels kind of cheap. The housing is made entirely of plastic, some parts are shiny plastic to create the impression of metal but this would fool no-one. There is no solid feeling when you press the phone, my one year old beat-up HTC One phone feels in a different class entirely as it is made out of aluminium. The shiny plastic is also a magnet for finger prints, as soon as you touch it you leave behind greasy marks. At the back is a leathery looking insert which unfortunately feels more like cardboard than real leather.
In short, this phone has less of a quality feel to it than a modern Apple, Samsung or HTC phone to name a few. Which is really inexcusable considering the price tag this phone is attached to.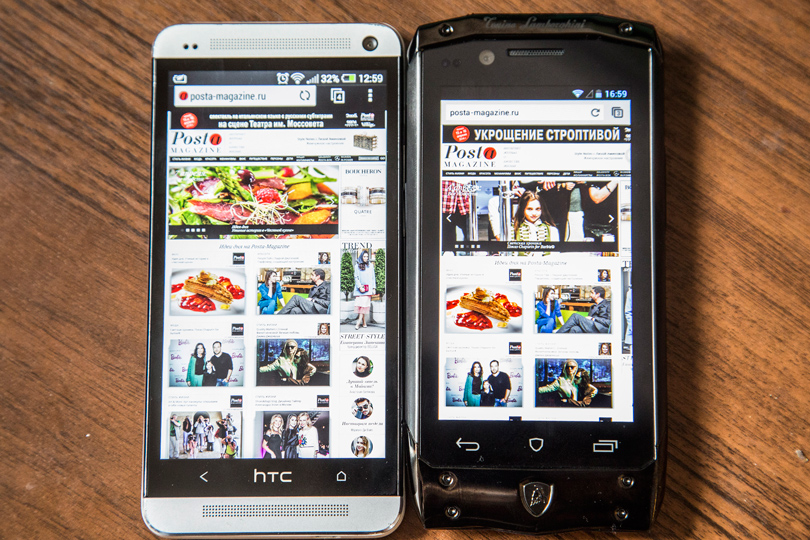 When we look at the technical specifications, things are not much better. The phone does all right, but it cannot compete with the newest offerings from the large and boring manufacturers. This is a mid-range phone at best from a technological point of view. Of course you could argue that phones are so fast and capable these days that the «latest and greatest» is completely unnecessary and pretty much overkill. And you would have a good point, but Lamborghini cars are not known for being slower than most. Nor are they known for being made out of cheap materials.
The Antares phone takes a full size SIM card, which is a bit unusual considering phones have generally been using micro and nano-SIM cards for a while now. The battery capacity is 1500 mAh which is relatively small by modern standards. The phone does have a MicroSD slot for expandable memory, which is good. The cameras are also pretty good and have plenty of megapixels to create instagram-worthy pictures. It comes with Android 4.2 which, again, is a little bit behind the times but unless you keep up with tech news you probably wouldn't notice. The Lamborghini theme looks good, as you would expect. Overall it is a capable smart phone without setting any new standards.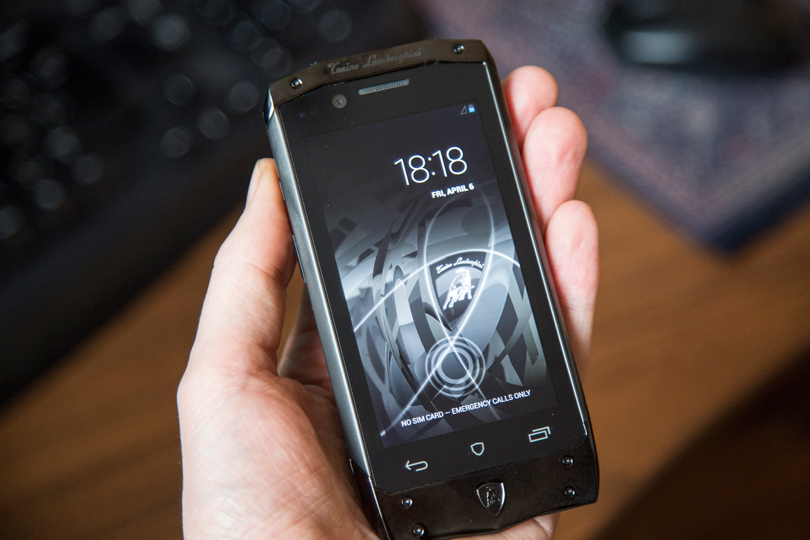 The screen is somewhat disappointing at 4 inches considering how large the phone is physically. The resolution of the screen is average, not great, at 960×540 pixels. You do feel that they could have fitted a much larger and better screen into a phone of this size, certainly when compared to a modern phone of this form factor.
What we are left with is a phone that looks good on pictures and comes in a very impressive package, but is outclassed by the regular suspects in the market. What is worse, the phone fails to deliver a quality feel that would justify its price tag. Some people really wouldn't mind paying a lot of money for yesterday's technology if it gave them something that would be genuinely different and luxurious. The Tonino Lamborghini Antares only manages to be different, sadly.
What can we take away from this? Well, for one thing, it shows that it is no accident that we all end up with phones made by Apple, Samsung, HTC or any of the other top selling brands. There is just no way that a small limited edition of custom phones by a small manufacturer could hope to compete on technology. Still, if I did spend money on a Lamborghini phone, I would leave it in its glorious package and place it on a shelf in my living room. In 25 years' time or so, it would probably be something really special. Just not today.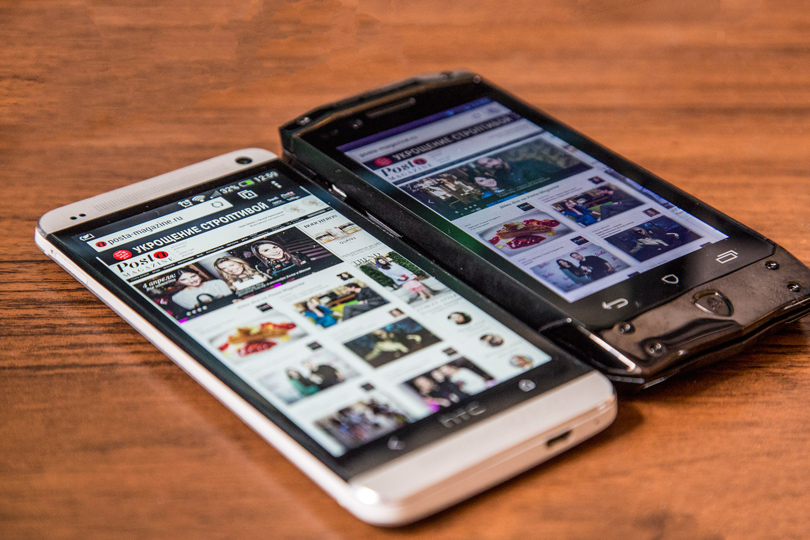 Last article
Mechanisms with Jan Coomans: amazing Maserati at the Geneva Motor Show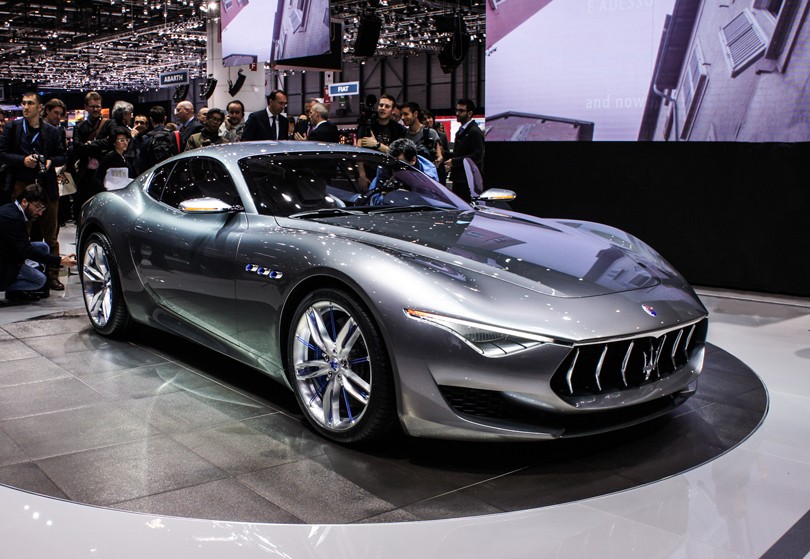 Famous brand celebrates anniversary return to basics and take off to new heights.
Concept car,
which didn't leave anybody indifferent.
At the Geneva Motor Show this week, Maserati surprised friend and foe with its «Alfieri» concept car. Alfieri Maserati was the most prominent of three brothers and the man who created the brand precisely 100 years ago this year, in case you didn't know.
Read more…