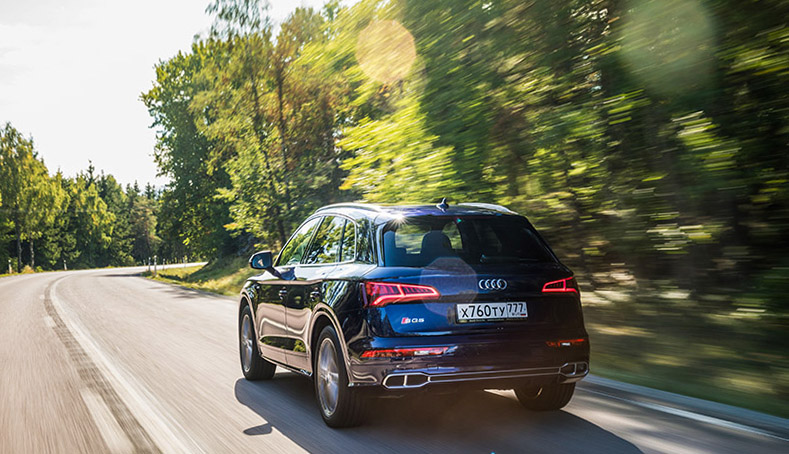 It may seem a little odd perhaps to compare two cars that are as different as the new Audi S5 and SQ5, but then these are strange times. Although built for slightly different purposes, Audi has bestowed them with the same powerful engine and Quattro drivetrain. Could the SUV offer as much or even more than the rather sleek S5 Coupe?
Car manufacturers have been trying to put some actual "sport" into their Sport Utility Vehicles for quite some time now, often with mixed results. While you can find plenty of SUVs now that can go quicker around the Nurburgring than a sportscar from the previous decade, but making them do that often meant having a worse car to drive in normal life on normal roads. Which makes no sense when you think about it. The Audi SQ5 which I was lucky enough to drive on pristine and very quiet Swedish roads, does not make any of those mistakes. It's a road car first, the impressive performance figures are merely the cherry on top.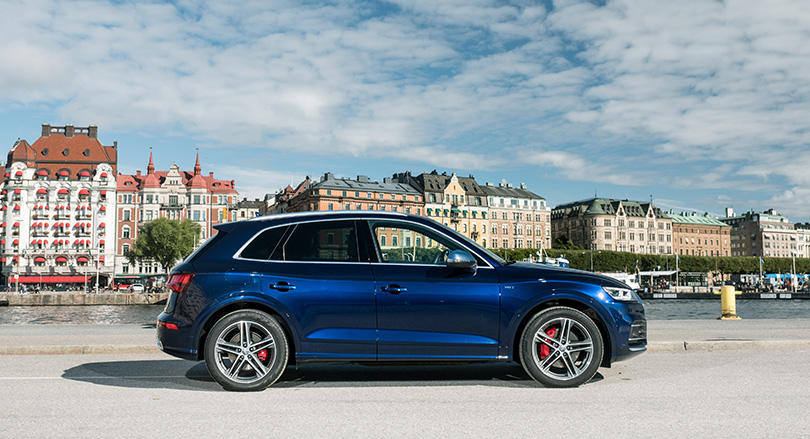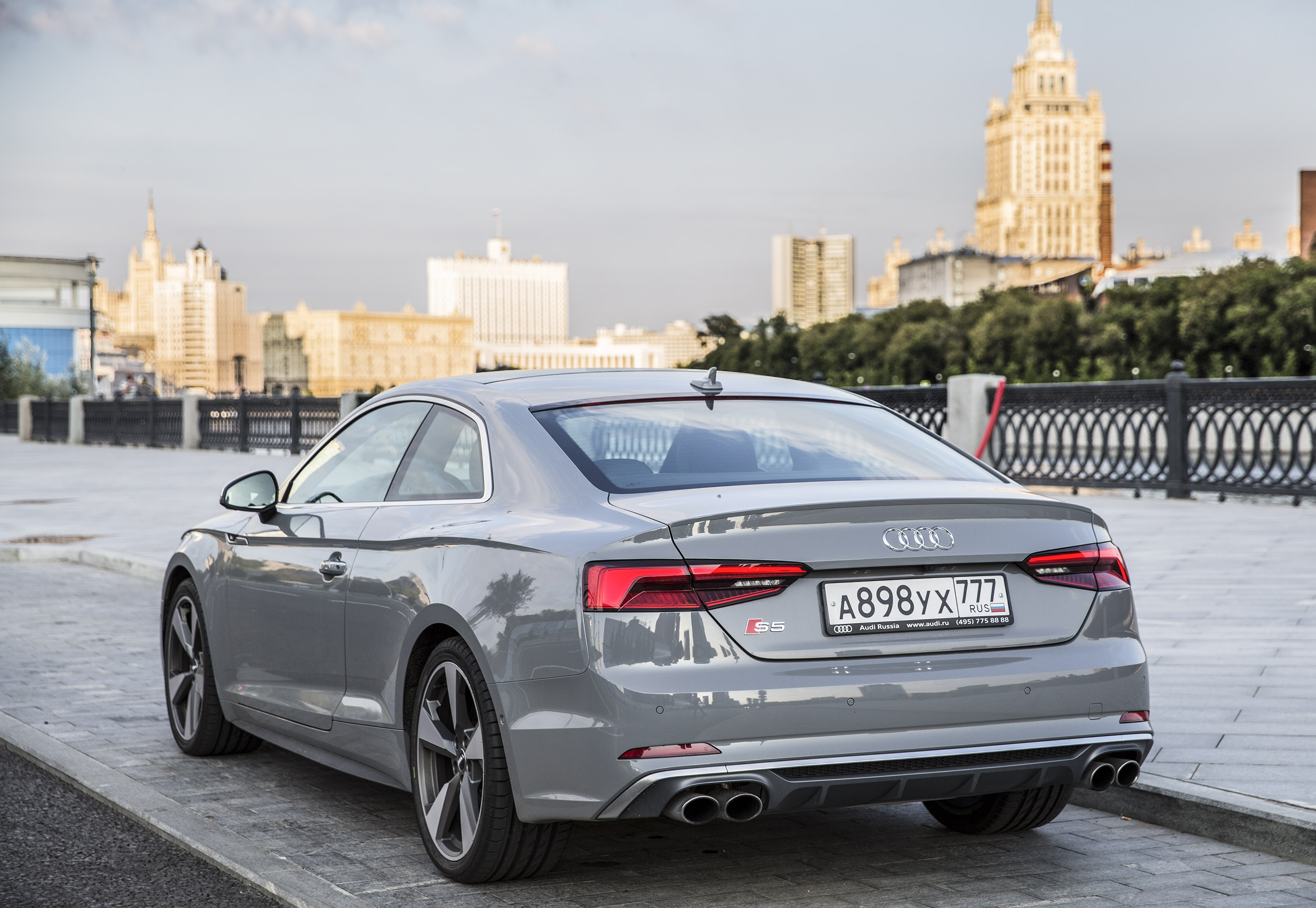 The S5 Coupe, meanwhile, looks a lot more purposeful. It's a pretty car, but there are plenty of subtle clues that this is no regular A5. Even so, it is in no way meant to go anywhere near a racetrack. Sure, you could if you really wanted to, but the car simply wouldn't be in its proper element. The Audi S5 is a car that glides over the roads, even Russian ones, with extraordinary finesse and comfort. If you put your right foot down, it will fly instead. Because there is an Audi RS5 now, the S5 kind of occupies the middle range of sportiness, but I think that's a great place to be.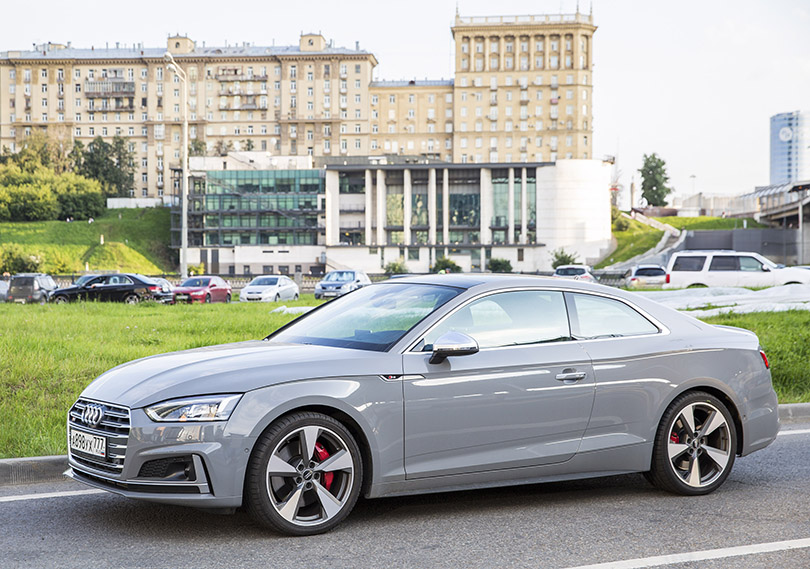 The history of the S5 Coupe is a little bit unusual in that Audi keeps changing the recipe with every new launch so far. Back in 2007, the first S5 had a naturally aspirated 4.2 liter V8 engine producing 350 horsepower mated to a traditional automatic gearbox. In 2013, the S5 moved to a 335 horsepower supercharged 3 liter V6 engine coupled with a dual-clutch S-tronic gearbox. The very latest S5 is still using a 3 liter V6 but this time turbocharged rather than supercharged and with a slight bump to 350 horsepower, in combination with a traditional automatic gearbox once again.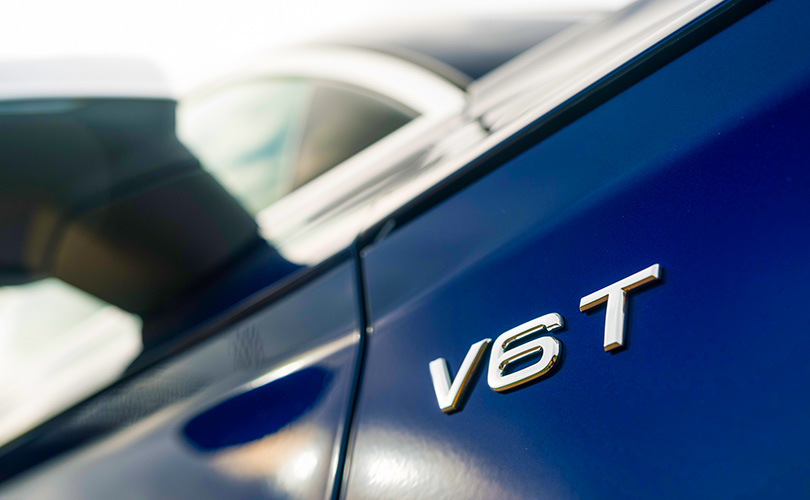 The move to a slightly smaller force-fed engine makes a lot of sense and is in line with the downsizing which is taking place everywhere in the automotive industry. But going from using dual clutch gearboxes back to regular automatics with a torque converter seems to run counter to what we would call progress. But whether the change is for reasons of reliability, comfort or simply cost — I have to admit that the ZF 8-speed suits these cars perfectly. It's a very smooth gearbox and it lacks the slightly nervous character of the dual clutch S-tronic.
The SQ5 is a pretty new car in Audi's line-up, but if anything it has broken even more moulds than the S5 did. It was the first Audi Sport model to be available with a diesel engine, as well as being the first S/RS Audi where you could actually choose from two different engines. A 350 horsepower petrol V6 engine was available alongside the 315 horsepower V6 diesel motor. It's all a bit complicated, but unless you like to play games involving Audi trivia it's of no concern to anyone. It certainly doesn't change how the cars drive.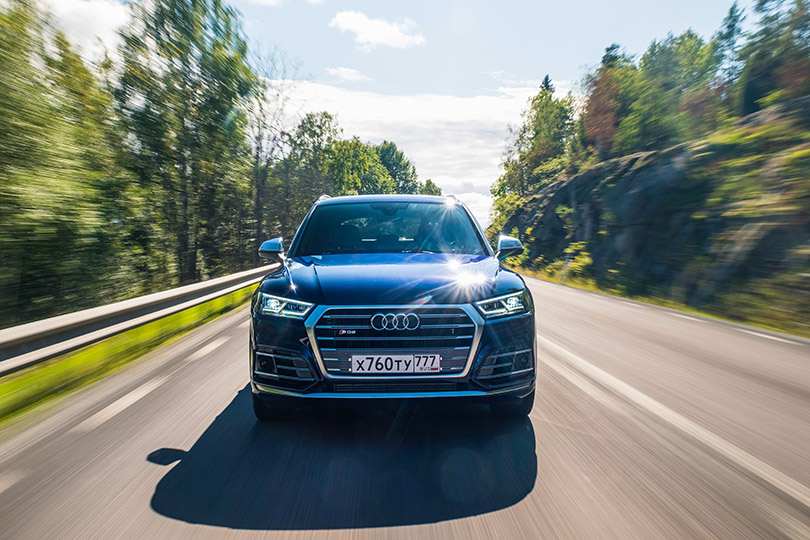 So how DO they drive? Well, as you would expect, the lower weight and seating position of the S5 make it feel considerably sportier than the SQ5. But unless I am very mistaken, I felt that the growl of the turbocharged V6 finds its way into the SQ5's cabin a little easier. The SQ5 sounded just a little bit angrier to me than the S5, possibly because the body shape lends itself better to sound from the exhaust resonating inside the car. The S5 Coupe just seemed to be a little bit quieter. Speaking of exhausts though, the one on the SQ5 is remarkable by its visual absence. The S5 gets the traditional two exhaust pipes on each side but the SQ5 gets…plastic bumper trip made to look sort of like exhaust pipes but without trying too hard. The SQ5's real actual exhaust outlets are invisible unless you kneel down behind the car and stick your head underneath. Not like this matters in any way or form, because let's face it soon enough we'll have all these electric cars which won't have any exhausts at all. I'll have to go back to making broom-broom noises like I did as a kid. Until then, I do like listening to Audi's V6 power plants. A lot.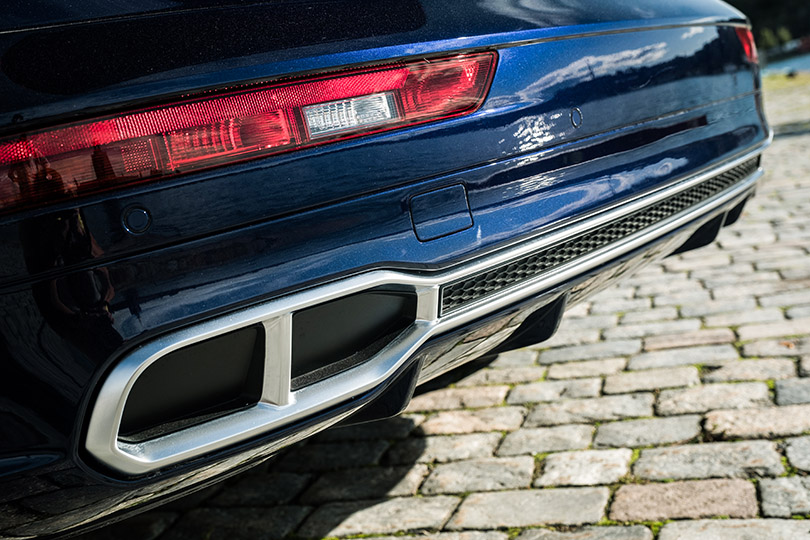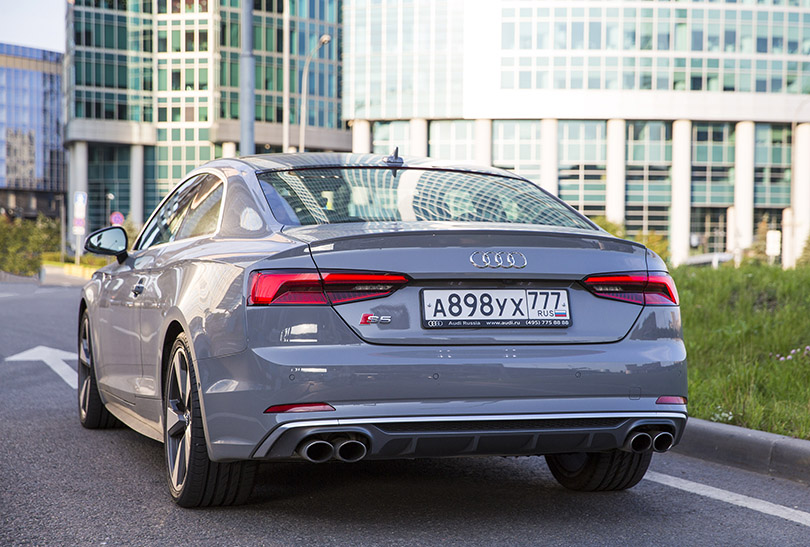 On paper, the S5 is a little over half a second faster from 0 to 100 km/h as well, but in practice the difference in straight line performance feels very slight. Top speed is the same, limited, 250 km/h for both. Simply put, if you want the extra space of the SQ5 but similar performance to the S5, you can rest assured that Audi's sporty SUV won't disappoint. The turbocharged 3 liter V6 has plenty of torque throughout the RPM range, and it delivers its power smoothly so it disguises its true speed a little bit. At no time does the acceleration feel scary fast, but the speedometer moves along pretty nicely. During gearshifts, there's a little burp in the exhaust as the computers send a little bit of un-burnt fuel into it for your aural entertainment. It's a pretty normal thing for sporty cars to do these days, but the twelve year old in me still likes it a lot.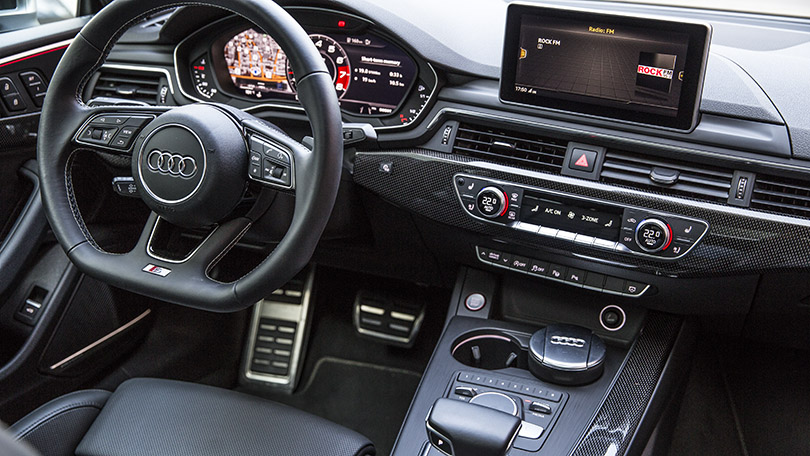 Interior quality is an area where Audi has always excelled, even over its direct German rivals. There are no big differences here between the S5 and SQ5 as the lay-outs are pretty much identical. Everything is solid, rattle-free and feels expensive. There's not even a square centimeter of cheap feeling plastic to be found, which is pretty unusual for any car in this day and age. The seats kept me comfortable for hours on end as well, striking a great balance between support and comfort. Both cars have fully electronic dashboards, using LCD panels to project gauges and other information. Because both models are from the Audi Sport line, you can choose a sportier lay-out for the gauges by pressing a button that will put the rev counter front and center with a digital speedometer just below. Seems like a small detail, but I really preferred this layout over the standard one.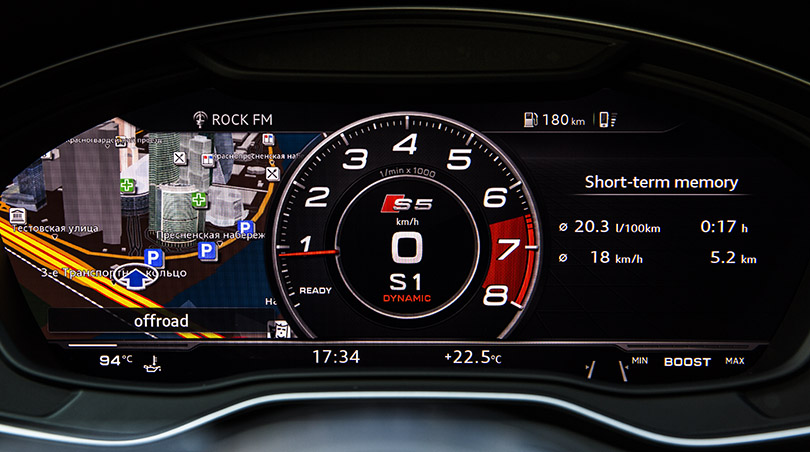 With the new S5 and SQ5, I feel that Audi has chosen a very sensible philosophy: make the cars great to drive every day for everyone. Predictably, this probably means that if you put the S5 in a group test with a couple of other German performance sedans, some reviewers will be complaining that the Audi just isn't as "sporty" as some of the others. Like that matters in the real world. Who drives their car to work sideways with the stability control off? The S5 is a car built for realistic scenarios, and it's all the better for it. The SQ5 is, if anything, a more practical version with some off-road capability thrown in should you ever need it. As I personally don't have to worry about fitting any children in the back of my cars, and don't live on a mountain, I'd probably rather have the S5. But if any of those things were to change, I'd feel just as happy getting the SQ5. Because it is at the very top of the Q5 range, it feels like it wants to take on the world. In a slightly bad boy kind of way. As long as we have fast Audis, the world is still doing all right.