Contrary to the impression you may get while reading this and looking at the pictures of the new Audi Q8 and I spending some time in sunny Portugal, car journalism isn't as easy as it used to be. Well, the actual job isn't that hard, I'm not going to lie. But the thing is that these days consumers are often wanting to buy cars which, at least on paper, don't make a lot of sense to me. As the customer is never wrong, that means I must be. So I got on a plane, cleared my head and got into Audi's new coupe (-ish) SUV hoping to find understanding if not wisdom.
I suppose the thing that has confused me the most about SUVs over the years is that, despite their massive success they are still trying to be as much like a regular car as possible. Describing an SUV to be as easy to drive as a regular car is considered pretty high praise. Saying that it goes around a corner almost as good would be even higher praise still. And it's not like they are inherently more spacious or comfortable either. So why wouldn't you just buy a sedan or estate of a certain size and not bother with the compromises that come with a much higher centre of gravity? I'm being purposefully obtuse now, obviously, but nevertheless I'm quite fascinated by the whole thing. I can see the higher driving position, but what's so great about that?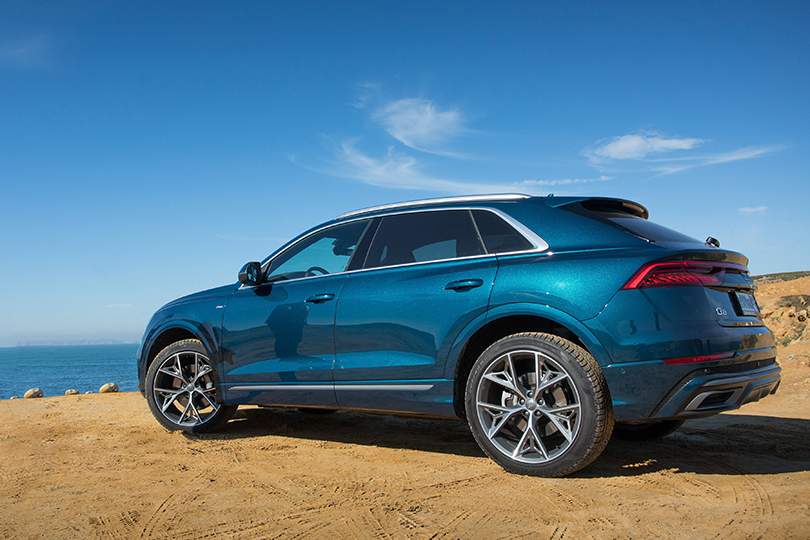 But even when I suspend my disbelief for a moment and accept the SUV as a wonderful invention, an SUV with a coupe kind of roof line is still another kettle of fish. I vividly remember getting into the back of a BMW X6 for the first time many years ago and, upon finding my head very much against the ceiling, thinking to myself that these cars were so unnecessarily unpractical that they would never catch on. I'm glad I didn't place any bets on that one, obviously. Anyway, at this point, introducing an SUV with a sexy roof line is actually a pretty sure bet from a sales point of view. So it's time for my blood pressure to go down a couple of points, turn over the page and tell you about the Audi Q8.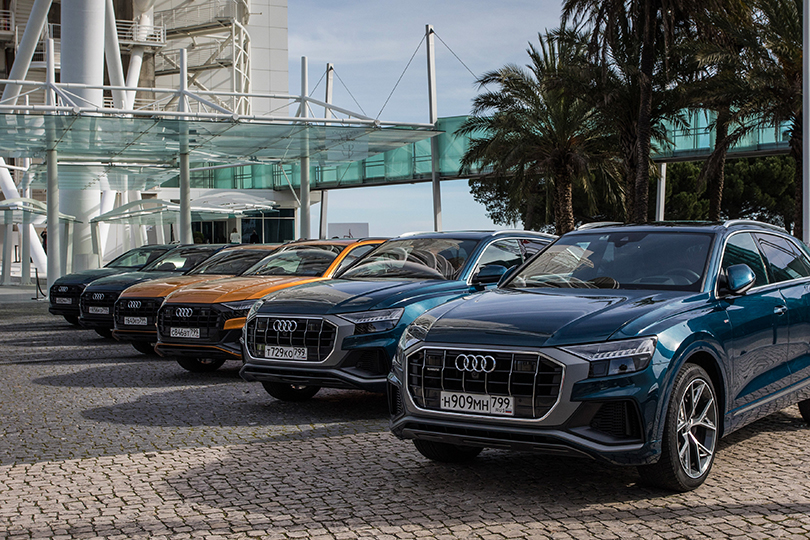 If you're somewhat familiar with Audi's naming strategy, you'll know that the number 8 is as high as they go. The A8 is their biggest sedan, the R8 is their sportiest car and now we have the Q8 which will serve as their flagship SUV. But interestingly, the Q8 isn't actually as large as the Q7 is. Not in terms of length, anyway, as it is a full 66 millimetres shorter and 35 mm lower. Its body however is in fact 25 mm wider despite the fact that it has the same wheel base and wheel track as the Q7 with which it does share the MLB Evo platform. But dimensions aside, when you look at the Q8 you will immediately see why it has been chosen to sit at the very top of Audi's SUV pile. It just has a massive presence, especially when looked at in profile or from the rear. There's nothing wrong with the front at all, but it mostly just looks like a large and imposing modern Audi SUV from that angle.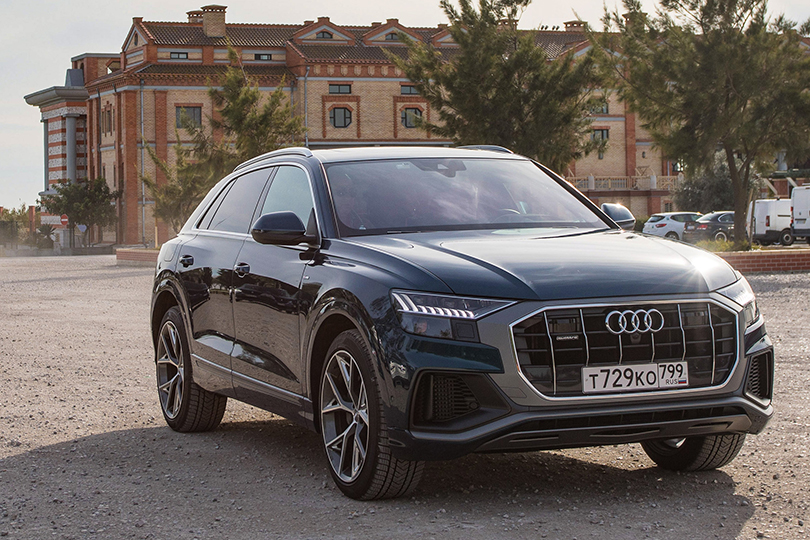 I think the Q8 is the first to really crack the whole dynamic looking SUV with a coupe roof line thing. This is of course an observation which leans heavily on personal taste, so your opinion may vary from mine, but I feel that Audi have nailed the exterior design more convincingly than its direct competitors have. And what's even better — there seem to be very few downsides for passengers as there is ample room both front and rear in all directions. The trunk is the only place where you will be forced to give up space over what a regular SUV like the Q7 offers, but then it's still not exactly small. If you're not constantly moving huge amounts of luggage, it seems like a price worth paying for the way the Q8 looks.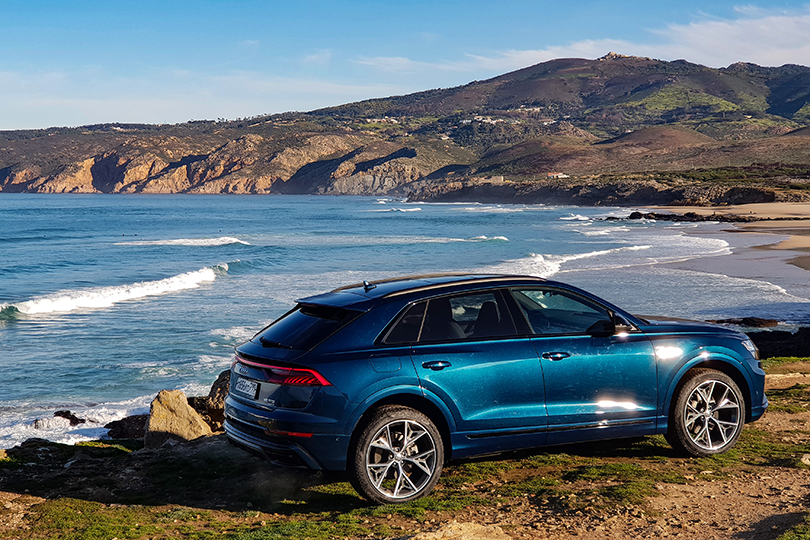 The Q8 even draws considerable amounts of attention from onlookers, more than I've ever noticed when driving an SUV that doesn't have a Lamborghini badge on it anyway. Speaking of which, I think the keen observers among you will notice that the Q8 and Lamborghini Urus do look quite a bit alike. Obviously, this is not a coincidence but it goes to show just how versatile and capable the MLB Evo platform is. It seems a pretty good bet that the future will bring us an SQ8 and perhaps even an RS Q8 which could make the Q8 quite literally a more grown up and dress code abiding version of the rather insane Urus. The prototypes have already been seen testing on public roads, and those are usually a pretty good indication.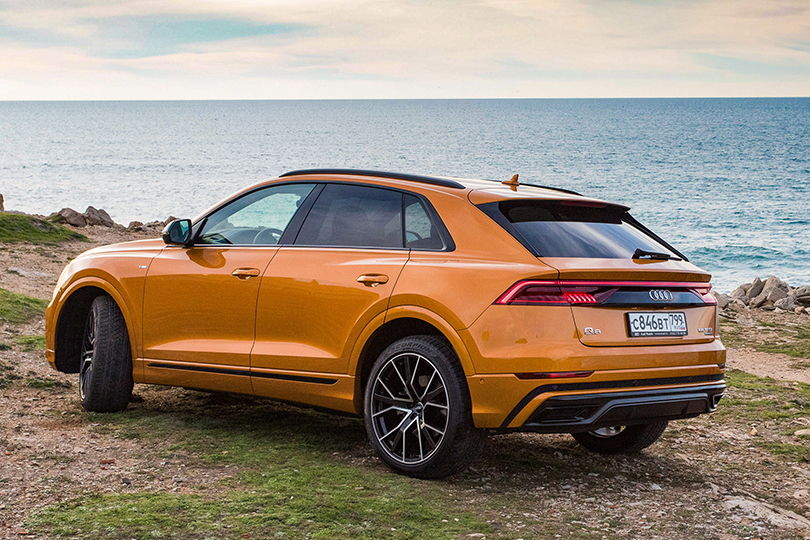 For now, though, the Q8 55 TFSI Quattro is what we have and it is certainly nothing to sniff at. There's the familiar buttery smooth 3 litre V6 engine which provides a healthy 340 horsepower to all four wheels through the 8-speed tiptronic transmission. It's more than enough to make the Q8 faster than most cars around you, but it doesn't necessarily invite you to use all its power all the time. It's happiest doing its job quietly and efficiently and it is when driving the Q8 this way that the whole package is the most rewarding. The car certainly handles better than the Q7 when you decide to push it into a corner at an above average speed, but it was never meant to do any acrobatics. Comfort and refinement are the car's first priority. That and looking amazingly good.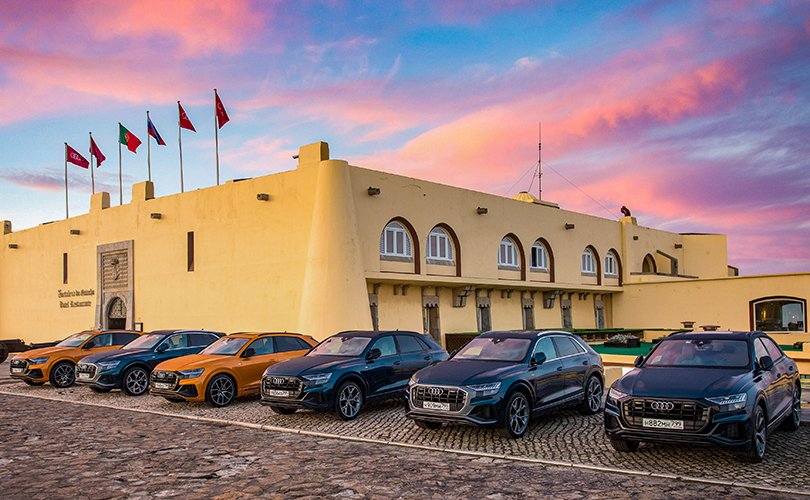 The Q8 is an SUV which has perfected the art of simply gliding down a road. The suspension is very supple and it rides bumps well, though ultimately perhaps not quite as smoothly as, say, an Audi A8 would. There is still a small price to pay for raising the centre of gravity as you need stronger springs and anti-roll bars to make the whole thing work and not tip over. But I'm probably splitting hairs here as the Q8 is undeniably quiet, comfortable and a pleasure to be in. And if the day comes that you do need the extra road clearance to do a little off-roading or, more likely perhaps for the Russian market, drive over some blocks of ice that have found their way onto the road, you'll be happy to have it.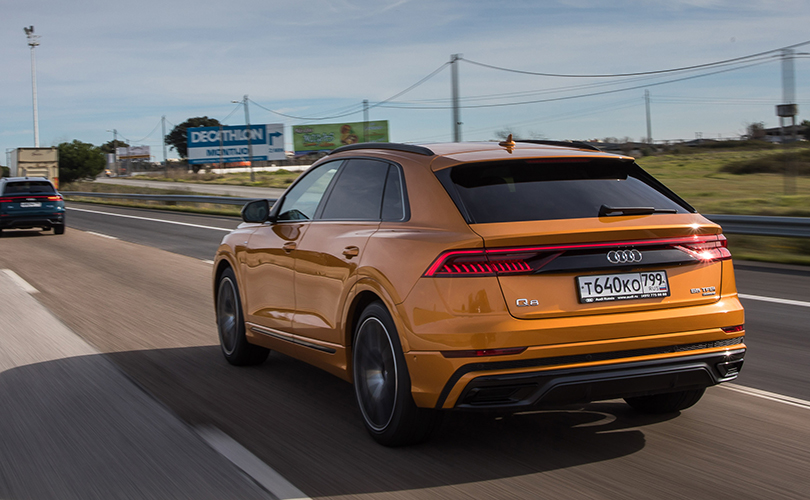 None of those qualities of course make the Q8 vastly different to the Audi Q7 which has been around for quite a while already. The choice between the two really comes down to whether you need the extra trunk space of the Q7, because aside from that the Q8 does pretty much everything as well or better but it's the more attractive package and comes with the new hi-tech Audi interior. Compared to the obvious German rivals from BMW and Mercedes, the story is a little different but it would be difficult to argue that the Q8 could not come out on top once you add everything up. It's true that a BMW SUV is going to be a little sportier to drive but then if sporty driving was your thing why get an SUV in the first place. Of course car buying is very much a case of price, how it looks and which brand you personally identify the most with.
But the Q8 is a powerful statement by Audi, it looks the part, is chock full of technology and it drives as well as anything else of its size out there. There's no way you can sit in it and not come away thinking that this thing is pretty special. I'm not sure whether that means that I've seen the light of stylish SUVs entirely, but it certainly isn't dark anymore.