Photo: Jan Coomans
The Swedes
have a tendency to make things look easy. Whether we're talking IKEA or ABBA, the elegant simplicity inherent to the Scandinavian way of doing things has often made us all wonder why nobody thought of it sooner. I went all the way to Northern Sweden to test their latest handiwork: the new Volvo V90 Cross Country.
Now, I do admit, Northern Sweden is not exactly the first destination one longs for during the seemingly never-ending Russian winter. It simply doesn't have nearly enough palm trees or sandy beaches for that. But it is a beautiful reindeer-filled country, and being invited to be the first media to stay in Volvo's exclusive Get Away Lodge, V90 Cross Country included, tipped the balance in favour of temporarily swapping one very cold place for another.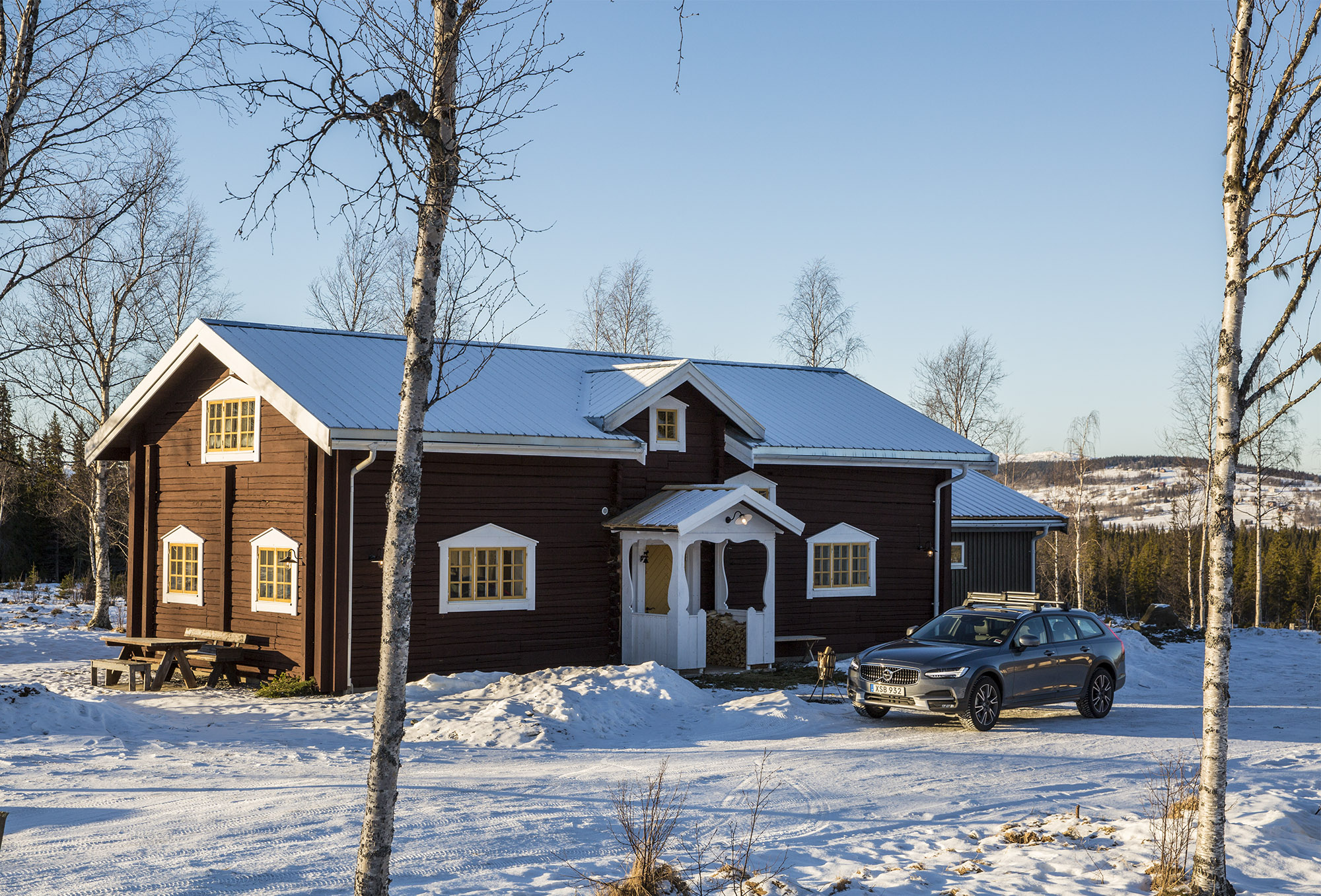 Located on a mountain slope near Åre, a popular winter sports resort in Northern Sweden, the Volvo Get Away Lodge is secluded in wilderness. Volvo teamed up with luxury hotel curator Tablet Hotels to make it happen, and you had to be very quick (or lucky) to get in as it will close at the end of March. Inside, the lodge is an overload of coziness. Almost entirely made out of wood, the building itself was already quite old when it was moved from another location far away in Sweden to this place, piece by piece. The aged wood instantly makes you feel at home, and feels warm even before you light the wood-burning fireplace. There lodge also about six million candles to cozy things up even further. That's an estimation obviously, I did not waste my precious time actually counting them all. But together with the fireplace, they give off such an amount of warmth that you end up opening some windows to let some of the cool forest air in.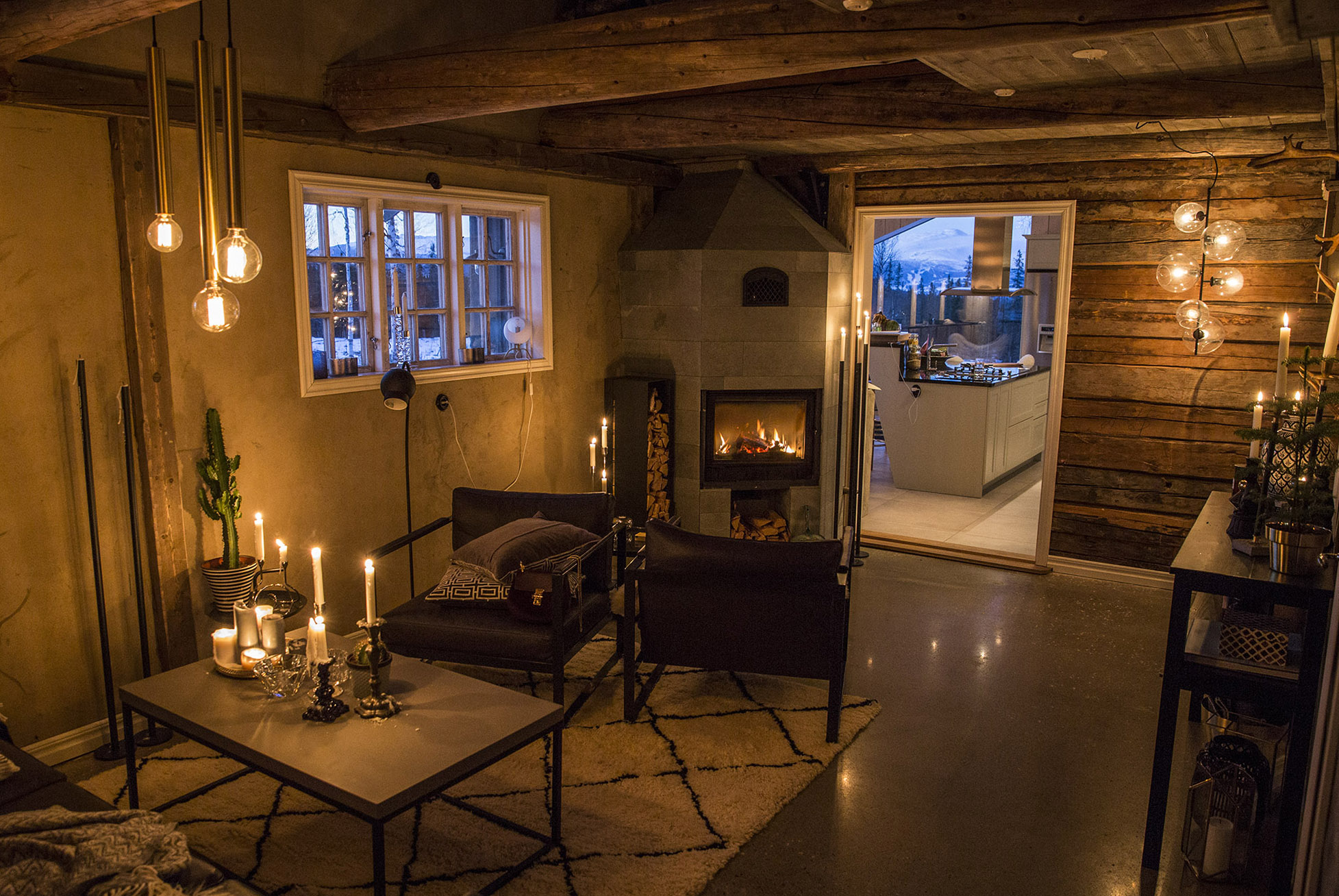 It almost goes without saying that the Volvo Get Away Lodge is a celebration of Scandinavian design. Even the modern kitchen is stunningly stylish, thoughtfully designed with a pair of furry comfort seats in the corner by the floor-to-ceiling window that looks out into the surrounding nature. On the opposite side of the lodge there's a dining room which also contains a rather powerful Hi-Fi system with huge Bowers&Wilkins speakers. When turned up to 11, it sounds fantastic, and as there are no neighbours for miles around complaints should be minimal.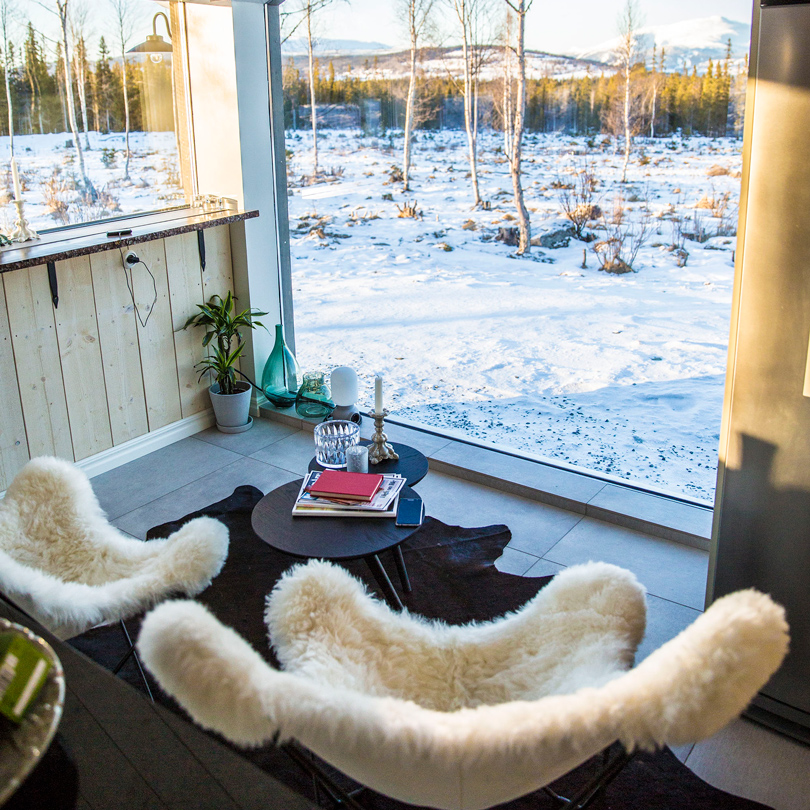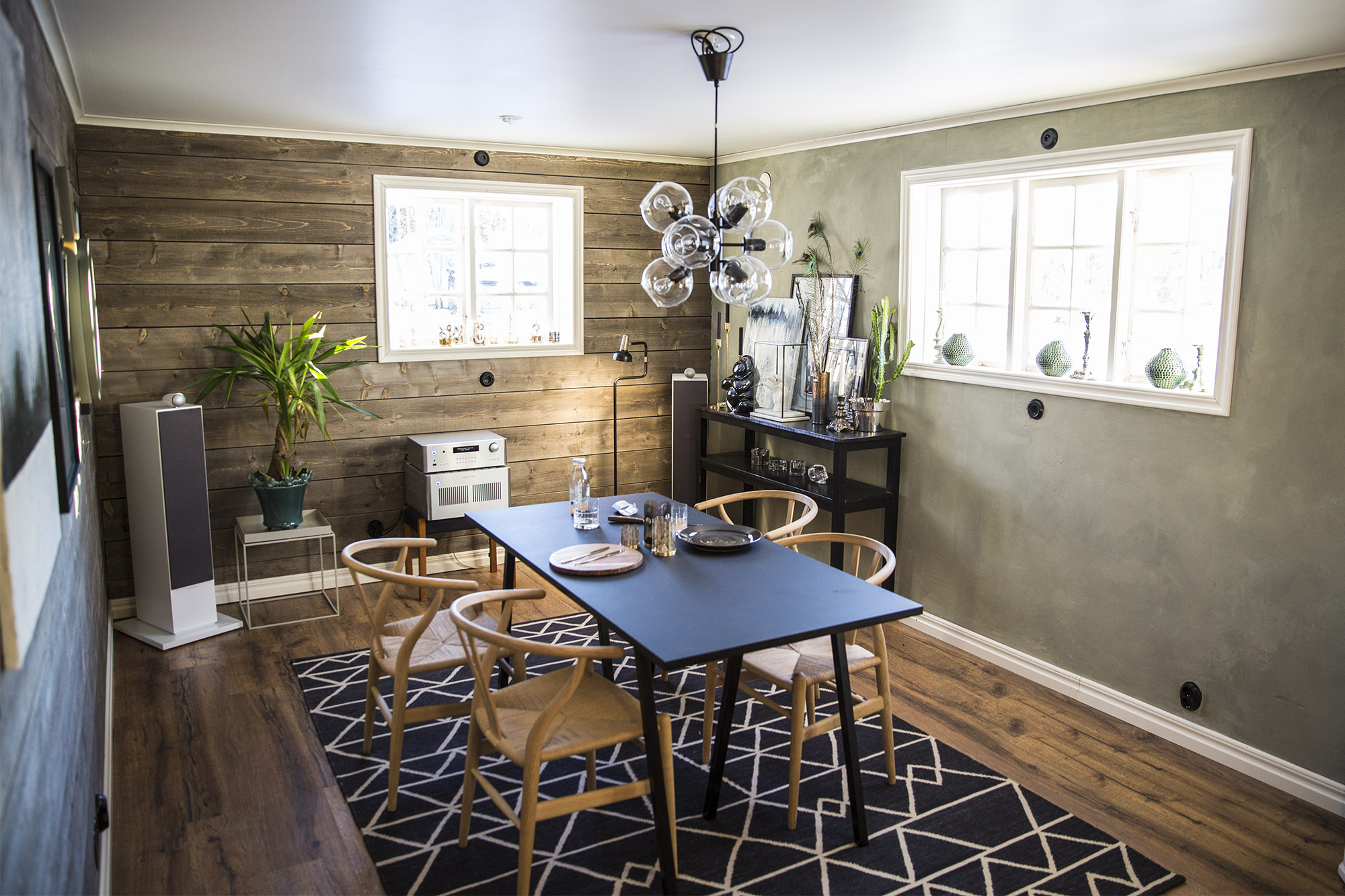 Upstairs, there's a high tech bed with furry pillows and a relaxation/contemplation room which contains no TV but ample Zen books. Sadly, it's impossible to articulate into words just how wonderfully warm and homely the lodge feels, but together with its location you really do feel like you can get away from regular life, for a short but fulfilling while. It's amazing, particularly when you live in a big city I suppose, how satisfying it can be for your ears to hear simply nothing. One evening, I stuck my head through the open window upstairs, perhaps hoping to catch a glimpse of the northern lights, and I simply could not get enough of listening to the sheer silence outside. There does not exist an engine sound in the world which I would rather have listened to than that silence. Those of you who have read some of my articles before will understand what a huge compliment to silence I am trying to make here.
The location of the Get Away Lodge also adds to the occasion, as it's only a 15 minute drive from Åre where there are many great restaurants, including one which has accumulated two Michelin stars. The quality of produce and the heartfelt friendly service we experienced everywhere in Sweden, and Scandinavia generally, does make you understand why they are always found near the top of best and happiest places to live. Don't worry, be happy — that saying really does work around here.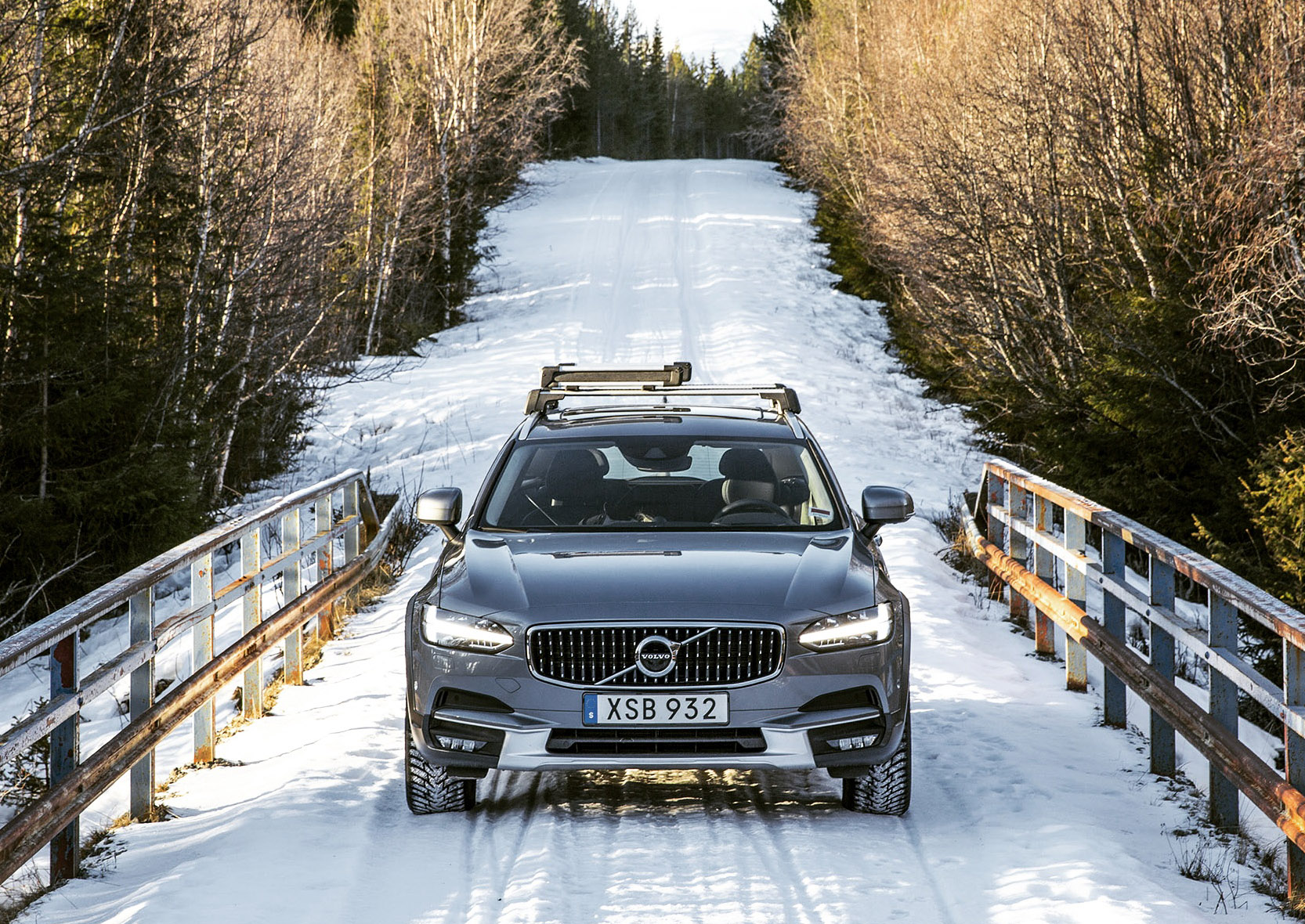 The Volvo V90 Cross Country reflects a similar philosophy. Like Sweden itself, when looked at on paper, it my look a tad boring to some people. When you try actually living life the Scandinavian way, however, chances are it will start to make a lot of sense. Human nature is funny that way — for example it turns out that we aren't necessarily happy when we have money but we sure as hell appear to get unhappy if the people living next door have more of it than we do. As a species, we seem to find it stressful to live in a highly unequal society where we have to concern ourselves with broadcasting our status all the time. Sweden is not about that, and neither is Volvo. The V90 is obviously a rather expensive and upmarket car, but it is the opposite of showing off. It leaves you free to enjoy your own life and it will even do most of the worrying for you. The car is always looking ahead for something dangerous you might not have spotted, and will help you with the actual driving part as well if you want it to. Volvo has been working on autonomous driving systems and driving aids for longer than most manufacturers, but it's probably more conservative than most as well. Thus far, Volvo has carefully avoided making spectacular claims or marketed its systems in a way that makes them sound more advanced than they really are. The technology is there to help the driver, and not the other way around. And they want to make sure it works properly before they implement it, even if it means being later to production.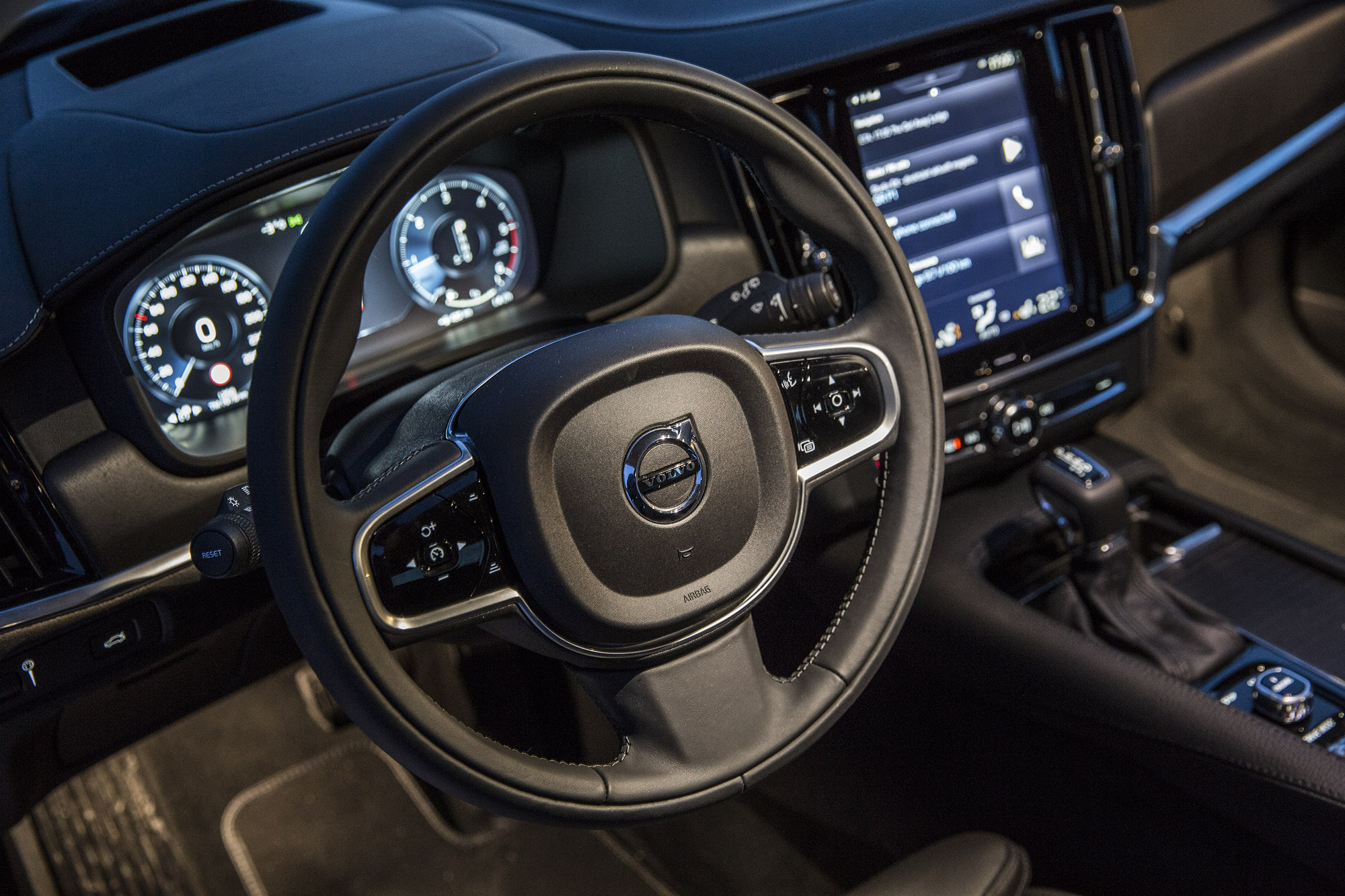 Still, when you get into the new V90, in this case the Cross Country version, it feels like a very technologically advanced machine. The cockpit is another example of simplicity which manages to look great yet be ergonomically friendly at the same time. The large, centrally placed vertical screen is bordering on genius. Yes, I still find using a touchscreen rather than an old fashion button or switch sometimes unnecessary, but I believe Volvo has the best implementation of it of any brand so far. As far as user comfort and intuitiveness is concerned, Volvo has the iPhone of car infotainment systems. For the dashboard display, as is now the norm, an LCD screen has replaced analog gauges, and simplicity is still the order of the day. The speedometer is on the left, the rev counter is on the right, and in the middle we get various information. Obviously there is a high degree of customisation possible, but there is no unnecessary information there. People don't look at things like a water temperature gauge anyway, so no need to bother them with it as long as everything is working normally.
In terms of overall concept, the V90 Cross Country does not stray particularly far from its oldest predecessor, the original V70 XC which made its debut twenty years ago. In fact, the biggest difference is probably in the name. Volvo is dropping the «X» to mean Cross, and is just going to abbreviate Cross Country to CC from now on. Sounds fair to me. The new car is both very similar and very different to the regular V90. On the inside, it's basically the same interior. On the outside, you will definitely notice the huge ride height increase of 60 millimetres as well as the plastic wheel arch extensions. But the changes are much more than cosmetic, the suspension has been tweaked to give it more genuine off road capability, and it even has a range of Pirelli tires especially made for it. The Cross Country is available with Volvo's own D4 and D5 diesel engines, or the T5 and T6 which use regular gasoline. In its most powerful T6 form, you get a 2-liter 4-cylinder engine which is both supercharged and turbocharged to deliver 320 horsepower.The car I drove had the slightly more sensible D5 engine, which I found plenty powerful, quiet, and it used fuel very sparingly. Do I miss the old 5-cylinder engines which Volvo used to make? You bet I do. But the object go the game now is to be as efficient as possible, and having less cylinders helps with that. It is what it is, and everybody is downsizing. The 8-speed automatic gearbox worked well, and remained in the background to such an extent that I never really noticed it doing anything in particular.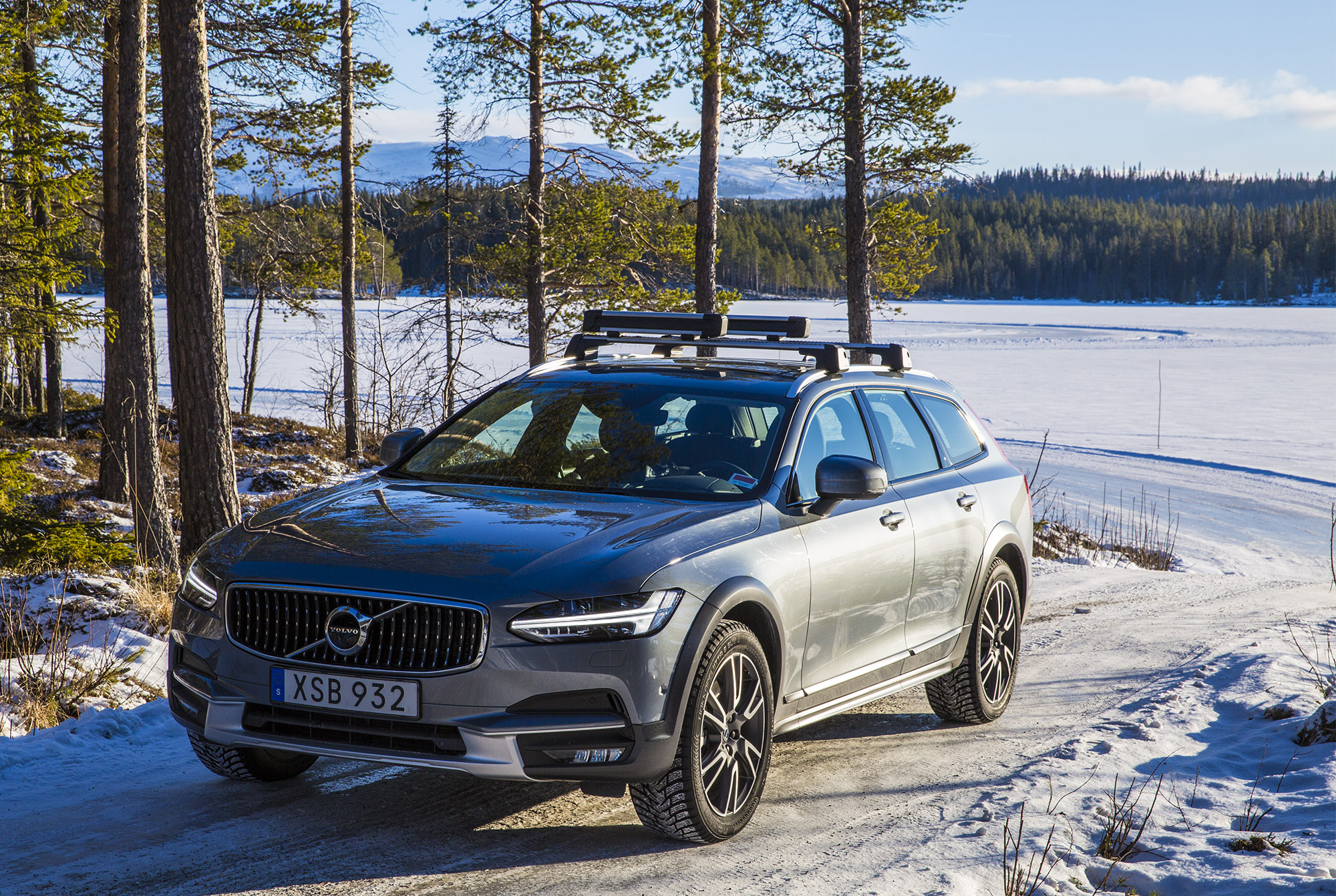 Being in Sweden, in winter, the car was obviously fitted with studded winter tires. Studded tires are not ideal to judge the general comfort and behaviour of a car, which made it all the more impressive that I did not really notice them in the V90 Cross Country. The car was extremely comfortable, quiet, and the steering felt very direct. The power steering system is very light at low speeds and gets heavier as you get up to normal driving speed, again a system that just works without being in your face. You don't get much information through the steering wheel in terms of road surface, but that is to be expected in any car which aims for comfort as a prime objective. The lane assist feature will gently nudge the steering wheel in the right direction if it feels you are getting close to straying over the road markings. It does not make a fuss, there are no loud beeping noises, you just feel the car stepping in and giving you a hand with the steering wheel.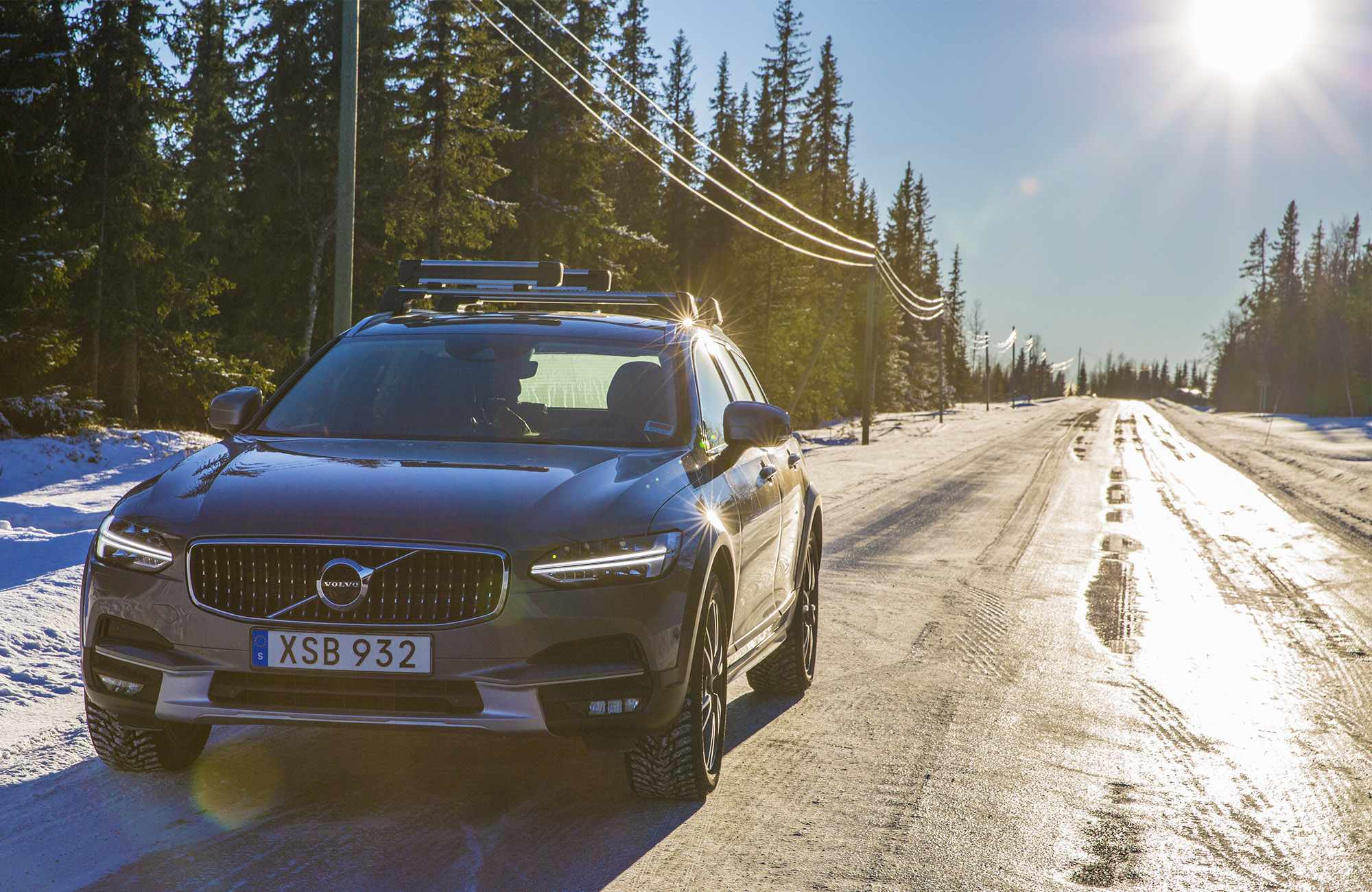 Many of the roads I drove were literally covered in ice — which I found out the hard way when I got out to make a picture and very nearly ended up on my backside. The combination of the V90 Cross Country's all wheel drive handing characteristics and the studded tires completely masked just how slippery the roads really were. It would drive on them without a care in the world, whilst I would struggle just to remain standing on them. Occasionally the car would tell me on the dashboard and heads-up display (one of the clearest windshield projection systems I have ever seen by the way) that the roads were slippery but that was about it. Volvo is working on a system that will share road data from the car's sensors with other cars, right now it only shares information with other Volvos and works only in a few countries, but it aims to get to a point where all cars will communicate with each other to tell other drivers where they might find a slippery surface or any other dangerous situation. It's another example of Volvo trying to look ahead and anticipate things before they happen. A useful feature I found in the new V90 is that it will tell you about a speed limit change well before you get to it. Long before you could read the road sign, the V90's dashboard shows both the current speed limit and the next one. It allows the driver to anticipate and slow down more gracefully and more economically — no need to jump on the brake pedal when you see the sign and realise you're going too fast.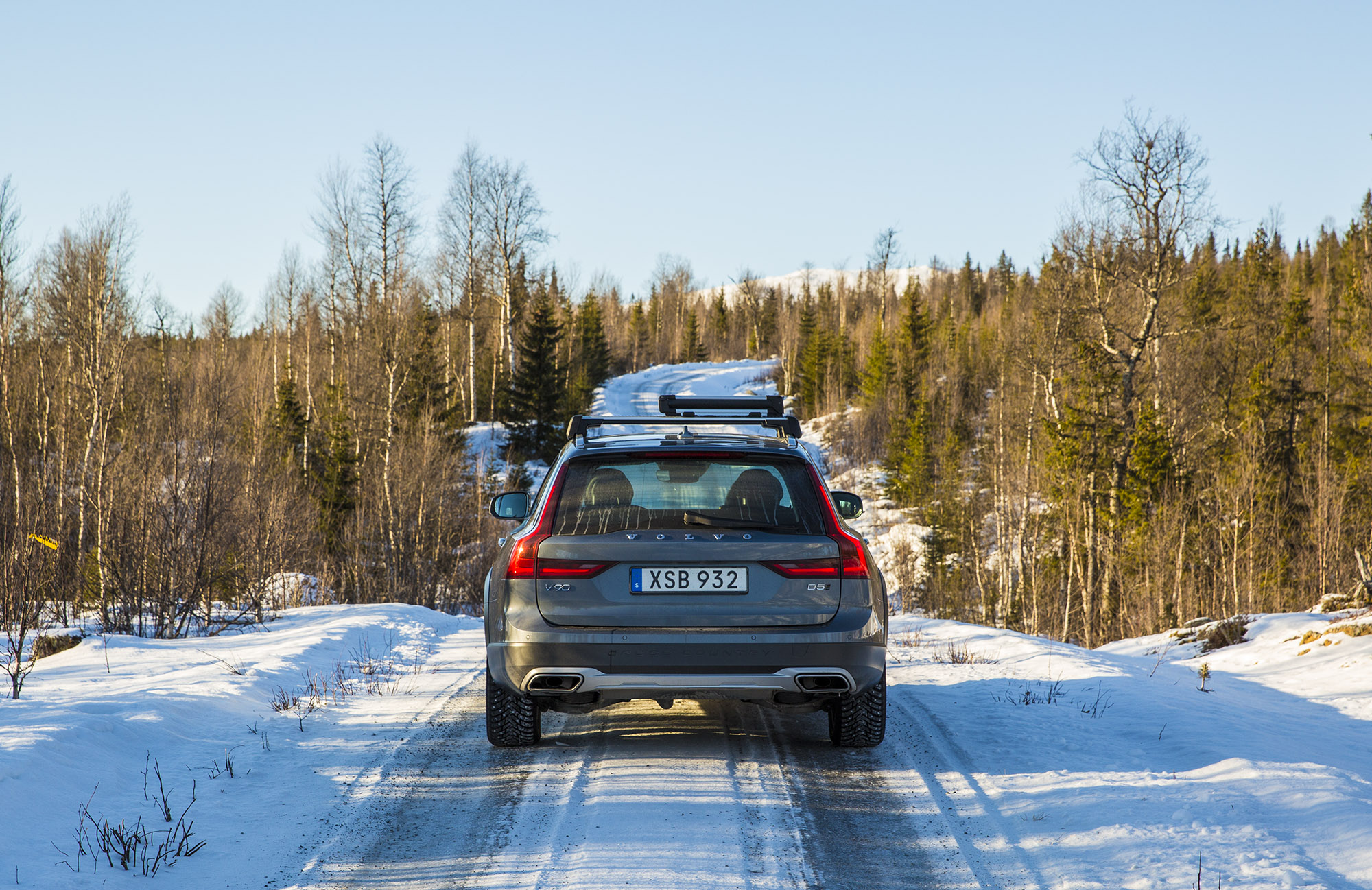 The V90 just feels like your friend, it's there to work with you. For example, if it's cold outside, it will automatically start heating the seats and steering wheel. And probably defrost the rear window, too. It just feels on top of things, like a good butler, it knows what to do without requiring explicit commands. It's even quite nice to the people driving behind you, as the windscreen washer system is integrated into the window wiper. It avoids most of the spray that usually ends up on the windows of the next 3 or 4 cars that are behind you. Volvo is probably not the first company to use this, but it's another one of those things where you wonder why they weren't made like that 20 years ago already. It's so much better but, to my mind, not any more difficult to produce. I was also quite impressed with the power of the car's headlights. In Sweden, it's rather common to see cars fitted with extra powerful lights on the front to light up the dark forest roads at night. The V90 Cross Country certainly did not feel ill-equipped in this area. You could probably see a moose hopping out of the dense forest from a mile away. Which is a good thing, as moose are notoriously unconcerned about anything at all. Much like everything else in Sweden, I suppose. It's up to you to avoid the moose with your car, because you can expect very little effort on their part to avoid a collision. Although, if you're driving the V90 Cross Country, there is actually a system in the car that is designed to detect recklessly crossing wildlife and brake for it if necessary.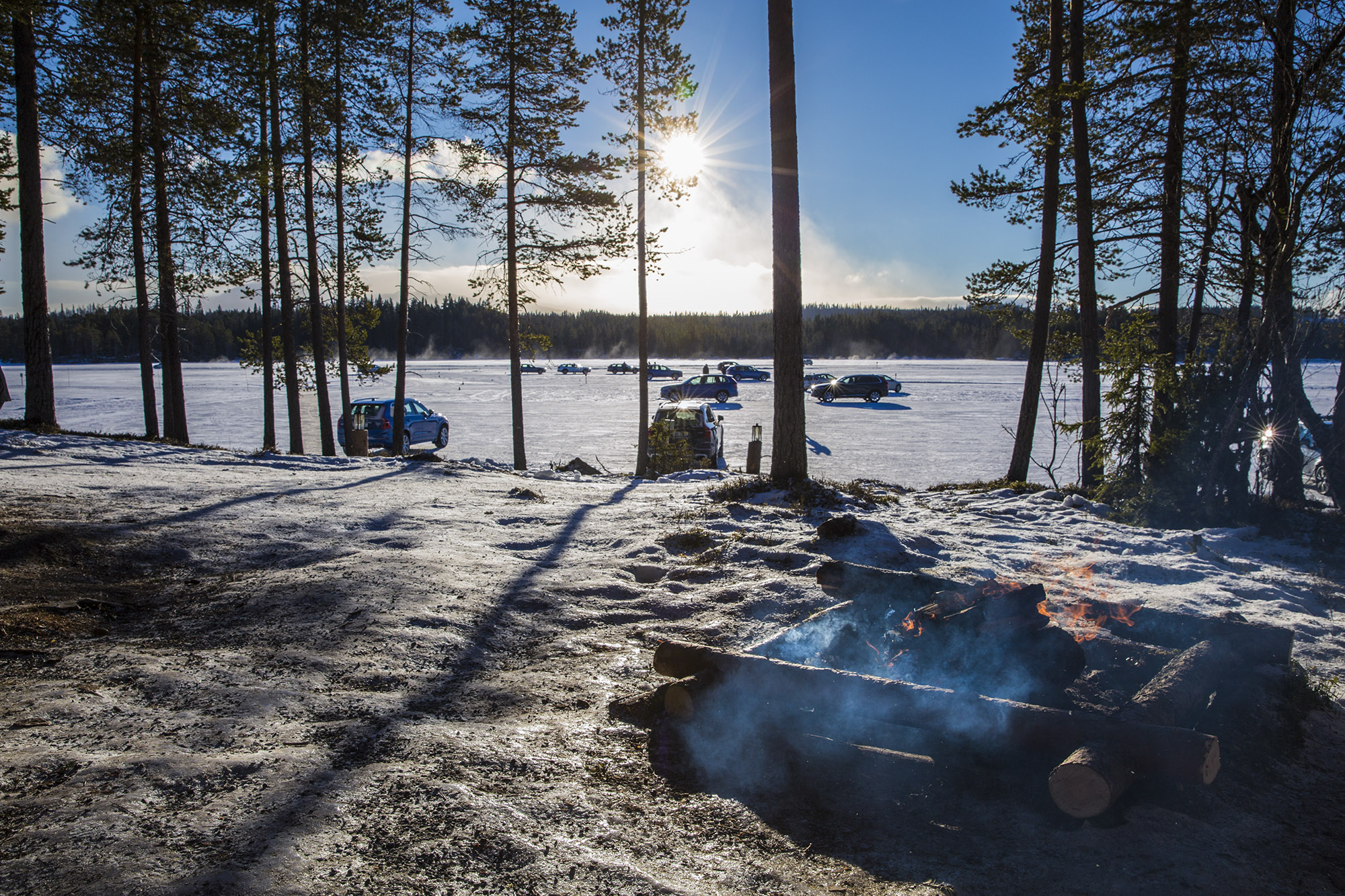 As luck would have it, there was a frozen lake about 10 minutes driving from the Get Away Lodge where Volvo had made an ice track to drive its cars on. I was given a V90 Cross Country T6, the 320 horsepower one, and a few words by the driving instructor before I was let loose onto the ice. The message was «go and have fun, there is nothing there to hit». How can you not like the Swedes. On the first exploration lap, with all the safety systems on, the car was well behaved but still quite fun as it allowed small amounts of oversteer before correcting. Turning the stability control off, however, was a lot easier than I thought it would be. You simply select a different drive mode with one swipe on the touchscreen and suddenly you're fully sideways. This is a departure from the approach which Volvo used to take — I remember driving an S60R about 10 years ago and to turn the systems off you needed to push a button a particular number of times with an exact number of seconds in between. Doing a rain dance while doing a handstand was easier. In 2017, in the V90, you just tell the car you want Dynamic driving and it just gives it to you with no questions asked. The car will still be helping a little while you're sliding though, applying the brakes on particular wheels to mimic the effect of a limited slip differential. It's just to give you more traction, it does not really interfere with what you are trying to accomplish. I couldn't really tell how fast the T6 was, there was nowhere near enough traction available for that.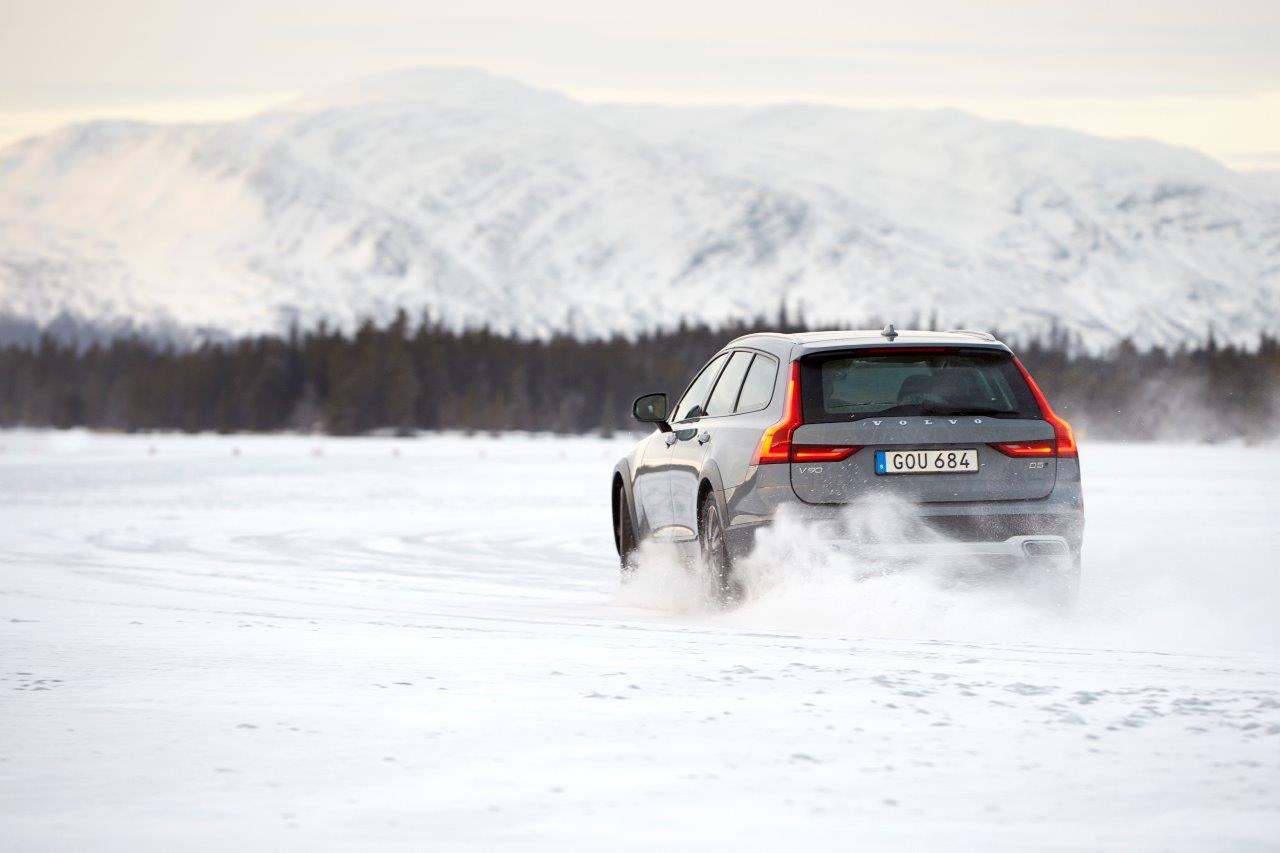 On the slippery ice, I was pretty impressed with how well the front end of the V90 follows steering inputs. Probably thanks to the huge improvements in electronic stability systems, car manufacturers are now able to build cars with a level of front grip that would have made cars too nervous or edge to drive in the past. With modern technology to make sure we don't lose control of the car in normal driving, car makers finally give us a front axle that does what we tell it to do. And it feels great. In the year 2017, it turns out that even a Volvo family wagon can pull huge long drifts on a frozen lake. It doesn't feel entirely natural doing it though, yet more of the car's clever devices like the automatic safety belt tighteners start to behave in a way that suggests the car is telling you «what the hell are you doing, you silly human, please act normal!». The car simply behaves like more of an adult, than me at least. The tightening safety belts are meant to keep you more solidly in place in your seat, but I found them a little strangling when going very sideways. Still, I had great fun to slide the V90 Cross Country from corner to corner in this very picturesque setting. It's amazing how easy it becomes to throw a car around when there is literally nothing you can hit except for some harmless fluffy snow.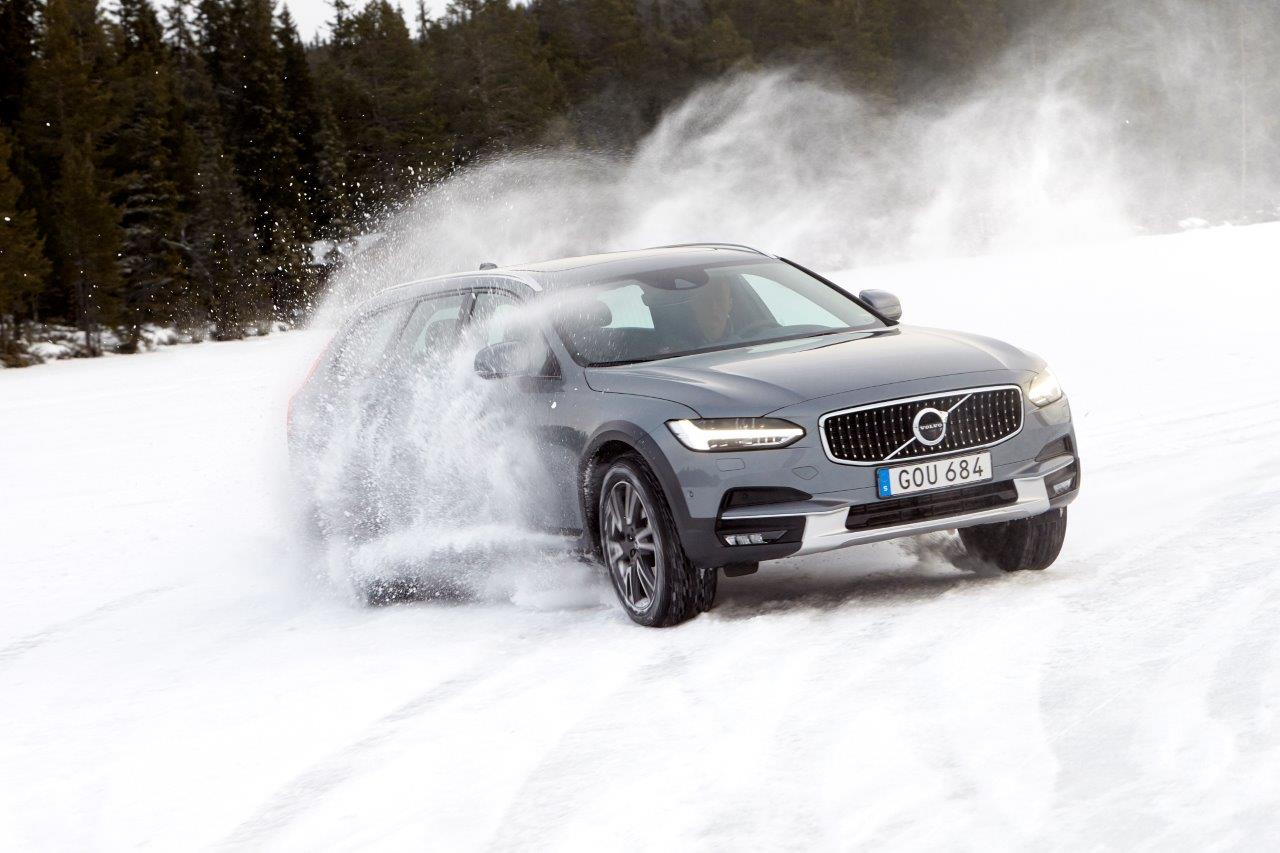 But perhaps the best surprise of all, to me, was how the new V90 feels like a genuine Volvo. I happen to have owned several Volvos in the distant past, my family still does, and particularly during the years when Volvo was under Ford ownership, I felt that some of their unique character had been lost, probably due to platform sharing and cost cutting. With the new V90, including this new Cross Country version, it feels to me like the real Volvo is back, but at a higher level than they have ever been before. It's now a proper luxury car, slightly outside of the predictable mainstream, with driving dynamics that rival any car in its class. A real Volvo has always been worth having. Don't worry, be happy.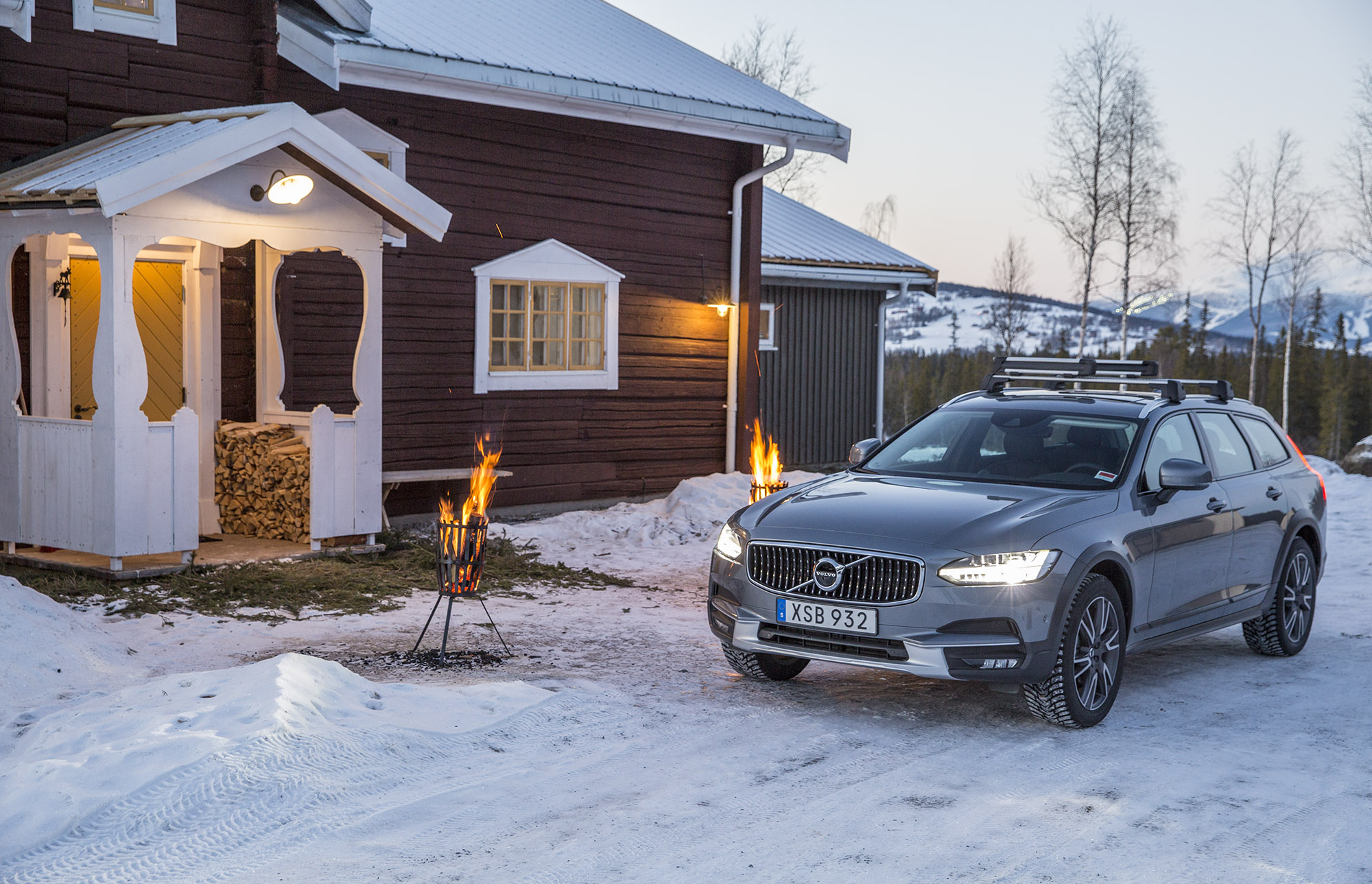 Details by Posta-Magazine
https://www.tablethotels.com/en/are-hotels/volvo-getaway-lodge