Photo: Alexander Kazarinн and Jan Coomans
I suspect that by now,
my bias towards impractical sports cars is well established. But when the question came up about a little road trip between Ekaterinburg and Chelyabinsk, even I had to agree that a Volvo XC90 was just about the most suitable car anyone could come up with for this kind of adventure.
After all, the quality of Russia's road network outside of the big cities is the stuff of legend. Any attempt to navigate rural Russia in a sports car on low profile tires and sporty suspension would be like trying to scale Mount Everest wearing shorts. It's simply not recommended. The XC90 on the other hand should be well up to the task. It's also one of the safest cars on sale today, which, judging by those popular dashboard camera videos online, could well come in handy.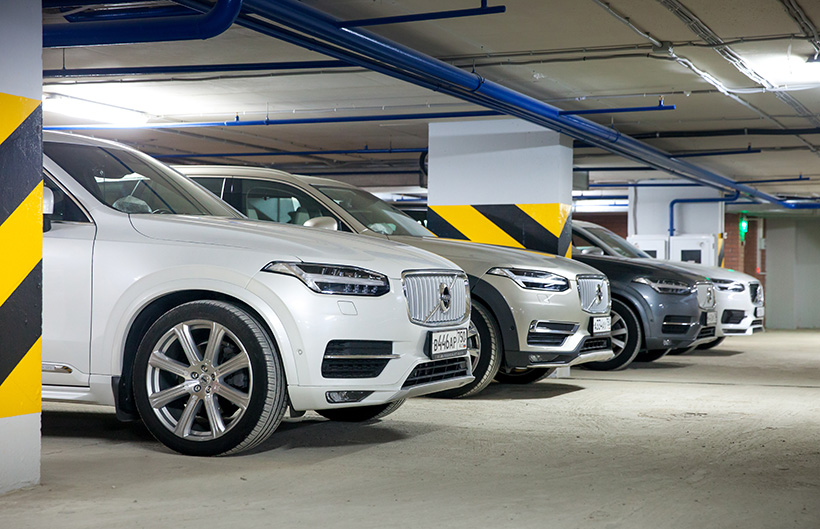 The trip started in the underground car park of a Ekaterinburg hotel. Four XC90s were lined up, not unlike a group of well rested horses that were aching to be let out of the stable. For them, however, this was just another leg on a long journey that had started way back in Rostov-on-Don. The car that we drove was the D5 model, equipped with the 2-liter diesel engine which has a couple of turbochargers and 225 horsepower. It's pretty far from fast, but the engine suits the large and heavy XC90 very well as it has plenty of torque and is nice and quiet on the inside. It's also very fuel efficient, which makes a lot of sense for this kind of family oriented SUV. How about that for sensible and objective car reviewing! Not to worry, regular service will be resumed in the near future.
For me, the trip actually started in the passenger seat of the car. This gave me plenty of opportunity to play with the XC90's plentiful electronic gadgetry. Volvo has always been praised for their interior design and ergonomics, and you do feel that they pulled out all the stops with this car. The biggest change over past designs is the large touch screen in the center console which replaces just about every knob and switch that used to live in that area. Everything from navigation to entertainment to ventilation now has to be adjusted via the touch screen interface. I personally found this an improvement in some ways but needlessly complicated in others, but there's no doubt that it lends the XC90 cabin an air of elegance and simplicity which some other brands haven't managed to pull off so well in recent times.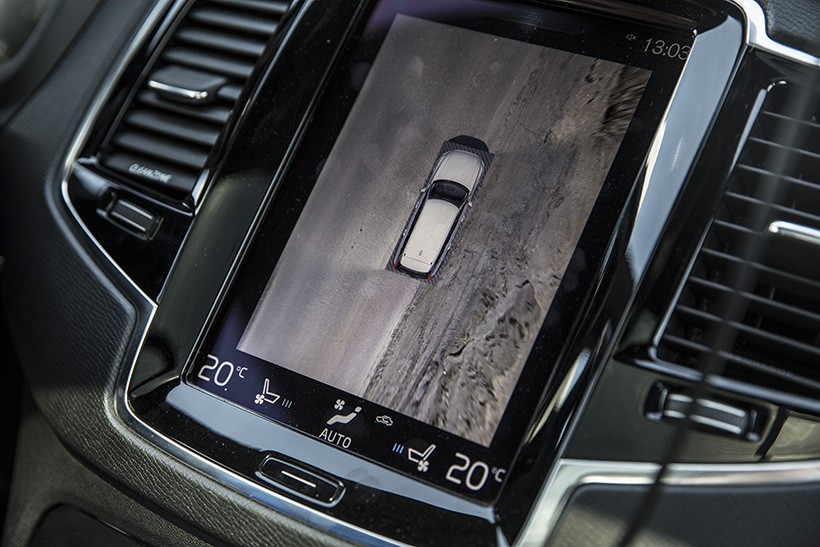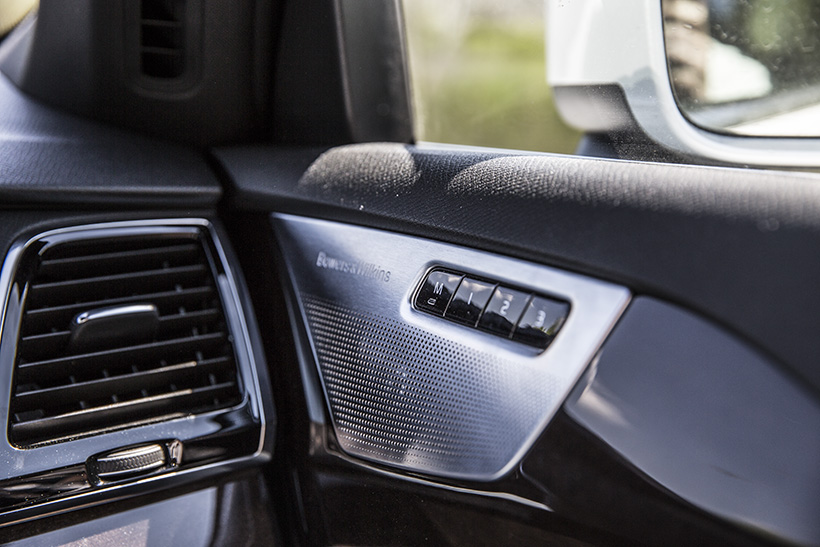 Our car had the optional Bowers & Wilkins sound system, which is specifically engineered to the interior space of the XC90 for the best possible sound experience. It's not the cheapest option you can get, but it does sound excellent. It gives you the opportunity to play with all kinds of presets including one that is supposed to make it sound like you're listening inside the Gothenburgh Concert Hall. Unfortunately we were nowhere near said concert hall to see if this is actually true, so for now we'll have to take their word for it. The navigation system, meanwhile, was fairly polite in guiding us towards our lunch destination. I say polite, it's still a navigation system, but the lady inside the dashboard struck me as ever so slightly more sociable than the one you usually find residing in German-built navigation systems. Having said that, she did ask us to make a left turn on a crossing where it wasn't allowed. I guess nobody's perfect. Or maybe she was just testing us?
The part where I found the touch screen interface less brilliant is when you want to change some of the climate settings. Particularly when you're behind the wheel of the car, trying to dodge potholes, it's not straight forward to go through the sub-menus on a touch screen. You simply can't keep your eyes on the road like you can with a good old fashioned analog button. Or at least, you need to take your eyes off the road for a lot longer. Changing the temperature can be done very quickly, but if you see a cloud of smelly smoke ahead and want to turn on the recirculation you find things not quite as easy and intuitive. But this is something we'll have to get used to as the automotive industry keeps moving towards more and more LCD screens. We're only in the early stages of this transition, so things will certainly get even better than they already are.
Outside of the car, there was also plenty of things to look at. Like trees. And lakes. It was all very pretty. Then we got to a place called Karabash, which was even more interesting for all the wrong reasons. This town is — apparently — famous for its sheer level of pollution. It's sometimes called one of the most polluted towns on earth, a title which is disputed by its Mayor, but it's safe to say the place has some ecological challenges to overcome. Decades of mining for heavy metals with little regard to the local environment has given the place an alien planet kind of look. The few bits of nature that aren't covered in mining waste appeared to have largely died off anyway.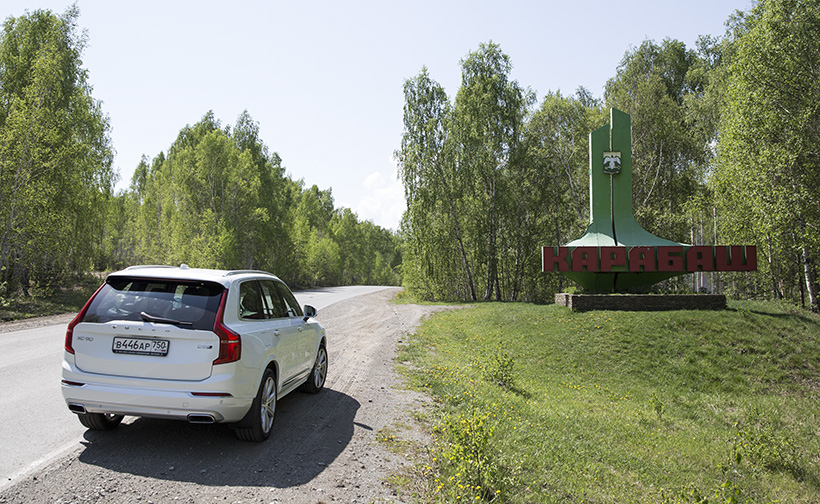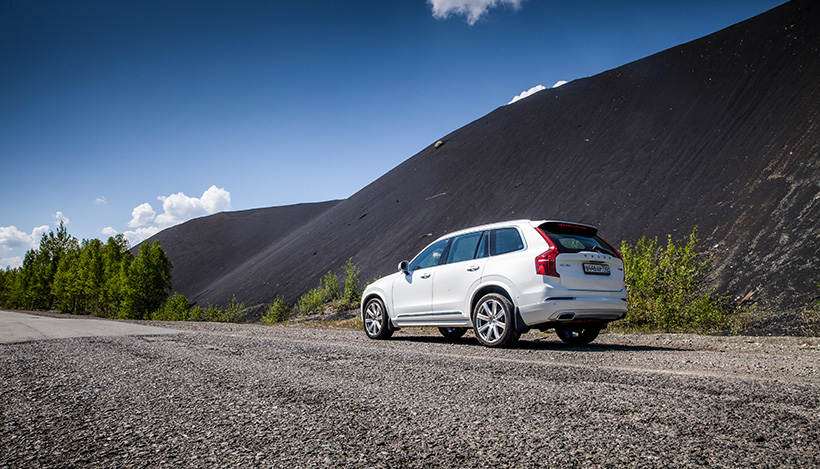 The apparent complete lack of interest in managing the industry's waste products has caused acid rains and corrosion on the landscape that is fairly mind boggling to behold. The water that you see flowing next to the road has the colour of your average energy sports drink, which is to say that it doesn't look quite as natural as it should. I also doubt you'd feel more energetic after drinking it, but I'm not nearly paid enough to test that theory. Luckily, it wasn't raining so our XC90 was still the same colour after passing through this enclave of Hell. Almost as soon as we left Karabash, the scenery was back to being green as ever. You probably still wouldn't want to eat the berries that grow there, but at least the stunning level of ecological damage appeared to be contained in a relatively small area.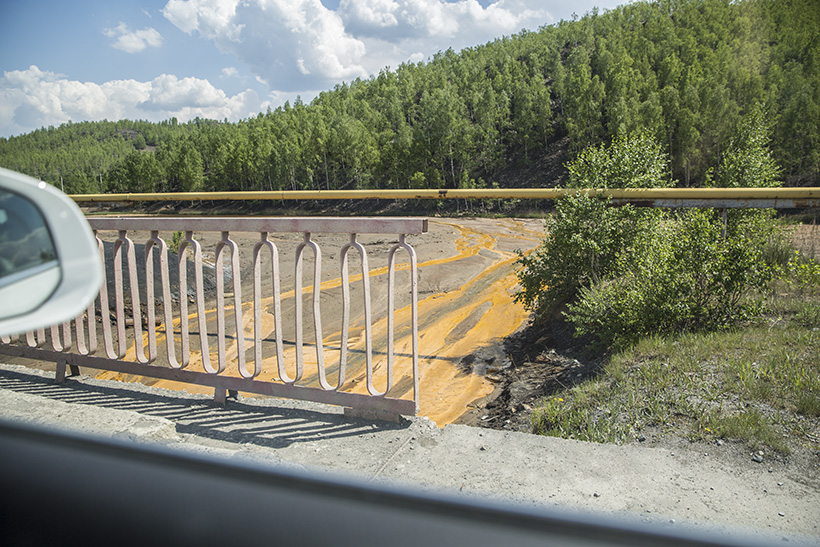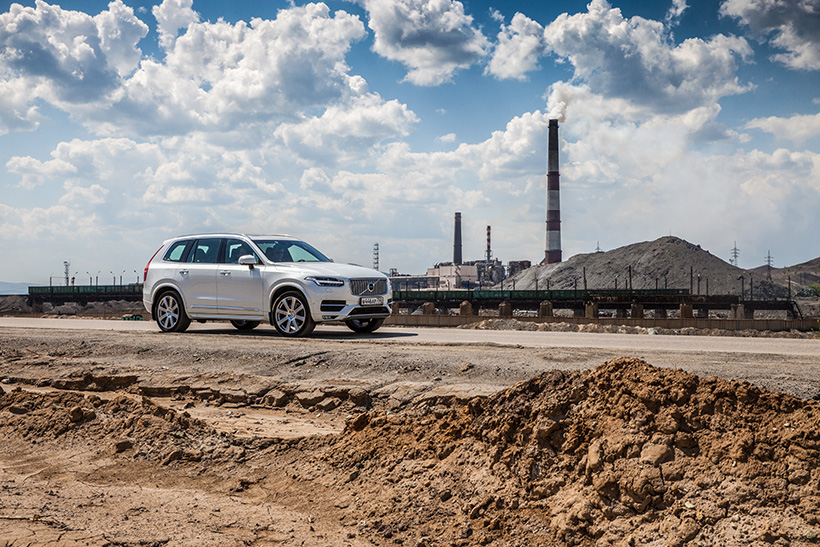 After lunch, I took control of the XC90 and got a better impression of what that car's like to drive. The steering is very light, as you would expect from a luxury family car like this. There's also very little body roll in the corners. It was obvious that we were driving a car that wasn't remotely interested in going around corners like a lunatic, but it was plenty capable to dodge the worst holes in the road surface and it damped the smaller ones very well. When I say «smaller» holes, of course even those were still pretty big. It's just that the worst parts of the road surface were closer to Australia than they were to Moscow. But the XC90 took them all in its stride, allowing us to confidently drive a speed that wasn't too slow to make it to the hotel in Chelyabinsk by evening.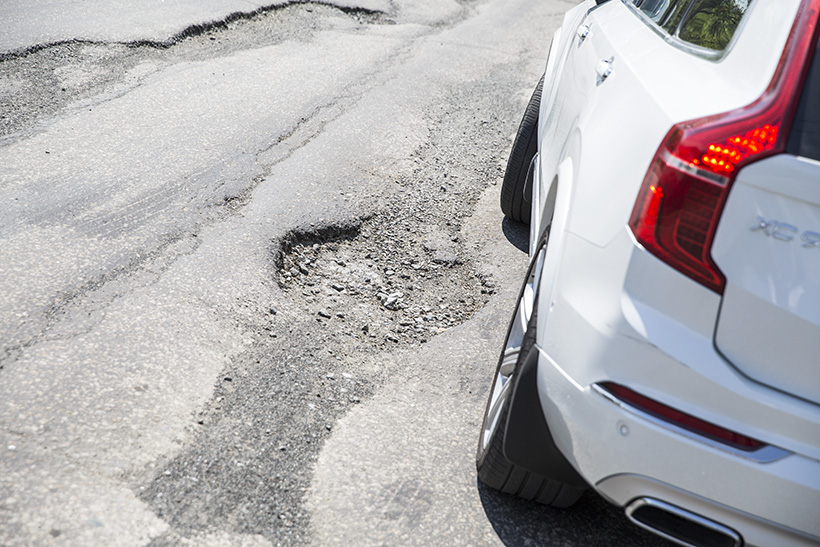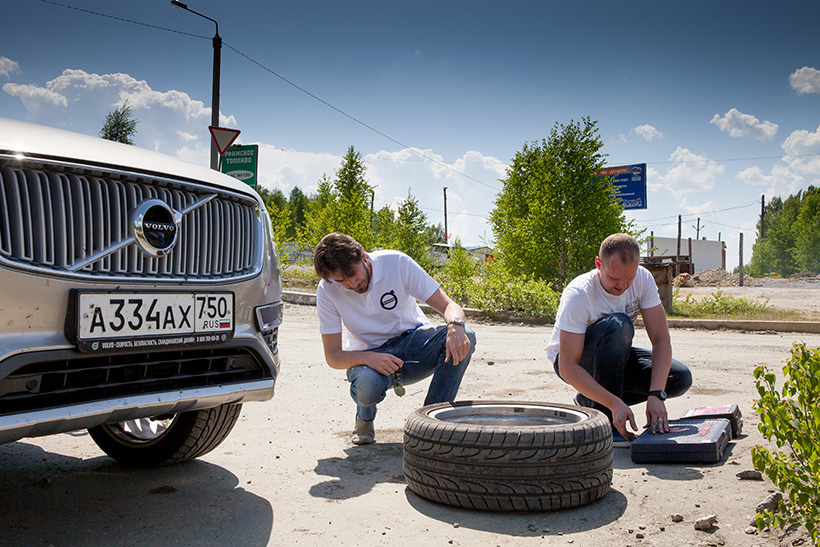 Miraculously, only one of the cars actually damaged a tire
As it happened, the roads got quite a bit bigger and faster as we got nearer to our destination, allowing some testing of the adaptive cruise control system. This uses radar to establish the distance to the car in front, and that car's speed. So the car will slow down and speed up depending on traffic. The latest XC90s actually have self-driving systems that will also steer for you at normal highway speeds, but we only got to test the adaptive cruise control in this one. And the bottom line is that it works very well. In Sweden. I found the system to be absolutely lovely in slow moving traffic as my right leg got a rest rather than a workout. Once we were out of traffic however, I couldn't help but feel that the system was driving the car a bit too Swedishly. Sometimes you need to invent new words to get a point across I suppose.
Anyway, the thing is that the XC90 will automatically keep a very safe distance to the car in front of it. What this lovely Swedish car considers a «safe distance» is pretty far removed from what the average Russian driver considers a safe distance. So they will overtake you because you're leaving so much space for them to drive into. As they do that, the XC90's radar system will pick up the overtaking car and slow down to increase the distance. You will then be overtaken by yet another car, and so on. Basically you tend to go backwards a lot. I can't really call this a flaw, it's just that the car is being a bit «too nice» for Russian driving standards. Anyway, it's certainly safe to use, no doubt about that, and useful in the right circumstances.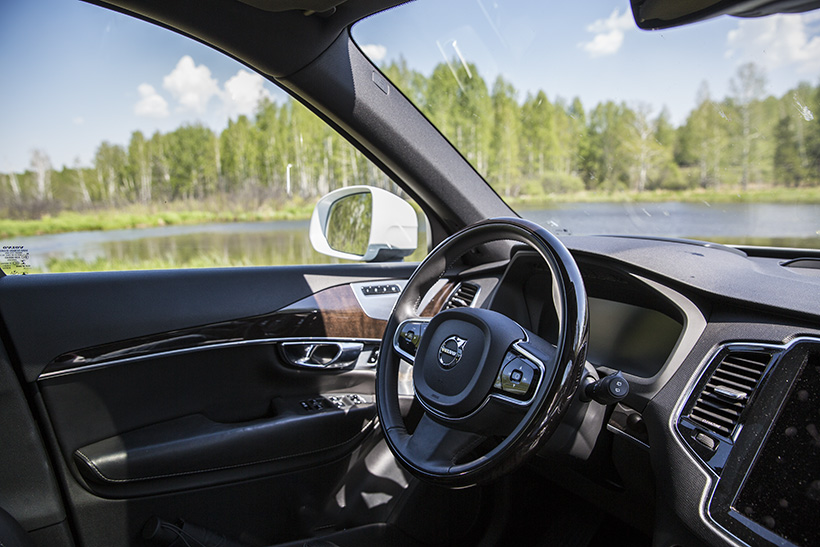 Overall, the XC90 does feel very technologically advanced, but in an innocent kind of way. There's also no doubt that the quality of the materials is very high. I've driven plenty of luxury cars that had a more plastic-y feel inside or where the leather didn't feel quite as high end as it should, but this Volvo exceeded expectations on that front.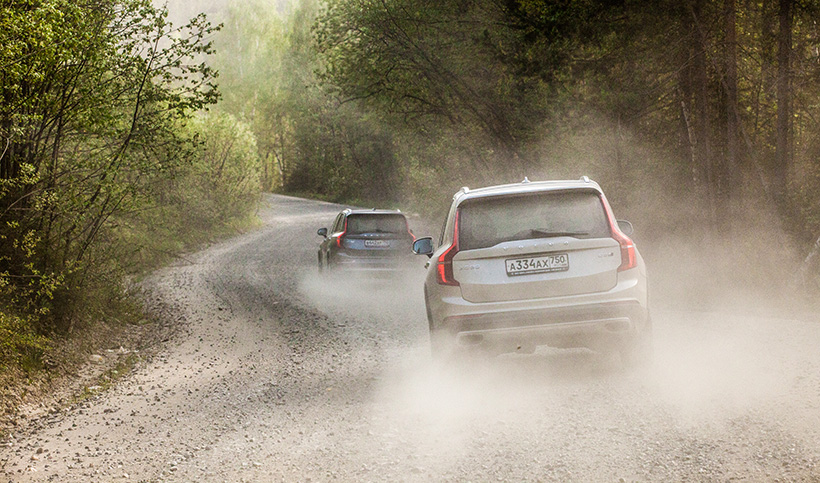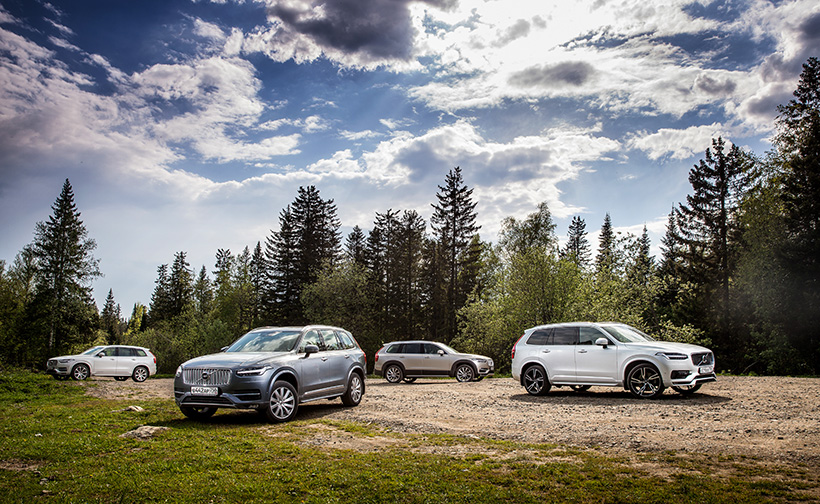 The XC90 was our trusted companion for a day, it got us home through sometimes difficult driving conditions but never felt even remotely close to breaking a sweat. Of course if you got yourself a car from another similar class it would be able to do the same things just fine. But there is a serious case to be made that the Volvo XC90 offers something intangibly more interesting which you would be hard pressed to find elsewhere. A character and originality, to the point of being stubborn, that adds a bit of colour to an automotive landscape which often tends to a gray uniformity. It's fair to say that this trip was an enjoyable one. And when the time came to say goodbye, I did give it one last look as I passed through the revolving door and into the hotel.