Depending on your perspective,
snow and ice are water in either its most annoying or most enjoyable state. When you're invited to drive Audi's latest Q7 on a frozen lake Ladoga in Karelia, it's definitely the latter which holds true.
Four hours by train, and then another 4 hours by car is all it takes to get from Moscow to the rather stunningly pretty Karelia. Once there, we checked into the beautifully located Dacha Wintera on the shores of lake Ladoga — the perfect home to spend a few days driving on the ice barely a stone's throw away from your hotel room. Even the weather decided to play along, as our two full days out on the ice were accompanied by blue sky and moderate temperatures.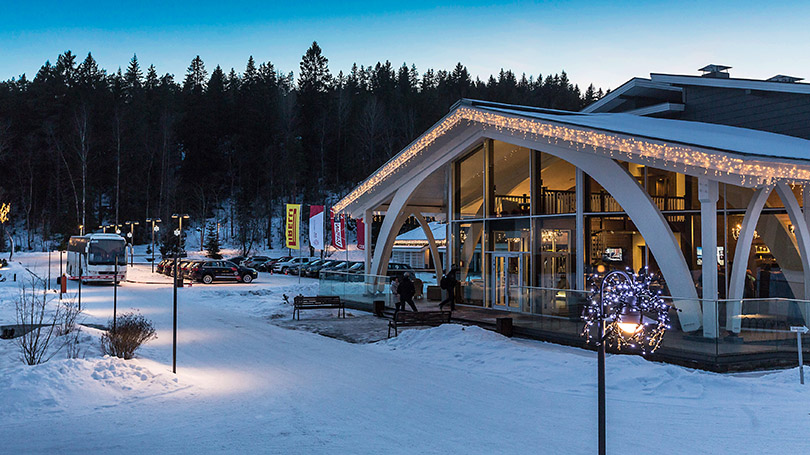 Upon our arrival, we were welcomed by none other than Evgeny Vasin, a Russian rally driver who may not have quite the name recognition of some of Finland's most famous tree dodgers, but he is definitely a proper rally legend in his own right. He also runs the aptly named Vasin driving school, and together with several of his instructors he would be attempting to teach us to not be terrible at driving on ice. A huge undertaking, to be sure. The Audi Q7 TDI Quattro, the 3-liter 245 horsepower variant, would be our faithful companion for the next two days. It's obviously not the kind of car you would actually go rallying in, but as a vehicle for training purposes it was pretty much ideal. It's not a car that makes going sideways easy, as drifting obviously wasn't very high on Audi's list of design priorities, but when you managed to perform the techniques which Vasin and his team tried to teach us, it turned out that the Q7 could, in fact, dance.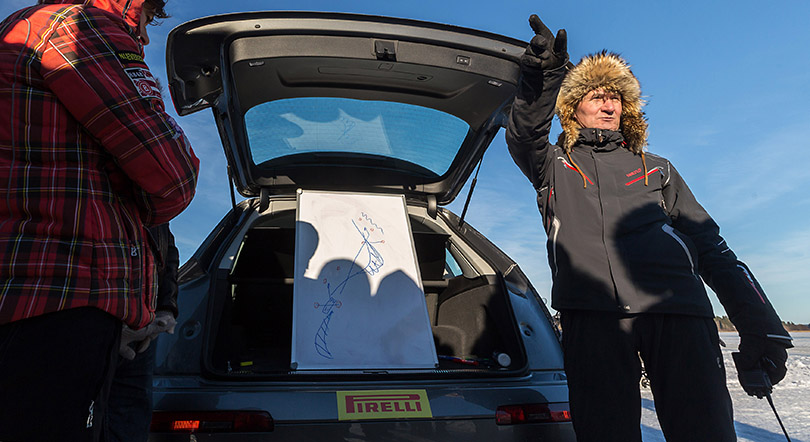 Evgeny Vasin, professional rally driver and patient driving teacher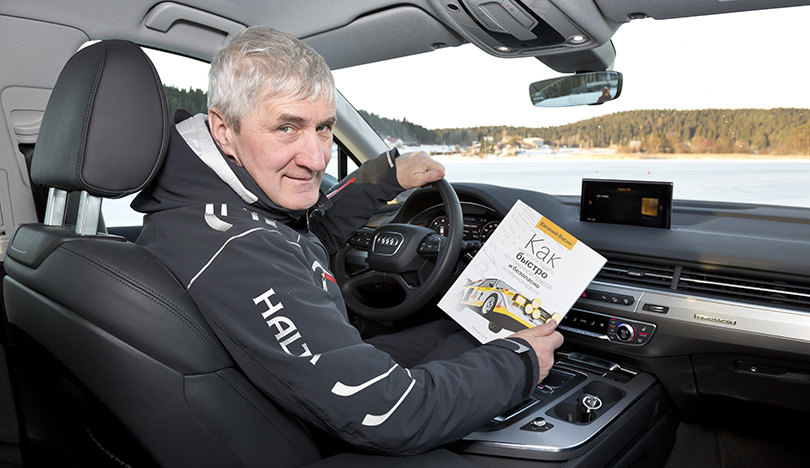 Nothing says «we're taking this seriously» like organizing the driver's briefing before 9AM in the morning on day one. Outstanding. Fortunately the distance from my bed, to breakfast, to the briefing room, was really quite short. There was the usual waving of liabilities, a nice little presentation on the history of Audi Sport and Mr. Vasin giving us some basic driving tips, then onto the ice we went. It's always slightly disconcerting when you step onto a frozen lake for the first time, not being able to visually tell whether the ice is really thick enough or not. Obviously, seeing a dozen Q7's parked on it did put my mind at ease somewhat. Having only driven on a frozen lake for something like half an hour in my entire life previously, I didn't mind going through the first baby step exercises that would allow us to acquaint ourselves with the cars and get a sense for the level of grip on offer. Which really wasn't a lot. The cars were all fitted with Pirelli Ice Zero studded tires, but ice is still ice: it's slippery stuff. Braking distances were enormous, and because a Q7 is a rather weighty car, once you had all this mass sliding in a particular direction, it took quite a bit of work and engine power to convince it to go back the other way. Fortunately, Audi's famous Quattro all-wheel-drive system was well up to the task, and the Q7's high seating position was actually rather convenient to look ahead and see where you were heading.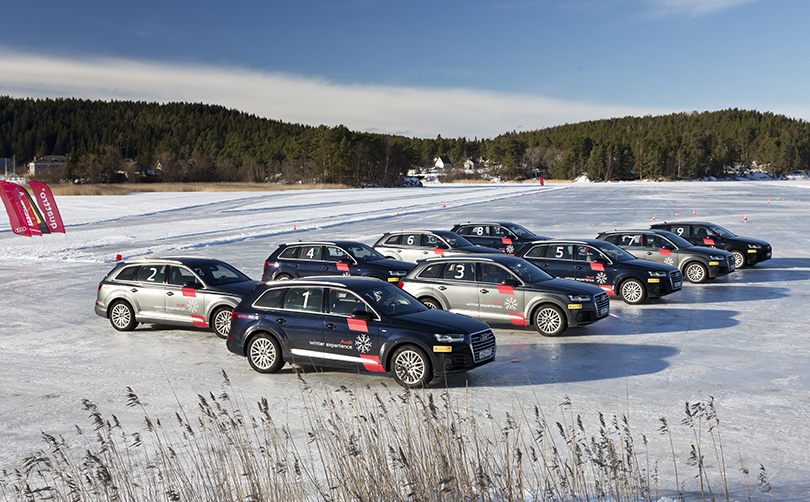 The ice appears to be thick enough
While us drivers were busy looking varying degrees of amateurish, we received detailed feedback over the radio from the watchful instructors on what we ought to be doing differently. The louder the shouting was, the worse you were probably doing. That was my interpretation of it, anyway, as my embarrassingly limited knowledge of the Russian language proved to be a challenge of its own while trying to apply the constant stream of professional advice which was streaming in over the radio. I figured that, as long as the comments were not about me in the number three car, I probably wasn't doing too badly. Truth be told, I would not have anywhere near the patience of Mr. Vasin who, as an actual professional rally driver, must on occasion have felt like he was trying to teach quantum physics to a group of preschoolers. But fun we all had, and whenever there were a few moments in between all the driving, the beautiful scenery was a lovely distraction.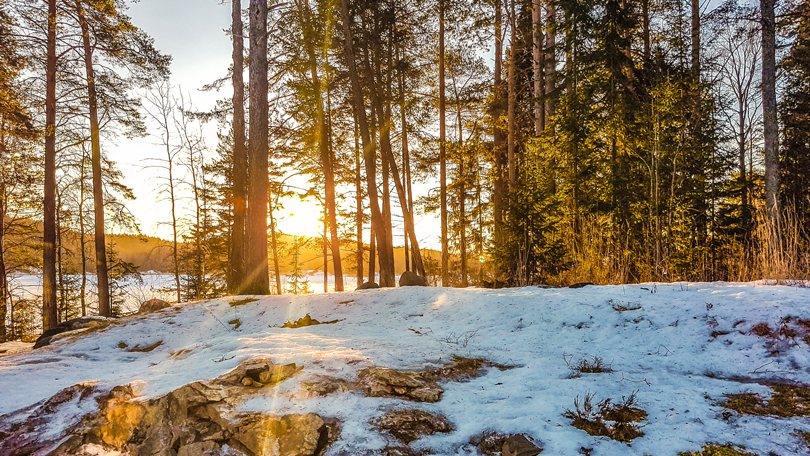 The biggest challenge to driving the Audi Q7 on ice, for me anyway, was that it was just really hard to get the car sideways. In particular when driving on shiny ice at low speeds, the car's initial reaction was always understeer. From that point onwards it was very difficult to regain sufficient grip on the front axle. Strongly provoking the car with the throttle pedal and liberal use of the pendulum effect would make the car oversteer, but it proved difficult to time it all right. Once it was sliding, the Q7 was easy to flick it back the other way and dance corner to corner from that point onwards. Not that this difficulty came as a surprise — it really is a family SUV, not a world rally car. Once the grip levels increased though, for example in places which still had some snow frozen to the icy surface, the front end of the car had good authority over the rear and it became a lot easier to drive.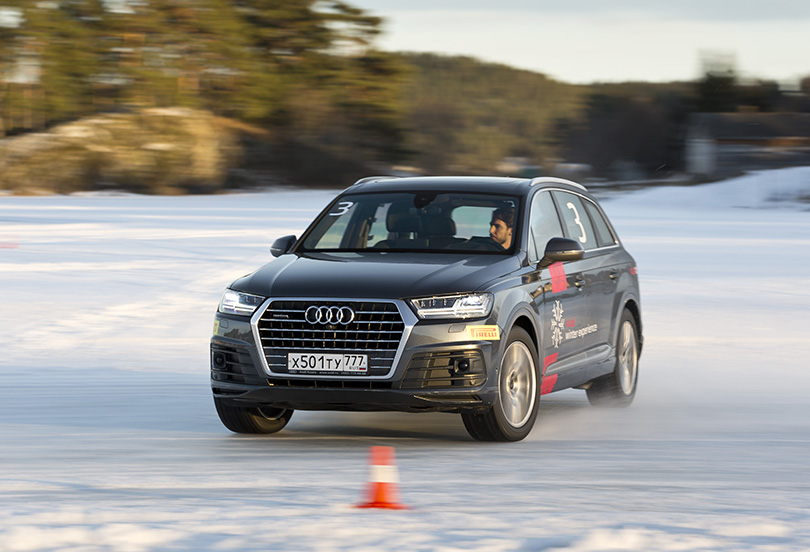 For one of the tests, we were instructed to drive around a circular snowy track to explore the balance between understeer and oversteer, using the throttle pedal rather than the steering wheel to stay on course. We went round and round, and round, somewhat confused about the point of the exercise I might add, until I got a tad bored with driving around in circles and tried to make a continuous drift instead. The encouraging remarks over the radio suggested that this had been the point of the exercise all along, and we quickly developed sufficient feel for the Q7 keep drifting it in circles pretty much continuously. Nearing the end of the first day of driving, the car became a genuine companion rather than a stubborn animal which required taming. The final test of the day finally upped the speeds a little bit, making it easier for me to point the car where I wanted it to go, which made for some very satisfying long slides with an exciting direction change in the middle. Whilst still being a very long way off from the pros, at least it started to feel like we weren't that bad at this game after all.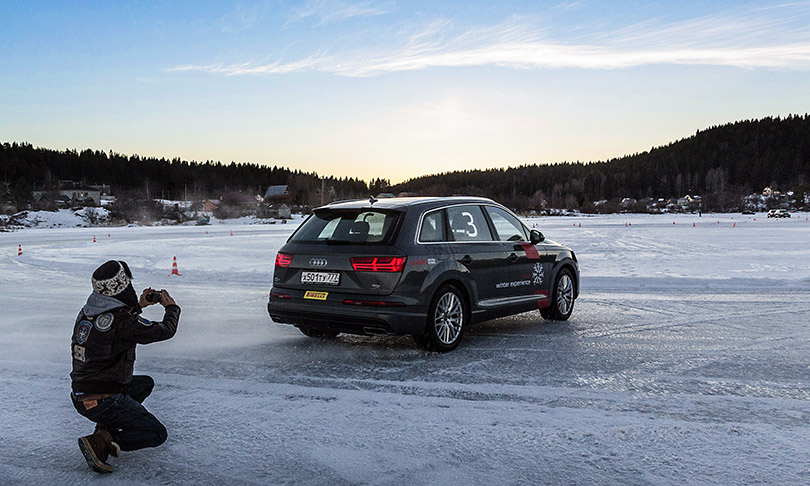 One of my colleagues risking life and limb to catch my drift on camera
Day two again started early, and after a short warm-up exercise we were given some more complicated tracks to drive, consisting of long sequences of corners. The difficulty here was not only that we would have to think at least one or two corners ahead of where we were, it also required considerable accuracy of where you placed the car. Once you messed up one corner, you basically messed up all the corners after it, too. Keeping the flow going while throwing the car from one side to the other over and over again is really rather difficult. You don't turn the car when you get to the corner, it already has to be sideways and pointing to the apex by the time you get there. Doing it either too soon or too late would both result in failure. There's simple a lot of room for misjudging things. Sometimes, during my better moments, I would manage to slide through 6 or 7 corners fairly nicely. But when the inevitable mistake came, it would take a good while to get back onto the driving line and into a rhythm. Professional rally drivers, by contrast, are almost impossibly good at looking and thinking ahead, with enough spare brain capacity to play a game of chess whilst driving their cars sideways and making a hands-free phone call. A regular human car enthusiast like yours truly may be able to turn a decent lap time on a dry racetrack or hold the odd drift for the cameras, professional rally drivers like Evgeny Vasin are simply on a different planet in terms of driving consciousness. They're much closer to machines than to us error-prone humans.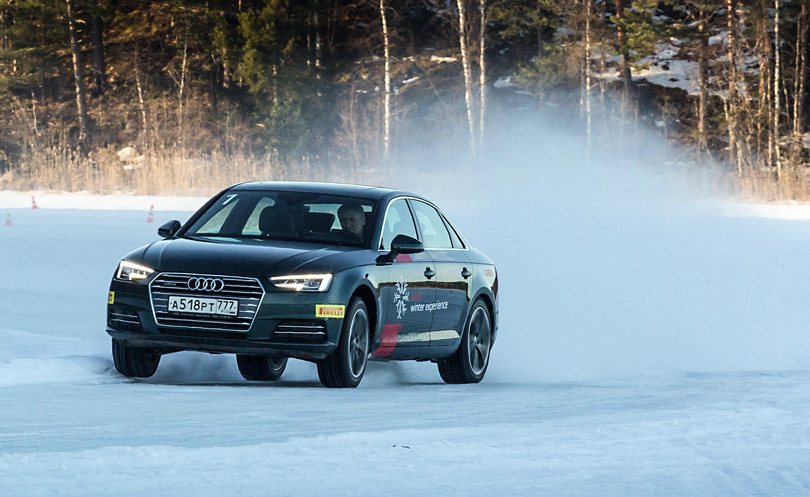 This sentiment was only reinforced when we were given a short masterclass passenger ride with the man himself in a rather ordinary looking Audi A4 TFSI Quattro. This unassuming little Audi, though, was fitted with a very different kind of studded tire. With much more and much larger studs, the grip they created seemed outer-worldly. Something just didn't seem right about being in a car that had so much grip whilst driving on various kinds of frozen water. This almost entirely standard A4 felt so incredibly fast and nimble you almost would have thought yourself in a real rally car. Looking at the speedometer, the car was hitting 100 to 110 km/h on the straighter parts, and was sliding through the corners at about 90. But going by the subjective impression of speed, it felt every bit as fast as doing 200 km/h anywhere else. Except it was still more exciting. For Evgeny Vassin though, it was probably about as out of the ordinary as it is for to drive to the supermarket. Not even age is capable of slowing rally drivers down, and the rest of us can only observe them with bewilderment, or cause the mother of all accidents should we foolishly try to emulate them.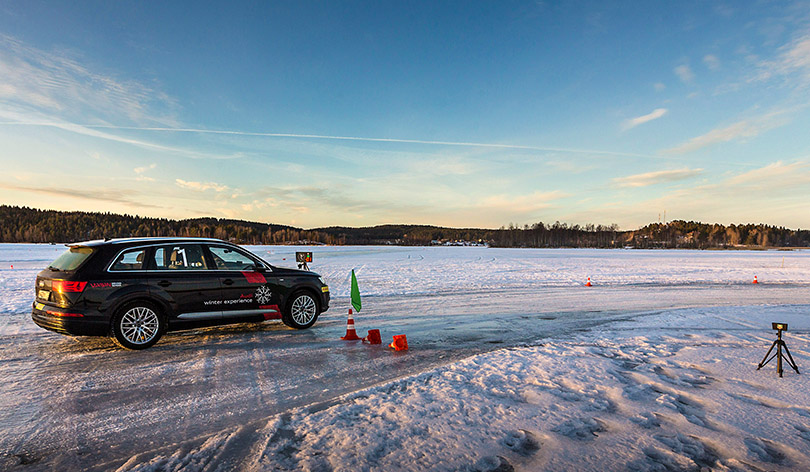 Before graduating from the Vasin driving school however, we would be doing a timed lap on a separate track which none of us had seen or driven on before. It was mostly slow, technical, and hitting any of the orange plastic cones would see us receive a time penalty. Because there was only one sighting lap, it was impossible to commit all corners to memory. Somehow we'd just have to look ahead, think ahead, and not screw up. Predictably, most of us who took the challenge seriously and genuinely tried to go out and do the fastest lap time seemed to fail miserably as a result of trying too hard. I, for example, was so focused on the fastest line through the first corner that when the start light went green I tried to set off with the car's gearbox still in neutral. My cunning plan to place the inside front tire onto the snow to drag the car more quickly through the corner was immediately in tatters. As I shifted my attention to putting the car in gear and took off, I forgot that the first corner was only a few meters in front of the car overshot the turn-in point with excessive speed. I then spent many excruciating seconds waiting for the front tires to regain grip on the outside of the corner, which felt like losing literally hours. Doing well for the rest of the lap wasn't nearly enough to overcome my initial mistake, and seeing afterwards that a cautious approach would still have been more than fast enough makes one feel quite the idiot. Lessons in humility are the best ones, just not the most enjoyable.
Lap time debacles aside, I do believe I learned a lot about driving during these two days on the Karelian ice. As my technique slowly improved, an confidence increased, the final hour of driving even had me smiling as my number three Audi Q7 slid almost effortlessly from corner to corner into the bright sunset. This Audi Winter experience, I believe, will stay with me for a long time. The intensive training and knowledge we received from the Vasin driving academy turned it into a genuinely valuable life experience, it was more than just having fun. The next winter cannot come soon enough.
Actually, scratch that, next year will be fine. Let's have a summer first.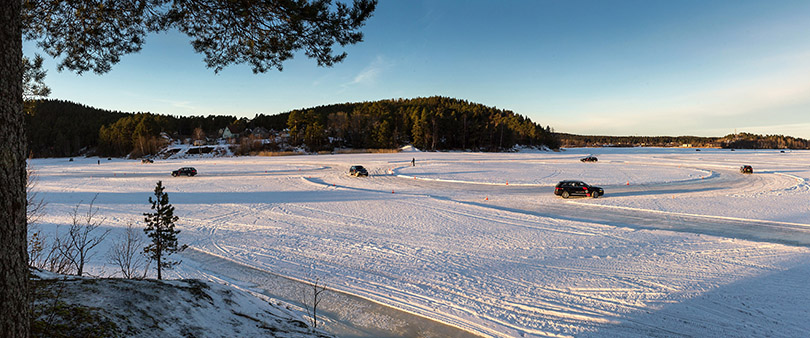 P.S. Some plastic cones may have been harmed during the making of this report.