Photo Jan Coomans
A long time ago, when I was a kid with pictures from car magazines
plastered all over my bedroom walls, the name Porsche was pretty much synonymous with the 911. Sure they also had the 944 and 928 in their showrooms at the time, but there was never any doubt which was the real, quintessential sportscar from Porsche.
Since then, the Porsche brand has grown enormeously — and so has their lineup. You can buy an SUV from Porsche these days. Even with a diesel engine, if you want to. And there's also the Panamera, a large 4-door saloon. There is no doubt that both these cars are among the very best in their segment, but clearly they are not sportscars and sportscars is what Porsche do best. So, the latest 911 must be really good. And indeed it is. But as a thoroughbred sportscar it is now facing increasingly strong competition from an unexpected corner.
Meet the Porsche Cayman type 981. It's also known as the 911's little brother — and it's been growing up fast. It has a near-identical twin called the Boxster, essentially a convertible version of the same car. These are small, light cars with a mid-engine layout — which is the ideal place for an engine to be in with regards to how the car will handle. The first generation Boxster and Cayman was quite a bit down on performance compared to the 911, but particularly the new «S» models are now giving the old guard a run for its money. As a matter of fact, many in the car press are calling the new Cayman S the best sportscar Porsche makes right now.
Time to find our for ourselves. I was graciously invited by Porsche Russia to drive a brand new Cayman S for the yearly Porsche Parade in St. Petersburg. Starting from Isaakievskaya Plochad right next to the Four Seasons Lion Palace, it was a good one hour trip to he finish line which lay at the beautiful Konstantinovsky Palace. Driving in a spectacularly large convoy consisting entirely of 911s, Caymans and Boxsters was a little bit surreal, and also meant we were going pretty slowly most of the time. Even so there were a few small opportunities to feel out the car a little, and try out a few of its clever features. For example, a simple press of a button will make the exhaust quite a bit louder, complete with loud crackles and pops on the overrun. To be honest you have to be a bit of a child to use this setting. As you can imagine, I had it turned on from start to finish.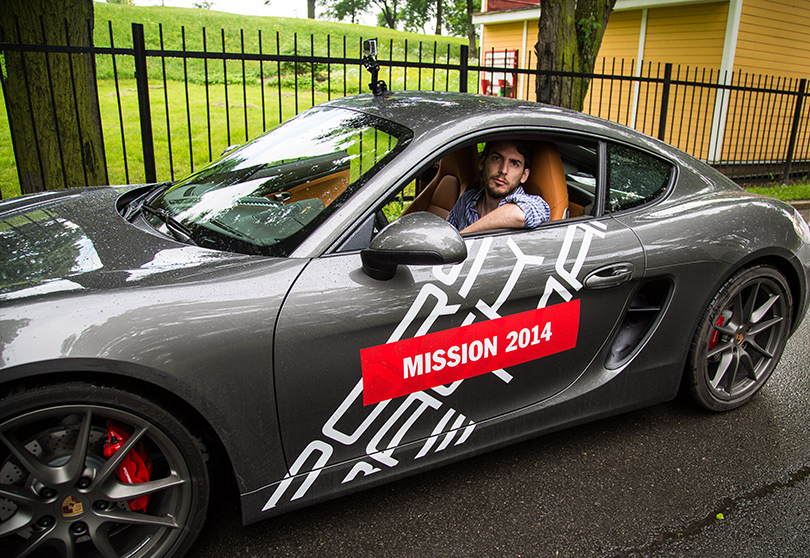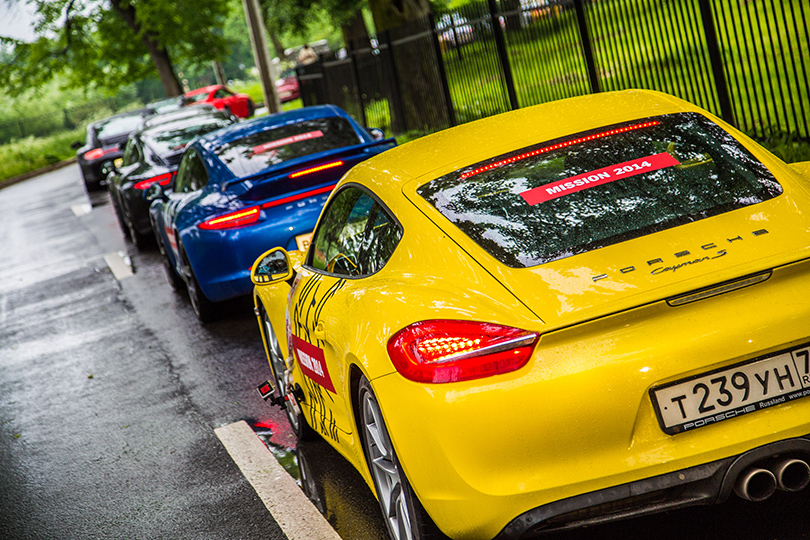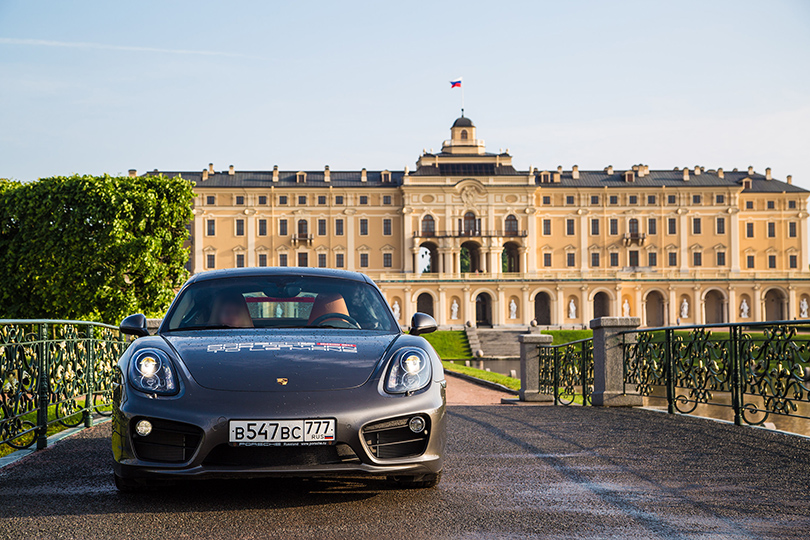 The PDK gearbox is a peach, and lives up to its reputation as the gold standard among dual-clutch gearboxes. It shifts seamlessly and handles start/stop city driving without any jerks or clunks. And when you press the «sport plus» button, full throttle upshifts happen with a glorious sharpness that give the Cayman a race car feeling. And even then, they are still not harsh. As good as the gearbox is, the engine may be even better. The 3.4 litre flat-6 is wonderfully responsive, but above all, once you get above 6000 rpm it produces a sound that makes the hairs on your arms all excited. Although this car is not all about straigh line speed, it's definitely quick enough to have fun.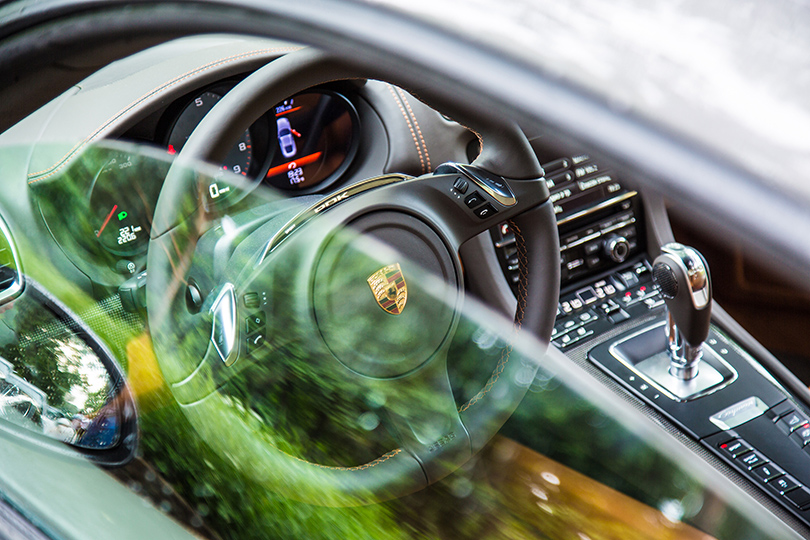 To tell you the truth, I had prepared myself to be disappointed with the predictable lack of torque compared to the turbo engines I have driven for most of my life. My own car uses a turbocharged V8 engine, so I'm used to silly amounts of low rpm grunt. For that reason, I always imagined the 911 Turbo would be the Porsche I would most likely buy. After driving the Cayman I am ready to reconsider and throw some of my preconceptions overboard while I'm at it. The symphony and drama produced by the high-revving flat six are simply glorious. You can't even record it on video, you have to sit there and experience it. It's that good, and I want it.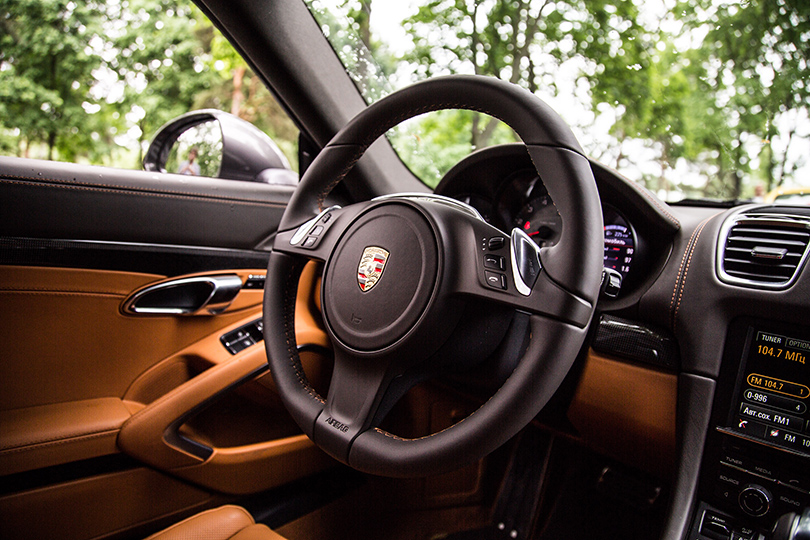 The Cayman S is a masterpiece of balance. The steering is perfectly weighted, and the mid-engine layout provides a responsiveness and change of direction you simply do not get with a front or rear-engined car. Together with an extremely exciting yet not too powerful engine, we are left with what is probably the best small sportscar on sale today. The recipe is perfect, and the build quality is pure Porsche. In all of its aspects, this car is a celebration of the pure driving experience.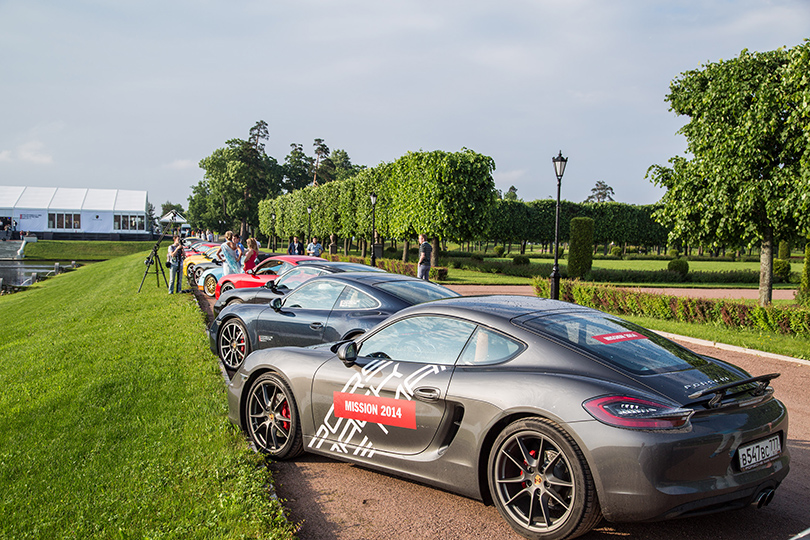 I was so busy celebrating, in fact, that I almost forgot we were also there for the launch of the new 911 Targa, the convertible version of the 911 type 991. Slightly confusing, I know. You can't argue about looks, but in my opinion the new Targa is the best looking convertible 911 so far. I've never been too big a fan of convertibles, probably because I don't live in a climate where they make a lot of sense. Buy me a house on the Cote d'Azur and I might change my mind. One thing you will be able enjoy even more in the Targa is the musical performance of the engine in the back of the car, which would be the biggest selling point for me. As I've never been a huge fan of the fully soft top cars, the Targa is a nice compromise.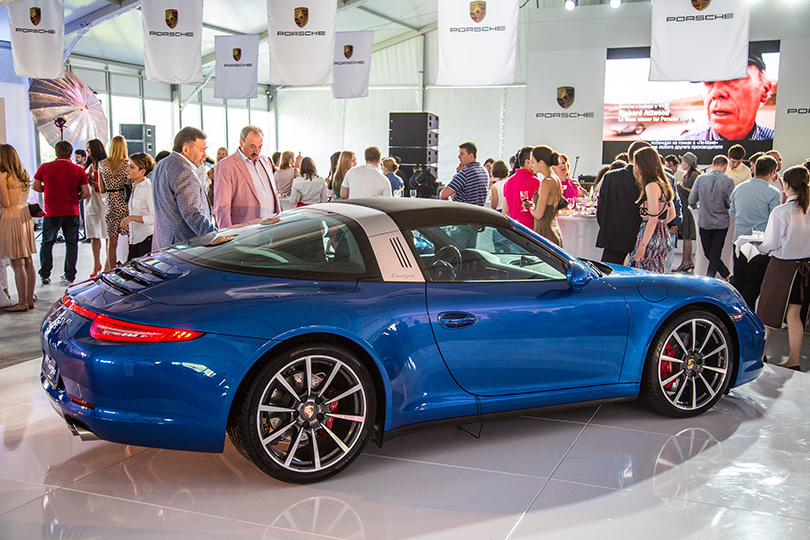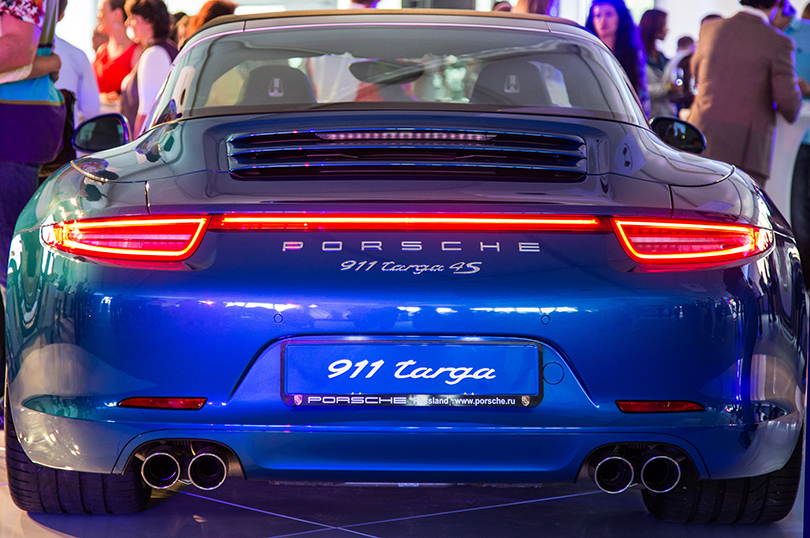 In the 991, you can choose between 3 engine specifications. Fast, really fast, and «there goes my breakfast.» The last option referring to the Turbo S which will hit 100 km/h in about two and a half seconds. That's not even enough time for a 4-letter word.
Last week, that was the Porsche I would have signed for. Today however, that 3.8 litre naturally aspirated engine producing 400 horsepower in the Carrera S seems a lot more attractive. It's a bigger, more powerful version of the one found in the Cayman S. Could a car get much better? I dont think so.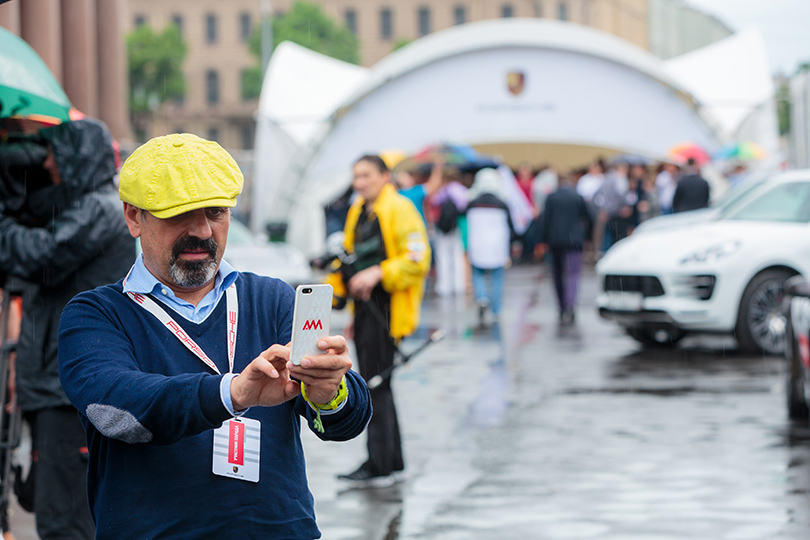 Restaurateur Aram Mnatsakanov, one of St. Petersburg's finest, also joined the parade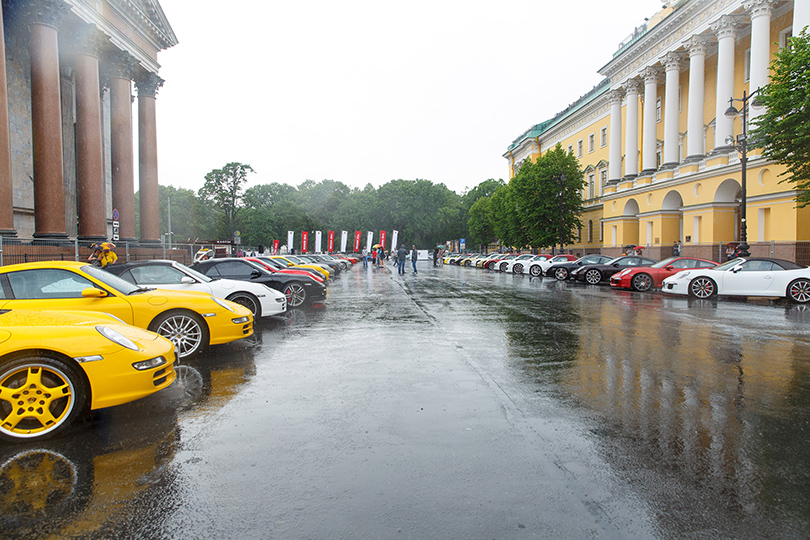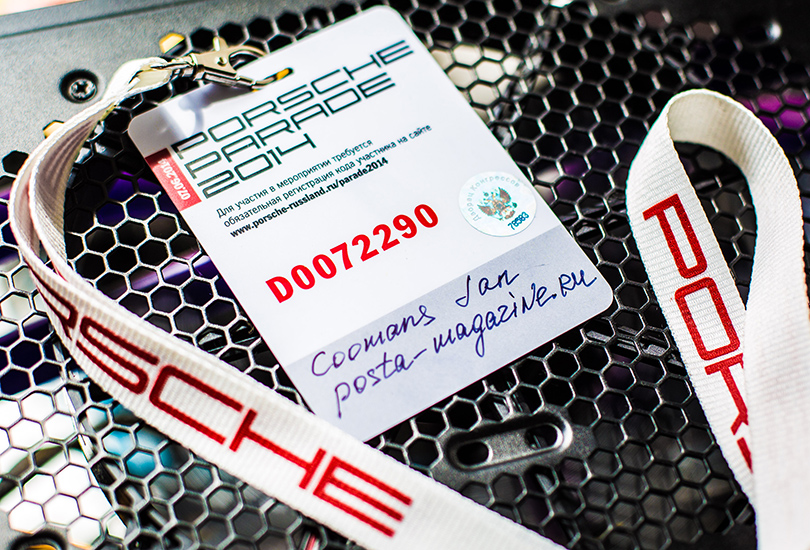 Last article
Mechanisms with Jan Coomans: Electricity on Wheels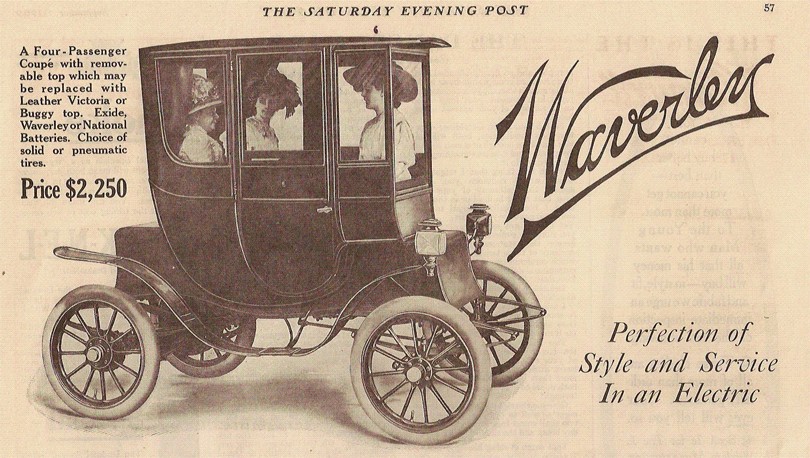 Waverley Coupe, 1910
Times change.
But the electric cars still seem something much of us from the future though for the first time they appeared at the end of the 19th century. Meanwhile, this future already became reality, thanks to the hybrid Porsche 918 Spyder, McLaren P1 and Ferrari LaFerrari supercars.
Those of us who spend inappropriate amounts thinking about cars have never really warmed to the idea of electric cars. A bit like Michelin star-studded chefs never really warmed to microwaving food. Something just doesn't quite seem right. In fact, it's probably fair to say for the longest time electric cars have been something of a joke to us. And there was plenty to joke about, like the fact they would take many hours to recharge and then only take you on a short trip before you'd find yourself on the side of the road begging with an electric plug in your hand. The batteries inside them are heavy, and have a limited life span. All in all, it seemed electricity and cars were just not a very good match.
Read more…