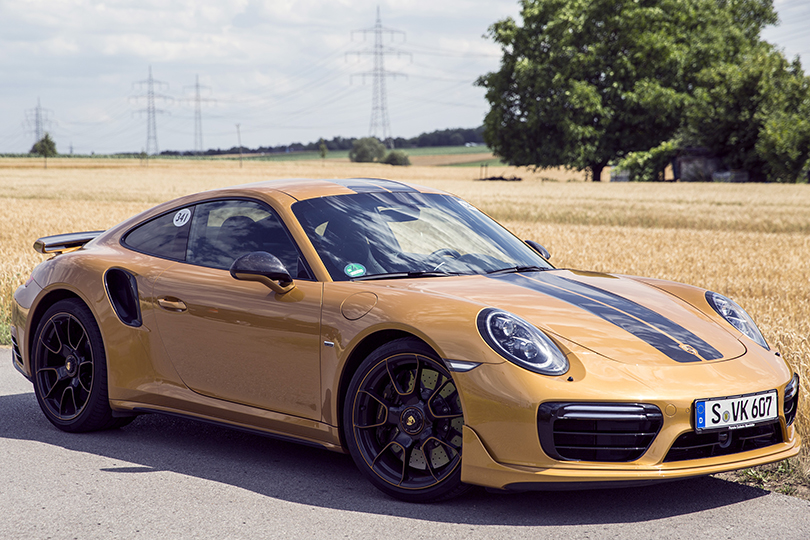 Photo: Jan Coomans
The Porsche 911 Turbo is, and has been for a long time now, the ultimate undercover supercar. To mark the re-branding of the Porsche Exclusive program to Porsche Exclusive Manufaktur, Porsche has made a special edition limited to just 500 cars worldwide. I jumped on the opportunity to drive it on Germany's roads for a couple of hours.
The product launch of the 911 Turbo S Exclusive Series has been a little bit odd. It was unveiled at the Goodwood festival of speed together with the 911 GT2 RS, the most powerful 911 ever and a car that we've known for a long time was coming. It's fair to say that the GT2 RS got most of the attention, even though the 911 Turbo S Exclusive Series was much more of a surprise introduction. There will only ever be 500 of these cars, each one carrying a badge with its unique production number. As you would expect with a limited edition Porsche, they've pretty much all been sold already. Even so, I think there were some things we can learn from it that are relevant.
Before they let us drive it, we were shown around the Porsche Exclusive Manufaktur premises in the heart of Zuffenhausen, Stuttgart. If you looked out the window you could see the Porsches that had just come off the production line, largely wrapped in plastic protection, being driven into the workshop where the Exclusive Manufaktur parts are fitted to the car by actual people. Porsche encourages buyers to customize their cars, thereby making your Porsche truly unique and to your personal tastes.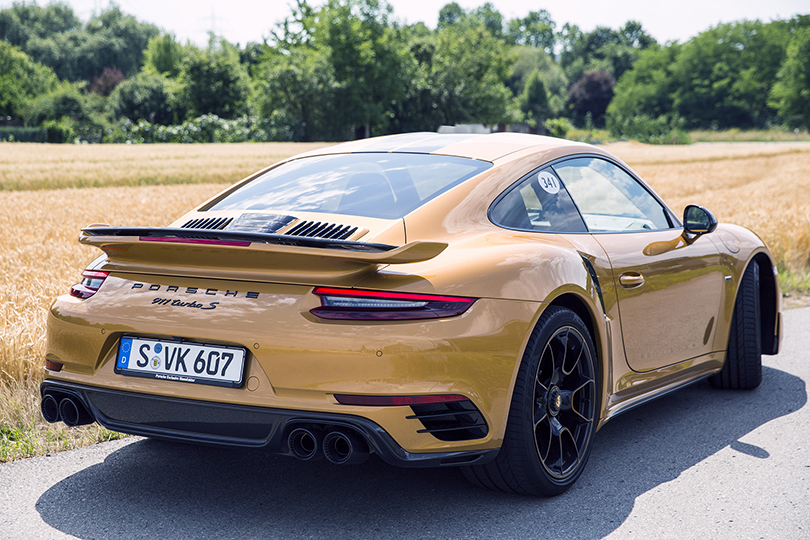 It also means applying a nice touch of human craftsmanship to a car which is, for a large part, built by robots to incredibly inflexible standards. People who are really good at their craft tend to make what they do look easy, even though it really isn't. To prove to us silly journalists that hand-stitching leather is actually not that easy, and to provide Porsche's employees some well-deserved entertainment, we were encouraged to give it a go ourselves. The result wasn't what I would call ready for production, but at least I got another entry for my list of things that I'm not really good at.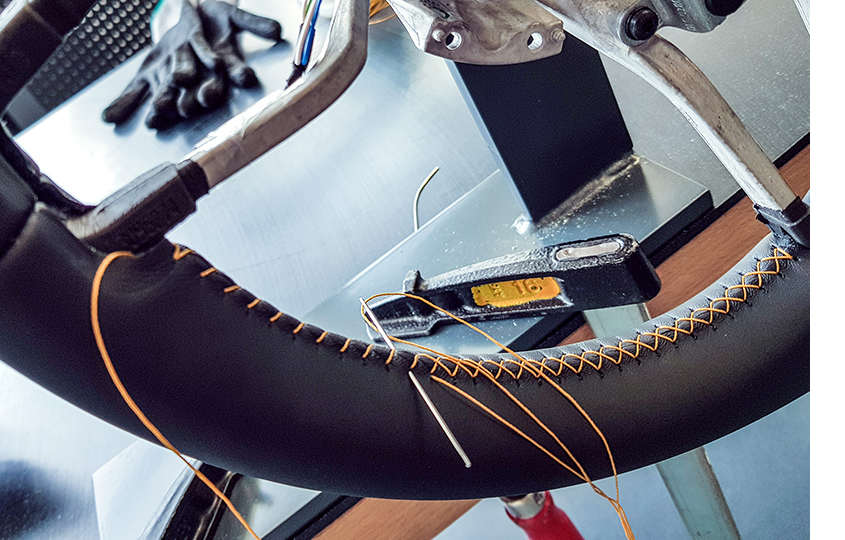 The 911 Turbo S Exclusive Series is a showcase for what this Exclusive workshop can do. There's extensive use of carbon fibre parts on the car, and in the interior as well. The bonnet, for example, is made entirely out of carbon fibre and is painted by hand in such a way that the bare carbon fibre remains visible in two large stripes down the middle. Each wheel is first painted gold, then black, and then placed in a machine where powerful laser beams burn away the black paint in certain areas to create the desired black and gold pattern. This process takes more than an hour for each wheel, an eternity in modern-day car production. In total, each and every 911 Turbo S Exclusive Series will spend at least 11 hours at Porsche Exclusive Manufaktur. This car is a lot more than just a badge slapped on a slightly tweaked 911 — a lot of extra effort, money and time goes into making it.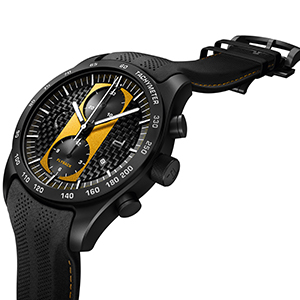 Speaking of which, Porsche Design has developed a Chronograph watch specifically for this special 911. Also limited to a numbered series of 500 pieces, it's the company's first ever in-house designed movement. This "Porsche Design Chronograph 911 Turbo S Exclusive Series" is a shoe-in for the longest product name in the history of watchmaking, but it's a genuinely impressive watch regardless. Now, you don't need to order the watch if you buy one of the cars, and you don't need to buy the car if you just want the watch. But if you do get both, they will make sure that both of them will have identical production numbers — If you get car number 236/500 you'll get a watch with the same number. Personally, I've never been a fan of watches that match cars, but then I'm not crazy about golden paint jobs either. It may have something to do with the fact that I don't have a couple of oil wells in my backyard. Fortunately, Porsche knows their clientele. Gold is a good colour to attract attention to this really rather special car, but if you want to buy one there are several other colours offered. My personal favourite would be Agate Grey Metallic, but there's also the usual black, white, red or blue. Phew.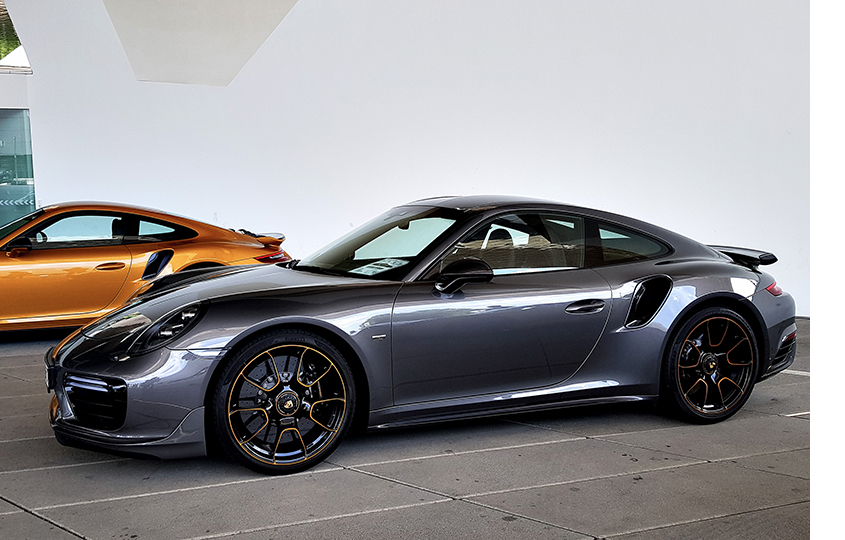 Unless you go for the optional all-black leather interior though, you get gold stitching and golden accents throughout the interior. But it's actually pretty restrained and special enough looking that I'd happily go for it. Even the carbon inserts have a touch of gold weaved into the fibre, which looks great. I'm also a fan of the white needles for the dashboard gauges, which we've only seen in the 911 GTS interior before. The rev counter in the Turbo S gets an Exclusive Series logo as well, in case you ever forget what car you're driving. How this Exclusive Series car drives is actually pretty easy to describe: it drives pretty much exactly like a 911 Turbo S. Fortunately for me, the way a Turbo S drives lends itself perfectly extensive description. 607 horsepower and 750 Nm of torque are only the beginning.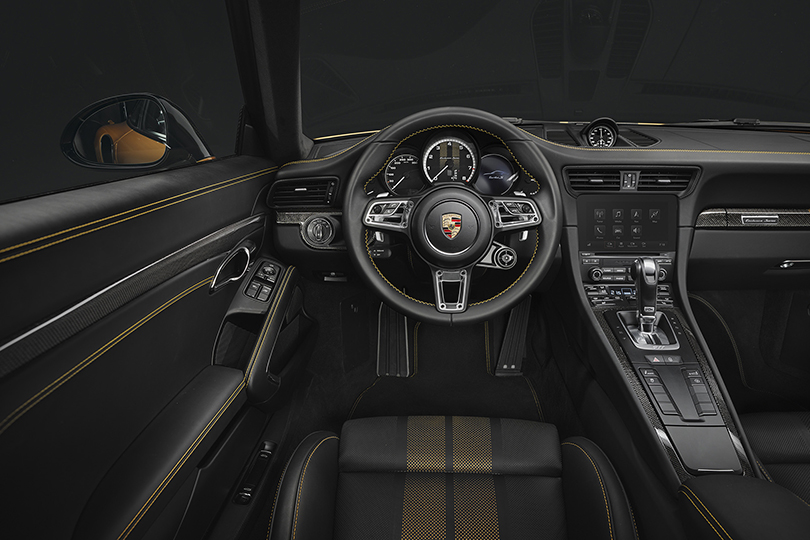 It's face-bendlingly fast. But quiet. Ish. The strange thing about this Exclusive Series car is that it has some kind of sports exhaust, with four huge exhaust tips, but there is no button to choose between quiet or loud. And I found this special exhaust to produce mildly uncomfortable drone when you're cruising on the highway at normal speeds, something you would most definitely not encounter with a regular 911 Turbo S. It's particularly weird because, when you're flooring it, a 911 Turbo is never actually loud. The volume doesn't increase all that significantly when you plant your right foot all the way down. You get a whooshing of air as the turbos start to force-feed the 3.8 litre engine copious amounts of oxygen-rich air, and the G forces start pinning you into the back of your seat, but it never raises its voice. That's just the way 911 Turbos have always been, if you want an organic flat-6 wail behind you, Porsche sells a different 911 for that. The GT3. Turbo S never acts like it's working all that hard. The power is effortless, and goes on forever. Well, until you're doing well over 300 kilometers per hour anyway. But top speeds are irrelevant in a day and age where economical grocery-getting cars can do well over 200 kilometers per hour. Unless you live near a particularly calm stretch of German Autobahn, or the Bonneville salt flats, you're never going to be able to go anywhere near that fast. You shouldn't, anyway.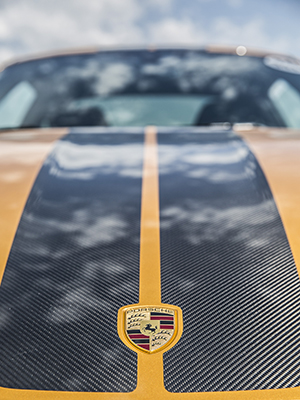 The car I drove was the one which had performed at the Goodwood festival of speed only a few days before, and its digital speedometer was still set to show miles per hour which actually took me a little while to realize. The car just develops speed so effortlessly. What makes the 911 Turbo S the big daddy among sportscars is its acceleration from a standstill. 0 to 100 kilometers per hour takes 2,9 seconds, says Porsche. In reality, it's usually a few tenths faster than that still. Even though the Exclusive Edition car has a good 25 horsepower extra over the normal Turbo S, they reach 100 km/h in the same time. Only over a longer sprint, to 200 km/h, does the extra power lead to a few tenths of a second gained. Not like you'd notice. It's pretty difficult to notice anything when you're strapped to an ACME rocket. But it's an experience that you keep wanting to repeat, over and over. And Porsche builds these cars to do precisely that. A few years ago, an American car magazine took a 991 Turbo S and casually launched it from 0 to 100 more than 60 times in a row. The car didn't complain, threw no error messages, and was as quick on the final run as it was on the first. It's seemingly indestructible.
If there is a downside to all this power and acceleration, it is simply that the car is too fast for the roads it inevitably finds itself on. You don't need a degree in mathematics to work out that a car that goes zero to a hundred in less than three seconds does not take very long to break the speed limit in most places. You can experience the sheer power of the Turbo S for a frightfully short amount of time before you start breaking the law, or go outside the window of what would be considered responsible driving. People driving in front of you are also not used to seeing a car in their mirrors change speed that quickly. This level of performance needs a racetrack or a very, very empty road.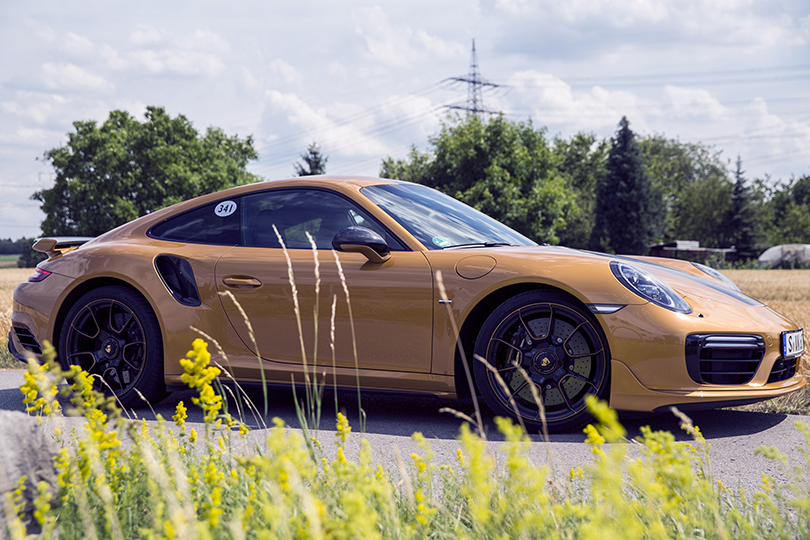 On the other hand, I always find myself experiencing a sort of inner calm when driving a car that has this much power available. Driving a Turbo S slowly, in an adult manner, is still rewarding. Though it's probably the inner child which most rejoices in the knowledge that you are literally driving the fastest car of anyone around you. Finding yourself stuck behind a slow moving truck is no longer a frustration, instead it becomes a great excuse to wake up the two variable vane geometry turbochargers in the back and make a mockery of the laws of physics. You don't need a mile of straight road in this car to overtake a large obstacle, a hundred meters will do. And when you get to the next corner, or an unfortunately placed speed camera, the carbon ceramic brakes will happily bend your face the other way. Come to think of it, driving a 911 Turbo S quickly seems like a decent way to iron out any wrinkles you might have on your forehead. Ground-breaking new anti-aging procedure discovered. You read it here first.
Looking at it objectively, the 911 Turbo S Exclusive Series' purpose appears to be, above all things, to draw attention to the newly rebranded Porsche Exclusive Manufaktur. Having visited the workshop, and seen how the people there go about their work, I do believe their craftsmanship rightfully deserves to be put in the spotlight. It doesn't always need to be about lap records. The Exclusive Series car is a great demonstration of what can be done, but due to the limited production run it's probably going to be bought by collectors or speculators first of all. That shouldn't be much of a concern though, as the regular Turbo S offers the same driving experience and Porsche Exclusive Manufaktur can customize it to your liking. Only if you really, really want to have your Turbo S in that golden paint scheme and with all those carbon fibre pieces on it, then I guess you're going to have to write an almighty big check somewhere to get one of these one-of-500 cars. I can't say I would blame you.