The Porsche 911 Turbo has long been regarded as the ultimate wolf in sheep's clothing. A supercar slayer which doesn't feel the need to shout about its performance credentials, and a car which is very much usable for everyday driving. With the latest 992 generation model, Porsche appears to have dialed everything up to 11. For better or worse.
Truth be told, getting the keys to the very yellow Turbo S for a couple of days here in Moscow was somewhat bittersweet. I had originally been slated to drive the new car at the global launch in March, on the other side of the world in sunny California. At one of my all-time favourite racetracks, Laguna Seca, no less The plans were made, the plane tickets had been bought but then that other global "issue" came up and the entire launch had to be cancelled outright. So the 992 generation 911 Turbo S has had what must be the most low-key introduction ever for this model. Which is a pity because it seems that Porsche has really swung for the fence this time around.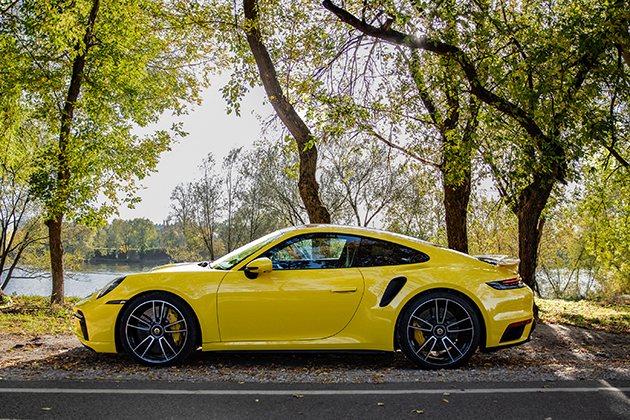 While the 911 Turbo has always been an everyday supercar of sorts, from the 997.2 onwards I would say that its main claim to fame has been nigh-unbeatable acceleration from a dead stop. Porsche didn't appreciate Nissan's all-new GT-R getting the better of the 911 Turbo back in 2007, so they went the extra mile to make sure that wouldn't happen again. The combination of the classic rear engine layout, all-wheel-drive and a dual-clutch transmission with launch control has made the 911 Turbo S essentially unbeatable in its class for sheer acceleration. At least, that was until fully electric cars including Porsche's own Taycan Turbo S started showing up. Porsche won't exactly confirm that the lightning acceleration performance of EVs had anything to do with it, but they've given the 992 the biggest ever generational horsepower increase. It has a full 70 horsepower more than the 991.2 Turbo S which it replaces: 650 versus 580. Add to that a new 8-speed PDK transmission which allows for closer gear ratios than the old 7-speed unit, and the sum of all these new parts ends up being quite a staggering number.