Photo: Jan Coomans
Few occasions in the car world gather as much interest as a brand new Porsche 911 launch. Which is of course what you'd expect as the 911 is sports car royalty. It's been around seemingly forever but it's still the benchmark that all other common sports cars are measured against whether they like it or not. So with the new 992 the only real question is: how far has Porsche moved the goalposts this time?
As a general rule, Porsche do not screw up with a new 911. They just don't. I suppose they sort of came close once with the first iteration of the 996 (a car they created during a particularly difficult time for the company financially) but as it turns out the passage of time has revealed this least popular of 911s to be something of an under-appreciated work of art. Perhaps still not quite a masterpiece, but more than good enough to become something of a favourite among connoisseurs two decades down the line. We've long forgiven it for being the first water-cooled 911, too, and when that platform evolved into the 997 generation a few years later the 911 was back to being universally accepted as brilliant.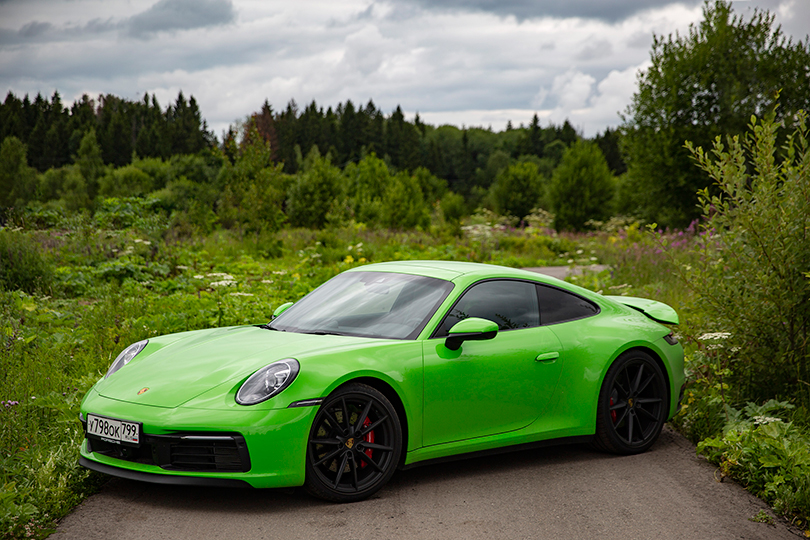 While Porsche do take their sweet time developing each generation, the method and frequency of this evolution is as reliable as the best Swiss clock. A new platform will last for two model cycles, with a refresh in the middle of each. So both each generation of the 911s gets a .1 and .2 variant. When Porsche moved onto the 991 series for model year 2012, we got the larger and more luxurious 911 that we've already come to appreciate as one of the best ever. Then in 2016 we were served the 991.2, which marked the first time that the Carrera models became turbocharged as the old naturally aspirated 3.8 engine was retired in favour of the current 3 litre unit. The new 992 (which in time will be referred to as 992.1) is very much a development based on the 991 and in true 911 tradition most regular people out on the street will probably struggle to see much of a difference between them. Especially when viewed from the front, it takes quite a keen eye to spot the new car in a line-up with the previous couple of generations. There's a much larger difference at the rear though, and the car has gotten quite a bit wider all around. Previously, the Carrera S had a narrower body than the 4S but this is no longer the case. They all look decidedly muscular now, and the wider track of the front axle in particular promises to deliver a whole lot of grip.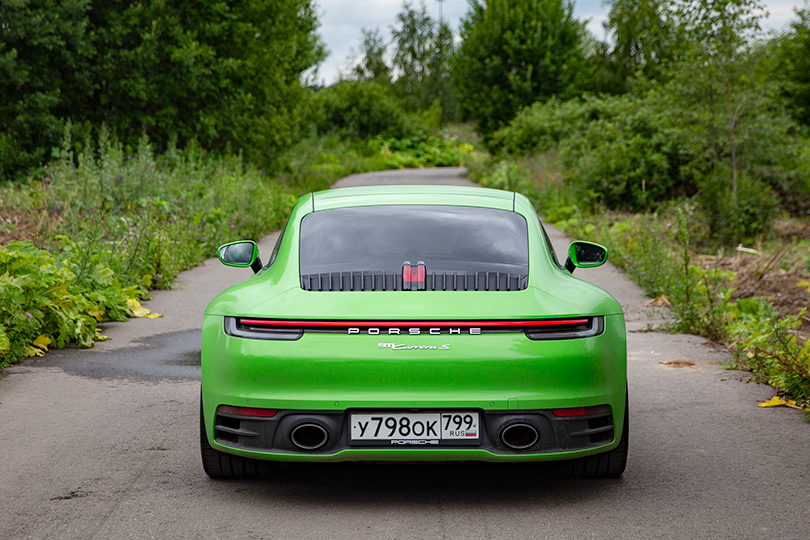 If all that sounds a bit dull and you'd prefer to skip to the seemingly inevitable conclusion that not much has changed with this 911, please do hold your horses for just a minute. In more ways than one, Porsche has seriously gone to town on the new car and into slightly atypical directions too. A 911 has been many things to many people but it has never been particularly cutting edge to sit in. Open the door and slide yourself into a 992 however and you're greeted with an interior that wouldn't be out of place on the star ship Enterprise. Touch screens everywhere. Touch buttons too. What looks like a miniature electric shaver for a gear selector. And last but not least, the entire dashboard is now digital, save for a stylish modern interpretation of the old analog rev counter. And because flat screens are so 2008 the dashboard's LCD panels are bent towards you at the outer ends. From a purely visual perspective, the new 911's interior is one of the most impressive I've seen outside of a couple of wildly futuristic concept cars. The fact that a cabin this modern is now found in a 911 of all cars makes it all doubly impressive.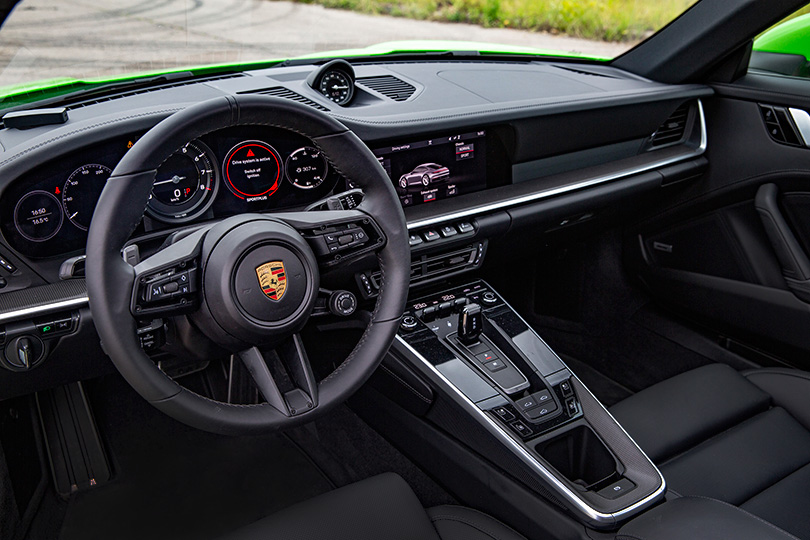 That's not to say that it's all flawless, of course. I'm reviewing a car here, which means that faults must be found somewhere. It's just a matter of looking hard enough. With the 992's interior, there are quite a few parts where function has taken a bit of a back seat to form. The gloss black surfaces that we first saw in the Panamera look great until you actually use the car and put greasy finger marks all over it. It's either that or wearing special gloves, as there's no other way to press any of the touch sensitive buttons without leaving marks all over it. And there's no denying that for most people, all this new tech has made things quite a bit more complicated to use. That peculiar and sorry-sized gear selector also hasn't been making a lot of friends since its introduction. The 911 is a sports car, nobody should mind to have a fully functional gear selector in the middle. You know, one which you can actually use to shift gear in situations where you may not be able to keep track of where the steering wheel paddles are. I realise that most of us don't spend a lot of time drifting across frozen lakes or other silly stuff like that, but still. It smells to me like they tried to fix something that wasn't broken, with a predictably controversial result. If you want your new 911 to come with an ample sized gear stick, you'll have to order it with the 7-speed manual gearbox.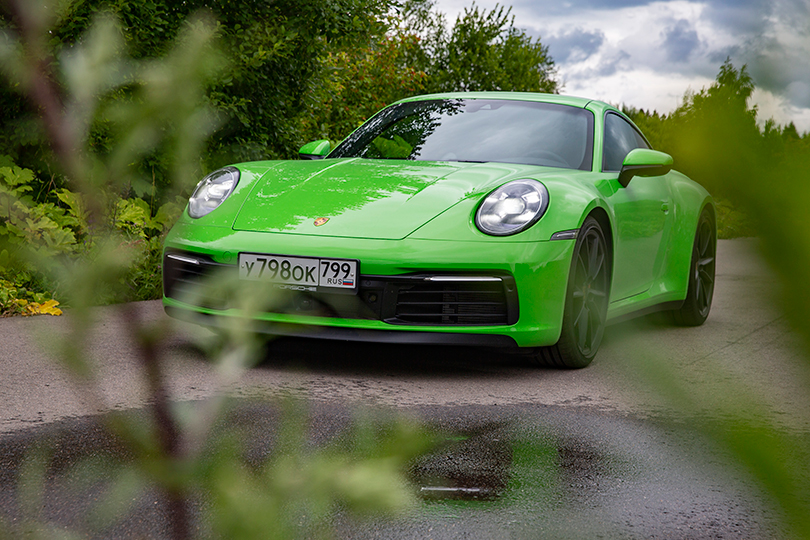 With that out of the way, let's get to the bit where we talk about parts of the car that actually matter. The 3 litre engine, as I mentioned earlier, is largely carried over from the 991.2 but lots of changes have been made to make it more environmentally friendly and to comply with new particulate filter regulations. Power for the Carrera S is now up to 450 horsepower — as much as the previous generation Carrera GTS had. The engine is mated to a new 8-speed PDK transmission with the 7-speed manual option becoming available a little later. Aside from having one more gear now, Porsche have designed the new transmission in such a way that it will allow for an electric motor to be added for the second generation car should they decide to go that way. Apparently, they're not quite sure yet which way they want to go. What I can tell you though is that the new Carrera S is already pretty darn fast. Sorry, I meant Fast. With a capital F. I've driven my share of fast cars over the years but it still amazes me just how quick this 911 is with "only" 450 horsepower. I know it's a relatively small car and not that heavy but you could tell anyone (who doesn't know better) that it's over 500 and they wouldn't doubt it. Porsche's PDK gearbox was already shifting so quickly that you can't really tell if the new one is any faster, but thanks to having the extra gear the ratios are spaced a little closer together which does improve acceleration.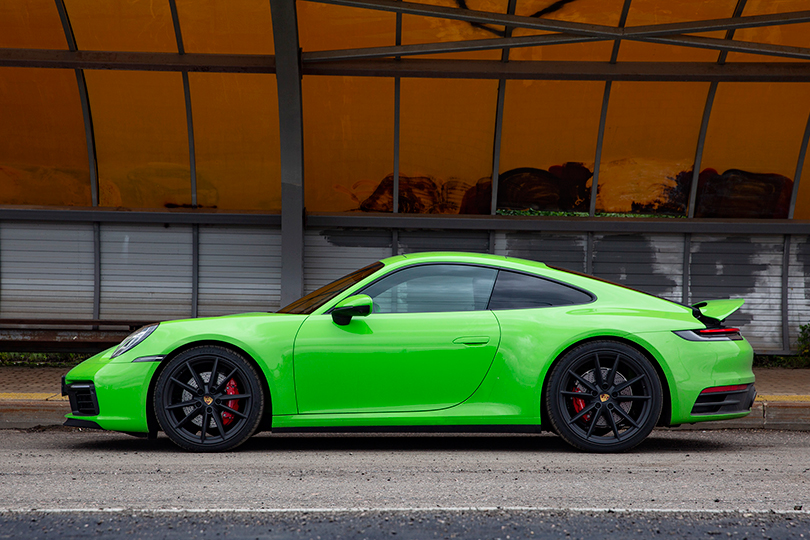 Firing this 911 from from a dead stop to 100 km/h takes a mere 3.5 seconds. If you use the launch control feature that comes with the Sports Chrono option, anyway. But it's only two tenths less fast otherwise. I personally timed the Carrera S to do this little sprint in 3.6 seconds on a less than ideal road surface and with a full tank of fuel, so there's no doubt that Porsche's claims are accurate. Even more impressive is that the Carrera S only took 11.5 seconds to reach 200 km/h. Not long ago these were 911 Turbo numbers. Now, you get them in the two wheel drive Carrera. On a dry road, the traction of the rear wheel drive car is already just about impossible to break, thanks to the engine's weight sitting pretty much on top of the rear wheels. So there isn't a whole lot to gain when you step into the all-wheel-drive Carrera 4S. A single tenth of a second faster to 100 km/h, though of course if it's raining or snowing the difference would get a whole lot bigger. Still, for a car like the 911 which is always more likely to stay indoors when the weather is bad, the Carrera S is all you really need.
In terms of actual driving experience and handling, the 992 feels a lot like an improved 991.2 GTS. Probably because, even on paper, the difference between the two is rather slight. It's hard to say without driving them back to back but I think the sound from the 3 litre boxer is a little nicer inside the cabin of the 992, and when chucking it into a tight corner it seems that Porsche has bent the laws of physics a little bit further still. It really does turn into a corner like nearly nothing else, thanks to its ever more clever rear wheel steering system. This 911 is a ridiculously capable car, and it manages to generate G forces that I didn't think were possible on regular road tires. Put the wheels and tires from a 911 GT3 on the Carrera S and I swear it would probably be a close match around on a racetrack. It's just that quick. Of course the Carrera is quieter, more aimed at refinement and comfort than outright excitement but even so it comes alive like a cornered cat once you start pushing it to within a few inches of its ultimate limits. It is there that the 911's DNA really starts to take centre stage and it feels really, really good.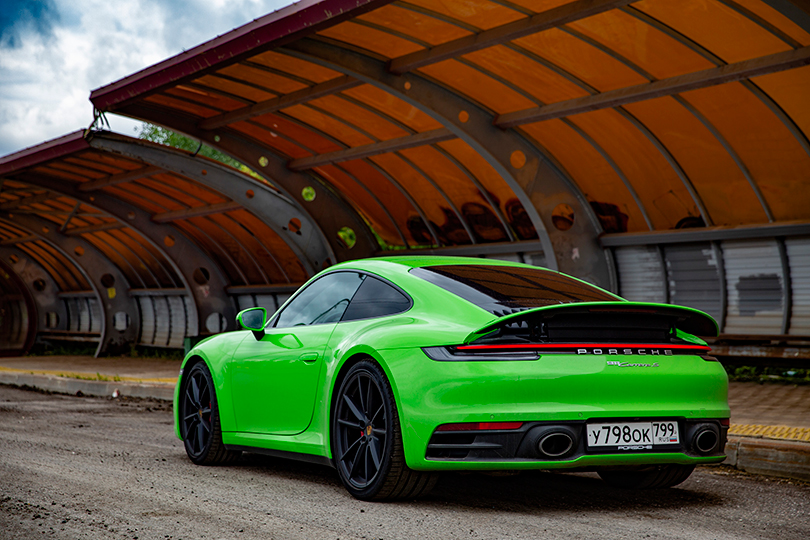 A lot of people, myself included, were a tad worried about what 992 was going to be like. We had seen lots of spy shots and videos of camouflaged prototypes running around and it all seemed a bit odd. The interior especially. Thankfully, now that we've been able to see the new car in the flesh and drive it ourselves, our minds have been put to rest. It's a proper 911. Yes, all the high tech stuff on the inside takes a bit of getting used to. And they really should have given us a proper gear selector. But there's no denying that Porsche has, once again, made the 911 fundamentally better in just about every way. Considering that the old car was already up there in the rarified atmosphere of near perfection, the new Carrera S adds insult to injury for the competitors that are trying to emulate or best it. Fifty six years after the first 911 was born, the untouchable car from Stuttgart is showing no sign of slowing down.