One of my favourite mottos is: better late than never. An admittedly convenient expression when one has the audacity to write about a car show which finished the better part of a week ago. Still, there was a lot about this year's edition of the Paris motor show that is still worth talking about, because the future is now here. Kind of.
For the last couple of years, whenever there's a decent size car show somewhere in the world, electric vehicles have been stealing the headlines. One could be forgiven to already be bored of the whole plugging cars into sockets thing, in fact. But at least now we've finally gotten to the point where the world's biggest car manufacturers are ready to put some into actual mass production. As far as steps go, this is the big one. The snow ball has started rolling downhill and is gathering pace. Where exactly it will end up, though, isn't exactly certain. I spoke to a number of brands to get their thoughts on the matter, but still found time to admire their (now decidedly old fashioned) regular cars that still run on oil distillates.
Audi
The Volkswagen Group is putting massive resources into developing their EVs. That decision may or may not have been influenced by the legal issues they ran into with diesel engines, but cars like the new Audi e-Tron 55 Quattro suggest that the investment could well pay off big in the long run. There is a lot riding on their very first EV, predictably of the popular SUV variety, but it just looks like an extremely well developed car both in the flesh and on the spec sheet. With a 95 kWh battery pack and a 5.something 0 to 100 km/h time it's not going to hang about. I'm hearing some great things through the grapevine about the e-Tron's handling and all-wheel-drive system too. I suppose it would be fitting that Audi, the brand which almost single-handedly made all-wheel-drive cars a thing, would develop the most impressive electric "Quattro" system at this early stage. All I know is that I can't wait to actually try it.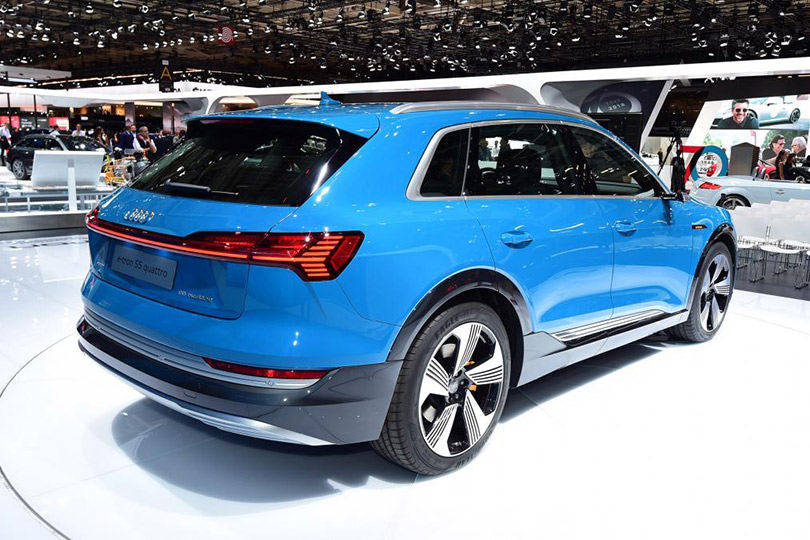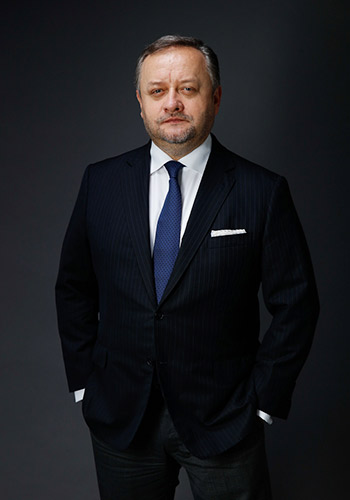 I talked to Lubomir Najman, head of Audi Russia, to see how he feels about these cars and their place in the Russian market.
Jan Coomans — Russia isn't exactly at the forefront of the battle against carbon emissions and the drive towards EVs, do you feel that there will be a place for them in the Russian market in the near future?
Lubomir Najman — Well, as you've noticed we are introducing e-Tron today, which is the real beginning. Within 8 years, the plan is for us to have twenty electrified models half of which will be fully electric. The new era is starting right now, and I don't believe that Russia will be an island where the car market will be completely different from Europe or the rest of the world. Obviously there are plenty of discussions going on about infrastructure and the future and so on … but I believe that there will be something of a hype around this new industry and this new way of driving. You can already see electric fever right now in things like electric scooters. Personally, I'm a believer of EVs in Russia. The range is already there, we have 400 kilometers on a single charge now with e-Tron, which is much more than most people will drive in one day.
— And talking about the Russian car market as a whole, not just for EVs, how do you see it evolving in the medium term?
— Well I think we will grow, because the crisis at this moment has passed. But the main question marks about any forecast right now are of a geopolitical nature so we cannot really foresee them. That and the oil price of course, which is equally difficult to predict and has an effect on the exchange rate and purchasing power of our customers.
— Thank you very much!
BMW
Somewhat in contrast with the rest of the motor show, the biggest news on the BMW stand was not in fact powered by electricity. Because there's a new 3 series! Now in its seventh generation, the three remains BMW's bread and butter car. It's an instantly recognizable bestseller of a car so you wouldn't expect any scarily big changes over the previous model(s). And, by and large, there actually aren't any. The new car comes with more efficient engines and a load of new tech. One example of the latter is BMW's new digital assistant with which (or is it whom?) you can start a conversation by saying "Hey BMW!". Uniquely though, you can give this assistant any name you like. There are probably all kinds of ways in which hilarity could ensue if you pick the wrong name for your BMW's AI-powered backseat driver, so choose wisely.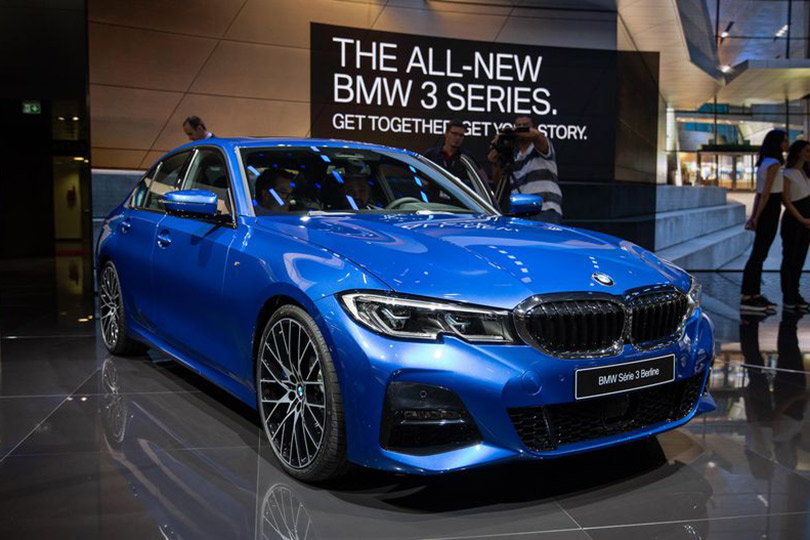 One thing which does have people divided somewhat is the car's new styling. You can't argue about taste, some will like it and some won't but because it's a 3 series we'll all undoubtedly get used to it soon enough. For what it's worth, I do think the new design is a little bit busy as opposed to simplistically elegant. On the other hand, it's definitely more aggressive looking than before. Which makes you wonder how the M3, when it comes along, will top it.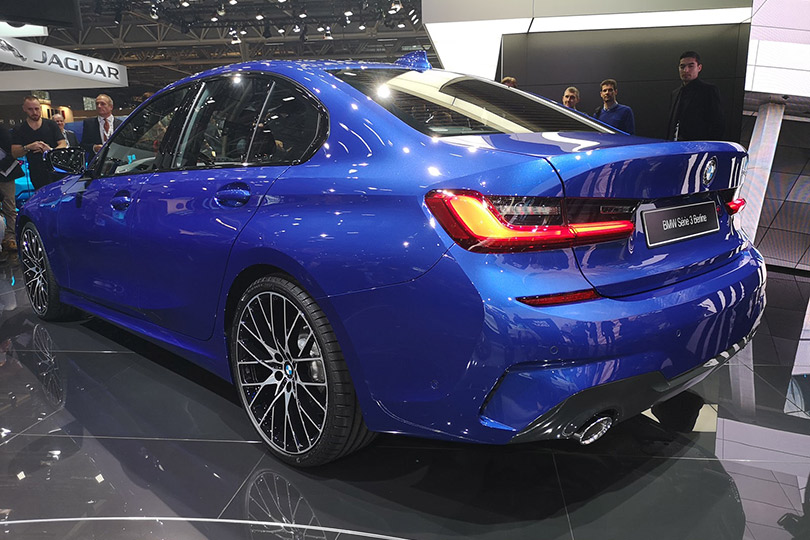 Then again there was still plenty of elegance to be found at BMW, with the new Z4 to name but one example. It's great to see BMW still making roadsters, not exactly a high volume segment but it's the kind of car that can make you feel good. Interestingly, this new Z4 will also be the foundation for the upcoming Toyota Supra.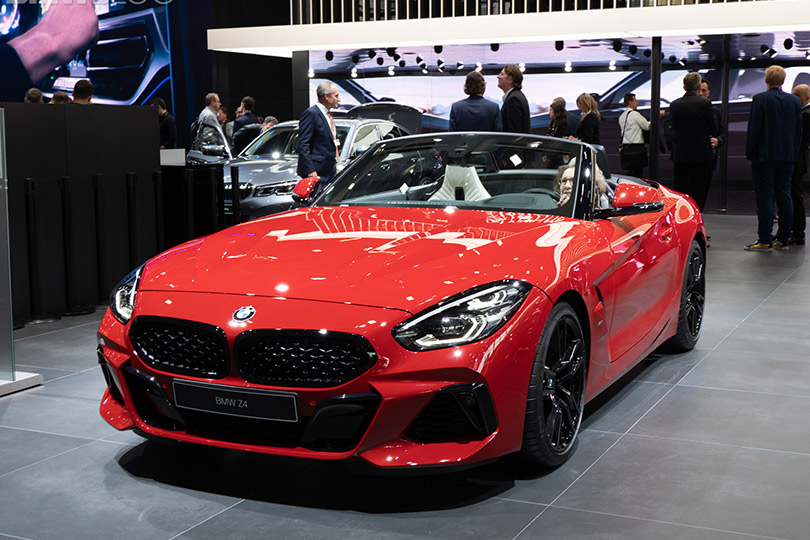 Less of a weekend car and more of an everyday family car, there's also the new X5. Reassuringly, you wouldn't mistake it for anything else than an X5, but it looks a bit smarter and perhaps even a tad sleeker. And, of course, it's been updated and improved in just about every way imaginable.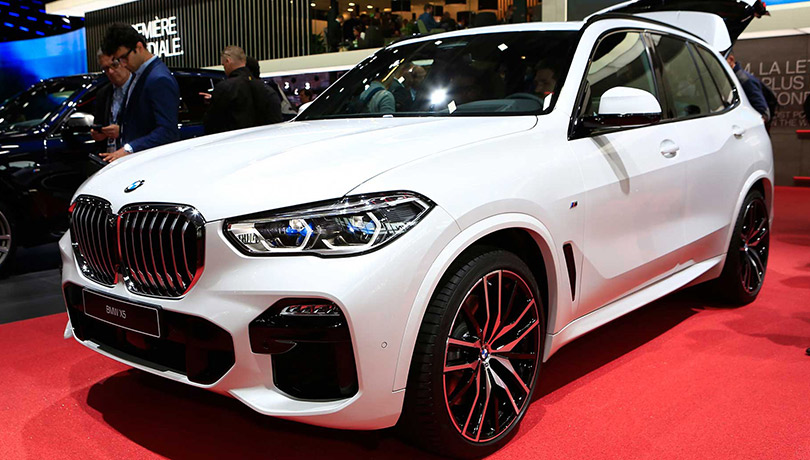 Jaguar Land Rover
Not much breaking news over at JLR, but plenty of birthday cake to go around! There went my waistline. Celebrating 50 years of the Jaguar XJ as well as the 70th year of Land Rover, we got to see a golden oldie in the form of a first generation XJ which belonged to Jaguar's founder William Lyons. Superb — I think we can all agree on that.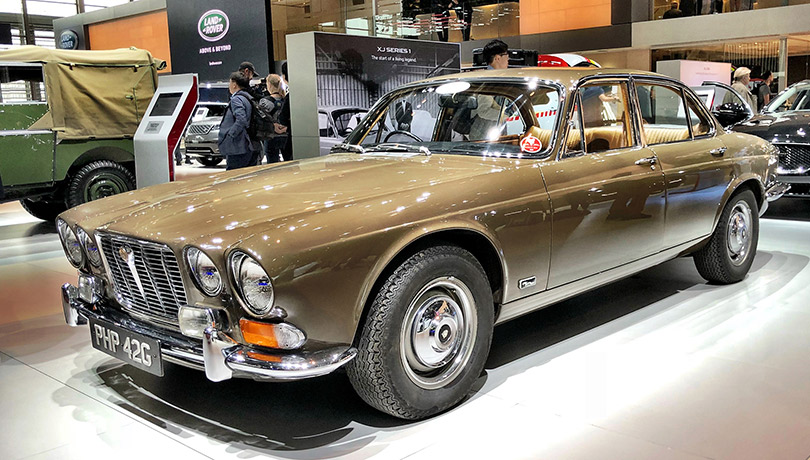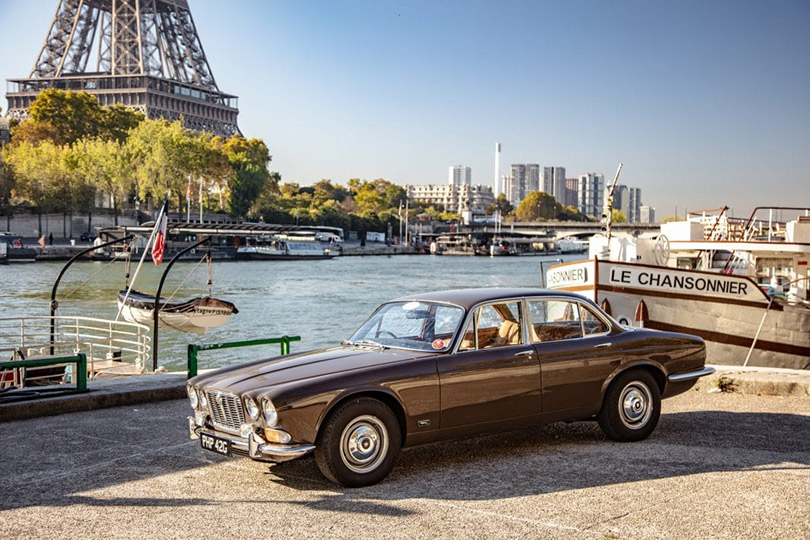 Lexus
The UX is Lexus' new compact crossover to rival the likes of the Volvo XC40 and Jaguar E-Pace to name just two. The UX is refreshingly straight forward when it comes to engine choices — there's an UX 200 with a 171 horsepower engine and front wheel drive or the UX 250h which has all-wheel-drive, a hybrid system and a few extra horsepower for good measure. I do appreciate the Lexus design language too actually, it's just so incredibly distinctive and self confident. Expect the UX to be available in Russia soon, at the very start of 2019.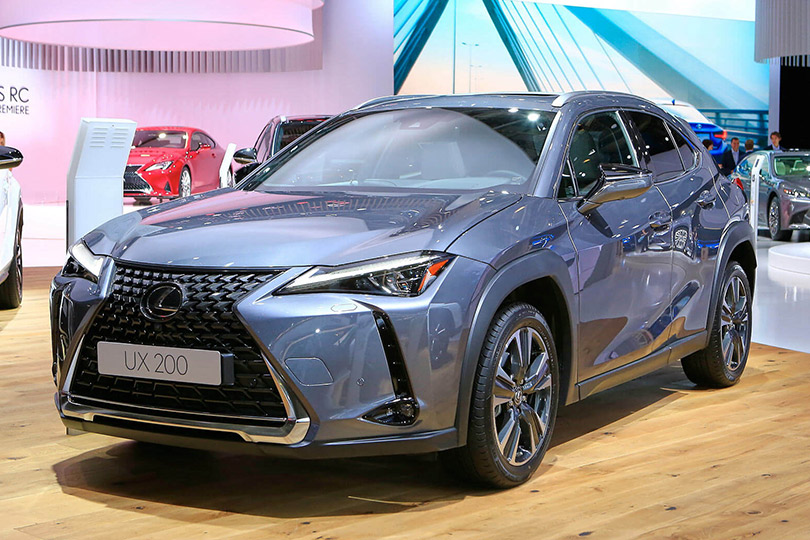 A bit bigger than the UX is the new Lexus ES. Did I say a bit? I meant a lot. If the German sedans are a bit too dull and predictable for you, then you should probably have a good look at the new ES. The 300h model uses a 2.5 litre 4-cylinder engine, plus a hybrid system, to produce 218 horsepower with very impressive fuel economy.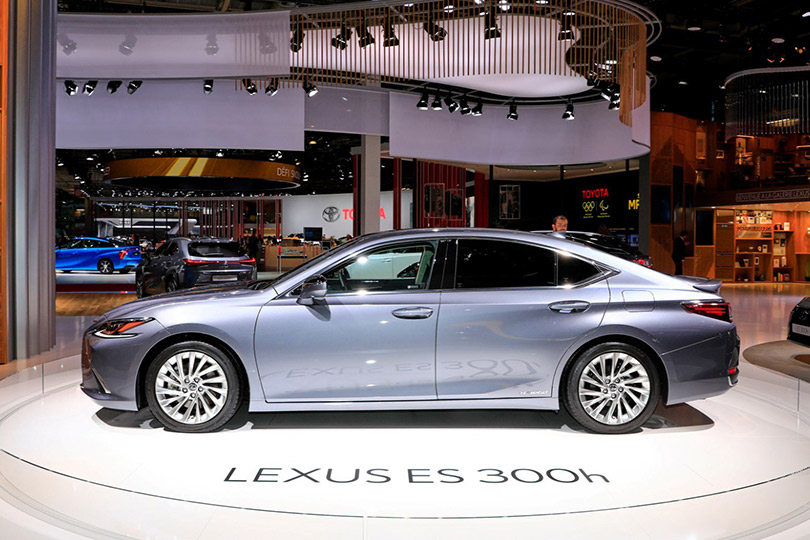 Peugeot
Being in France, it would have been rude not to include a French brand but truth be told, Peugeot totally deserve the attention on their own merit for this one. I'm not huge on concept cars but for my taste they had by far the best looking one of the entire show with their e-Legend. An electric autonomous car and something of a homage to the ancient Peugeot 504 as far as styling goes. In the flesh, I thought it was jaw droppingly gorgeous. Perhaps the pictures don't do it justice entirely, but still. What are the odds we'll ever see something resembling this car on sale? I don't think they're very good, but we can hope.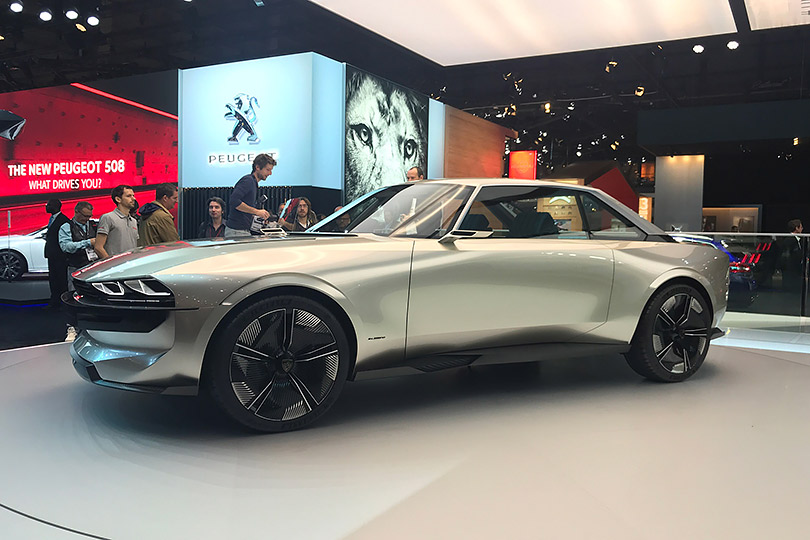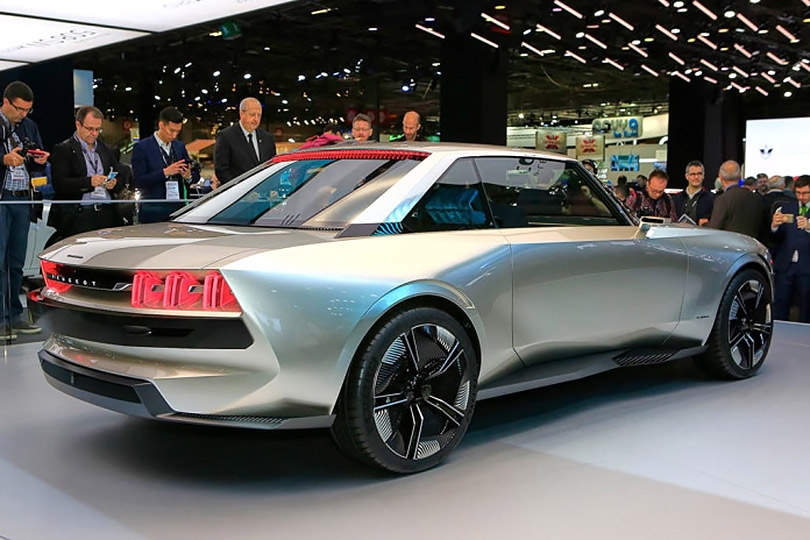 Back in reality, Peugeot also kicked off its hybridization program with hybrid electric versions of its 3008 and 508 models, giving them a purely electric range of 40 to 50 kilometers.
Porsche
There is something big brewing at Porsche, but they weren't launching it in Paris so their stand was perhaps a little less of a hotspot than usual. Still, while we wait for an all new generation of the 911 in the very near future, Porsche still had some things worth seeing as they always do.
The new Macan got plenty of attention on its European premiere, though this being a "refresh" year for the Macan means it hasn't drastically changed in any way. Most noticeably on the inside is the much larger infotainment screen and the addition of some clever electronic things like a traffic assist system which works up to 60 kilometers per hour and aims to take most of the chore out of traffic jams.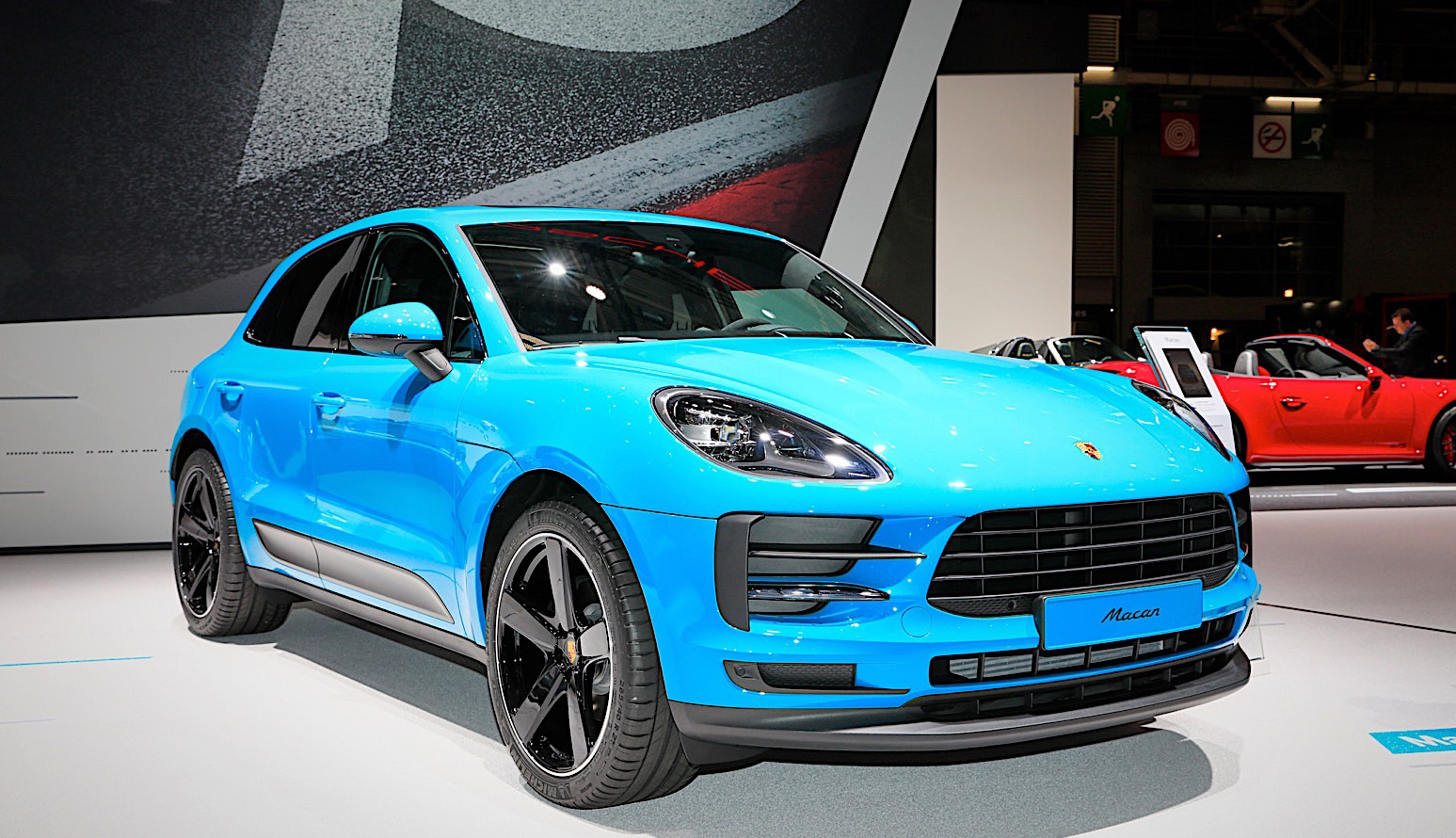 They also had the 911 Speedster concept on the stand, though the concept badge wasn't really fooling anyone as it's pretty common knowledge by now that a small number of them will likely be produced soon enough. Whilst I do prefer having a metal roof over my head, no Porsche 911 which has a 4 litre naturally aspirated flat 6 engine from the motorsport department will ever be anything less than awesome.