I've already written a significant amount of words on the latest Porsche Panamera, but after driving the Turbo version to a vineyard near Krasnodar (no vines were harmed) and then another for a few laps around a racetrack, I've found a few more thoughts to add.
The first generation Porsche Panamera was a car which many loved to hate. Yes it was brilliantly engineered, but she wasn't the prettiest girl on the block and it often seemed like it wanted to hide its sporting heritage rather than celebrate it. Fast forward to the second coming of the Panamera, and they've gone and they simply made it more brilliant, sharper, and better looking. Got us again, Porsche. If there's one annoying habit that Porsche has — they make life difficult for journalists who are trying to not be too unrealistically enthusiastic and positive about their cars. Our life would be a lot easier if Porsches had a few more flaws, to tell you the truth. We can't simply always complain about the prices of the optional equipment.
But on to the Panamera Turbo, then. As you all know, I've never been one to mind having more power, so I would think that the Turbo's V8 engine and its 550 horsepower is a definite plus over the 440 horses that are stabled under the hood of the V6-equipped "S" models I've reviewed before. While the Panamera Turbo engine has a familiar sounding specification at 4 litres, 8 cylinders and two turbochargers, this is a new engine and should not to be confused with the older 4 litre twin-turbo V8 found in other models within the Volkswagen Group. This new engine which first arrived in this the Panamera Turbo will be replacing the old V8 in cars like the next Bentley Continental and some of Audi's top of the range models. It now has what is called a "hot V" configuration where the turbochargers are mounted in the space between the two banks of the V8 motor, improving efficiency and response time. It's a modular engine, too, which in this case means that the V6 engine from the "S" models is the basically the same as this one minus two cylinders. Two great engines for the (considerable) cost of designing one.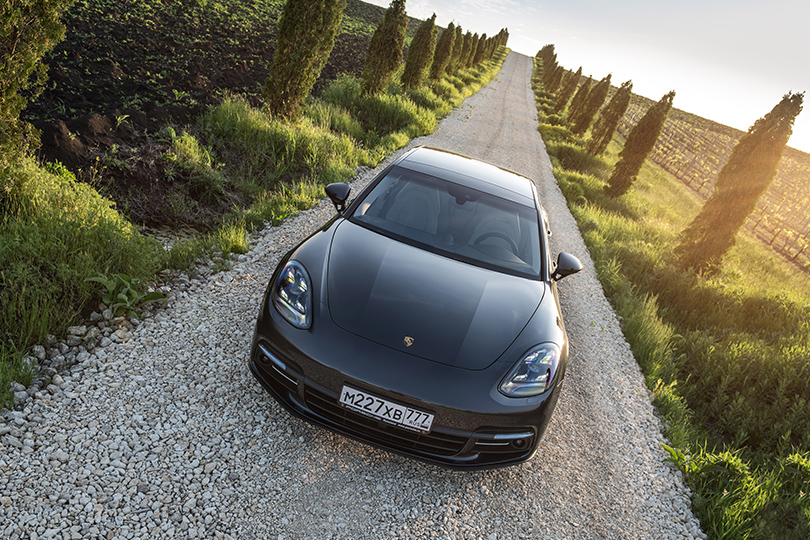 Of course none of those specifications properly articulate how the Panamera Turbo feels on the road to drive. When you find yourself with a bit of space to let the right pedal meet the carpet, an impressive rate of acceleration ensues. But because the Panamera's cabin is very quiet, and with the engine delivering the power in a linear and non-abrupt fashion, it never quite feels as fast as it actually is. In fact, the first time I floored it, I didn't think the Turbo really felt that much faster than the 4S, which came as a bit of a surprise to me. But then you decide to overtake a large truck and, after the deed is done, you take a quick look at the speedometer and see a very, very large number. The Panamera Turbo gathers speed in a ruthlessly efficient way, somehow. It's a bit like driving a German serial killer.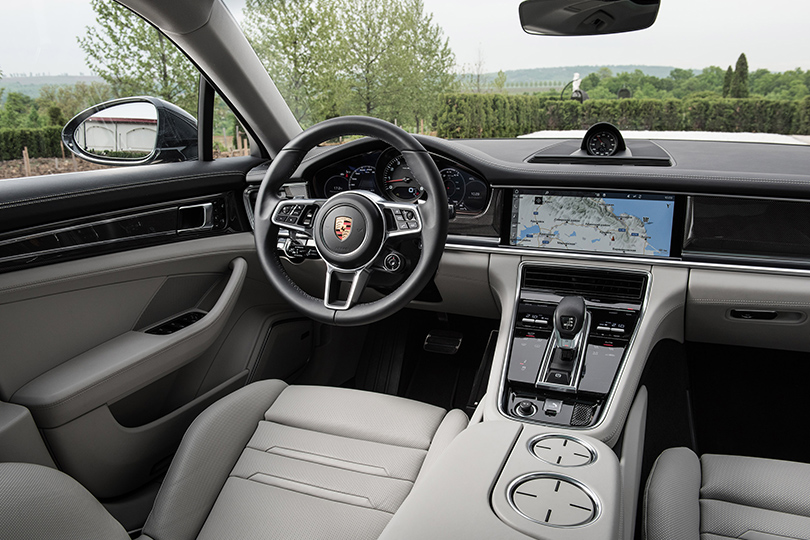 Getting to our destination, the Lefkadia winery, was a joy. Not just because of the car but because the Krasnodar region is really rather pretty. The roads were perhaps a tad busy to stretch the car's legs, and there were plenty of honourable police officers standing by the edge of the road to admire the view of the passing Panameras, but such is life. Set in a location that reminded me of France and Southern California in equal parts, Lefkadia is an (alcohol-containing) oasis of peace and calm.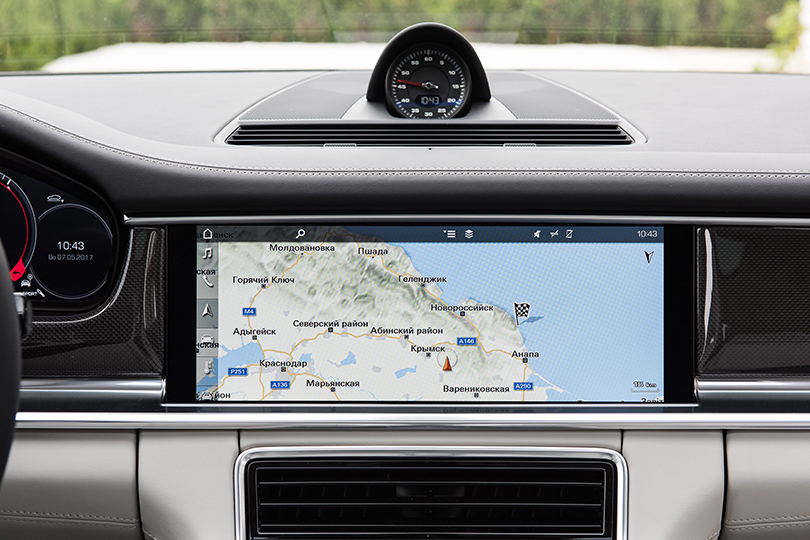 Designed and built by international experts using imported materials, you really could start doubting what country you're in, exactly. It reminded me of an old Louis de Funes movie, where an extra-terrestrial in a flying saucer takes such a liking to a French farmer's cabbage soup that the whole farm gets scooped up and transported to, presumably, an alien planet. Something vaguely similar seems to have happened in Lefkadia, except there was no flying saucer and it took a lot more time and money. The result, though, is an absolutely wonderful place that produces euphoria-inducing beverages of a quality that many chateaus in Europe could envy.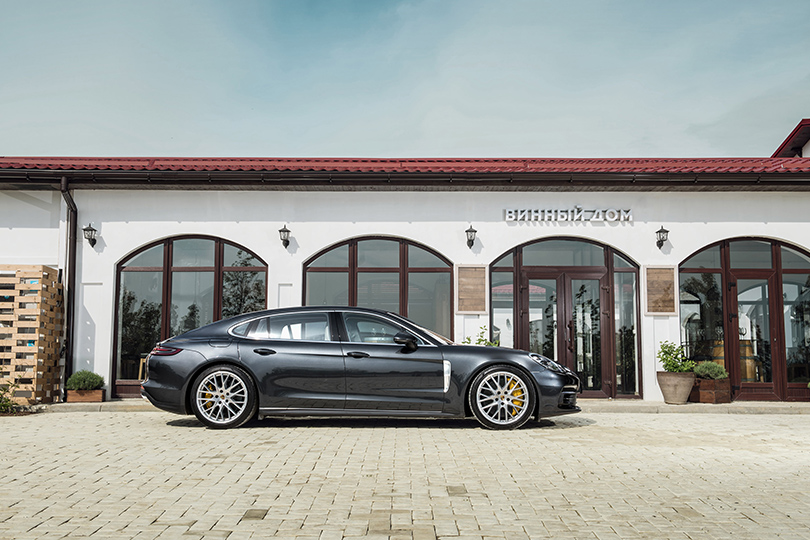 We only had a couple of ours driving the cars, but given that I've driven the slightly lesser models extensively it didn't take long to get a feel for it. And one of my first conclusions, if I'm being honest, is that in terms of the driving experience the Turbo did not seem massively superior to the 4S. The engines sound different, and the V6 in the 4S doesn't quite have the oomph of the Turbo's V8 particularly at lower engine speeds, but in terms of perceived "fastness" I did not feel like you were missing that much if you got the Panamera 4S. That car is so good and so quick already that adding another hundred and a bit horsepower to it doesn't transform it into anything radically different. If I did want to go all out and get the true king of the hill — there's the Panamera Turbo S E-Hybrid. Whilst I haven't driven that one yet, that is obviously the car that really moves the game forward with its 918-style drivetrain not to mention six-hundred-and-eighty horsepower. I don't mean to take away anything from the "regular" Panamera Turbo here, anyone who is stuck deciding between any of these cars is obviously a very lucky boy or girl. I'd just be more likely to either try and be mildly sensible or go completely nuts when it comes to ordering a car.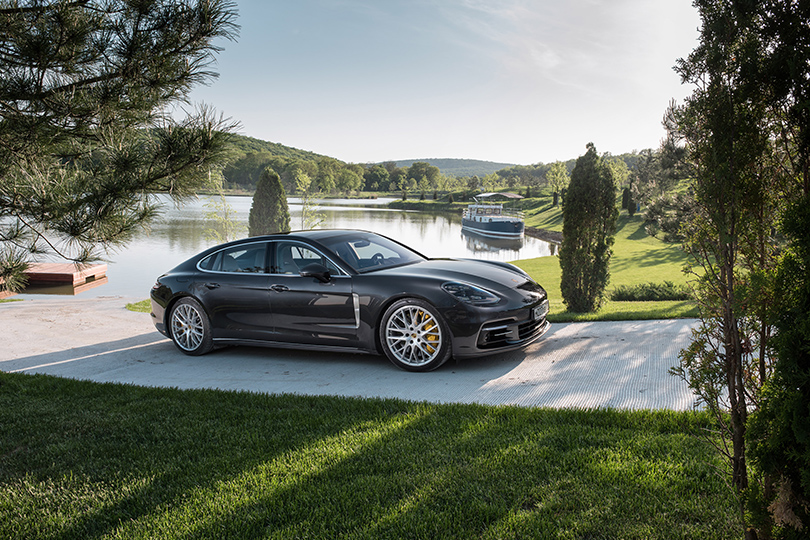 As luck would have it, there was also a Panamera Turbo on hand to drive on Moscow Raceway during the annual Porsche Festival in May, and I jumped at the opportunity to try the car in a less restricted environment. When it comes to letting people drive their cars on track, I've also found Porsche to put a bit more faith in its guests than most of the other brands. Obviously, there are some rules and some nanny-ing, otherwise they'd probably be taken home several trucks worth of scrap metal at the end of the day. But with a measured approach and varying the distance to the instructor in the lead car, you can find some gaps where you can really push the car and feel what it's all about. The Panamera Turbo, unsurprisingly, took it all in its stride. For such a large and reasonably heavy saloon car, it is remarkably unfazed when you drive it on a racetrack in a way that it isn't really meant to.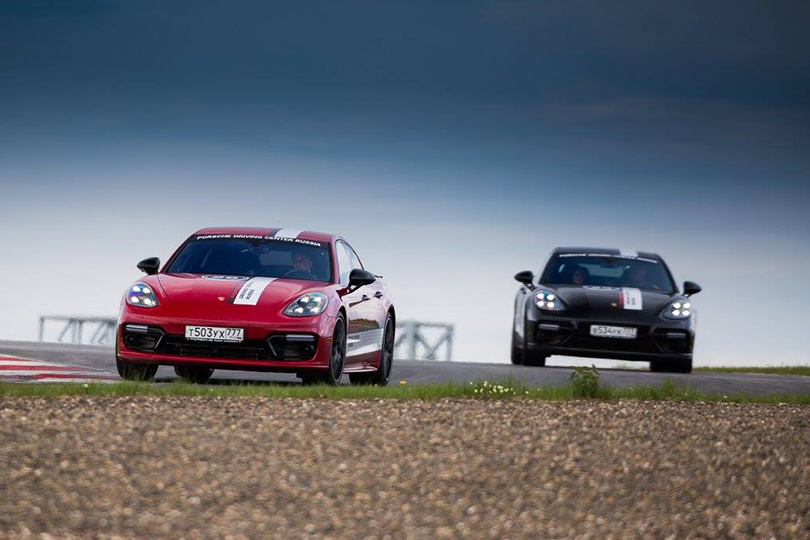 The only thing you really need to do is to switch Porsche's stability management to SPORT mode, otherwise the traction control is limiting power out of corners a bit too much, but aside from that you use the Panamera Turbo as a proper weapon on a racetrack right out of the box. The brakes simply don't fade, and the engine is as strong after five laps as when you just pulled out of the pits. Porsche love to claim that they only make sportscars, clearly a bit of a hyperbole, but driving the Panamera you do feel that the sportscar element is there, and always was a non-negotiable goal during the car's development.
How many Panamera owners will ever drive their car in this way? I'm not sure that matters. You can feel the enthusiasm for cornering in the car's character even while you're not even scratching the surface of its capability on the public road. It's very hard for me to not like a car like that.