Porsche has just announced its all-new Panamera,
which is pretty big news, especially for the Russian market where the Panamera and its sister the Cayenne are insanely popular. It's also particularly interesting for those of us who are curious about the design direction the brand is following.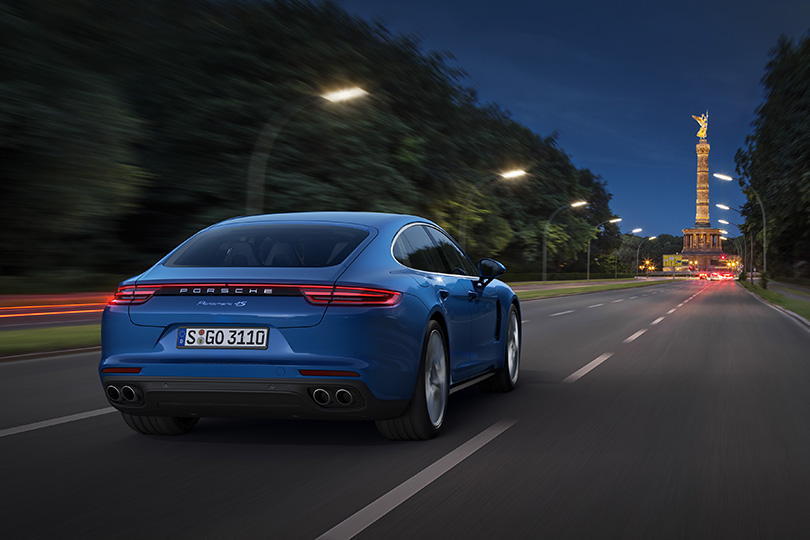 If you remember, the first Panamera set the tone for interior design of all subsequent Porsches even the sporty 911 and Boxster/Cayman. A high central tunnel with lots of buttons with the entertainment/navigation screen in the middle of the dashboard. That was seven years ago, and looking at the new Panamera's interior, its immediately clear that time has moved on.p>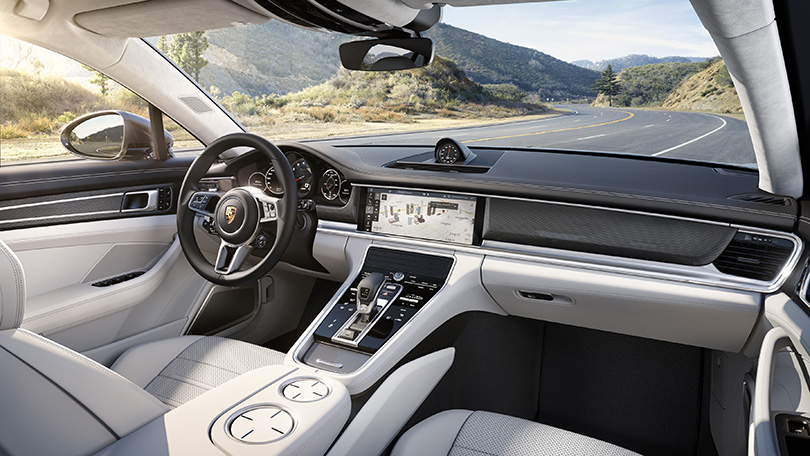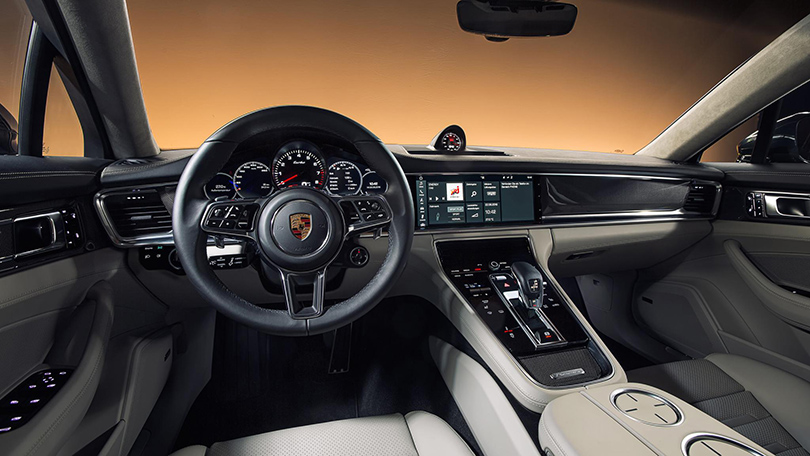 It immediately looks much more futuristic with LCD screens all over the place. Only the analog rev counter has survived, thankfully. The only features that are immediately recognisable are the steering wheel which seems largely unchanged from the post-918 Porsches and the trusty Sport Chrono clock. Everything else is a clear departure from the old design, even the familiar PDK-style gear selector is gone and replaced with something entirely different looking. Overall though, you have to say this is a very luxurious looking cabin. Can't wait to see it in real life and feel the materials.
On to the car itself, when viewed from the front you could be tricked into thinking that the new Panamera is a mere facelift of the old one. But you'd be wrong. The car is built on an entirely new platform — and it's even bigger than before. Yes, you read that right, Porsche decided to make it bigger. Because the old one was clearly a bit puny in some areas. It's three and a half centimeters longer, plus half a centimeter wider and higher. Not that you're going to notice half a centimeter, but it's the thought that counts.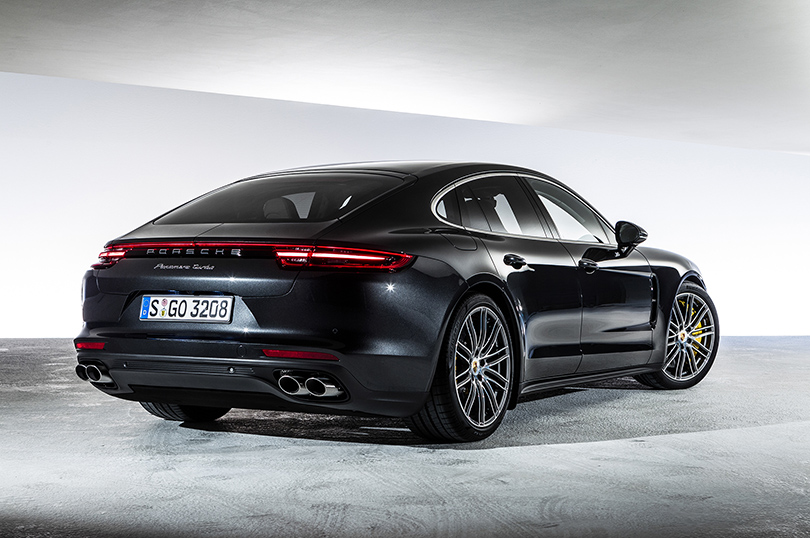 Something you won't find in the marketing brochures: he new Panamera uses the Volkswagen group's MSB platform. I assume that bit of information sounds entirely meaningless to you, but it's basically the same platform the Bentley Flying Spur uses, and the future Bentley Continental GT will use it as well. Talking about platforms is full on car geek territory of course, but the bottom line is that it is all new. It's built on 2016 technology from the ground upwards. And yes, I probably only put that in because as an irrational enthusiast I consider the 911 and Boxster/Cayman to be the only genetically pure Porsches. Sorry! In any case, the fact that it shares some components with Bentley is hardly an embarrassment for a car aimed at the luxury segment of the car market. Still, Porsche wouldn't be Porsche if they didn't take it around the Nurburgring too, just in case. And they've been very proud, and eager, to tell us that the new Panamera Turbo got a lap time of 7 minutes 38 seconds. OK then. Everyone with a Panamera raise their hand if they've ever used it as a track car. Anyone? As much as I love driving the Nurburgring, I'm getting pretty tired of lap times being served up by marketing departments. It seems you can't launch a new car these days without having to publish how quick it went around that old racetrack. People who know the Nurburgring know that a lap time only tells a small part of the story and is fairly meaningless all on its own. Anyway, the Panamera Turbo is very very, very fast. That much the time does prove.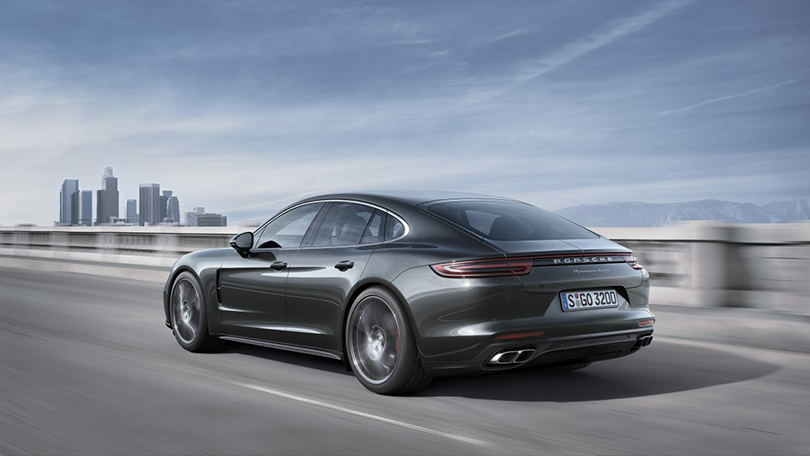 Slightly more relevant are the acceleration times. The Panamera Turbo will reach 100 km/h in 3,6 seconds, if you order it with the optional Sport Chrono. Models without this options lack the launch control feature so it will take a few tenths of a second longer. Top speed is in excess of 300 km/h. The slightly more sensible Panamera 4S will do it in a hair over 4 seconds — plenty fast if you ask me. Perhaps most impressive of all, the new Panamera Diesel gets a new V8 diesel with 2 turbos and enough torque to move the Kremlin a bit to the left. That one will still do 0 to 100 in 4,3 seconds and use much less fuel than its petrol powered brethren. For the kind of car the Panamera is, I'd have to say the Diesel is by far the most obvious choice now. The same will go for the new Cayanne when it arrives, which will be pretty much identical in terms of interior and engines to the Panamera, as it is now.
Where the Panamera has moved forwards the most, though, is probably in the looks department. I know this kind of thing is entirely subjective and you can't really argue about taste and style. But the old Panamera was always sort of like the ugly duckling that everybody in the car community loved to hate on no matter how good was. It's ugly, ha ha. Well, it's safe to say the new one is a whole lot better. From some angles, maybe even pretty? Not that it needs to be pretty, she has so many other qualities that most of us would date her anyway, but it's sure nice to see Porsche step up and give us a pleasant surprise.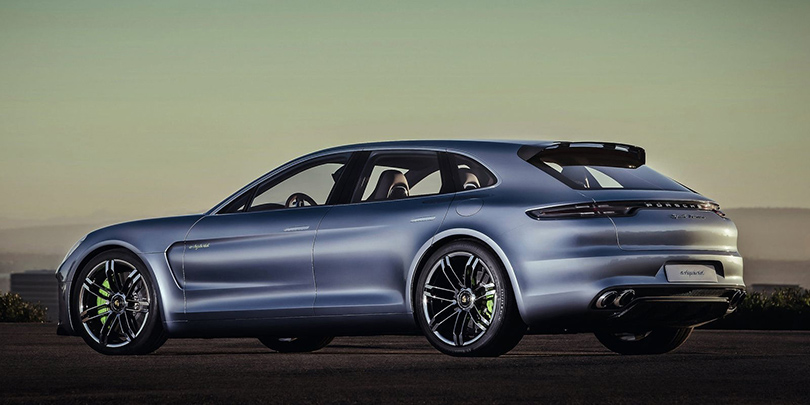 Porsche has confirmed an estate version of the new Panamera is coming, which looks even better.
For a larger dose of excited adjectives, please come back next week when I'm back with a driving review of Porsche's latest 911.