It's hard to not get at least a little bit excited about the new BMW 5 series. Both on paper and in the flesh, it looks like a car that is considerably more dynamic than its immediate predecessor. Will the seventh generation of the iconic 5 series prove to be lucky for BMW?
We'll start with the least good news first, just to get it out of the way, the 4-cylinder turbocharged engine is continuing its march up the engine range. Par for the course these days, of course, as cars need to become more efficient. It's the same story elsewhere, Stuttgart and Ingolstadt included. It's just a bit shocking to see a 530i with a 4-cylinder engine, given that I can well remember a time where even the 520i had one of BMW's signature straight six engines. They may have been slow, but they sounded beautiful. It's kind of going the other way now, where sound has been replaced a massive dose of extra performance and fuel economy. It's a trade-off which nearly everyone appreciates, to be fair. A case could also be made that, certainly in luxury sedans like the BMW 5 series, engine sound becomes ever more irrelevant as sound proofing is now so good that you can barely hear the engine, anyway. Aside from a few engine nerds in the automotive press (guilty as charged), who can really tell how many cylinders are firing away under the bonnet? Anyway, I suppose I probably shouldn't keep banging on about it and scare the normal people away.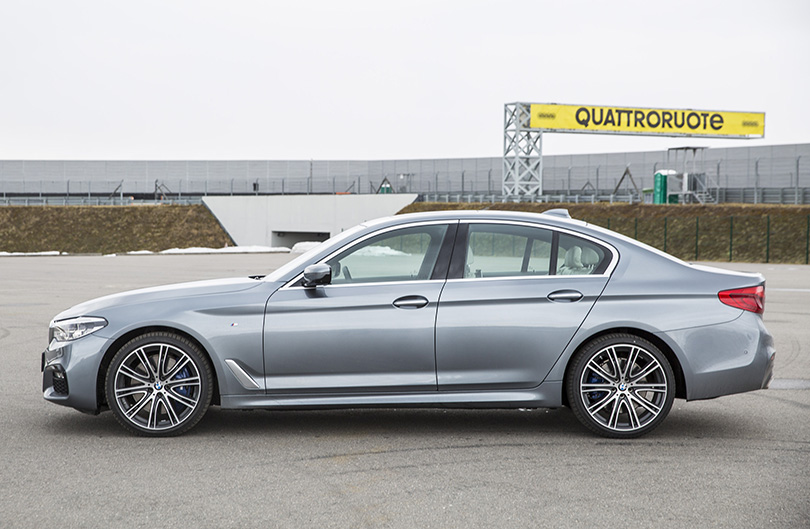 I had the good fortune to drive both the gasoline-powered 540i and the diesel-burning 530d back to back for a good amount of time, and I was rather surprised by what I found. Predictably, the 3-litre turbocharged motor in the 540i was quiet, smooth and powerful. It's every bit as good as you'd expect a 6-cylinder BMW engine with 335 horsepower to be. It propels the 5 series forwards with considerable force once the engine speeds are high enough, and the power delivery as been fine-tuned in such a way that it never really kicks you in the back. Because that would be rude, and this is a very well-behaved machine. Combined with BMW's xDrive all-wheel-drive system, the 540i will sprint to 100 km/h in about 5 seconds dead. More than fast enough for a comfortable daily driver, I think you'll agree.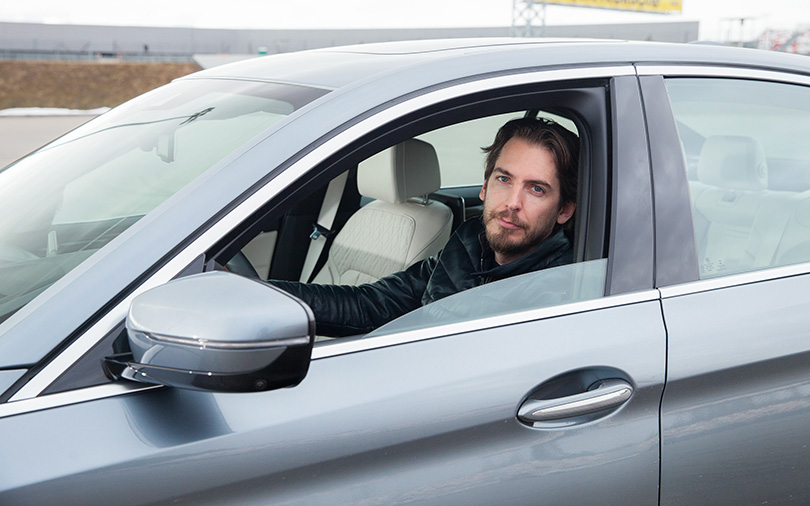 What I wouldn't have predicted beforehand, particularly as someone who isn't really fond of diesel engines in general, is that the 530d is somehow even better. I can't really describe the 3-litre turbocharged diesel engine as anything other than a masterpiece. Whilst it only has 265 horsepower compared to the 540i's 335, in most driving situations the diesel feels more powerful and responsive. Dare I say it, even the subtle and well-dampened sound it produces is often more enjoyable. Pure witchcraft, if you ask me. Of course, ultimately, if you keep your right foot planted to the floor for long enough the 540i will eventually pull ahead and leave the 530d behind. But the kind of performance you would use all the time, and more or less within the speed limit, is much more accessible with the diesel engine. Even from zero to 100 kilometers per hour the difference between the two cars is barely a few tenths of a second. The explanation for this can be found in the specifications of both engines: the 530d produces a monstrous 620 Nm of torque, compared to 450 Nm for the 540i. In short, whenever you press the accelerator the 530d has an avalanche of power available right away. The 540i needs a bit more time and build up engine speed to start delivering the goods. That's not taking anything away from the gasoline engine, it's just that this BMW straight six is the best diesel engine I've ever encountered, and perfectly suited to a comfortable daily driven car.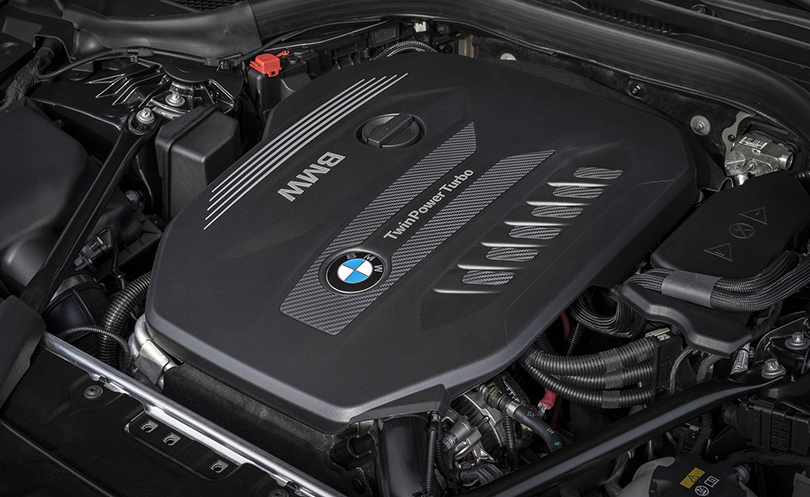 In terms of overall design philosophy and on-board technology, the new BMW 5 series is about as close to the new 7 series as it can be. But that doesn't mean it is making any large sacrifices to the way it handles or involves the driver. The 5 series is still very much a car you want to drive, no matter how refined or comfortable it is. That having been said, BMW is certainly investing heavily in developing autonomous driving systems as well. The new '5 is loaded with driver assistance systems, including a new active cruise control that will follow traffic anywhere from traffic jams to the Autobahn at over 200 kilometers per hour. Then there's various kinds of lane assist and collision avoidance systems where the car will actively avoid getting into an accident if it can help it. This G30 generation of the 5 series is really rather clever, and probably a better driver in its own right than most of us are.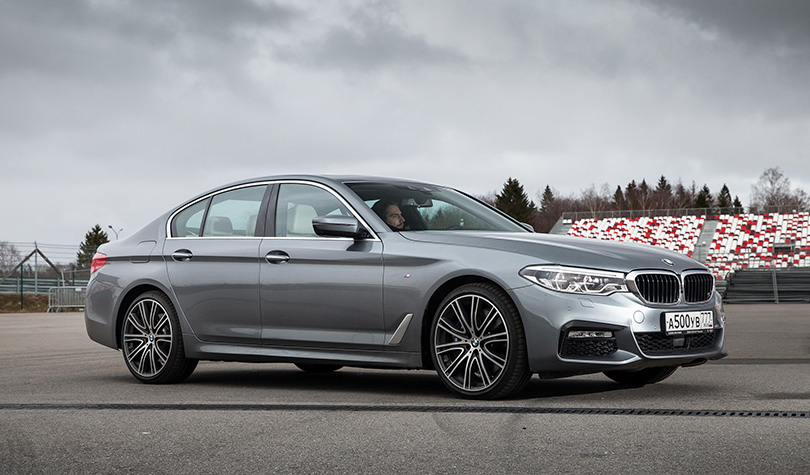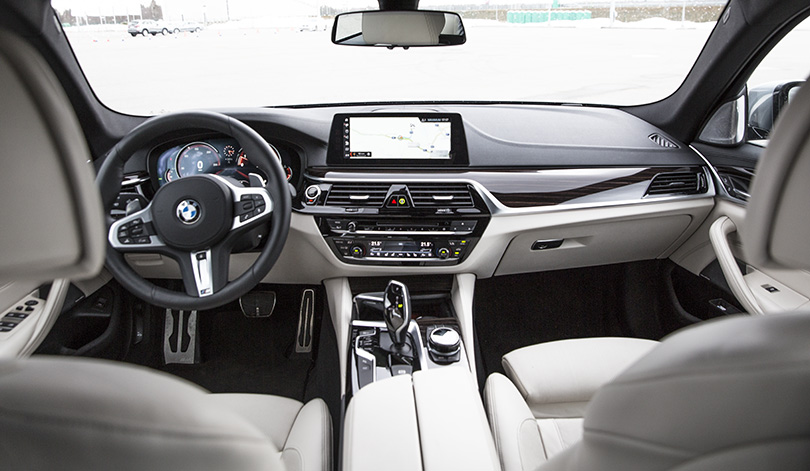 Even so, BMW hasn't forgotten their «Ultimate Driving Machine» slogan just yet. The new 5 series, for once, has barely grown in size over the previous model and has even lost some weight. The xDrive all-wheel-drive system also remains very rear-biased, making the car feel much like a rear-wheel-drive car most of the time. They've succeeded at that to such an extent that I didn't even notice the 540i had xDrive until I got out of it at the end of the day and saw the badge. So much for being a sharp-eyed journalist. I will say that, when the photographer requested I do a bit of silly driving in an empty parking lot, and I dutifully obliged, I did notice that the car seemed to have a bit too much traction to stay sideways for very long. But it was still pretty handy at oversteering, even on bone dry pavement, so the penny didn't drop yet. Most other all-wheel-drive cars, like an Audi A6 Quattro for example, would certainly have refused to go along with this type of pubertal driving behavior.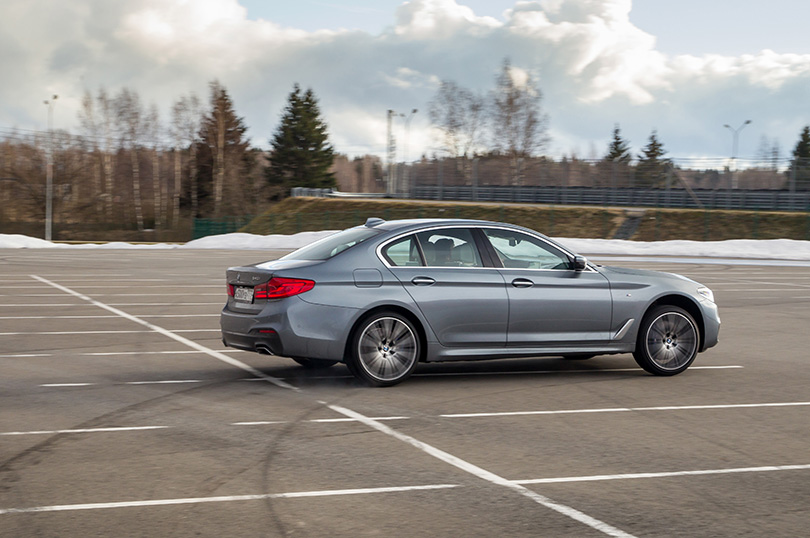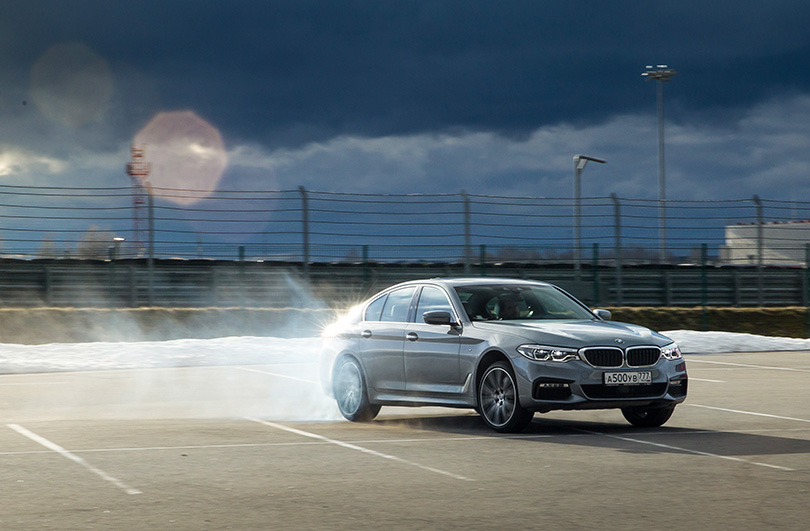 Inside the new 5 series, the «baby 7 series» feeling is perhaps the strongest. Subjectively, they've made a big step forward with the quality of the materials and the overall impression of luxury is quite pronounced. It's a very nice place to be in for extended amounts of time, with plenty of electronic gadgetry to play with while you're stuck in traffic as per usual. As with the rest of the car, you feel that they haven't tried to re-invent any wheels but rather just made everything better than it was. I particularly loved the M sport steering wheel, which seemed pretty much perfect in every way, and I've always found steering wheels to be very important in terms of giving you the right feel for a car. The M sport package as a whole is something I'd wholeheartedly recommend ordering anyway as it makes the car look better, feel better, and even stop better with an upgraded brake system. I wouldn't say the M sport goodies make the car that much sportier to drive per se, certainly not to the point where you sacrifice comfort, it's more of a change in vibe that you get from the car. And it's a lovely vibe. A full on, hilariously fast new M5 will come along soon enough for those who want more.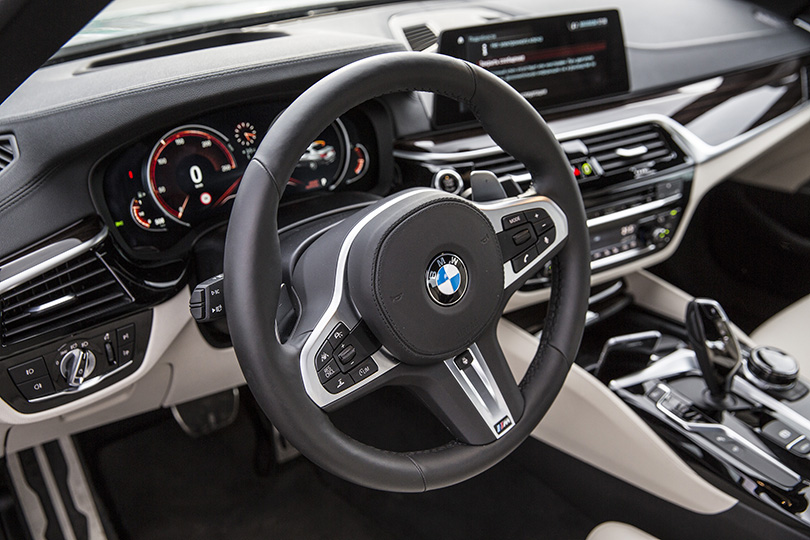 There are probably a dozen features and systems on the new BMW 5 series that would write entire articles about. I don't have quite enough time or virtual ink to do that. What matters more to me, and perhaps to you as well, is how the car holds up to its direct competition and how well it has managed to stay true to the BMW DNA. With a model as important to the brand as the 5 series, BMW will have been aiming to hit the ball out of the park, and I believe they've done precisely that. The 5 series has moved the game forward much more than the fairly subtle exterior changes would suggest, but it's still doing its own thing in an unapologetic manner and some of its engines are simply brilliant. This seventh iteration of the 5 series has all the hallmarks of being a great vintage. But it probably wasn't luck that made it so.