There are probably very few cars that are as polarising as a "G wagon" Mercedes. After (nearly!) 40 years of production, its status as a legend is already secure but it remains a machine that you will either love or hate. I will give no prizes got guessing which side I've always been on, but the new 2019 model year G wagon is such an engineering tour de force that it's hard to not be impressed at least a little.
It was something of a coincidence that I found myself driving a Geländewagen for the very first ever only a couple of weeks ago, before the invitation to test drive the new model even arrived. It was a rental company's G 350 diesel, fairly recent and with less than ten thousand kilometres on the clock. I had always known just by looking at it that I wasn't going to like driving a G very much, but if anything I was surprised by just how horrible the driving experience was. My 1.93m body didn't seem to fit into it, for a start. Even with the seat back as far as it would go, pressing the accelerator or brake pedal meant my right leg had to be folded in a way that was outright uncomfortable for more than a couple of minutes. Thankfully, it was highway driving for the most part so I could relax my lower limbs while I let the adaptive cruise control do most of the work. But then highways have not traditionally been a G wagon's favourite environment, as its famous shape is so hilariously un-aerodynamic that wind noise, fuel consumption and the percentage of passing bugs that get splatted onto the windscreen is off the charts. The car's aversion to changing direction also made the slightest of bends in a mostly straight highway an interesting, if slightly disconcerting, experience. Still, as someone who loves cars and engineering, I felt determined to get to the bottom of what the G class is about.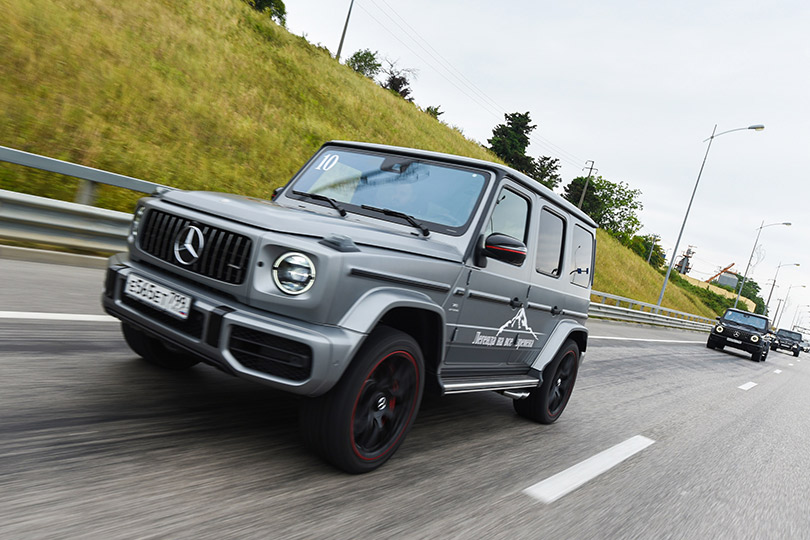 The answer, as is usually the case with these things, lies in the past. The Mercedes-Benz Geländewagen was originally designed to be able to serve as a military vehicle after the Shah of Iran — who was a significant Mercedes shareholder at the time — suggested they build a "4×4". Of course, as luck would have it, by the time the vehicle was ready there was no more Shah of Iran and the project could well have died there and then had no other buyers been found. In any case, when it comes to building military equipment, ergonomics understandably take a back seat and the visual design tends to involve lots of straight lines. Aerodynamics aren't very relevant at off-road speeds and who wants to waste time bending metal panels into intricate shapes when there's a war on anyway?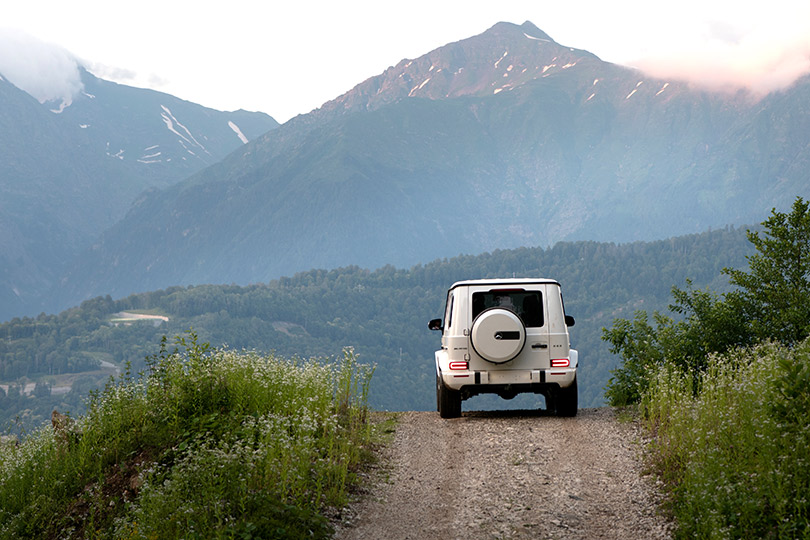 The one thing that nobody, I assume not even Mercedes-Benz, would have expected at the time was that the G-class would eventually move out of its truck division and into the road car portfolio where it grew into of a bit of a cult car. Things that we would not accept on any modern vehicle today, like fat external door hinges and the loudest central locking system in the known universe, somehow became part of the car's appeal. The G wagon may be the ultimate proof that multiplying a bunch of wrongs can turn into a right, and this process culminated with the G 63 AMG being introduced in 1999. Not satisfied with using an ancient military vehicle as a road car and pretending that it made any sense at all, they had doubled down on the lunacy by fitting it with a hilariously overpowered engine and an exhaust system loud enough to scare young children in a 10 kilometre radius. It then went on to become a bigger sales success than any sane person could have predicted. Mercedes, through stubbornness and coincidence, ended up creating a unique car which exists in its own alternate universe where entirely different rules apply.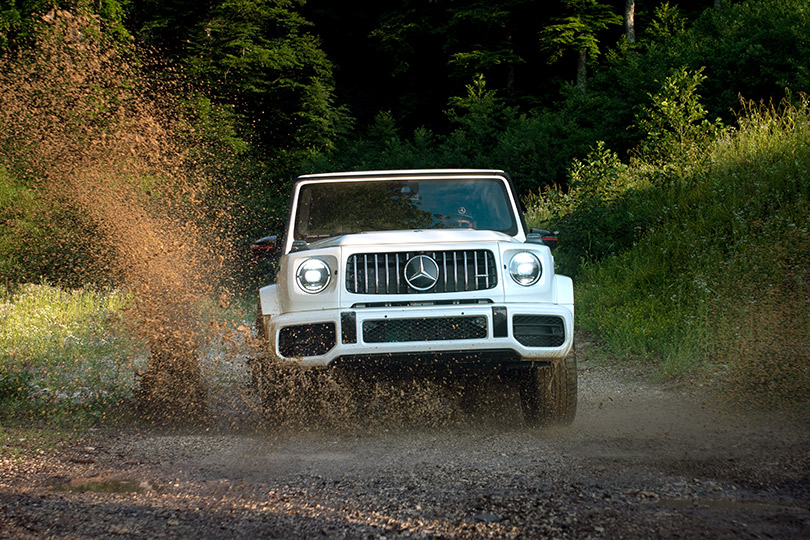 I suppose that the great irony about the G class is that the one thing which it does best is usually the least important to the people who buy it. I'm talking of course about its off-road capabilities. Many SUV manufacturers like to send journalists "off-road" into a muddy field and through a shallow stream for a nice dramatic-looking photo opportunity, but the truth is that those cars simply can't go where a G-class can with its low range gearbox and three locking differentials. Off-road (or on-mountain in this case) is where a Geländewagen wakes up and remembers what it was created to do. If they only sold G wagons to people who want to use them for serious off-roading they'd probably sell about five cars a year, but the fact is that it can do these things does provide the driver with a unique feeling of invincibility. It's not like you'd find many Ferrari buyers take their car onto a racetrack either, anyway.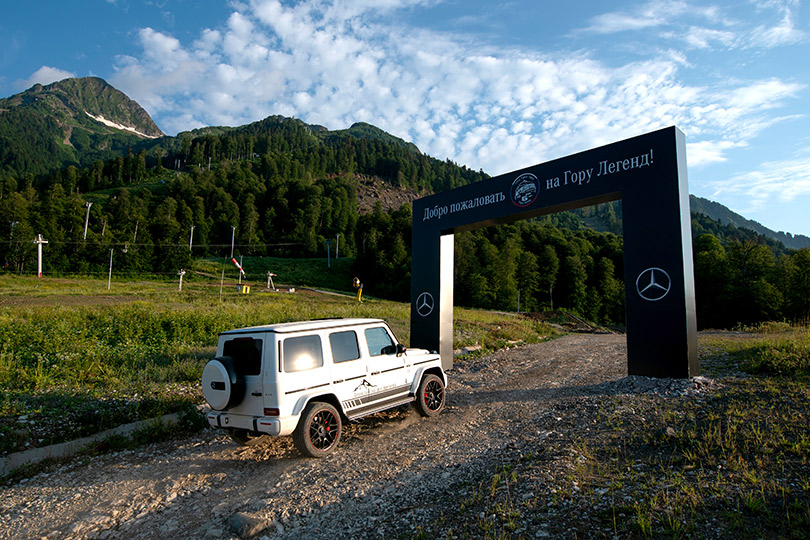 While off-roading isn't really my cup of tea, getting to drive these cars on a specially built course near Sochi did make me appreciate just how much time and effort has gone into making the G-class go where even the average mountain goat would struggle. Which lends a lot of credibility to the way it looks, because it's not pretending to be something it's not. Of course, creating a car that will handle driving sideways up a 35 degree incline does mean using a rather particular suspension setup, which inevitably compromises handling somewhat when you're on a nicely paved road. But this is where the new G-class comes in. I'm tempted to say "all new G-class" but since Mercedes-Benz have gone out of their way to make it look almost exactly like the old car, it might sound a bit strange. But it really is completely new under the skin and the suspension in particular has received a lot of attention in order to make the car ride and handle a little more like a 21st century automobile without sacrificing any off-road capability. In fact, they've actually managed to make it a bit better off-road as well. Who said you can't have your cake and eat it too? While the rear suspension still uses a live axle, at the front we now find an independent suspension setup using double wishbones and particular care has been taken to ensure plenty of ground clearance.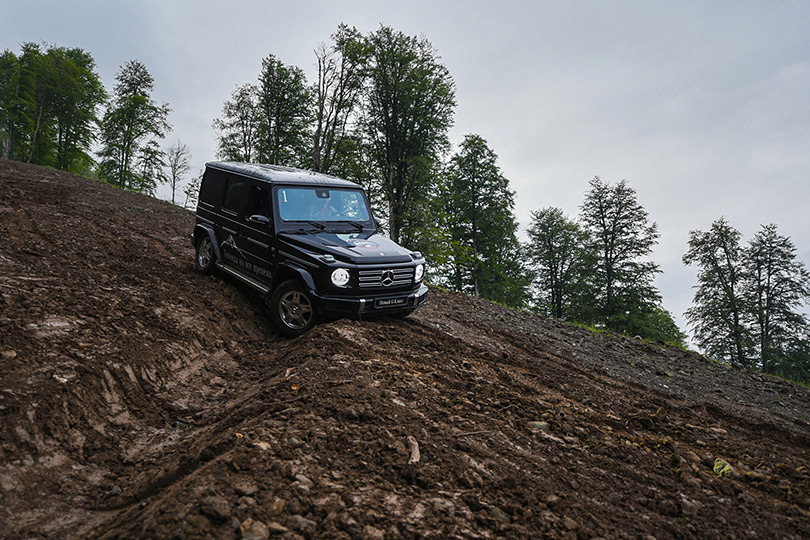 Driving on a regular road, which is what these cars will be doing most of the time in real life, the improvements are staggering. If the old G-class felt like sitting on top of a horse carriage with a V8 engine instead of actual horse power, the new one feels like an actual car. Which is a gigantic leap forwards no matter how you look at it. Of course, there are still some limitations. The new model feels very capable and effortless through corners, but it doesn't take much hurrying up before the front tires start to get noisy and the traction and stability control systems come in to prevent you from adding any more power mid-corner. I felt that the chassis could probably take a little more than what the computers were allowing, but Mercedes engineers can be forgiven for staying on the side of caution with a car as unconventional as this. In any case, there's a button to relax or even turn off the systems if you're confident that you know what you're doing. Not that I can imagine anyone would want to drive this car that way if they weren't road testing it.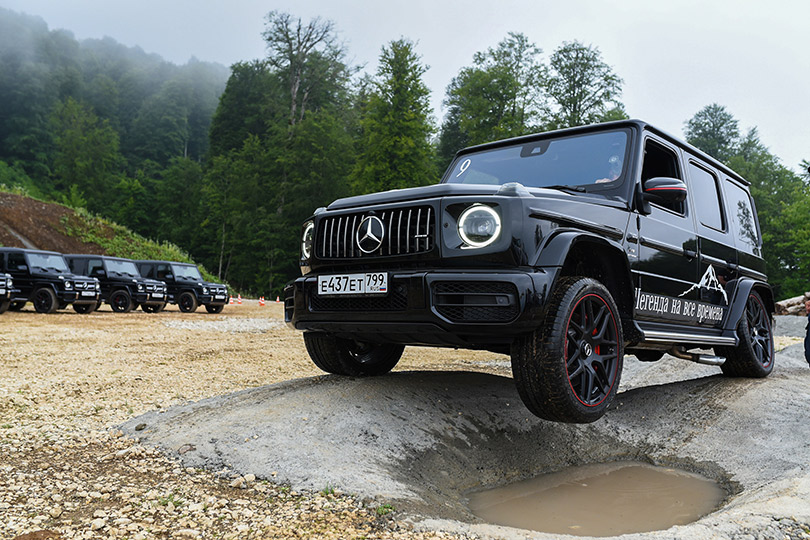 There are new engines, with both the G500 and G63 AMG I drove using the twin-turbocharged 4 litre V8 that we already know pretty well from other models in the AMG range. It produces a healthy 416 horsepower in the G500 and a whopping 577 in the AMG, which really is plenty. The new G wagon is quite a bit lighter than the old model, too, so performance has been improved considerably. Four and a half seconds is all it takes to reach 100 km/h in the G63, and the soundtrack is still as good as ever. At (very) high RPM I think the new engine sounds even better than the old one did. It's a sound that makes you grin and giggle, particularly if you floor it in a tunnel. We were even encouraged to do so by the Mercedes people who led the convoy as we drove through the hills near Sochi, which was amusing. When you do floor it regularly, the fuel consumption is such that the fuel tank probably resembles a bath tub with the drain plug removed as the fuel swirls its way towards the insatiable engine. You probably couldn't empty the tank any quicker by punching holes in it. This fact never stopped anyone from buying the previous car so I imagine it will be of no consequence this time around, either. I wouldn't recommend showing up to a climate change convention in this, but I suppose that much goes without saying.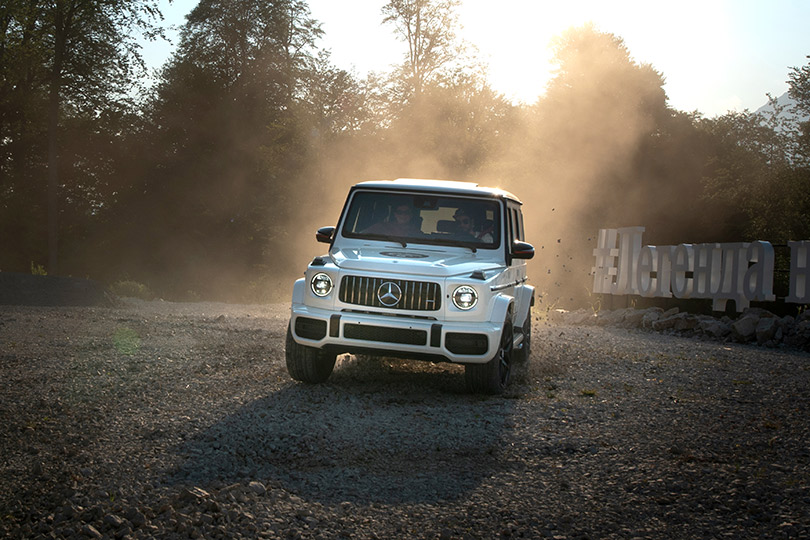 By far the most important thing about the new G-class, from my point of view, is the fact that it's simply a lot nicer to sit in. The seating position has been vastly improved, there is a lot more room inside and the interior has been brought in line with Mercedes' other models including the large LCD cockpit displays. The bottom line here is that, somehow or other, they have managed to make the new Geländewagen much better to drive, much better to sit in, considerably faster and more capable off-road without turning it into a different car. It still looks virtually the same and it retains the same vibe that the old car had. Things like the central locking system which still sounds like a gun being loaded and doors that actually need to be slammed in order to close them are an integral part of that special magic. It has gone from a car that I wouldn't want to drive for more than 15 minutes to something that I really do feel I could live with.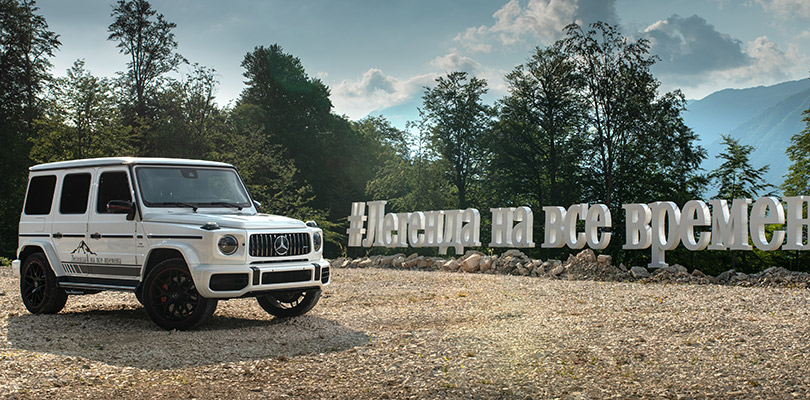 None of that means that this is suddenly a sensible car though. Not by a long shot. You could buy yourself a mean looking Mercedes-AMG GT sports car plus a nicely equipped C or E-class instead if being sensible was the order of the day. But then those kind of comparisons are fairly pointless. The G class pretty
much exists in its own universe, it simply has no direct rivals. I'd be temped to call it a living fossil, if not for the fact that it stubbornly keeps evolving. As it turns out, even at the end of this review I still struggle to describe this thing, never mind trying to understand what makes it so popular. If I had any bosses, I'd fully expect them to be telling me what a useless journalist I am at this point. But if my job seems difficult, it's still nothing compared to what the Mercedes-Benz engineers were tasked with when it came to building a new generation of the G wagon. Somehow, probably via the use of actual witchcraft, they've made it a lot better than I ever thought it could be.