At the Geneva Motor show
only a few days ago, the star of the Mercedes-Benz stand was certainly the new C-class Cabriolet. It didn't hurt that they put the C43 AMG version of it on display, obviously, but it's still fair to say that the newest version of the C-class is aesthetically pleasing even at the worst of times.
Of course the times are long gone when Mercedes-AMG type designations referred to the actual size of the engine. Okay, their «63» models tended to have an engine that was 6.2 liters rather than 6.3 but I would say that's close enough. The new designations are sort of, kind of, an indication of the power level of the engine rather than displacement. Except that they're kind of, sort of, referring to the displacement of older engines at a similar power level. Confusing? You bet. There's an A45 AMG with a 2 liter 4-cylinderengine and now a smaller numbered C43 with a 3 liter 6-cylinder engine. I guess it's best if you just don't try to think about it.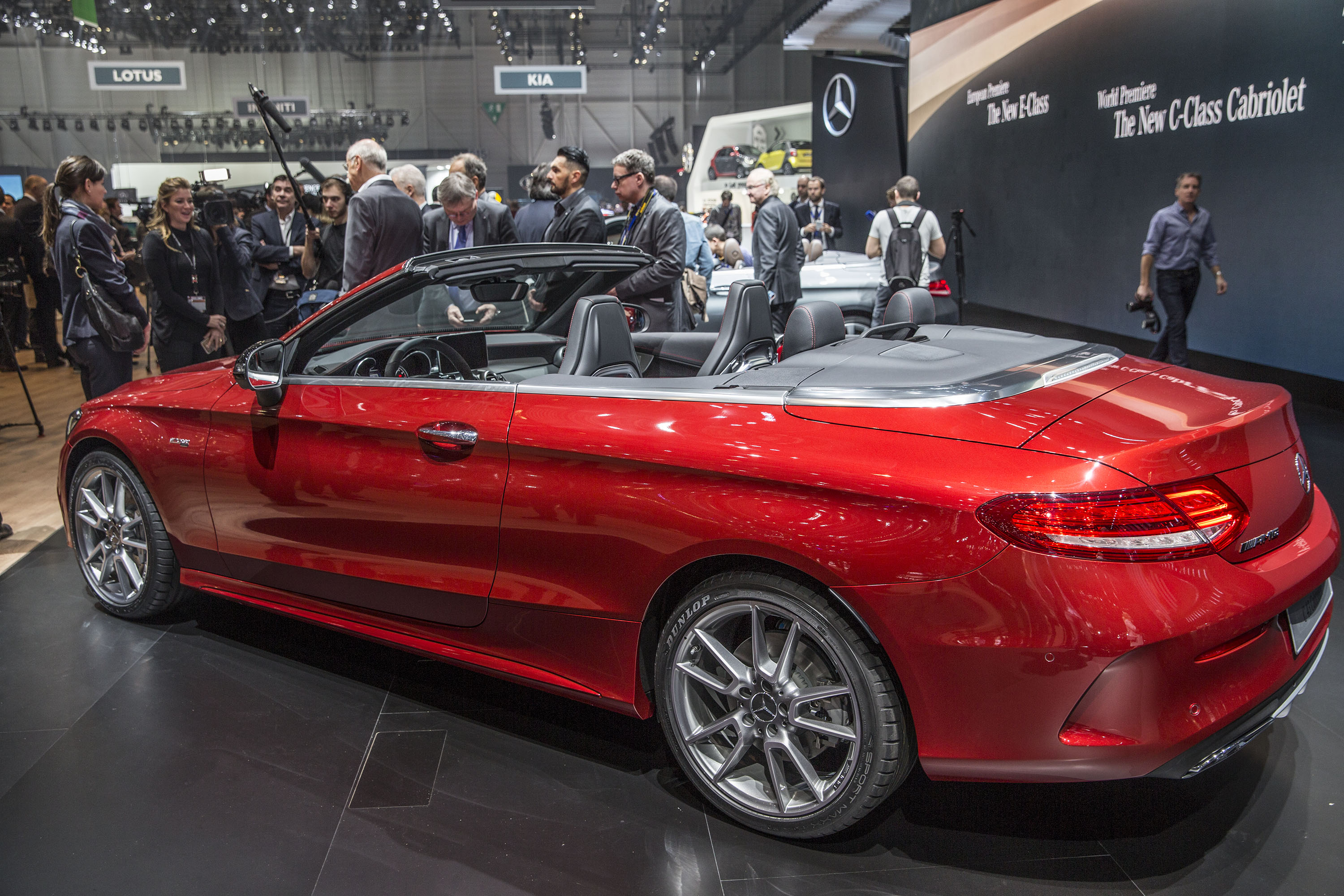 At least there was a C43 model before, in the late 90s in fact, and it did come with a 4.3 liter V8 engine. But that one struggled to make more than 300 horsepower whereas the new 3 liter turbocharged unit pumps out an easy 362 horsepower and a lot more torque as well. The new C43 AMG Cabriolet also gets all-wheel-drive in the form of Mercedes' 4Matic system, so traction isn't an issue either. Bottom line is a mid-size convertible car that still gets to 100 Km/h in less than 5 seconds. Technological progress does have its benefits.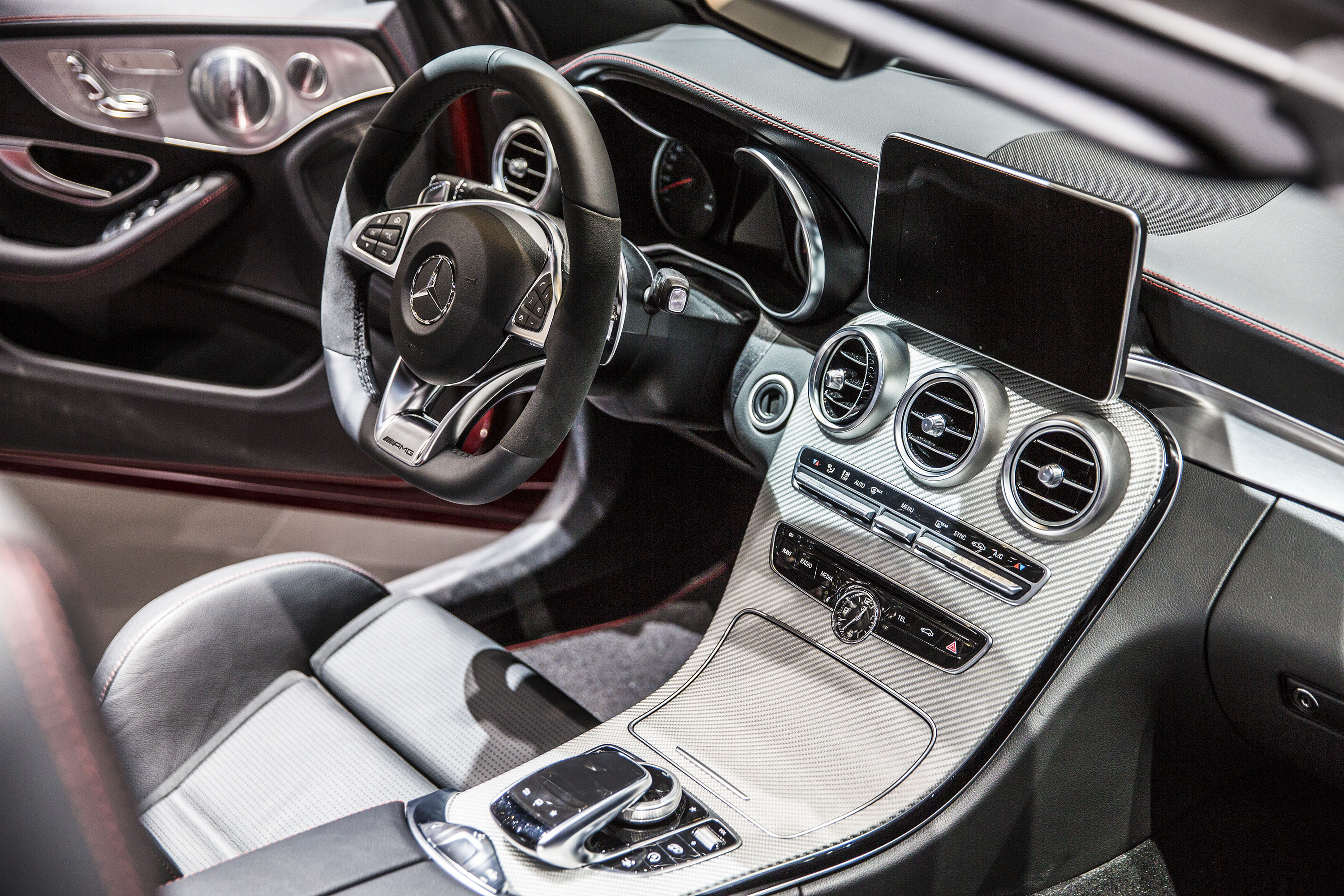 The interior of the new car is lovely as well, I particularly liked the steering wheel which had a nice thickness to it and looks very sporty indeed. The rest of the cabin is luxurious with a hint of sportiness about it. It's nicely balanced except for that tablet-like structure that seems to be glued to the dashboard — a universal feature of all contemporary Mercedes models. I think I understand the design philosophy behind it, but I still don't actually like it. However, I have noticed on some longer road trips that you do get used to it. And the thing is, between the car's engine, chassis, and the fact that you can drive it with the top open, the last thing on your mind would be the multimedia screen.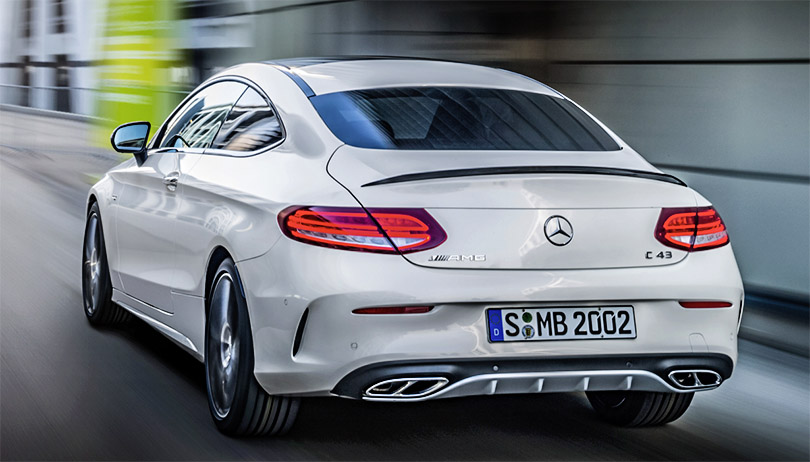 The way the Russian climate is, most people will probably get the C43 Coupe instead of the convertible, but the same things apply. I personally think the Coupe looks even better, too, but you can't argue about taste. Bottom line is that you'll be able to get this engine in quite a few models now, whether you want a convertible, coupe, or regular 4-door car.
We also had a chance to speak with AMG's head of Vehicle Development Oliver Wiech, so we asked him a couple of questions.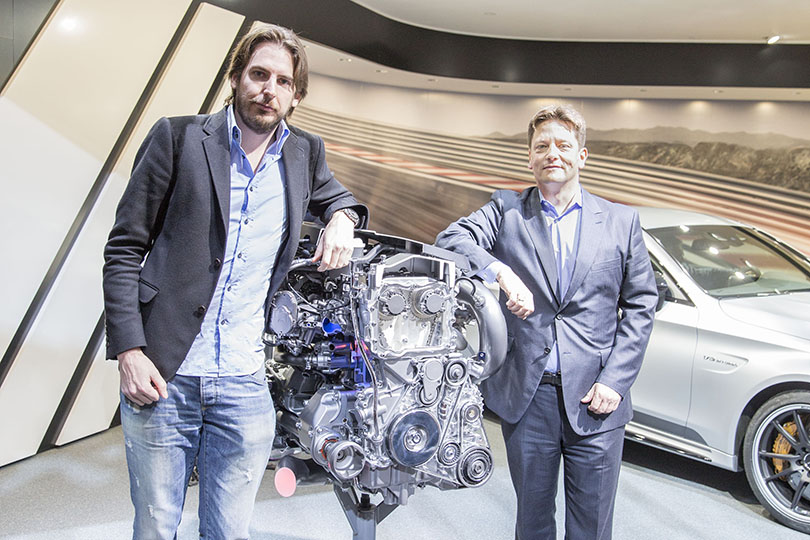 Jan Coomans: We live in times when the big naturally aspirated engines are disappearing and being replaced with smaller turbocharged ones. AMG has recently retired the 6.2 liter V8 which we all loved and replaced it with a 4 liter V8 plus turbos. Is this as small as you need to go, to meet future emissions regulations?
Oliver Wiech: Well there are two different aspects here, one is fuel consumption and the other is emissions. With regards to emissions, we don't see a problem with the regulations which are coming into force soon. We will still have even 12 cylinder engines, and we already complied with the emissions regulations for 2017 years ago.
As far as regulations for fuel consumption go, all countries with the exception of China will have fleet regulations. So they look at all the cars we sell and take the average fuel consumption, and we do not see any difficulties to keep building special models with large engines until at least the year 2025.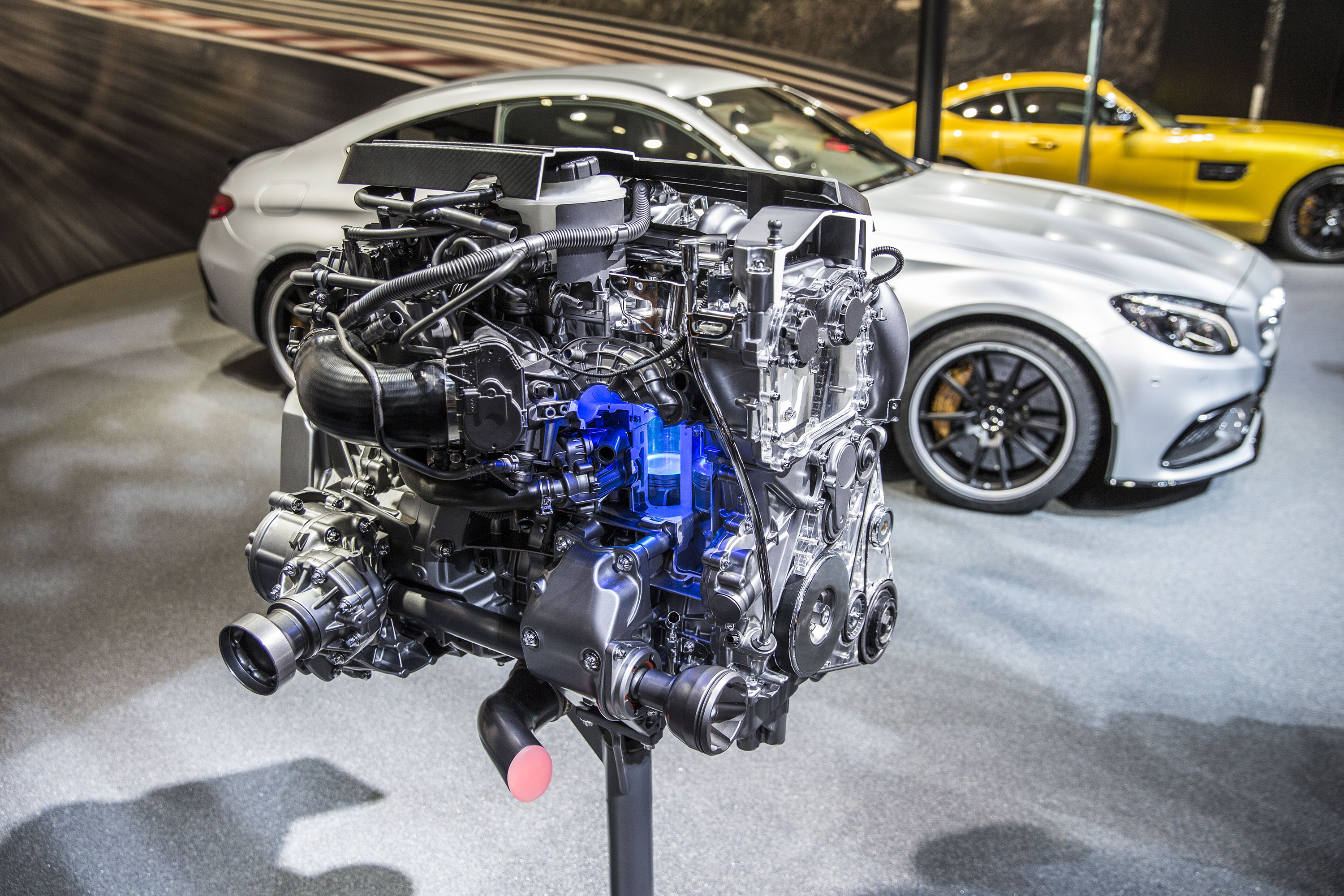 — AMG cars are rather famous for producing massive sounds, and it seems you've done a great job at maintaining this with the downsized engines whereas some other companies are struggling with it. Is this an area you put particularly much effort into?
— The architecture of the exhaust system is actually one of the very first steps in the design process for us. When we start with a blank screen and start making sketches, we immediately start designing the exhaust system because a good sound simply needs space. If you design the exhaust at the end of the process, then you will probably be compromised with the amount of space you have available. At AMG we use a number of flaps in the exhaust system to create the sound which we want, and to make sure the driver can choose how loud he wants his exhaust to be depending on the situation. If you put the car in standard mode it will be more quiet, and in sport or race mode it will become louder. We do this by connecting the two sides of the exhaust and putting a flap in the middle. There are also flaps in the rear end mufflers, and by fine-tuning the working of these flaps together we found the sound which we wanted to achieve.
— I'm old enough to remember a time when an AMG Mercedes was extremely rare, likewise your competition at BMW Motorsport or Audi's RS division used to be very limited in production. These days, nearly model in the range has an AMG version available. The same thing applies to your competitors who have put their most exclusive badges on just about every type of car they sell. Was this evolution from the enthusiast niche to simply upper mass market always planned or a reaction to the demand of the market and the actions of your competitors?
— Well, last year we sold about 69 thousand cars globally which is still quite small, you could call it a niche. A few years ago we expanded into some of the smaller-engined cars like the A45 AMG and the response we got from the market was great. I believe we do a good job creating new AMG models in terms of sales and response from the market, but we will not do an AMG model for each and every car. The B-class for example will never get an AMG engine. We analyze the market's response to our lineup and we take care to only create cars for which there is a market demand.
— It's an unwritten rule in the car industry that every time a new car comes out, it should be faster than the old model. We are now at a point when a 4-door family sedan can have over 500 horsepower. Even with technological advances in terms of suspension and tires, there is only so much power you can put onto the road via 2 driven wheels. The latest E63 AMG is already available with optional all-wheel-drive to help put its massive amount of power on the road. And if we look at the C-class, in the last 15 years the power is going up about 10 horsepower per year on average. It seems impossible to keep up, do you believe the horsepower race will keep going at this pace or will it have to level off?
— I think there are a couple of aspects to your question. On the one hand, we sell sports cars, so our customers expect a new model to be a step forward over the old car in terms of performance.and simply changing the design of the car would not be enough for them. Also, every AMG model we sell has the guarantee of Mercedes behind it. We will not go to the limit of what the components can take, like some tuning companies do when they change the software and get 100 horsepower more out of our engines. In terms of future increases, this is also related to things like cooling requirements which add weight to the car, so there are always some limits to what can be done without upsetting the balance of the car. We are not getting feedback from our customers saying that they don't have enough power, so it is possible that we will see smaller steps with increasing the output in future cars. But for sure the performance curve will keep increasing with every model, though perhaps not quite as steep as before.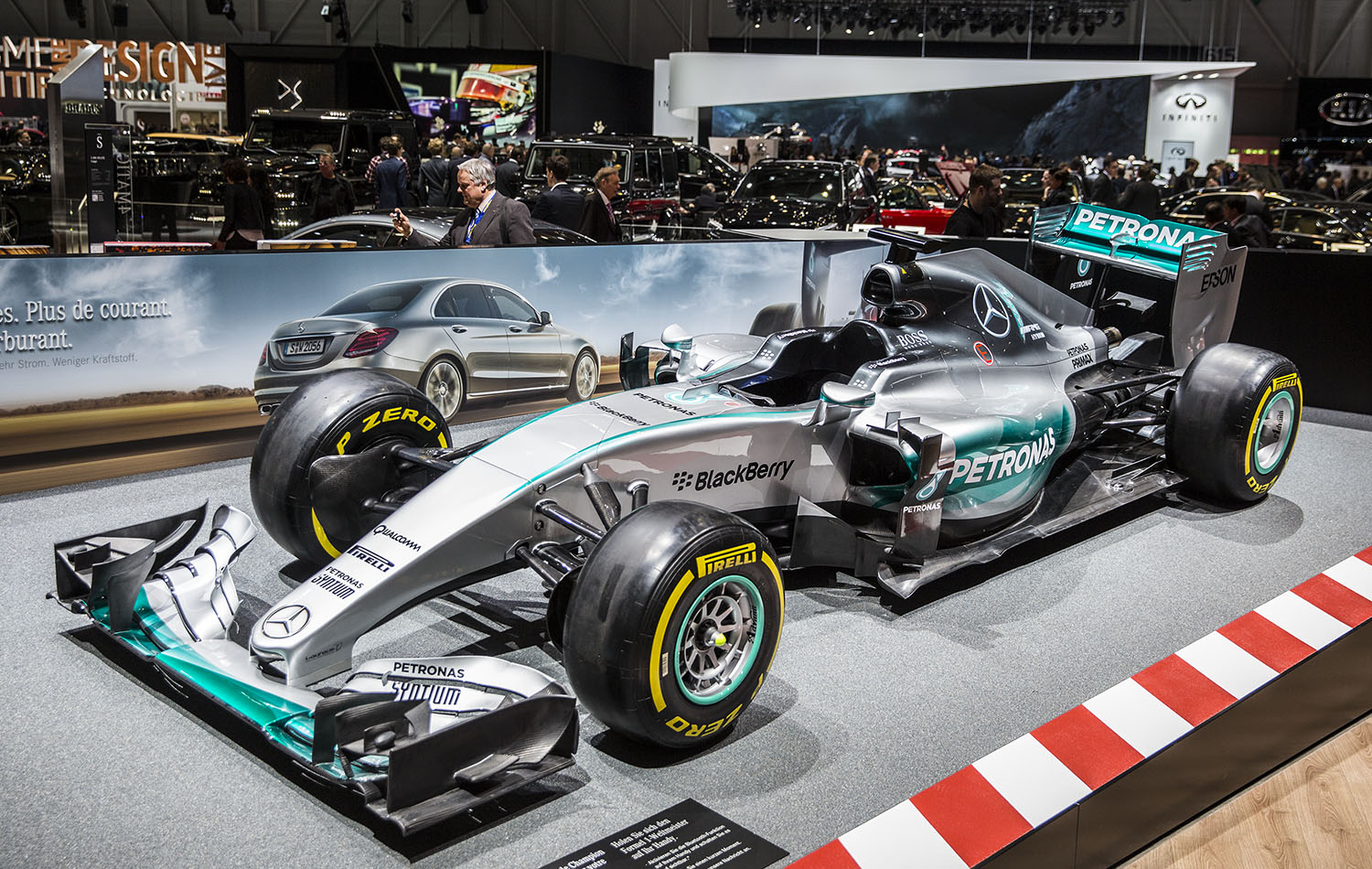 — AMG is very successful in motorsports, mainly Formula One and DTM, are there any new challenges in different divisions of motorsport that AMG is looking to possibly enter in the future? For example the A45 AMG seems quite suitable as a rally car and I'm sure many people would like to see that happen.
— Right now, luckily, we are very successful in the sports we are involved in. Last year we again won Formula one and the DTM, but we are also very successful in the customer motorsports like GT3. We have the new AMG GT GT3 car now, where in previous years we used the SLS GT3 which we sell to racing teams — a car which also had several wins. You are right that the architecture of our A45 AMG would be capable of going into rally, but we have to make sure that we keep winning in the other categories as well. We don't want to overextend ourselves by entering into too many different categories at once. I think we are comfortable with our current racing activities, and there are no plans to expand currently. Of course we never know what could be 10 years into the future!
— Finally, I'd like to ask you personally what your favourite AMG model of all time would be. Old or new, whichever you feel is really special. You know, just as a good excuse to put up another cool picture of it in my article.
— That's the most difficult question of all actually. I would probably have to say, the previous C63 AMG. It has an amazing engine with a fantastic sound, together with real wheel drive and you can share the experience with other people because there is even space in the back. I've worked for AMG for over 17 years now, so in that time I've worked on a lot of projects. From an emotional side, I would say that the SL55 AMG is the one which I remember most. It was the first very big success for Mercedes AMG in the dynamic driving market, there was no competitor for us in that segment at the time. But if the question is what would I like to drive for next weekend, I would still say C63 AMG.
— I love your choice Mr. Wiech, thank you very much for talking to us!