When Lamborghini decided to invent a whole new segment when it launched its "Super SUV" in the form of the Urus, the most obvious part was of course its super performance. But the second part of the equation, the fact that it is an SUV, should also make it the first Lamborghini that you can genuinely use every day. Nearly a year after I tested it on track, I finally got to drive it around Moscow for a couple of days to see how it holds up.
Happiness filled the cockles of my heart when I received confirmation that I would be getting a dark blue Urus press car. It seems that it was a 50/50 chance between this rather beautiful blue machine or a very very bright yellow one. Sure, yellow works well on some cars. But for an Urus, it's just a bit too shouty for me. You may disagree of course, can't argue about taste and all that. You'd still be wrong, though. At least in the context of this article of which I am the almighty author. Because I think Urus is at its most stunning when the car's subtle (and not so subtle) lines are the only thing that grab your immediate attention. No need to burn them onto your retinas with paint colours that are bright enough to require solar eclipse safety glasses.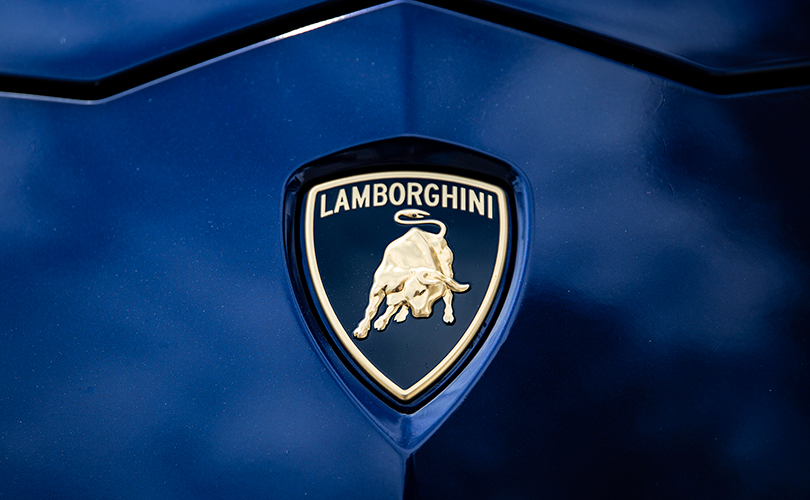 My excitement was not at all diminished when I opened the drivers' door and was greeted with a lovely light beige interior. Whoever spec'd this car knew what they were doing! This car exudes powerful luxury, which as well it should of course if you paid any attention to the price tag. Of course there are clues from the dashboard and the rather theatrical switches on the center console that this is no ordinary SUV, but above all it feels comfortable and exquisitely well built. What will be obvious to anyone who has also sat in an Audi Q8 though is that they have quite a lot in common on the inside. Items like the steering wheel, digital dashboard and the LCD screens for the climate control and infotainment are shared, plus some other bits and bobs. But I don't think this is a negative point by any stretch of the imagination. The quality of these parts is sublime and there's no point re-inventing the wheel by spending money that could better be spent developing other parts of the car. Urus is about redefining what an SUV can do, not about getting a gold plated "1 of 1" hand crafted cup holder. There are other brands that can satisfy that particular demand, but they can't do what Urus does dynamically. So for each their own, as usual.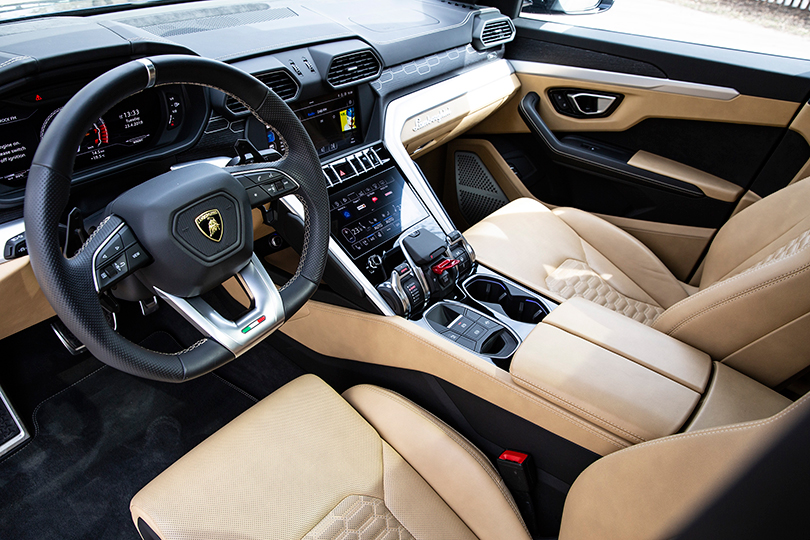 At this point I'd love to write about what happens when you turn the ignition key, but as this is the year 2019 it would appear that ignition keys no longer exist. Instead you just press a button and try not to lose the massive wireless key fobs that are too big to comfortably fit into the pockets of your pants. It seems that we can't move forward without going a little backwards too. Anyway, now that I've ruined the anticipation, let's press that button. It is a special button to be fair, as they've added a bright red coloured cover reminiscent of the kind that would launch a bomb from a fighter jet. Bless them. As the turbocharged V8 engine fires up it produces a short but sweet bark which would probably not wake up the neighbours but is enough to let anyone within range know that you've got some serious power lurking under the hood. Nice. But unless you put the car immediately into one of its sport modes, it goes very quiet after that. Which is, I imagine, how most people will drive it most of the time. Smooth, quiet, comfortable. Yes it is a Lamborghini, the logos on the car say so. I'm as confused as you are at this point.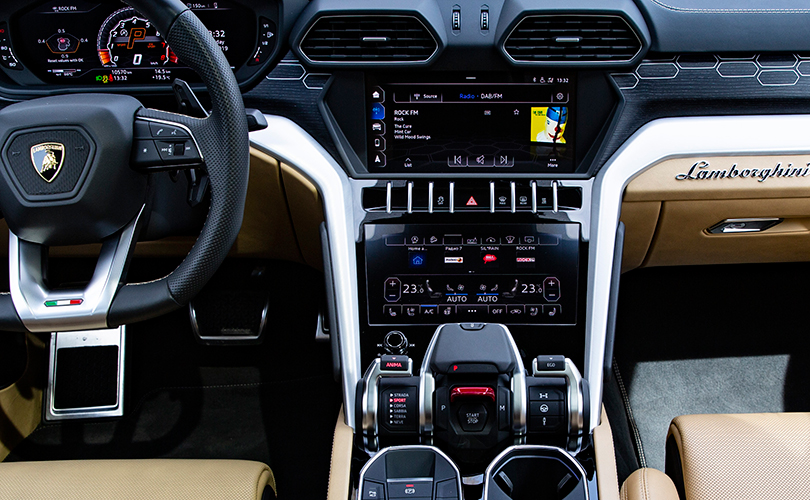 But fear not, there is some good news. It doesn't take long before some of that typical Lambo-ness starts to shine in through the curtains. As soon as you select Sport mode via that most hilarious looking "ANIMA" toggle switch the dashboard display changes to a sportier layout and the engine sound increases noticeably. The gearbox also becomes a lot more eager and its default mission to shift early and save fuel already goes completely out the window at this point. That's more like it! Maybe we should try to put it in Corsa mode next? Sure why not. This makes for yet another change to the dashboard, even more sound, and the gearbox now goes into full cocaine mode. Which makes driving this car in Corsa about as addictive as that substance, actually.
But, inevitably, at some point driving this car around Moscow you'll want to calm things down a bit and go back to regular or Sport mode. Except that, well, you can't. The toggle switch only goes one way. If you want to tone things down 1 notch and go from Corsa to Sport you'll be pushing the switch down several times to get through Sabbia (sand) Terra (erm…a different kind of sand?) Neve (snow) and Strada (regular street mode) before you get to where you wanted to be, back in Sport. Of course, should you accidentally press once too often you'll have to make another round through all the modes. Italians, sometimes you just want to kiss them. I can just imagine the first time one of their German colleagues from Audi (which owns Lamborghini) tried to wrap their head around the logic behind this switch. I'll leave it to you to imagine the conversation complete with the stereotypical accents.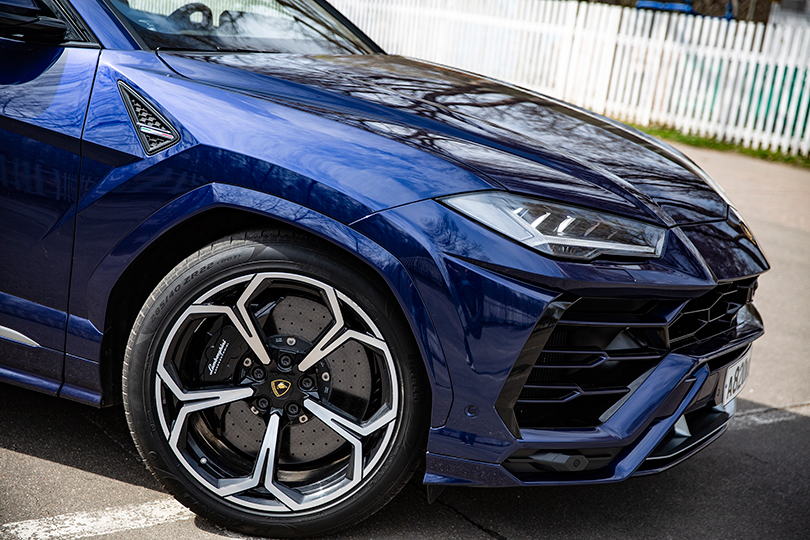 But as easy as it is to joke about the Urus, or to claim that it is just a collection of Volkswagen Group parts with some spicy Italian sauce poured over it, the inescapable truth is that it feels like a very special machine when you drive it. They spent a very, very long time developing this car and all that work becomes obvious as soon as you start doing things that you ordinarily wouldn't even try in an SUV. I will say that the engine and gearbox combination most reminds me of the Audi RS6 Performance, which is of course not a coincidence. But while the RS6 is not an SUV and Urus is, it is the latter which feels the sportier and more agile of the two. Which is just madness when you consider the ride height of the Urus and how comfortable it can be. There are very few cars on the road that could follow a well driven Urus on a twisty road, and the big Lambo makes it very easy for the driver too.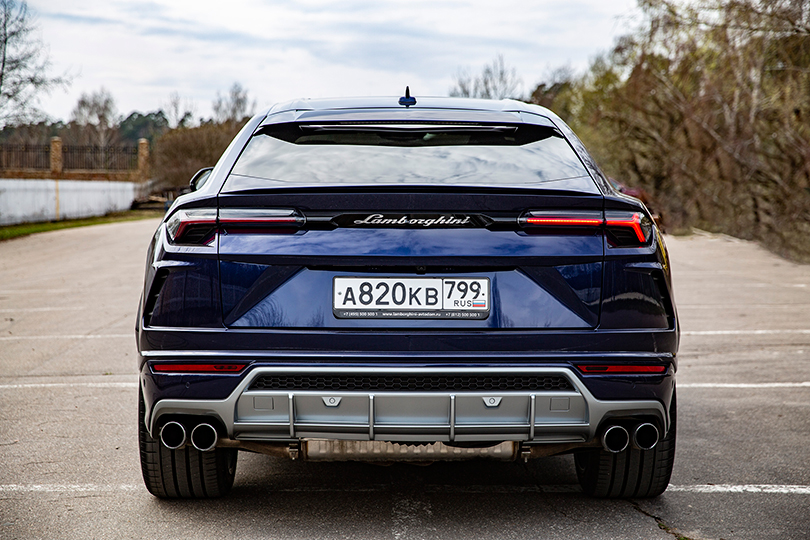 Massive amounts of grip, virtually unlimited traction and all of it is attached to a 650 horsepower engine with enough torque to straighten the leaning tower of Pisa. Though I have been reliably informed that Lamborghini has been asked not to demonstrate that particular fact as the town of Pisa simply can't do without the tourist revenue. You read it here first. Urus' handling prowess is such that it almost puts the car's epic straight line acceleration in the shade. Almost. It will hit 100 kilometers per hour in only 3.6 seconds, 200 in 12.8 and go on to a top speed of 305. This is the kind of acceleration that will genuinely scare most passengers, and numbers like these were unheard of even for supercars until a couple of years ago. For a big SUV to be going that quick is just bonkers. But most of the time, simply enjoying the knowledge of this performance is enough. On a normal road, with other people on it, you never need to use even half of the car's potential but it still makes you feel good to know that it's there. There's no denying that the twin-turbocharged 4 liter V8 has nowhere near the character or drama that the V10 or V12 engines from Lamborghini's supercars deliver. But those don't have nearly as much torque at low RPMs and would therefore not have been a very good match for Urus.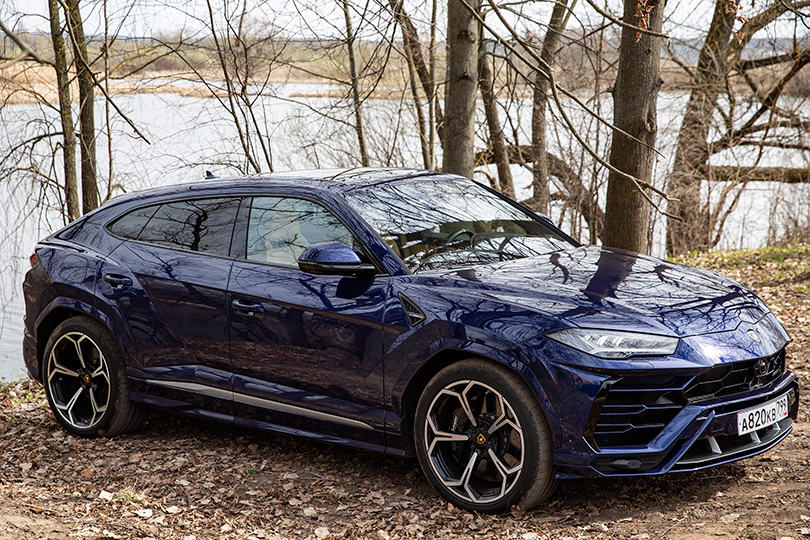 At the end of the day, Urus is about real life usability and practicality as much as performance. There's a lot of luggage space and you can put two very well grown adults in the back and keep them happy for hours on end. Even my 1.93 meters fit very well in the back of the car, which is something that was almost surprising considering how much the roof lines slopes downwards. The seats are sublime both in the front and the rear, offering a soft touch for your rear parts while at the same time keeping you well in place when the cornering forces increase. There's no faulting the audio system either, it's more than excellent. If the money was of no concern, man, I wouldn't half like to use one of these cars every day.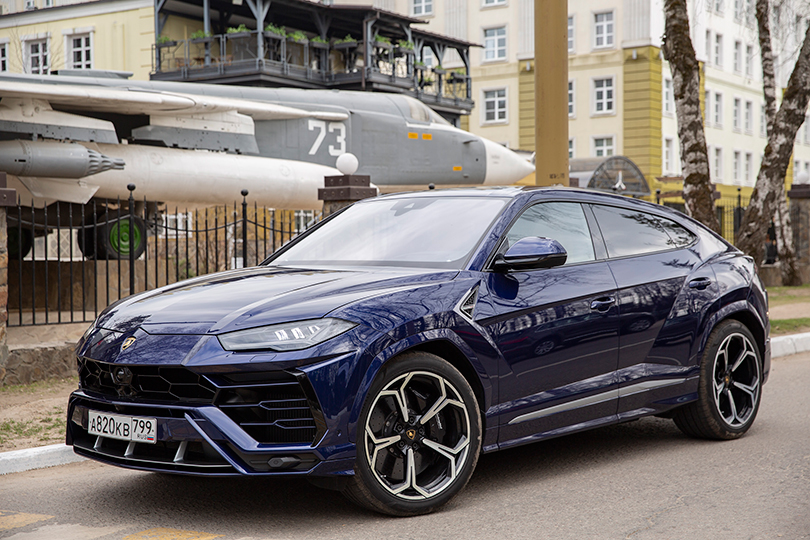 Lamborghini have been pretty honest and realistic about what Urus is — a completely different car from the rest of their lineup. Love it or hate it, there is a demand from wealthy customers to have an SUV with a Lamborghini badge on it. As a car company that wants to grow, Lamborghini has given it their best shot to build something that satisfies what customers want and at the same time stay true to their reputation as a brand. They have built the most extreme performance SUV, as expected, but its true genius lies in how comfortable and versatile it manages to be in spite of that. I have no idea how they managed to take the platform that underpins cars like the Bentley Bentayga, Audi Q7 or even Volkswagen Touareg and turn it into this. But however they did it, they've made everyone who ridiculed the Urus for its platform look silly. And, for now at least, there is still nothing else for sale that is quite like it.