The Jeep Grand Cherokee is something of an institution when it comes to large SUVs. Let's face it, the Americans sort of invented this game so they ought to be half decent at it. Now, while this isn't the shape and size of car that I tend to look for, this particular SRT model does have one very big thing going for it: a 6.4 liter naturally aspirated V8.
As far as engines go, the gigantic HEMI V8 is a big juicy American hamburger. It may not be particularly sophisticated, but it will leave you satisfied and with a big smile (and perhaps a touch of guilt) regardless. Going over the numbers though, it's not actually producing an outrageous amount of horsepower. 468 to be precise, all of them channeled through an 8-speed automatic gearbox to all four wheels. It's a healthy amount of power for a big SUV obviously, but it's not going to be troubling some of the German V8s with turbochargers strapped to them. If you want to leave those in the dust, you'll be wanting to get the Grand Cherokee Trackhawk which comes supercharged with a good 700 horsepower. I'll make sure to drive that next. Still, this SRT will do 0 to 100 km/h in just under 5 seconds, which is definitely quick by modern standarts.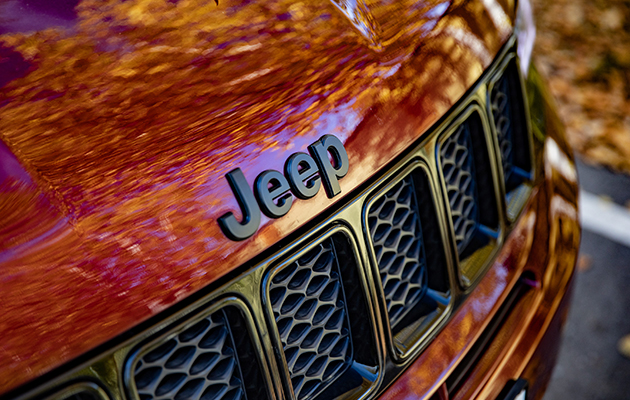 You might think it a tad strange to start a review off by talking about the engine, but in the case of the Jeep SRT models I think it's probably going to be right at the front of a buyer's mind. And, having driven the SRT for a week, the naturally aspirated character of the engine is a major benefit. The immediacy of the throttle response is something that you just don't get with any turbocharged engine — even the mighty Lamborghini Urus feels like it has a laggy throttle pedal by comparison. Because that needs to spool up its turbochargers to unlock its huge amount of horsepower, and this doesn't. Even when you've recalibrated your brain a bit to compensate for turbo lag, it's lovely to get into a car which simply doesn't have any.
In fact, this whole Jeep driving experience is lovely because it's straight forward and uncomplicated. It does what it says on the tin, and it sounds great while it's at it. I also loved that the power steering isn't over-assisted as it is in so many other luxury cars these days. I don't need to be able to park the car using only my pinky, thereby losing any real steering feel while driving the car at normal speeds. Here, we have a nicely weighted steering wheel and it does wonders for feeling connected to the car while driving. Clearly, it doesn't drive like a sports car. No SUV in the world does that. But you can have a moderate amount of fun making progress and the car feels like it's happy to work with you when pushing on a bit. There's quite a few drive modes you can select, and as usual I was happy driving around in SPORT. The AUTO mode was fine too, but then the gearbox is programmed to be quite lethargic so as to save as much fuel as possible.
On the inside, the seats are comfortable, there's plenty of room for passengers no matter which end of the car they're sitting in and the Harman Kardon sound system was excellent as well. Nothing but good news. You could call the cabin design slightly outdated, or you could rejoice at the fact that not every single functionality has been moved behind a touch screen. That's up to you, but you can probably guess which side I'm on. The digital screens that are there, in the dashboard as well, could have been of a slightly higher resolution however. But then that's not going to bother you whilst driving.