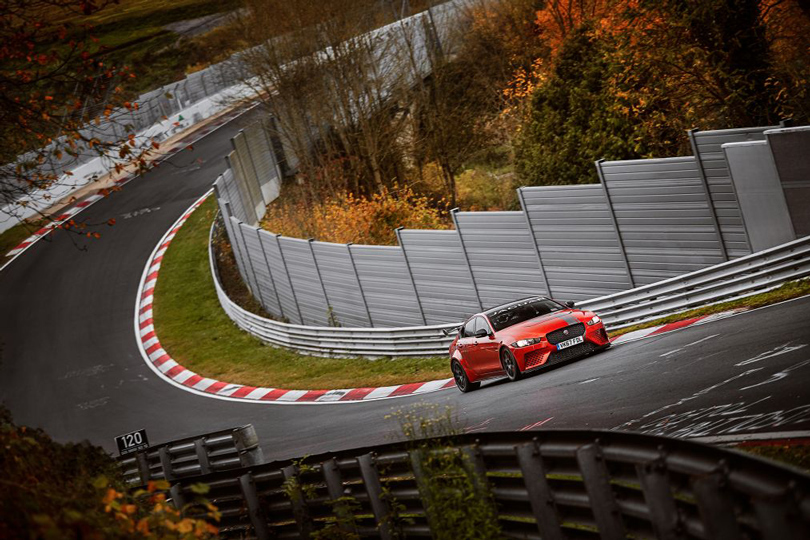 It can get a little exhausting hearing so many different car manufacturers claim record laps of the Nurburgring Nordschleife, to be sure. Sometimes, though, the car in question is just so awesome that it's worth having a look at.
We've already seen the Jaguar XE SV Project 8 at car shows, but it's also been busy lapping the Nurburgring where Jaguar Land Rover have their very own test centre. It's essentially an all-wheel-drive Jaguar XE with a 5 liter supercharged V8, good for just about 600 horsepower, and it's stripped down a bit for track use. I think it looks awesome, and evidently it goes like the wind too. Its top speed is in excess of 320 kilometers per hour with acceleration figures suggesting a mid-3 second 0 to 100 km/h time.
Of course, manufacturers tend to invent their own categories when it comes to lap records. Jaguar is making the claim that the Project 8 is the fastest ever 4 door sedan in production-intent specification. The second part supposedly got tacked on because, well, they're not actually making any of these Project 8 cars just yet. But they've promised that they will, even if it will be a limited production run of 300-odd cars at a price of 150 thousand British pounds each. Which is steep, I suppose, but you do get something special for your money. No rear seats, though. The Project 8 managed a lap of 7 minutes, 21.2 seconds which means that the car whose lap record the Project 8 has just beaten, the Alfa Romeo Giulia Quadrifoglio, is now a full 11 seconds back in second place.
Jaguar set the record lap in the dying seconds of the 2017 Nurburgring season, which closed for the year mere hours after this lap was set. For 2018, the track is already undergoing some resurfacing in certain areas that will almost certainly mean lap times will be a little bit faster again next year.
This, on top of the constant improvements in tire technology, means that marketing departments around the world will look forward to even more records being broken next year, probably. As long as we get more videos like these to look at, I suppose that's more than all right.