Photo by Jan Coomans
Buying a car is rarely determined by purely objective reasoning — it's not unlike getting married in that regard. No car in the world is flawless, but we can fall in love with them anyway. In the case of the Jaguar F-Type convertible this is easier than usual. A bit like that girl (or boy) who looks so good that you're ready to put up with just about anything.
Yes, the F-Type is a very pretty car indeed. I don't know whether they called it F-Type once the car turned out to be stunning, or that nothing less than stunning would have been acceptable once it was decided that this would be the successor to the legendary E-type. Both in terms of name and exterior styling, it's obvious where the designers got their inspiration from. The back of the car in particular is a clear throwback to one of the swinging' sixties most epic cars.
To tell you the truth, I very rarely like how convertible cars look. Particularly when the roof is up, which is inevitably most of the time at this northerly latitude, they never quite look right to me. With the F-Type convertible though, Jaguar has done an excellent job. I'd still have the Coupe version myself, but this convertible is still ready to go as a picture on your wall — no Photoshop required either. And when that moment finally comes where your extremities are no longer in danger of freezing off, perhaps even the sun peaking through the clouds, you press the magic button and the world becomes your living room. It's a wonderful, wonderful feeling driving a sports car with the roof down, sharpening your senses and giving an extra clarity to the notes being played by the exhaust.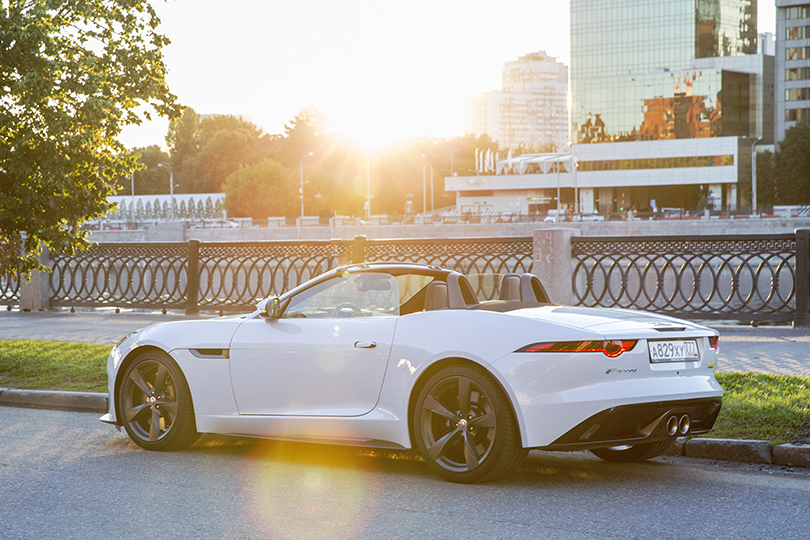 The car I drove was the 400 Sport variant, meaning the 3-litre supercharged V6 with 400 horsepower on this occasion. It's essentially the same engine as the 380 horsepower "S" version — only with a little bit more poke at the high end of the rev range. It seems reasonable to assume that, once this one-year-only 400 Sport version runs out, 400 horsepower will become the specification for the regular F-Type S. It's just a nicer, rounder number if nothing else. I believe that this engine hits the sweet spot in the range, as it is sufficiently powerful and makes a truly lovely noise to boot. I suspect that sound is one of the main reasons why Jaguar is using supercharging to begin with. Turbochargers would be more efficient than a supercharger, but they are notorious for killing the sound in the process. The supercharger, by contrast, does not interfere with the exhaust gases in any way and this leaves a certain clarity to the sound it produces, a kind of voice which is fast becoming a rare commodity in the car markets of the early 21st century.
And the F-Type sounds good regardless of whether you have the exhaust in loud mode or not. The V6 creates a symphony that inevitably makes you smile, particularly over 5000 RPM, and pretty close to what the old E-type sounded like with its straight six engine. Only at low engine speeds did I find the F-Type's exhaust sounding a bit too clattery in loud mode, but the best way to fix that is to simply floor it and let the revs build to a crescendo. The only engine I'd tell you to avoid is the base 4-cylinder turbocharged one. It's not that it's a bad engine, just that in a car like this you need a power plant that stirs emotions — the sensibly economic 4-cylinder just doesn't do that.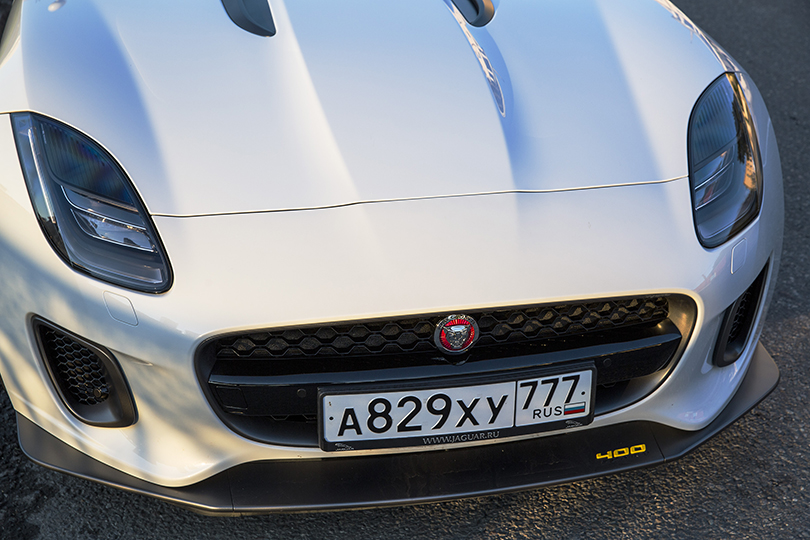 The F-Type 400 Sport is a reasonably fast car, but its acceleration is unlikely to make you dizzy. There is no big torque wave, the power delivery feels very much like a naturally aspirated engine of a larger capacity. 0 to 100 kilometers per hour takes a hair less than 5 seconds. If you want scary fast, there's the F-Type "R" or "SVR" for that. The 400 Sport is more about effortless power and great balance.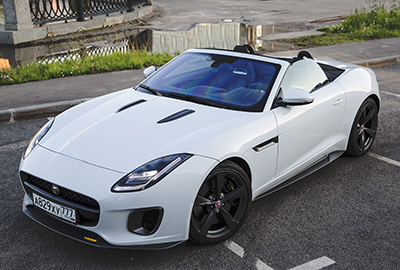 The most powerful F-Types with the supercharged V8 are inevitably a bit of a handful to drive fast. This V6-equipped car is considerably lighter and the moderate torque delivery never threatens to overwhelm the rear wheels on a dry road. Of course, all-wheel-drive is available too and never a bad idea if you plan to drive the car in winter a lot. But for the purest possible driving experience, you'd have to go with the rear-wheel drive layout. The balance feels great, the steering has a nice weight to it and the car feels like it wants to dance with you. For a convertible, the body stiffness is excellent, even if it's not quite the same as the Coupe. But unless you drive both versions back to back and drive like a hooligan, you probably wouldn't feel the difference.
The one thing which I would like if I was buying an F-Type 400 Sport, is a manual gearbox. Unfortunately this doesn't seem to be an option for the Russian market, not too surprising given that they probably wouldn't sell any manual cars if they offered them. The 8-speed automatic by ZF is an excellent gearbox, it's just that for a car like this I would like the directness and involvement of a manual gearbox when going on a nice drive through the countryside. The realities of everyday driving through congested cities obviously make the standard automatic gearbox a much more sensible choice. And the automatic suits the car's character very well — it's a comfortable GT car for long distances rather than something that begs you to go onto a racetrack. Which, again, is perfectly sensible given that very few people would actually do that. The F-Type has a sporty stiffness to its suspension, but remains more comfortable over bumps than many of its direct rivals.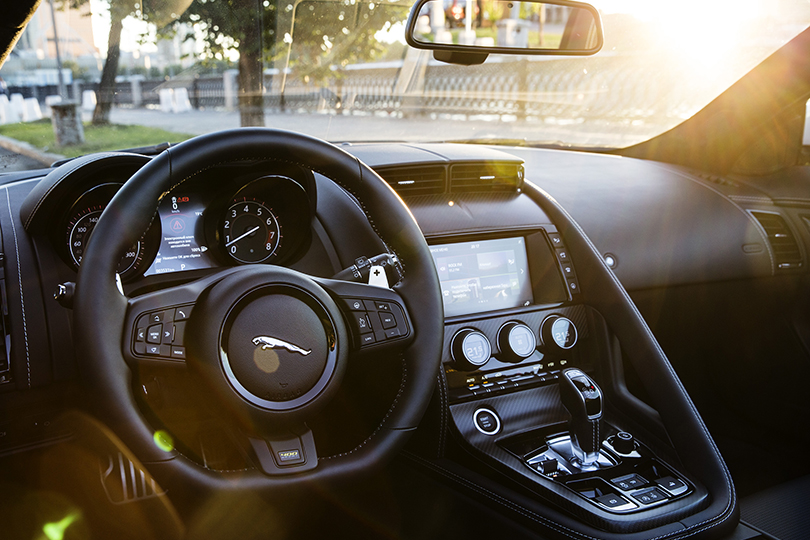 Inside, we find a high quality interior that is nicely focused on the driver. As a person of not inconsiderable length, it would not be the first time that I struggle to find a good driving position in a sports car, but the F-Type accommodated me perfectly. The aluminum shift paddles are a nice quality touch to the steering wheel as well, certainly in an age where so many cars have them made out of some sort of plastic. The electric roof is very fast to go up or down, certainly handy when there's a sudden downpour or something.
Convertible cars tend to be compromised on luggage space, unfortunately, and the F-Type is no exception. To put it frankly, there is very little space to put anything at all. The press car I drove had a "space saver" spare wheel in the trunk, which is optional, and it pretty much takes up all the space there was to begin with. You might be able to squeeze in a couple of night creams, but travel bags of any size are pretty much a no go. The situation is so dire that even the average hamster would probably feel mildly claustrophobic if you put in the trunk of an F-Type Convertible. If you forego the spare wheel option, you can get away with one or two small soft bags I would imagine, but that's about it. This is easily the car with the least amount of storage space I've ever driven. If you were planning to do a long distance trip in this car, or even just want to take it shopping, you'll probably be driving alone so you can use the passenger footwell to store your things.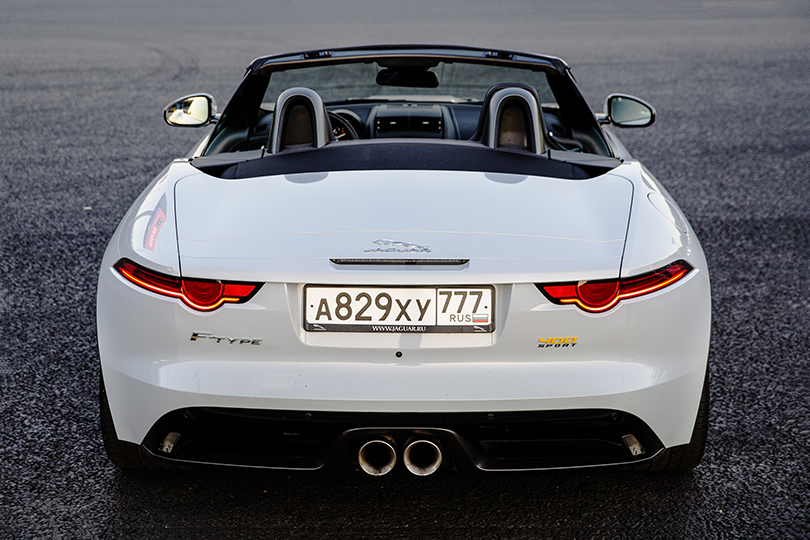 But as a car for sheer fun rather than practicality, emotion rather than calculation, the F-Type 400 Sport delivers. Yes, it has quite a lot of bright yellow badges on it, but at the end of the day this is a very complete and well-rounded car. The 400 Sport is an F-Type the way Jaguar thinks it ought to be, and it comes so well equipped as standard that you don't need to spend much money on optional extras. The car has balance, performance, and most importantly heart. It also turns heads wherever you go, whether you get the Convertible or Coupe. Should you park it in front of a restaurant, odds are all the food will get cold since you can't stop looking at it. By Jove!