I believe
this will be the first regular review of an SUV I've ever written — I guess there really is a first time for everything. Then again, in industry terms the new Jaguar F-Pace is called a crossover. So, technically, I guess I'm still all right.
Of course, to regular people, they look a the F-Pace and go «nice SUV!». So I'll keep referring to it as an SUV, call it artistic licence if you must, but even Jaguar themselves are doing it. In my mind, a «Crossover» is a shorter way to indicate it's the best kind of SUV in the way that it's not absurdly large, pretty good looking and doesn't require a boat captain's licence to park. I guess that last sentence sums up the F-Pace so perfectly that I'll just end the review here. Thank you and good night. Only kidding. Jaguar wouldn't let me drive any more of their cars if I didn't at least scrape a couple paragraphs together. As it turns out, the F-Pace is so good that it's very easy to come up with the amount of words it deserves.
Let's start with talking about the engine first, for old time's sake. The F-Pace I drove came with the top-of-the-line 3-liter supercharged engine, good for 380 horsepower. It's essentially the same engine you find in the F-type S, which is a proper sports car no matter how you look at it. In the F-Pace, the initial impressions it provides are of general surprise. When you put your right foot down, the first words that come into your mind are «Oh hello!». Obviously it's not mind-bendingly fast, but with 380 horsepower and a lot of torque the F-Pace does accelerate rather nicely. Combined with a high seating position it just comes across as somewhat unexpected performance. Even more unexpected is the sound it produces — an undeniably sporty growl which still manages to keep a certain elegance to avoid clashing with the car's exterior. It's not overly loud, but you'd certainly hear it if it went full throttle through your street. Even if you had the windows closed. Inside the car, the volume level is very well judged, too. A creamy V6 engine sound filters into the cabin, with a hint of sporty raspiness. If all those adjectives didn't give you any idea of how nice this F-Pace sounds, then I suggest you go and try it for yourself. A reviewer can only do so much.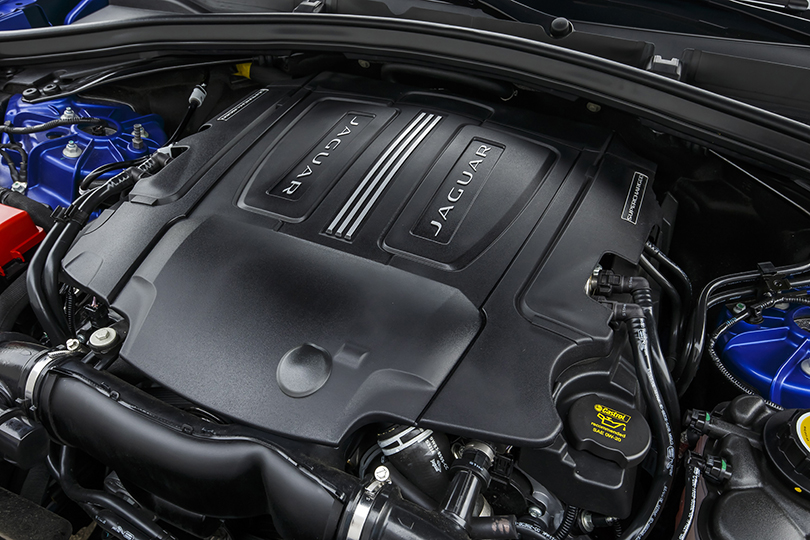 The gearbox that is mated to this nice engine is the by now well-known ZF 8-speed automatic. It shifts smooth and fast, and in a way that suits the SUV's character. It's not trying to break any records, it just works very well. The controls of this gearbox I found slightly unconventional in two ways. Firstly, the shift paddles on the steering wheel do not work unless you put the gearbox in Sport mode first. I can't decide if this is an improvement, but it's certainly different from any automatic car with paddles I've ever driven. Secondly, if you do put it in Sport mode and decide to shift for yourself, you will need to shift in time or you'll hit the RPM limiter. The car won't shift for you, manual mode means manual. I do like the logical consistency of this, it's just that it surprises you a bit the first time around as it's not usually done this way on normal road cars. The combination of all-wheel-drive with an automatic gearbox and a powerful engine means you can take off from any traffic light at pretty impressive pace. Enough to make some sports cars blush with embarrassment, and to make the children giggle with pleasure in the back. If they happen to be the way I was, anyway.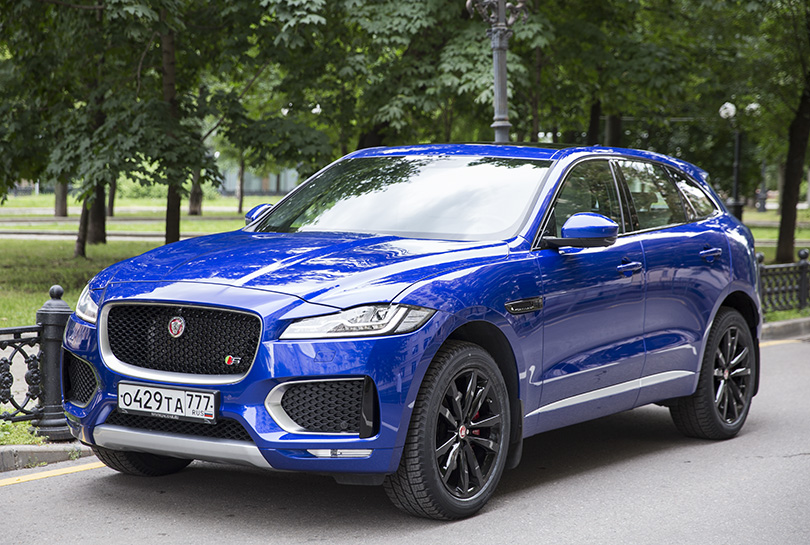 The car I drove was sitting on tires that looked like they'd be happy to go off-road. I didn't do that exactly, and I suspect pretty much nobody who will buy an F-pace will proceed to drive it through a muddy rally stage either. Even with the tires that were probably not 100 percent focused on regular road use, the car handled very predictably and without any drama. There is very little body roll in corners, car manufacturers have really solved that age old problem these days. The mechanical wizardry that makes this possible does its job well and the effect is that the car feels very sure-footed. The all-wheel-drive system ensures there is plenty of traction whether it's wet or dry, and you certainly won't get stuck in the snow either.
Inside the F-Pace you find yourself sitting very comfortably indeed. The interior design is very similar to the new Jaguar XF, with a few small differences. The F-Pace gets a fully digital dashboard, essentially a large LCD screen which projects analog-looking speedometer and RPM counter. On the one hand I prefer analog dials and needles, but the flexibility of an LCD panel does have some benefits. When you put the car in Sport mode, the screen goes red and the RPM counter moves to center stage. Maybe not necessary, but your kids are going to love it. In the unlikely scenario that you get them to look up from their iPad anyway. Overall I liked the simplicity of the F-Pace interior. Not too many buttons, and everything was where you expected it to be. There's a subtle interior lighting system that looks quite good at night, and the seats were extremely comfortable on longer journeys. An important quality for Moscow, where even short journeys can be a lot longer than you thought at first. There's a good amount of space for the back passengers too, it's certainly a lot roomier than some of the other not-too-large SUVs on the market. I had no problem fitting in the back being more than 1,9 meters tall, as a reference. It's a lot more like business than economy.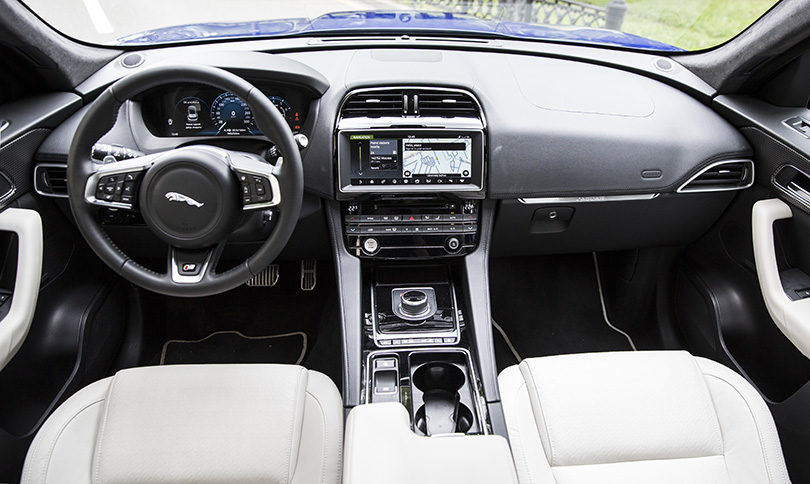 The optional Meridian sound system inside the car is also worth a mention, because I found it to sound unusually good even with radio. Of course it has 17 speakers and a lot of Watts, but my experience with in-car audio has usually been that even the really expensive sound systems sound pretty terrible unless you play extremely high quality files through them. The Meridian system in the Jaguar F-Pace however sounded really good with ordinary radio, even Rock FM with its notoriously terrible reception. So that's a big reason to spend a little extra money on the optional audio upgrade.
If we have to decide on what exactly the best part of the Jaguar F-Pace is though, I'd probably have to say the way it looks. Jaguar has done a great job here to make an SUV that genuinely looks good. Of course beauty will always be in the eye of the beholder, but I was surprised just how many people on the sidewalk would turn their heads when I drove by. If anything, the F-Pace got more attention than some of the more exotic cars I've driven. Sure it's brand new and most people haven't seen one yet, but for an SUV I think the F-Pace looks stellar from every angle.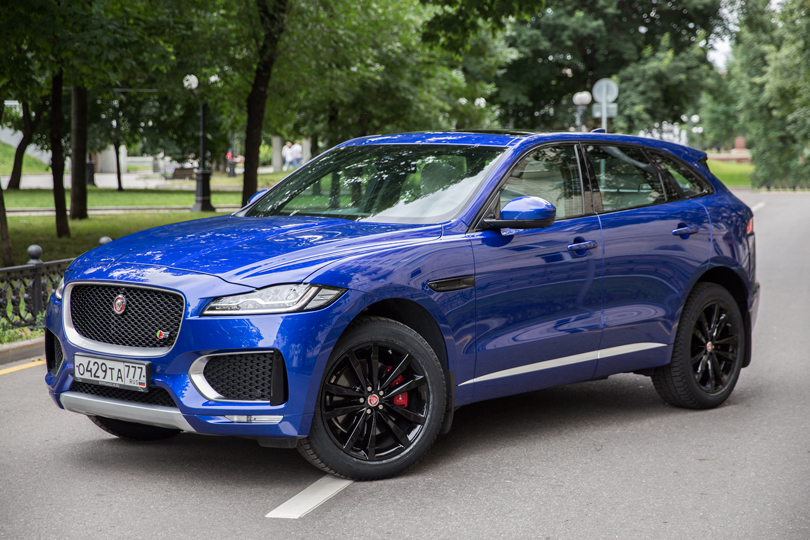 Whether we talk about its looks, the interior space, the performance or even the price of the F-Pace, it seems to hold up very well against the competition. It combines talents which you'll struggle to find elsewhere in one package. I expect to see many of them on the streets of Moscow soon enough, and for all the right reasons.