Matthew Malin and Andrew Goetz are well-known throughout
New York for their dinners,
where stars come together with the editors of the best magazines and where codfish and Caprese are being served alongside cosmetic goods. Food & Wine Magazine praised them as belonging to «Manhattan's best parties».
The tradition was carried on in Moscow — at a dinner of Cosmotheca concept beauty store, where they shared their success secrets with Posta da VIP. The duality idea was the dinner's main theme: fish and meat in one salad, white and black bread. Just like Matthew and Andrew themselves: one can't live without chocolate, while the other one eats any desserts but chocolate, one goes for fish, while the other one for meat. «Do you have anything in common at all?»
«17 years,» one of them smiles.
«17 years of having nothing in common,» the other one corrects.

FOUNDERS:
Matthew Malin: is an expert in beauty industry who went through all the main spots: Saks Fifth Avenue, Barneys New York, Kiehl's, Prada.
Andrew Goetz: has worked as a marketing director for Vitra, a Swiss design company, where he was in charge of scouting for and developing architects and designers.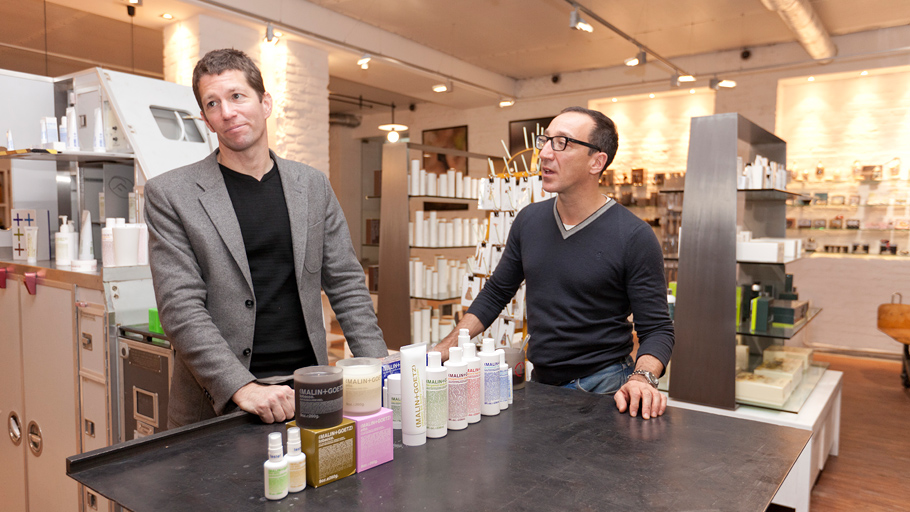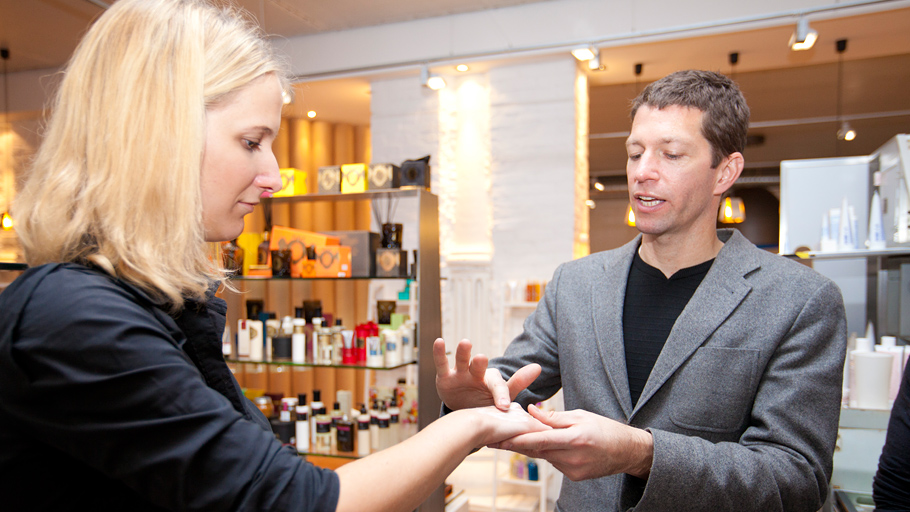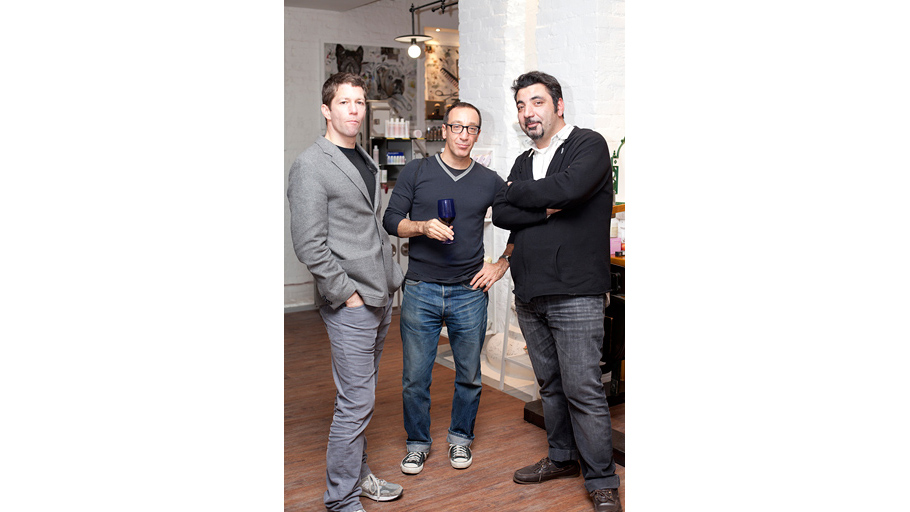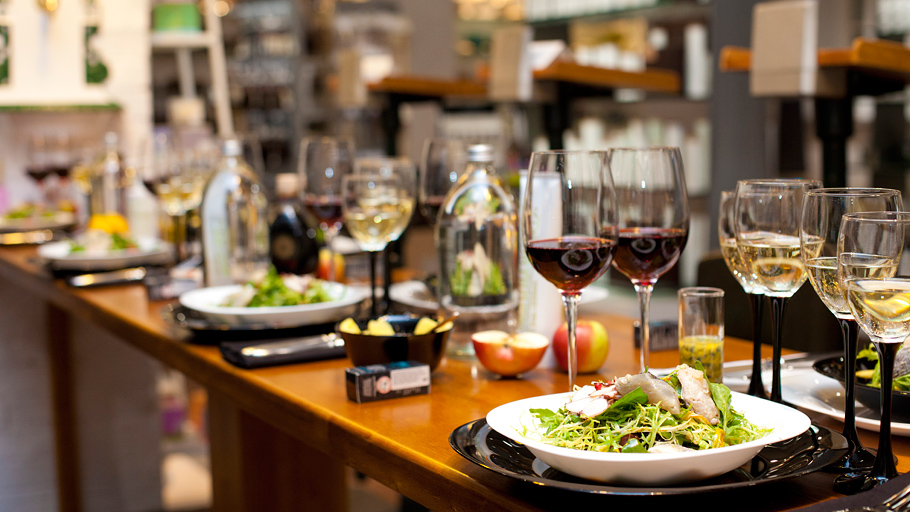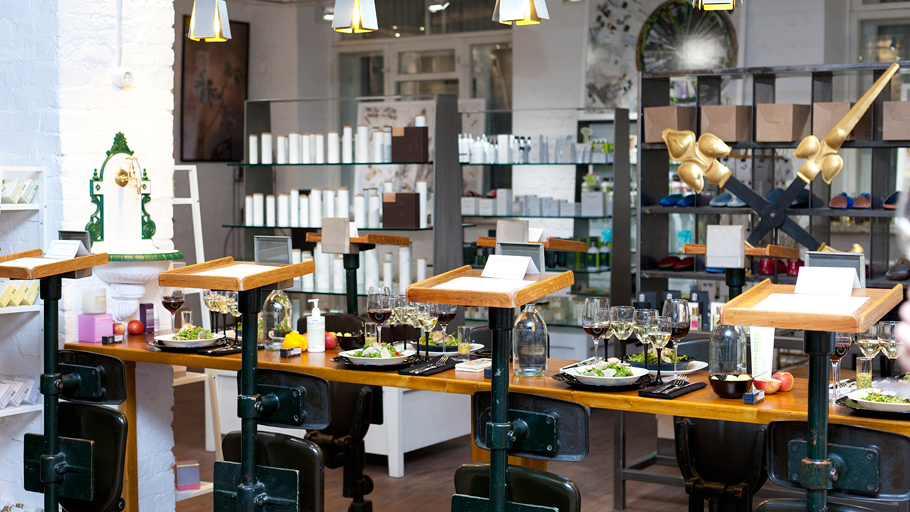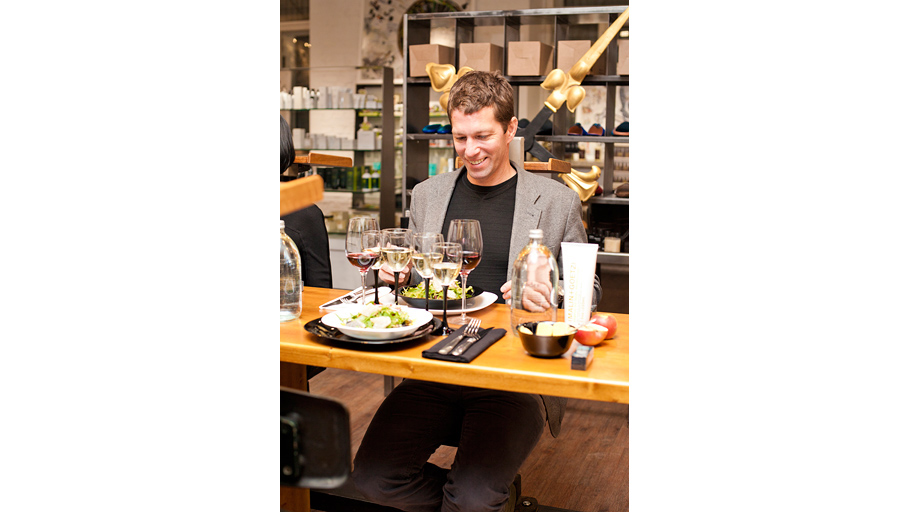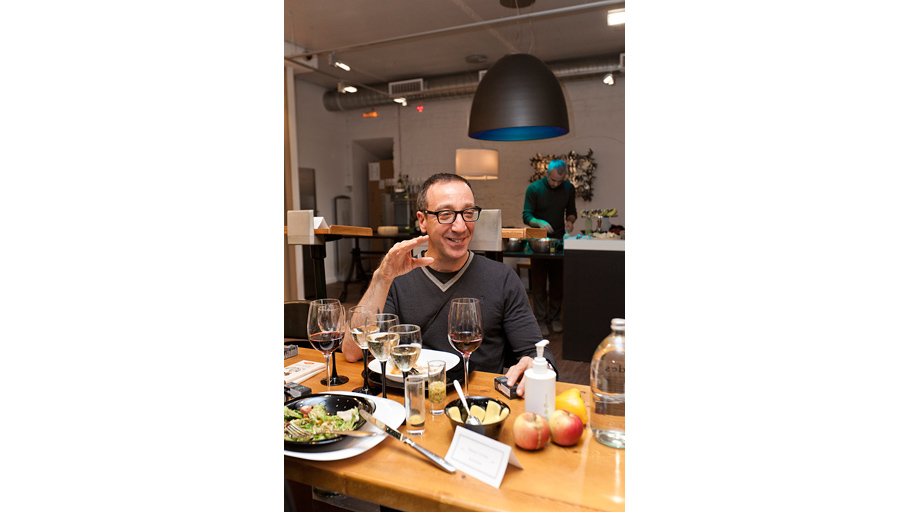 Previous
Next

THEIR STORY:
Andrew Goetz: ««Our brand is a mix of our two worlds, beauty and design. Small family brands nowadays tend to fall in the hands of corporations, and what we wanted was to do something in dependent and… interesting».
Matthew Malin: «The market at that time had several unoccupied niches. The beauty brands have become too complicated, you have a thousand products in every single brand, so the customer is not sure anymore what to choose. We decided to create products like you had them at a pharmacist's next door a hundred years ago — simple, high-quality and effective».

OBSTACLES:
Matthew Malin: «The production was the most difficult thing, none of us had ever done this before. We made the packages all over, then the formulas, the textures were too thick, then again too thin».
Andrew Goetz: «You are busy with the packages, marketing, sales, answering the phone, and you got only 24 hours in a day, where you could use all 50! But I like this comparison: having your own business is like growing wine. The conditions in the vineyards can be very harsh: too humid, too dry, not enough sun, but with proper cultivating an excellent wine is born. So business needs tension! Sometimes, when you got too much money, you just throw it around, without thinking. On our part, we had to bring in very creative thinking and very hard work. As a result, we were profitable in the first year already».

DIFFICULTIES WITH EACH OTHER:
Andrew Goetz: «Yes, there's always some tension, you know, like in any relationship with any partner, it can happen that…»
Matthew Malin (interrupts smiling): «Yes. Sometimes we want to kill each other. On the other side, there's no one else in this world I can trust more than Andrew. It's the same like in any personal relationships — you meet a man, you move in with him, you have the honeymoon, you dote on each other, and a couple of months later you're yelling this is my shoe cupboard, stop putting your ties in here. In business, like in personal relationship, you have to learn living together and sharing tasks».
Andrew Goetz: «In other words, there's one more thing that's not so easy… Like in growing wine. Above all you have to learn to keep your quarrels private, our employees should not see our disagreements. And you have to learn to control your temper, not to overreact emotionally — this is very important!».
Matthew Malin: «The brand is, like we said, a union of two worlds. I have a dry skin, while Andrew's is oily, I come from beauty, he is from the design world… It is all about finding the balance. Just like our cosmetics: every product has a pair, and together they create the balance. This is, for instance, our flower-flavored candle that I like very much. And this is the spicy candle, Andrew likes this one. But do you know what is the best fragrance? That's when the two of them burn together! We are very different, but that's exactly what helps us creating the best things».
Andrew Goetz (smiling): «In other words, what does not kill us, makes us stronger».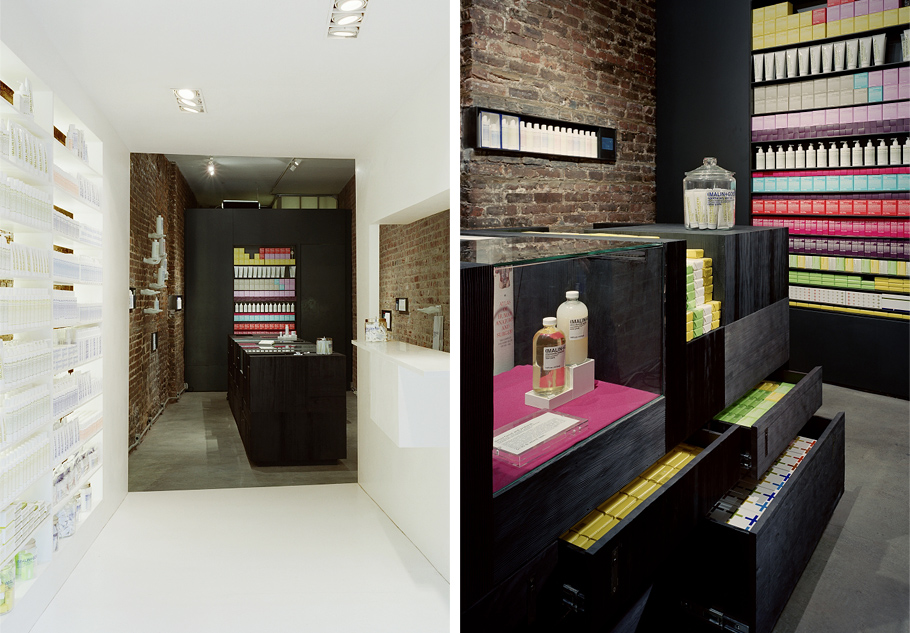 MALIN+GOETZ Boutique in New York is located in Chelsea, 177 Seventh Avenue.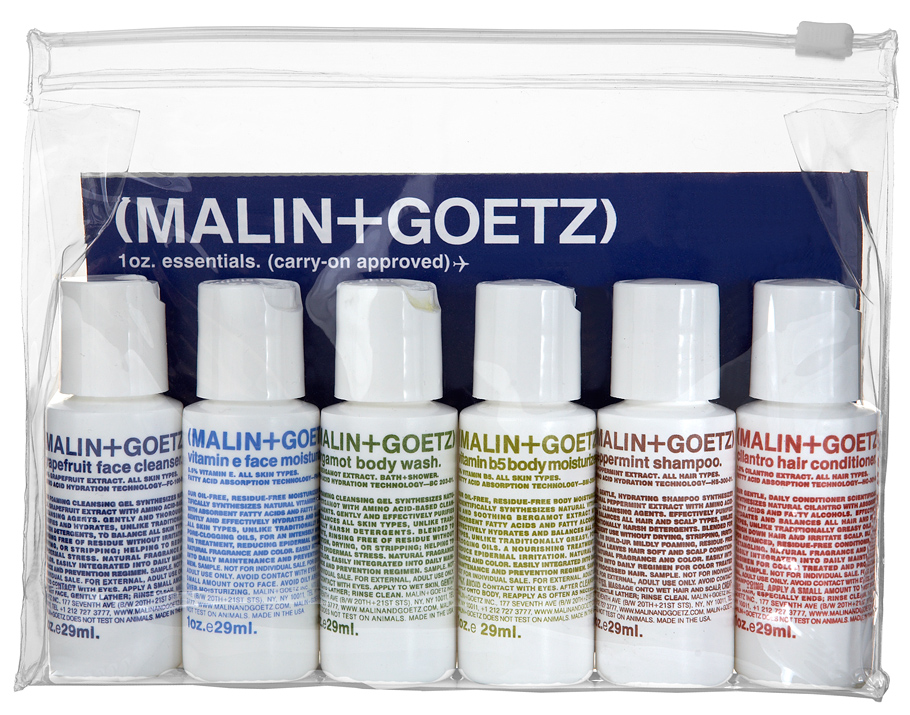 The brand's bestseller — the travel set

PRODUCTS:
Andrew Goetz: «One of our most famous products is a travel set. We started out doing mini-versions of our products for the hotels, and then we thought we would do this set. It was by pure intuition that we put it into a plastic vanity case, and in a couple of weeks there were the new rules for cosmetics in cabin baggage, so our set was a best seller immediately».
Matthew Malin: «An interesting product is the Detox Face Mask: it opens the pores, removes the toxins and saturates the skin with oxygen. The process of applying it is rather theatrical: it foams on your skin, you see the bubbles, then you wash it away and see your skin shining and pure. By the way, the formula was made for us by a gifted Russian chemist».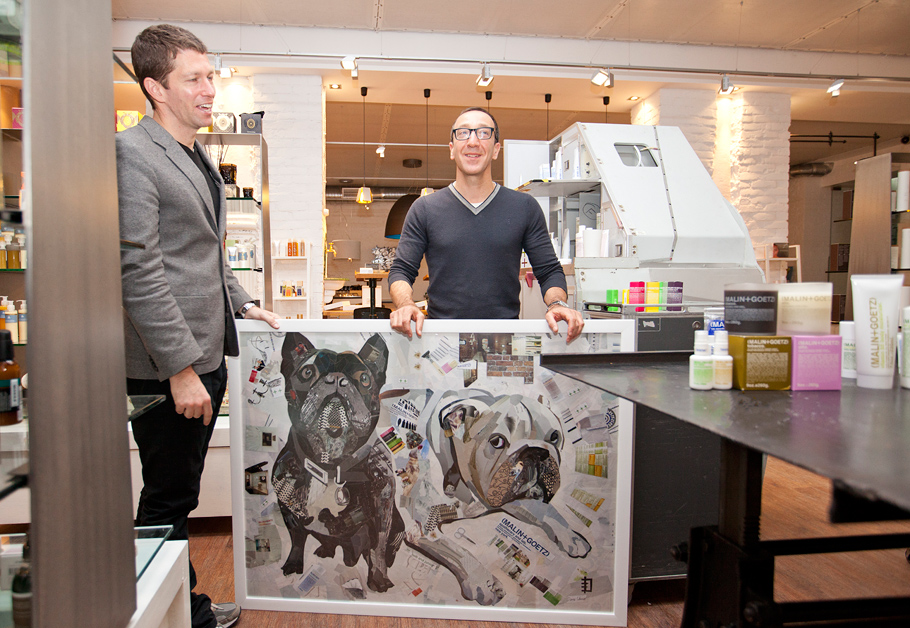 Andrew's and Matthew's pet bulldogs

DOGS:
Andrew Goetz: «Our two bulldogs have become our symbol indeed. They were always sitting in the shop window and they got so popular, that one night when I was taking a walk in New York everybody started shouting after me: "Look, here are the Malin and Goetz dogs". In a sense they are much more popular than we are».
Matthew Malin: «Bob was always sitting in the store at the door, people could not open the door without hitting him on the nose. I kept joking that this dog used to be a collie, and then became a bulldog».
Andrew Goetz: «And then we came to be, as I like to say, the New York super freaks. The dogs were too old to walk and we bought a baby basket to bring them to the office. I remember looking at those people when I was a kid and thinking, "I'm never gonna be like that!". Never say never. The funniest thing is, there's a shop for young parents on the way and there are crowds of mothers with carriages who like to look over to the next carriages to make sure theirs is the prettiest and loveliest baby. And here we come with the dogs…»
Matthew Malin: «We have a page called Product Hounds on our website — our clients send us pictures of their dogs. That's the charm of having our own brand: we can do whatever we like to!».

ON WORKING IN CORPORATIONS:
Andrew Goetz: «I hate the political games inside the corporations. The biggest problem is that people in a corporation compete with each other, and not with other corporations in the market. And, thankfully, we have no bureaucracy, we always take quick decisions, maybe not always the right ones, but they are quick».
Matthew Malin: «Once a corporation wanted us to make them a lip balm. A year and a half we have had those meetings with a commission of 20 people discussing where to put the label on the package. This is 10 minutes talk, and it took them 18 months! I have worked for many corporations and come to the conclusion: I'm most effective when working in company where there's a balance between business and creativity. Usually, the larger a corporation, the more it tends towards business only. The smaller a company, the more there comes to be creativity alone. We have, in my view, the golden mean».

YOUR PARTNER'S BIGGEST MERIT:
Matthew Malin: «Andrew was the one who came up with the idea of starting our own business».
Andrew Goetz: «But without Malin's knowledge in the beauty industry nothing would happen! It's like the chicken and the egg: which came first after all?».
СOSMOTHECA DINNER PARTY
The MALIN+GOETZ dinner was the first one to start the series Сosmotheca Dinner Party at Vinzavod. The cosmetic store not only brought together the best natural brands, but was able to create a unique atmosphere and make you feel like you are in New York. The partners of the first dinner are: Designfood by Denis Tarantsov; lavkalavka (a company dedicated to restoring farming traditions in Russia); purelosophy — natural beverages with no coloring agents and preservatives; wine house Caudal; Antipodes — artesian water from New Zealand, reflecting the opposites theme.
MALIN+GOETZ products are available in the Сosmotheca store at: 4th Syromyatnicheskiy Lane, 2, bld. 1