Many of us, who are at least a little bit interested in cars, spend considerable amounts of time reading car reviews. After all, knowing which cars are objectively the best simply makes you sleep better at night. Yet when the time comes to go out and buy an actual car, we tend to limit our horizons to a handful of familiar brands and the rather cool badges they come with. In this review of the Genesis G80 Ultimate, I take off the blinders for a few minutes at least.
Genesis is to Hyundai what Lexus is to Toyota, if that makes any sense. Genesis is Hyundai's answer to the question of how would you market a decidedly upscale car when it's built by a brand that people perceive as more budget oriented. They're hardly the first to do this, with Lexus and Infinity being the most obvious examples. Since those have been well accepted by the market, Hyundai can be confident that they can pull off the same trick — provided of course that they can build a car that is good enough. Let's see how they've done with the G80.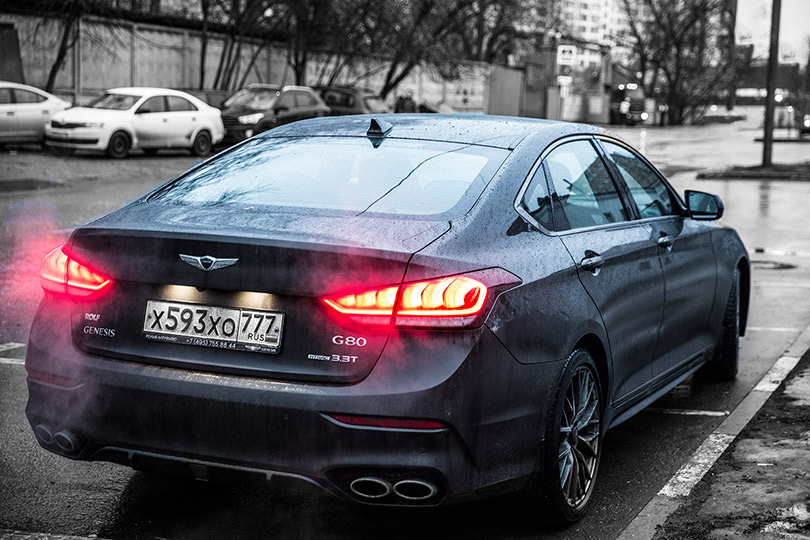 In terms of size, at very nearly 5 meters in length the Genesis G80 is firmly in Mercedes E-Class territory. Or BMW 5 series if you like. Given that Hyundai has hired quite a few ex-BMW people over the years, let's go with that. They've got Albert Biermann, formerly of BMW's M division, and also Fayez Abdul Rahman who was responsible for the development of several BMW platforms including the 7 series. These investments in human capital drive home the point that Hyundai is very serious about making their luxury line-up a success.
In order to not make this Genesis review excessively relevant to actual people (the leopard cannot change his spots) I went and tested the G80 Ultimate which comes with the biggest possible engine: a twin-turbocharged 3.3 liter V6 producing 370 horsepower. I'm sure you would, too, if this was your job. But while it may not be the most commonly sold version of the Genesis G80, I think it's the one best suited to answer the question of whether it can go toe to toe with its illustrious rivals. This "ultimate" G80 comes with all-wheel-drive as standard, a sensible choice given the climate around here. In fact, during the test drive the weather was outright snowy so the ability to put down the 370 horsepower across all four wheels came very much in handy. According to specification, the G80 Ultimate will do zero to 100 km/h in 5.8 seconds and go on to an electronically limited top speed of 250. Plenty brisk for a daily driver I think you'll agree.
The first impression you get when slipping behind the wheel of the G80 is that's a very spacious car indeed. The second is that of build quality. Take the carbon fiber inlays on the doors and dashboard as one example. A lot of cars have carbon fiber in their interiors these days, but in very few of them does it actually look good and expensive. In this car, it's absolutely there. I would even say it's an Audi level of carbon fiber, and they are really, really good at it. In the middle of the carbon strip that runs through the center console, we have the warning light switch. Which, and this may sound a bit weird, simply gave a great tactile feeling when using it. Solid, smooth, and with a satisfying click. I assure you, I haven't been drinking. It was just that nice to use.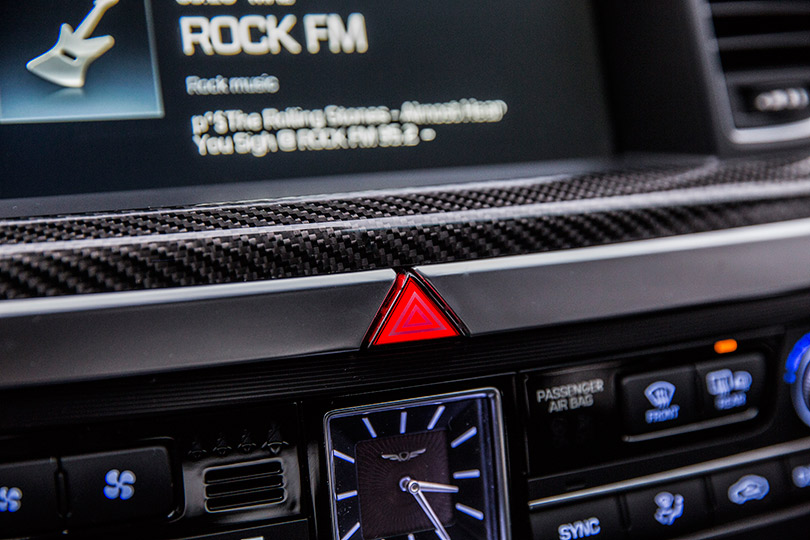 The entire interior is made up of quality materials and very well put together. I also really liked the deviated colour stitching on leather surfaces. There was, however, a single exception. The shift paddles on the steering wheel, not something I expect many people to use very often, are simply ghastly. Whenever I used them I was slightly worried that the tiny force placed on them by my index finger I would snap them clean in half, such was the feeling of flimsiness of the very thin plastic they're made of. They're actually quite strong, and survived the test, but they really don't feel like it. It's a very odd thing to overlook in a cabin that is otherwise on par with just about anything else out there for the money. But like I said, this shouldn't be a concern to anyone as you don't really use these things ever anyway. We're not talking about a Ferrari 488 here, it's a luxury sedan. You just put the gearbox in D and don't look back. The rest of the steering wheel feels great, which is what matters.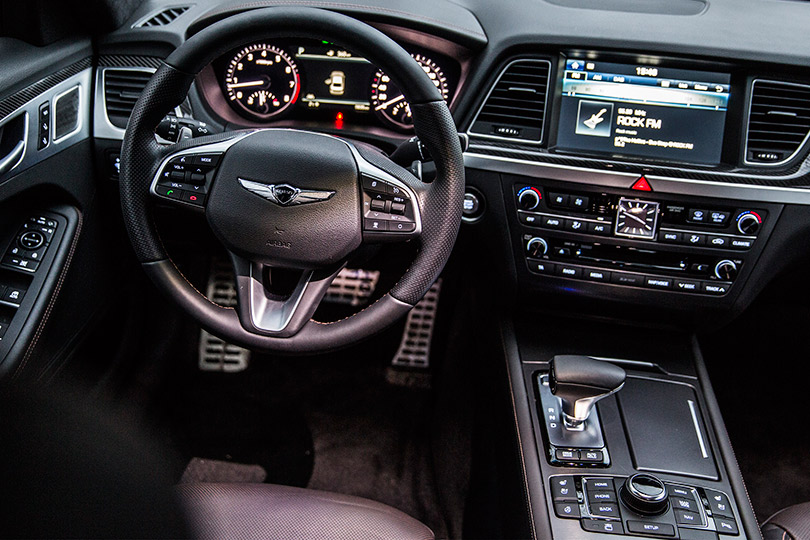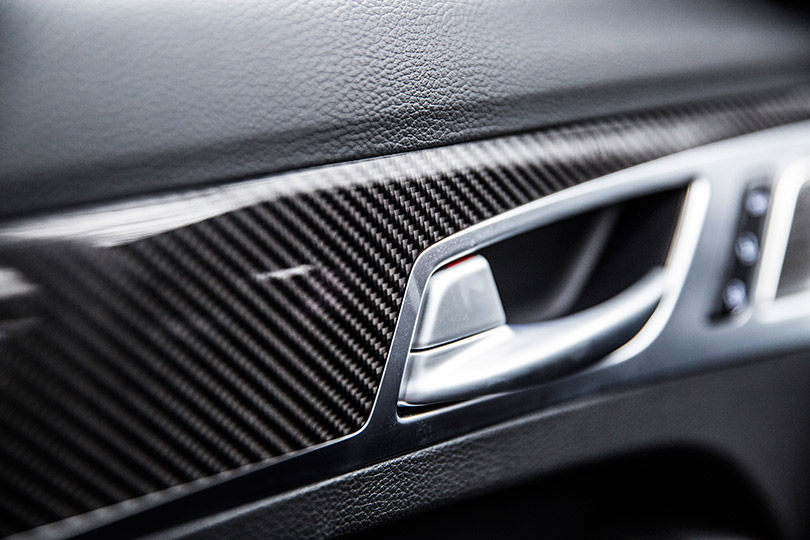 On the road, the G80 Ultimate feels every bit as refined as Germany's best. The adaptive suspension filters out road irregularities very well but it never feels floaty or soft. It's very contemporary in that regard, with the caveat that in my opinion most contemporary cars in this segment have a very similar "feeling" in terms of steering and suspension anyway. The gearbox is smooth but direct, and on full-throttle upshifts you even get a little burp in the exhaust. I was most impressed with the car's all-wheel-drive system, which simply provided huge amounts of grip on snow to the point that it was almost difficult to get the car sideways with the traction control off. Even on a road completely covered in snow, the car would simply take off with hardly any wheel spin unless you really pinned the throttle pedal into the carpet and applied a good amount of steering angle.
I actually had a great time driving the G80 around Moscow, and would have been perfectly happy to continue using it as a daily driver. It ticks all the boxes, and the driving experience is entirely convincing. Rather than trying to punch above its weight, the G80 is self-confident enough to keep a low profile. Even from the outside, though, I think it's a good looking car. It even has four proper exhaust tips, no plastic imitation tomfoolery on this car. Not calling any names, but real exhaust pipes are becoming quite rare these days, so it's refreshing to see four of them on this car. Also refreshing is the rather short list of optional extras. The average German luxury sedan comes with an options list which is as long as, well, some things you see on the wrong part of the internet. Genesis, by contrast, has been kind enough to fit most things you actually need as standard.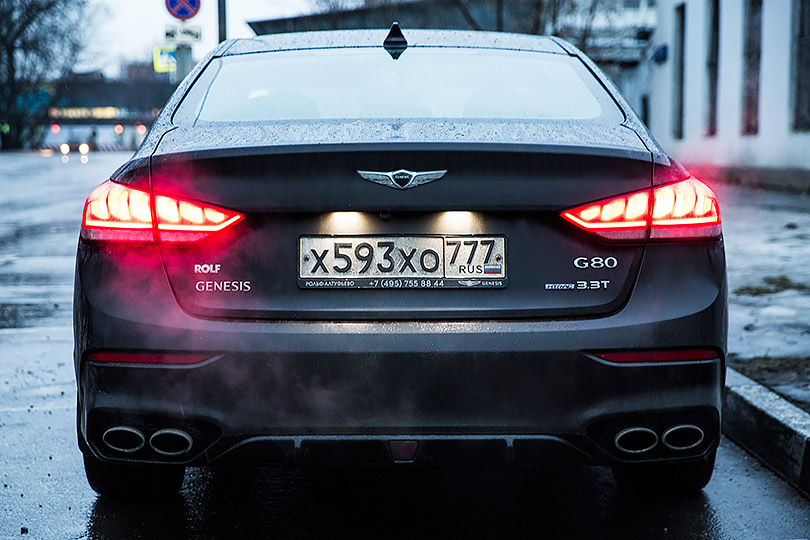 There's an excellent audio system, a driver tracking system, electrically adjustable and ventilated seats front AND rear, and so on. I also really liked the automatic adjustment of the car's exterior mirrors. Usually when you get into a car for the first time there's a lot of fiddling with buttons to adjust the mirrors so you can see properly. In this G80, there's a single button labeled "automatic" and upon pressing it the mirrors adjusted themselves perfectly for me. Witchcraft. Everything just kind of works, really, and with no rattles anywhere either. The only system that could use some improvement are the rain-sensing wipers which were never really doing what I wanted them to, exactly. Which goes to show that I had to look quite hard to find anything on this car that wasn't great, I suppose.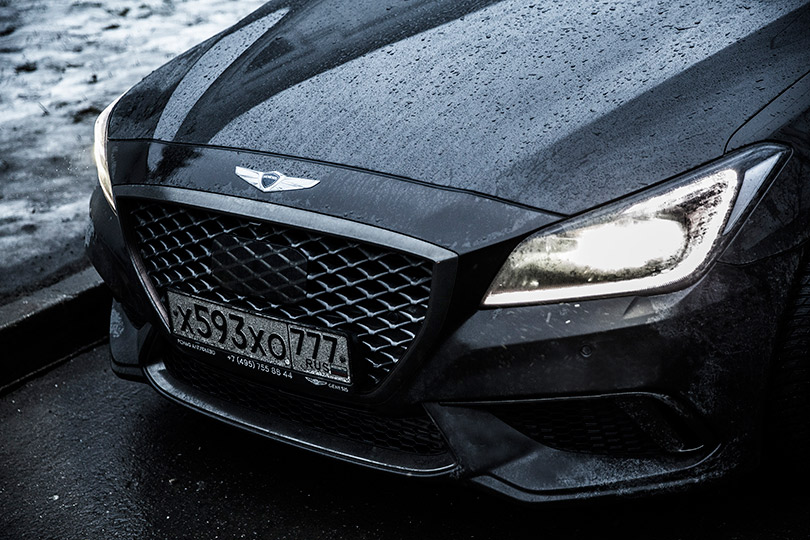 Even so, the Genesis G80 Ultimate is a difficult car to sum up in a few lines for a conclusion. The main obstacle to this car is the price. On the one hand, paying roughly 4 million Russian Rubles for this car is a bit of a bargain if you take into account the build quality, engine, drivetrain and standard equipment. But it's still quite a lot of money, enough to put you into a car with a badge that has more history and brand recognition. But that only matters if you care more about other people's perceptions than your own driving experience. Personally, I kind of like being that little bit different and going off the beaten path. If you're too busy conforming with expectations you're unlikely to ever exceed them. Hyundai, meanwhile, are pressing forward at a pace which will probably see them become a much more regular player in this market as time goes on. I, for one, am looking forward to it.