Photo: Jan Coomans
The Frankfurt Motor show has opened its doors to the car-loving public, so of course I went and had a good look around. But I decided to look beyond the endless supply of electrified concepts and promises of the future, at least for this article. I spoke to many different brands about their visions for the future and how we, car enthusiasts, fit into that. And I'll tell you all about it soon enough. For now, we still get to enjoy something of a golden era in terms of sportscars. So here they are.
Porsche
Any self respecting car show has to have a big Porsche 911 announcement, and IAA 2017 was blessed with the 911 GT3 «touring package». You might be wondering how on earth an optional package to an existing car could be big news, and normally you'd have a point. In this case though, what Porsche is offering is a car which is very close to the 911 R in spirit. No wing on the back, manual gearbox only and the big 4 liter flat six naturally aspirated motorsport engine with 500 horsepower to keep you company. If you remember, the 911 R was a limited production 911, universally praised, and while everyone would have wanted to buy it, almost no-one could. Porsche is making it very clear that this GT3 package, whilst definitely inspired by the success and apparent demand for the 911 R, is really not the same car and not a successor to the R in any way either. The GT3 isn't limited in terms of production numbers, for one thing, and they're available to the general (affluent) public. The only problem that remains, then, is that there a lot more people who want to buy a GT3 than Porsche is able to make. But as a car to aspire to, and to lose sleep over, this 911 GT3 is simply as good as it gets.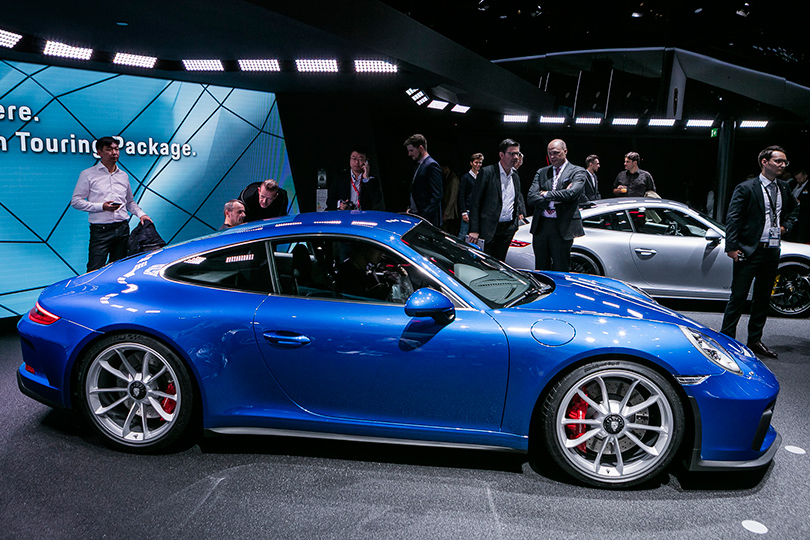 Probably even bigger new to everyone but me is the new Porsche Cayenne,not exactly a sportscar perhaps but certainly a sportscar among SUVs. As you would expect, the changes over the old car are typical Porsche: the new car is better in every way but visually the difference isn't exactly huge. I've seen my fair share of Cayennes, and from the front the new car looks just like the old Cayenne to me. At the back, we do get the new styling that we've already seen on the Panamera and 718, and it's rather elegant. The inside sees much bigger changes, with the Panamera's interior design being carried over to the Cayenne as expected. Predictable, perhaps, but perfecting great things is simply what Porsche does.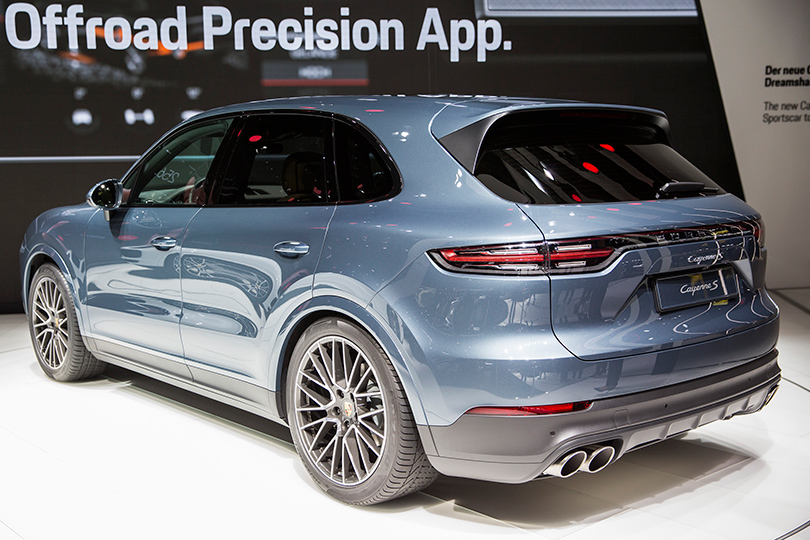 The big daddy of the range, the Cayenne Turbo, will now get to 100 kilometers per hour in less than 4 seconds. 3.9 to be exact, which is remarkable for an SUV of this size. It also gets new performance options like rear wheel steering and clever anti-roll systems. And it has an active roof spoiler for aerodynamic purposes. Not that these things are likely to come in handy on your way to dropping the kids off at school or going to the supermarket, but they're still pretty darn cool. You don't need a doctorate degree in economics to figure out they're going to sell a lot of new Cayennes in Russia, the first ones should be arriving next year around the same time as the snow starts to finally melt.
---
Audi
Some very, very interesting cars at the Audi stand as well: a rear-wheel-drive version of the R8 V10 and the new RS4. The R8 RWS, perhaps a bit awkwardly named as it makes me think it has rear wheel steering, drops the Quattro all-wheel-drive system and comes with straight forward rear wheel drive. This «rear wheel special» R8 weighs a bit less than the standard car and will be even more fun to drive around a track, but it's also going to be limited in terms of production. Only nine hundred and ninety nine of these magnificent beasts will be built.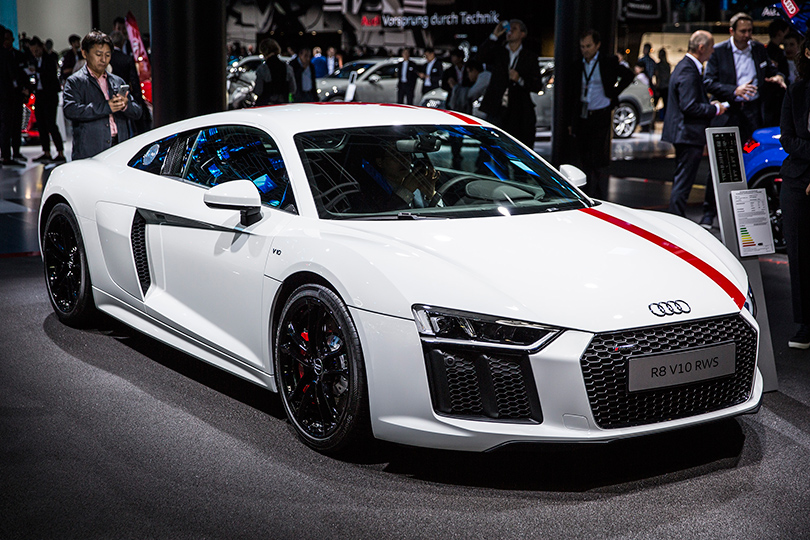 The RS4, meanwhile, is essentially the estate version of the RS5 which we already know. It has the same 450 horsepower V6 engine (essentially the same engine you'll find in a Porsche Panamera S) and a ZF 8-speed automatic gearbox. I've always liked the RS4, every single version they ever made of it, because it's just a great concept. It's a very good looking car with very assured handling, thanks to Quattro, and loads of power. And a superb interior. What more could you want? Well… if I'm honest I do miss some of the styling cues that were on the older RS models like the very wide wheel arches that gave the cars a muscular stance. Those are pretty much absent from the new RS4 and RS5, which means they look a bit more incognito. The new RS4 and RS5 have also said «Auf wiedersehen» to dual-clutch gearboxes and gone for a more traditional automatic which, whilst equally capable and comfortable to use, just doesn't have the direct feeling and urgency of a dual-clutch gearbox. I understand that the market probably prefer the cars this way, as crazy people like me are quite the minority these days. This latest RS4, predictably, is the fastest there has ever been, taking only 4.1 seconds to hit 100 km/h.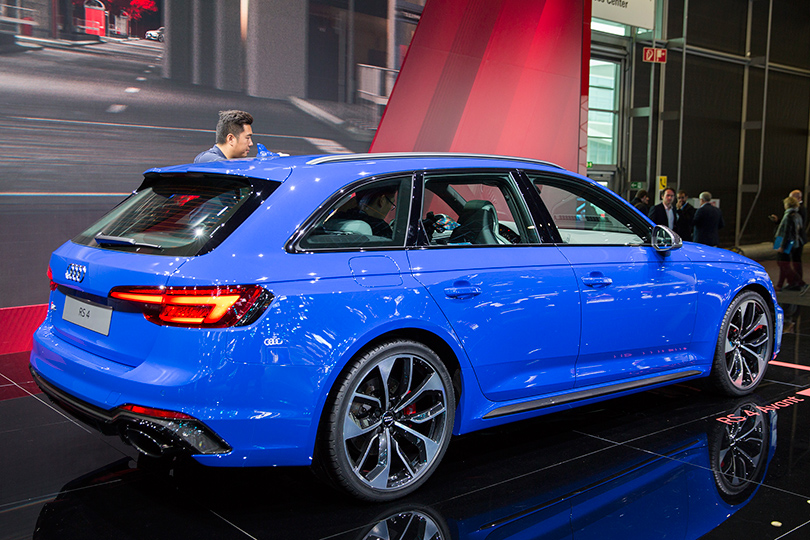 ---
Mercedes
Did I say I wouldn't be talking about any electric cars or hybrids? Well I guess I made it this far, at least. Mercedes' new hypercar concept, Project One, is probably the most popular attraction of the entire motor show. Not counting the currywurst-selling kiosks outside, obviously. The Mercedes-AMG Project One is as close to a Formula One car for the road as anyone has ever made. It uses the very same engine as the Mercedes F1 car does, albeit slightly limited in terms of maximum RPM, «only» 11,000 instead of the 13,500 that the F1 car can. This reduction is mostly a matter of reliability considerations, as Mercedes claim the engine should be good for at least 50,000 kilometers before it all has to be taken apart and checked.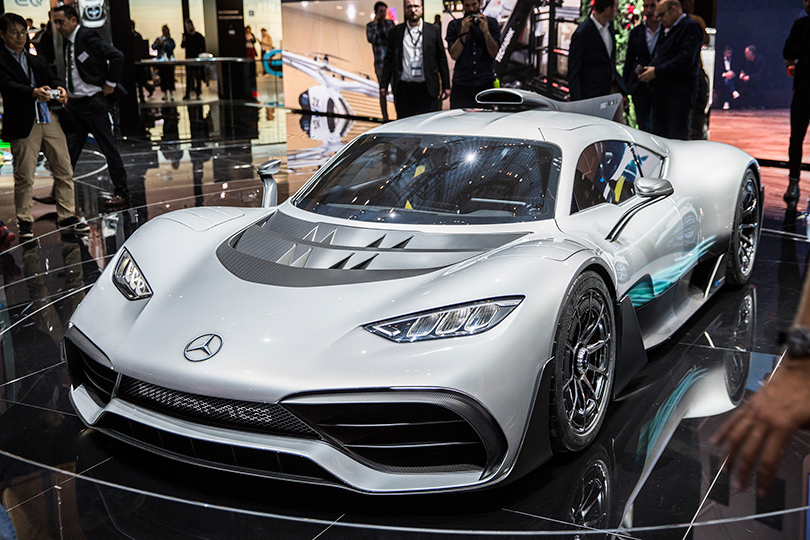 When Mercedes-AMG launch their actual hypercar it's going to be very close to what they're showing here: a hybrid car with one thousand horsepower courtesy of the Formula One V6 engine and 4 electric motors. 0 to 200 kilometers per hour will be happening in less than six seconds. Even by hypercar standards, they're looking to change the game completely. It's likely that this car is going to pulverize records set by the Porsche 918, Ferrari LaFerrari and McLaren P1. You won't be surprised to learn that its price tag will be close to three million dollars. Nobody said owning the fastest car would be cheap.
---
BMW
Look, it's the new BMW M5! Christmas, as they say, does come early once in a while. Although, purely in terms of specifications, this is a bit of a strange M5. We've only just about, sort of, gotten over the fact that the previous M5 was the first one to have a turbocharged engine, and now BMW is giving us this one to digest. The latest M5 is the first one to use a regular automatic gearbox, as opposed to the dual-clutch transmission we got in the previous one, and it's now all-wheel-drive as well. This creates the slightly unsettling reality that the «big three» German monster cars, the BMW M5, Audi RS6 and Mercedes E63 AMG, are now all using an identical drivetrain layout. This convergence on a single recipe is still a bit unsettling to a nostalgic purist. From an objective standpoint, it was probably necessary. With the amount of power and torque being produced now, driving only the rear wheels would be too much of a handicap. The all-wheel-drive system used by BMW does allow rear-wheel-drive only operation which can be electronically selected with the pressing of a few buttons, so we're probably getting the best of both worlds.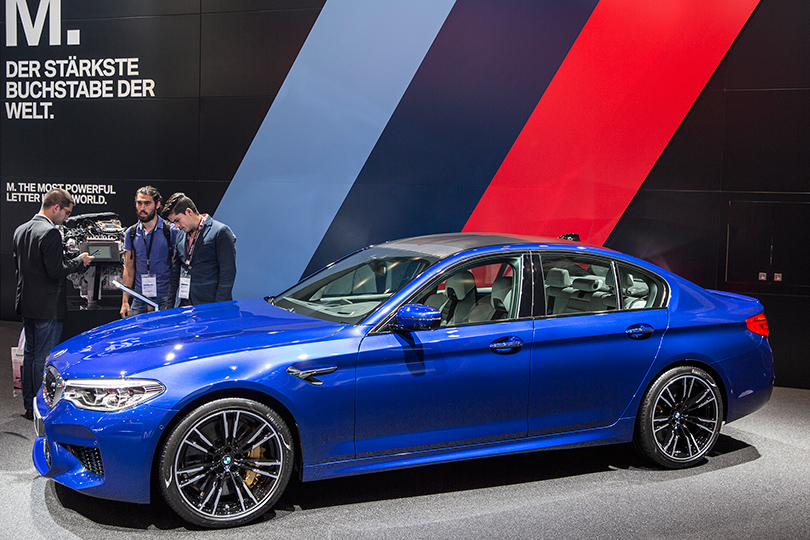 From a design perspective, both inside and outside, I think BMW has the new M5 exactly right. It's big, it's aggressive, but still very socially acceptable and passenger comfort is taking center stage. When I drove the new 5 series earlier this year, I thought it was a very big step over the previous model, and we can expect that progress to carry through with the M5.
---
Jaguar
Did you ever look at the Jaguar XE line and think it could use a bigger engine than the top-of-the-line supercharged V6 with 380 horsepower? I know I did, but now JLR's Special Vehicle Operations has come up with the Jaguar XE SV Project 8. Its (hopefully temporary) name would fit right into a Michael Bay movie, but that's not the point. What is the point is the 600 horsepower supercharged V8 that it comes with. It also gets some carbon fiber body parts and a titanium exhaust, among other things.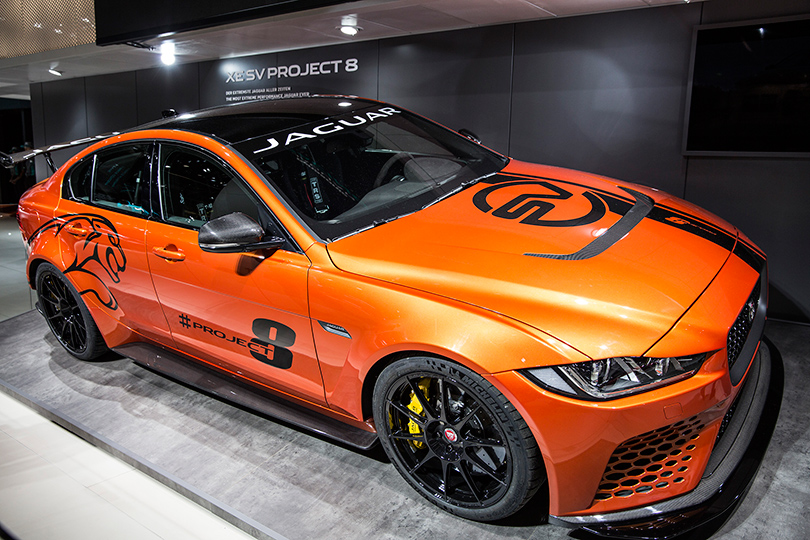 3.3 seconds to 100 kilometers per hour, a gigantic wing on the back and an optional roll cage if you don't need any rear seats. It's great to see brands like Jaguar give the old, loud and smelly combustion engines one last hurrah in bonkers cars like these. The only problem? They're only going to make 300 of them and each will cost an eye watering 200,000 dollars.
---
Bentley
The new Continental GT is also a pretty bright shining star of the show, featuring what can only be described as pretty attractive looks. I never thought the old Continental GT was particularly pretty, but this one manages to change that perception. It's built on the new Porsche Panamera platform, weighs a bit less than the old car and we are promised that it's both more comfortable and more fun to drive as well. With 626 horsepower from the turbocharged W12 engine, applied to the road across all four wheels, getting moving should not be an issue for this still rather heavy GT car. We'll probably see the slightly lesser, but still ample, V8 engine making an entrance later in the product cycle.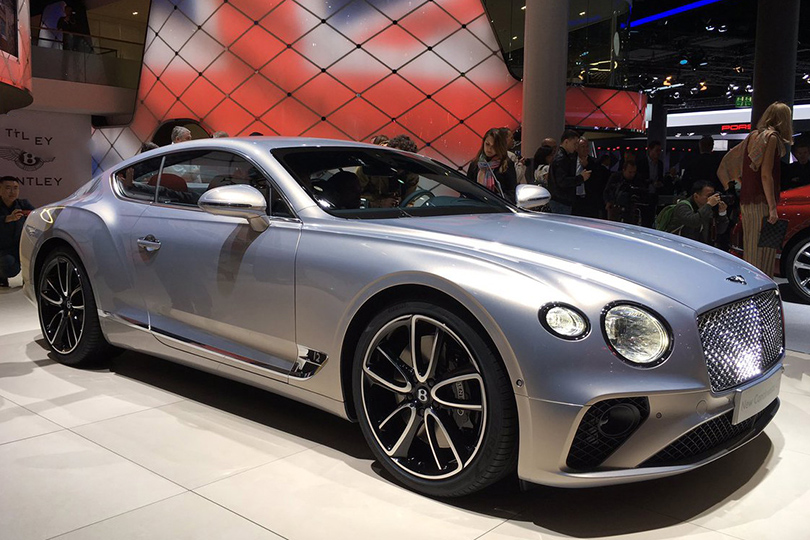 Interestingly, the new platform provided more considerable weight savings over the old car, but Bentley being Bentley decided to use some of those savings by putting some extras into this already very luxurious car. The interior redesign looks exceptional, and includes a cleverly rotating navigation and multimedia screen in the center of the dashboard.
---
Ferrari
The old Ferrari California always seemed to me like it had a bit of an identity crisis — it wasn't exactly a supercar but it didn't really succeed in its goal to attract more women to the brand either. Now, Ferrari is launching the California's successor, but they didn't call it the Ferrari Nevada or Ferrari Arizona. Instead, they went with Ferrari Portofino. A very picturesque, but also very tiny place in Italy. Because why not.
The Portofino borrows heavily from the California T, including the engine, but everything has been improved and streamlined. And with extra Ferrari sauce. It's very fast, very red, and takes itself very seriously. In other words, it's a new Ferrari. We could forgive Ferrari for just about anything, but it seems that with the new Portofino they've already made up for past sins pretty well on their own.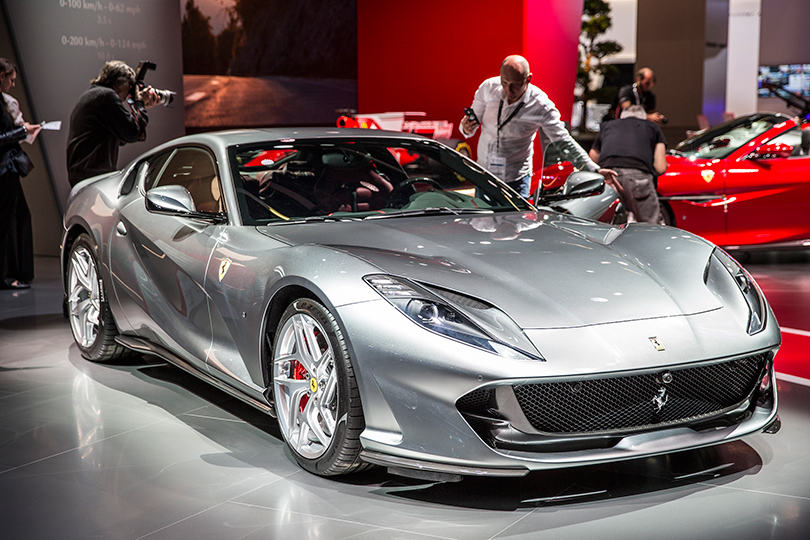 ---
KIA
You might be a little surprised that a KIA follows a Ferrari, but hear me out. KIA is eager to break into the premium segment, and they've been busy hiring European talent to make it happen. The former design boss of Bentley and Lamborghini is working on their premium Genesis brand, and Albert Biermann, former vice president of BMW's M division is overseeing their performance car efforts. The first fruit of this human capital investment to see the light of day is the KIA Stinger GT — a rear-wheel-drive four-door coupe with a 365 horsepower turbocharged V6.
Interesting. Very interesting indeed.