The Four Seasons Tented Camp in the Golden Triangle
offers something exceedingly rare in the world of luxury travel: a connection with truly natural wilderness.

Where is it?
The Four Seasons Tented Camp lies in the heart of the Golden Triangle, the point where Thailand, Laos and Myanmar meet. It consists of 15 tents, although they are certainly not what most of us think about when you hear the word tent. Each has a wooden structure standing on large pillars on the slope of the mountain. They have a full bathroom with a large tub and shower, a king size bed and WiFi. It's really just like a villa except the walls and roof are made of tent material.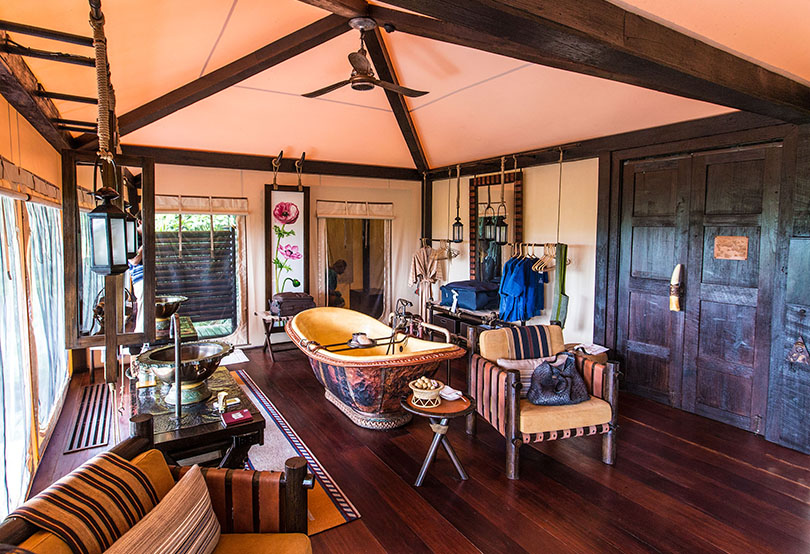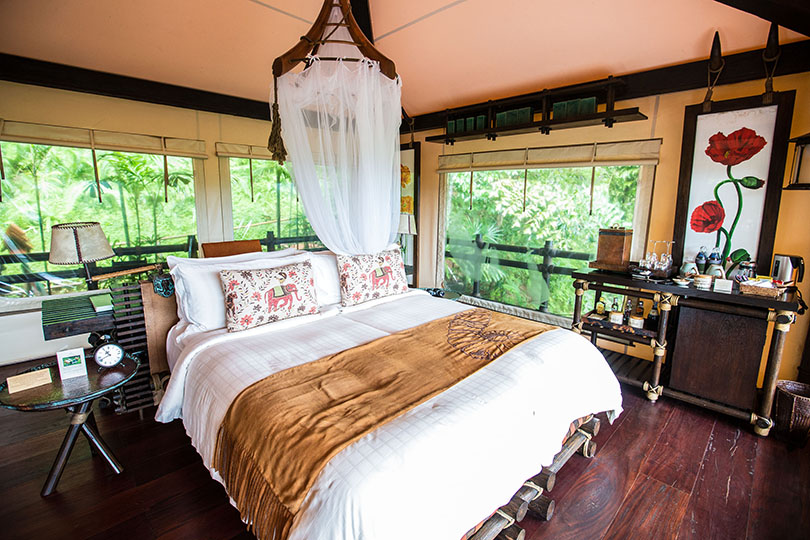 This gives you the feeling of being in a tent, without any of the drawbacks of actually being in one. It's actually most wonderful when it rains, as the sound of raindrops falling on the roof and the view nature surrounding you creates a truly adventurous atmosphere. Add to this the Four Seasons quality and service and you really feel like being in two worlds at once. Of course, the jungle has a lot of life in it, but insects are kept at bay by mosquito nets which cover each opening of the tent. So you get to sleep with an open window without inviting any unwanted guests.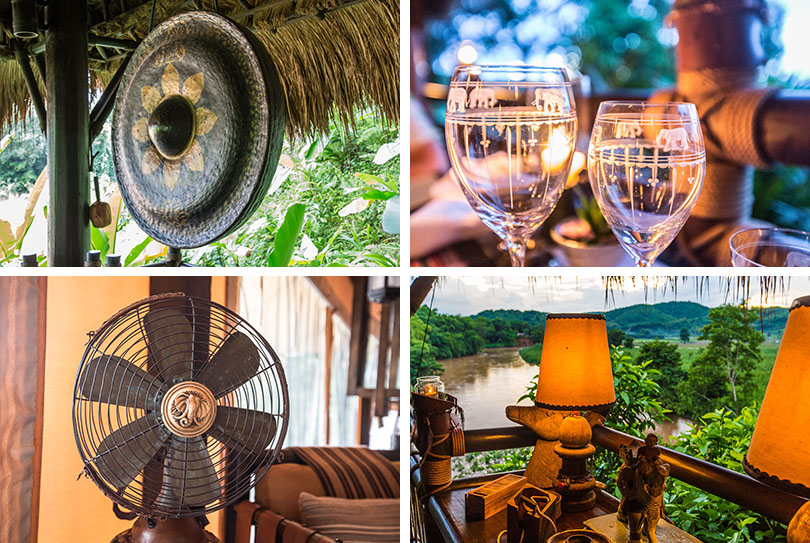 What can I eat there?
The main restaurant serves a mix of local and Western food, and I found both to be delicious. There's an a la carte menu for breakfast and lunch, and 2 set menus for dinner. What was perhaps most impressive was the great taste of the local menu, even after it was made considerably less spicy than how the locals would have it. The original flavours are extremely well preserved, without setting your mouth on fire. In fact, it was some of the best food I've had in Thailand full stop.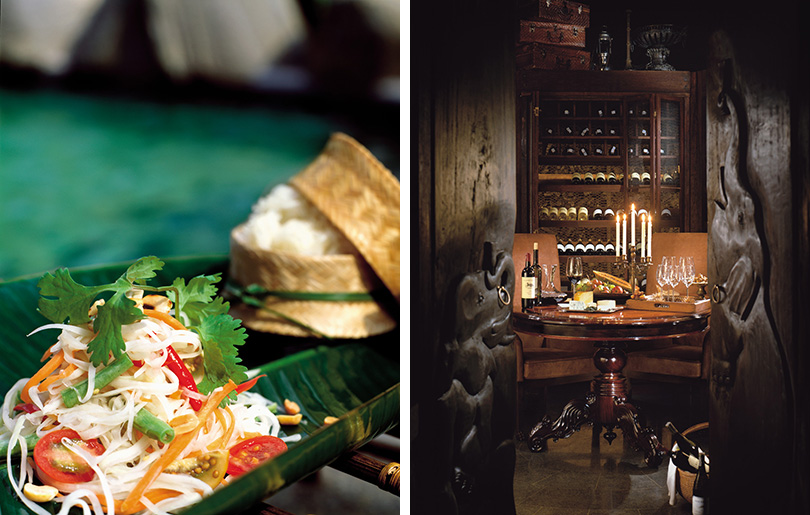 What's there to do?
During the day you can choose from a wide range of activities, or you could just relax in the Spa. It's a bit of a climb to get to the Spa, but when you get there it is well worth it. The rooms are completely open, so you have all the smells and sounds of the jungle to go along with your treatment. Again, a very special feeling.
The mahoud training course teaches how to ride an elephant and it was definitely one of the more interesting and fascinating things I've done. The first thing you notice is just how huge these animals are. Of course, for this purpose the most docile female elephants are selected, but their sheer size is still somewhat intimidating. Not to mention it's a bit of a challenge to get on. Once you are on, it feels a lot like riding a biological bulldozer. With a mind of its own.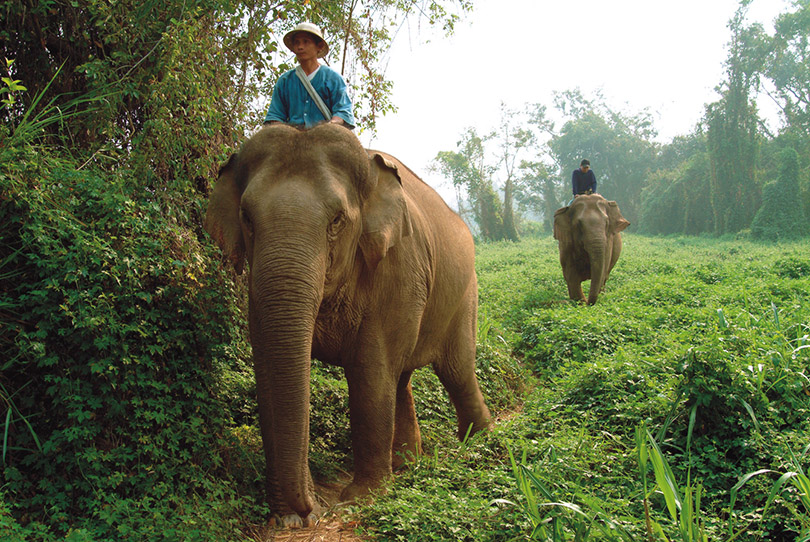 We got taught how to steer the elephant. Go, stop, turn, things like that, except with words that sounded funnier. Each command involves shouting a word and kicking the elephant's ears in a particular way. If this sounds cruel, don't worry, the elephant barely seemed to notice I was doing anything to its floppy ears at all. And she only seemed to obey my commands after a considerable delay during which she seemed to decide that she had nothing better to do anyway, so she might as well humour me. Like any other woman, I suppose.
Even while the elephants were roughly doing what they were told, they would still decide to make little detours along the way to grab some of the juicy green food that was growing everywhere. It must be nice to have the world as your candy store. Eating seemed to be the only thing on their minds most of the time, actually. During a short break where we got off our elephants, mine promptly went off to lunch by punching a hole in the jungle and disappearing completely. For a while the only signs of her presence were loud noises of trees snapping and the forest getting threaded on. It took quite a bit of shouting by her handler to get her to re-appear, and when she did she was carrying several large chunks of bamboo to eat on the road.
I suspect the only reason they agreed to do what they were told at all was the stack of bananas they would get at the end of the trip. Elephants were already doing their own thing millions of years before any humans existed, so I suppose it should come as no surprise that they are not in a rush to change any of their habits for our convenience.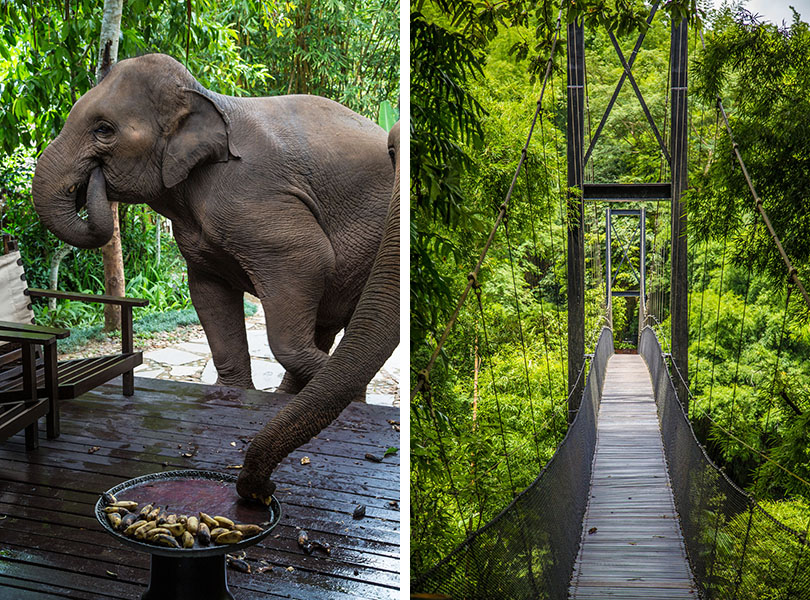 Another trip worth taking involves taking a boat downstream to a local town on the Mekong river right where the 3 countries meet, and where a large food market is held every day. If you have the stomach for it, it's a fascinating place to go and have a look at some of the local food products. Not being Bear Grills, I decided to pass on the insects, frogs and odd shaped things that swim, but it was interesting to see what was being sold nonetheless.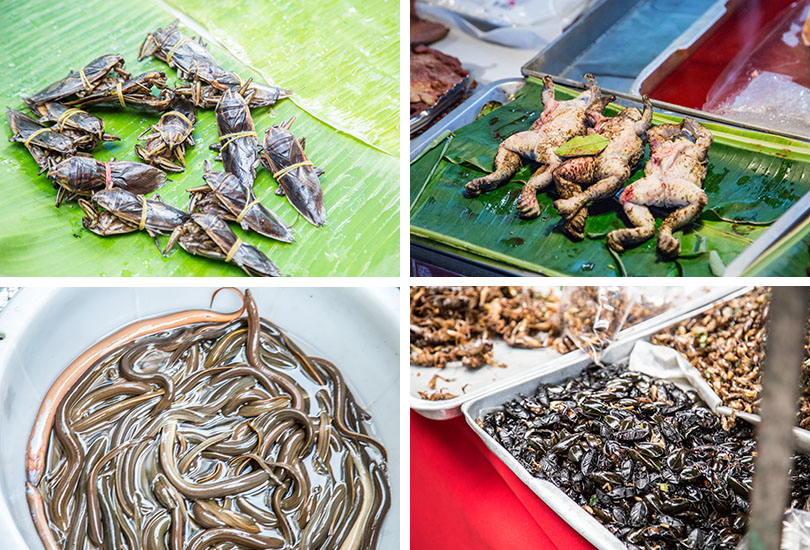 Naturally, the area also has several large Buddhist temples which are popular tourist attractions.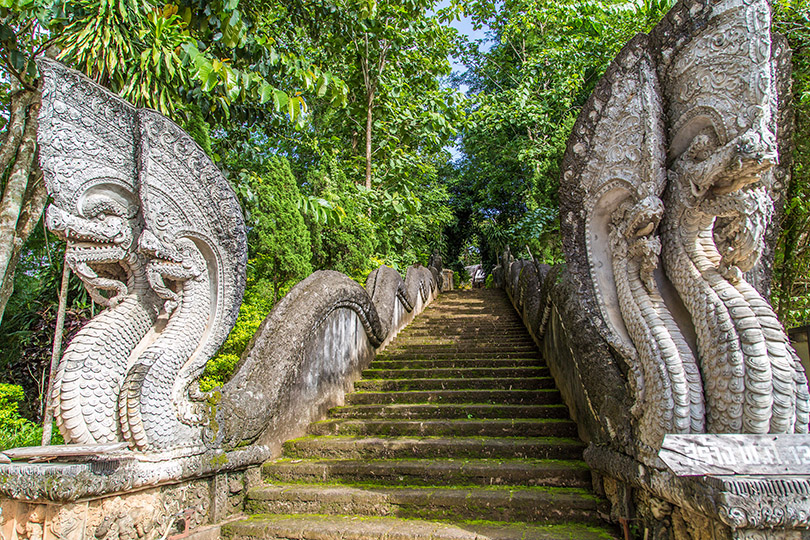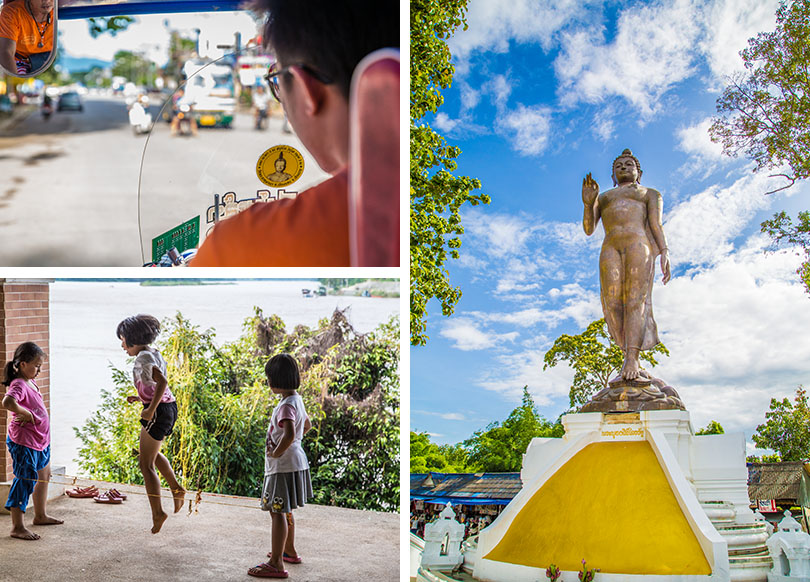 Should I go?
Well, that's entirely up to you of course, but I found it a brilliant place to go to have a bit of an adventure. After you've stayed in some of the best hotels around the world, and the best resorts, the Tented Camp is an opportunity to do something truly different without sacrificing any of your comfort and luxury. You get to live in the Jungle, with all its unique sounds and smells intact, Four Seasons style. From getting to the camp by small boat to the sunset cocktails overlooking the river every evening — life feels worth living.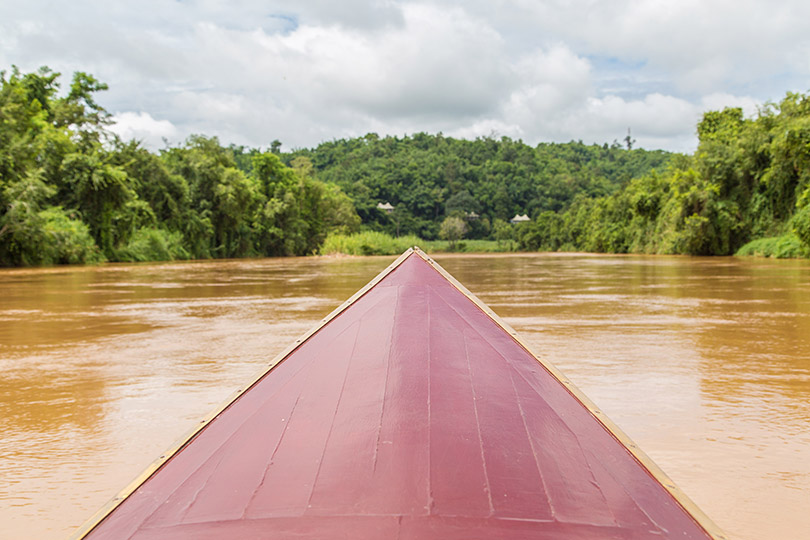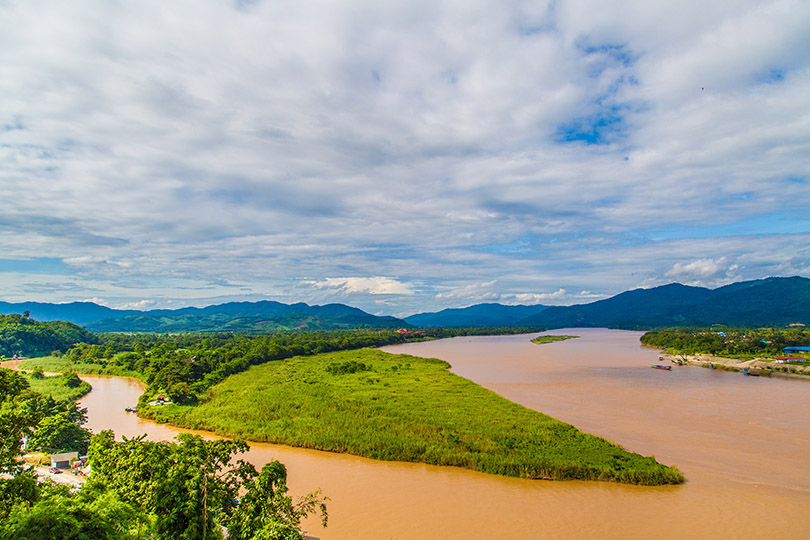 Details by Posta-Magazine:
http://www.fourseasons.com/goldentriangle/
Having finished this article, I suddenly received a mail with news about special offer on flights in a business class from Thai Airways — from September 21 to December 15, 2014, and the sale period till October 31, 2014. I think this offer costs a mention:
From Moscow to Bangkok — from 84 900 rub. From Moscow to Phuket, Chiang-Mai, Chiang-Ry, Krabi, Surat Tanya, Con Kayen, Ubon Ratchatani, Udon Thani — from 90 100 rub. The maximum stay — 1 month (from the date of a departure). A discount for children till 12 years — of 25% of a tariff, a discount for the babies who aren't taking a separate place — 80%. The sale period — till October 31, 2014.