Daniel Phippard, chef
at Yornik restaurant on Bolshaya Grunzinskaya, is one of those people. Heck, I struggle to properly cook cauliflower, but a 10 minute chat with Daniel had me dreaming of creating culinary delights. Me!
Though those plans were put on hold soon after when we were presented with several plates of deliciously interesting food which left me struggling to find room for more.
Chef Daniel is clearly a man who puts a lot of thought into his food, to the point he'll wake up at night to make notes for future dishes. And even when he settles on a dish, it still tends to evolve into different shapes over time — he provided us with some photo evidence on his phone. This kind of dedication is quite refreshing, and especially admirable considering Moscow must be a pretty daunting place to be a chef in. Certainly when you are transplanted here all the way from London, England.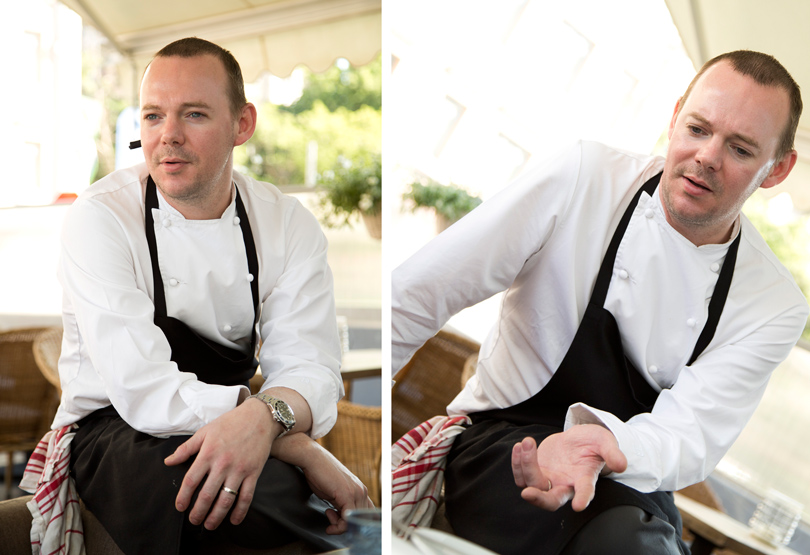 Local produce are difficult to source, and somewhat limited in range. Moscow's remote location creates some unique challenges when it comes to getting top quality products to cook with, but Daniel clearly takes this as a challenge rather than a potential excuse. He had quite a few stories to tell about his kitchen improvisations, although he carefully avoids talking too long on the topic he can clearly spend days talking about. Possibly his wife has been an influence in that department.
Sitting on the new terrace in the open air, we were served some lovely fresh and light dishes appropriate for a warm summer's day. First there was an Artichoke salad with black truffle and home made goat cheese. Admittedly artichokes are not a typical summer dish but it worked well. Next up was the chilled tiger prawn salad woth oyster in a refreshing wateremelnon jelly which is rather original.
The Pike-perch with sorrel, spinach and smoke was quite extraordinary both in taste and presentation. It came «smoked» quite literally under a glass dome filled with smoke which poured out as soon as it was lifted. But more important than the impressive visual effect, it gave the fish a uniquely «fresh» smoky taste. It works very very well.
The boneless loin of lamb which followed was faultless and far from heavy. Chef explained that it had been quite difficult to source good local lamb meat, but clearly the effort has not been for nothing.
Dessert was an extremely tasty mix of crumble, cherry sorbet, pine nuts, sponge and cherries and provided a fitting closing statement to a lovely summer dinner. The speed with chich the plates emptied themselves pleased the chef, which in turn pleased us because there's nothing better than a Chef who cares. And with Daniel Phippard at Yornik, you're in safe hands.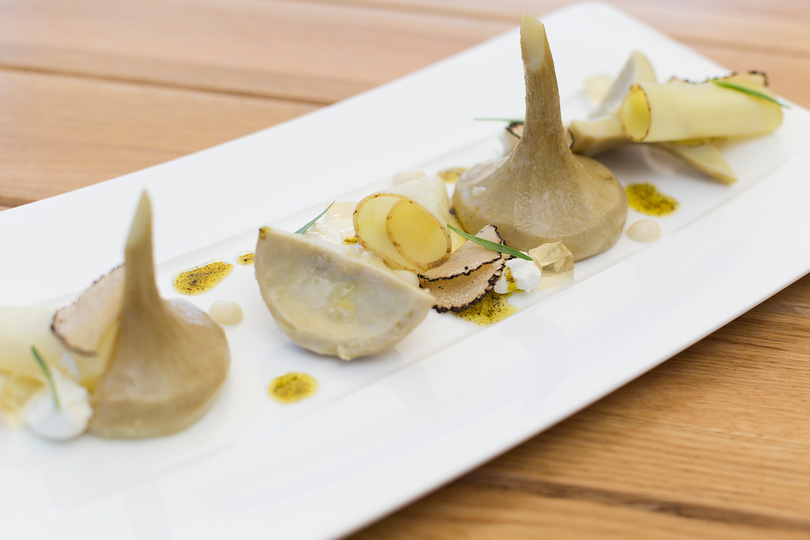 I think in Moscow almost everybody adores artichokes or goat cheese. Daniel dealt a double blow with his starter-hit: an Artichoke salad with black truffle, home made goat cheese and wateremelnon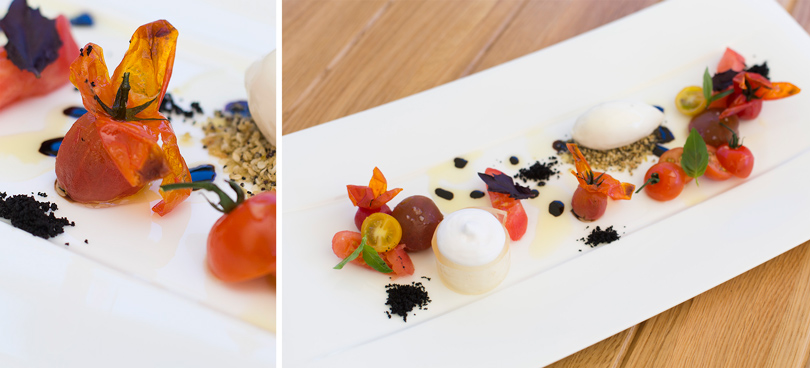 Caprese from Daniel. Tomato salad with black olives, mozzarella ice-cream. Mozzarella ice-cream? You should try it!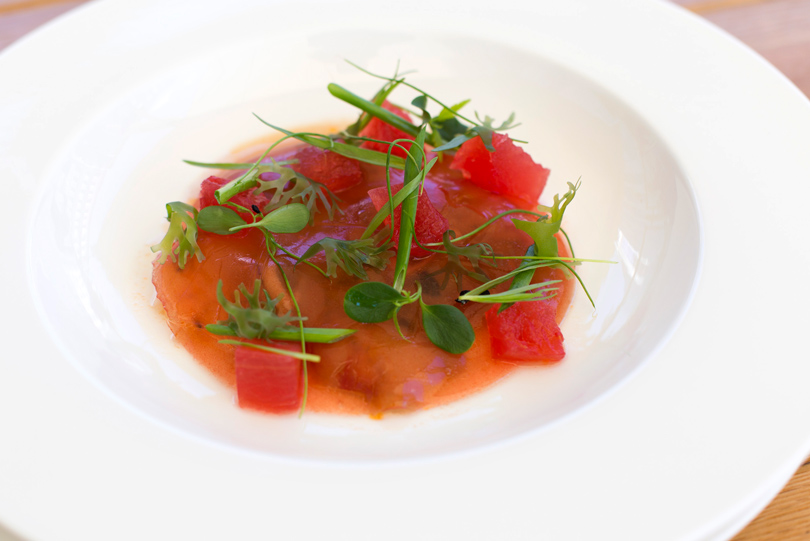 Gourmet appetizer for: Chilled salad of tiger prawns, oyster, watermelon, kaffir lime, lemongrass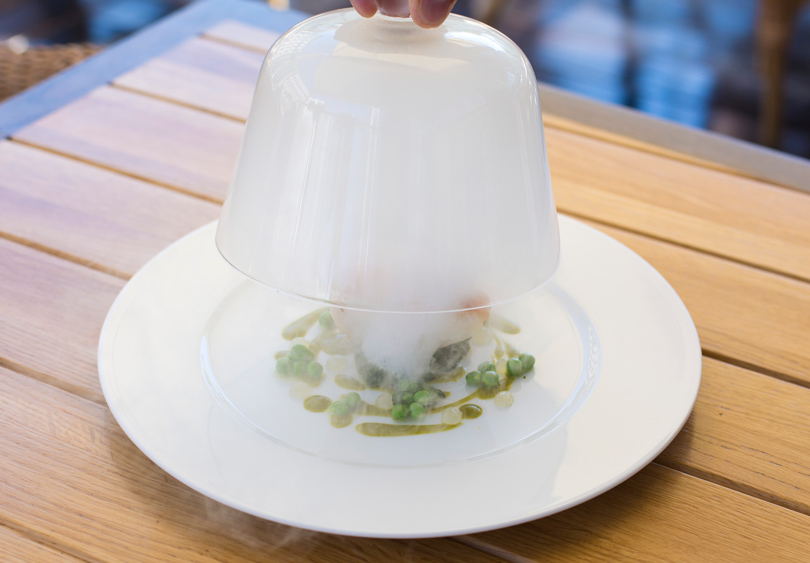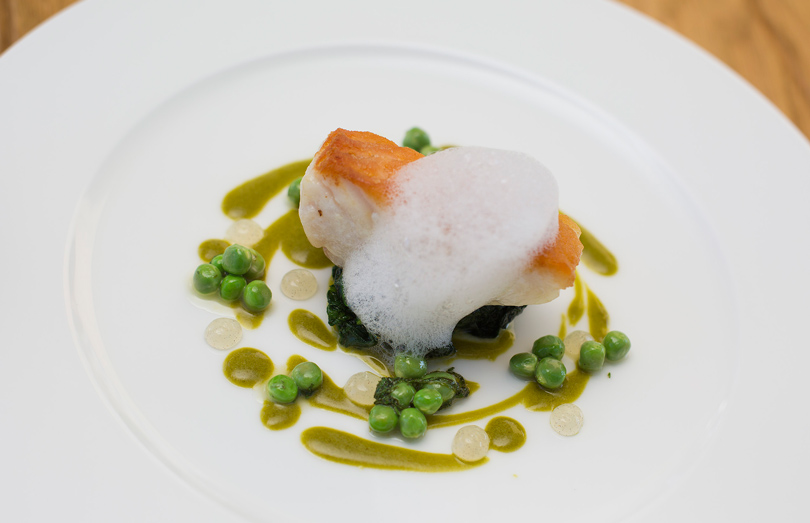 Ordering Pike/perch, pea & mint, sorrel, buttered spinach, smoke, don't miss the presentation moment.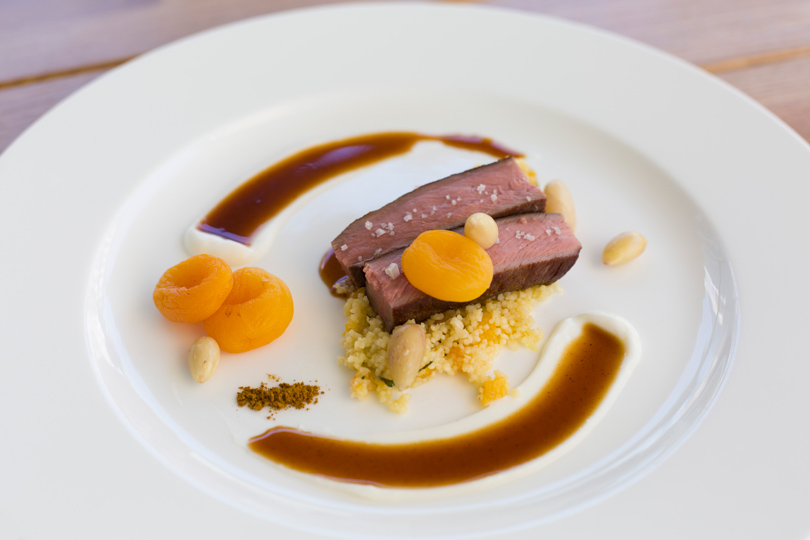 Even if you're not a fan, please try Boneless loin of lamb, which is served with couscous, yogurt, apricot, almond and Morrocan spices.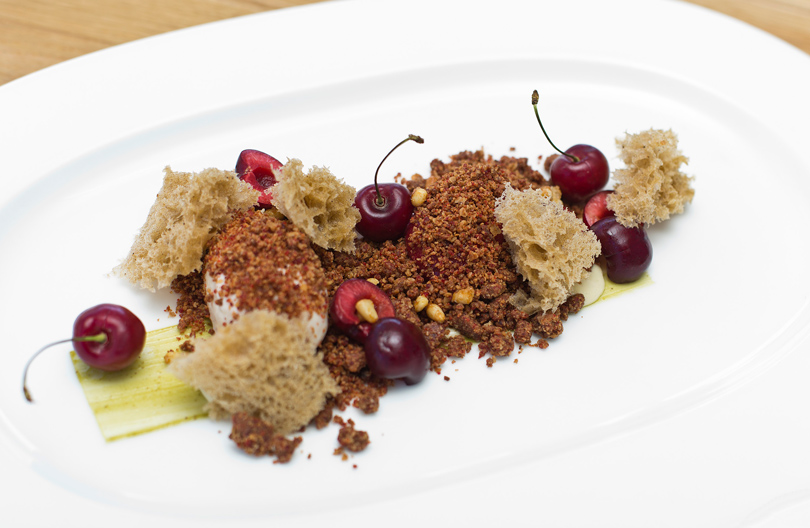 Dessert: Chef likes ad knows how to play with mixing of different textures and products. Need evidence? – Cherry dessert with pinenut in cherry sorbet.

Hors d'oeuvres
Gazpacho, Andalouse garnish, basil sorbet, tobiko
450 RUR.
Okroshka, rabbit kielbasa, home-made kvass
450 RUR.
Yo-borcht, beetroot, rye, sour-cream
380 RUR.
Pea soup
380 RUR.
Tomato salad (caprese), black olives, mozzarella ice-cream
520 RUR.
Artichoke salad, home-made goats cheese, orange tea oil, Italian black truffle
890 RUR.
Chilled salad of tiger prawns, oyster, watermelon, kaffir lime, lemongrass
780 RUR.
Summer vegetable salad, black bread
490 RUR.
Warm salad of chicken wings, mushrooms, nettles, peas, crispy yolk
480 RUR.
Crab salad, radish, lime, chili, coconut
820 RUR.
Tuna tartar, pomegranate, black sesame, pickled ginger
850 RUR.
Foiegras terrine, bitter orange puree, beetroot, grapes, liquorice
1180 RUR.
Foiegras brulee
650 р.
Rabbit Scotch egg, pea puree, tempura onion
570 р.

Main Courses
Squid risotto, prawn, calamari, halibut, sea bass, tarragon
1050 RUR.
Pike/perch, pea & mint, sorrel, buttered spinach, smoke
850 RUR.
50˚ Salmon, miso caramel, compressed cucumber, seaweed, horseradish
870 RUR.
Meagre, tomato fondue, confit peppers, Jerusalem artichoke, broad beans
950 RUR.
Chilean sea bass, smoked artichokes, salsify, Iberico ham, malt
1480 RUR.
Halibut, aubergine, curry, mango, chickpeas, cucumber
1490 RUR.
Farm chicken breast, sweet corn, lentils, mushrooms, fricassee of leg, sherry sabayon
880 RUR.
Loin of milk fed veal chop, tongue, sweetbreads, poached grapes, yogurt, cauliflower
1520 RUR.
Rabbit loin, lasagna, carrots, seeds & grains, wholegrain mustard ice-cream
850 RUR.
Boneless loin of lamb, couscous, yogurt, apricot, almond, Morrocan spices
1595 RUR.
Yo-pelmeni (Russian dumpling), marinated cabbage, sour-cream
650 RUR.
Buckwheat risotto, seasonal mushrooms, parmesan
620 RUR.
Tortelloni
890 RUR.
Risotto
1250 р.

Desserts
Lemon / polenta cake, lemon curd, mascarpone, burnt meringue, lemon sorbet
390 RUR.
Raspberries, cheesecake, raspberry sorbet
480 RUR.
Dessert with passion fruit cream
460 RUR.
Apple Martini, cinnamon doughnuts
450 RUR.
Sea-buckthorn mille feuille, yogurt, mango
490 RUR.
Cherry, pinenut, cherry sorbet, minute sponge
450 RUR.
Flavors of Tiramisu
430 RUR.
Compressed strawberries, basil crumb, balsamic syrup, sour-cream ice-cream
520 RUR.
Chocolate & salt caramel
520 RUR.
Yo-box. Selection of home-made confectionary
450 RUR.
Details from Posta-Magazine:
Rest Yornik
69 Bolshaya Gruzinskaya str.
Tel.: +7 (495) 789 92 50