Even though they are completely
different things, watches and cars have always had something in common.
We buy them not just to get where we need to be, or to know the time, but because owning them gives us pleasure. They reflect part of our personality, and act as a coded message to those who share our tastes or interests. Because as much as we like our own taste, it's even better when you find someone to share it with.
As a fun exercise, I looked at which watches suit particular car brands. You know, according to my taste anyway. Love it or hate it, you can't argue about it.

BMW — Omega
«Sheer driving pleasure» is the slogan BMW uses to describe its cars. Doesn't matter if you buy the ultra-luxurious 7 series or a 1M, BMWs are for people who like driving. Even though a 7 series is probably closer to a cruise ship than a sports car, legendary models like the E30 M3 have cemented BMW's reputation for building great drivers' cars.
In searching for a classy sports watch which isn't entirely unaffordable to regular enthusiasts, the Omega Speedmaster is hard to overlook. Aside from quite possibly having the coolest name in watch history, Speedmasters went to the moon. Literally. Omega recently introduced a remake of an old favorite: the Mark II with racing dial. The 2014 version comes with a self-winding Co-Axial movent so it's a bit more practical than the 1969 original which required manual winding. The design of the watch itself is timeless.


Porsche — IWC
In a world where car brands like Ferrari and Lamborghini exist, a Porsche has always been the thinking man's sports car. The kind of car a successful German engineer would feel natural driving. And what do you know, IWC actually have a watch called Ingenieur. And Schaffhausen lies in the German-speaking part of Switzerland for good measure. It is true that IWC is a sponsor of the Mercedes F1 team, but I still feel their natural image is closer to Porsche.


Mercedes — Rolex
For an image of gracious robustness, look no further than Mercedes. In some parts of the world, they still use 30-year old 200D's as taxis. They will literally go on forever. But at the same time, Mercedes sells cars that will set your hair on fire. A Rolex is the ultimate «quality watch» and if you look closely there is one styling feature which makes the Rolex sports line particularly suitable for Mercedes drivers: the 3-pointed star is on the hour hand. Now, to be fair, this really has nothing to do with Mercedes, as it stands for land, air and sea in this case. But it looks just the same doesn't it?


Ferrari — Jaeger-LeCoultre
These might not have too much in common at first glance, but they still go well together. JLC is a company which set many records and patented many inventions along the way. It was the first company to produce an instrument capable of measuring one millionth of a meter, in order to make its timepieces more accurate. They've also made the smallest ever watch, as well as the most complicated one. No need to explain what Ferrari stands for.


Lamborghini — Audemars Piguet
Both AP and Lamborghini are used to making less than ordinary looking products. You'll get noticed with either one of these items. Probably more with the Lamborghini Sesto Elemento, although there is a bit of a snag as it's not a road legal car. Even so, Lambo made 20 of these and sold each for more than 2 million dollars. You're free to wear your Audemars Piguet Royal Oak offshore anywhere you like.


Pagani — Lange & Söhne
If you want a truly exclusive supercar, a Pagani is what you want. Hand-built in Italy, excuisitely styled and powered by a German Mercedes AMG engine created especially for them. No more than 40 are built in a year. Unlike most tiny car companies, Pagani has not gone out of business. Instead, they have found their niche and are building some utterly fantastic cars which journalists are eager to get their hands on.
Lange & Sohne are also unusual in their market, not least because they are German. Glashütte is quite a long way from Switzerland where most ultra-luxurious timepieces are born. Lange & Söhne only produce about 5,000 watches a year, compare that to Rolex who make one million watches in that time and you start to understand the exclusivity.


Jaguar — Bremont
Bremont is a very young watch company, but nonetheless it's definitely very British. Or English, I should say, as it was founded by brothers Nick and Giles English. Their watches have a distinct aviator theme to them, but the look and feel of them just makes you think of Spitfire planes and Jaguars in British racing green. Well done, gents.


Rolls-Royce — Patek Philippe
For the price of a Rolls, you can buy a pretty nice house. For the price of a Patek Philippe, you can buy a pretty nice car. Yet neither of these brands are actually ultra exclusive. Rolls-Royce sell over 3,000 cars a year, while Patek Philippe ship over 50,000 timepieces. Clearly, numbers don't tell the whole story. Because of their extensive history, these brands are as close to royalty as you can get in the industrial world. In fact, quite a few actual royals like to own their products.

In the end, the value of an item cannot always be broken down to the sum of its parts. More so than any precious stone or metal, history and craftsmanship is what people will pay for. Because you can't put a price on emotion.

Last article
Mechanisms with Jan Coomans: Cars of the (near) future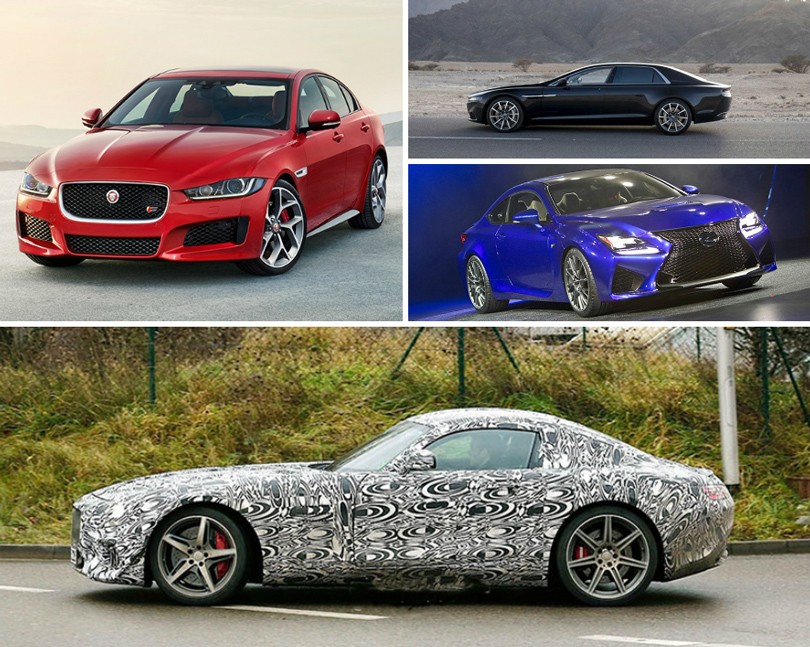 In the world of technology,
it often seems like the present is already in the past, and the future is the present. At least, that's how we look at it. A car you can buy today is never quite as interesting as one you will be able to buy only tomorrow.
Or next year, for that matter. The next big thing is always just around the corner. Patience might be a virtue, it sure isn't a fun one. So let's cheat and look ahead at what Santa will have in his bag next year.
Read more…